Discover the 7 Best Vegan Meal Replacement Shakes in 2021 (Review)
---
In a Hurry?
---
Advertisement
---
---
The Best Vegan Meal Replacement Shakes
Ample's objective is to provide with and all natural shake that will help boost your health. They are particularly interested on boosting your gut health with prebiotics, probiotics, antioxidants and polyphenols. All from 20+ superfoods: acacia fibre, macadamia, raspberry, carrots…
Despite this nutrition oriented design of their shakes, Ample V fails to deliver all essential micronutrients. On the flip side, they include naturally occurring minerals like iron or calcium and vitamin B12. Ample's are also the best gluten free vegan meal replacements.
One last thing to mention is that Ample V is very low-carb, and rich in fats; which might help you lose weight.
Lastly, it's worth mentioning how surprisingly smooth Ample meals are. Truly a delight of a vegan drink. One of the best berry flavours I've tried.
Good For: ideal for those looking to strengthen their digestive health.
---
I love Complete 360 vegan meal replacement shake, and it's one of my daily shakes when I'm not trying out new ones. There's few reasons for that; like the excellent price/quality ratio, and superb nutrition.
Talking about nutrition, each 400kcal shake will give you 30g of high quality protein. It comes from custom blend of pea, brown rice and hemp protein isolate. Therefore, it provides you with a balanced amino acid profile, but it's also a soy free shake.
Furthermore, Complete 360 is incredibly low in sugars and high in fibres. Thus, it will help you with satiety and reduce risk of diabetes.
Most importantly, these are among the best tasting shakes you can buy. Double Milk Chocolate is an absolute delight, one that I would drink everyday.
All of this for less than $1.5 or £1.1 per meal; if you are lucky to get a discount!
Good For: People looking for great nutrition at an affordable price.
---
Ambronite Complete Meal Shake is one of the most premium vegan shakes you can buy. Part of the reason for this is that they don't rely on cheap synthetic additives for micronutrients to provide you with the essential nutrients your body needs.
Instead, they use ingredients such as oats, apple, spinach, kale, almonds… These give a very natural, green taste to the shakes. They are healthy vegan smoothies that provide you with 24g of protein per shake, plenty of essential omega-3 fatty acids; and all the vitamins and minerals your body needs.
Unfortunately, this has a "negative" effect on the price, and the meals start at $6.5. Thus, I recommend you buying in bulk (to lower the price by up to $2) and use the code LATESTFUELS for 25% OFF in your purchase).
Start with all three flavour and see which one you like best. I love Ginger & Apple (or Original).
Good For: are willing to pay extra for a high quality complete meal only made with fruits, vegetables and nuts.
---
Soylent is the original vegan meal replacement. Although it started as a powder, it's the ready to drinks (RTD) that have gained popularity. This is due to them being smoother, better mixed and generally much better tasting.
On top of that, the range of flavour Soylent offers is unparalleled in the US: Banana, Creamy Cacao, Original, Vanilla, Strawberry, Cafe Mocha, Cafe Chai… There is a vegan shake for everybody. I love Creamy Cacao and Cafe Mocha.
Another great aspect of Soylent is that you can take it anywhere, and enjoy your healthy vegan meal no matter where you are. Great if you often have to opt for boring, unhealthy options. Get 20g of protein, less than 1g of sugar, 28 vitamins and minerals, all gluten-free and vegan.
Good For: those who are looking for taste and convenience.
---
Plenny Shake is the star product of the popular Dutch brand Jimmyjoy. The secrets to this plant based meal replacement powder are simple: affordable and tasty. Upon this formula, Plenny Shake has won the stomach of many enthusiasts.
The original Plenny Shake provides you with 20g of protein (from soy), a balanced set of essential fatty acids, and all the vitamins and minerals you need. Unlike other popular shakes, it is a little richer in carbs. Alternatively, you can buy Plenny Shake Active, which comes with 27g of protein per meal (400kcal).
Regarding the flavours; there are 6 to choose from: Chocolate, Vanilla, Mango, Strawberry, Banana and Coffee. Both Vanilla and Mango are pretty delicious.
Good For: people who are looking for an affordable tasty meal.
---
Keto meal shake is the best vegan keto shake. Fully plant based keto meal shakes are hard to come by; however, Ambronite's shake fills the gap excellently.
For once, it offers a very simple vegan keto meal: you only need to add water (no need for adding your own oil). Besides, it is one of the best tasting chocolate shakes you'll find: creamy, rich chocolate, with lovely chocolate chunks.
For these two reasons I have it among the best keto shakes.
Furthermore, it is also soy-free, contains no synthetic additives, and provides you with nutrients from real food. Unfortunately, it does fail to include all micronutrients, though.
Looking at the price, each meal starts at $5.5. Again, I recommend you buy in bulk and make use of the code LATESTFUELS (25% extra OFF) to get the best deal.
Good For: looking for a plant based ketogenic shake; or a shake to lose weight with.
---
Purition is a British meal replacement shake manufacturer that makes low carb, gluten-free, food based meals. They rely on nuts, seeds and high quality protein to provide with the nutrition you require.
As some other shakes in the list, Purition makes natural shakes without additives. They don't even use emulsifiers or gums to prevent the shake from being more bloating. This has a peculiar effect in the texture; and does not mix as well if you don't use a blender. I would add your favourite plant based milk to craft a tasty dairy-free meal replacement shake.
Their shakes taste raw, healthy, nutty and leave you with a fresh mouthfeel. All 11 different flavours offer a unique experience. I love the Walnut & Coffee, for instance, with the raw coffee flavour.
Regarding the cost of the meals, Purition is not the cheapest (nor the most expensive), and provides with good value for money.
Good For: looking for the most natural vegan shake.
---
Advertisement
---
Why Go Vegan?
Plant-based diets might be the best way to reduce our personal CO2 impact. Furthermore, they are a great way to improve your health by refining your nutrition; since plants are an amazing source of essential nutrients and phytonutrients. In fact, most Americans fail to reach the dietary guidelines and don't eat enough vegetables in a daily basis. A habit that increases your chances for cardio-vascular diseases, risk of cancer and other major illnesses.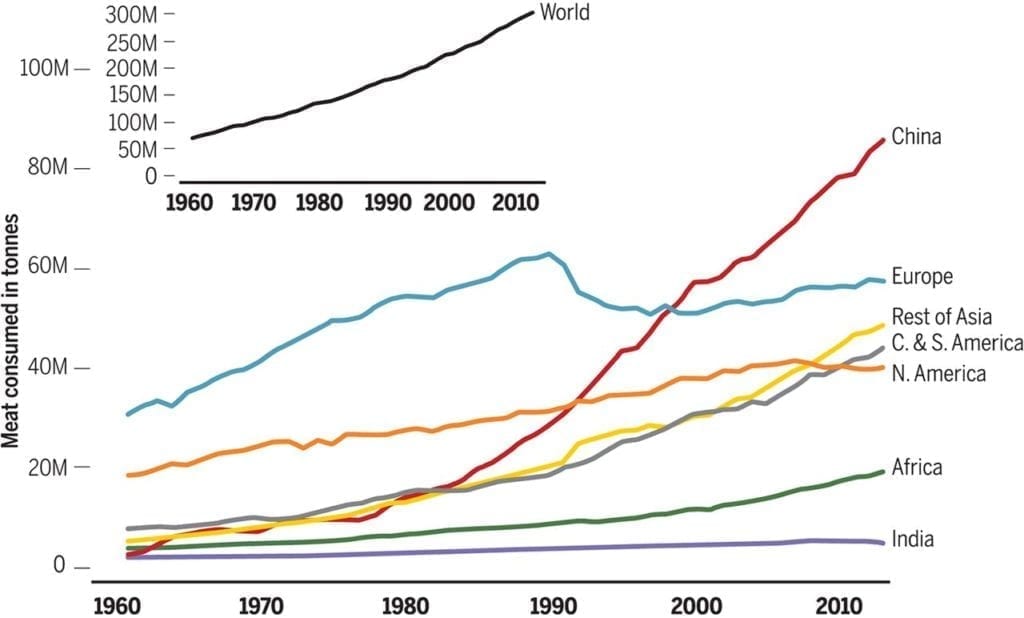 Thus, incorporating more plant-based meals is a win-win situation. Going vegan is taking this approach to an extreme, and make sure you minimize your environmental impact while keeping your diet in check. Or at least, that's one of the reasons to do it. There're plenty more.
In this regard, plant-based meal replacements offer you the best of two worlds: complete and balanced nutrition; and, a sustainable, environmentally friendly meal (minimal packaging, efficient transportation etc.). Plus, they can be a very handy tool to have a vegan meal no matter where you are.
4 Reasons Why Vegan Meal Replacements Are Awesome
Anyway, I suspect that you are already following a vegan diet; and that you have your own reasons to do so, already. You are just looking for the best vegan meal replacement you can buy. Perhaps, you have some doubts if vegan shakes are healthy or what you are looking for.
Here are 4 reasons to ensure you that the plant-based shakes can make your life easier and better:
Make sure you get all the necessary nutrients. Getting all your vitamins and minerals, a balanced set of nutrients, fats etc. can already be hard on a normal diet. In vegan diets, there are usual suspects like vitamin B12, omega-3 or even protein that might be hard to come by. With meal replacements you can be certain you will get a good dose of each; and thus, avoid common vegan deficiencies.
Eat healthy and vegan anywhere. Convenience is a huge upside of meal replacement shakes. You can consume them almost anywhere, take them to the office, drink them at home or even travel with them, if you must. I've had vegan shakes on airports; where there was no good alternative. Stop having to worry about finding your meal, and eat what you want where you want
Don't need to overpay! Unfortunately, many restaurants and food manufacturers use the vegan tag to overprice their products. Even having to buy vegetables in the supermarket can get expensive. With each meal costing as little as $1.2, you will find that vegan shakes fit your budget.
There's a huge variety of vegan products; you'll find what you're looking for. Whether you want vegan gluten-free shakes; or perhaps soy-free; or organic… there's a shake out there for you. Fit them to your diet (low-carb, keto, paleo…), get as much protein as you want (from 11g to 30g a meal) and choose the right ingredients for you. Plus, you can opt between shakes, bars and other formats!
Best Vegan Meal Replacement Shakes vs Top Vegan Protein Shakes
If you are new to the whole meal replacement shake industry, you might have some misconceptions or doubts. A very common one is mistaking plant-based protein shakes with meal replacements. At the end of the day, the protein industry is very keen on promoting their products as alternatives to meals.
Here are few key points to look out for:
The main difference is that plant-based meal shakes will try to provide you with all the essential nutrients that your body needs; while the protein shakes will primarily boost your protein intake.
If the latter is what you are looking for, here are some suggestions of vegan protein shakes that I like:
Best Vegan Meal Replacement Bars and Powder Alternatives
Perhaps, you are looking for vegan meal replacements that are solid. I would recommend checking the best meal replacement bar list, where I mention a few of my favourites. Nonetheless, here are some vegan bars that you might like:
More Vegan Meal Replacement Shakes
Are these all the vegan meal replacement shakes in the market? No, the above are just but my top vegan shakes; the ones that I think are the best. However, if you want to look for more plant-based alternatives check the ultimate meal replacement list (look for "V" tag!).
There you will find organic vegan shakes, sport vegan shakes, and many brands that focus on complete food options.
---
How to Find the Top Vegan Shake
Every individual has different needs and preferences. Some of us prefer sweeter shakes; while others favour more natural tasting shakes. Similarly, many will be looking for dairy-free shakes or gluten free shakes; while others can choose to avoid soy. Because there are so many vegan meal shakes out there; you need to be sure to check the following before buying:
Check out if it has the Vegan tag.
Look at the calories. I like my meal replacements to have around 400kcal per serving (you can always tailor it to your needs). Despite this, there are many brands that will set their servings to 90-180kcal which are not enough for most adults.
Decide a budget. There are meal replacement shakes like Ample and Ambronite that can cost you up to $6.5 per meal or more affordable options like Plenny Shake at $1.19 per meal. More expensive does not always mean better; but the quality of the ingredients is often linked with the price.
Check the allergens. Is it a soy free vegan shake? Do you need a gluten-free option? Be alert and check what allergens the shakes have. The most common are soy, gluten, and nuts.
Taste or nutrition? You don't need to sacrifice one for the other. However, I would recommend staying away from vegan shakes high in added sugars, even though they might taste better. These are not meant to be healthy, and they are designed to be addictive.
Protein sources. Most vegan protein sources are not complete (with the exclusion of soy protein), and lack one or more essential amino acid. When buying the vegan meal shake have a look to what the protein sources is. For instance, pea and rice protein are a good combo.
FAQ
---
Conclusion: What is the Best Vegan Meal Replacement Shake?
While following a vegan or a plant-based diet has become increasingly popular, finding good quality and balanced vegan meals can still be a challenge. Proper nutrition, price, lack of tasty options… are among the issues that people face every day when going vegan.
That's where the best meal replacement shakes can help you. They offer a complete and balanced plant-based meal at an affordable price. You can make sure you get all the vitamins (including B12) and minerals, all the essential fats and good quality protein. All in a shake with minimal hassle and effort.
In fact, convenience and portability are two features that I love about meal replacements. Besides them, I love the fact that there's a vegan shake for each diet and each person.
I strongly recommend you to start with a vegan meal replacement today, if you haven't already. It will change your life. Just choose the right one from the list, and enjoy!
---
Sources
1.2015-2020 Dietary Guidelines for Americans.
2. WHO Nutritional Guidelines.
3. EFSA Nutritional Guidelines.
4. More in: latestfuels.com/resources. A compilation with different governmental guidelines and references.
5. Ultimate Meal Replacement List. List with all the brands.
6. Best Meal Replacement Shakes. Selection of the best RTDs, bars, organic shakes…
7. Game Changers. A documentary about the benefits of a plant-based diet.