Who is Who CFS'19 | Saturo, Super Body Fuel, Trinkkost and Vitaline
This is the final post in this mini series where I have introduced the various Complete Food websites and brands. Today I will write about 4 very different brands, some of which might be not very well known, but have some of the most unique products in the market.
Saturo; Affordable and Convenient Complete Food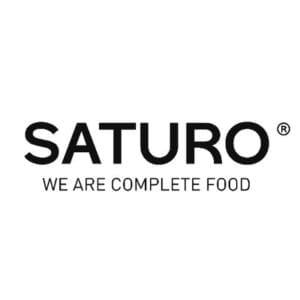 In my review, I branded Saturo as the European Soylent. While I still think that this is the most accurate description you can do; the truth is that Saturo is more than that. Saturo is a brilliant company with exciting RTDs and very affordable prices.
The Austrian company started with a strong focus on RTDs, releasing solely ready-to-drink meal replacements in multiple flavours and sizes. However, over the past year they have also added a powder-based product; which has become the cheapest Complete Food available in Europe.
Who Is Saturo?
It is an Austrian company founded by Hannes Feistenauer and Joerg Hauke; that took the very unique approach of focusing on RTDs. Created on 2017, it has been one of Europe's references regarding to ready-to-drink products. Nevertheless, the brand's vision goes beyond RTDs and aims to offer high quality, sustainable and affordable Complete Food products.
In fact, Saturo's bet for being affordable is supported by their efforts for being transparent. As such, they show the costs of their products. Saturo also aims to reduce marketing costs that could increase the price of their Complete Food meals. On top of that, they are a brand that is not afraid to try out different pricing strategies, such as, the "Choose What You Pay" campaign they carried out this summer (although it was not literally up to you to choose the price).
Saturo Products
Despite the fact that Saturo started with ready-to-drink shakes, they now offer 3 different products, including a powder-based Complete Food and a very tasty meal replacement bar.
Saturo RTD
It is only fair to start with them, since they are the original products. All Saturo RTDs are soy-based, with maltodextrin plus isomaltulose as carbohydrate sources and sunflower oil with canola as fat sources.
They are available in 2 different sizes 500ml (500kcal) and 330ml (330kcal), but not all flavours can be bought in both (since they are manufactured in different facilities). The bigger RTD is offered in Original, Cacao and Coffee flavours; whereas the smaller one can be purchased in Chocolate, Original, Vanilla, Strawberry and Banana. In my opinion, the Chocolate based drinks are the best.
When it comes to pricing, you will be able to enjoy a bulk discount, as well as, a 10% discount if you subscribe. The bigger bottles are cheaper per calorie, if you are looking for the best value for your money.
Saturo Powder
The launch of the powder-based alternative caught many by surprise, even more, when considering that they launched a vegan and a whey-based mix at the same time (very few companies have this). Both versions were available in Vanilla and Chocolate from the start and have been updated regularly.
The foundation of the powder is very similar to the RTD, nutritionally speaking (besides the whey protein). It also uses soy protein isolate, maltodextrin, isomaltulose, sunflower oil and canola oil.
The one feature that distinguishes Saturo Powder among its competitors is the price. Without subscription, each 400kcal costs €1.10, which is the cheapest in Europe. However, when you add a 10% discount (subscription) it becomes even cheaper at €0.99/400kcal; a true blessing for those in a budget.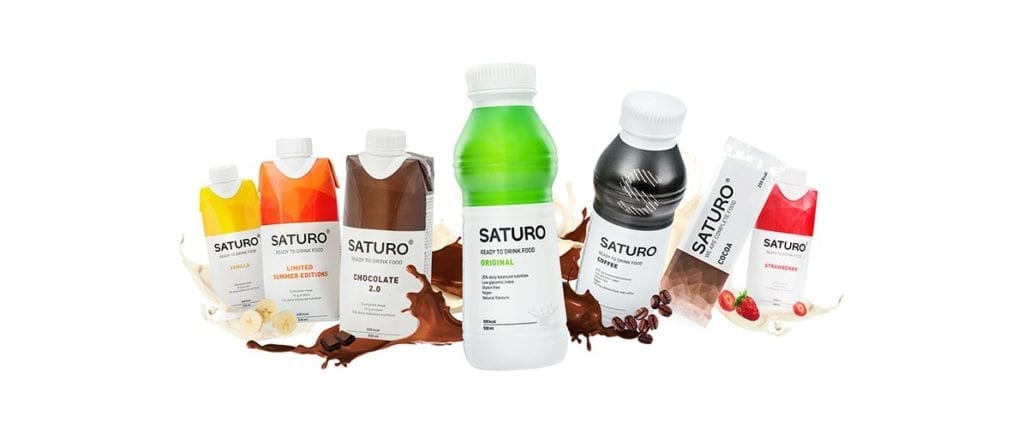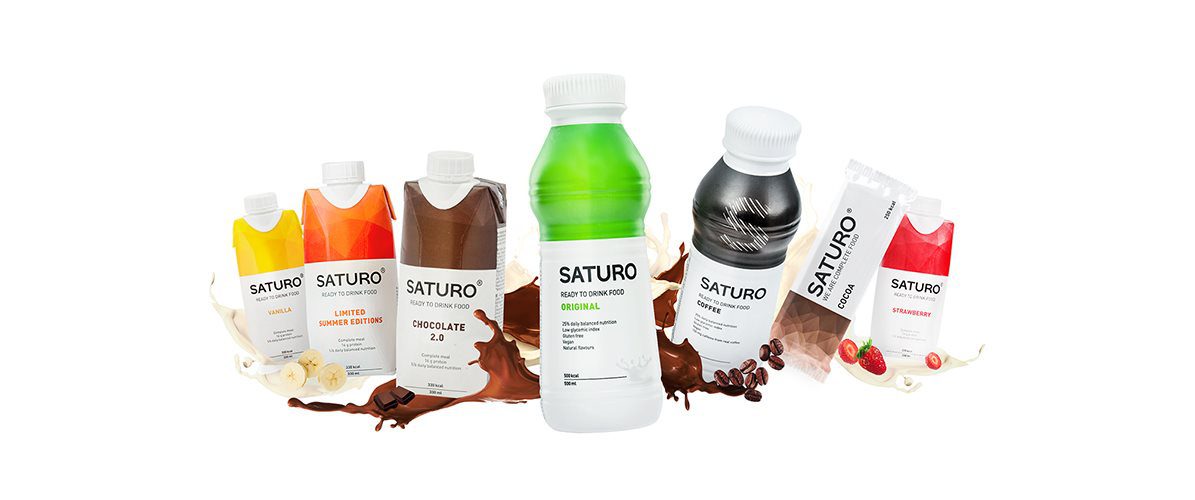 Thus, whether you are looking for a convenient tasty meal, or the most affordable food you can get, Saturo will offer you the alternative you are looking for. Do not be afraid of trying out Saturo!
Super Body Fuel, The Most Affordable Shakes in the US
It seems that the initial theme of this post is extremely affordable brands, since SuperBodyFuel is a brand that made its name on the community with their very low prices. Their star product Milk Fuel (old Schmilk) is the cheapest shake in the world, starting at $0.8/400kcal (plus the price of 2 cups of whole milk).
Schmilk (Milk Fuel) review: a gift for students.

Title of a recent post in r/soylent subreddit, by u/nightknight1044
However, SuperBodyFuel goes beyond being affordable. It is a beloved brand in the community thanks to how active the owner is in the community and the transparency he keeps on the progress of the brand.
Who is SuperBodyFuel?
SBF is Ancho or Alex Cho Snyder. He is the founder and the owner of the company. It all started as a DIY recipe that got really popular and people asking Alex for custom recipes for them. That made Alex start Custom Body Fuel in 2014 (one of the oldest!), from which SuperBodyFuel was born (after they decided to stick to the most popular recipes).
Currently, SBF is a team of 5, with Rhodel, Nelson, Arrow, Dan, and Alex; and remains as one of the few self-funded Complete Food brands. It is even more rare that they have survived in the US, where many brands that started after them have died.
Perhaps their focus on affordable and flexible recipes has been the key to their success.
SuperBodyFuel Products: For Anybody and Every Body
The only have powder based Complete Food options, but all mixes are vegan, hypoallergenic, and free of artificial sweeteners and added sugars. Therefore, they are shakes that are suitable for everybody.
The secret behind all is the fact that they allow you to add your own source of fats and/or protein. SBF powders are a mix of oats, organic rice protein, fiber, flavouring, and vitamin and minerals.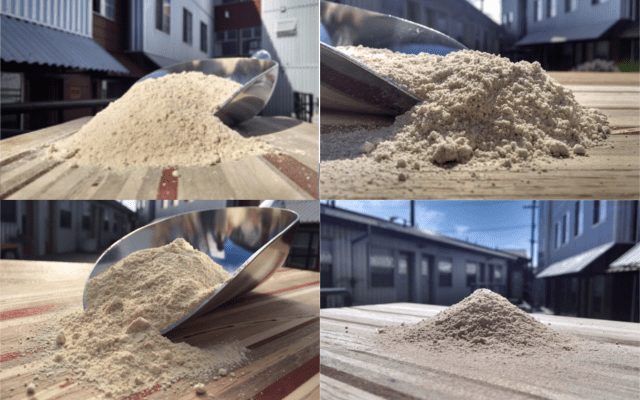 Milk Fuel and Athlete Fuel
These two mixes are based on milk to make the powder complete. They provide you with carbohydrates, protein (extra on Athlete Fuel) and require you to add your fat source. They recommend milk as a cheap way to get there. In theory, you are free to customize it to your palate and nutritional preferences, though.
Super Fuel and Keto Fuel
On the other hand, you have these two mixes that require you to add oil to achieve low-carb high fat Complete Food Shakes. When it comes to Keto Fuel, this provides you with 0 carbs and enables you to choose the fat source of your keto shake.
All four products are available in 3-4 flavours usually, and are sold in bags of 20 meals. You can subscribe and enjoy 20% off, which is one of the biggest discounts in the industry. On top of that, SuperBodyFuel offers worldwide shipping for $30 in orders above $100; making it a viable option almost anywhere.
---
Trinkkost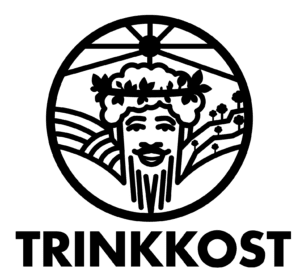 Trinkkost might be one of the most unknown brands in the whole list, a German organic meal replacement manufacturer. It is a smaller brand that has been around for a while providing with high quality meal replacement shakes.
However, due to the fact that they have been primarily focused growing their German customer-base, they have remained relatively hidden.
Who is Trinkkost?
Trinkkost is a German manufacturer founded by Dr. Gennady Schechtmann, Timon Ortloff and Baran Ercosman. Dr. Gennady is the public face of the brand. He studied Medicine at the Heirich Heine University at Dusseldorf and after pursued a career in Neuro-oncology.
Now, at Trinkkost he pursues his objective to deliver 100% organic, real food based shakes will provide you with high quality nutrition in times of stress.
Trinkkost Products; Organic and Goal Focused
Much like the following brand that I will discuss, Trinkkost offers organic and natural meal replacement shakes for people with different nutritional goals.
Trinkkost Slim
As the name suggests, this is the shake oriented for those who are looking to lose weight. Unlike the other powders, it is a vegan Complete Food meal. It is available in Vanilla and Chocolate flavours and comes in bags of 10 meals (313kcal).
Trinkkost Active
On the opposite side of the spectrum, Active is focused on more sporty individuals and those that are looking to put some muscle on. It is very rich in protein with almost 40g of protein per 400kcal, however, it is not a vegan product.
Trinkkost Complete
The shake that is in between the other two, lower in protein than Active, but one that offers more calories per serving than Slim. It is available in three flavours with the addition of Fruity. Similarly to Active, it contains milk, which means that is not suitable for vegans. You can buy Complete in bags of 5 meals or pre-powdered bottles.
Sadly enough, Trinkkost is a brand that is currently only available in Europe. Either way, a good alternative, for those looking for organic meal replacement shakes.
---
Vitaline; A Bet for High Quality Organic Shakes


Vitaline is one of the most unique Complete Food brands in the market. Their focus on the origin and quality of the ingredients, as well as the overall nutritional quality of their products is well above average. They are one of the few brands offering 100% organic shakes, with mostly local (French) ingredients.
On top of that, they have a very interesting way to produce shakes, opening them to Beta testing, prior to "fully launching them". In this testing phase, they collect the feedback from the customers and actively work on improving the original recipe. Besides that, they have 4 different powder products, all targeted to different audiences, an exceptional array.
Who is Vitaline?
Vitaline is a French Complete Food manufacturer founded by Alexis Fournier and Sebastien Worms in 2015. It is rare to think that they have been around for that long, since they keep a very young and progressive aura.
The spirit of Vitaline is high quality, natural and organic ingredients above everything else. Our diets should be more sustainable and contain less harming compounds (pesticides, endocrine disruptors or metals) according to Vitaline.
Vitaline Products; Shakes with a Purpose
"Shakes with Character and Purpose" was the title I gave to my review, and to this day, I think that is the best way to describe what Vitaline offers.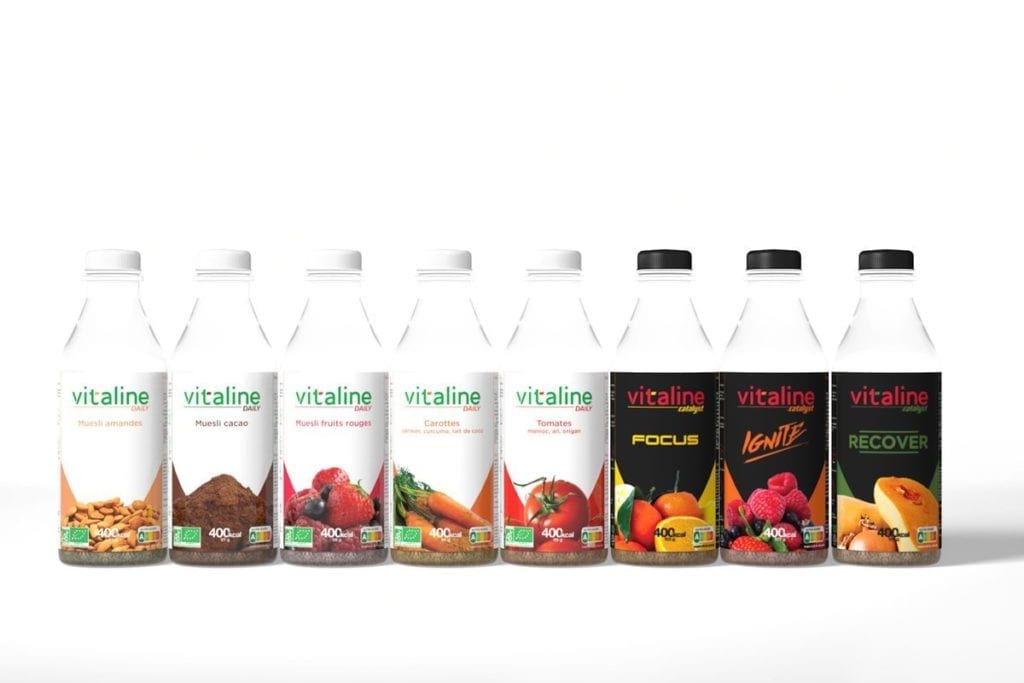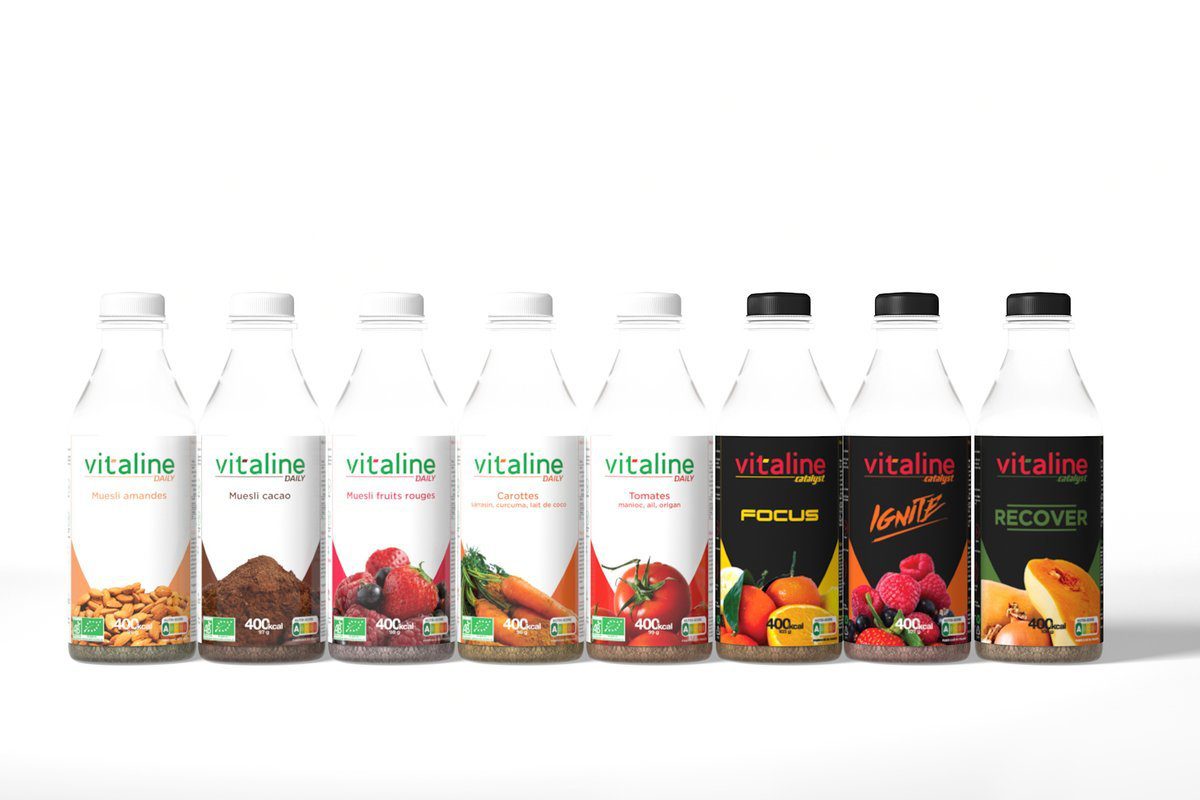 Vitaline Daily
The Daily Range is a organic meal replacement shake available in 5 different flavours (Almond, Cacao, Red Fruits, Carrot and Tomato-Vegan); and designed to be your daily Complete Food. It is designed to fulfill your daily nutritional needs, by providing you high quality nutrients.
You can buy them in pre-powdered bottles or just in bags (cheaper) and enjoy discounts as you buy them in bulk. In general, Vitaline Daily shakes have a softer more natural taste when compared to more popular brands.
Vitaline Catalyst
This is perhaps one of the most interesting sets of products; 3 different powder-based meals aiming to solve a different issue.
First, you have Vitaline Ignite, a shake very high in carbs, which is ideal to fuel your workouts or sport activities. Secondly, you have Vitaline Recover, the shake with the most protein content and design to improve recovery after exercise. Finally, Vitaline Focus has active ingredients (guarana, caffeine) that help you out with concentration. Truly 3 very interesting shakes.
Pilot Program
Here you will find the products that are still in the "testing" phase. This does not mean that they are inferior to the rest, but that are open to changes according to user feedback.
Among this products is one of the most different meal replacement bars: Sweet Potato & Carrot. A bar that has a very unique texture and has no similarities with protein bars (which other bars do). Without a doubt the most nutritious and natural meal replacement bar.
Unfortunately, this is a brand that is only available in Europe currently. I would love to see it expand to the US, but for now Europeans make sure to give it a go!
---
Conclusion
Today's post has been a display of 4 different brands that display the wide array of products that you can find in the Complete Food market. From the niche organic shakes that Trinkkost and Vitaline offer, to the more mainstream options Saturo and SuperBodyFuel might have. Ready-to-drinks, bars, powders and more formats are covered by the 4 brands.
They are also a good display of the different nutritional trends, with vegan shakes, processed shakes, natural shakes and a very diverse array of macronutrient products (keto, high carb, high protein etc).
And with this, we come to an end to this Who is Who CFS '19 series. I hope you enjoyed it, and do not forget to fill out the survey! Sayonara!