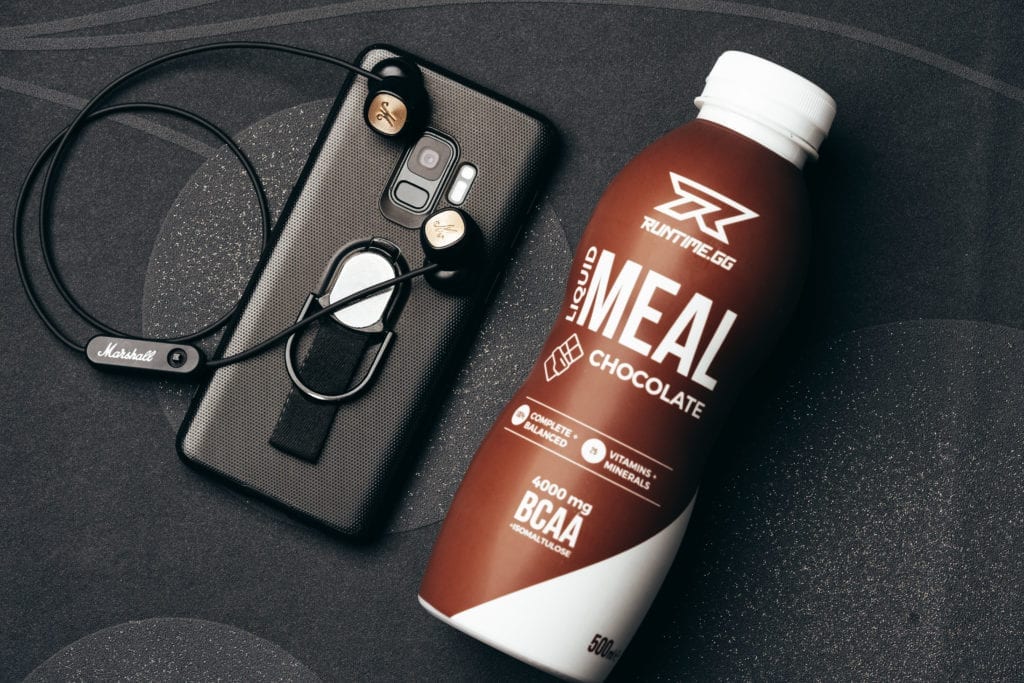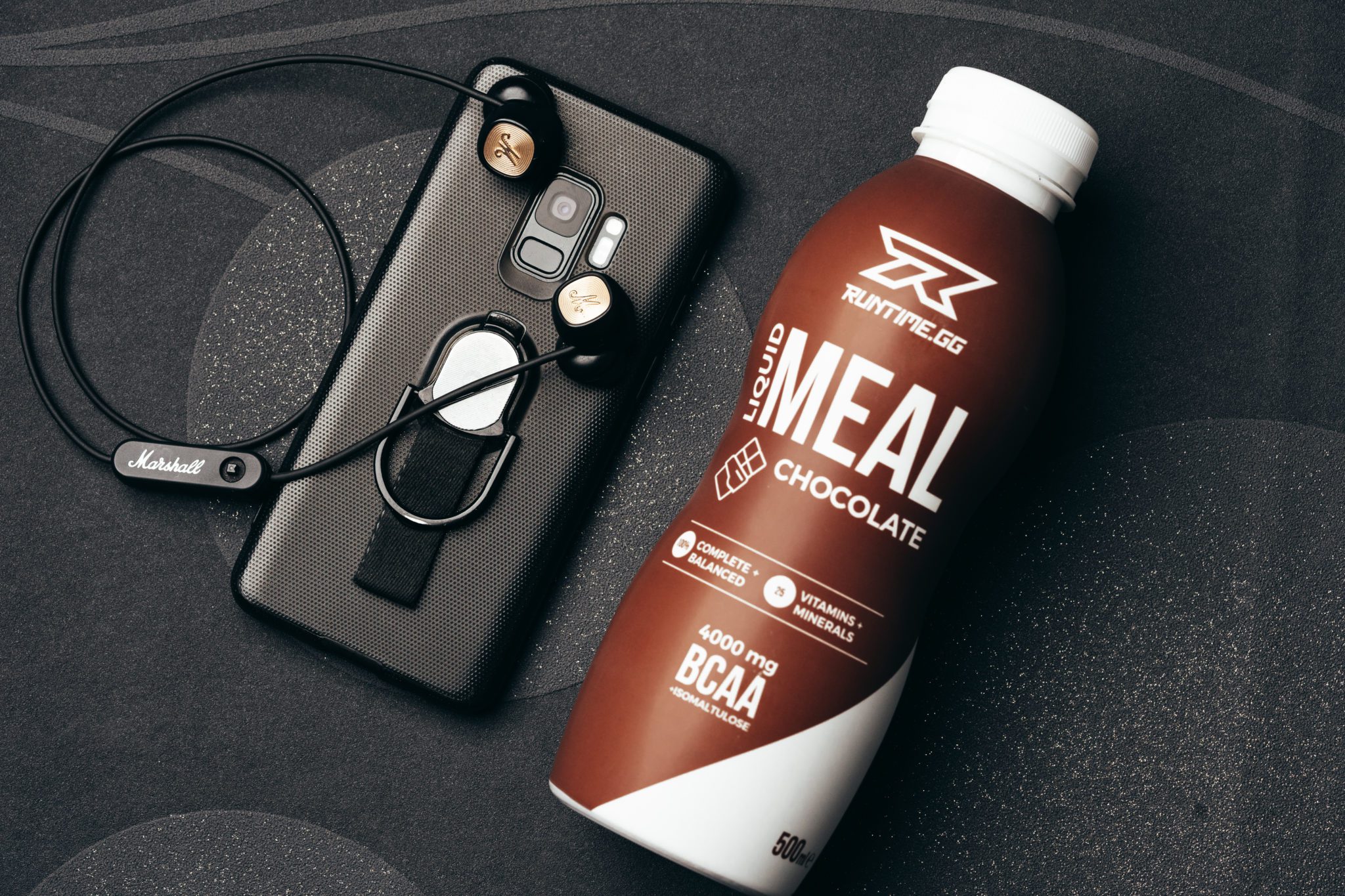 Runtime is a brand focused on providing meals to gamers and eSport enthusiast. Next Level Meal is their powder meal replacement designed to enhance performance and provide a balance nutrition. In fact, these are some of the best tasting shakes I have tried so far. So when they announced Liquid Meal I was very excited. A chocolate ready to drink meal with 36g of protein!
I had to taste it and write the Liquid Meal review asap. So I bought some Liquid Meal (awful name) from Runtime and unfortunately it felt short. Let's see why.
Runtime's Liquid Meal has a very similar recipe to what I consider the best RTD, YFood Chocolate; thus my expectations were very high for this review. Despite having a great consistency and nice texture, the flavour just was not there. 26g of sugar, but what I noticed was not the sweetness: it was salty!
Therefore, while the recipe looks OK, and 35g of protein per 500kcal is fantastic for an RTD; I think there is room for improvement.
What I like
1. Tons of great quality protein. Milk and whey protein are some of the best protein sources you can get. 36g of it will help you with your fitness goals and overall health.
2. 2nd non-vegan RTD. While I do not have anything against the vegan options, it is great to see variety.
3. Texture and consistency are top notch. Milky and silky; the Liquid Meal is a pleasure to drink.
4. Balanced and easy to drink. For people who struggle to eat healthy, this can be a very good alternative. No need to cook or even prepare anything. Just open the lid and enjoy a full meal.
What I dislike
1. Salty taste (and 1.1g of salt per serving). I love to try the different chocolate RTDs, in the task of finding the holy grail. I thought Liquid Meal could be it, but unfortunately it has a salty flavour that threw me off.
2. 26.5g of sugar per serving. I know that the biggest part is isomaltulose and lactose; but that is a significant amount of sugar. I wouldn't drink more than one a day.
3. Only one flavour. Love chocolate, but could get tiring fast. Looking forward to the next flavours!
4. No subscription discount. Price is reasonable, particularly when you buy the 12 pack (€2.66/400kcal); but I would like to see bigger discounts. Either bulk or subscription would do for me.
Improvements
1. More flavours. Next Level Meal (the powder) Coconut is one of my favourite, together with Original. Thus, I am excited to see more flavours!
2. More discounts.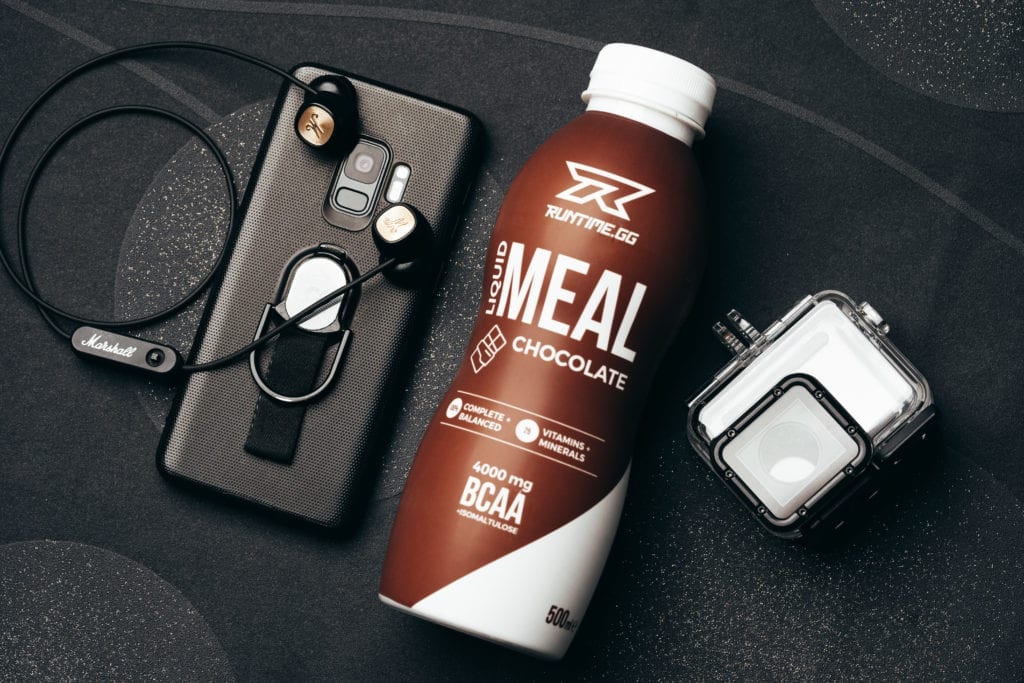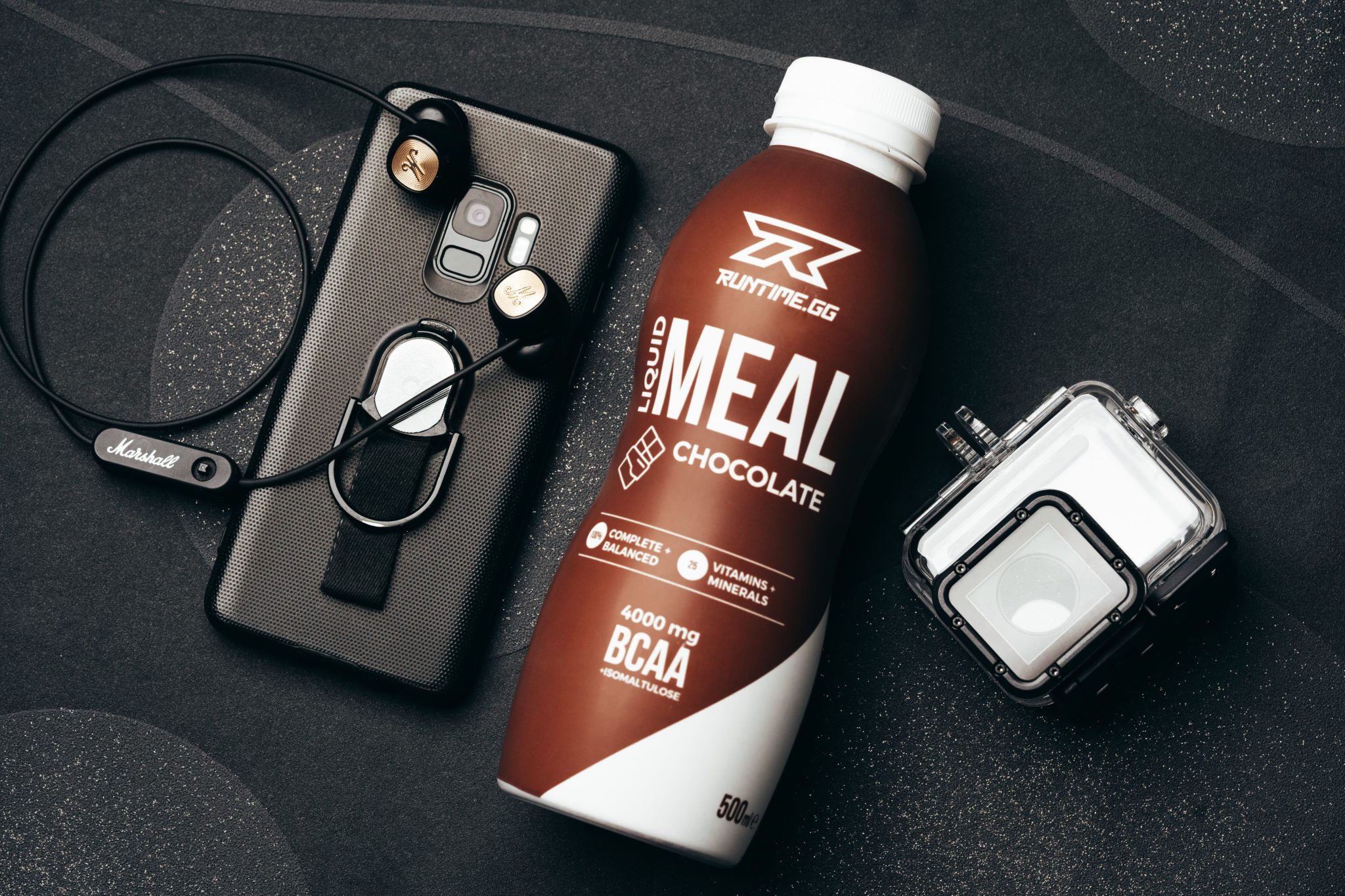 As previously mentioned, my main issue with the product is the taste. Not that it is awful; quite the opposite, it is pretty good. But that it has a saltiness to it that confuses me.
While the overall flavour resembles a very milky chocolate shake, it is perhaps the vitamins and minerals that add the salty flavour. It keeps you drinking the shake, but it does not leave you with the most agreeable aftertaste. I should give them the benefit of the doubt, since it could be something to do with this specific batch.
On the other hand the texture is great; silky and smooth, so no complaints in that regard. I felt quite bloated after drinking the whole bottle, so it does a really good job at filling you up.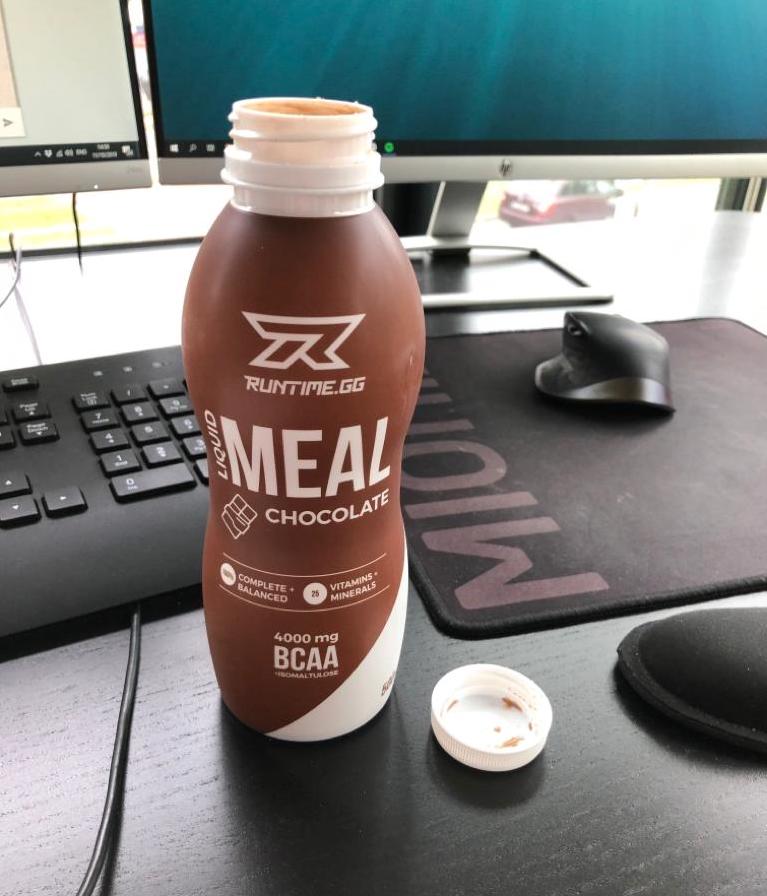 I would say it is a 7 out of 10. Good base layer, but room for improvement.
I won't buy again until they release a new flavour.
% of Energy from Each Macronutrient
Carbs 38%
Prot 29%
Fats 33%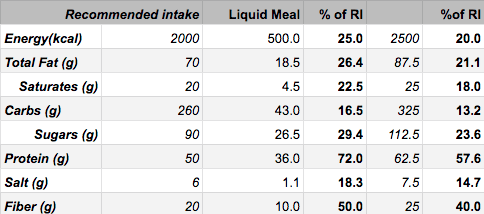 Carbohydrates
The most "shocking" feature is that more than half of the carbohydrates in Liquid Meal are sugars. These are mostly isomaltulose (a low GI sugar) and lactose; but still there is 30% of your RI intake per serving.
Even if the GI might not be as high as you would expect, sugars are too high. Particularly in the case of sedentary people -gamers-; and from a carbohydrate standpoint it almost looks like a pre-/post-workout drink.
Protein
For me this is the highlight of Liquid Meal. 36g of protein from milk. The benefits of milk protein are countless; but it particularly shines due to its composition of fast- and slow- absorption protein.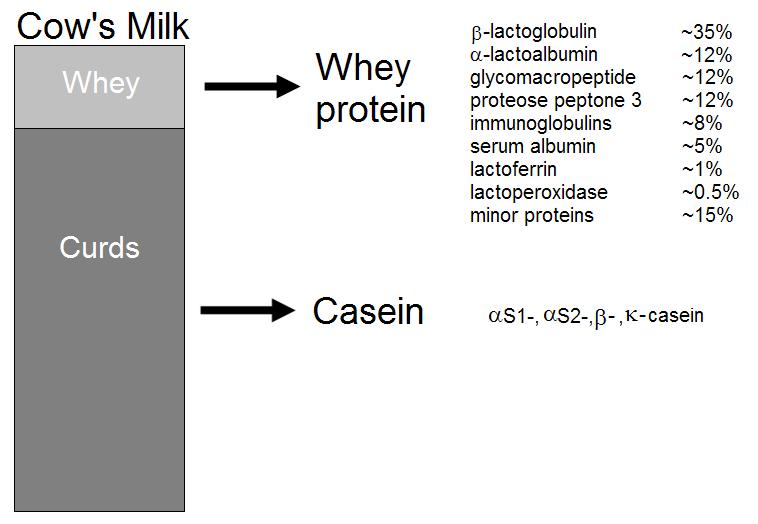 Whey and casein are complementary protein sources, even though, whey might be better for muscle growth when consumed straight after exercise.
| | Whey | Casein |
| --- | --- | --- |
| Complete protein | Yes | Yes |
| PDCAAS | 1.0 | 1.0 |
| High in leucine | Yes | No |
| High in glutamine | No | Yes |
| Absorption rate | Fast | Slow |
| Duration of elevated blood amino acids | Short | Long |
Adapted from Precisionnutrition.
Runtime also adds extra branched-chain amino acids (BCAAs), including L-Leucine, to boost your performance even further.
What Does This Mean For You, Gamer?
While the BCAAs might be a little over the top, or unnecessary for most; it just means that you will be supplied with 50% of the protein that you require. Unless you have any fitness goals, in which case, it is still a great boost.
Fats
The primary fat sources are milk and sunflower oil. It is due to milk that each serving has 4.5g of saturated fats, which is on the high end. Sunflower oil mostly provides you with monounsaturated and polyunsaturated fatty acids.
My main concern when I look at the fats is the lack of any omega-3 source. They are essential fatty acids, often lacking in the Western diet, and necessary for the body to function properly.
Furthermore, omega-3s are primordial for brain health and repair; thus a must for all gamers to keep maximum focus and cognitive function at all times.
Allergens
The only allergen found in Runtime Liquid Meal is milk.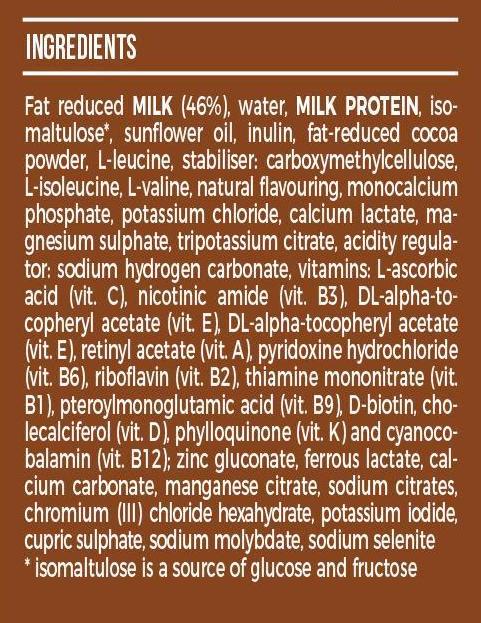 I've talked about the features of Liquid Meal; what I liked and I haven't. However, how does it compare to other RTD products in the market?
Liquid Meal vs YFood
Both are German brands that offer a very similar RTD when you look at the nutritional label; a milk based high protein complete meal. In fact, I would not be surprised if they were produced in the same factory.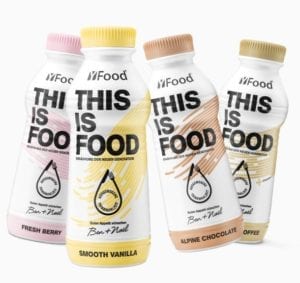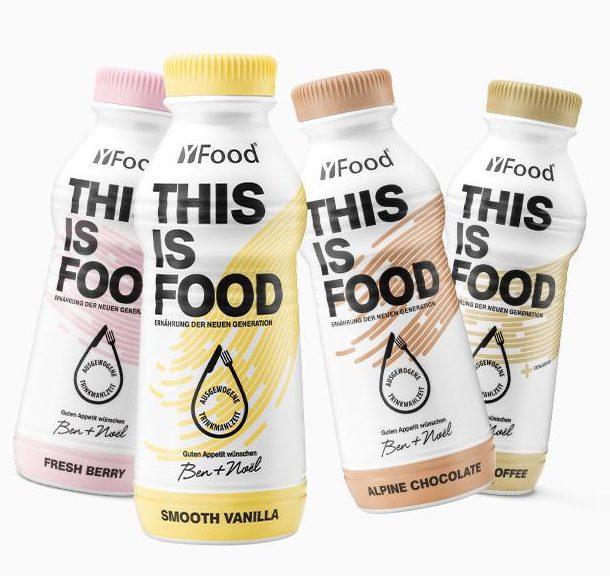 Flavours
Liquid Meal: Chocolate.
YFood: Chocolate, Vanilla, Berry, Coffee, Coconut and Banana.
Price
Price

Liquid Meal

YFood

EU (€)
per 400 (expensive)
3.18
2.80
per 400 (cheapest)
2.66
2.34
Taste
It is only fair to compare Chocolate with Chocolate. Needlessly to say that if you are not a fan of this flavour, and usually go for Vanilla or Berries you will do better buying YFood.
As for the chocolate flavour, in my opinion YFood tastes better. In fact, it is my top rated RTD for now. In my experience it had more sweetness and a slightly stronger chocolate favour, that make it the winner.
What Should I Buy?
8 out of 10 times I would go for YFood. Very similar nutritional profile, slightly better taste and pricing. If you are already buying from Runtime, then I would give Liquid Meal a chance.
---
Liquid Meal vs Mana
Mana or Mana Drink is one of the oldest Central European brands. They have a big focus on RTD products and produce one of the most popular drinks.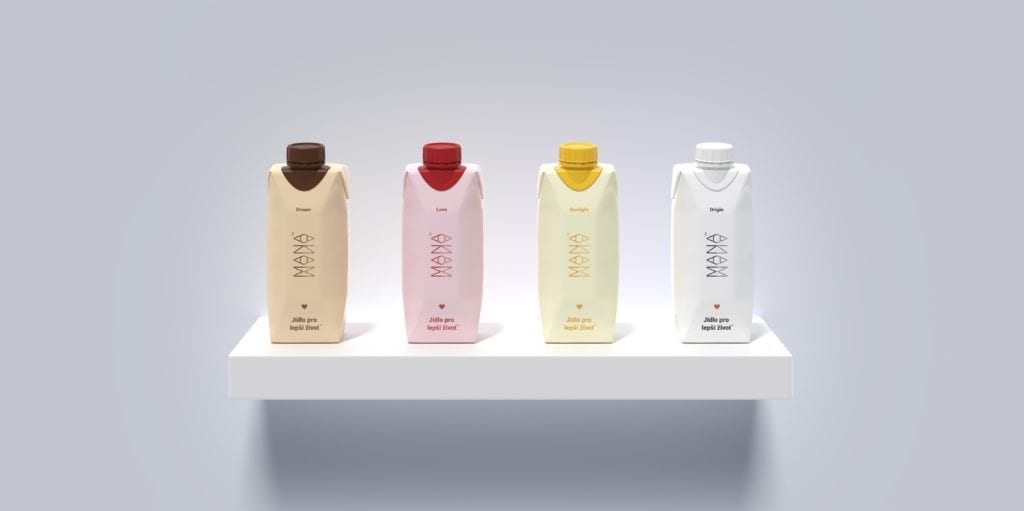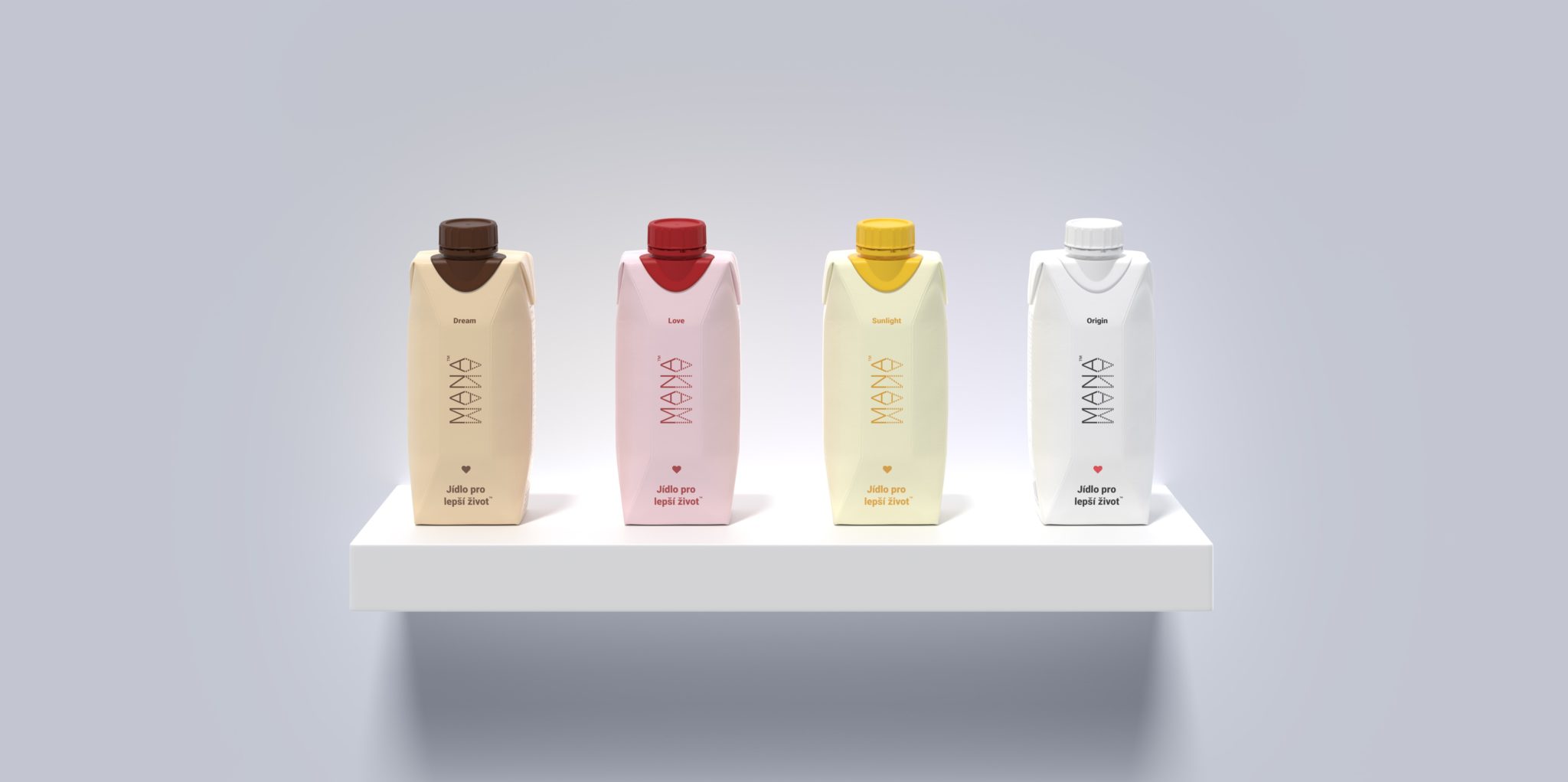 Flavours
Liquid Meal: Chocolate.
Mana: Dream (Cacao), Love (Berries), Sunlight (Tropical), Original (Neutral-Vanilla).
Price
Price

Liquid Meal

Mana RTD

EU (€)
per 400 (expensive)
3.18
2.83
per 400 (cheapest)
2.66
2.35
Mana Origin is cheaper than the other flavours.
Taste
The best Mana flavour is Origin in my opinion. This is arguably better than Liquid Meal Chocolate, but I think it is 60/40 to Mana.
If we compare the chocolate flavours, Liquid Meal has a more pleasant and stronger taste; and it is the clear winner.
Another thing to notice is that Liquid Meal has a better texture in my opinion.
What Should I Buy?
If you are vegan, you will have to go for Mana and if you are allergic to soy for Liquid Meal. That aside, I enjoy the different flavours Mana brings, but I think Liquid Meal tastes better than all of them, except Origin.
---
Huel is the biggest complete food manufacturer and has some of the best meal replacement shakes, especially when looking at nutrition. However, Runtime often has the better flavours. Huel Ready to Drink is the last addition, and one that I was positively impressed by.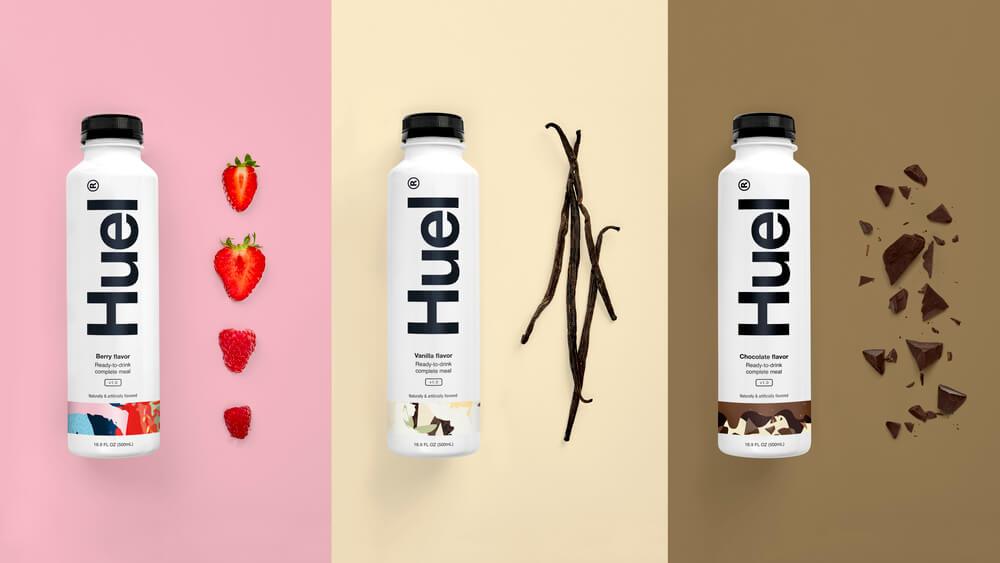 Flavours
Liquid Meal: Chocolate.
Huel RTD: Chocolate (US & UK), Vanilla & Berry.
Price
Price

Liquid Meal

Huel RTD

EU (€)
per 400 (expensive)
3.18
4.42
per 400 (cheapest)
2.66
3.29
UK (£)
per 400 (expensive)
2.86
3.08
per 400 (cheapest)
2.39
2.13
Taste
Overall, surprisingly, I like Huel's better. While there is something to be said on the chocolate to chocolate comparison (Huel has a weird taste to it), and I would probably choose Liquid Meal; Vanilla and Berry just taste better.
What Should I Buy?
Huel RTD is vegan, thus obviously the choice if you follow a plant-based diet. However, I like Liquid Meal's protein content more; even though nutritionally Huel RTD might be better.
Despite that I do find Liquid Meal to be a good Huel alternative to drink them around workouts or if for you price is an important factor.
---
Other RTDs
Liquid Meal vs Saturo. Saturo has more flavours, better pricing and most taste really good. They are also soy based and vegan; but contain less protein than Liquid Meal. Saturo for the flavours.
Liquid Meal vs Feed. RTD. Feed.'s RTDs where overly sweet, particularly Vanilla and Berries. The chocolate was OK, but I still think Liquid Meal tasted better. The prices are more competitive, too. Liquid Meal for the win.
Is Liquid Meal vegan?
No, Liquid Meal contains milk, therefore it is not vegan.


Does one serving of Liquid Meal equate to one "real" meal?
Yes, with 500kcal per serving you will get at least 25% of all the nutrients you need in a daily basis, including vitamins and minerals.


Will drinking Liquid Meal increase my performance?
Unfortunately, you will not win more games just drinking Liquid Meal, but at least you will ensure your body has the nutrients that it needs.


Can I only consume Liquid Meal?
I wouldn't recommend it due to the high saturated and fat content. Liquid Meal is better as part of a balanced diet.


Is Liquid Meal gluten-free?
Yes, Liquid Meal does not contain any gluten.


---
Verdict
Overall, Liquid Meal is a very solid ready-to-drink meal replacement. I enjoyed the taste and the consistency; but I was let down a little bit due to the saltiness. While this could be an issue with the batch, it was enough to make me think twice before buying again.
Besides, even though I love the high protein content, the high sugar and saturated content are a concern. Particularly, for more sedentary people like gamers.
I don't think it could be my daily shake; neither I believe to be the best food for gamers, sadly. However, the convenience factor of the RTD paired with the pleasant texture is enough to recommend you having some Liquid Meal at the back of the fridge.