Shake2day Review | Your Healthy Breakfast Starts Today
Use shake2day to start your day the best possible way and shift into a healthier lifestyle.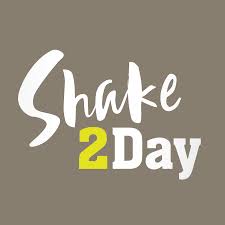 Shake2day offers breakfast oriented vegan shakes, a sport variation strengthen with whey protein and Break, a meal replacement bar based on fruits and nuts. Ensure you get a healthy breakfast and you avoid the mid morning snaking with the Duo Pack (shake and a bar). All with tons of micronutrients, an antioxidant blend and fairly balanced macronutrient split. Will this be enough to compete in the tough European market? Discover why you should give a try to Shake2day, today in this review.
[better-reviews]
Shake2day's focus on breakfast is interesting and some of stuff like the Duo Packs can indeed be very handy. While there is nothing wrong with their current products, I think that they might need to develop something more unique, like bigger caffeine content or some other morning boost. I like what they have done with the Sport Shake, adding whey protein, but they might want to consider making it more concentrated. Regarding the Break bar, it is a great little nutrient boost, but it is not the best meal replacement bar in the market. I like what they are trying to do, I just think they need to offer something slightly more unique overall.
What We like

Range of products and the Duo Packs.
The Starter Pack has a good price and offers all products.
The fact that the nutrition is tailored to each product.
Antioxidants.
Subscription plus bulk discount reduces the price considerably.
Targeting breakfast.
One thing I like about Shake2day is that they have tried to adapt to different caloric needs, and they provide shakes with varying calories (Light 290kcal, Regular 427kcal and Sport 659kcal) but all provide the same amount of micronutrients and omega-3.
Furthermore, the combination of their shakes with their Break bar (Light and Regular Duo Pack) is actually a really handy way to ensure a morning's worth of nutrition without having to be 2 shakes. The fact that are sold together, also makes calculating the calories and cost easier.
Regarding to cost, while the baseline might be higher than other competitors, Shake2day's 10% subscription plus up to 20% bulk discount (for which you do not need to be subscribed) can lower the price significantly.
Following with good value for money, their starter pack is just that. They offer all the products in all flavour variations plus a shaker for €35, which is what would actually cost (minus the shaker). Thus, it is a very good deal.
Another thing worth mentioning is the antioxidant blend. It is good to see some extra additions that have positive impact in the consumer's health.
What We dislike
Sport Version a not protein dense enough.
The Break bar is a bit too sugary and fatty to be only source.
Vegan protein blend.
Navigation can be a little confusing in the site at the start.
Not enough differentiation (subjective).
Starting with the nutritional "shortcomings", I would have like to see a more protein dense sport version. With 32g per 659kcal it comes a little short of competition like Queal Athletic (60g per 766kcal). While 32g is good for a single meal, the total of 96g per day (if taken 3 servings) is a little short.
Keeping up with the protein, I would like to see a more well rounded protein profile in their Light and Regular shakes. Soy protein isolate and pumpkin come short in amino acids like Leucine (comparatively to whey) which have been proven beneficial in muscle growth. Although, I guess that not all people consuming Shake2day will care about it.
Even if Shake2day states that you can live solely off Break, I would strongly discourage it. It is high in sugars (10.6g per 210kcal), mostly fructose, which has been linked to obesity and also fairly high in fats (48%). All without taking into consideration that you would have to consume 10 bars and a lot more money.
Regarding their website, I found it can be a little confusing to navigate in at the first try. It might just be me, but it took be longer than expected to find the full ingredient list and the allergens for example. Plus, while I like their nutrition page (even if I would like them to have more things on it like the labels), the FAQ section comes a bit short.
On a more subjective matter, I feel like Shake2day needs to differentiate a little more from the competition. They have a good product and a good range. They are trying to focus on breakfast and morning meals. I feel that there is more that can be done in that area to make themselves stand out.
Improvements
Something special, like the duo packs.
Improved protein blend for the Vegan shakes.
Another Break bar.
Slightly more information on their site.
Firstly, I would like to see an improved nutrition page with the nutritional labels on it, and the very handy comparison tool, which currently is on the homepage. I would like to see a more expanded FAQ section, plus more information about the company and the founders.
Besides, in the nutritional aspect, I would like to see some evolutions out of their products. They have very good touches like the amount of vitamins and minerals and antioxidants; but I would like to see an improved protein blend in the vegan shakes and more protein in the Sport Shake. As for Break, I like the fact that is nutty and fruity, but a less sugary and fatty bar option would be great, too.
I mention differentiation without giving many specifics. That is because I do not have the solution. I like the Duo Packs, because I see the usefulness of having the bar at mid morning, when you have had breakfast at 7. Not only that, but because it would be easier to sell in retail. I think what I am looking for is something with more caffeine, some sort of bar or drink with nootropics or other products to make you morning easier would be what I would like to see.
With this, I would think Shake2day could acquire a niche in the market and see their brand growing, because they have a good base for it.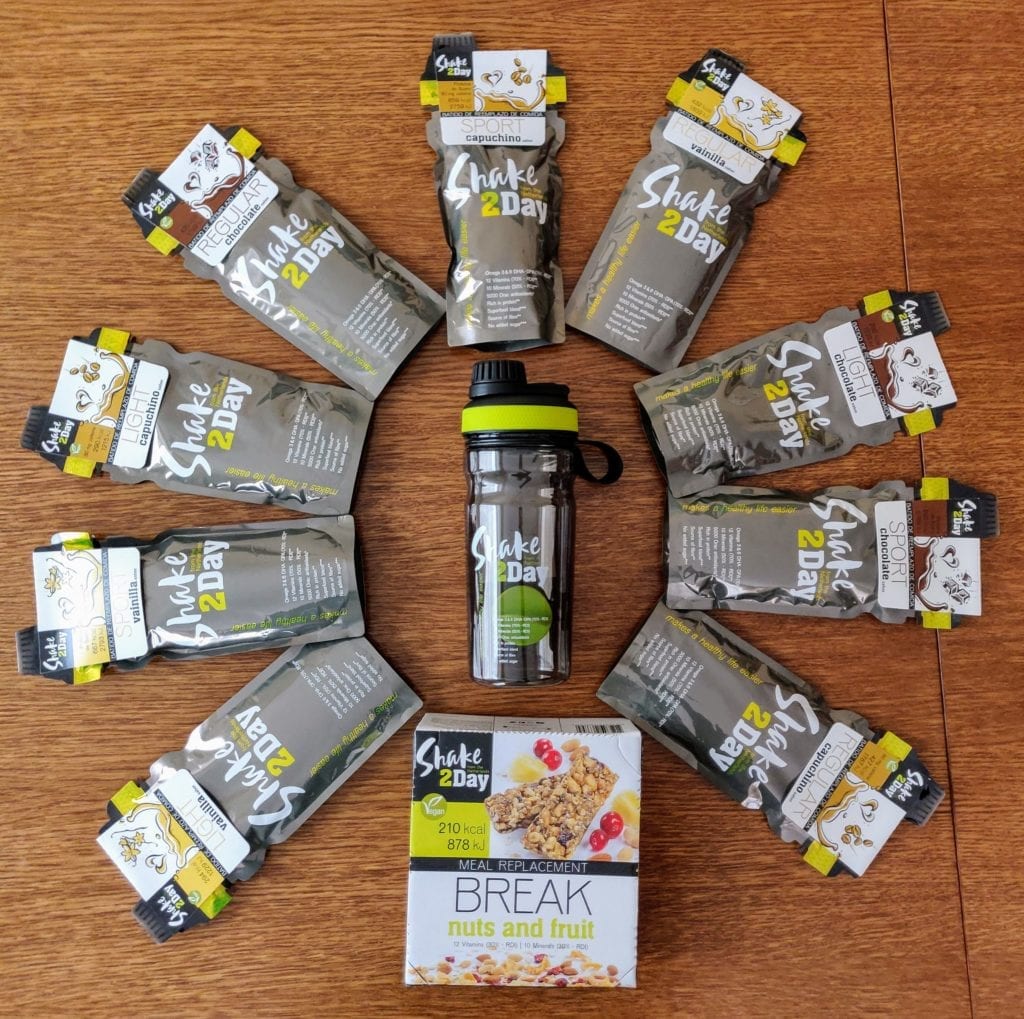 Let's check out how Shake2days's shake taste!
Overall: 7.6 (26.5/35)
Taste: 4/5.
All things considered, I enjoyed the taste of Shake2day's products. Yes, the oat flavour is a little overpowering, but you can still taste the chocolate, vanilla or the cappuccino flavour and they are pleasant to drink.
Flavour Fidelity: 3.5/5.
Shake2day's shakes were pretty different from each other, and they do actually resemble the flavour they are meant to taste like. The oddest one is the cappuccino flavour, which may cause divided opinions.
Aftertaste: 4/5.
Flavours are not particularly strong, which makes it so you do not have any weird aftertaste.
Texture: 3.5/5.
The texture is gritty and with oat bits on it. Not enough to be unpleasant or bother you while you are drinking, but noticeable.
Consistency: 3.5/5.
The recommended amounts are too thick.
Easiness to drink: 4/5.
It is a bit gritty and the recommended water dose makes them a little too thick in my opinion. If you add a little bit of extra water, it will be much easier to drink.
Hunger Quenching: 4/5.
Even the smaller shake (Light), I thought it was pretty good. While it will not make you as full as the Regular version, I held on for 2-3h without any issue.
What Shake2day tastes the best?
Shake2day's shakes are very oaty and gritty. You can leave them in the fridge overnight and it will solve the issue ever so slightly. The feeling when you drink them is like a homemade oat shake with some cacao powder or vanilla extract. You can certainly notice the oats, but that is not a bad thing, per se. Overall they are quite pleasant shakes, while nothing spectacular.
Chocolate(A): My favourite out of all of them due to my love to chocolate. This and the cappuccino were really close, but the Nesquick like chocolate taste was the winner for me.
Cappuccino (A): Cappuccino tastes slightly different to other coffee flavours. It is not the bitter black coffee from Saturo, or the really milk latte from Satislent, but rather something in the middle. I found it a bit odd at first, but I got used to it pretty fast.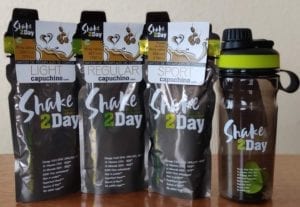 Vanilla (B): Most Vanilla flavours tend to be pretty mild (Queal, Saturo, Kuik), but I enjoy stronger Vanilla flavours like Huel's. Shake2day's is mostly oat with mild vanilla milk.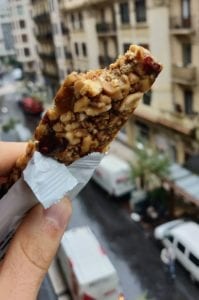 Break (A). Break was exactly what you would expect from a nut bar, with a bit of sweetness to it. The added dried fruit bits really did the job adding a nice sweet touch to the bar. Really enjoyable.
What PRODUCTS does Shake2day offer?

Shake2day offers a quite wide array of different products. It has 3 powder meal replacements, the Light (less calories per serving), the Regular and the Sport (extra protein and calories); plus a meal replacement bar, Break. The first three, all come in three different flavours Vanilla, Chocolate and Cappuccino. It is actually refreshing to see that you have all flavours available in all three. They are slightly different between each other too. The Sportshake includes whey protein, whereas the other two are vegan and do not have any.
Break only comes in a single flavour, Fruits. However, it is packed with the 30% of the vitamins and minerals you need. Thus, it is a very nutrient rich bar.
You can also purchase the Regular and Light shake with the Break bar in very handy Duo packs that help you making it through the morning until lunch.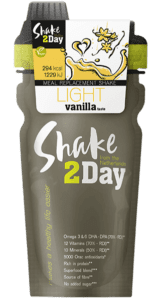 Shake2day Light
Meal Replacement
Powder
290kcal/meal
22P/56C/22F % of Energy from
1.6g of sugars/0.6g of Saturated Fats per serving
Price no subscription: €2.72/400kcal
Price subscription: €2.45/400kcal
Price per meal (High): €2.00
Soy, Gluten
---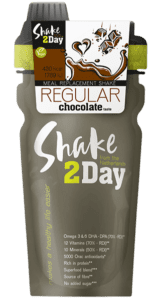 Shake2day Regular
Meal Replacement
Powder
427kcal/meal
22P/56C/22F % of Energy from
2.4g of sugars/1g of Saturated Fats per serving
Price no subscription: €2.23/400kcal
Price subscription: €2.00/400kcal
Price per meal (High): €2.40
Soy, Gluten
---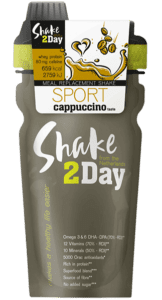 Shake2day Sport
Meal Replacement
Powder
657kcal/meal
22P/56C/22F % of Energy from
5.1g of sugars/1.6g of Saturated Fats per serving
Price no subscription: €1.89/400kcal
Price subscription: €1.70/400kcal
Price per meal (High): €3.15
Soy, Gluten, Dairy
---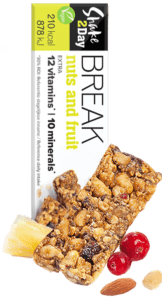 Shake2day Break
Meal Replacement
Bar
210kcal/meal
11P/41C/48F % of Energy from
12.4g of sugars/0.16g of Saturated Fats per serving
Price no subscription: €2.76/400kcal
Price subscription: €2.48/400kcal
Price per bar (High): €1.45
Nuts
---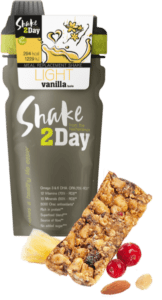 Shake2day Duo Pack (Reg & Light)
Meal Replacement
Powder + Bar
Regular: 640kcal/meal
Light: 504kcal/meal
Regular no subscription: €3.75/meal
Regular subscription: €3.38/400kcal
Light no subscription: €3.35/meal
Regular subscription: €3.02/meal
Soy, Gluten, Nuts
---
Brief Shake2day Light & Regular Review
I am grouping both Light and Regular because nutritionally are very similar. They are both vegan shakes that have soy protein isolate, oats, sunflower oil and algae oil as main ingredients. Plus, the both have a  22P/56C/22F energy profile. Interestingly, both contain 70% of your daily vitamins and 50% of minerals, and 70% of omega-3 & -6.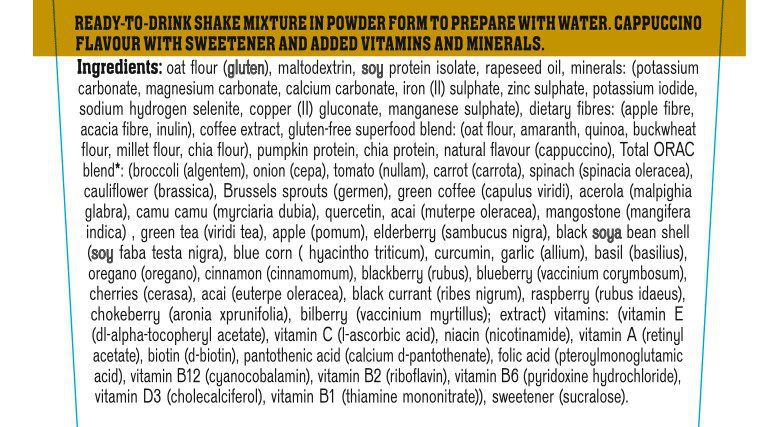 This point is important, because it means the light version is not just a smaller, more pricey iteration of the Regular Shake2day; but it is balanced separately. Thus, the light version is richer in omega-3/6 fatty acids and micronutrients per calorie than the regular version.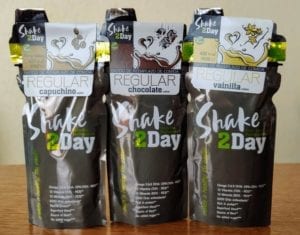 Back into what they have in common, though, they both offer the same three flavours: Cappuccino, Vanilla and Chocolate. The cappuccino version has caffeine on it.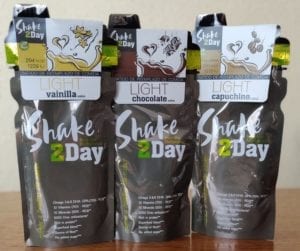 Unlike some of the other vegan shakes (Soylent Drink, Saturo, Nutberg, Queal Vegan), Shake2day breaks are quite low in fat and fairly high in carbs. This is interesting, since many Vegan shakes seem to favour the high fat low carb formula. I appreciate bringing something different to the table.
Thus, if you have to choose between one or the other you have only the price difference and the calories to look at to. If you really are not a big eater or are trying to lose weight, the 120kcal will make a difference, so I would choose the Light version. Otherwise, the regular version will do just fine.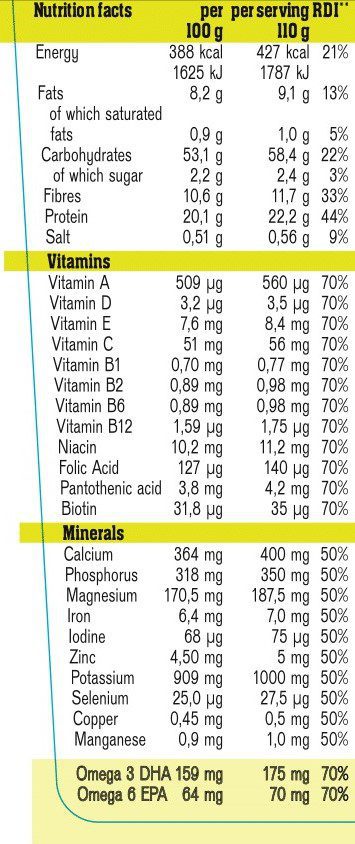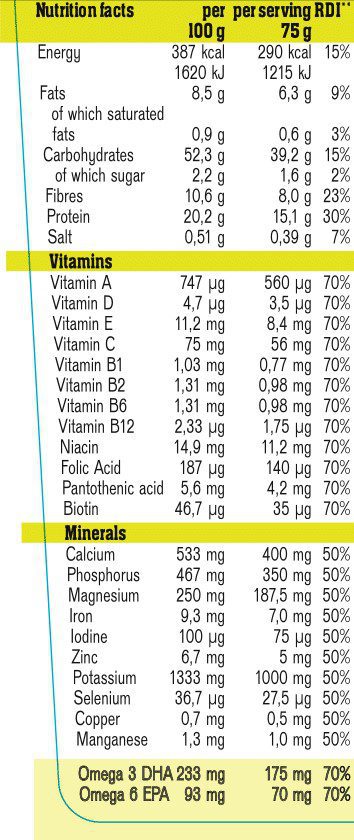 Brief Shake2day Sport Review
The sport version shares many similarities with the other powder versions, including the main ingredients and the energy split profile (22P/56C/22F). Nevertheless, there is one key difference: it contains whey protein. This makes me quite happy, since I am starting to get tired of the veganization of meal replacements. I also believe that for athletic and muscle growth purposes, whey protein is superior to soy protein.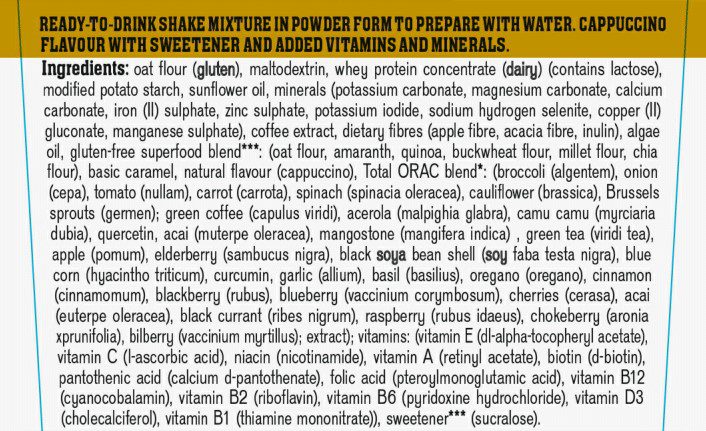 While 32g per 659kcal may not be as much as other "sport" meal replacements, such as Queal Athletic (60g/760kcal), Plenny Shake Active (34g/500kcal) or Feed. Sport (53g/675kcal); it is about what your body can absorbe in a single meal (20-30g). I do think that it should probably more concentrated in protein, to actually be able to support a high protein diet. Because currently, you will only get about 100g of protein in a 2,000kcal diet and you might want to reach 120-130g (based on an individual of 80kg wanting to gain muscle).
The Sport shake comes in the same three flavours as the other two: Vanilla, Chocolate and Cappuccino. Even though, the price per meal is more expensive than the Regular and Light shake, the price per kcal is actually cheaper.
On the other hand, it is courious that it brings the same amount of micronutrients and omega fats as the rest. This means that is significantly less dense in nutrients; although, you will get enough of all if you consume more than one Sport shake.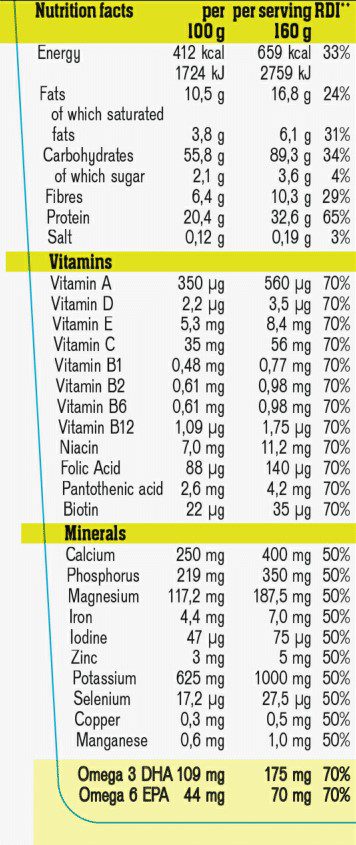 Brief Shake2day Break Review
The meal replacement bar by Shake2day is the odd one out, nutritionally speaking. However, this is fairly standard, since bars tend to have different manufacturing needs to the powders. It is a vegan bar that brings 210kcal/bar; really high in fats and low in carbs and protein (11P/41C/48F).
11.2g of fats (16% of RI).
0.16g of saturated fats (0.8% of RI).
20.6 of carbohydrates (8% of RI).
12.4g of sugars (13.8% of RI).
5.4g of protein (10.8% of RI).
2.2g of fiber (6.3% of RI).
The fats are probably due to the fact that the main ingredients are dry fruits, namely, peanuts and almonds (rich in healthy fats). It is remarkable how low is in saturated fats, since bars tend to have high amounts of these fatty acids.
The "disappointment" comes from the amount of sugars that each bar brings. Most of them will be naturally occurring sugars in cranberry and pineapple (fructose), but it creates a problem for those who want to consume multiple bars a day (I know, not many).
I would have also like to see a little more protein and fiber. I understand that because it is a fruit bar more than a protein bar it is harder to do so.
However, this nutritional shortcomings would make me recommend Break as a supplement to your diet (as it is intended), rather than the driving force. If you are looking for bars as your main source of food, you should check GOBar or Huel bar or Feed. bars.
Nevertheless, I should praise that each bar comes with 30% of your daily vitamins and minerals, thus Break would be a good way to get a nutrient rich meal.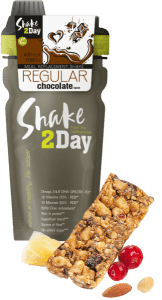 Shake2day Starter Pack
I am always happy when I get to write about an starter pack. I really like when companies lower the barrier of entry to newcomers and offer a tasting bundle. In the case of Shake2day you get an awesome deal. You get to try all the different products in all the available flavours for only €35.7! Plus you get a very sturdy shaker.
Includes:
3x Shake Light (1x cappuccino, 1x chocolate and 1x vanilla)

.

3x Shake Regular (1x cappuccino, 1x chocolate and 1x vanilla).

3x Shake Sport (1x cappuccino, 1x chocolate and 1x vanilla).

9x Shake2Day Break (nuts & fruit).

Free Shaker.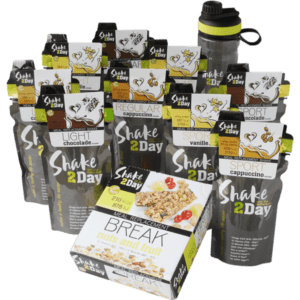 Shake2day offers vegan products (except Sportshake) with oats, soy protein isolate and sunflower oil as main ingredients. As well as that, all shakes include algae oil to bum the omega-3 (DHA and EPA) levels. Sportshake includes whey protein for a more complete amino acid profile, which makes it a vegetarian shake.
Break includes peanuts and almonds, plus uses cranberry and pineapples as extra flavouring with spikes the sugar content of the bars. However, none of the products include any added sugar, although they do contain sucralose as a sweetener. You can find out all about the ingredients they use in their nutrition page.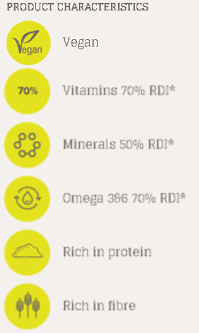 Energy
All powder products offer different amount of calories per serving, even if they energy split is similar 22% from protein, 56% from carbs and 22% from fats. However, they require different amount of servings to achieve your daily goals:
Shake2day Light

290kcal
6 meals = 1,740kcal
Shake2day Regular

427kcal
5 meals = 2,135kcal
Shake2day Sport

659kcal
4 meals = 2,636kcal
All products, except the Break bar, are within the acceptable macronutrient distribution ranges (AMDR) for fats 20-35%and carbohydrates (45-65%) established by WHO, EFSA and US agencies.
This energy distribution is slightly different to what you get from other Vegan meal replacements (Soylent Drink, Saturo, Queal Vegan) that opt for a higher fat profile (30%+) and lower carbohydrate content (45% or less).
Fats
Shake2day Light

Total fats: 6.3g
Sat fats: 0.6g
Omega-3 (DHA) 0.233g
Omega-3 (EPA): 0.070g
Shake2day Regular

Total fats: 9.1g
Sat fats: 1g
Omega-3 (DHA) 0.233g
Omega-3 (EPA): 0.070g
Shake2day Sport

Total fats: 16.8g
Sat fats: 6.1g
Omega-3 (DHA) 0.233g
Omega-3 (EPA): 0.070g
The fat and saturated fat content in Shake2day shakes is really low. 22% of the total energy is close to the lower limit of 20%. Most of the fat comes from sunflower oil, really popular in European shakes due to its availability and price. This oil is high in omega-6 (and omega-) but low in omega-3 (1/70 ratio). Thus, it is often paired with canola oil to bring the omega-3 to -6 ratio up. The ideal ratio is somewhere between 1/1 and 1/3. It would be interesting to know what the actual ratio is.
Nevertheless, Shake2day uses algae oil from alga schizochytrium to get the necessary omega-3s. They do so with Eicosapentaenoic acid (EPA) and Docosahexaenoic acid (DHA). Correct supplementation of these fatty acids has been linked with a decrease CVD diseases and heart problems.
Curiously, all shakes have the same amount of omega-3 fatty acids even if the servings are different. It would be interesting to know if this is because the algae is added differently in all three products.
Besides, I would like to know the exact MUFA and PUFA content in the shakes. Either way, they are far more abundant that saturated fats; which is more metabolically beneficial.
Carbs
Shake2day has quite a lot of carbohydrates that mostly come from oats and maltodextrin.
Oats are one of the best, if not the best, source of complex carbohydrates, because they are mainly starch (66%), some protein (17%) and fiber (11%). They are slow digesting carbs that do not spike your blood sugar levels, unlike maltodextrin. The latter, even if it is a complex carbohydrate, is easily digested in the stomach and converted into glucose. This in turn causes maltodextrin to have a high GI (85) coefficient.
I have no data to what the overall GI of the shakes are. Nonetheless, I would expect to be much lower than 85 due to all the fats and protein that come with the carbs.
Regardint to fiber, all three products provide with at least 40% of the recommended intake per serving, which ensures you will get enough with 2 shakes (except the Light version).
Protein
The main protein source is soy protein isolate in Shake2day Light and Regular. The sole use of soy protein isolate is usually an issue for me, due to the fact that lacks in methionine or other amino acids, such as, Lysine are found in less quantity to that of whey. Comparatively, soy protein is also less digestible and has a smaller metabolic response to whey protein (Phillips et al., 2009; Tang et al., 1985).
Nevertheless, these two shakes also pack some pumpkin and chia seed protein. None of these is particularly rich in lysine or methionine, so I do not think they complement soy all that well. However, pumpkin protein comes with many vitamins (vit K, vit E particularly) and minerals (manganese, phosphorus and magnesium, among others).
Looking at Shake2day sport, it is great to see whey protein in the ingredient list. Whey protein is the golden standard in the industry, due to the multiple benefits in anabolic response, fatigue exertion, role in lean muscle mass maintainance in the elderly… Even if the total amounts of protein (32g/659kcal) might be lower than to what I could expect from a sport supplement; each serving provides with adequate protein quantities for a single meal  (20-30g of protein per meal).
Micronutrients
Each Shake2day shake provides with the incredible amount of 70% of RI for vitamins and 50% of RI for minerals. This is remarkable since many fail to deliver even in 2,000kcal what Shake2day does in 400kcal. If you are afraid of overdosing in micronutrients you should not worry. The recommended intakes are several fold lower than the toxicity levels. Simply, all the extra nutrients will not be absorbed by the body.
Antioxidants and ORAC
Antioxidants are compounds that reduce the free radicals found in our body due to natural metabolic reactions. Diets high in antioxidants have been found to reduce all causes of mortality including cancer.
Thus, it is possitive to see that Shake2day includes antioxidant from ORAC blend: broccoli, onion, tomato, carrot, spinach, cauliflower, sprouts, green coffee, acerola, camu camu, quercetin, mangosteen, green tea, apple, elderberry, black soybean shell, blue corn, curcumin, garlic, basil, oregano, cinnamon, bramble, blueberry, cherry, acai, blackberry, raspberry and appleberry.
Allergens
Light and Regular contain soy and gluten. Sport shake has soy, gluten and dairy (whey protein). On the other hand, Break contains nuts (almond and peanut).
More about nutrition
In our Resources page you will find any information you need about nutritional guidelines. Besides, the nutrition page in Shake2day's website will give you a short rundown of every ingredient.
Nutrition Summary
Shake2day's products are vegan, apart from Sport shake, with low fat content and relatively rich in carbohydrates and protein. Only Break has a high fat high carbohydrate content, due to the fact that is made with nuts and fruits. None of the products contain added sugars and are generally really low in saturated fats.
Besides, they are really high in omega-3 fatty acids (EPA and DHA) and micronutrients. In fact, 2 servings of Regular will provide you with less than 50% of your daily caloric need but over 100% of the RI for vitamins and minerals (good thing).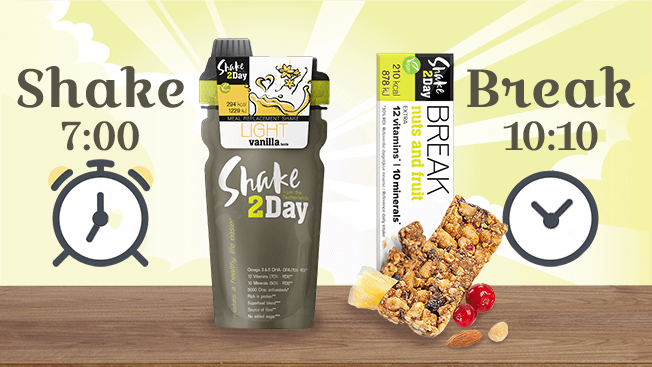 Shake2day is a Dutch company born under the shadows of giants like Jimmyjoy and Queal. However, they are looking to target a different audience, as the image shows. While their products are fit to take at any point of the day, they do like to specialize in easy breakfast combos. In my case, I wish they were packed with a bit more caffeine, but it is no doubt that Shake2day offers perfect breakfast alternatives for almost everybody.
Shake2day's packaging
The powder versions of Shake2day come in individual packs that contain a single serving but you can only purchase them in bundles of 9 pouches. The bars come in a pack of 9. Up until now all very standard. However, Shake2day offers a two very interesting bundles: the Regular with a bar (640kcal in total) and the Light with a bar (504kcal), so people can have the breakfast plus a snack. Pretty interesting concept.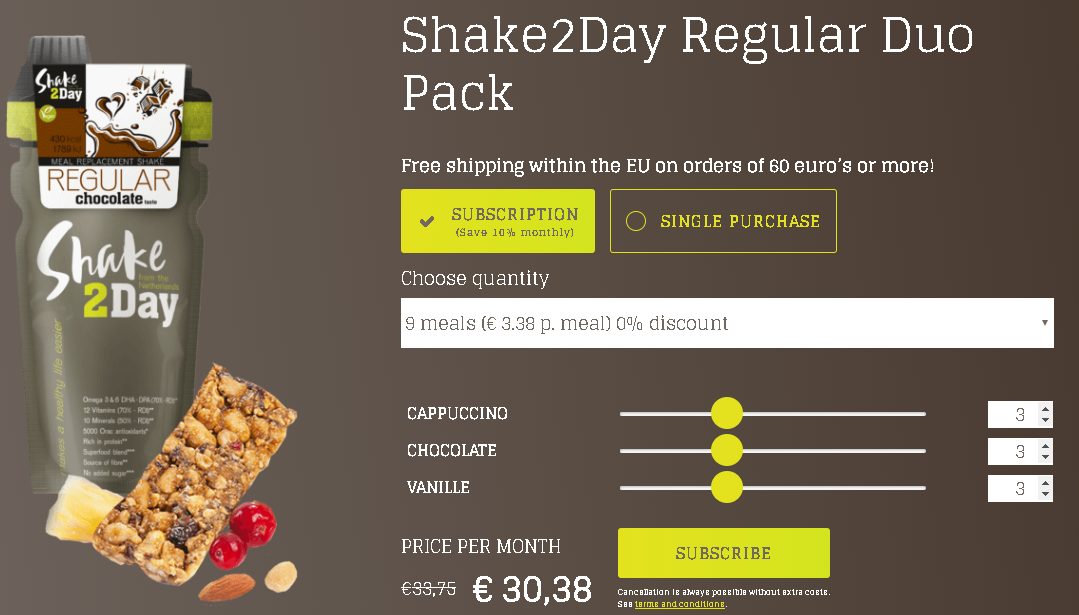 Now into the negatives. Fist of, I should remark that I understand the concept that Shake2day is trying to spread: an easy and convenient start to the morning. Nevertheless, because they pack their meals in individual packages they create more waste than a single, bigger bag.
Not only they create more waste, but also require more storage space. I hope that they will expand in the future and will offer bigger packaging options, since their meal replacements deserve it.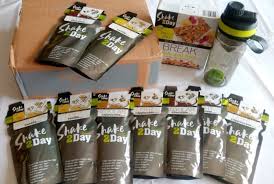 Shake2day states that the shelf life of their products is about 12 months (probably more), but only 24h if the product is been opened or mixed.
Shipping and Return Policy
In all fairness, Shake2day offers a very good free delivery in orders over €60 in Europe. In order to qualify for this you would have to order 2×9 Duo packs or 3×9 Regular, Light or Sport shakes.
They also deliver to the US, but the shipping cost to there can be quite high (I got a quote of €45 for a order worth €92). Thus, I would recommend looking at local brands (Soylent, Grubsub, Hol Food) or Jimmyjoy, Queal.
Regarding the return policy, Shake2day offers a 14 days return period from when you received the items. You will have to email them at  [email protected] stating the reason for the return. Unfortunately, you will only be able to return the packages that are unopened (EU law).
Subscription
Now, this might be one of the biggest strengths of Shake2day. They offer a very standard 10% discount for subscribers, but on top of that you will get discounted prices for bulk orders. This is, if you order 9 meals you will get the standard price; if you order 18, however, you will get 5% off; and if you order 72 meals, you will get 20% discount. Hence, in total you could get a 30% discount over the original price (not very expensive either).
Your Regular Shake2day could be as cheap as €1.44 per meal. Not at the level of Plenny Shake or Queal Standard or Satislent, but cheaper than other vegan shakes like Feed.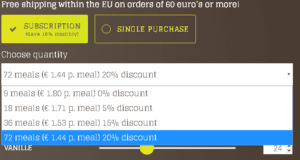 I wish they could make this more clear.
How do I get started with Shake2day?
Are you a beginner with meal replacement products? Then, I recommend you to have a look to our how to start with meal replacement guide.
Either way, here is a 5-step guide on how to start with Shake2day:
It is important to famliarize yourself with nutrition and calories. Use an app like  MyFitnessPal to estimate and track the calories you will need in any given day.
I would strongly recommend buying the Starter Pack (for only €35), because it will allow you to try every product and flavour in the range. Otherwise, choose your ideal Shake2day according to your activity levels and calories you need. Female sedentary, go for light. Male sedentary. Go for regular. Looking for something to supplement your sporting habits, go for the Sport option.
Wake up and use your Shake2day for breakfast. Alternatively, you could use it for lunch or dinner without any issues. However, I would recommend you not doing more than one meal to start with.
Make sure you track your calories when you start, to ensure you are keeping your diet balanced.
Shake, drink and take a break from the usual crap breakfast.
Other things to take into consideration are:
If you are a beginner make sure you track calories.
We tend to have discounts on our Deals section.
Do not consume Shake2day if you notice any adverse effects.
How to buy Shake2day
Shake2day's website has the shop option in the navigation menu.
You will have the option to buy the Duo packs; Light, Regular or Sport shakes; or Break bars.

Once you click on "in shopping cart" you will access the page to select your flavours and meals.

Deselect the subscription option, since it comes by default. Select how many meals you want. They come on bundles of 9.
Once you access the cart, you will have the chance to overview your order and enter any discount codes that you might have.
Once you proceed to checkout you will have to introduce your details and pay.

Some tinny bits on the sites are in Dutch. It is like a mini game, trying to find the easter egg.
1- Which Shake2day product is right for me?
My go-to recommendation would be the Regular Shake2day. It is better value for money than the Light version, while being a reasonable 427kcal per serving that will suit most people's diet.
I would only recommend the light version, if you are trying to lose weight, are looking for a nutrient rich meal but now many calories; or you live a very sedentary lifestyle.
The Shake2day Sport is for those meals that you do after or before the workout. If you are one of those who hits the gym early in the morning, before anything else, then the extra calories and protein will do you well.
Actually, I must not forget the duo packs. These are brilliant if you have a huge time gap between your breakfast and your lunch or in general if you are a very snacky person. Avoid any unhealthy temptations by having a Break
2- Can I get it in the US?
Yes and kind of no, and realistically no. What? Despite the fact that they do ship their products to the US; the shipping costs are not limited to one price and are according to the volume of the order. As such, you can pay $51 for a small order or $182 for a big order. It is simply much better if you buy another brand. Sorry.

3- Is it suitable for diabetics?
I would not recommend Shake2day to diabetics before they consult it with their doctors. Particularly the Break bars, which are high in fructose.
4- Where is it manufactured?
The products are manufactured in the Netherlands.
5- Can I eat only Shake2day Break bars?
In theory, the company says that you could, since they contain enough of both macro- and micronutrients. Nonetheless, I would advise against it due to the macronutrient balance being extremely high in fats and high in sugars. It could suit a very specific diet, but I think having the shakes is a much healthier alternative.
7- What is the refund policy?
Any item can be returned up to 14 days since it was recieved, if it has not been opened.
8- Why choose Shake2day over other meal replacements?
There are multiple vegan meal replacement shakes in Europe, there is no denying that. Hence, the competition is fierce for Shake2day. However, Shake2day is one of the few brands that offer vegan shakes plus bars (if the only one) in a very affordable Duo pack. Shake2day is also the only brand mostly focused on breakfast products. On top of a good nutritious breakfast, Shake2day also comes with plenty of antioxidants.
If you are not convinced and want look at more European brands at The Ultimate Meal Replacement List or check our other reviews.
Shake2day vs other meal replacements
So who is Shake2day's competitor? All the European brands. Jokes aside, there are few companies that offer caffeinated vegan meal replacements as breakfast option, like Saturo Coffee, Plenny Shake WakeUp, YFood, SatisUp, among others.
Pinpointing the major competitors is hard, since Feed. touches most areas of meal replacements. Feed's biggest enemies are possibly, Huel, Saturo (RTD), Ambronite (organic) and in a lesser way, Jimmyjoy and Queal.
Shake2day vs Soylent– Shake2day is the better powder.
Soylent is not a direct competitor, since currently is only available in the UK (in Europe) and it is more focused on the ready-to-drink products. However, I like to compare all to Soylent as a control. Real Soylent alternatives are discussed elsewhere.
| | | |
| --- | --- | --- |
| | Soylent | Shake2day |
| From | USA | NED |
| Ships to | USA | EU&US |
| $/400kcal | $$ | $$ |
| C/P/F | 38/19/43 | 56/22/22 |
| Allergen | Soy | Soy, Gluten |
| kCal/meal | 400 | 427 |
| Serv/day | 5 | 5 |
| Suitable | Vegan | Vegan |
| Flavours | 5 | 3 |
| Products | 3 | 4 |
Label:
Price per 400kcal without subscription:
$– Below $1.5 $1.5 = €1.3 = £1.15
$$- $1.5 to $3 $3 = €2.6 = £2.3
$$$– $3 to $5 $5 = €4.3 = £3.85
$$$$– over $5
Price, product range and flavours: Draw
Soylent produces 3 products in the US: Soylent Drink, Soylent Cafe and Soylent Powder. On the other hand, Shake2day offers 3 varieties of powder meal replacement and a bar. Soylent Powder's price is lower than the Shake2day's range, but the RTDs are both more expensive. Plus, in the Europe they currently only sell the RTD products (only in the UK).
On the other hand, Soylent RTDs come in more flavours than the Shake2day's powder complete foods. In Europe, Shake2day definitely has the upperhand, but overall Soylent has the wider and more competitive range.
Nutrition: Shake2day
Soylent offers 400kcal per shake with 20g of protein (40% of RI), 39g of carbs (15% of RI), 3g of sugars (3.3% of RI), 20g of fats (28.6% of RI), 1.5g of saturated fats (7.5% of RI) and 5g of fiber (25%). Shake2day has less fats 9.1g per serving; more carbs 58g per serving; and 2g more of protein.
They both use sunflower oil and soy protein isolate as their main ingredients for fats and protein. Soylent adds isomaltulose to their powders, while Shake2day uses oats. Oats usually mean that the shakes contain gluten, but I prefer them to isomaltulose as carb source.
Shake2day also brings an ORAC blend of antioxidants, which are proven to reduce all mortality risks. I think Shake2day meals are easier to get used to, better balanced for the overall population and have great omega-3 levels.
Brand image, Customer Service, Availability, Shipping: Soylent
Soylent is currently available in the US and the UK (only RTDs). However, they will surely expand to the rest of EU due to their economic power. They have also have a big team, a good customer support service and a strong community behind them.
Shake2day is a small company with great customer service and offers shipping to both EU and US, but cannot compete with the complete package Soylent provides just yet.
Shake2day vs Huel – Winner Huel
Let's compare it to Huel, the European powerhouse.
| | | |
| --- | --- | --- |
| | Huel | Shake2day |
| From | UK | NED |
| Ships to | World | EU&US |
| $/400kcal | $$ | $$ |
| C/P/F | 38/31/31 | 56/22/22 |
| Allergen | Gluten* | Soy, Gluten |
| kCal/meal | 500 | 427 |
| Serv/day | 4 | 5 |
| Suitable | Vegan | Vegan |
| Flavours | 5* | 3 |
| Products | 3 | 4 |
Label:
Price per 400kcal without subscription:
$– Below $1.5 $1.5 = €1.3 = £1.15
$$- $1.5 to $3 $3 = €2.6 = £2.3
$$$– $3 to $5 $5 = €4.3 = £3.85
$$$$– over $5
Price, product range and flavours: Huel
Huel has 3 powder variations (standard, gluten-free and sport certified), a meal replacement bar and a granola breakfast in their inventory. The powders are offered in 5 different flavours but you can add up to 11 flavouring sachets, they sell.
When comparing to that, Shake2day's range does not offer the granola version, although they do have the light version Huel does not offer.
However, due to the flavour option difference, I believe Huel offers more opportunities.
Nutrition: Huel
Huel offers a 38/31/31 energy split, very high in protein for any vegan shake and with a very good amino acid profile due to their custom plant based blend. Every ingredient in their shakes is widely documented and thoroughly considered before adding to the mix. Consequently, they have one of the best complete foods in the market.
While Shake2day's are great and work perfectly for the average consumer, I feel that the protein blend is superior in Huel as well as the overall balance of the shake.
Brand image, Customer Service, Availability, Shipping: Huel
Huel offers shipping worldwide*, and particulary good terms in the EU and US (free shipping). Their customer service is top of the line and they are very active in their forums, where the community shares a lot. They provide a great experience.
Shake2day does not have the forums or the fanbase to offer the opportunity to talk about the product. Even if they customer service is really good, they are limited by the size of the company.
A word about these comparisons:
These comparisons are often unfair to the smaller brands, since they contain 2 sections where it is really hard for them to compete. I also tend to compare them with what I think is the toughest competition, which may reflect poorly on the brands. I need to remark that Shake2day is a great product targeting a nice niche.
Who is Shake2day for?
Shake2day can serve everybody's purposes, from people who are losing to lose weight, to people who are looking to improve their diet or have some better post-workout meal.
The Duo Packs are especially useful for people who tend to work in the office and find themselves hungry before lunch. Break offers a great snack alternative, with only 200kcal, but 30% of all the micronutrients you need.
Does it taste good?
Shake2day offers fairly standard flavours: Vanilla, Chocolate and Cappucino. They are pretty good though. The Break bars are really nutty and sweet, you can definitely notice the ingredients. It is very similar to have a dry fruit snack bar.
Will I get all the nutrients I need?
You will get all the macronutrients you need based on a 2,000kcal diet (except the if you take the Light version and you are trying to lose weight); plus, you will get more than the RI for micronutrients, which is not a bad thing. On top of that, the meal replacement powders come with a fair bit of omega-3s and packed with antioxidants.
So, yes. Shake2day can be a great way to supplement your diet or use as main source.
I want to buy it. How much will it cost me?
A Regular Shake2day will cost you maximum €2.4 but with the subscription of 10% and bulk discount of 20% of top it can go down to €1.68 per 400kcal. The Break bars cost around €1.45 per bar.
Overall, the prices are very competitive within the market. Only budget meal replacement brands like Jimmyjoy or Satislent; or Queal will give you a better deal.
Wait a moment, is it perfect?
Shake2day is great because it is really easily adaptable and offers good breakfast alternatives for everybody. However, I would like to see a plant based blend with something else than soy protein and pumpkin protein. The variation and the duo packs are cool, but having more than 3 flavours would be interesting too. Lastly, while I am glad that the Sport Shake comes with whey protein, I wished it had more protein per kcal.
Verdict
Therefore, time for the final saying. Shake2day's strengths rely on their focus on breakfast; the variety on the sizes in their servings, while accommodating micronutrients accordingly; and their duo packs, which offer a complete nutrition for the morning. I feel like their Sport shake could do with a little update, and I would also like to see a better protein source selection from them. However, I would recommend Shake2day to anybody who is looking for healthy breakfast alternatives, and ways to avoid mid-morning snacking.
Always check the Deals section for the latest discount codes.
– There are currently no Shake2day discounts, but we hope to have some soon.