Welcome to another round of meal replacement news, where you can get the latest information about everything that happens in the complete food industry. This week, I've got a few exciting things to report, such as the new YFood Vegan RTD. Indeed, if you are thinking that YFood have been featured a lot recently, you're right! With this, it's the 3rd product launch in the past 2 months. Let's find out more in this weeks news.
New YFood RTD Vegan
More than once, I've mentioned that YFood's is the best RTD in the market. There are multiple reasons why I think that, but the milkshake like-taste and the high protein content are two major ones. Thus, that's two criteria that I would like the vegan RTD to meet: great taste, and above 25g of protein per 400kcal.
Overview of YFood RTD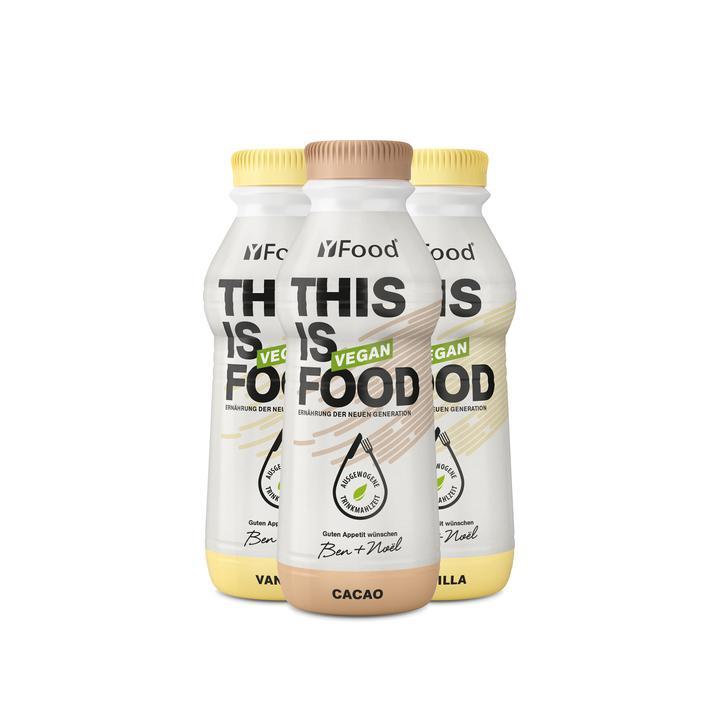 So the YFood vegan will be available in only two flavours to start with (Chocolate and Vanilla). On top of that, it is significantly more expensive than the standard version at €3.99 the bottle. Two red flags to start with. However, it is worth noting that these are to be expected with new product launches, and should change with bigger production/sales.
Besides, there is also the protein "issue". Each 400kcal brings 21g of protein from soy, which is very similar numbers to other competitors (like Saturo, Soylent, Mana). The point I'm making is that looking at the numbers, there's little new on YFood's RTD when compared to other vegan alternatives.
The main difference when comparing this RTD to others in the market might be the low sugar value (besides Huel's). The low sugar quantities is due to the lack of isomaltulose (despite having the usual partner in crime, maltodextrin).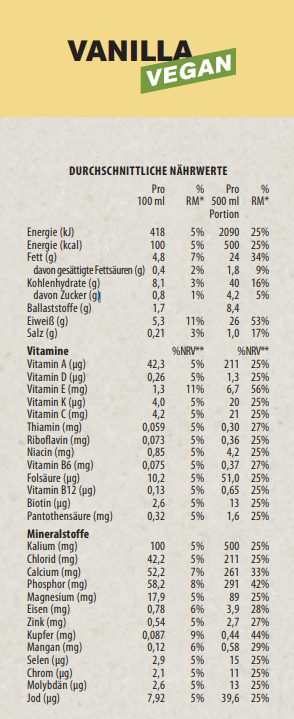 YFood Vegan, First Impressions
It's a mix bag. I will have do the full review to have my final thoughts; but for now I will say it's a little bit of a disappointment. From a YFood enthusiast point of view, I was hoping to see more protein on the RTD, to differentiate it from the others.
However, for most people, it will likely be fine. It's a very "standard" RTD formula and brings little new. It will all be down to the taste, and whether this is different enough to the competitors. Also, hopefully they will lower the prices.
Soylent Does A Life Cycle Analysis
Life-cycle assessment (LCA, also known as life-cycle analysis, ecobalance, and cradle-to-grave analysis) is a technique to assess environmental impacts associated with all the stages of a product's life from raw material extraction through materials processing, manufacture, distribution, use, repair and maintenance, and disposal or recycling. Designers use this process to help critique their products.

From Wikipedia, LCA article.
The main goal of an LCA, thus, is to analyze the sustainability and the degree of environmental friendliness.
It is a feature that many readers appreciate, but due to the cost and complexity (many ingredients per product) very few companies have done it. In fact, it is often requested to Huel (biggest Soylent alternative) to do one too, by its customers.
What Are the Findings?
The document summarizes 3 major findings:
Soy protein isolate is the most sustainable source of complete protein.
Even the RTDs with the plastic bottles are more environmentally friendly than traditional American breakfast (egg with pancakes and bacon; beef hamburger; and trout with salmon and rice).
Most of the emissions come from the plastic bottle.
Protein was a big focus on the study, since according to the results was the ingredient with most negative impact on the environment. Despite this, soy protein isolate seem to be the most energy efficient source, at the same time of being a complete source.
Interestingly, according to Soylent, if they were to replace the protein source to whey, they would increase the CO2 emissions 1.6-fold.
The results: Soylent is more sustainable than all 3 meals on all measures used in the study to assess environmental impact including global warming potential (CO2 emissions)
It is surprising that the macros for the meals " were created to deliver 400 calories through approximately 27% fat, 47% carbs and 26% protein to best aligned with our Soylent Drinks". These are far from Soylent's RTDs and Powder which are more around 37F/20P/43C.
It's All About the Plastic
Not surprisingly, it all comes down to the plastic used for the bottles.
Landfilling our bottles represented nearly 400% more CO2 emissions than recycling our bottles and 225% of the water use.
It would be interesting to know the difference in emissions from the powder to the RTD, but this comparison was not given by Soylent.
However, one unexpected result was the effect that the boxes (in which the product is delivered) have. According to the LCA, the CO2 emissions of these is greater than the plastics. There are some differences within the flavours, Cacao and Coffee being the worst (due to the transportation of the prime ingredients).
All in all, it is a very interesting read, that I highly recommend checking it out. No big surprises, and it would be great to know more details, but a good overview.
Other Short News
Besides the above mentioned announcements, there have been a couple other interesting developments:
Ilixer (US) improves their formula. In the latest iteration of their meal replacement powder, Ilixer decided to add organic monk fruit as a sweetener. On top of that, they have also fixed some graininess issues by grounding the powder a little bit more. It should, now, have a smoother texture. Source.
Vite Ramen won the Sacramento Innovation Awards for Food and Agriculture. The complete ramen start up has been a huge success. This is now being rewarded not only with sales and fan love, but with external prizes. Congratulations to the Vite Ramen team! Source.
Soylent moves HQs. The new HQ is close to the old ones, but it might be even smaller than the one before (from 30,000sq.ft. to 14,000sq.ft.) They are now located at 777 Alameda St. in Los Angeles. Source.
Ambronite announces a new "treat". From the email from the founder of Ambronite "We couldn't find a proper bar with real plant-based ingredients you can taste. So we made one. You can order it next week."
Can't wait for the Black Friday deals!