PhenQ Reviews | 4 WeeksTest, Did It Help Me Lose Weight?
Are you looking to shed a few pounds in the coming months? Losing weight can sometimes feel like a losing battle, don't you agree? In this PhenQ review, we have something interesting if you struggle to see the scale move in the right direction.
We are going to look at two different products:
PhenQ Complete Meal Shake – to provide you with a healthy low-calorie meal
PhenQ Fat Burner pills – to help accelerate fat loss
PhenQ meal replacement shake and PhenQ pills offer a revolutionary new supplement to help you shrink your waistline.
Thousands of products are out there that promise to make a difference in weight loss programs. So, what makes PhenQ different from the rest? Is it the real deal, or just another letdown?
Our PhenQ reviews unpack everything you need to know about this revolutionary weight loss stack.
Furthermore, PhenQ has expanded the repertoire of fat burning supplements that they offer. They now also have:
Phen24 Fat Burner pill: The ultimate 24h support for your fat burning efforts with 2 different formulas to support you during the night and during the day.
PhenPM: a fat burning supplement to help you lose fat during the night.
 Spoiler: The PhenQ fat burner was effective in helping me lose weight, but the PhenQ Meal Shake was so bad that I used other diet meal shakes that I had in hand, instead.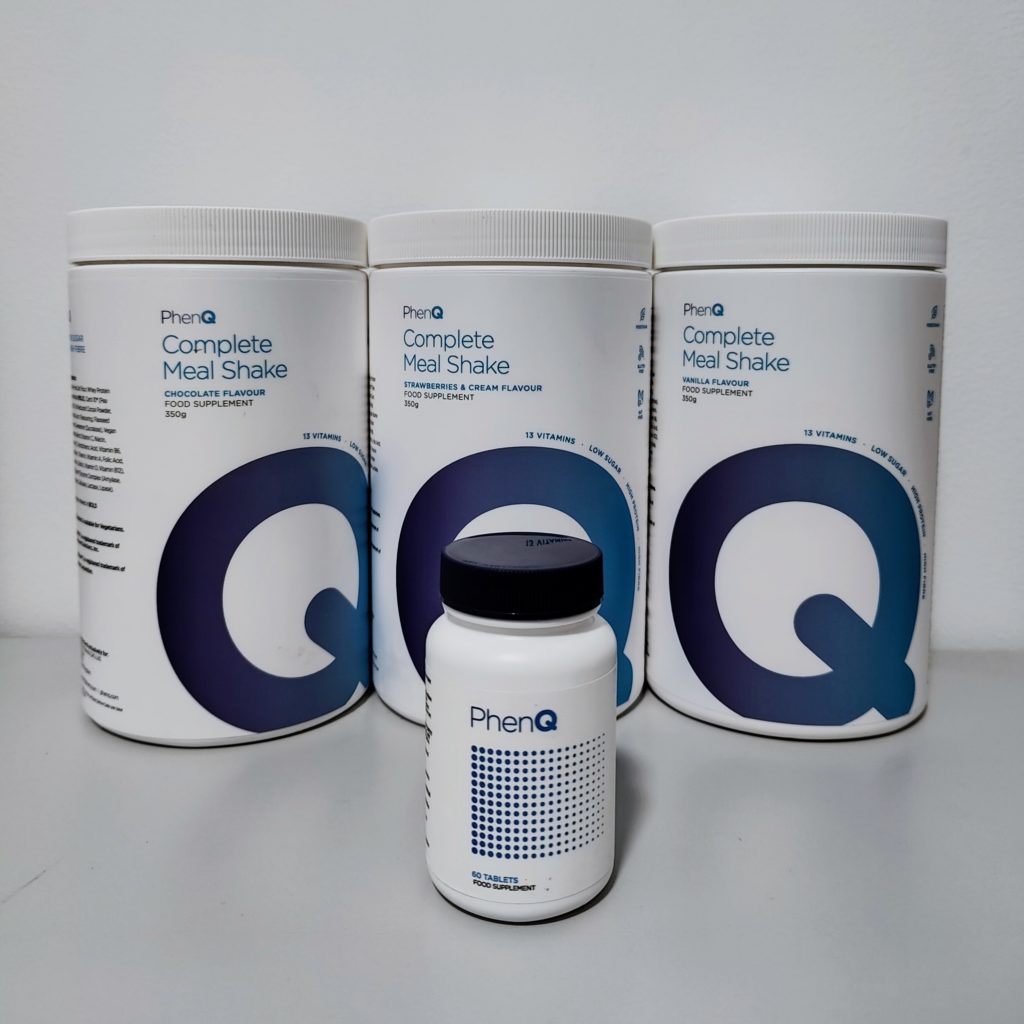 ---
PhenQ Review at a Glance.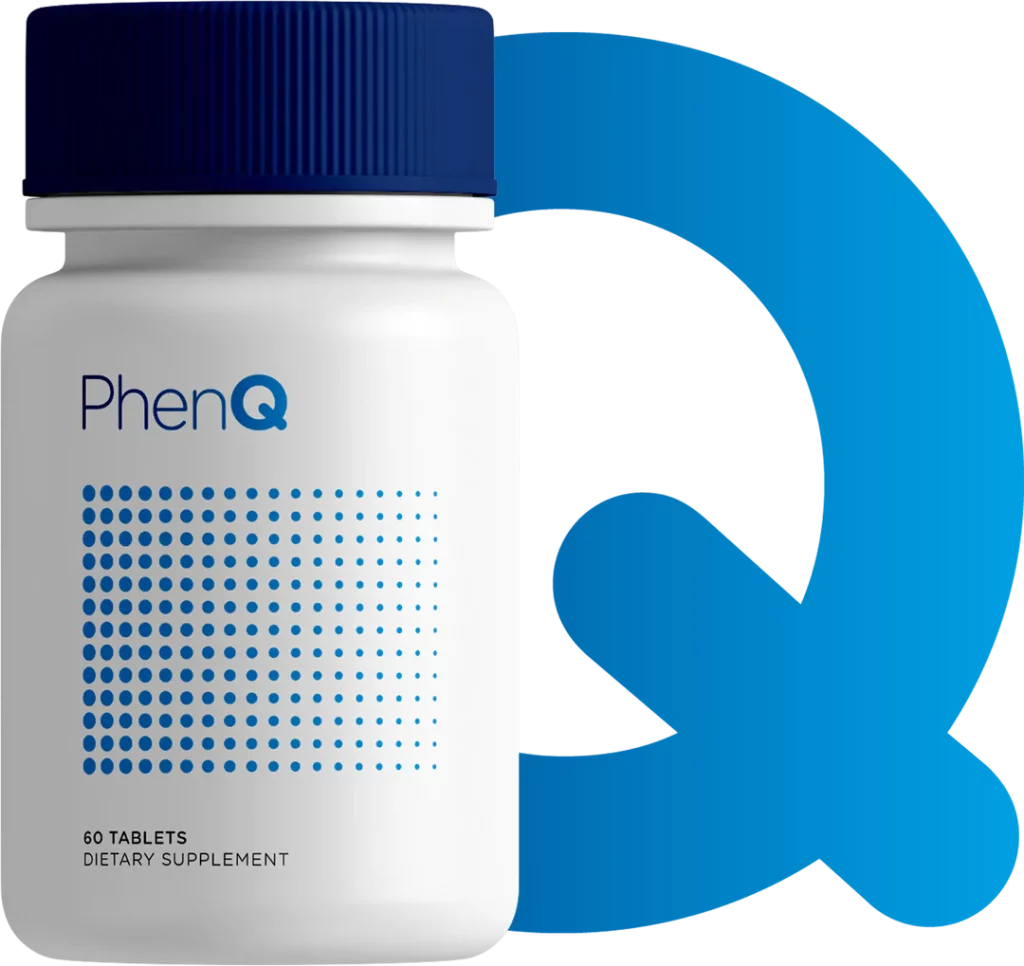 Flavors: Vanilla, Chocolate, Strawberries & Cream.
---
Pros and Cons
What I Like
1. Outstanding results beyond your expectations in as little as 30-days.
2. Suppress your cravings and follow through with your diet.
3. 60 day money-back guarantee.
4. Reasonably priced.
5. The fat burner is great.
What I Dislike
1. PhenQ Meal replacement shake is a NO.
2. Biased trials supporting claims.
3. Only available via PhenQ website.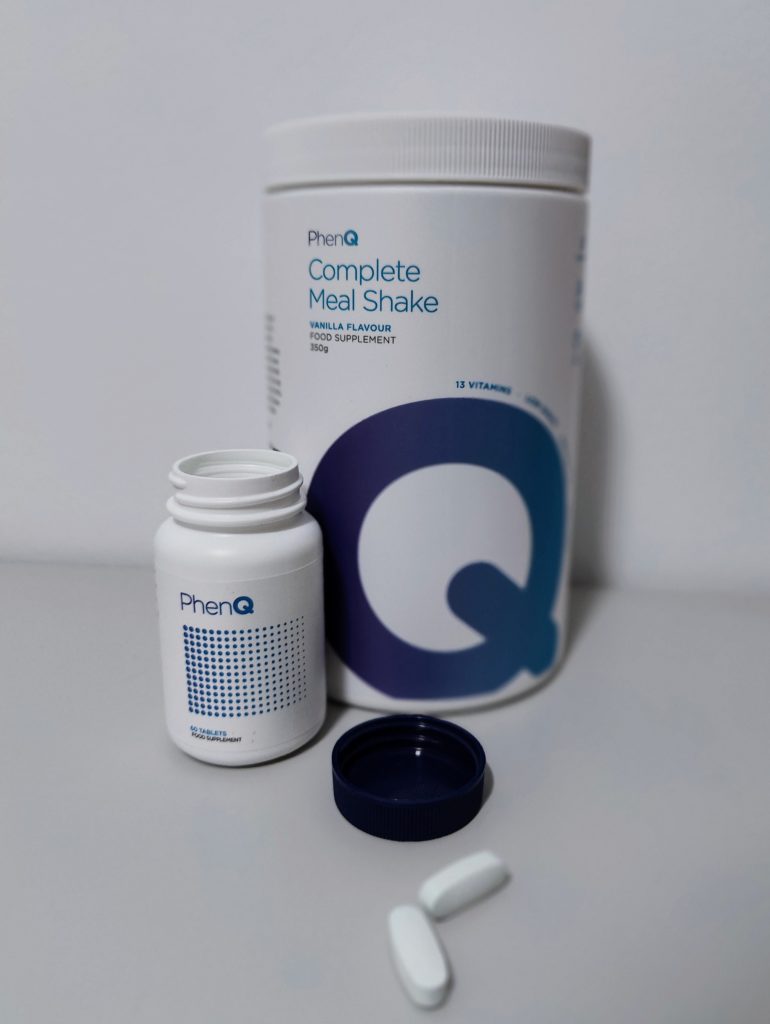 Nutritional Breakdown
First, it's important to note that both the shake and the weight loss pills feature all-natural ingredients. You won't find any illicit substances in these products. Many other brands, which shall remain nameless, add pixie dust weight loss chemicals like ephedrine and ephedra into their products to enhance the effect, but that's not the case with PhenQ.
You get a wholesome, natural way to lose stubborn body fat without risking your health. The weight loss pills contain the following ingredients to help you improve your weight loss results.
PhenQ Meal Replacement Shake Overview
| | |
| --- | --- |
| Kcal/meal | 185 |
| Macros (C/P/F) | 50/35/15 |
| Vegan | No |
| Keto | No |
| Features | Gluten Free |
| Non-GMO | No |
| Organic | No |
| Includes Probiotics | No |
| Artificial Sweeteners | Yes |
| Synthetic Additives | Yes |
| Contains All Micronutrients | Yes |
| Controversial Ingredients |   |
Ingredients: Gluten Free Oat Flour, Whey Protein Concentrate (Milk), Carb 10 (Pea Startch), Flavouring, Beetroot Red, Flaxseed Powder, Sweetener, Vegan Vitamin Blend, DigenZyme Enzyme Complex (Amylase, Protease, Cellulase, Lactase, Lipase).
PhenQ Meal Shake Nutrition Reviewed
From a nutritional standpoint, PhenQ meal replacement shakes are perfectly designed for weight loss. They offer high protein shakes that are also high in fibre, which enhances satiety.
However, it's worth noting that they use whey protein powder. While this is an excellent source of amino acids and great to help you build lean body mass, it means that this is not a vegan shake.
On another note, it's good that the PhenQ meal drink is a gluten-free meal replacement shake. They use gluten-free oat powder and it's produced in a factory where no cross-contamination happens. It's also rich in fibre thanks to the added pea starch which helps you with your gut flora.
One thing that PhenQ Meal Shake seems lacking is omega-3 fatty acids. These are essential fatty acids that have key roles in our brain, but that we often don't consume enough of. As such, most meal replacements are a great source of quality omega-3, but this is not the case with Phen Q shakes.
That aside, you will get most of the essential nutrients in PhenQ meal replacement shakes including 13 key vitamins. But no minerals (iron, calcium, phosphate, zinc)! Quite a big oversight, in my opinion.
For that reason, I do think that there are better weight-loss meal replacement shakes out there.
PhenQ Pills Ingredients Analyzed
Nonetheless, the most well-known product on the Phen Q lineup is their Phen Q Pills or the PhenQ Fat Burner.
The best fat burners are dietary supplements that can aid you to get rid of that stubborn fat or accelerate your weight loss process. They are not, however, magical pills that will evaporate all the excess fat overnight!
With that prefaced, let's carry on with this PhenQ pill review:
The Proprietary α-Lacys Reset Formula
This part features a science-backed custom blend of Cysteine, Alpha-lipoic acid (α-LA), and Magnesium. The result is a "reset" of the body's ability to enhance fat loss processes, decreasing body fat by up to 7.24% over eight weeks.
Capsimax Powder
This powerful fat-burning powder features "capsaicinoids," which are scientifically proven to assist in burning up to an additional 50 calories every 24 hours.
Natural Caffeine
Caffeine gives you the energy to stay focused on your diet and training, motivating you to keep moving forward with your diet.
Nopal
This appetite suppressant derives from cactus, a natural source of fiber, decreasing sugar cravings by up to 50%.
Chromium Picolinate
This part of the formula further adds to its appetite-suppressant characteristics, reducing cravings.
Overall, the scientifically proven formulation of the weight loss pills stimulates fat loss in the body, blasting away those stubborn fat deposits in areas around the thighs, glutes, love handles, and lower back.
Does PhenQ Work?
The real question with any weight loss pills or fat burners is usually, does it work? So in this case, does PhenQ work? What benefits does PhenQ have? And ultimately, is it better than other fat burners out there?
Many of the benefits of the PhenQ pill rely on their proprietary alpha-Lacys Reset ingredient. According to PhenQ, it showed to:
Drop excess body fat by 7.2%
3.4% drop in body weight
Increase of 3.8% in muscle mass
On paper, these numbers seem fantastic, however, there's a catch. These are numbers from trials carried out on 75 people that were subsidized by PhenQ. Therefore, there's a clear conflict of interest. That aside, it is certainly positive.
PhenQ Benefits Reviewed
According to PhenQ, they target weight loss in 5 different ways:
Burn fat.
Reduce fat accumulation.
Crush cravings.
Boost energy.
Balancing mood.
The first is achieved by the combination of alpha lipoic acid (found in alpha-Lacys Reset) and Capsimax Powder. In fact, there's some scientific evidence that ALA can have minor positive effects on increasing fat burn.
It could potentially also reduce fat accumulation in a minor way.
Besides, caffeine is a very common ingredient in fat burners due to its appetite suppressant effects and the ability to boost your energy levels. When combined with nopal and picolinate these satiating effects could be increased.
Now as far as mood balancing goes, l-carnitine does have a key role in cognitive support, but balancing mood is a little bit of a stretch. You are better of buying one of the best cognitive boosters like Hunter Focus in order to achieve that goal.
Do PhenQ Pills Work?
So, ultimately, do PhenQ fat burners work?
If your goal is to accelerate your weight loss and/or help you with the process, then, yes PhenQ will help you.
Despite having been hypercritical of some of their claims, when using PhenQ together with a balanced diet and a calorie deficit you should see positive outcomes. They use science-backed ingredients at reasonable dosages.
That said, PhenQ fat burning pills are not as efficient as some counterparts at suppressing your appetite. Appetite suppression is an extremely important factor in any decent fat burner, as it will limit the calories you consume. For that, I found Hourglass Fit to be a much better product.
Taste Test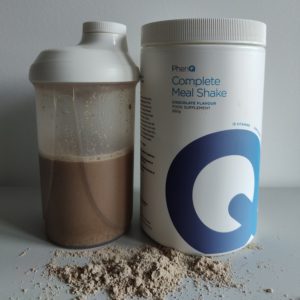 | | |
| --- | --- |
| Best flavour | Chocolate |
| Taste | Watery and not very achieved |
| Texture | Disjointed and you can notice the fiber |
| Satiety | Good for 2.5h. |
| Easy to Clean | Yes |
| Afterthoughts | They are not the greatest shakes that I've tried. In far, they are some of the worst when it comes to texture. |
One thing that most weight loss meal replacements do very well is taste. They tend to be delicious, given that it will be one of the few meals you will have that day.
Because of that, I was hugely disappointed when I first tried the PhenQ meal shakes. They are terrible.
Not in an awful way that makes you want to puke, but they just fail at all the basics. For once, the texture is off. It doesn't blend well, and you can notice the fiber bits. They even deposit on the bottom of the shake.
Secondly, the texture and taste are watery. Because it doesn't blend well, there's this feeling that there's water on one end and meal powder on the other.
Thirdly, the PhenQ shakes just taste average or below average.
No point ranking the flavors since they're all regrettable. I would instead recommend looking at Diet Meal Extreme (if you live in the UK) or Lyfefuel (if you live in the US). Much tastier shakes, and healthier, too.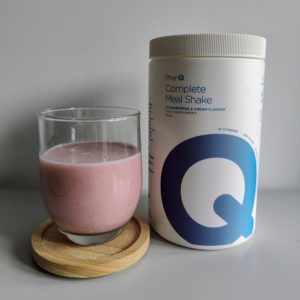 More about PhenQ

PhenQ is a product developed and perfected by Wolfson Berg Limited, a leader in health and nutrition products.
One of the drawbacks of this product is that its only available from the company's official website. However, this means that you don't have to worry about buying fake products from retailers. Every stack you receive is 100% genuine.
Pricing & Shipping
The PhenQ fat burner pill and meal replacement shake are somewhat pricey products compared to alternatives on the market, but you get what you pay for with this stack. There is nothing but the highest-quality ingredients used in this formulation, and it shows up in your results.
The PhenQ price for a 60-pill bottle is $69.95, and that's a one-month supply.
If you catch the special deal, you can pick up a 2 +1 bottle pack for $139.90 or a 3 + 2 bottle pack for $189.95. You get a three-month supply of fat-burning products at the high end to help you meet your physique goals for under $200. To us, that's a bargain.
PhenQ ships its shakes and pills worldwide, with free shipping on all orders to all global locations. You get a 60-day money-back guarantee.
As far as PhenQ Meal goes:
2 bags (14 meals) –> $39.9 in total, $2.85 per serving.
3 bags (21 meals) –> $53.85 in total, $2.56 per serving.
You can also subscribe for a 10% further discount.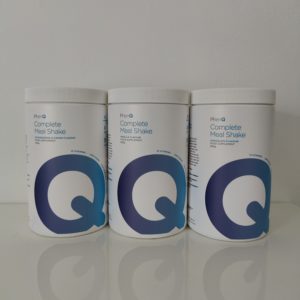 Real User's PhenQ Reviews
What do other PhenQ users say about this product? Do they share the same sentiments as in this PhenQ review?
Let's check some PhenQ testimonials:
PhenQ helped me to lose baby weight. It's amazing and I am going to contiunue to use it when I fully reach my goals.

April R.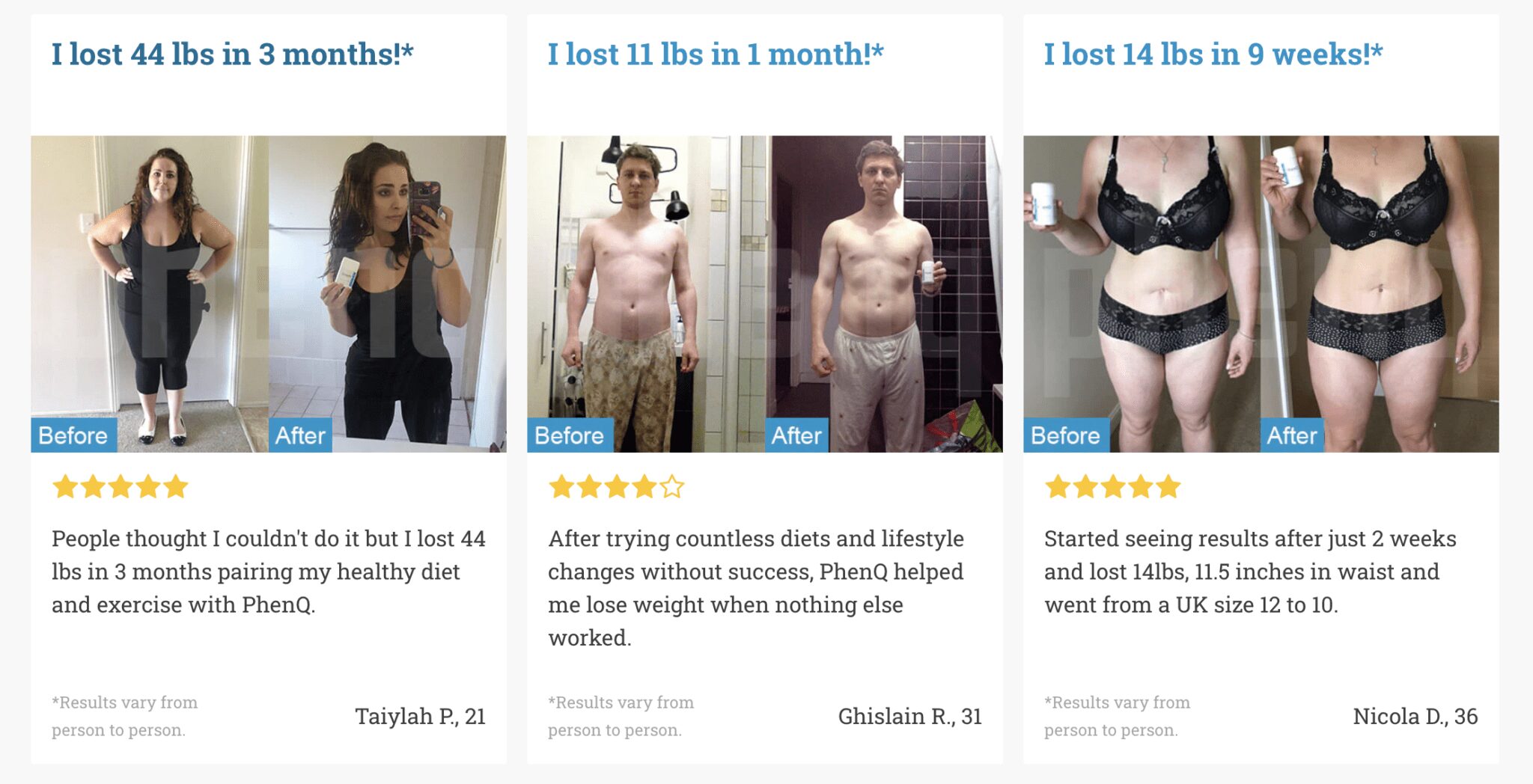 However, there are some negative Phen Q reviews on Trustpilot, mostly concerning the chalky taste of the meal replacement (as noted in the taste section).
I did not like the PhenQ meal replacement shake. I tried both the chocolate and vanilla before writing this review. I also used milk for added flavor so I can't imagine how bad they would taste using only water.
I'm very tolerant of bad tastes and one of those weirdos that actually loves Metamucil. I guarantee my wife would NEVER be able to get this down. So chalky.
As for it being filling it's about the same as any other meal replacement drink I've tried.
I definitely would not buy this again and am going to look into whether they offer a satisfaction guarantee because I really don't want to drink any more.

Follow up: After communicating with PhenQ I was given a total refund so I thank them for that.

Jim Mesojedec
PhenQ FAQ
Does PhenQ work, or is it just another diet fad?
The PhenQ before and after pictures on the website speak for themselves. With more than 200,000 satisfied customers, PhenQ is the leader in modern fat loss supplement formulations. Try it for 30-days, and you'll never look back.
Are the PhenQ side effects from taking the supplement unpleasant?
Good news. Out of hundreds of thousands of customer testimonials, there are no reports of adverse or dangerous side effects from using the shake or the pills. You get a safe, effective fat-loss supplement that delivers on your expectations.
Are the PhenQ diet pills just another fad?
No. The diet pills are the real deal. Hundreds of thousands of verified testimonials from users back up the fat loss claims of this revolutionary supplement. Give it a try and become the next PhenQ success story.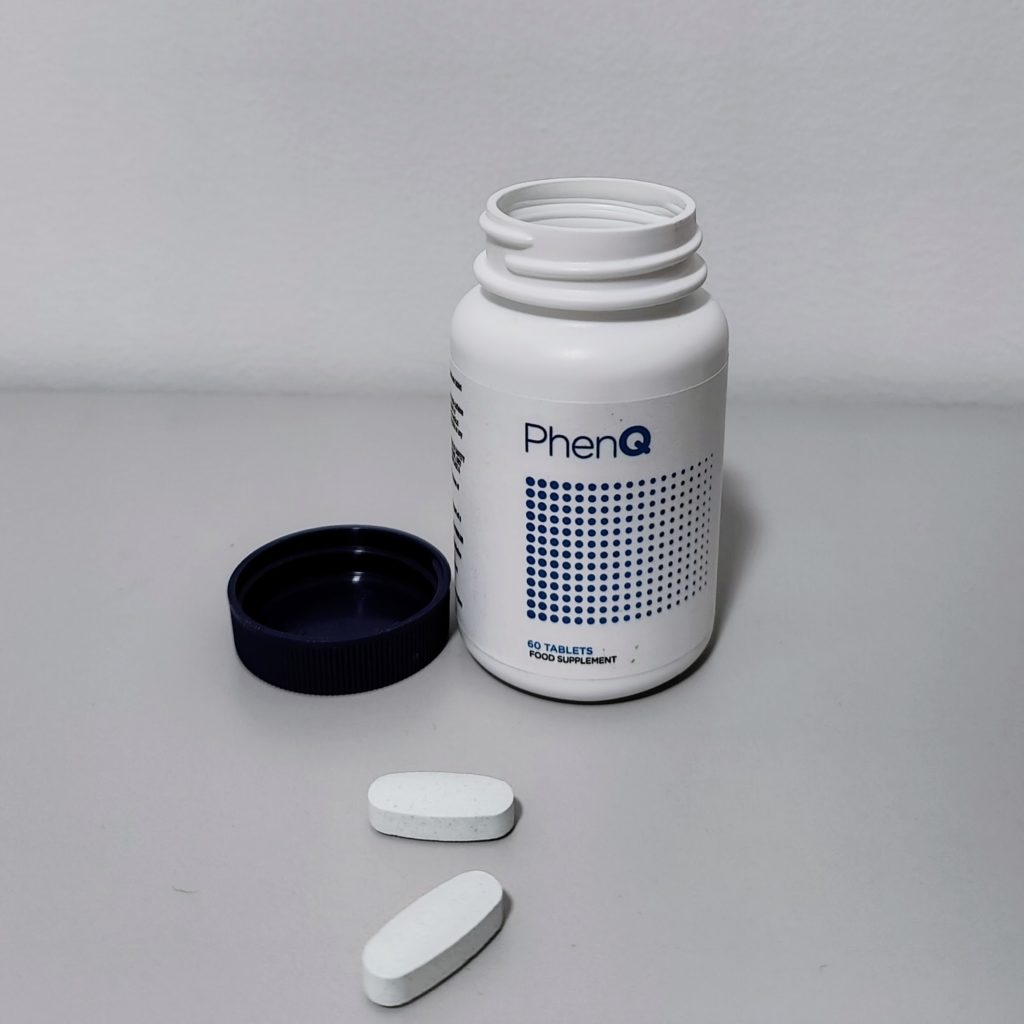 ---
Verdict – PhenQ Review, Summary, and Alternatives
So coming to the end of this Phen Q review, what are my overall thoughts on this weight loss supplement?
Honestly, it's sweet and sour.
On one hand, I do think that the PhenQ pills are some of the best fat burners out there and that they can be of great help to anyone looking to lose weight.
On the other hand, PhenQ Complete Meal Shake is very underwhelming. It is not complete (lacks key nutrients), it's incredibly expensive, and it tastes terrible. I would look at shakes like Diet Extreme or Lyfefuel instead.
As such, I can easily recommend Phen Q fat burner pills, but I would say skip the meal replacement shake.
Phen Q
From $1.26/serving