7 of the Best Organic & Natural Meal Replacement Shakes in 2023
What is the best healthy meal replacement?
This a question in many people's minds and probably one with not a simple answer. However, organic and natural meal replacement shakes will likely be up there since they provide all the benefits of complete food but from real food ingredients.
This means, that there are no processed or artificial ingredients in the shakes; and thus they are the closest there is to "real food", but complete (in terms of nutrition).
While it is debatable whether this makes them the healthiest meal replacements or not; it surely makes a good case in their favour. Thus, for those looking for the most natural shakes; I have compiled this list of the best organic and natural meal replacement shakes.
Before we move on, I want to make clear that not all natural meal replacements are organic certified.
Latestfuel's Top 3 Natural and Organic Meal Replacement Drinks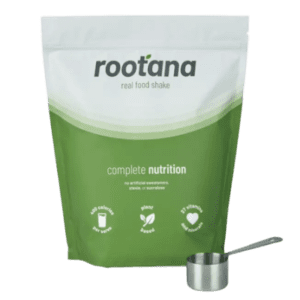 Rootana Real Food Shake
Best Natural Shake in the US
Plant-based, no artificial sweeteners, no soy
Clean delicious taste, particularly the chocolate
Great value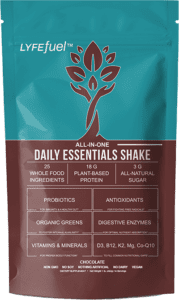 Lyfefuel Daily Essentials
A low-calorie shake that focuses on providing you with nutrients that your body really needs
Real food based, no artificial ingredients, soy free, gluten free
With extra protein and vitamin b12
Incredibly tasty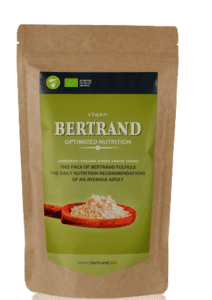 Bertrand Classic
Best Organic Shake in Europe
Organic, gluten free, without artificial ingredients
3 formulas: Classic, Vegan and Active
One of the most affordable, and best value for money
Criteria
These were the criteria when assessing over 50 different brands and products.
For Organic shakes:
Organic. All organic meal replacement powders were taken into consideration by default. Only those which have 100% organic ingredients would be considered as such. US companies will have the USDA certification.
Balanced nutrition. Good amount of calories as well as balanced macronutrients and micronutrients.
For Natural shakes (shakes that are not 100% organic):
Non-GMO. If it is not organic, it could not list any GMO ingredients.
Lack of artificial additives. Sweeteners, artificial flavourings, synthetic vitamins and minerals… Any enhancer that had a synthetic origin was ruled off.
Real food-based ingredients. Closely linked with the above, for non-organic shakes it was highly considered to use whole food as source of nutrition.
Balanced nutrition. Similarly to organic shakes it had to have a well-rounded nutrition.
Experienced Tester
Over 50h of Research
+40 Products Assessed
---
1. Rootana Real Food Shake
Best Overall
Pros
High in protein and fiber
No artificial sweeteners, no stevia
Only natural ingredients
Packed with omega-3 fatty acids
Delicious
Cons
Not organic
Only 2 flavors
Rootana deserves a place on this list for its approach to natural ingredients. It is one of the few meal replacement shakes that avoids using artificial sweeteners to improve the taste. Instead, Rootana uses a small amount of natural coconut sugars as well as natural flavourings such as cacao. 
Rootana is a high-protein meal replacement shake, with 21 grams per serving. This comes from pea protein isolate as well as small contributions from the oat flour, and the flaxseed. 
Rootana is a great source of omega-3 fatty acids, these come from the flaxseed. You also have natural fibre from the oat flour, as well as low GI carbohydrates and healthy fats. 
The taste of Rootana is excellent, you get a delicious oaty experience, with a mild sweetness alongside it. Because Rootana doesn't have an overly-sweet taste (due to the lack of Stevia etc) it makes the perfect base for smoothies, and is great for anyone who prefers a more neutral tasting meal replacement shake. 
Key Facts
| | |
| --- | --- |
| | Rootana |
| Energy (kcal) | 400 |
| Macros (C/P/F) | 42/20/34 |
| Protein (g) | 21 |
| Sugars (g) | 12 |
| Fibre (g) | 1 |
| Vegan | Y |
| Organic | No |
| Probiotics | No |
| Artificial Ingredients | Yes |
| Sweetener | Natural Coconut Sugar |
---
2. Lyfefuel Daily Essentials
Best Tasting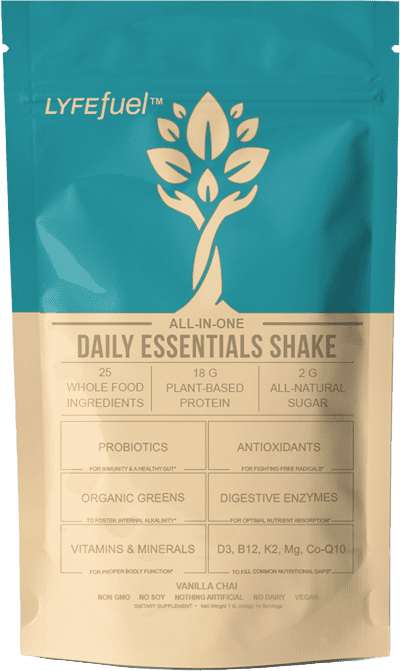 Pros
Some of the best tasting shakes. Really easy to like
Probiotics and prebiotics for optimal gut health
Plant based, high in proteins, low in calories and high in nutrients
From whole food ingredients
Low in sugar and no artificial sweeteners
Cons
Not the most affordable shake
If you live in the US, you will have some of the most healthy shakes available to you. Among them, two of our favourites, Ka'chava and Lyfefuel.
In this case, Lyfefuel offers a lighter shake that has more micronutrients, probiotics and protein per serving. The Daily Essential Shake, in fact, focuses on providing you with the nutrients and phytonutrients your diet lacks, and avoiding those that you have on excess (like calories).
It comes fortified with extra vitamin b12, coenzyme Q, vitamin D3 (often missing in meal replacement shakes), K2 and many more. Each 110kcal offers you all essential 25+ nutrients.
All of these are from natural plant-based ingredients and whole foods; not chemicals. This tends to give better absorption of nutrients. Consuming Daily Essentials regularly will give a boost to your immune system, energy levels, and overall health.
Unfortunately, it's not the cheapest shake you can buy. In fact, it's in the higher end. It will cost you around $3/meal.
For me, it's worth the cost.
Key Facts
| | |
| --- | --- |
| | Daily Essentials |
| Energy (kcal) | 400 |
| Macros (C/P/F) | 9/65/16 |
| Protein (g) | 18 |
| Sugars (g) | 3 |
| Fibre (g) | 1 |
| Vegan | Y |
| Organic | Partially |
| Probiotics | Yes |
| Artificial Ingredients | No |
| Sweetener | Stevia Leaf Extract and Coconut Sugar |
Based on the vegan formula. The Keto variant will have less carbs.
Good For: those looking for a healthy shake that also tastes great.
---
Are You Looking for an Organic Protein Shake?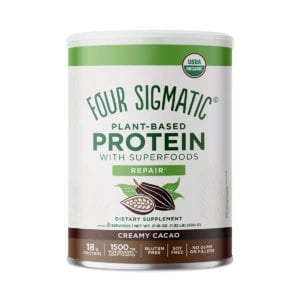 Four Sigmatic – Best Organic Protein
Fully organic, gluten-free, vegan, no added ingredients
190kcal, 18g of protein, 2g of added sugar
Includes multiple protein sources for a complete amino acid profile
Plus ashwagandha, Chaga, reishi… and other extra ingredients to boost your mental health
Available in the UK, EU and the US.
---
3. Orgain RTD
Best Organic US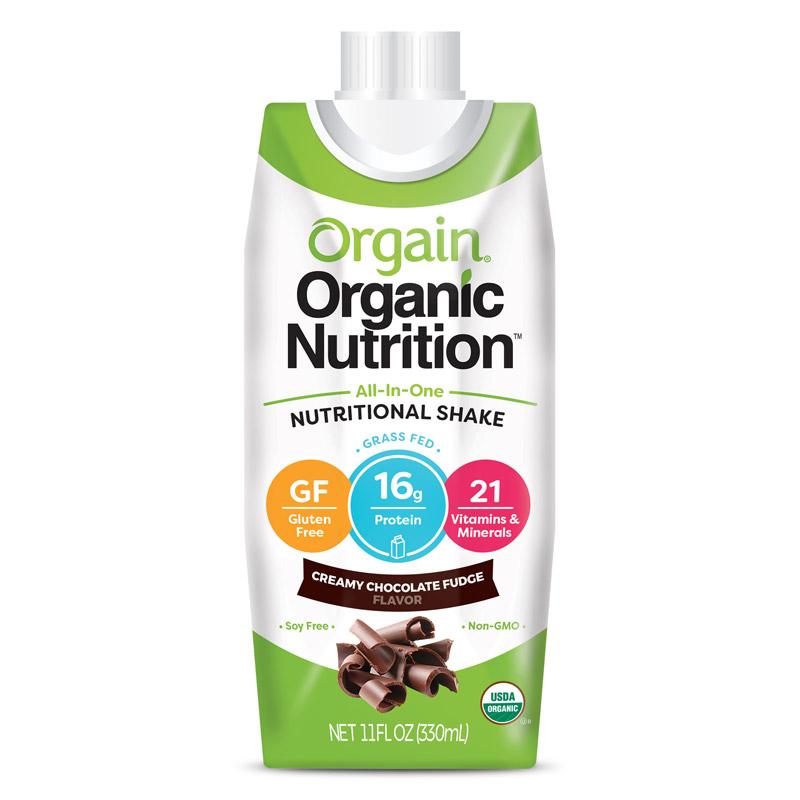 Pros
USDA organic certified
Vegan and whey based formulas
More convenient format to drink on the go
Non-GMO, kosher, gluten free, soy-free
Cons
Contains some synthetic salts
Low in calories
Orgain is one of the leading organic nutrition brands in the US market. They have plenty of nutritional products (including protein powders, bars, greens), all of which are USDA organic certified.
Their All-in-One ready-to-drink meal replacements are very convenient and nutritious. Besides being gluten-free, soy-free, and non-GMO; they are rich in protein and contain 21 vitamins and minerals. Plus, they add a custom superfood blend that includes kale, acai, spinach… and many other organic vegetables to boost your nutrient intake.
This formula is available in both whey (organic grass-fed cows) or as a vegan shake. In both, you will find 2 flavours: Vanilla and Chocolate. I personally love the chocolate, but both are smooth and delicious.
For those who want to save some money, I recommend you looking at their powder organic meal.
Key Facts
| | |
| --- | --- |
| | Orgain All-In-One |
| Energy (kcal) | 250 |
| Macros (C/P/F) | 50/25/25 |
| Protein (g) | 16 |
| Sugars (g) | 12 |
| Fibre (g) | 1 |
| Vegan | Y* |
| Organic | Fully |
| Probiotics | Yes |
| Artificial Ingredients | Yes |
| Sweetener | Organic Cane Sugar |
*Option to buy vegan or non-vegan.
Good For: Those who looking for a tasty and convenient organic meal.
---
4. Proganics Meal Replacement
Best Low Calorie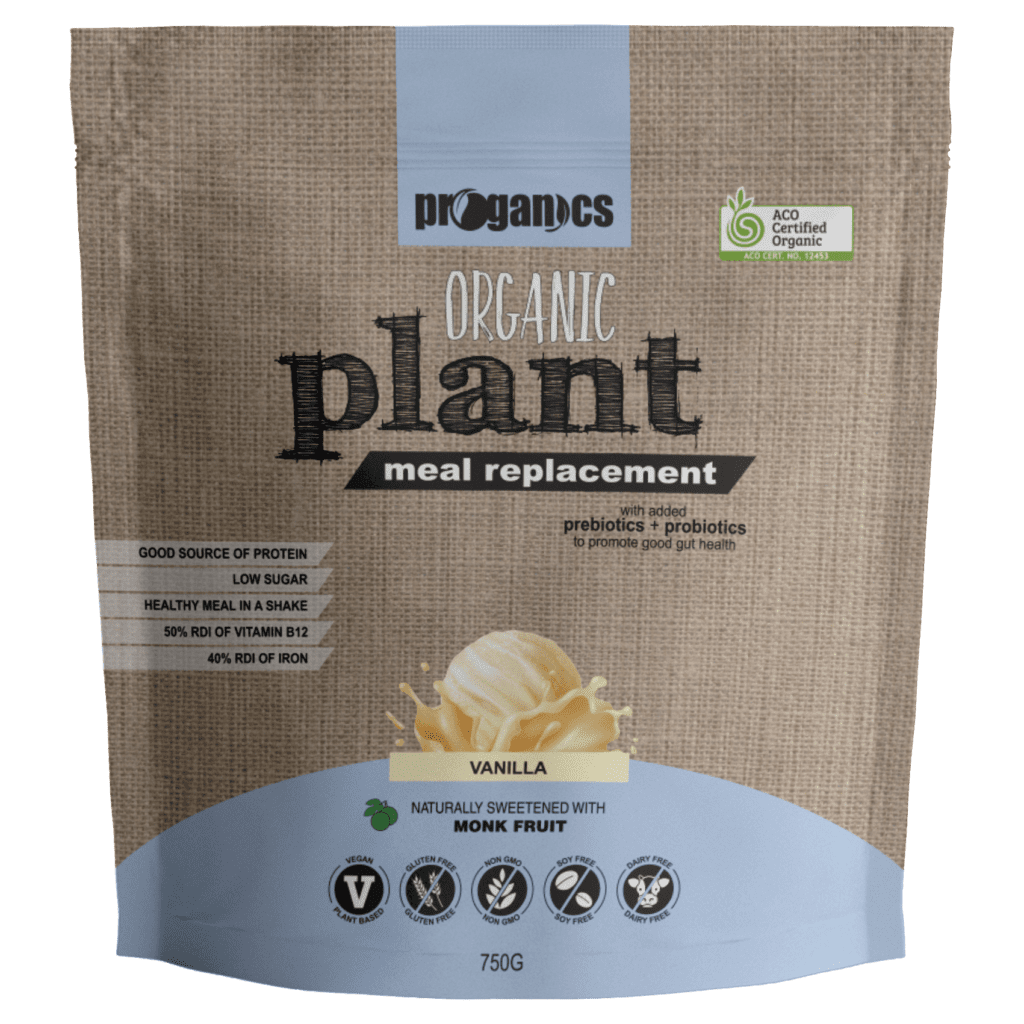 Pros
USDA and ACO organic certified
214kcal and 28g of protein per serving
Plant based, soy free, nut free, no artificial sweeteners
Includes digestive enzymes and probiotics
Also in Keto version
0g of added sugars
Cons
It's expensive for bigger meals
Lacks some vitamins and minerals
There are very few companies that take being organic and producing high-quality meals as seriously as Proganics. This Australian manufacturer has one of the most impressive array of organic nutrition products.
The two I recommend here are Plant-Based Meal Replacement and Keto Meal Replacement. They are both fully organic shakes, plant-based, without artificial sweeteners or synthetic vitamins; so that you get your nutrients from real food ingredients.
Both formulas are quite high in fat, and packed with protein. Up to 28g in a 214kcal shake! Very impressive.
For now, they don't have much in terms of flavors, only Vanilla and Chocolate. I recommend the latter. However, they are both fairly enjoyable. I do recommend blending, though!
One thing to take into account is the price! Due to the quality of ingredients, Proganics is more expensive than your average meal replacement shake that is filled with highly-processed ingredients.
Key Facts
| | |
| --- | --- |
| | Proganics |
| Energy (kcal) | 214 |
| Macros (C/P/F) | 18/52/30 |
| Protein (g) | 28 |
| Sugars (g) | 1 |
| Fibre (g) | 5 |
| Vegan | Yes |
| Organic | Yes |
| Probiotics | Yes |
| Artificial Ingredients | No |
| Sweetener | Monk Fruit |
Good For: Those who are searching for a low calorie and high protein organic shake.
---
5. Bertrand
Best Organic EU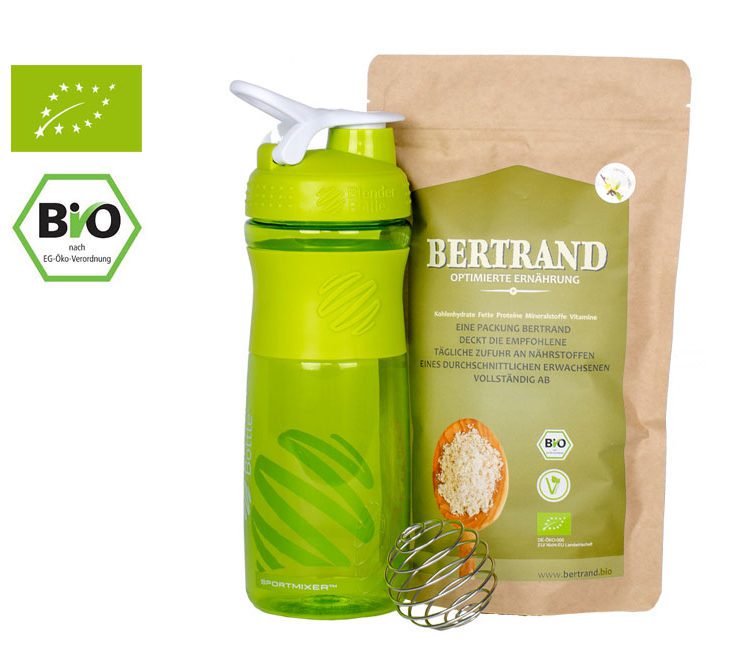 Pros
One of the few with fully certified organic ingredients only
3 different formulas
Affordable pricing
Multiple flavours
Cons
Low protein shakes (Active, extra protein, at a premium)
Slightly confusing shop
Bertrand is special. I say so, not only because it offers one of the few certified organic shakes; but also because it has a unique biodegradable bottle. You read well, they use bioplastics that can be composted within 90 days in your backyard!
In fact, Bertrand is all about organic, sustainable and enviro-friendly business. Their meal replacements are some of the "cleanest" you will be able to get.
They offer Bertrand Original, Bertrand Vegan and Bertrand Active; all organic formulas. The first two are fairly low in protein, and quite high in fat content (although not as much as Ample); while Bertrand Active, packs extra protein at a premium (€1.43 per bag).
All 3 are available in four flavours: Nature, Vanilla, Bilberry and Baked Apple & Cinnamon. Both Vegan and Classic are available in pouches or the green bottles I have previously mentioned; whereas, Active is only available in bags.
Without a doubt, Bertrand is one of the best organic meal replacement shakes.
Key Facts
| | |
| --- | --- |
| | Bertrand O |
| Energy (kcal) | 739 |
| Macros (C/P/F) | 45/11/44 |
| Protein (g) | 20 |
| Sugars (g) | 10 |
| Fibre (g) | 9.8 |
| Vegan | Y* |
| Organic | Yes |
| Probiotics | Yes |
| Artificial Ingredients | No |
| Sweetener | Agave Powder |
*Option to purchase plant based.
Good For: Those who care looking for the ultimate organic shake.
---
6. Vitaline Daily
Most Surprising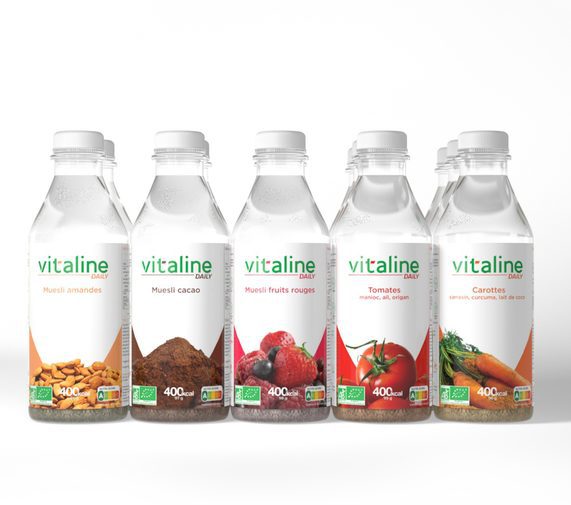 Pros
Very natural tasting shakes
Focus on local, organic ingredients
Good range of flavours and products
Starter pack
Cons
Vegan flavours are not great
Protein content on the lower end
Another very strong contender, Vitaline is a relatively small brand from France with the aim to make the healthiest meal replacement shakes in the market.
They have some of the shakes with the highest Nutriscore values (French system to assess quality of food).
In all honestly, you can feel how natural Vitaline is from the taste of their shakes. Very plain flavours, no overly sweet tones and not a hint of any artificial enhancers. They are a pleasure to drink.
Vitaline uses a diverse pool of ingredients, mostly locally sourced (France), to achieve a rich profile with high antioxidant index. Furthermore, they incorporate probiotics to help with the digestive process.
Vitaline's Daily range is available in 7 flavours (one of which is vegan); and can be bought in bottles or pouches. The second are more affordable and more environmentally friendly.
The best way to start with Vitaline is by purchasing their Starter Pack and you will be able to try some of the best organic meal replacement shakes in Europe.
Key Facts
| | |
| --- | --- |
| | Vitaline |
| Energy (kcal) | 400 |
| Macros (C/P/F) | 43/18/39 |
| Protein (g) | 18 |
| Sugars (g) | 6 |
| Fibre (g) | 8 |
| Vegan | Y* |
| Organic | Yes |
| Probiotics | Yes |
| Artificial Ingredients | No |
| Sweetener | Manioc Syrup, Agave |
*Option to purchase plant based.
Good For: People that want a wide array of flavours.
---
7. Ambronite CMS
Best Natural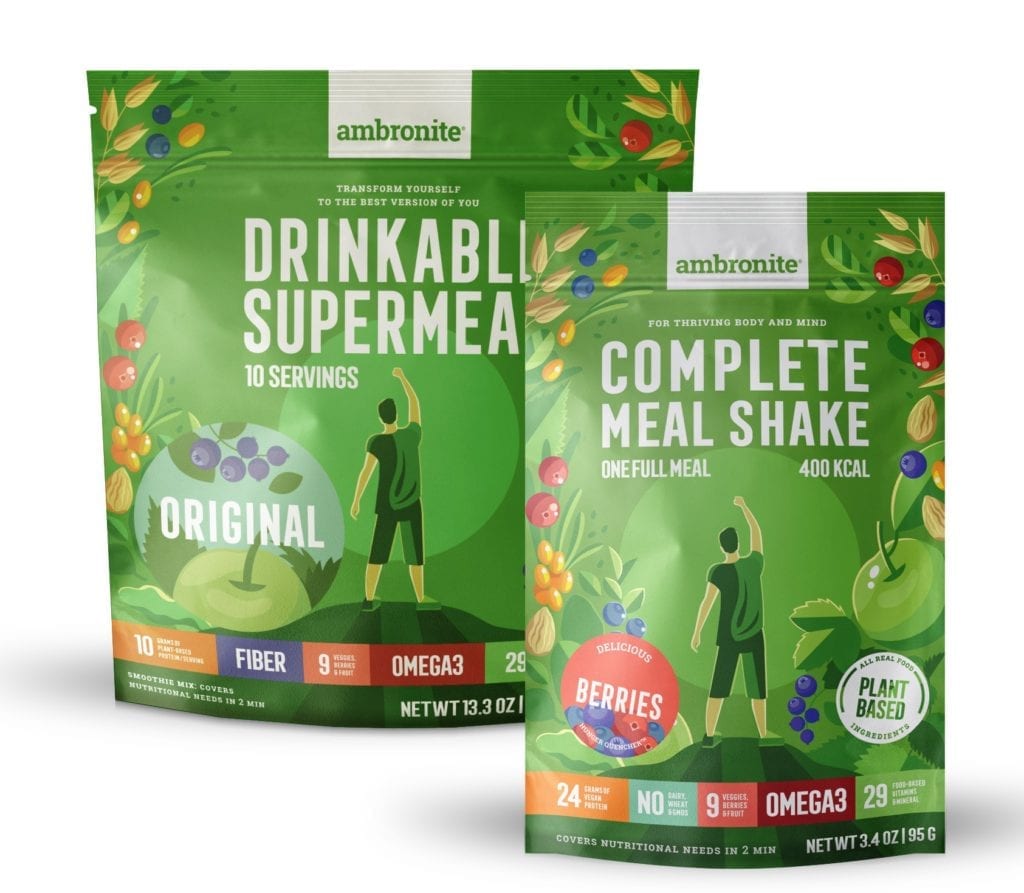 Pros
Real food ingredients that provide you with all the nutrients you need
Fully plant based, no dairy
Worldwide delivery
Non-GMO, lactose-free, soy free, wheat free, no artificial ingredients
Cons
Not fully organic certified
Bulk purchasing required for best prices
This Finish brand is similar to Ample; they offer real food based shakes only with natural ingredients.
While not all ingredients in Ambronite Complete Meal Shake will be from organic origin; you will get all your nutrients from real food. What does this mean? It means that the prime ingredients used by Ambronite are minimally processed (and as such you will be able to recognize them). Thus, for most people this will be the healthiest meal replacement shake they can buy.
Therefore, each Ambronite shake will provide you with optimal nutrition and healthy nutrients, as well as, other beneficial compounds (like antioxidants) that will improve your gut flora and boost your health. This is one of the best dairy free meal replacement shakes you can buy, currently.
Ambronite CMS comes in 3 delicious flavours, Original (Ginger & Apple), Banana and Berries; all which have a smoothie-like taste and texture. They have handy individual bags (400kcal) and bigger bags (1600kcal).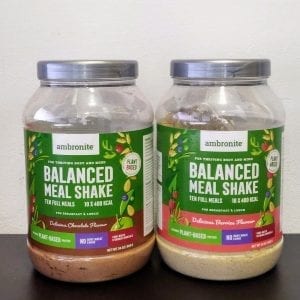 The best way to purchase Ambronite is in bulk, to make use of the huge savings they offer, paired with the code LATESTFUELS for and extra 25% off.
Key Facts
| | |
| --- | --- |
| | Ambronite CMS |
| Energy (kcal) | 400 |
| Macros (C/P/F) | 41/24/35 |
| Protein (g) | 24 |
| Sugars (g) | 12 |
| Fibre (g) | 8 |
| Vegan | Y |
| Organic | Partially |
| Probiotics | No |
| Artificial Ingredients | No |
| Sweetener | Stevia |
Good For: those who want to get their nutrients from real food ingredients.
---
A Guide to: Organic and Natural Meal Replacement Shakes
What Are Organic Meal Replacements?
Organic meal replacement drinks are those that are made of solely ingredients of organic origin. This means that every ingredient found on the organic powder is individually organic certified and comes from certified "bio" agriculture.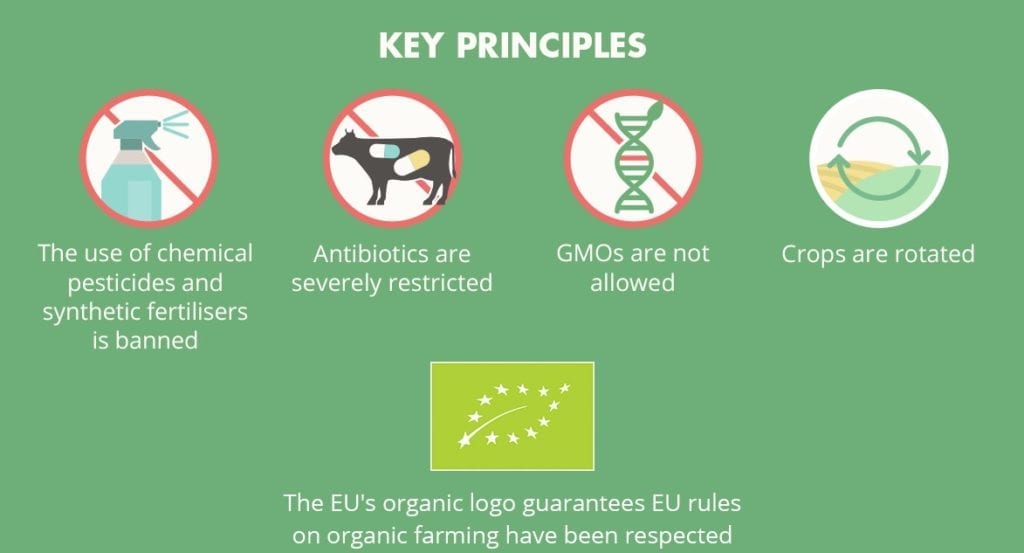 Consequently, every ingredient found in the organic shakes have no genetically modified seeds, no chemical inputs (fertilizer, pesticide, additives); or in the case of animals have been feed in a regulated manner.
This laborious regulation is what makes the prime ingredients more expensive, and subsequently the organic meal replacements more expensive.
Organic vs Non-GMO
I thought it would also be useful to make a distinction between organic and non-GMO meal replacements. Once again, it comes down to the ingredients they choose to use and how they have been cultivated.
| | | |
| --- | --- | --- |
| | Organic | Non-GMO |
| Pesticide & Herbicides allowed | No | Yes |
| GMO crops | No | No |
| Antibiotics | No | Yes |
| Growth Hormones | No | Yes |
| Sludge & Irradiation | No | Yes |
| Animal Welfare Specifications | Yes | No |
| Lower Environment Pollution | Yes | No |
| Farm to Table Inspection | Yes | No |
| Certification Required | Yes | No |
| Restrictions on Allowed Materials | Yes | No |
| Crop Rotation required | Yes | No |
From USDA organic legislation.
What Are Real Food Based or Natural Shakes?
Real food based shakes are meal replacements that use no artificial ingredients.
This is particularly challenging when trying to achieve your Daily Values or Recommended Intakes of vitamins and minerals. Thus, in order to provide all the nutrients your body needs they use different foods (usually different vegetables) and avoid using synthetic micronutrient mixes.
In the case of some brands, they will get ingredients of organic origin, but they will not be certified. This is partially due to the fact that monitoring the whole process is costly and hard to do.
What Are the Benefits of Real Food Based Shakes?
1.Real Food Ingredients Are More Than a Source of One Macronutrient.
This, perhaps, is one of the strongest points in favour of using whole food ingredients vs highly processed or synthetic ones. Food sources are more than just calories or just carbs or just fats. They are complex entities formed by multiple nutritents and other compounds, interconnected to create food.
Let's take oats vs maltodextrin for example.
| | | |
| --- | --- | --- |
| | Oats | Maltodextrin |
| Carbs (%) | 55 | 100 |
| Fiber ( % ) | 11 | 0 |
| Fats (%) | 7 | 0 |
| Protein (%) | 17 | 0 |
| GI | 55 | 85 |
| Has Vitamins | Yes | No |
| Has Minerals | Yes | No |
| Has Phytonutrients | Yes | No |
Percentage of mass for 100g. Oats also contain 4g of beta-glucans and other compounds that make the % that is not displayed.
2.Not All Nutrients and Their Roles Are Known: Meet Phytonutrients.
Following the above example, we know what is in maltodextrin: simple sugars attached to each other to create a complex sugar. We are also aware of most of the compounds that you can find in oats, but not of their role as "nutrients" in promoting healthy living.
"Nutrients" such as carotenoids, polyphenols, isoflavones… are categorized as phytonutrients.
Phytonutrients are compounds found on plants that have direct and indirect roles in nutrient absorption, anti-immflamatory responses, and other essential metabolic functions. However, because the health effects are not clearly defined yet; they are not currently considered nutrients.
The lack of understanding is in both their roles and the compounds themselves; raising the question of how many "nutrients" remain unkwnon.
As such, shakes that use real food, particularly plants (vegetables and fruits), naturally rich in phytonutrients, will almost always offer more than just calories. That is why usually, I enhance my shakes with the best green powders I can find.
3. Benefits to Digestion and Health.
Partially, due to the point made above, real food shakes will come with health benefits for most customers.
A good example for this could be beta-glucans. These compounds are type of soluble fiber found in plants like oats and barley. They have been found to be beneficial in many ways; including, reducing the blood cholesterol levels, improving the glucose metabolism by lowering the blood glucose levels.
Furthermore, many of the phytonutrients act as antioxidants (carotenoids, phenolic compounds etc.). Antioxidants are compounds that reduce free-radicals that occur in our bodies through natural processes. Free radicals are toxic compounds that can damage cells, DNA and protein causing various diseases. Thus, obtaining antioxidants through our diet is essential, and this is often better achieved by real food based shakes.
4. Distinctive Flavour Profile.
Straying away from the potential health benefits; there are also certain pros in more subjective areas such as taste.
Standard shakes are dominated by artificial flavours and processed ingredients that give the meal replacement shakes very defined flavour profiles (note: this is a generalization).
On the contrary, brands that opt for whole food ingredients tend to avoid artificial additives (vitamins, minerals, flavouring systems…); which gives their shakes a very natural, food-like taste.
Moreover, the lack of sweeteners enhances the natural flavours of the ingredients. While at first they might strike as flat; in the long run you will notice that the flavour profile is more diverse and has more depth.
On Top of That Organic
If we add Organic labeling on top, we will have another indirect positive impact in the environment and agricultural management and sustainability of crops; as pointed out on the images above. Thus, they are some of the healthiest meal replacement shakes you can buy.
Negatives of Whole Food Shakes
I have been hyping up whole food shakes as the ultimate nutritional meals. However, there are often some flaws with these.
1.Lacking Micronutrient Profiles.
Perhaps, the most common issue with real food based shakes is that they often fail to deliver a fully fledged micronutrient profile.
This is due to the fact that creating a food based complete micronutrient mix is complicated. In fact, you will need multiple plants which will have a knock-on effect on the price and manufacturing process. Also, there are some vitamins, like the aforementioned vit B12, which are scarce in plants and hard to implement in shakes.
Thus, for most is a lot more easier to create a synthetic vitamin and mineral mix (ultra cheap, ultra easy to add) that will fit with the guidelines.
2. Phytonutrients Can Be Negative.
Previously, I have spoken marvels about phytonutrients and how beneficial they can be to our health. However, there are certain phytonutrients that can have a negative effect.
For instance, in the last decades, isoflavones (common in soy) have had a negative press, particularly on males. While the science behind the claims has been lackluster, there is evidence that phytoestrogens like ligans (common in flaxseed) might contribute to increased colorectal cancer risk among women and prostate cancer among men.
Another example is safrole, a potentially carcinogenic compound naturally found in spices, like, nutmeg and cinnamon. However, the level of risk for causing cancer in humans is as low as breathing indoor.
3. Price.
Whether is a marketing strategy or a real reflection of the cost of manufacturing the product, whole food-based shakes are more expensive in average.
For example, Ample and Ambronite, two of the best all natural shakes, are among the most expensive with prices up to $6.5/400kcal. On the other hand, you can find "standard" shakes as cheap as $1.4/400kcal.
4. Taste.
The flavour profiles for whole-food based shakes is often more limited. While a brand like Soylent offers up to 7 different flavours (including caffeinated options), the options are more limited on natural drinks.
Not only the options are more limited, but the flavours might come accross as flat. Particularly to the average user accustomed to sweeteners and strong flavours, which are achieved with the help of artificial flavourings.
---
Before You Buy
Prior to making your purchase, I strongly recommend you to look at these characteristics on each shake to decide whether is the ideal one for you.
Are you looking for a vegan organic shake? This one is straight forward and the one that will help you narrow down the choices significantly.
Organic or real food based? Hopefully, I have make the distinction clear, but make sure the shake you are buying is what you were looking for. Many brands will trick you into thinking they are organic, when truly are not.
Macronutrient distribution. Depending your activity levels, personal preferences or health biases you will need higher protein, or lower carbs or more fiber. Look at the macro profile before buying your organic shake.
Allergens. Many of these shakes use nuts, milk or other allergens that might negatively affect you. Double check before you buy!
Micronutrients. Perhaps the biggest downside with natural shakes is that some fail to deliver all the vitamins and minerals. Read the description to know if you are getting all you need.
Calories. Lastly, make sure you are having upwards 400kcal per meal. You will see many products that will provide you with less calories and will be much more expensive. I would avoid these.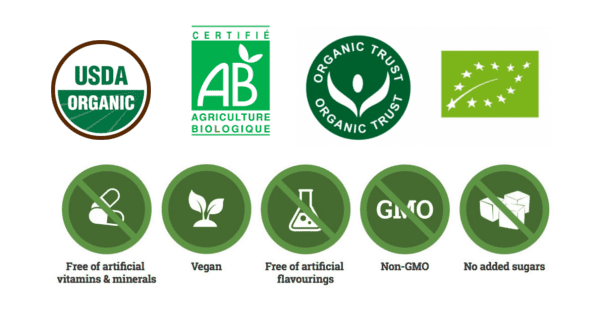 FAQ
Are these all organic meal replacements better for me?
Organic does not mean better, but has clear advantages; such a less chemicals in the food, fresher ingredients and a smaller environmental impact. Organic shakes will feel more natural and will have a more "food"-like taste; with less sweeteners and other flavourings to alter the natural taste.


Is there any affordable organic shake?
Organic ingredients tend to be more expensive due to the extra nuisances (regulation, less production…) involved in the agricultural production. However, there are few brands that offer organic meals at a reasonable price.


Is there any Vegan organic meal replacement?
There are plenty of Vegan organic meal replacements, such as Bertrand Vegan.


What is the difference between real food based and organic shakes?
All organic shakes will be real food based, however, not all real food based shakes will be organic.


What is the best organic meal replacement shake for weight loss?
Optimally, you will choose something rich in micronutrients, like Ambronite CMS, listed above. Features that you should be looking for include balanced macro profile, plenty of fibers and shakes rich in protein to help you keep full for longer.

---
Final Thoughts
It is important to consider that buying organic meal replacement shakes goes beyond committing to your body, but it is also a commitment to the environment. A belief for a more sustainable agriculture with less impact on the crops and the land; as well as, improved conditions for the pastures.
Thus, the main benefit of these products may not be to your health, but to planet Earth. That said, there's also an argument to be made that these are some of the healthiest complete food options that you can buy.
Thanks to using real food products, they will be more nutrient rich and also include phytonutrients (like antioxidants) that many other meal replacement shakes won't have.
---
Sources
1.USDA Organic.
2. European Union Organic Rules.
3. FAO Organic.
3. WHO Nutritional Guidelines.
4. EFSA Nutritional Guidelines.
5. More in: latestfuels.com/resources. A compilation with different governmental guidelines and references.
6. Ultimate Meal Replacement List. List with all the brands.