Huel Ready to Drink Review, Is This Huel's Worst Product?
No rest for the weary! We're right back at you, this time with the Huel Ready to Drink review.
Launching in late 2018, Huel Ready to Drink was the long awaited and expected bottled offering of the popular meal replacement powder. It was also Huel's answer to then industry leader Soylent, and its popular Soylent Drink RTD.
Initially, it was only offered in Vanilla & Berry, but Huel RTD now has four flavors (Chocolate and Banana) and it's available worldwide. However, it has not been the outstanding success Huel had hoped for, with products lauched at a later date (Huel Black) being more important for the brand.
So why has Huel RTD not been a hit? Is it not a good product? Should you buy it? Or should you look at other Huel alternatives?
I will try to answer all these questions and more in this Huel RTD review!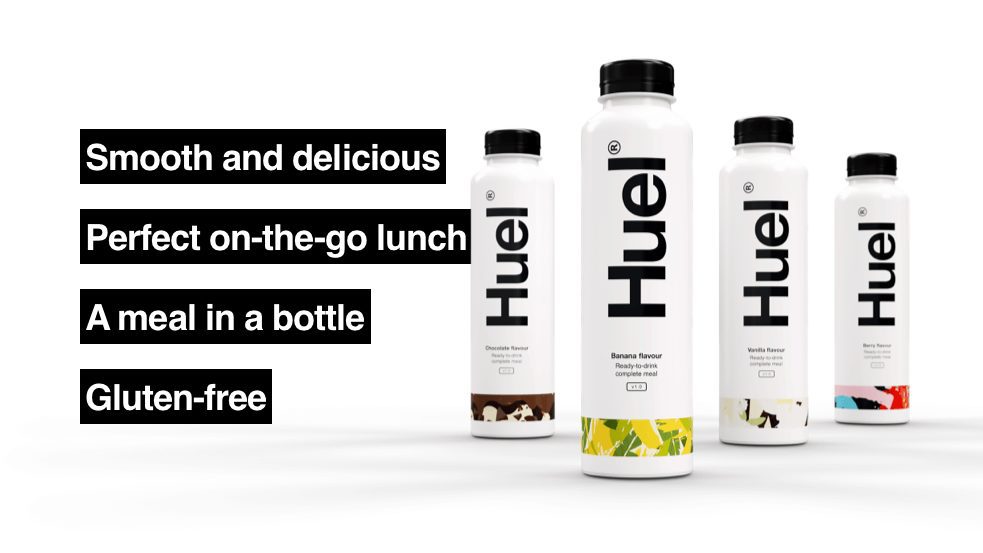 Huel Ready to Drink at a Glance
Flavours: Vanilla, Chocolate, Banana & Berry
Huel RTD contains 20g of protein, it's high in fiber with 7g, and low in sugar at only 5g or less. Also contained therein are 41g of carbs, 19g of total fat, and contains 20% or greater of 27 vitamins and minerals.
Opinion
We have the variety box in house today (recommended way to start with the RTD), so I'm glad we'll be able to bring you guys a full review of all flavors.
It came alongside Huel Black in the same box, and I'm happy to report they used minimal, but effective packaging for the product. No cramming too much into a box too small, or defaulting to a box that is far too big, in line with its eco-centric approach.
Speaking of eco-centric, Huel RTD has a very low carbon footprint. A primary goal within their overall mission.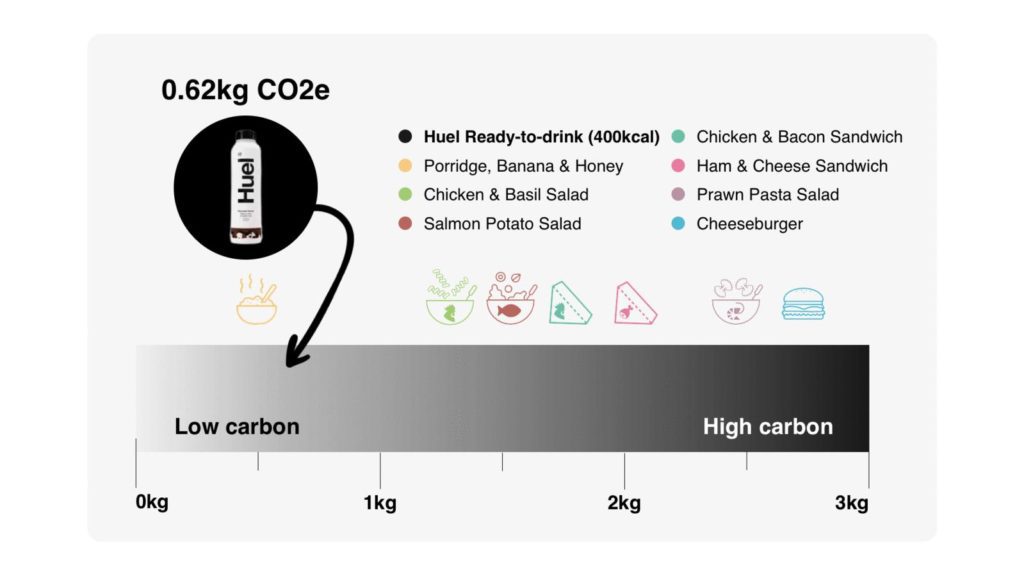 Huel RTD comes in its own recyclable box, with tasteful design and the nutritional information and ingredients of every flavor printed directly on it. It also has short but informative descriptions of what it is, what is in it, and why it's good for you.
Before getting started on this, I'm very curious about the mouth feel. Huel & Huel Black Edition have a very thick, textural mouth feel, one that you either like, or absolutely hate. So it will be interesting to see if Huel RTD was made to be smooth, or doubled down on making it like the powder.
What I like
1. Very smooth & not too sweet.
2. Well packaged and recyclable bottles. Not too much, but not too little. Recycling friendly.
3. Free Shipping.
4. Proper variety pack. All flavors included, and many of each.
5. Gluten-free, plant-based, and soy-free. There aren't many soy free RTDs around.
6. Better versions incoming . V1 is on the box and bottles, suggesting they are working to make it better with future versions.
What I dislike
1. Frequent bits of solidified pieces. Made it that much harder to drink.
2. Feels like I should have been full longer. At 500ml I was expecting more.
3. Price. Huel RTD is above average in price for most markets (except UK). Risks being not competitive with competing products.
4. Short consumption window. Once opened it is recommended that it is finished in 12hrs. Much shorter than competing products. Average is 2-3 days.
5. Protein content is lower than the usual for Huel. 20g/400kcal is not bad, but I was hoping for at least 25g.
6. Taste is not good enough. At the end of the day, I was reaching out for the powder, despite the extra effort it required, and I struggled finishing some of the RTDs.
Improvements
1. Tinker with flavors and volumes. Not the worst, but feels like there is room for improvement.
2. More protein.
3. Be a bit more flexible with price. Even with free shipping, its higher than others.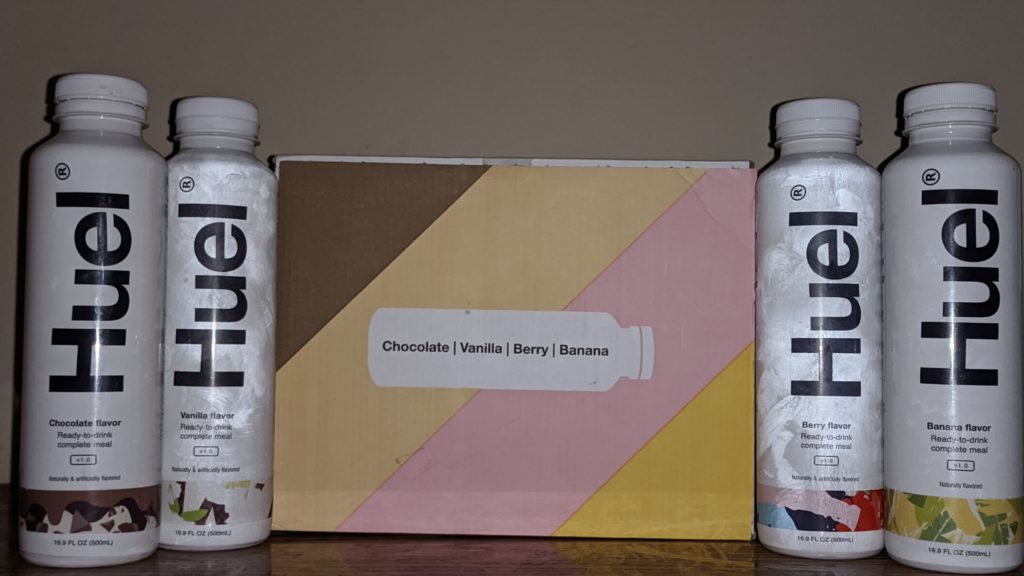 Nutritional Breakdown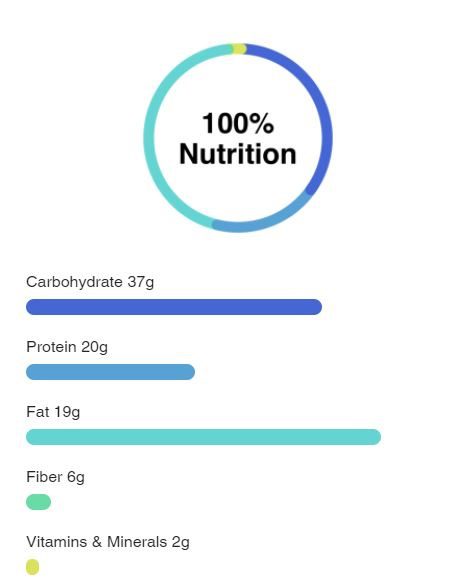 Nutritionally speaking, Huel Ready to Drink is a very interesting product.
As all Huel complete meals, it is 100% plant based, and soy free. Furthermore, it's also gluten free, and without any of the most common allergens.
However, unlike the powder products, it's not as protein rich as Huel would like you to believe, and in fact, it sits in par with the most direct competition.
That aside, it will provide you with all the nutrients and a nice meal in a very convenient fashion.
Huel RTD Nutrition Overview
| | |
| --- | --- |
| | Huel Ready to Drink |
| Kcal/meal | 400 |
| Macros (C/P/F) | 38/20/42 |
| Vegan | Yes |
| Keto | No |
| Features | Soy Free, Nut Free, Gluten Free, Dairy Free, Palm Oil Free, Vegan |
| Non-GMO | Yes |
| Organic | No |
| Includes Probiotics | Yes |
| Artificial Sweeteners | Yes |
| Synthetic Additives | Yes |
| Contains All Micronutrients | Yes |
| Controversial Ingredients | Sucralose |
Some values may vary slightly.
Based on Vanilla (v1.0): Water, Pea Protein, Tapioca Maltodextrin, Gluten-Free Oat Powder, Canola Oil, Flaxseed, Medium-Chain Triglyceride Powder (from Coconut), Oligofructose, Natural and Artifical Flavors, Brown Rice Flour, Sunflower Lecithin, Gellan Gum, Sucralose, Potassium Citrate, Potassium Chloride, Calcium Carbonate, Maltodextrin, Ascorbic Acid, Magnesium Phosphate, L-Choline Bitartrate, D-Alpha Tocopherol Acetate, Niacinamide, Menaquinone-7, Retinol Acetate, Vitamin D2, Calcium D-Pantothenate, Pyridoxine Hydrochloride, Riboflavin, Thiamine Mononitrate, Potassium Iodide, Cyanocobalamin, Biotin, Selenium Yeast, Copper Gluconate, Zinc Oxide, L-Methylfolate Calcium, Chromium Picolinate. CONTAINS: TREE NUTS (COCONUT).
| | | |
| --- | --- | --- |
| | Per bottle (500ml) | % Daily Value* |
| Total Fat | 19g | 24% |
| Saturated Fat | 5g | 25% |
| Trans Fat | <0.5g | |
| Polyunsaturated Fat | 6g | |
| Monounsaturated Fat | 8g | |
| Cholesterol | 0g | 0% |
| Sodium | 210mg | 9% |
| Total Carbohydrate | 41g | 15% |
| Dietary Fiber | 7g | 25% |
| Total Sugars | 2g | |
| Includes Added Sugars | 1g | 2% |
| Protein | 20g | 40% |
| | | |
| --- | --- | --- |
| Vitamins & Minerals | Per bottle (500ml) | % Daily Value* |
| Vitamin D (Total) | 5.0mcg | 25% |
| Calcium | 260mg | 20% |
| Iron | 5.0 mg | 30% |
| Potassium | 940mg | 20% |
| Vitamin A | 180mcg | 20% |
| Vitamin C | 60mcg | 67% |
| Vitamin E | 3.2mg | 21% |
| Vitamin K (Total) | 35mcg | 29% |
| Thiamin | 0.3mg | 25% |
| Riboflavin | 0.3mg | 23% |
| Niacin | 3.2mg | 20% |
| Vitamin B6 | 0.3mg | 18% |
| Folate (DFE) | 80mcg | 20% |
| Vitamin B12 | 0.8mcg | 33% |
| Biotin | 15mcg | 50% |
| Pantothenic Acid | 1.2mg | 24% |
| Phosphorus | 300mg | 24% |
| Iodine | 30mcg | 20% |
| Magnesium | 84mg | 20% |
| Zinc | 2.2mg | 20% |
| Selenium | 11mcg | 20% |
| Copper | 0.2mg | 22% |
| Manganese | 0.5mg | 22% |
| Chromium | 8mcg | 23% |
| Molybdenum | 10mcg | 22% |
| Chloride | 460mcg | 20% |
| Choline | 110mg | 20% |
Carbohydrates
Based on a 400kcal serving (exact numbers might vary):
Total: 41g, 15% of DV.
Sugars: 5g.
of which Added: 1g, 2% of DV.
Fibers: 8g, 29% of DV.
The main source of carbohydrates are tapioca starch, gluten free oat powder and brown rice powder. All three are complex carbohydrates that are harder for the body to digest, thus they have lower impact in blood glucose levels. In fact, the overall GI of Huel Ready to Drink is only 25, which is really low.
All three ingredients have been finely powdered in order to become soluble. Of these, brown rice flour and tapioca starch are new ingredients for Huel. To be more precise, brown rice is used for both, the bars and the powder, but as a protein source and sugar source.
Tapioca starch comes from the South American vegetable cassava and it is similar to corn starch. It acts as thickener as well as carbohydrate source.
Perhaps, it is worth noting what is not in Huel Ready to drink: maltodextrin or isomaltuose. A pair of carbohydrates very common in RTDs.
Fats
Per serving:
Total fats: 18.6g, 24% of DV.
Saturated fats: 5g, 25% of DV.
Monounsaturated fats (MUFA): 6.6g. This is 14.8% of the calories per serving.
Polyunsaturated fats (PUFA): 7.2g. This is 16.2% of the calories per serving.
Omega-3 (ALA): 2.1g.
Omega-6: 4.0g.
MCTs: 1.1g.
Huel RTDs main fat sources are rapeseed oil, flaxseed and MCT powder (from coconut). Rapeseed oil is higher in mononusaturated fatty acids (mostly omega-9), than flaxseed which is high in polyunsaturated fatty acids (mostly omega-3 in form of alpha-linolenic acid). Lastly, the MCT powder from coconut is high in saturated fatty acids.
MCTs Are a Nice Addition
In fact, the medium chain-triglycerides (MCT) from coconut are often seen as lower quality, since it is mostly lauric acid (C12:0). Lauric acid is the longest of all, and it does not behave as the other shorter chains, which are more rapidly consumed and might have beneficial cardiovascular effects.
However, James Collier (Huel Nutritionist) stated that most MCTs in Huel are caprylic acid (C8:0) and capric acid (C10:0). Less than 2% is lauric acid.
See what Huel's Nutritionist James has to say about MCTs.
Despite the addition of MCTs, increasing the amount of saturated fats, the levels are below the upper boundaries. Regarding, MUFA and PUFA levels, the latter are a little higher than the acceptable macronutrient range set by WHO (6-11% of the energy).
Plenty of Omega-3, as Usual for Huel Products.
Huel chooses to load their products with high amounts of omega-3 fatty acids, to counteract the lack of it in the western diet. While 2.1g of ALA might seem high, ALA conversion to EPA and DHA is really low (8-20% and 1-9%, respectively). The conversion rates can be dependant in many factors including:
Age.
Gender.
Amount of omega-3 fatty acids in the system.
Saturated fat intake.
Insulin levels.
Genetic factors.
Availability of enzymes and other components.
0.25g to 0.5g of combined DHA plus EPA is recommended. Thus, Huel RTD ensures you will have enough omega-3s with one or two servings!
Protein
Per serving:
Total Protein: 20g, 40% of RI.
Source: Pea protein, and rice protein.
The biggest source of protein in Huel RTD is pea protein. Also included is flaxseed and brown rice protein. This allows Huel to remain vegan and soy free, which is a unique combination for a ready to drink meal replacement.
These two work very well in combination with each other, because they balance out the amino acid deficiencies of their counterparts. This is, pea protein is low in methionine (when compared to other protein sources), but rice has plenty.
20g of Protein Is Plenty, but Not as Much as Your Usual Huel
Despite the marketing claims of being high in protein, Huel RTD provides with a standard amount (for the industry):
| | |
| --- | --- |
| | Protein (g)/400kcal |
| Huel RTD | 20 |
| Soylent Drink | 20 |
| Mana Drink | 20 |
| YFood | 26 |
| Plenny Drink | 20 |
YFood has one of the highest protein content, but it's not vegan.
Similarly, when comparing to the other Huel products, Huel RTD is not as rich:
| | |
| --- | --- |
| | Protein (g)/400kcal |
| Huel RTD | 20 |
| Huel Black | 40 |
| Huel Original | 30 |
| Huel Hot & Savoury | 24 |
| Huel Bar | 24 |
All the different products in the Huel line up.
Micronutrients
Every bottle of Huel RTD provides you with at least 20% of your daily recommended vitamins and minerals (27).
Allergens
Huel RTD contains no major allergens, but it contains coconut.
Tasting Test
| | |
| --- | --- |
| Best flavour | Berry |
| Taste | They were ok. Berry was decent, Banana & Vanilla were palatable, and Chocolate was tolerable. |
| Texture | Pretty thick, but very smooth. Also, had solidified bits at the top and bottom even after vigorous shake, which was quite annoying. |
| Satiety | Underwhelming honestly. Drinking more than other RTDs to only end with similar satiety. You can expect around 2 hours. |
| Afterthoughts | Berry is worth your time, the rest get a C grade at best. |
Huel RTD Taste Review
As mentioned, we have four flavors, all at 400kcal and 500ml. With the extra 100 or so milliliters of volume, I'm hoping for top notch satiety.
Vanilla
First thing out of the way, the drink is very smooth, unlike Huel & Huel Black. This one has a very medicine-like smell to it. I have a bad feeling about this.
Anyway, after giving it a go, its definitely not the best vanilla I've had, but ok I guess.
Also, there were hair-like strands at the top and bottom. Seems these are settled parts of the liquid that solidified. I'll have to shake much better next time.
Banana
Not a fan of banana drinks, they all taste like banana candy which I don't particularly like.
Thankfully, they did not overdo it, but it's still that same kind of taste. It's palatable, and not too sweet, but I'm not crazy about this one either.
Once again, there seemed to be these solid pieces in there as well, this time not strands, but flake like pieces. I swear I shook it even harder than Vanilla, too.
Chocolate
Chocolate smells ok, we'll see if the taste matches, though I'm not optimistic.
So, it's not terrible, but it has a different taste to it. It definitely smells better. It takes some getting used to, and once I adjusted, it was ok, not my favorite for sure. It does have an aftertaste that wasn't great.
Same deal with the solid bits in it. It may just be natural settling but it's still very off putting.
Berry
Last we have Berry, which smells pretty good. Surprisingly, it tastes decent too! It's a mixed berry flavor, with hints of strawberry and others. I really have no flavor related complaints here.
Hands down the best of the bunch, and the only one I'd have again.
Huel RTD Taste vs The Best
I will compare Huel's Ready to Drink to the best RTDs further below, but I wanted to make a quick comment on the taste.
Simply put, Huel Ready to Drink is not the best tasting RTD, and it's not even close. In the US, Soylent Drink, Mana or OWYN are much better alternatives.
In Europe, I would go for YFood (especially if you don't mind it not being vegan). Otherwise, Mana, Plenny Drink or YFood vegan will be much better.
More about Huel

Huel is the leading brand in the industry. They specialise in plant-based meal replacements, without soy, and nutritionally very rich.
Besides the RTD, Huel also offers 2 powder based meals, a Hot & Savoury complete meal, bars, and even a Complete Protein. You can find all the reviews by using the search bar above.
Besides the great product offering, Huel is also renowned for their excellent customer service, company ethics and their push for a sustainable future.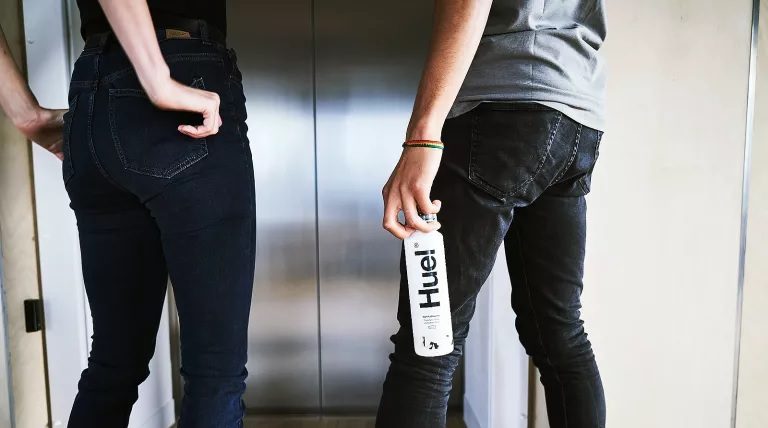 Huel RTD Packaging
Huel RTD can be found at their website and in some stores (Sainsbury's and Tesco) in the UK. However, for the best prices is better to buy online.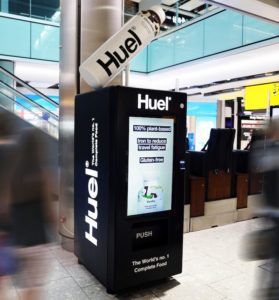 Packaging
Huel drinks are sold by the dozen. You can get the flavor(s) of your choice, or opt for a variety pack that contains three of each flavor.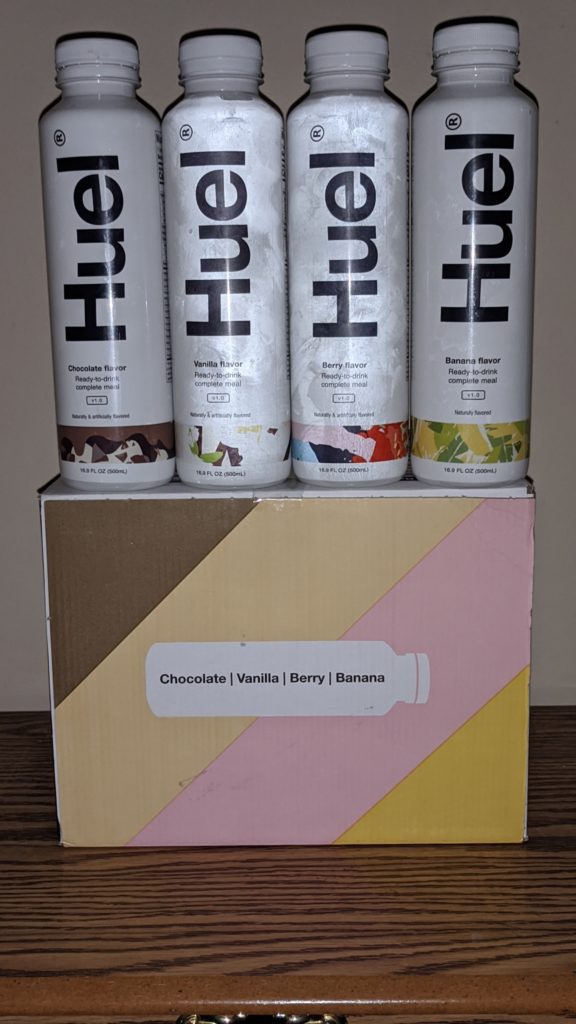 As for the bottles, they are currently made with 51% recycled plastic. This is up from 25% (when launched) and in line to achieve their goal of using 100% recycled plastic.
It is, however, 100% recyclable, including the lid. The plastic is PET. They hope to increase the amount of recycled plastic to 65% in the next two years (2018) and include 15% bioplastic (bio-PET).
Reminder: The Issue with Plastic Bottles
One of the main issues with RTDs is that they come in plastic bottles. Plastic bottles are costly to produce, often not recycled, populate the world oceans, and have a negative effect on fish according to The Guardian.
The amount of plastic produced and consumed it is on the rise; and it is threatening to become as big of an issue as climate change.
While this might be a topic to discuss another time, it is worth having a thought over it and considering Huel Powder as an alternative.
If you are interested in the topic, read Huel's statement on the matter.
Pricing & Shipping
Regarding the price, there are 3 factors that will affect it:
Location. Prices will vary depending where you live (US, EU or UK)
Order size. There's bulk discount available
Subscription. 10% discount when subscribing
Subscription delivery intervals are as short as once a week, to once every ten weeks. Also, there are volume discounts to be had the more boxes purchased. You'll have a limit of eight boxes per order. Check out the delta between the minimum order, and the maximum order.
Prices in the US are as follows:
Quantity
Total Price
(Non-Sub/Sub)
Serving Price
(Non-sub/sub)
1 Box
(12 servings)
$54/$48.60
$4.50/$4.05
8 Boxes
(96 servings)
$340/$306
$3.54/$3.18
Pricing scales based on number of items purchased
However, in the UK prices are a bit cheaper:
Quantity
Total Price
(Non-Sub/Sub)
Serving Price
(Non-sub/sub)
1 Box
(12 servings)
£37/£33.30
£3.08/£2.77
8 Boxes
(96 servings)
£252/£226.80
£2.62/£2.36
Pricing scales based on number of items purchased
As for the rest of Europe:
Quantity
Total Price
(Non-Sub/Sub)
Serving Price
(Non-sub/sub)
1 Box
(12 servings)
€53/€47.70
€4.41/€3.97
8 Boxes
(96 servings)
€350.64/€315.60
€3.65/€3.28
Pricing scales based on number of items purchased
Check out the full break-down: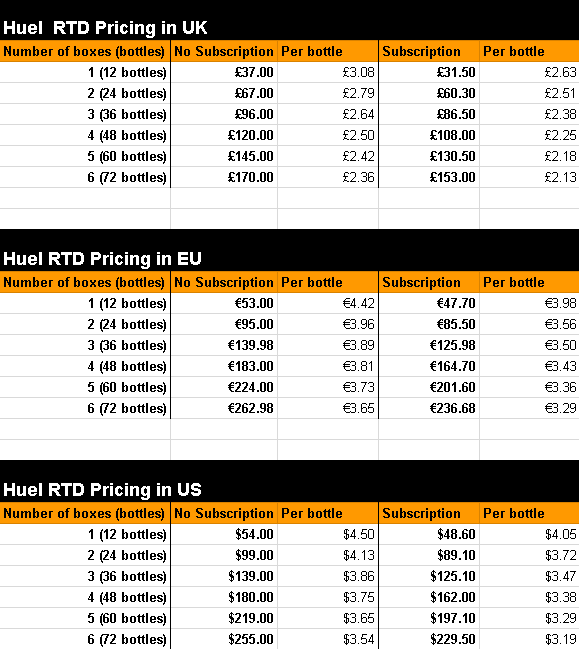 Is Huel RTD Cheap?
In short, it is not.
I believe Huel RTD falls somewhere in the middle in pricing if you buy enough. Smaller orders can be pricey, but bulk order approach affordable. Even now, the fairest prices will be in the UK.
For instance, in the US, a bottle of Soylent Drink will cost you $3.25 without discounts (for 400kcal serving).
Alternatively, if you live in Europe, you can get a bottle of Plenny Drink for €2.5/400kcal.
Shipping
In the UK, delivery is free for orders over £15, and they offer free next day delivery for orders over £20.
In the US, Huel provides free shipping on all orders over $25, and orders usually arrive in 3-7 days. The primary courier used is FedEx, but some orders may be shipped via USPS.
Orders to Alaska, Guam, Hawaii, Puerto Rico or the Virgin Islands do not qualify for free shipping and costs will vary depending on the weight.
Huel also ships internationally. You'll be charged depending on location an order weight. Below is a chart outlining costs.
| | | | | | | |
| --- | --- | --- | --- | --- | --- | --- |
| Delivery zone | 1kg | 1 – 5kg | 5 – 10kg | 10 – 15kg | 15 – 30kg | Country |
| Zone B | £15.00 | £29.00 | £44.00 | £60.00 | £105.00 | Hong Kong, Malaysia, New Zealand, Singapore, South Korea, Taiwan |
| Zone C | £15.00 | £28.00 | £46.00 | £59.00 | £97.00 | India, Israel, Kuwait, Saudi Arabia, United Arab Emirates |
| Zone D | £19.00 | £35.00 | £53.00 | £69.00 | £119.00 | Bermuda, Brazil, South Africa |
| Zone E | £19.00 | £35.00 | £52.00 | £69.00 | £120.00 | Maldives |
| Zone T, U & V | £13.00 | £24.00 | £34.00 | £43.00 | £71.00 | Iceland, Switzerland, Malta, Cyprus |
Huel RTD vs
There are quite a few RTDs in the market, currently. The offering differs from Europe to the US, so be aware that you won't find all products everywhere. For that, we've covered the best ready to drink meal replacements elsewhere, so please check that out if you are looking for an RTD.
Huel RTD Alternatives in the US
Here in the US, Huel RTD faces fairly limited, but stiff competition, excluding many off the shelf products as often times they are incomplete and or packed with sugar.
Soylent is easy to buy at so many local stores, and have had three year head start (October 2015) with bottled meal replacement drinks. So they've had time to refine their formula over time, with Soylent Optimized being their current offering.
OWYN's meal replacement launched around six months after Huel in July 2019, and also offers a complete meal while catering to the vocal "no soy" audience. In addition, it's comparable to Huel RTD in that it's GMO free.
Sated is from the keto segment and was also released around the same timeframe. While specifically designed as a low carb option, it still is complete and compares favorably to the others, though it relies on whey protein alongside higher fat content.
So how does Huel RTD compare to other players in this space?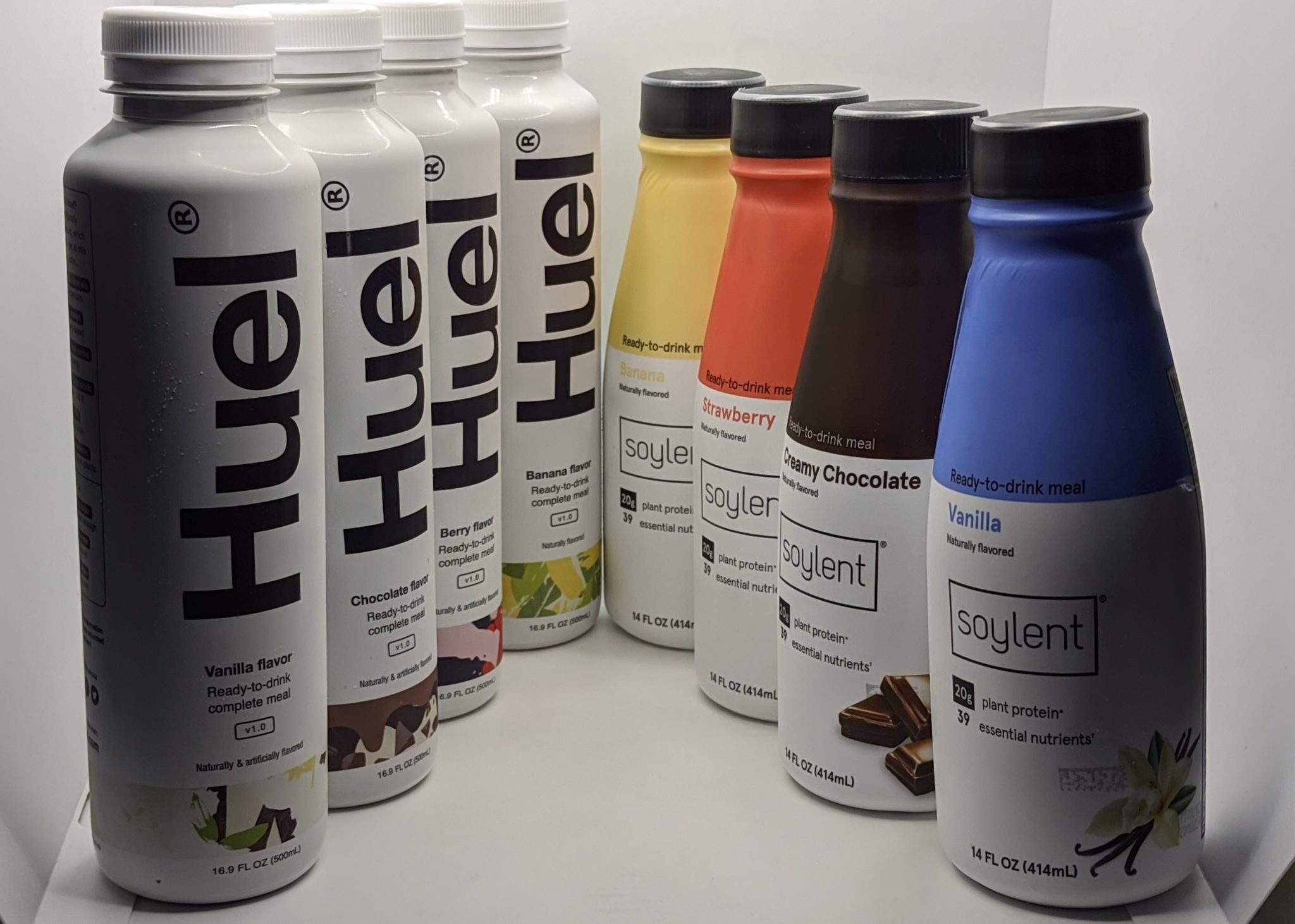 Overview
Huel RTD
Soylent
OWYN
Sated
serving price
$4.50
(USD)
$3.50
(USD)
$3
(USD)
$5
(USD)
serving size
1 Bottle
500ml
1 Bottle
400ml
1 Bottle
355ml
1 Bottle
325ml
Packaging (servings per)
12
Bottles
12 Bottles
12
Bottles
12
Bottles
Flavors
4
8
2
2
kcal/serving
400
400
300
400
Carbs (g)
41
36
31
17
Protein (g)
20
20
20
18
Sugar (g)
3
1
5
<1
Fiber (g)
8
3
3
6
Fats (g)
19
24
10
35
Micronutrients
27
28
24
26
Vegan
Y
Y
Y
N
Organic
N
N
N
N
Artificial Sweeteners
Y
Y
N
N
Synthetic Additives
Y
Y
N
N
GMOs
N
Y
N
N
Protein Source
Pea/Rice/Flax
Soy
Pea/Pumpkin
Whey
Prices shown are most expensive option.
Which is Best for You?
As with many comparisons of similar products, there is a lot to consider.
The most established brand, Soylent is the best tasting by a mile, has a ton of variety, and is easy to get your hands on quickly. But it also has additives that some may be turned off by. And if you don't care for soy, it's already a no go.
The fairly new OWYN is super affordable, but offers the fewest calories, so you may find yourself hungry again sooner than you'd planned. They only have two flavors as of now, and while chai was good, their chocolate offering was pretty bland as I recall.
Then, there is Sated, the most expensive of the bunch. While complete, it occupies a different category being a keto targeted product. With only two flavors, the lowest total volume, and deriving its protein from animal product (whey), it may or may not be for you. Both flavors were tasty though.
Last but certainly not least, the star of the show, Huel RTD. It has a reasonable amount of flavors, provides the most volume of all the shakes and has a pretty good nutritional profile. Taste wise, they have work to do, but as a well established brand, I'm confident they're up for the challenge.
Which to pick? Ultimately, only you know what's best for you.
Huel RTD Alternatives in Europe
Similarly to the US, there are plenty of ready to drink meals in Europe: Saturo, Mana, Plenny Drink, Feed, YFood… just to name a few. Most of them are plant based or offer a vegan option.
Huel RTD
YFood
Mana
Plenny
serving price
€4.42
€3.49
€2.63
€2.50
serving size
1 Bottle
500ml
1 Bottle
500ml
1 Bottle
330ml
1 Bottle
325ml
Packaging (servings per)
12
Bottles
6 Bottles
12
Bottles
12
Bottles
Flavors
4
6
2
2
kcal/serving
400
500
330
400
Carbs (g)
41
38
28
45
Protein (g)
20
34
17
20
Sugar (g)
3
22
7
7
Fiber (g)
8
6
4
6
Fats (g)
19
22
16
15
Micronutrients
27
26
27
24
Vegan
Y
N*
Y
Y
Organic
N
N
N
N
Artificial Sweeteners
Y
Y
Y
Y
Synthetic Additives
Y
Y
Y
Y
GMOs
N
N
N
N
Protein Source
Pea/Rice/Flax
Milk
Soy
Soy
Prices shown are most expensive option.
Besides the numbers, I would say that if you are looking for an affordable alternative, Plenny Drink is your best choice.
As for the taste, I love YFood's milk based RTDs, they are simply delicious.
Otherwise, I think that Mana Drink is a lovely shake too. The Origin is a neutral shake that is hard to get tired of, and the Choco is a huge improvement over Huel's Chocolate.
Huel RTD FAQ
What is the shelf life of Huel RTD?
They recommend you consume within 15 months of the production date. Opened bottles should remain refrigerated, and consumed within 12 hours.


Is the packaging recyclable?
The current version of the bottle is 100% recyclable and is made of 51% recycled plastic.


Where is Huel RTD produced?
For the US and the UK, the RTD is manufactured in the US. As for the product sold in Europe, it is made in Austria.


How do I get a free t-shirt?
As a new customer, you'll need to buy 2 boxes of Huel RTD.


Why sucralose?
1. It doesn't add any calories or carbohydrates which means the nutritional value of our products are protected.

2. It's a much healthier option than many other sweeteners.

3. We only have to use a tiny amount as it's 600 times sweeter than sugar.

What is the GI of Huel RTD?
Huel Ready to Drink's GI is 25, thus very low.


Why are ingredients in Huel Ready to Drink different to Huel Powder?
Many ingredients used in the powder are not suitable for liquid format due to solubility issues, long term storage, as well as, effects in the taste and consistency.

Does it need to be stored in the fridge?
No, it can be stored in a cool, dry place at room temperature. However, you might consider chilling the drink before consuming.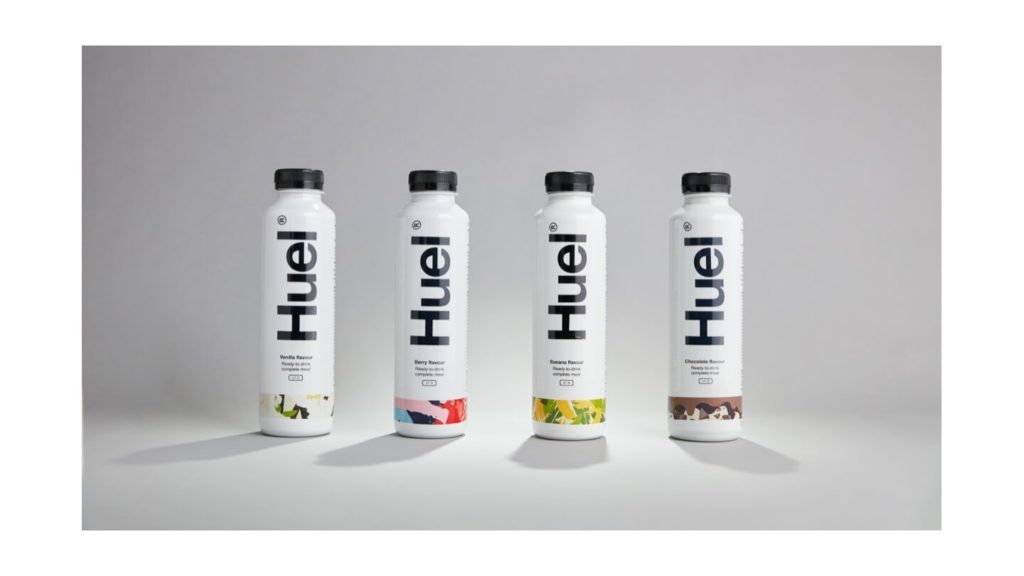 Verdict – Huel RTD Review, Wait for V2
Let's not mince words, Huel RTD was not my cup of tea. I'd literally rather just forget the convenience, an take extra time and opt for a powdered mix (like Huel Black), which tastes much better and provides up to double the protein of RTD.
On one side, they all had a slight chemical/medicine taste to them, with vanilla being the worst in that regard.
Secondly, they all had solid bits in them that you can't just shake away. Not what I like to see for a product that should benefit from industrial blending.
Finally, I found them not to fill me up, enough. And that extra 100ml? What's its purpose? I'm getting equal nutrition, similar satiety and it's just over the line of palatable. That made this review a real struggle to be honest. It just felt like too much, for too little. I found myself often leaving some behind in the bottle.
To my friends in Europe, you have a plethora of options, such as YFood, Plenny, Mana etc. So do yourself a favor and have those.
In the US, we don't have much, but of what's available, I'd choose any of those over Huel. Something like Orgain, Mana, Soylent or OWYN.
Huel Ready to Drink
From €4.50 | £2.13 | $3.19/400kcal
Pros
Great nutrition for a RTD
Good pricing in the UK
Very low GI
Recyclable bottles, made from 50% recycled
RTD without soy
Cons
Seems to clump
Taste is average
Less filling than the powder
Not as high in protein as other Huel products