Force Factor Forebrain Review | Is It Worth It?
Most of us adults are bombarded by stress every day. Snags at work, issues at home, and personal problems could easily stack up, affecting our mental health.
In recent years, nootropic supplements, like the Force Factor Forebrain, started to gain popularity. These brands promise a solution for cognitive issues plaguing the modern individual.
However, it's always a good idea to learn what these products can offer before clicking on that "purchase" button. After all, no one would want to spend money on something that doesn't work!
So, stick with us in this Force Factor Forebrain review. We're going to discuss the pros and cons, ingredients, and effectiveness of this brain supplement.
Main takeaways:
Proprietary blend hiding quantities of key ingredients
Ingredients are effective, but there are many natural nootropics missing
We found multiple fake Amazon reviews
We would recommend buying from a trusted brand like Hunter Focus, our #1 nootropic of choice.
Force Factor Forebrain Overview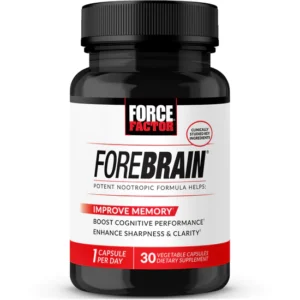 | | |
| --- | --- |
| From | US |
| Ships | US |
| Price/serving | $0.6 |
| User Reviews | Mixed |
| Nootropics | 5 |
| LF Recommended | No |
Studies have reported an all-time high increase in stress levels in American adults in 2019, at the onset of the Covid-19 pandemic. 
This news is alarming, as consistent chronic stress can negatively affect cognition. A chronically stressed individual may experience memory, focus, and thinking issues.
That said, the Force Factor Forebrain offers a solution to the detrimental effects of everyday stress. It's a nootropic supplement to restore and enhance your mental function.
Consisting of natural ingredients like Bacopa Monnieri, the Force Factor promises to bring back your focus, mental clarity, memory, and overall brain performance.
Force Factor Forebrain: Pros & Cons
If you're considering purchasing Forebrain, it's only natural to want to learn all about it. So, here are some pros and cons of this supplement:
Pros
Contains clinically tested ingredients that are known to improve memory, focus, attention, language, memory, and mood.
More affordable than leading nootropic brands.
Positive customer reviews*
There are no known side effects from consuming it.
You're required to take only one capsule per day.
Cons
Missing key ingredients such as B vitamins and CDP-choline.
It may not be suitable for pregnant women and children.
Fake Amazon reviews
Unsuitable to individuals with caffeine allergy.
Proprietary blends may not be transparent in their dosage.
Force Factor Forebrain Ingredients
Unfortunately, this is another brain supplement that hides the quantities of each ingredient behind a proprietary blend.
This is a big red flag for us, since it can be used to put low amounts of effective nootropics and tons of fillers.
We recommend always buying nootropics with transparent labelling like Mind Lab Pro, Qualia Mind or Hunter Focus.
There are three formulations making up each capsule of the Forebrain:
MemorySafe – 550mg

Bacopa Monnieri extract
Cognigrape Grape extract

ThinkUp Advanced – 65mg

zumXR extended release caffeine
Thinkamine Vicamine
Huperzia A

BioBrain+ – 5mg

BioPerine Black Pepper Fruit extract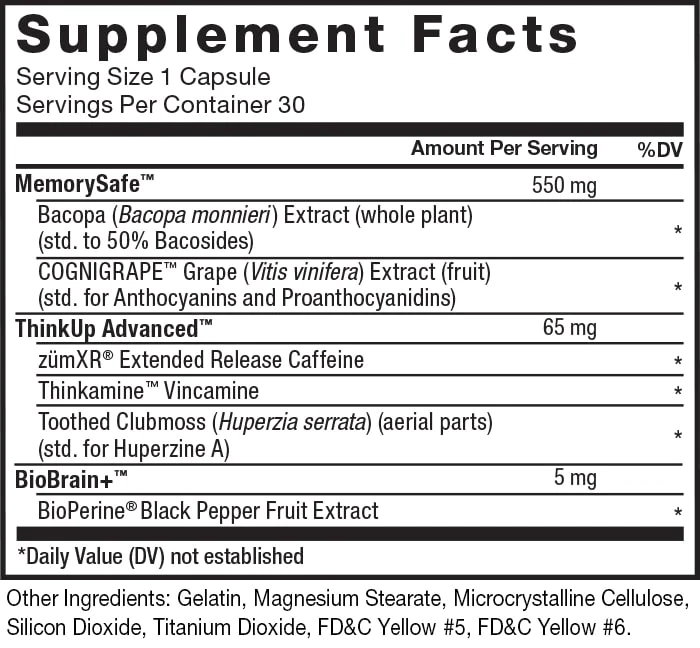 These are the key ingredients contained in each proprietary blend:
Bacopa Monnieri – Less than 550mg
Bacopa is a medicinal plant used for centuries in Indian medicine. They use it for treating epilepsy, anxiety, and other mental disorders. 
Current research strongly suggests its efficacy in enhancing thinking, learning, and memory. Some data also suggests its ability to protect brain cells from Alzheimer's chemicals.
The effective dose of bacopa monnieri is 300mg, which Forebrain is likely to have.
Cognigrape – Less than 550mg
Cognigrape, like Bacopa, is known for its positive effects on the brain. It's a powder from red grape juice, famous for its high concentration of proanthocyanidins and anthocyanins.
Clinical trials have shown that Cognigrape can improve mental functions, including language, memory, and focus. It's also proven to alleviate the effects of certain mental conditions in adults.
Once again, the Cognigrape dose used on trials was 250mg, therefore Force Factor Forebrain should have it on effective doses.
Thinkamine Vincamine – Less than 65mg
Vincamine is an organic compound extracted from the plant Lesser Periwinkle (Vinca Minor). This alkaloid supports brain metabolism, enhances memory, and boosts concentration.
While there has been some stipulation that vincamine could help Alzheimer's, Dementia and other mental disorders, all studies have been inconclusive.
It acts by increasing blood flow to your brain, which could have some neuroprotective effects and feeding nutrients to cells.
Huperzine A
This is a chemical extracted from the Chinese plant toothed clubmoss. The Chinese Academy of Sciences discovered its medicinal properties in the 1980s.
Huperzine A increases your brain's acetylcholine which helps combat thinking problems. In addition, studies have shown its benefits for individuals suffering from dementia diseases.
The effective dose is as little as 200mcg, which means that Forcebrains should have enough.
zümXR Caffeine
Caffeine is a brain stimulant we commonly find in coffee. They use this stimulant to increase brain activity and the circulation of adrenaline and cortisol in your body.
Force Factor Forebrain contains one cup dose of zümXR. It's a type of caffeine designed to give you the energy of regular caffeine without the energy crash.
That said, there are less than 65mg of caffeine in here, so for those who are used to caffeine this won't be a big dose.
Bioperine
Black pepper is a staple seasoning worldwide. Hence, you might find it surprising that nootropics used this spice to enhance brain functions.
Bioperine is a black pepper extract you can find in Forebrain. This extract is proven to boost mental function by protecting the brain cells and fighting Parkinson's and Alzheimer's.
Force Factor Forebrain Benefits Reviewed
As you can see, Forebrain contains some excellent ingredients. For this reason, it's a viable option if you're new to this type of supplement.
According to the manufacturer, daily intake of the Forebrain will strengthen your memory. It will also increase your mental sharpness and induce cognitive clarity.
However, Forebrain hides critical information about its efficacy because of its proprietary blends. This issue makes it hard to gauge its overall effectiveness.
Doing some maths we can suspect that, unlike in other popular brain supplements that have proprietary blends (Alpha Brain), all ingredients are in effective doses.
In addition, the lack of other components, such as B vitamins, can also become a deal breaker. The six main ingredients of Forebrain may be lacking compared to leading brands.
Forebrain might not be as effective at increasing focus, and enhancing memory as the top brain supplements.
Does Force Factor Forebrain Work?
We can't deny the clinically proven effects of its ingredients on the human brain.
Current studies directly link Bacopa Monnieri, Cognigrape, Vincamine, Huperzine A, and Bioperine to enhanced brain function and protection against illnesses.
However, there are specific doses at which each of these ingredients can work properly. Force Factor's lack of transparency makes its effectiveness hard to quantify.
Price of Force Factor Forebrain
You can buy Force Factor Forebrain at their official websites and other online retail platforms, such as Amazon. Its price may vary slightly according to where you purchase it.
The price typically hovers around $18 to 25$ for a 30 serving bottle.
Although, you can save a few bucks if you purchase them in packs or buy the supplement regularly.
Unfortunately, Force Factor only ships to the US. There are other brain supplements in the UK that can be a good alternative to it, though.
Is Force Factor Forebrain Worth It?
So, is the Force Factor Forebrain worth your money?
Clearly, the product offers decent value in terms of ingredients and price. Nevertheless, its lack of information about its doses can be an issue for most consumers.
When tested, it wasn't as efficient as other premium products at memory, increasing attention span, focus, and even relieving stress.
You can find other supplements that can easily double what Forebrain gives. Nootropic brands, like Hunter Focus, offer more ingredients with transparency in their formulation.
Force Factor User Reviews
What are the customer Force Factor Forebrain reviews? Are they positive?
Do people find Force Factor effective?
Force Factor Amazon reviews are quite positive, with 4.3 stars out of 5 in 750 reviews. However, there are a lot of 4-star reviews, when compared to other products.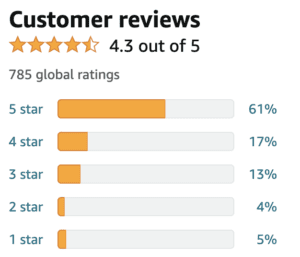 Some users are not sure if Forebrain works or if it is as effective as it should. This could be well the case, since it's missing many key natural nootropics.

As a warning, we found some sketchy or outright false user reviews. After using Reviewmeta (a tool that spots fake Amazon reviews) to asses the quality of the reviews, we found out that they are not to be trusted.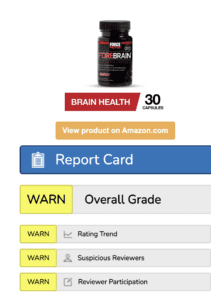 Frequently Asked Questions (FAQS)
Are there side effects for Force Factor Forebrain?
Bacopa Monnieri is a primary ingredient of the Forebrain. This herb can induce migraines, fatigue, stomach cramps, and irregular bowel movements.


Does Force Factor Forebrain contain caffeine?
The Force Factor Forebrain contains zümXR. It's a type of caffeine providing longer energized effects than common caffeine without the following crash.


How many capsules do I need to take per serving?
It's 1 capsule per serving.


Is Force Factor Forebrain vegan?
No, it's not vegan friendly.


Verdict – Force Factor ForeBrain Review
We've reached the end of this Force Factor Forebrain review.
This is a brain supplement that claims to:
Improve Memory and Recall
Boost Cognitive Performance
Enhance Sharpness and Clarity
Increase Mental Energy
Promote Clearer Thinking
Looking at the ingredients, Force Factor does have scientifically proven ingredients that could help in some areas. That said, the exact quantities are hidden behind the proprietary blend, which makes it hard to trust.
Similarly, it contains vincamine, which has little evidence to help you with memory or focus. While, it does not contain many other effective natural nootropics that you will find in the best nootropic supplements.
When tested, we felt minimal positive effects. In particular, it wasn't great at helping us focus or we didn't feel sharper.
Despite the fact that that user reviews were positive on Amazon, we spotted fake user reviews, which brings our trust with this product even lower.
All in all, we would recommend skipping Force Factor Forebrain, and buying a reputable nootropic like Hunter Focus, with 11 proven natural brain boosting ingredients.
Force Factor Forebrain
From $0.6/serving
Pros
Effective ingredients
Only 1 capsule per serving
Might help with focus, memory
Cons
Fake amazon reviews
Proprietary blend hiding ingredient quantities
Not as effective at increasing attention span
Missing key natural nootropics