Rootana Review | Is this The Best Tasting Shake I've Tried?
Welcome to this Rootana review! I am super excited to review the most promising meal replacement shakes that launched in 2022.
Rootana is a brand-new meal replacement shake that focuses on real-food ingredients, and avoids the use of all artificial sweeteners, preservatives, and colorings. It's ideal for those looking for natural meal replacement shakes, but do not want to pay premium for quality.
In this Rootana review, I will be taking an in-depth look at what the product offers, how it tastes, what the macronutrient ratio is like, and ultimately whether Rootana is the right meal replacement shake for you.
Spoiler: if you are looking for a healthy meal without sweeteners- ideal for casual or daily use- Rootana will be a great choice.
---
Rootana Review at a Glance
Flavours: Dark Chocolate, Vanilla, and Original (unflavoured).
---
Opinion
Interestingly, I've known about Rootana for a year now. The founders asked me for advice and I tried to point to what I believed the users wanted from a meal replacement.
Despite this, I have not actively taken part in the formula or the beta-testing of the product. Therefore, it was my first chance to try out Rootana's meal replacement.
On paper, it looks great: no artificial sweeteners, high in protein, good ingredients, and reasonably priced. However, it was all going to be down to taste.
Thankfully, this was also a nice surprise! I'm not going to say they nailed it, but it is really good. Not perfect, but super delicious, nonetheless. Plus, it's very filling, as you would expect from a high-fiber high-protein blend.
Anyways, more about that in the Rootana taste review section.
What I like
1. Well-priced. At £2.14 or $3.45 per 400kcal serving, Rootana enters the market with a very competitive offer. Superb price for the quality.
2. High-quality ingredients. Rootana doesn't just use oat flour, they use the best oats they can get their hands on. They don't just use flaxseed; they use golden milled flaxseed. That extra attention to detail makes a huge difference.
3. High in fibre.
4. No artificial sweeteners and no stevia. Rootana's biggest selling point is that unlike almost all meal replacement shakes it is completely free from artificial sweeteners. Using coconut sugars instead of sucralose, or stevia.
5. Completely plant-based.
6. Great taste. Dark Chocolate is one of the best-tasting chocolate meal replacement shakes you can buy.
7. Clean website. I love the info displayed on the site and the layout. The nutrition section is great to get more info about the product.
8. Metal scoop is great. You need to pay £5 for the metal scoop, but it will last you forever and it reduces waste.
What I dislike
1. No subscription option, yet. For regular consumers, subscriptions enable them to have some discounts and also not to have to worry about reordering.
2. Ordering more than 3 bags might be confusing at first.
3. Not gluten-free. It's not a big issue, but it would've been nice.
Improvements
1. Could include probiotics.
2. Bulk discounts or subscriptions for regular customers.
Nutritional Breakdown
Rootana is best described as a well-balanced meal replacement shake. Unlike some of the most popular competitors like Huel Black, it doesn't go for the extremely high protein approach. Instead, it offers something closer to what most health guidelines suggest. Plus, this is sufficient protein to help with weight maintenance, muscle growth, and recovery. 
It also has a decent amount of healthy fats, and contains 44 grams of low GI carbohydrates, which really helps with satiety and energy levels. All of this within a 400-calorie shake. 
Rootana is well stocked when it comes to micronutrients, containing 24 vitamins and minerals, at 20% of your daily recommended intake per serving. 
Perhaps the biggest difference is that Rootana is completely free from artificial sweeteners, preservatives, and colourings. Thus, making it one of the most natural meal replacement shakes on the market. It is also a soy and lactose-free shake.
Rootana Nutrition Overview
| | |
| --- | --- |
| Kcal/meal | 400 |
| Macros (C/P/F) | 46/21/33 |
| Vegan | Yes |
| Keto | No |
| Features | High Fiber |
| Non-GMO | Yes |
| Organic | No |
| Includes Probiotics | No |
| Artificial Sweeteners | No |
| Synthetic Additives | Yes |
| Contains All Micronutrients | Yes |
| Controversial Ingredients | |
Oat Flour Powder, Pea Protein Isolate, Coconut Sugar, Golden Milled Flaxseed, Sunflower Seed Oil,
Emulsifier (Sunflower Lecithin) , Potassium Chloride, Magnesium Phosphate, Stabilisers (Guar
Gum, Xanthan Gum) , Salt , Calcium Carbonate, Dicalcium Phosphate, L-Ascorbic Acid (Vitamin C) ,
Ferrous Fumarate, DL-Alpha Tocopheryl Acetate (Vitamin E), Nicotinic Acid (Niacin), Zinc Oxide,
Manganese Citrate, Calcium D-Pantothenate (Pantothenic Acid) , Copper Sulphate, Pyridoxine
Hydrochloride (Vitamin B6), Thiamine Hydrochloride (Vitamin B1) , Riboflavin (Vitamin B2), Retinyl
Acetate (Vitamin A), Chromium Picolinate, Folic Acid (Vitamin B9), Potassium Iodide, Sodium
Molybdate, Sodium Selenite, Phylloquinone (Vitamin K1), D-Biotin, Cholecalciferol (Vitamin D3),
Cyanocobalamin (Vitamin B12)
Carbohydrates
Based on 400kcal serving:
Total Carbs: 44g, 18% of DV.
Net Carbs: 38.5g, (Total Carbs – Dietary Fiber – Non-digestible Carbs).
Sugars: 13g, 13% of DV.
Fiber: 7.1g, 24% of DV.
The main source of carbohydrates in Rootana is oat flour powder. Described as the world's healthiest functional carbohydrate, oat flour powder is an excellent source of beta-glucan soluble fibre. Oats have been shown to reduce your risk of cardiovascular disease and certain cancers, lower your cholesterol, reduce inflammation, and help with weight loss. 
This is partly due to their low GI score, partly due to the beta-glucan they provide, and partly due to their ability to improve digestion and gut health. All of these can help with healthy weight management, and improved overall health. 
Rootana also gets some carbohydrates from its Golden milled flaxseed and the coconut sugars that it uses as a natural sweetener.
Added Sugars? Not a Problem
When looking at the nutrition label, some of you might notice that each Rootana serving has 13g of sugar. Most of which come from natural coconut sugar.
While this is often a red flag, in this world filled with extremely processed sugars, 13g of sugars is not that much. In fact, Rootana has chosen to have natural sugars instead of artificial sweeteners, as they believe this is a healthier alternative.
For many, this choice will be a welcome one, as they struggle with the artificial flavour of synthetic sweeteners, and the problems they might cause in their digestion.
Protein
Per 400kcal serving:
Total Protein: 21g, 40% of DV.
Source: Pea protein isolate, golden milled flaxseed, oat flour powder.
There are three main sources of protein in Rootana. Pea protein isolate is by far the biggest source, followed by oat flour powder, and then golden milled flaxseed. Pea protein is an excellent plant-based protein source as it has a complete amino acid profile.
It is also an excellent source of branched-chain amino acids (BCAAs) which play an essential role in muscle protein synthesis.
Fats
Per 400kcal serving:
Total Fats: 14.3g, 14% of RI.
Saturated Fats: 5.9g, 30% of DV.
Omega-3s, ?g.
Omega-6s: ?g.
The fats in Rootana come from a number of sources. The main sources are sunflower seed oil and sunflower lecithin, but you also get omega-3 fatty acids from the golden milled flaxseed, and the oats and pea protein also provide a small amount of fat.
Personally, I would love them to declare the omega-3 fatty acid content, as these are very important essential oils for your body. Plus, they are often lacking in our diets.
Micronutrients & Other Nutrients
Regarding micronutrient content, Rootana contains 24 vitamins and minerals, each of them providing 20% of your recommended daily intake, except for chloride which is 68% and sodium which is only 12%.
Unlike some other brands, Rootana shakes do not contain any probiotics; which have been a popular addition as of late.
Allergens
There is no soy or lactose in Rootana, and it doesn't use artificial sweeteners, however, it contains oats which are an allergen for some. Even if oats don't contain any gluten, they are produced in a factory that handles gluten. Thus, Rootana is not gluten-free.
Taste Test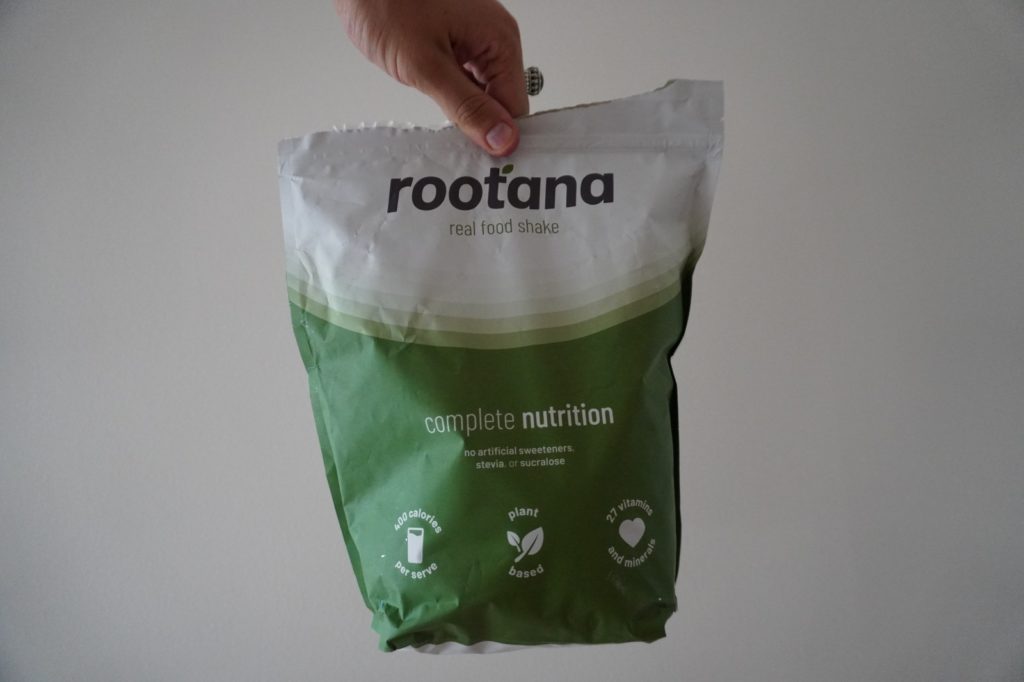 | | |
| --- | --- |
| Best flavour | Dark Chocolate |
| Taste | Sweet, oaty, and none of that sucralose aftertaste that you can get with other shakes. The cacao flavour is excellent, but vanilla wins due to the lovely subtle taste and how well it complements the oats |
| Texture | When mixed with 500 ml of water it is quite thin, but using 400 ml of water gives it a thick milkshake-like consistency. |
| Satiety | Excellent, the high fibre and protein content really help in this regard |
| Easy to Clean | With 500 ml of water the shake will be clean in seconds. Thicker shakes may require an extra scrub when it comes to washing up. |
| Afterthoughts | A great, naturally flavoured shake that is easy to mix and simple to clean. It's thickness changes depending on how much water you add, and it goes great with dairy alternatives such as soya or almond milk. |
Pro Tip: Adding ice-cold almond milk to your shake can provide a much thicker shake if that's what you prefer.
More about Rootana

This is one of the newest brands that have entered the complete food market. It's been in the making for a couple of years, but Rootana just launched in 2022.
In this space competition is fierce, but Rootana aims to attract customers with a simple yet, fairly natural formula. They don't use any artificial sweeteners or colourings, and they want to be a healthy and simple alternative for breakfast and lunch.
As with many other meal replacements, Rootana is also an environmentally friendly meal with a very low carbon footprint (see below).

Pricing & Shipping
As previously mentioned, Rootana is only available in the UK and the US.
In both countries, they are fairly affordable, particularly for the quality they offer and what the market prices are.
Pricing
Currently, you can easily purchase:
Single bag (14 servings) –> £2.14/serving, £29.99 in total. $3.57, $49 in total.
Unfortunately, there are no bulk discounts at the time.
While it's nice that you can buy a single bag without compromising on price; it is definitely surprising not to see bulk discounts for bigger buys. Even more when you consider that they don't offer a subscription discount, yet.
This is perhaps something the company will offer in the future.
Is Rootana Worth the Price?
If you have been reading the review, you will probably know the answer to this question. The answer is yes. At £2.14/serving it does very well against most direct competitors.
However, let's have a small price comparison with some of the best meal shakes in the UK:
| | | | |
| --- | --- | --- | --- |
| price per serving (400kcal) | Rootana | Huel Black | Dare Motivation |
| Expensive | £2.14 | £1.86 | £3.90 |
| Cheapest | £2.14 | £1.45 | £3.0 |
In the US, it's slightly more expensive, but still much cheaper than direct competitors like Shakeology, Ka'chava or LyfeFuel Daily Essentials.
Shipping
Within the UK, Rootana should be delivered within 1 to 3 days. You will qualify for free shipping in orders of 2 bags or more. You cannot buy Rootana on retail stores like Asda, Tesco, or Sainsbury's, but buying online is more convenient.
In the US, shipping takes 3-5 days.
Rootana vs.
Regarding the competition Rootana faces, it must be said it's quite tough.
However, most shakes include some sort of artificial sweeteners or stevia; in order to reduce sugar content. Thus, it's really hard to find naturally sweetened meal replacement shakes in the UK and in the US. Even most artificial sweetener-free shakes include stevia.
Head to Head
| | | | |
| --- | --- | --- | --- |
| Category | Rootana | Huel Black | C360 |
| serving price | £1.78 | £1.55 | £1.53 |
| servings per | 14 | 17 | 10 |
| kcal/serving | 400 | 400 | 400 |
| Packaging | Bag | Bag | Bag |
| Flavors | 3 | 9 | 6 |
| Protein (g) | 20 | 40 | 29 |
| Sugar (g) | 13 | 4 | 1 |
| Fiber (g) | 7 | 7 | 9 |
| Fats (g) | 10 | 17 | 10 |
| Carbs (g) | 44 | 24 | 46 |
| Vegan | Y | Y | Y |
| Organic | N | N | N |
| Micronutrients | 27 | 27 | 27 |
| Artificial Sweeteners | N | N | Y |
| Synthetic Additives | Y | Y | Y |
| GMO | N | N | N |
| Protein Source | Pea/Rice | Pea/Rice | Pea/Soy/Rice |
| Availability | UK | Worldwide | EU, UK, US |
Huel Black contains stevia, whereas Rootana does not.
Rootana vs Huel Black
One of the main competitors for Rootana will be Huel Black. Huel has multiple meal replacements (bars, powders, RTDs…), and Black is their artificial sweetener-free formula.
Nevertheless, as mentioned above, it contains stevia which has a distinctive taste and puts many people off. This is where Rootana can give you a true artificial sweetener-free shake.
On the other hand, Huel Black will have a lot more protein, with almost 40g per serving. For most people, this can be too much protein, and opting for Rootana might be a healthier alternative.
When it comes to taste, I think Rootana's shakes are simply tastier (particularly Vanilla and Chocolate). However, Huel Black has a sublime Salted Caramel, and also offers more flavours in general (8).
Complete 360 vs Rootana
On the contrary, Complete 360 Meal offers vegan and whey-based shakes that contain sucralose (artificial sweeteners). However, they do offer some of the best-tasting shakes in the UK, like their Double Chocolate Milk, and also very competitive pricing.
It's also packed with more protein than Rootana (30g vs 21g per serving), and includes probiotics and ashwagandha. That said, Rootana will be more suitable for those looking for a more natural shake.
Rootana's Vanilla shake also tastes cleaner and does not have the aftertaste many shakes with artificial sweeteners do. It's also better for prolonged use since the flavours are not as aggressive.
Rootana FAQ
How does Rootana taste?
It tastes great, particularly the vanilla flavour. Cacao is also great, while the original is fairly neutral tasting. All shakes have a wonderful oaty taste, and don't have that overly sweet aftertaste associated with artificial sweeteners.


Is Rootana Vegan?
Yes, all of the ingredients in Rootana are plant-based, and there are no animal products found in the ingredients list.


Is Rootana gluten-free or organic?
No, Rootana contains oats but it's manufactured in a factory that handles gluten.


Can I use Rootana to lose weight?
Yes, you can use Rootana as part of a calorie deficit diet to lose weight, but it is also possible to use Rootana for weight management or even weight gain. It depends on what else you are eating during the day.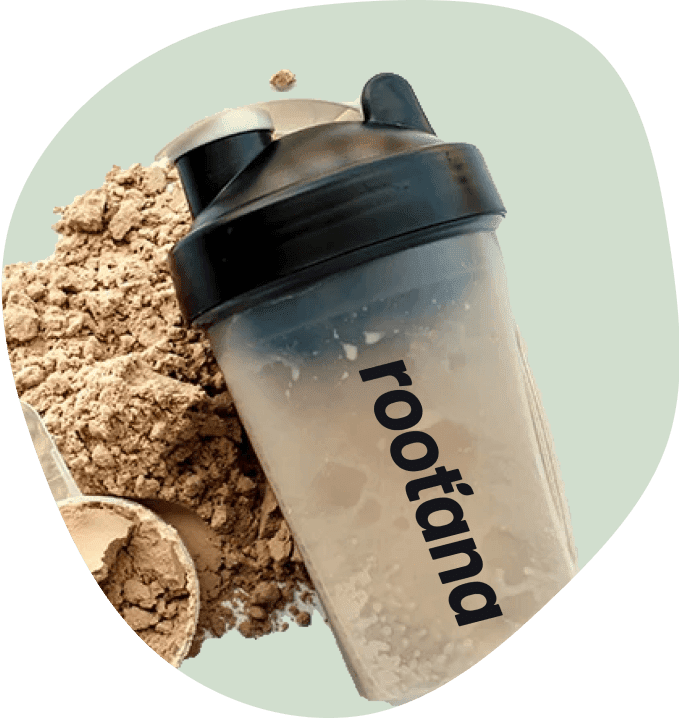 ---
Verdict – Rootana Review
Rootana is a great meal replacement shake for anyone who prefers a more natural product. It is high in protein and fibre, and big in taste. This is a great shake for people who are looking to improve their health or possibly lose weight. It is also a great source of plant-based protein for vegans or vegetarians. 
Furthermore, it is also priced quite competitively, albeit I would love to see some bulk discounts for regular customers.
In general, I think Rootana is a great alternative to Huel Black, particularly since Huel Black has too much protein for most people.
However, there's also room for improvement as Rootana is not gluten-free certified and could also include some probiotics. That said, it still offers great nutritional value.
If you are sick and tired of products that contain sucralose or stevia, then Rootana is the meal replacement shake for you!
Rootana Meal Replacement
£2.14/400kcal
Pros
Great taste, particularly vanilla
Truly without artificial sweeteners or stevia
High quality ingredients
Affordable
Superb for regular use
Cons
No subscription or bulk discounts, yet
No gluten free options
Higher in sugar than competitors