NeuroQ Review | Can It Boost Your Mental Power by 143%?
NeuroQ is a brain-boosting formula heaving marketed to improve memory, focus, strength, and sleep. The formula is created by Dr. Dale Bredesen and focuses on long-term brain health. According to its website, the products help improve memory, enhance mental clarity, and increase "brain speed." In this NeuroQ review, we shall test whether this is true.
It's almost too easy today to fall for scams that promise the world while being ineffective for most. We shall put our knowledge and expertise to test and compare NeuroQ to the best nootropics in the market, like my daily, Hunter Focus.
The premise of this product is that it will help you improve your brain function and performance by giving you more energy, improving your mood, and improving your memory. It also claims that it can help with fat loss, stress relief, and better sleep quality.
This product has been around for a while now, but does it really work? In this NeuroQ review, we will take a look at whether or not NeuroQ can help you improve your cognitive abilities and if there are any side effects from taking this supplement.
Have you already read other NeuroQ reviews and are close to making up your mind? Stop. We'll be discovering the product in detail so you don't make any mistakes.
Welcome to the most comprehensive NeuroQ review.
No time to read this NeuroQ review in full now? Don't worry, here are the 5 most important takeaways:
It's made in the US to high standards and uses premium ingredients
Most nootropics in NeuroQ are underdosed
Lacks some very important nootropics (e.g. group B vitamins, omega-3)
In our experience taking NeuroQ was not much different from taking a coffee.
Brain supplements like Hunter Focus are better bang for the buck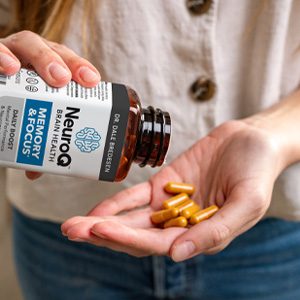 NeuroQ Review at a Glance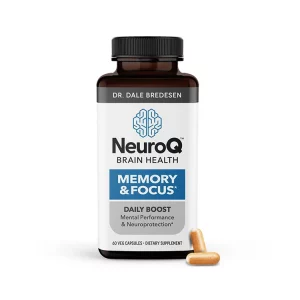 | | |
| --- | --- |
| From | US |
| Ships | US |
| Price/serving | $2.00 |
| User Reviews | Mixed |
| Nootropics | 6 |
| LF Recommended | No |
Neuro Q Pros & Cons
Pros
Science-backed ingredients
Sensitive pricing
Might help reduce brain-fog
90-day money-back guarantee
Cons
Ingredients in low dosages
Less effective than competitors
Lacks some key nootropics
Might cause headaches
Clinical trial not peer-reviewed
NeuroQ Ingredients Reviewed
The NeuroQ Memory & Focus – Regular Strength Capsules include the following ingredients as per the packaging:
Gotu Kola Aerial Extract – 250 mg
Turmeric Rhizome Extract – 250 mg
Gingko Leaf Extract – 120 mg
Phosphatidylserine – 100 mg
NeuroFactor Coffee Fruit Extract – 100 mg
Yamada Bee Farm Propolis – 75 mg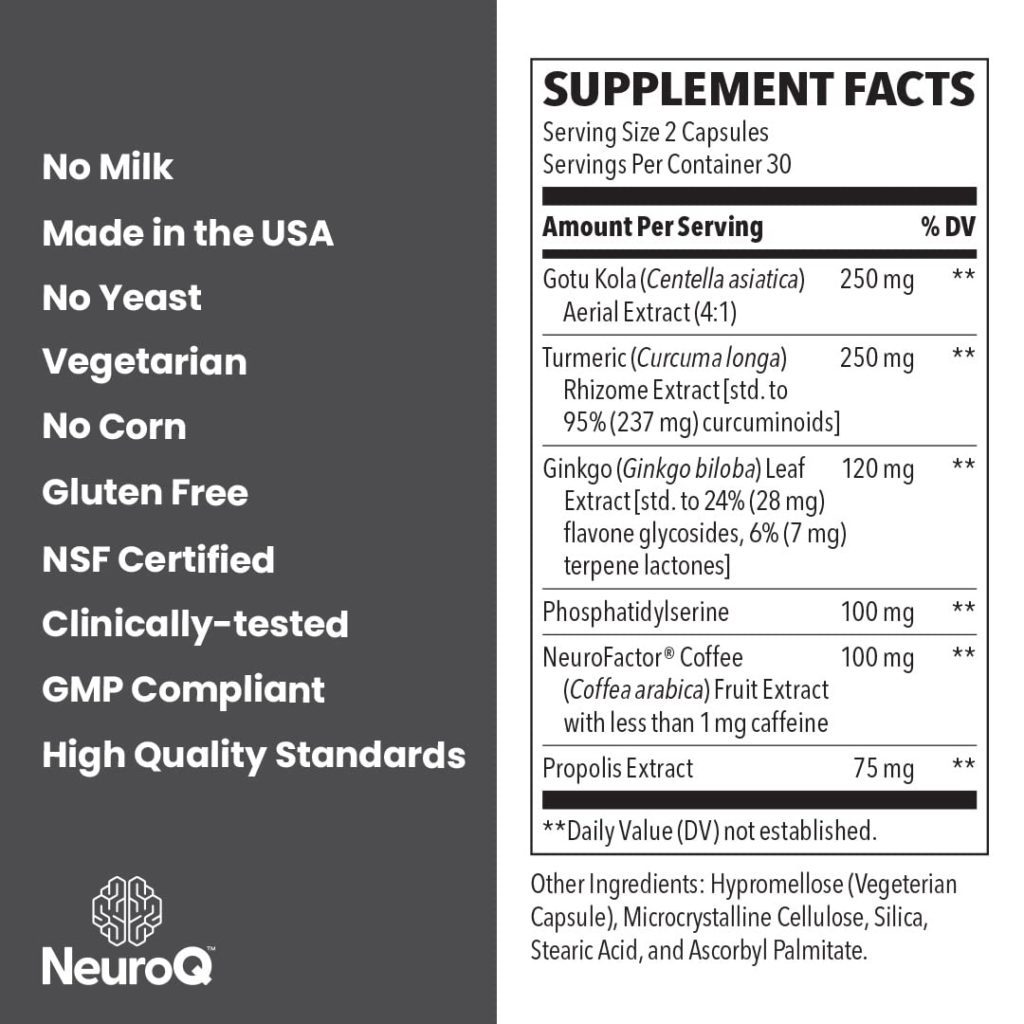 Note that daily values or percent daily values of all NeuroQ ingredients have not been established by any regulatory authority for any of these ingredients.
Mainly, NeuroQ's Memory & Focus works on Gotu Kola aerial extract and its ability to aid in healthy aging. The direct connection to boosting cognitive signs isn't very well-known. Some of the benefits are:
Reduces stress and anxiety
Aids in sleep (it is thought to help people who have trouble sleeping)
Improves focus and concentration
Helps with depression and low moods
The product uses other extracts and ingredients from plants that are known for their healthy properties. These include turmeric rhizome extract, ginkgo leaf extract, phosphatidylserine, coffee fruit extract, and propolis apart from the capsule's content such as silica, rice bran, and Ascorbyl palmitate.
Many of these ingredients are often seen in other nootropic blends since they affect key neural pathways. However, in NeuroQ, many of these are not in effective dosages. For instance, 300mg of phosphatidylserine are needed to be effective, according to the latest research.
The capsule is 100% vegetarian. The formula does not include any artificial colors, gluten, preservatives, yeast, wheat, corn, magnesium stearate, or milk.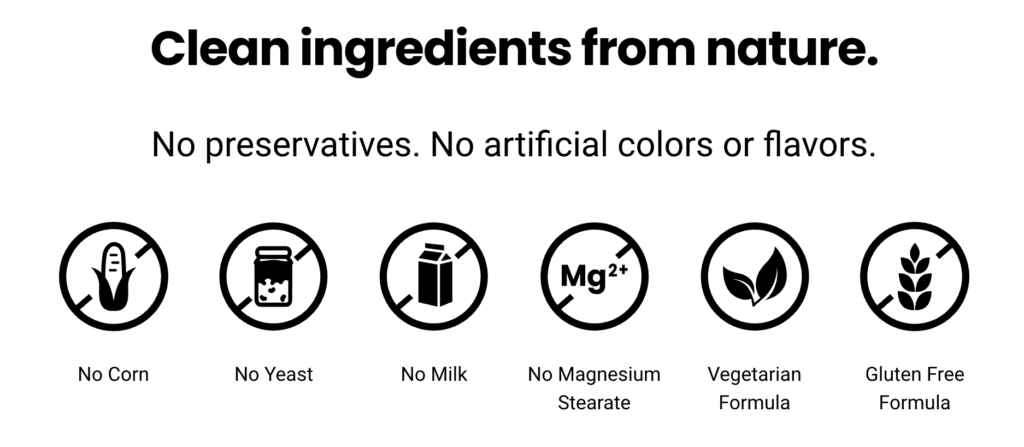 NeuroQ Benefits Reviewed
As mentioned in the NeuroQ ingredients section, all ingredients in NeuroQ are proven cognitive enhancers. So that's a huge plus, since they only use science-backed ingredients.
However, these are found in low dosages, and therefore, might not be as effective as advertised in enhancing your mental performance.
What Are NeuroQ Benefits?
According to NeuroQ Memory & Focus should be able to:
Fuel. "Gets the blood pumping to your brain so it can fire on all cylinders"
Boost. "Stimulate brain function by 143%"
Protect. Long-term protection from neuronal damage.
Perform. Improve your cognitive functions (memory and clarity)
Without a doubt, these are some bold claims.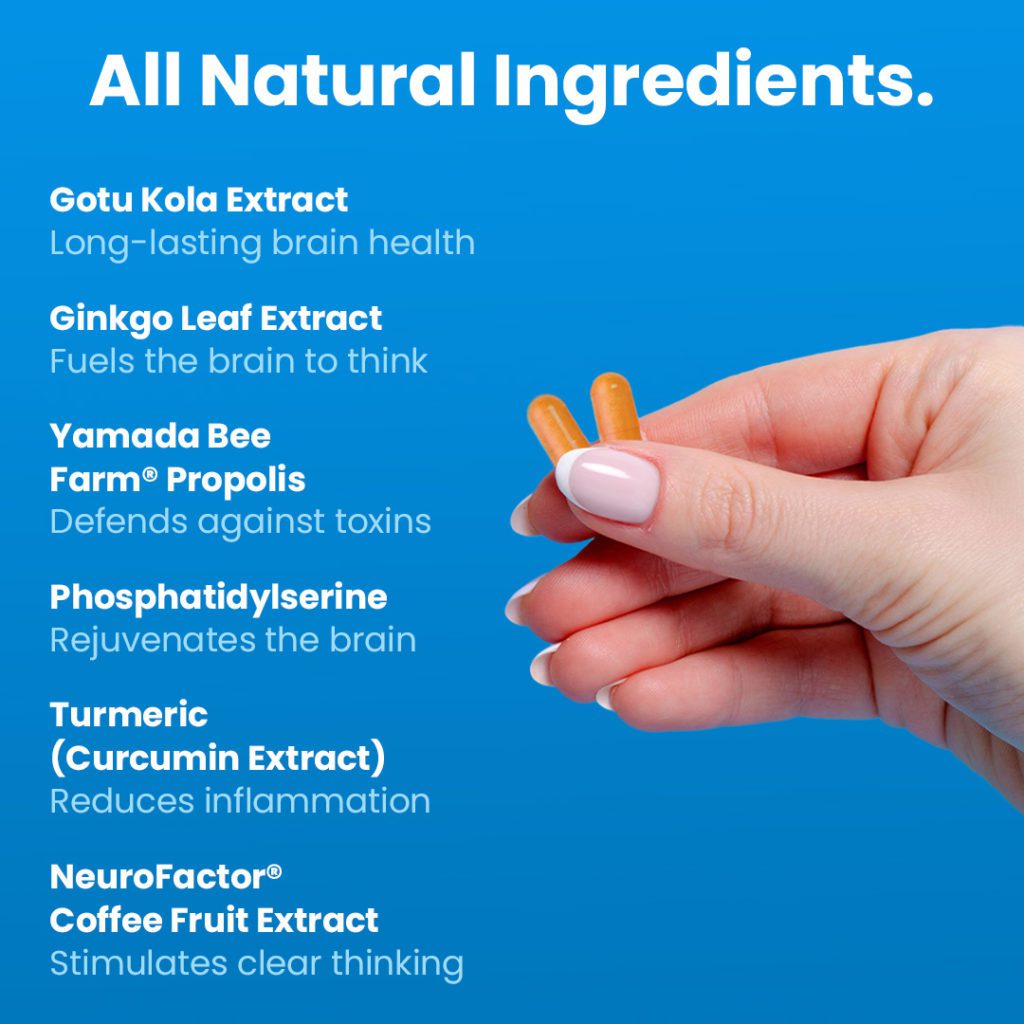 NeuroQ Health Benefits
NeuroQ Memory & Focus is a supplement that claims to help you focus and increase your memory. It comes in capsule form, so it's easy to take with you wherever you go. 
NeuroQ Memory & Focus is supposed to work by increasing blood flow to the brain, which helps allow more oxygen into the brain for longer periods of time.
Theoretically, this means higher brain activity and improved concentration levels. You can also expect improved mood and better sleep at night after taking this supplement for a few weeks.
But that's not how the users report – some even experience notable negative effects such as irritability and nausea.
Does NeuroQ Work?
For their first claim, we must say that we had mixed findings in this NeuroQ review. While it's true that it marginally helped make feel us more awake, it was not much different from taking a morning coffee.
Additionally, the makers have some ambiguous claims such as "stimulates brain function by 143% in 2 hours." In our experience, this was not the case, and the effect was even lower than with other top competitors like Mind Lab Pro or Hunter Focus.
This is mostly due to low dosages and also the lack of other proven ingredients like B-group vitamins or omega-3 that can help with memory, focus and energy levels. Even, the addition of L-theanine could've been interesting to balance out caffeine.
So, how are you supposed to use and try these capsules?
To get the most out of this supplement, it is recommended that you take it twice a day — once in the morning before breakfast and again in the afternoon after lunch or dinner. The company recommends taking NeuroQ Memory & Focus for at least 6 months before seeing any real results from the product.
NeuroQ Side Effects
There are no known major side effects but there are occasional complaints about irritability and other negative effects that force discontinuation.
As showcased below, some users have also complained about headaches after using NeuroQ.
Real User NeuroQ Reviews
Most of the online reviews on their site are positive, and claim to have seen clear boost in cognitive functions. Such as:
"My brain fog is almost gone after taking NeuroQ for 30 days. When I needed to adjust the next delivery date, they were very responsive."

Karen M
"I am in my second month of taking NeuroQ and notice sharper thinking. I have tried other supplements designed to improve memory without noticeable improvements. NeuroQ is different! It is working for me!"

Ruth P
Nonetheless, many reviews online also hint toward poor formulation quality. A few customers have also faced issues ranging from headaches, uneasiness, and dizziness to depression even. This could be a side effect of Ginko Biloba, but if you notice any of these, stop taking Neuro Q Memory & Focus brain supplements.
Gave me bad headaches. Returning.

Deborah M
It's been a week since I started taking NeuroQ….I've had a headache everyday. I tried cutting back to 1 pill instead of the recommended 2 pills.

Ann-Charlotte P.
A common theme we found in the negative customer experiences was a repellingly bad smell and no benefits at all.
Wanted to love this product but after 6 weeks haven't noticed any difference.

Shanah W
Having no benefits with a supplement that's retailing for $60 is already bad enough and you might not need to look past that into the side effects to stop browsing about NeuroQ.
More About NeuroQ
NeuroQ brain supplements were designed by leading neurologist Dr. Dale Bredensen in conjunction with LifeSeasons. They focus on all-natural solutions that help your mental health, as well as, provide a boost to your cognitive performance.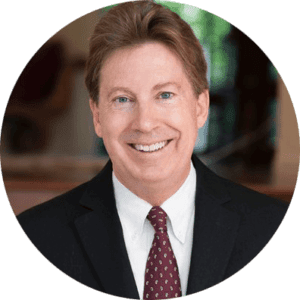 Dr. Bredesen is a life long neurologist that graduated in Duke, and has held prominent positions in highly regarded institutions like UCSF, UCLA and UCA. He has multiple scientific publications about Alzheimer's and other cognitive illnesses.
NeuroQ Price
Besides the effectiveness, the best brain supplements are rated depending their value, too. Because their value is hard to judge, there are too many expensive scammy products.
Well, NeuroQ Brain Health capsules cost $60 per tub (60 capsules). Each tub has 30 servings (2 capsules per serving).
At a cost of $2/serving, NeuroQ is neither too expensive nor too cheap.
However, at that price, you can get much better products like Hunter Focus which have more active ingredients and a more well-rounded formula.
So Is NeuroQ Worth the Price?
The short answer is no. It's a good supplement at a good price, but you'll find better deals out there that could benefit you further.
Even if you are after a Gotu Kola supplement specifically, it makes little sense to go for something that costs $1 per capsule (again, more, if you buy from Amazon) when Gotu Kola dietary supplements cost anywhere from $10-20 for 90-180 capsules, which is significantly more than the 60 you get in NeuroQ.
100 Gotu Kola capsules from NOW Supplements cost $15
Carlyle's non-GMO 180 capsule pack costs $10
US-made Nature Restore Gotu Kola supplement with 10% triterpenes costs $14 for 90 capsules
FAQ
What is Gotu Kola and what are its medicinal benefits for the brain?
Gotu Kola is a well-known herb that's part of many supplements. In Ayurveda, it is considered a rejuvenating tonic that improves memory. It is traditionally used to treat nervous disorders and stress. It can also be taken to improve focus and concentration.


Is NeuroQ Memory & Focus FDA-approved?
FDA mainly approves and closely inspects food products and drugs. Dietary supplements such as NeuroQ are not FDA's realm when it comes to close inspection and efficacy analysis
Dietary supplements are only limitedly regulated by the FDA. FDA can only take action against a dietary supplement if it's adulterated/unsafe or misbranded/false/misleading. 


How should you take NeuroQ Memory and Focus?
According to NeuroQ you should take 2 capsules in the morning with or without food.


How much caffeine does NeuroQ contain?
NeuroQ only contains 2mg of caffeine per serving.


Do you need a prescription?
No, you can take NeuroQ without prescription.


---
Verdict – NeuroQ Memory & Focus Review and Alternatives
Ultimately, as proven in this NeuroQ review, this nootropic or brain supplement is not a scam. It actually contains science-backed ingredients and no other fancy fillers.
Furthermore, there are very reputable figures behind the company that has extensive knowledge in the cognitive area, like the founder Dr. Dale Bredensen.
During our NeuroQ review, we did notice some minor positive effects, particularly in our short-term efficiency. However, we failed to experience the "140% brain boost" NeuroQ claimed. It could partially be due to the fact that we are used to stronger nootropics.
That said, I think that NeuroQ fails to deliver a well-rounded product that actually tackles the key areas any good brain supplement should:
Energy levels
Cognitive functions
Memory and Clarity
Mood
Anti-Stress
This is because they do not include other proven nootropics (B-vitamins, for instance) and offer low dosages in their formula.
As such, I would recommend using a more effective product like Hunter Focus, Mind Lab Pro or Qualia Mind. These will provide you with higher dosages and will tackle the above-mentioned issues more efficiently.
These are among the best nootropic supplements for focus, clarity, memory and anxiety relief.