Osteo Bi Flex Review | Great for Joints, But with One Big Flaw
Chronic joint pain and arthritis are both common and frustrating. Luckily, there are several treatments out there that can help you with the associated painful swelling and inflammation.
One example of these treatments that claim to help with this condition is Osteo Bi Flex, and today, we're going to help you find out more about it.
As experts in joint pain relief and health, we've analyzed over 10 different brands trying to find the best joint supplements in the market. Osteo Bi-Flex is at least one of the most popular brands with 5 different products targeted to help you with joint health.
In this Osteo Bi Flex review, we'll take a closer look at its ingredients, effect, value, and whether it's the best choice for you. So without further ado, let's dive right in!
Spoiler: while Osteo Bi Flex contains the right products, it contains too much of them and not much variety. This can cause some nasty side effects, as some users have reported. Because of that, I prefer using Fleaxagain.

Quick Links
---
What Are the Ingredients of Osteo Bi Flex?
Osteo Bi Flex uses a variety of ingredients in its formula. Here's what you need to know about these ingredients:
1. 5-Loxin Advanced Boswellia Resin Extract
Osteo Bi Flex is known for this main active ingredient, which the manufacturer likes to call the "Joint Shield".
This one is an advanced form of the Boswellia serrata resin extract, which is combined with another compound known as Acetyl Keto Beta-Boswellic Acid or AKBA.
Boswellia serrata in its natural form and extract are both proven to be effective as treatments for osteoarthritis, according to studies.
Similarly, according to a double-blind, randomized trial to test the effect of 5-Loxin, the combination is both safe and shows a decent promise when it comes to relieving inflammation and improving joint health.
2. Glucosamine
Glucosamine is another major ingredient in all reputable formulas for improving joint health. These effects were proven and widely established in various studies and randomized controlled trials. 
With that being said, Osteo Bi Flex contains 1,500 mg of the compounds and is recommended twice daily. 
This means that you get 3,000 mg of Glucosamine a day, although the effective dose is only 500 mg, 3 times a day. 
In medicine, more is not always better, as these ingredients can put extra stress on the liver and kidneys to be metabolized and excreted.
3. Chondroitin
Chondroitin is often associated with glucosamine as another effective ingredient that greatly helps in relieving the inflammation and swelling of the joints.
This one is naturally found in joints and is responsible for retaining water to reduce shocks. The recommended daily dose of chondroitin is around 800 to 1,200 mg per day.
Unfortunately, Osteo Bi Flex doesn't show the exact concentration of the chondroitin in its formula, although it's generally underdosed.
4. Methylsulfonylmethane (MSM)
MSM is a relatively new treatment that has quickly risen through the ranks as an effective ingredient when it comes to joint health.
This one is an anti-inflammatory that reduces and soothes the swelling and pain associated with osteoarthritis. 
In fact, the ingredient is already listed by the Arthritis Foundation as one of the most effective alleviating treatments for the condition.
5. Boron
Boron is a natural mineral that has been widely established as a treatment for several forms of arthritis since the early 1960s, according to various studies. 
Boron is relatively safe when used in low doses. However, the label doesn't show the exact concentration of the mineral.
6. Collagen and Hyaluronic Acid
Lastly, the formula contains undenatured type II collagen and hyaluronic acid. Both ingredients are safe and produced naturally by our bodies to reduce cartilage friction around joints, but the production rate slows down as we grow up.
Unfortunately, oral collagen has low bioavailability, which means that it doesn't get absorbed easily through the gut, so its inclusion may actually bring more harm than good.
What Are the Benefits of Taking Osteo Bi-Flex?
During this Osteo Bi-Flex review there are three questions that I'm trying to answer:
What are the benefits of Osteo Bi-Flex joint supplements?
Do Osteo Bi-Flex joint supplements work?
Can I recommend Osteo Bi-Flex?
Looking at the first one there are a few benefits the manufacturer claims:
Improved joint comfort (in as little as 7 days)
Support joint and immune health
Strengthen your joints and bones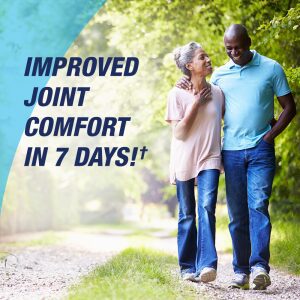 The good news are that both the Boswellia serrata resin extract and glucosamine are highly effective at fighting inflammation in your joints. Chondroitin is also great to strengthen your joints in the long term, particularly when paired with glucosamine.
Besides, the addition of vitamin D can help with bone health, but does very little for joint pain relief or support, according to the most recent studies.
Does Osteo Bi Flex Work?
Although the formula contains a lot of ingredients, the most effective ones are actually glucosamine, chondroitin, and 5-Loxin Advanced Boswellia Resin Extract.
However, the concentration of other ingredients is either too low to cause any significant difference or too high that the risks outweigh the benefits. This is the case for glucosamine which is found 2x the daily recommended.
Also, some highly effective ingredients are absent in the treatment's formula, such as curcumin, and omega-3 fatty acids. In fact, the lack of omega-3 is rather disappointing considering that it has key anti-inflammatory roles and can prevent arthritis.
What Are the Side Effects of Osteo Bi Flex?
Osteo Bi Flex is generally safe for most people. However, it still has some side effects that are caused by Glucosamine and Collagen. These side effects include:
Nausea, bloating, and abdominal cramps
Possible drug interaction with various medications due to Collagen and Glucosamine (although it's an over-the-counter treatment, you should ask your doctor before taking Osteo Bi Flex)
Allergies and hypersensitivity to any of the ingredients
Altered blood sugar level
Metabolism and liver problems due to the high concentration of glucosamine (contraindicated for liver patients)
Glaucoma (increased eye pressure), also because of the high concentration of glucosamine
Be really careful when consuming Osteo Bi-Flex products, as your body can react adversely to some of them.
Is Osteo Bi Flex Legit?
The short answer to this question is yes. Osteo Bi Flex is a legit treatment that has a decent market share and is used by many people.
However, that doesn't make the treatment entirely safe for everyone, as it still has some side effects and contraindications, as we discussed in the previous section.
Osteo Bi-Flex Products
Here is a brief overlook to the Ostoe Bi-Felx joint supplements you can find on Amazon.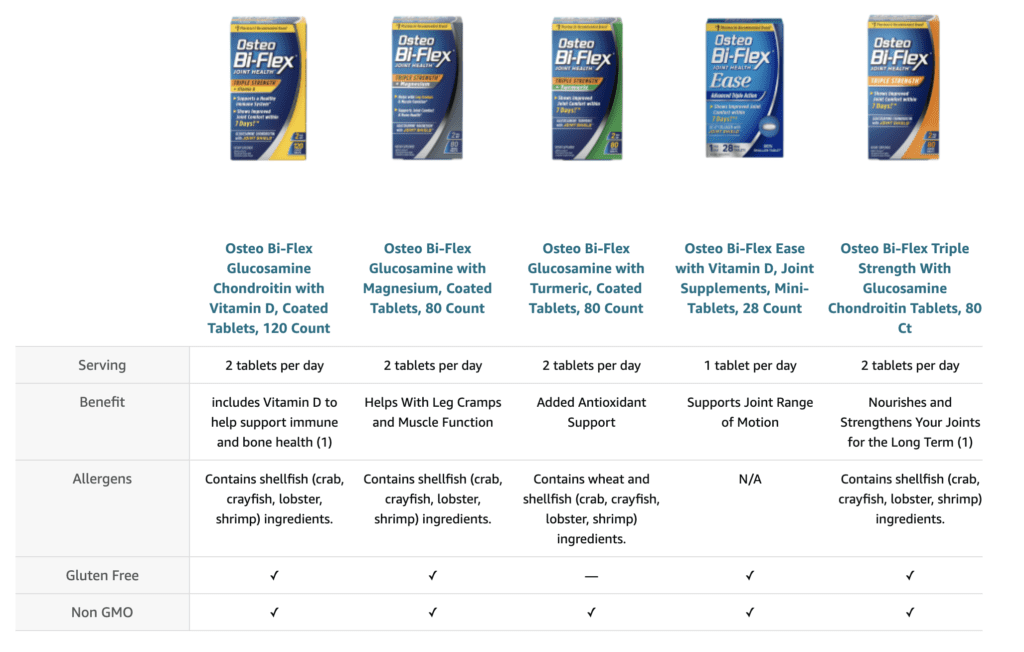 These five products are very similar but have one or two added ingredients that differentiate them from each other.
For instance, Osteo Bi-Flex Turmeric contains the ingredient we highlighted was missing: curcumin. This is great for people with arthritis and can offer significant relief.
Similarly, the magnesium-reinforced capsules will be better for those that regularly suffer from craps and other muscular issues. Magnesium is a key electrolyte that can help reduce these symptoms.
So which one is best? For joint support, the Osteo Bi-Flex with Turmeric or the Triple Strength would be my choice.
Where to Buy Osteo Bi Flex?
Osteo Bi Flex is widely marketed and available on a wide range of online websites as well as pharmacies and large department stores.
The easiest way to get Osteo Bi Flex is through Amazon, which is also where you're going to find the joint health treatment at the best prices, as it can be quite overpriced in some stores.
Osteo Bi-Flex Price
So how much will Osteo Bi-Flex cost you?
Currently, you can buy 120 capsule tubs for $20 on Amazon. This means that each serving costs $0.33, which is absurdly cheap when compared to other joint supplements.
Real User Osteo Bi-Flex Reviews
Fortunately, there are many customer Osteo Bi-Flex reviews.
On Amazon, Osteo Bi-Flex has 4.5 stars from over 11,000 user reviews. This is extremely positive, and does not surprise me, even though I think there are better alternatives out there.
What most positive Osteo Bi-Flex reviews highlight are:
Effectiveness
Pain relief
Value for money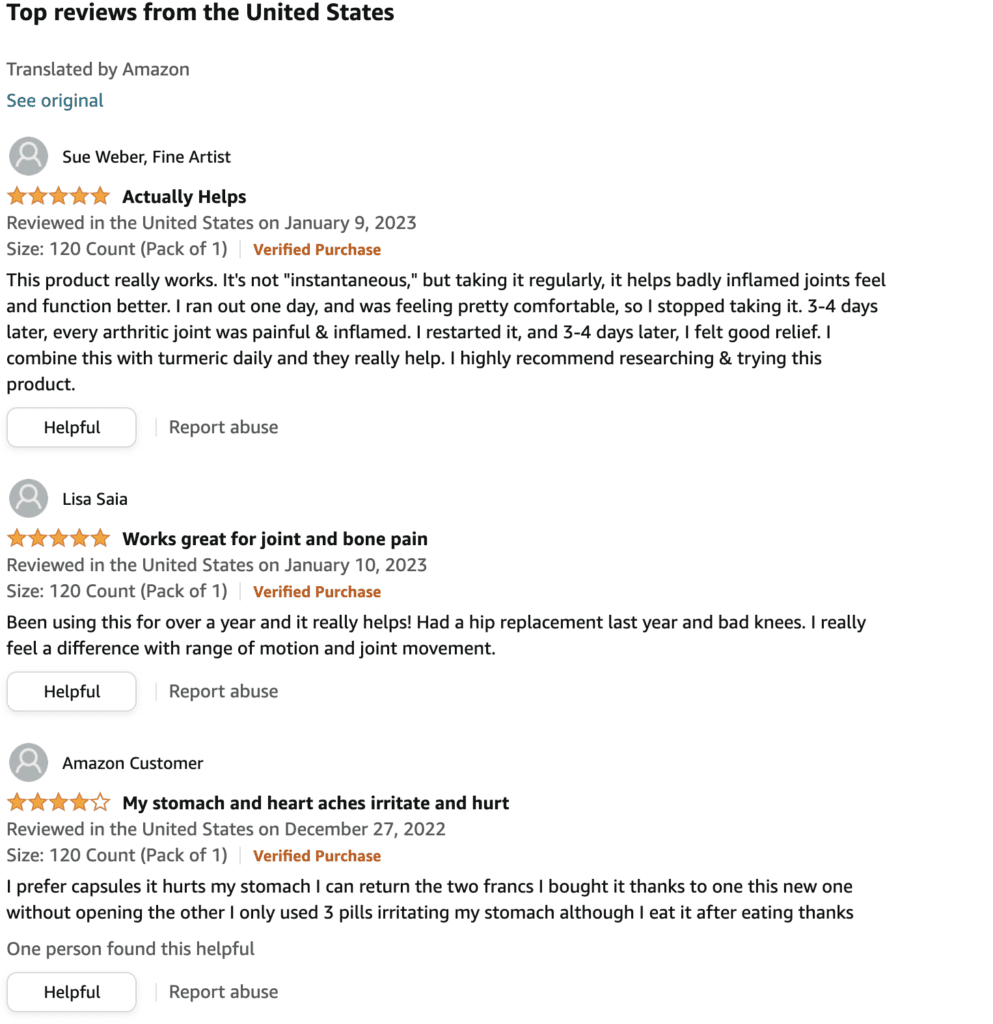 On the opposite side, most negative reviews focus on the side effects. Some users (including the positive ones) have experienced mild to serious stomach aches. This for me is quite concerning.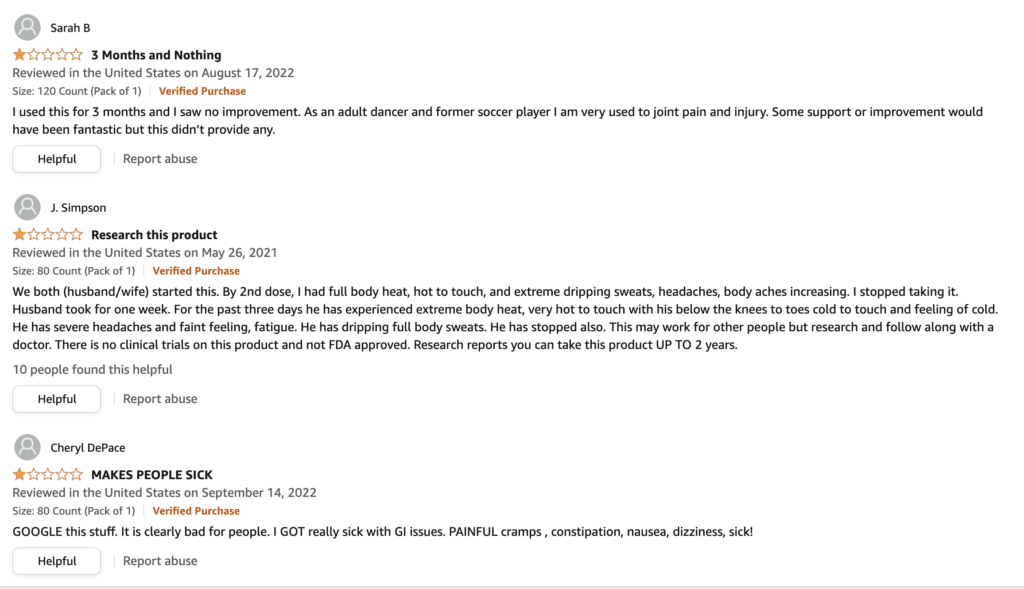 Osteo Bi Flex Review FAQ
Is Osteo Bi-Flex safe?
Even though there are no harmful ingredients, the extremely high dosages might cause you side effects like nausea, stomach ache or dizziness. Many users have reported such.


Is Osteo Bi-Flex FAD approved?
No, it's not.


Is Osteo Bi-Flex safe for vegans?
No, it contains shellfish.


Does Osteo Bi-Flex contain omega-3?
No, it does not.
What Is the Best Alternative to Osteo Bi Flex?
Ideally, Osteo Bi Flex is a decent treatment that soothes joint pain, inflammation, and swelling while being somewhat safe. In fact, the treatment does very well when compared to some other competitors on the market.
However, Osteo Bi Flex still lacks some essential ingredients that greatly help in improving joint health and is recommended twice daily to be effective. This puts you at a higher risk of experiencing the negative side effects of glucosamine. 
For that reason, we believe that Flexagain is a better overall treatment with a more balanced formula and added ingredients like vitamin D and natural botanical extracts.
There are other popular alternatives like Relief Factor or Heal N Soothe, but I would avoid them at all costs.
---
Verdict – Osteo Bi-Flex Review, Good but with Side Effects
There you have it! A complete Osteo Bi Flex review that shows you everything you need to know about the treatment.
Taking everything into consideration there are many things to like about Osteo Bi-Flex:
Effectiveness
Value for money
Ease to buy
However, there are also a few negatives that I did not expect from such a highly-rated joint supplement, including a lack of key ingredients (omega-3) and negative side effects.
Consequently, while the treatment has a decent formula, it still doesn't beat some of the competitors that have a better ingredient variety with safer doses, such as Flexagain.