Pump Serum Review | Huge Boost to Your Workouts, Stim Free
Stimulant-heavy pre-workout supplements are not for everyone, as it doesn't sit well with every single user. In particular, if you are looking to work out late during the day – as you don't want to suffer the side effects afterwards. Luckily, there are stimulant-free pre-workouts to solve this problem. In this Pump Serum review, we will have a look at one of the best.
In fact, Pump Serum is made by the famous supplement brand Huge Nutrition. It was also elected within our best caffeine-free pre-workouts. Therefore, it's clear that this is a serious pre-workout and only for those who are looking for a huge boost to their performance.
Now, how good is Pump Serum really, though? What are the strengths and weaknesses? And ultimately, you'll find out in this Pump Serum pre-workout review if this is the right one for you!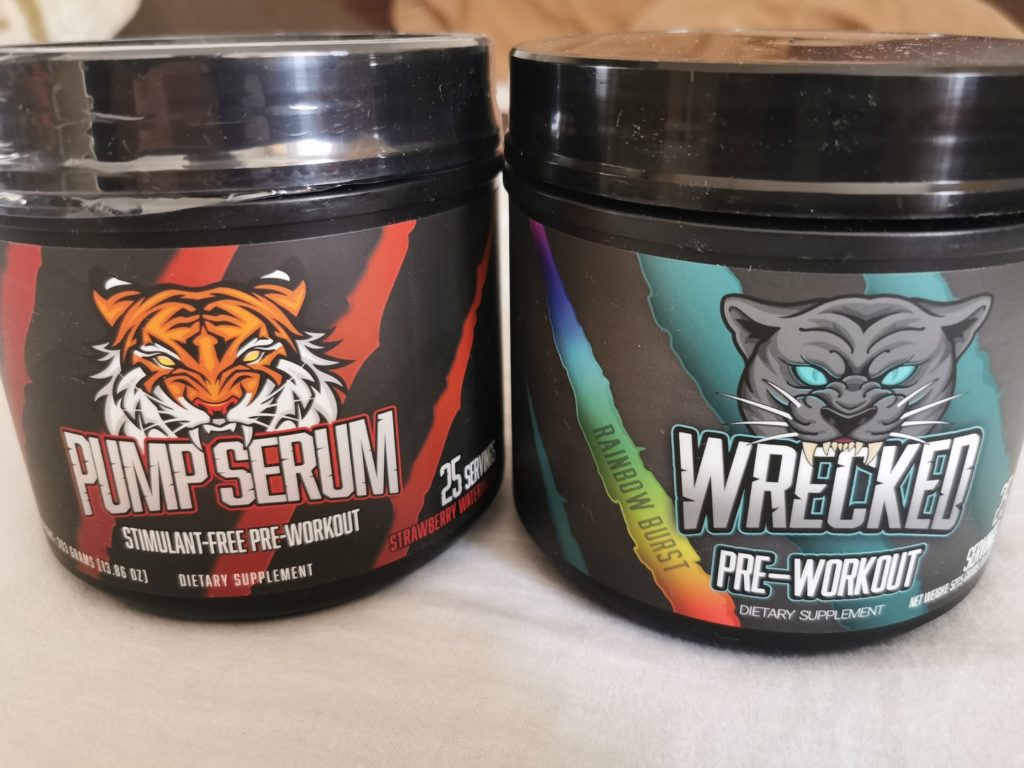 Pump Serum Review at a Glance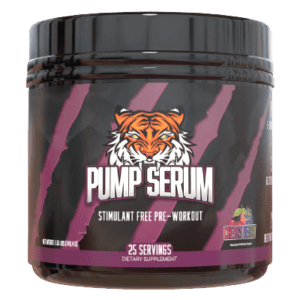 | | |
| --- | --- |
| From | US |
| Ships | World |
| Price/serving | $1.20 |
| User Reviews | Very Positive |
| Caffeine | None |
| LF Recommended | Yes |
Flavors: Jungle Juice, Strawberry Mojito, Cherry Berry, and Island Dream.
Pump Serum is available in tubs of 25 servings.
Pros
Caffeine free
No Beta-alanine -> 0 jitters
Great for Nitric Oxide production boost
Superb pump
Cons
Not the most affordable
Too effective for those that are not used to pre-workouts
Pump Serum Ingredients
Huge Nutrition has used various ingredients in Pump Serum that they had used in their sophisticated formula previous pre-workout supplement, Wrecked.
Including those ingredients from the Wrecked pre-workout supplement, Huge Nutrition has used 13 core ingredients to create the Pump serum V2. 
Version 2 of the pump serum is twice the serving size of the previous pump serum. Which ultimately makes it one of the best stimulant-free supplements available on the market. 
Let's take a look at the ingredients that have been used in this product and their doses. 
L-Citrulline (8000mg)
L-Citrulline is one of the best ingredients that helps you to produce more pumps. This is one of the newest ingredients Huge Nutrition has added to the newer version of Pump Serum. 
The good news is that 6,000- 8000mg an hour before the workout is shown to enhance sports performance. Meaning that Pump Serum will give you an effective dose, unlike others.
GlycerPump (65% Glycerol Powder) (3000 mg) 
GlycerPump is the patented version of Glycerol Powder. It is an ingredient that has been widely used for its effectiveness in increasing muscular pumps. However, the patented product GlycerPump is more effective and stable than the original product. 
It is well proven that taking glycerol pre-exercise boosts your workout by increasing cellular hydration. Just remember to take water!
Betaine Anhydrous (3000 mg) 
It is an ingredient that helps you to reduce fatigue during workouts. However, new studies are still required in order to emphasize its effectiveness. 
On the other hand, studies have liked betaine to increase in body composition and mass, albeit not in strength.
Beet Root Extract (2000 mg) 
It has been clinically found that beetroot extracts are helpful in increasing nitric oxide levels, which ultimately enables your body to efficiently regulate blood to your muscles. Most pre-workouts include one or more ways to increase nitric oxide production in your body.
Nitrosigine (1500 mg) 
It is a patented compound of bonded arginine silicate. It is highly effective when it comes to encouraging smooth regulation of blood and increasing focus and energy while promoting nitric oxide. 
L-Tyrosine (1500 mg) 
L-Tyrosine is mainly used for the purpose of nullifying the adverse effects of high caffeine content. It helps you to balance your mood and increase your focus during workouts. It might also give you a cognitive boost. 
Agmatine Sulfate (1250 mg) 
It has been theorized that Agmatine sulfate boosts nitric oxide in your body and helps you by increasing muscular pumps. However, new studies are required to evaluate to what extent this particular ingredient is effective. 
Pomegranate Extract (1000 mg) 
It has been found in several studies that pomegranate Extract helps with increasing nitric oxide levels and provides additional Oxygen to your blood as well as muscles during workouts. 
Choline (980 mg)
Choline is a nootropic that is known for improving focus and concentration. It is one of those ingredients that are considered to be essential for Pump Serum stim free workout supplements. 
Together with L-Tyrosine, it can help you increase your focus while exercise.
VasoDrive – AP (Casein Hydrolysate) (254 mg)
It is known for increasing the number of nitric oxides and helping you to lower blood pressure. 
In fact, it has a synergistic effect with the abovementioned beetroot and tackles nitric oxide boost from another angle. This will allow your blood vessels to relax and increase blood flow, ergo your pump.
Pink Himalayan Sea Salt (197 mg)
This particular product contains natural electrolytes and salt. It helps you to retain water in your system, which ultimately helps you to boost strength and pumps. 
Huperzine A 1% (Huperzia Serrata Leaf Extract) (20 mg)
It is a type of cognitive booster that increases your focus during workouts. It is an essential ingredient to be included in a Stimulant free pre-workout supplement. 
BioPerine (5g)
BioPerine is one of the recently added ingredients in V2 of pump serum. It is a patented form of black pepper extract that is used for the excellent absorption of other ingredients. 
Does Pump Serum Work?
As showcased in the ingredient section, Pump Serum pre-workout only has science backed ingredients that actually have an effect on your body.
Not only that, but unlike many competitors, all ingredients are in effective dosages.
So how will taking Pump Serum before your workout help you?
Increased focus. L-tyrosine, Huperzine A, and choline are nootropics that activate your brain and help you focus. Pump Serum includes both at effective dosages so that you can zone in on your workout.
Reduces fatigue. The inclusion of betaine anhydrous helps you overcome the feeling of fatigue without the need of caffeine.
PUMP. Furthermore, and most importantly, Pump Serum Stim Free Pre-Workout will give you the biggest pump. Citrulline acts as a precursor for nitric oxide production and promotes synthesis. Together with Vasodrive you'll have a huge NO boost and your blood will be able to flow more easily into your muscles.
Cellular hydration. Let's not forget that hydrating is one of the most important parts of exercise. You won't be able to have a good session without plenty of water in your muscle.
Similar formulas are used in other top-notch caffeine free pre-workouts.
Get Pumped for Your Workout, All Stim-Free
One feature about Pump Serum worth noticing is that is completely free of caffeine and any other simulants.
As a stimulant-free pre-workout it has many benefits, normal pre-workouts don't:
You can safely consume it late afternoon without being afraid of not falling sleep.
Don't have to worry about your daily caffeine consumption.
You can use them to cleanse or reset your body from regular pre-workouts (as you get used to them).
No jitters.
It doesn't increase you stress or anxiety levels.
Pump Serum is arguably safer to use, too.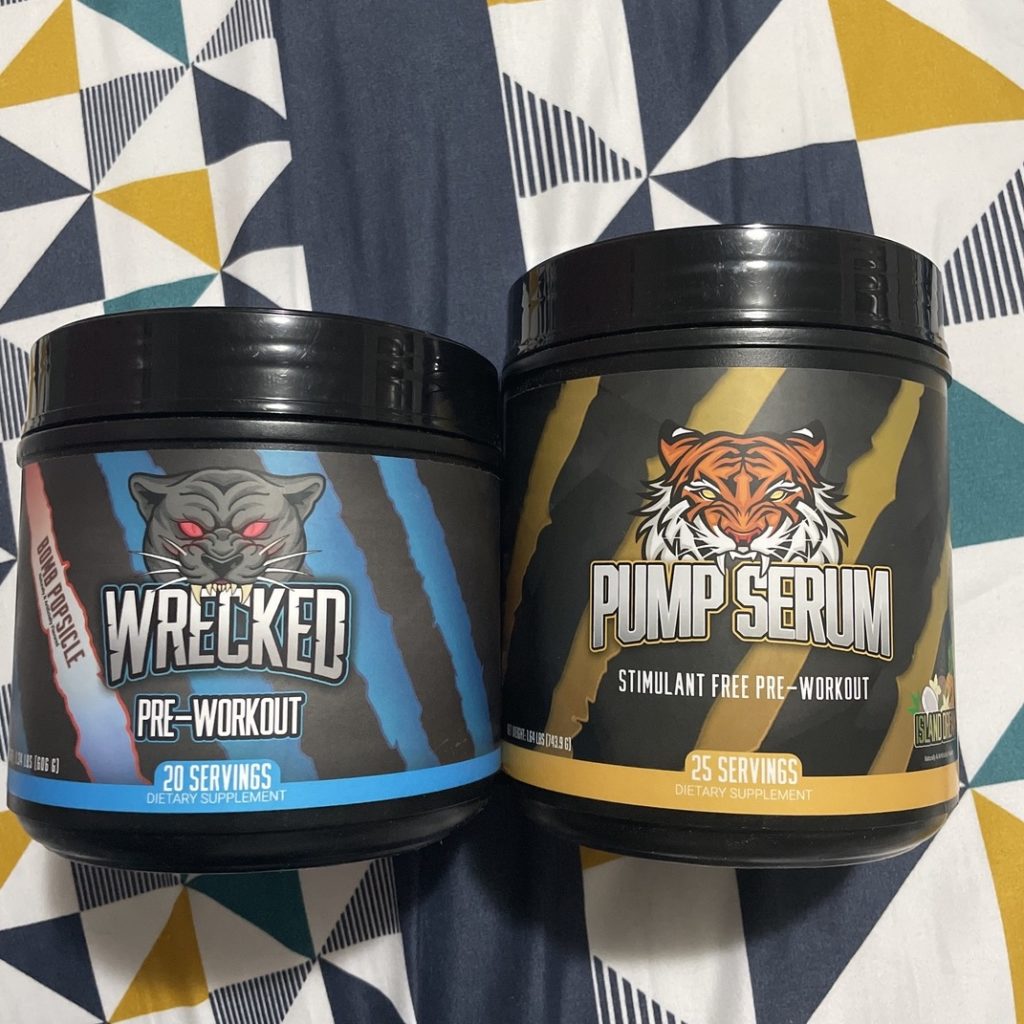 User Pump Serum Reviews
Yes, According to various reviews, around 93% of users have claimed that Pump Serum offers all the benefits that it has promised to the users. 
In fact, they have a 4.7 stars (out of 5) from 1100 user Pump Serum pre-workout reviews in their site. On Amazon, people seem a little more critical with 3.9/5 ratings.
Give you an exploding working out definitely a lot more focused, jus gotta make sure your drinking plenty of water. Definitely worth getting better than most brand out now.

Gabriel M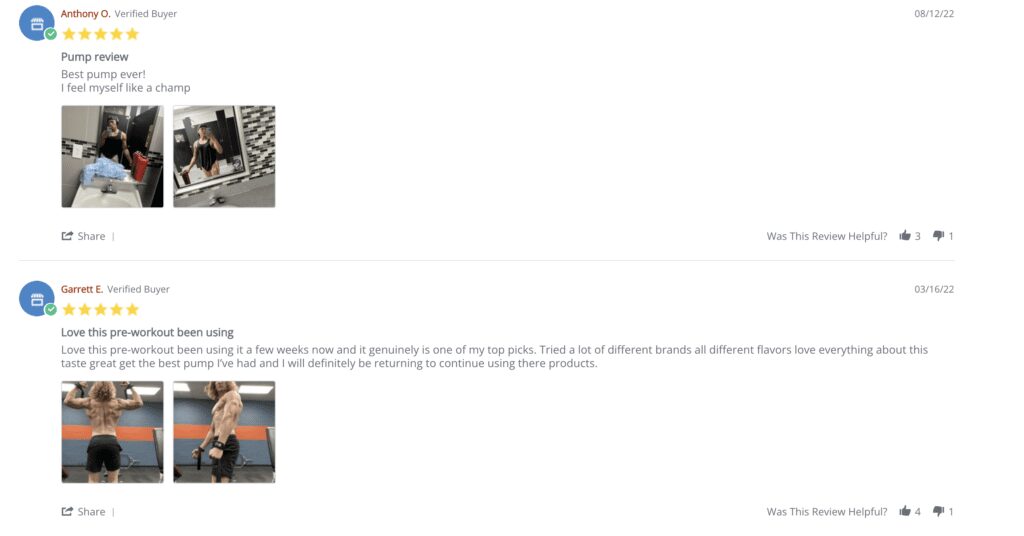 Some users were more critical in their Pump Serum reviews stating that the pump was lower than other competitors, or that it was a little pricy. For them, I think that Transparent Labs Stim Free Pre-Workout would have been a better choice (my personal favorite).

Who Is Pump Serum For?
For people who cannot tolerate caffeine or any other stimulant that is typically used for stimulation in supplements, this particular product has been created specifically for those people. 
But it doesn't mean you would not have focus and pumps in the gym. Instead, with this pump serum stim free preworkout supplement, you will have focus and pumps in the gym while having zero chances of getting affected by any stimulant since the product doesn't contain any stimulant to start with. 
You should know that if you look for a pump serum pre workout supplement, you won't find the original version of the product as Huge Nutrition has altered and modified the previous formula and has released pump serum stimfree preworkout supplement version 2. With this being recently improved, huge nutrition is no more prolonged manufacturing the original version. 
Pump Serum Side Effects
There are not any reported side effects of pump serum. However, you need to take only the instructed doses of this product. That way, you will be avoiding any potential harm to your body. 
It could potentially cause you some nausea. If this is the case, stop taking it.
More About Pump Serum
Huge Supplement is the manufacturer of Pump Serum, as well as other industry leader supplements like Wrecked.
Pump Serum Price
The price of Pump Serum is $43.95 for 25 servings, which can be a little more expensive than other stim-free pre-workout supplements. However, the benefits it offers make it worth buying. 
At $1.75 per serving, it certainly is above average when it comes to pricing. It would be great to have a subscription or bulk discount for regular users, but Huge Supplements does not offer any, yet.
Pump Serum Availability
The product can be bought on Amazon or on their own website – which is what I recommend doing.
Other Huge Supplement Products
Besides Pump Serum, you'll find a plethora of nutritional supplements including creatine, protein powder and even testosterone boosters. All a man would want in order to increase in size and performance in the gym can be found in Huge Supplements' store.
That said, their pre-workouts are some of their best products.
Pump Serum FAQ
How should I take Pump Serum?
The most appropriate way to take pump serum is by mixing one scoop of pump serum with 8 to 12 fl oz of water. It should be taken 30 minutes before exercise.

 
Is Pump Serum effective?
Yes, Pump Serum is extremely effective as pre-workout. You will notice a boost in your focus and will to train, as well as in performance.


Can I mix Pump Serum with other supplements?
Yes, you can mix Pump Serum with most other supplements that you might take including creatine, BCAAs, protein…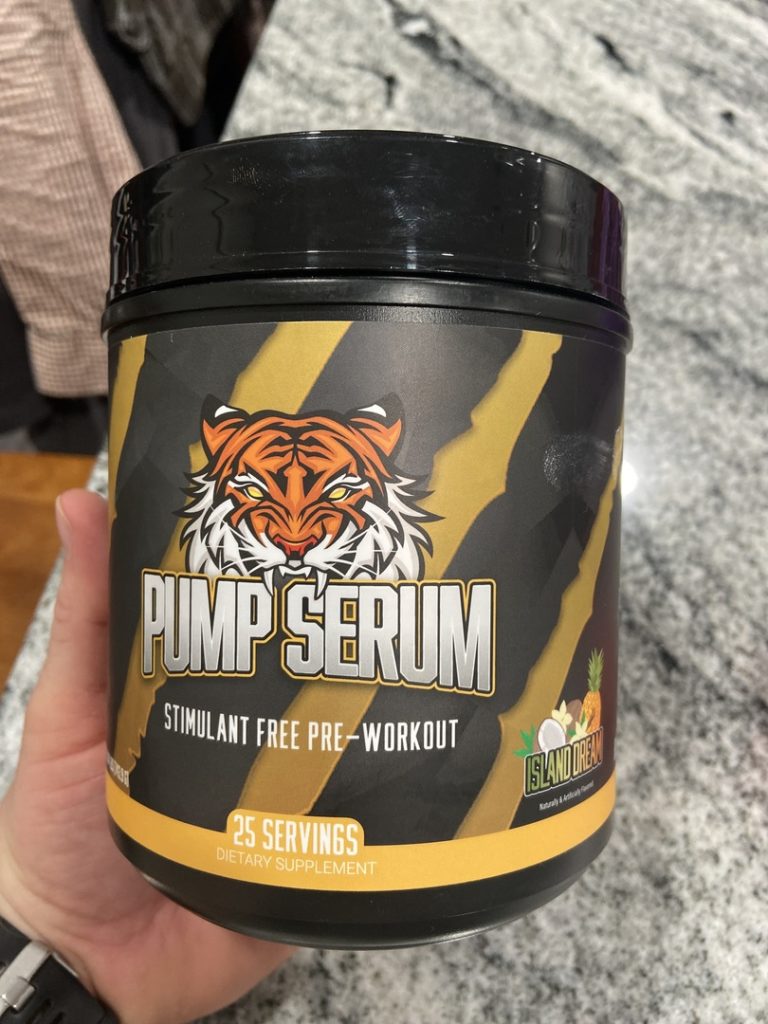 Verdict – Pump Serum Review and Alternatives
Through this Pump Serum review, you have already learned that the Pump Serum is one of the best stimulant-free pre-workout supplements till now.
There aren't any reports of side effects, and it has received a maximum number of positive responses from users, which makes it a reliable and trustworthy stimulant-free pump serum pre workout supplement.
That said, it is true that it is a little bit pricey. For those looking for a more budget-friendly alternative, Transparent Lab's Stim Free might be a better option, instead.
Otherwise, go ahead and buy Pump Serum. You'll enjoy a tasty pre-workout and some of the best stim-free pumps!