Lyfefuel Review | Ultra Healthy Shakes With Tons of Nutrients
Finally, it's the start of a new year, and today we are here with the Lyfefuel review. As always, we're going to analyze it from top to bottom and let you know what LyfeFuel Daily Essentials is all about. 
"Live Your Fullest Everyday"…..That's what the "LYFE" in LYFEfuel stands for, and represents. They want to help you live your purpose and give you the resources you need to pursue your goals.
Lyfefuel Daily Essentials Shake is a nutritionally complete meal replacement shake designed to fill the gaps in modern diets.
Formulated so that you get your protein, greens, and all your essential nutrients in a delicious, all-in-one blend of nature's finest superfoods. It claims to be the cleanest, most complete meal on the planet, with 18g of protein, 5g of carbs, and 3g of fat, within each 110kcal serving.
This shake has become one of the best meal replacement shakes in our opinion, and in this Lyfefuel review you should find out why.
Ready to live your best LYFE? I certainly am, so let's dig deeper!!

---
Lyfefuel Review at a Glance
Flavors: Vanilla & Chocolate.
---
Opinion
So, looking at the ingredients panel, I see items like dandelions, alfalfa, oat grass, broccoli, and cabbage. My first thought…this is going to be amazing for me. My next thought….this might taste like springtime landscaping. I guess that question will be answered momentarily.
Also, I'm curious about satiety, being only 110 calories per serving. Will I be hungry shortly after consumption?
Our resident owner/expert, Enaut (Chief Editor) spoke with the CEO, Chris Manderino…..and there is a method to his madness. In Chris's opinion, the last thing we need as Americans is more calories.
Instead, we need more nutrients in our diet, we are lacking vitamins, antioxidants, anti-inflammatory agents, and other key nutrients that enhance our health.
Therefore, the focus of LYFEfuel is not calories, but on the best nutrition that can be offered. As such, it now has become one of our favorites and a solid alternative to Herbalife and other popular shakes.
While I find that fascinating, and definitely see the logic, I'm still worried that a big guy like myself will find himself craving a candy bar, not long after having a serving of LYFEfuel.
Well, nothing to it, but to do it…..but first here are things that I like:
What I like
1. One of the most nutritious meals in the market. A serving is only one scoop, and has a ton of goodies in each!
2. Ultra healthy.
3. Allergen free. Great for everyone to use.
4. Free economy shipping. Express only $15.
5. Above-average subscription discounts. 17% for Essentials & 20% for Recovery.
6. Strong brand and vision. Chris truly believes in what LYFEfuel is doing, and the product is a good representation of their vision.
7. Good for weight loss. Low in calories and carbs. Should fit into most diets
8. Great customer service experience. Was very helpful with an issue I had.
What I dislike
1. Expensive. At $2.50 per scoop, it's not the cheapest meal replacement. However, it's fairly common for shakes with so many vegetables and nutrients.
2. Calories might be too low. The founder recommends adding some plant-based milk if you require extra calories.
3. Bad tracking links.  I had one and read of others as well. Might be a shipping partner issue.
4. Only two flavors.
Improvements
1. More flavors.
Nutritional Breakdown
As previously mentioned, both Daily Essentials & Recovery Shake are both pretty light in the calorie department. This is by design, and follows the theme of "less is more", meaning fewer calories, and more nutrition.
The nutritional philosophy behind Lyfefuel is to provide you with nutrients that you are lacking by using whole-food ingredients. As such, you will notice that Lyfefuel shakes are filled with ingredients that you will recognize and almost no artificial additives.
In the future, they aim to provide you with all essential nutrients, solely from real food ingredients and no artificial additives.
Besides, all Lyfefuel products are vegan, soy-free, gluten-free and contain no GMO ingredients.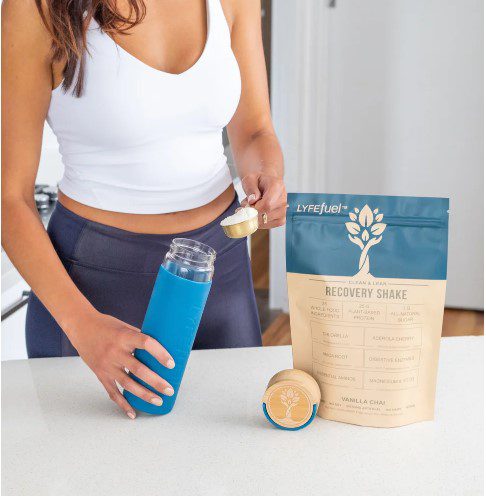 LYFEfuel Daily Essentials Nutrition (Meal Replacement)
| | |
| --- | --- |
| Kcal/meal | 110 |
| Macros (C/P/F) | 9/65/16 |
| Vegan | Yes |
| Keto | No |
| Features | Soy Free, Gluten Free, Dairy Free, Low Carb |
| Non-GMO | Yes |
| Organic | Partially |
| Includes Probiotics | Yes |
| Artificial Sweeteners | No |
| Synthetic Additives | No |
| Contains All Micronutrients | Yes |
| Controversial Ingredients | None |
LYFEfuel Recovery Shake Nutrition (Protein Shake)
| | |
| --- | --- |
| Kcal/meal | 140 |
| Macros (C/P/F) | 10/71/19 |
| Vegan | Yes |
| Keto | No |
| Features | Soy Free, Gluten Free, Dairy Free, Low Carb, High Protein |
| Non-GMO | Yes |
| Organic | No |
| Includes Probiotics | Yes |
| Artificial Sweeteners | No |
| Synthetic Additives | No |
| Contains All Micronutrients | Yes |
| Controversial Ingredients | None |
Daily Essentials (Vanilla): Pea Protein, Organic Rice Protein, Coconut Sugar Gran (Organic), Vit/Min Leaf 50, Cocoa Powder, Natural Flavour, Sea Salt, Stevia Rebaudioside A Leaf Extract, Xanthan Gum, Guar Gum, Methylcobalamin Dicalcium Phosphate AlphaTocopheryl Succinate, Cholecalciferol, Coenzyme Q10, Vitamin K2,  Enzyme Blend, Organic Green Blend (Alfalfa Leaf Juice, Wheatgrass, Barley Grass, Oat Grass, Brocolli, Cabbage, Parsley, Kale, Spirulina, Chlorella, Kelp, Dulse, Dandelion, Brocolli Sprouts), Probiotic Blend 950Million CFU, Berry Blend (Strawberry, Raspberry, Blueberry, Tart Cherry, Elderberry, Cranberry), Spirulina, Pomegranate, Grape Seed, Flax Seed, Isomaltulose, Oligosmart.
Recovery Shake (Vanilla): Protein Blend (Pea Protein Isolate, Brown Rice Protein, Quinoa), Pea Starch, Coconut Sugar, Natural Flavours, Clean Cream (High Oleic Sunflower Oil, Tapioca Starch, Tapioca Dextrin, Natural Flavours, D Alpha Tocopherol, Stevia, Xanthan Gum, Luo Hap Gum), Chlorella Powder, Betta Berries Blend (Acai Berry, Acerola, Amia, Jabuticaba, Cranberry, Goji, Mangosteen, Maqui, Pomegranate, Strawberry, Organic Schisandra), Green Balance Blend, Maca Root Powder, Digestive Enzyme Blend.
Carbohydrates
Per serving:
Daily Essentials Shake
Total Carbs: 6g, 2% of DV.
Net Carbs: 5g, (Total Carbs – Dietary Fiber – Non-digestible Carbs)
Sugars: 1.5g.
Fiber: 1g, 4% of DV.
Recovery
Total Carbs: 6g, 2% of DV.
Net Carbs: 5g, (Total Carbs – Dietary Fiber – Non-digestible Carbs)
Sugars: 3g.
Fiber: 1g, 4% of DV.
Both product lines are very low in carbohydrates. There are no oats or oat flour included, and the veggies make up the bulk of the ingredients.
According to Chris, this is to avoid unnecessary calories and bulking the product with ingredients that don't provide many nutrients. For someone that is more active, I recommend adding some plant-based milk or even some oats or fruits to the blend.
The sweeteners used for Essentials are coconut sugar & stevia. Recovery also has the same sweeteners but also contains monk fruit.
Protein
Per serving:
Essentials
Total Protein: 18g, 34% of DV.
Source: Pea protein, Organic rice protein
Recovery
Total Protein: 25g, 50% of DV.
Source: Pea protein, Brown rice protein, Quinoa
If high protein is your aim, Recovery offers 25g per serving, which keep in mind with LYFEfuel, equates to only one scoop. Also of note, Recovery contains 4.5g of BCAAs. These particular amino-acids help preserve muscle glycogen stores, which fuel your muscles and minimize protein breakdown during exercise.
Recovery is specifically formulated to be a post-workout shake, hence the name.
On the other hand, Essentials has a bit less, but still really high for a meal replacement shake. Daily Essentials is meant to be used more for meals, thus, it has a more balanced profile.
Fats
Per serving:
Essentials
Total Fats: 2g, 3% of DV.
Saturated Fats: 0.5g, 2% of DV.
Omega-3s: 100mg
Omega-6s: ?
Recovery
Total Fats: 3g, 5% of DV.
Saturated Fats: ?
Omega-3s: ?
Omega-6s: ?
Essentials & Recovery contain MCTs from coconuts to promote some fast energy.
Omega-3s should be present in Essentials, as it contains 1000mg of omega-3 rich flaxseed. Personally, I would've liked a few more omega-3s or from a different source, as ALA (present in flaxseed) is very poorly converted into effective omega-3 fatty acids (DHA and EPA).
Recovery contains high oleic sunflower oil, and therefore should contain some amount of omega-6.
Unfortunately, the values for either are unlisted.
Micronutrients
This is where the Essentials shake shines, as it contains 27 micronutrients, many of which exceed 100% of your RDI per serving!
Noteworthily, this is by design. The founder stated that they looked to reinforce nutrients that would normally be lacking in vegan diets, such as Vit B12.
Vit B12 – 500mcg- 20,000% of DV.
Vitamin D – 30mcg- 150% of DV.
Biotin – 150mcg- 500% of DV.
Manganese – 6.5mg- 283% of DV.
Furthermore, there are a few micronutrients that are not often present in meal replacements like vitamin D3 and K2.
There are a few nutrients, however, noticeably lacking or lower than expected like iron, calcium (8% per shake), or vitamin C (33%).
Note: According to the Founder, Iron is missing because it competes with the other nutrients and it's better taken separately. The requirements for iron vary per individual, too. Similarly, they provide less calcium because most already take enough.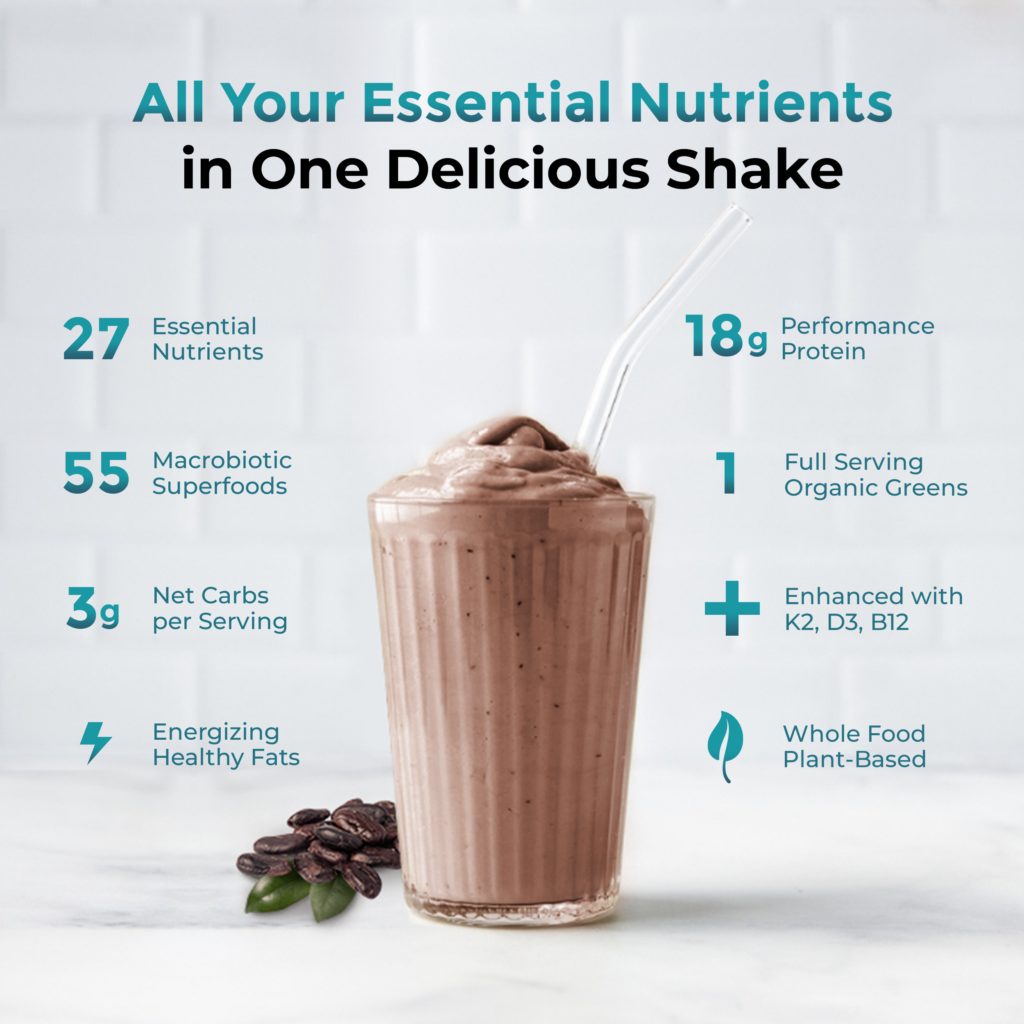 Allergens
Coconut is present in both products. While coconut allergies are very rare, still be cautious.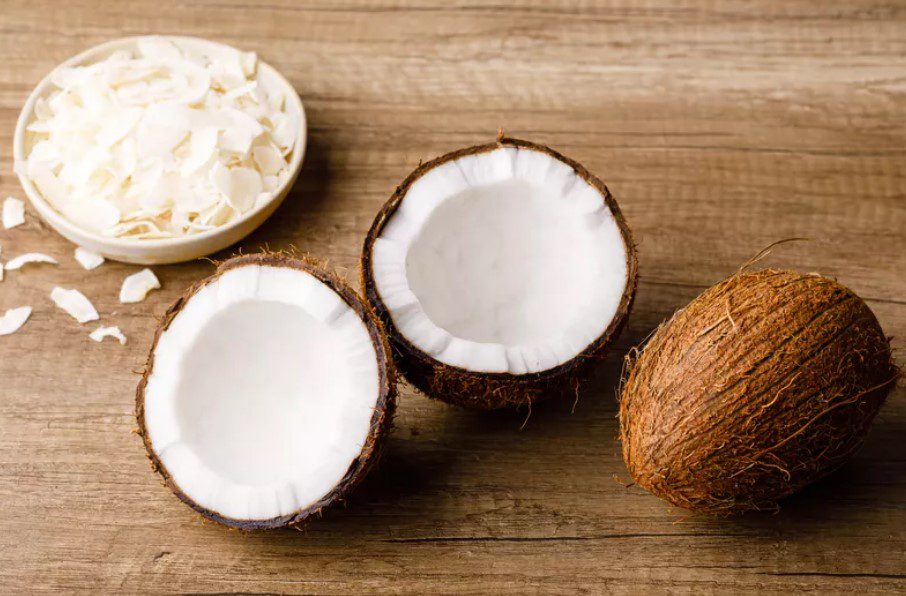 Taste Test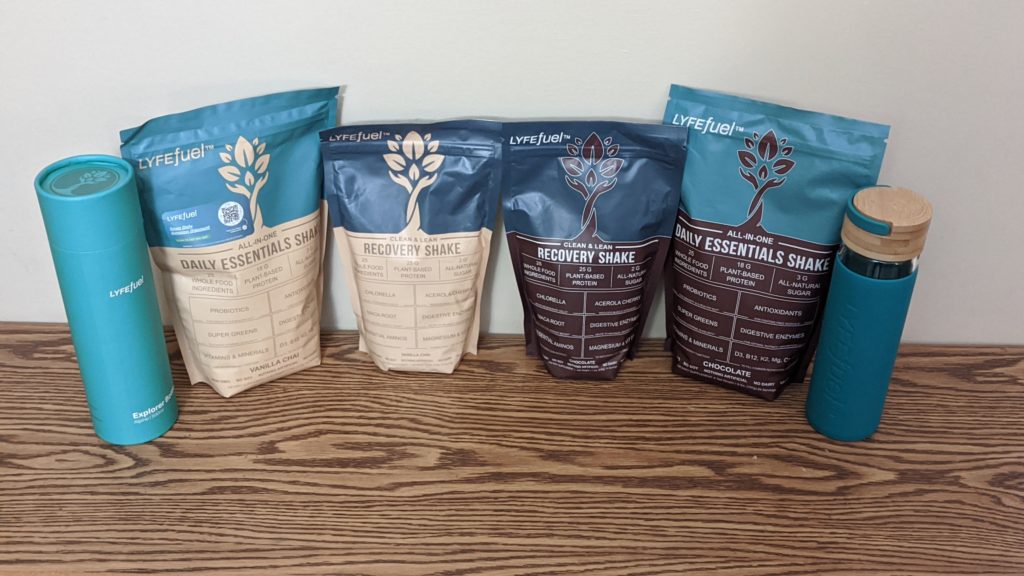 | | |
| --- | --- |
| Best flavour | Chocolate (Essentials & Recovery) |
| Taste | Vanilla MUST be blended with fruit/milk to be good. Chocolate is ok on its own but much better blended with fruit/milk |
| Texture | Medium with water. Very thick with milk. |
| Satiety | Below average with just one scoop + water. Around 2hrs with 2 scoops. Over three with one scoop + milk/fruit. |
| Easy to Clean | Not at all. Leaves quite a bit of residue. Wash quickly. |
| Afterthoughts | There's a big difference between consuming the shakes with or without a blender. However, I must say that I felt surprisingly energized and awake after Daily Essentials consumption. I felt good. |
We are thankful to have all products for taste testing in this Lyfefuel review. They were kind enough to provide us with all flavors of both Daily Essentials and recovery.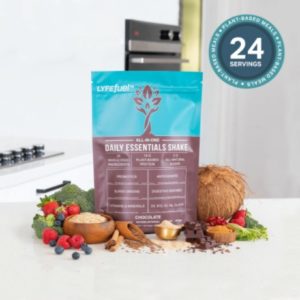 Lyfefuel Daily Essentials Shake Taste Review
The first opening and I can definitely smell the greens blend, but the chocolate smells pretty good too.
I mistakenly used two scoops for this, when the instructions say to only use one. Chalk it up to muscle memory as most shakes call for two scoops. It shook very well and there were no lumps or residual powder left.
Chocolate
The first sip was strong, I got smacked in the face by the smell, strong taste, and stronger after taste. Definitely not the best chocolate I've had, but also not the worst.
It's definitely a taste you have to get acclimated to. It's much closer to a green smoothie which I guess is to be expected. It's also somewhat chalky, which does not particularly bother me, but I can see it being an issue for others.
I did enjoy how clean and natural the shake felt. The lack of artificial sweeteners or additives is clearly noticeable. The taste of the shake is closer to a homemade smoothie than that of a milkshake.
Vanilla
Vanilla is kind of a different story. It smells like vanilla… but that's where the similarities end. Even mixed, it's a green color that doesn't resemble vanilla at all. This time I mixed it correctly with only one scoop.
From the get-go, I'm not a fan. It got a bit better as I went, but not much. One scoop or two… I wouldn't want to have this again on its own.
But wait!
TIP: Now as an additive to a smoothie, things improved dramatically. I mixed it with whole milk, ice, and a banana, which made it MUCH BETTER, and in my opinion, is the only way to consume this flavor.
Superb, since I know that a simple mix like that shouldn't have been too high in calories.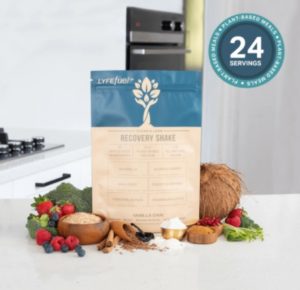 Lyfefuel Recovery Shake Taste Review
Started with vanilla this time. It seems very different from the Essentials mix. First, its a much finer powder, like the kind that can make looms in the air. Also, this smells a fair bit different, it has some maple syrup undertones to it… which makes me cautiously optimistic.
Vanilla
So mixing it up, it's the same greenish color and the good smell is long gone. Honestly, it tastes much like Essentials vanilla, which is a letdown, since this one smelled much better.
I recommend using this protein shake with oat milk or almond milk. It makes the shake super tasty, as opposed to mixing it with water.
Chocolate
On the other side, Recovery Chocolate is less "chocolatey" than its Essentials counterpart. However, it's still tasty though, I had no problem gulping it down and being satisfied afterward.
Personally, I would opt for Chocolate.
LyfeFuel Bars Review Taste
As far as the texture is concerned, these are dense, but chewy bars.
Luckily, they did not feel hard to bite like some other bars. Also, both struck a good balance as they were not too dry nor very greasy.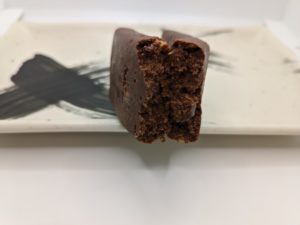 As for the taste, both LYFEfuel bars tested had accurate flavor profiles, and you could taste the individual ingredients that make up each. Awesome!
The lemon bar is an interesting flavor, kind of polarizing. The type of flavor some really like and would swear by, and others would loathe. The chocolate was well received and goes well with coffee in the mornings. It was enjoyed by the younger ones, and adults alike.
Also, LF bars were preferred over bars from Ka'Chava & Nuttri.
So far, LYFEfuel Bars were among the best meal replacement bars tried.
Summary of LyfeFuel Taste Review
One thing to take into account with LyfeFuel shakes is that they are not filled with sugar or sweeteners or strong artificial flavors that mask the actual ingredients in the shake.
Instead, they are filled with super-greens (vegetables, fruits), like in a healthy smoothie and you can taste this in the shakes. They offer a clean, natural, green experience.
That's why Chocolate was slightly better in my opinion. This natural flavor blended better with the background than Vanilla.
However, the key for me was mixing with oat milk and some banana (optional). When you blend this with Daily Essentials, you have a delicious ultra-nutritious shake that is very enjoyable.
Besides, the shakes were OK at keeping me full. I, personally would have to use a double scoop or blend it with milk to make it last longer.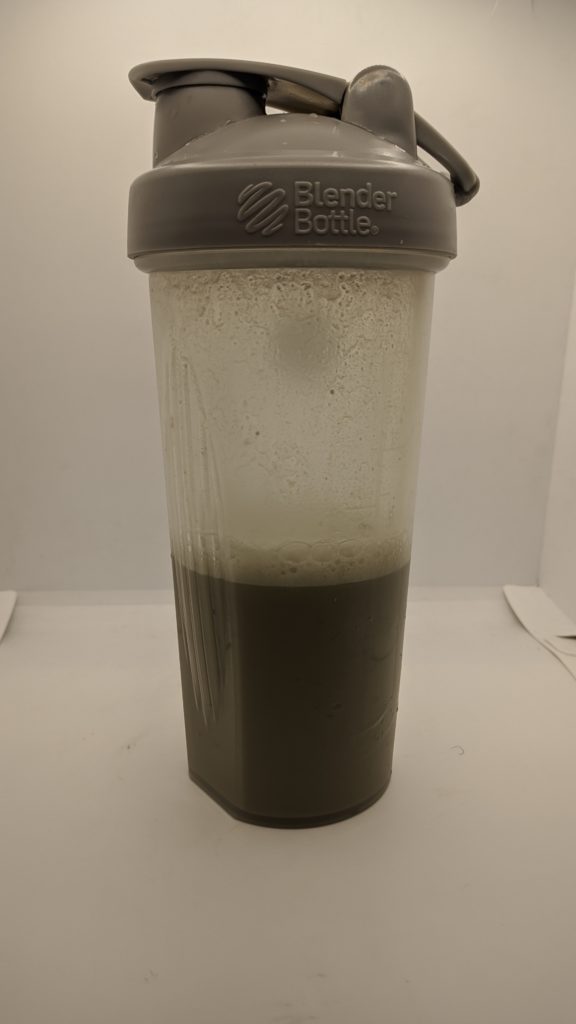 More about LYFEfuel

Lifelong athlete turned Nutrition Expert, Chris Manderino founded LYFEfuel as a way to share his passion for health and wellness.
With a vision to become a leader in personalized wellness, LyfeFuel launched its first product, The Daily Essentials Shake, in September of 2016. The purpose of the flagship formula was to provide the core nutritional components that most Americans don't get enough of, in a delicious and nutritious plant-based meal on the go.
Borrowing from my experience as a professional athlete, I immersed myself in the world of functional medicine to search for a competitive edge that could position LYFEfuel as uniquely different and more effective than anything else on the market. Years of research, personal experimentation, and cultural insights from living abroad ultimately led to a simple revelation…harnessing the power of plants to put back what's missing from food.
Lyfefuel Values
We believe that maximizing human potential begins from within and we aspire to change the world through the power of nutrition. This begins by harnessing the gifts of mother nature to develop the best products on the planet while protecting the environment.

Founded on three core principles of Quality, Efficacy, and Sustainability, we provide the fuel you need to Live Your Fullest Every Day.
Pricing & Shipping
As outlined above, LYFEfuel offers two mixes, Essentials & Recovery.
Pricing
You can net a 17% discount if you subscribe to regular purchases of Essentials. Also, you can net a 20% discount if you subscribe to Recovery.
Product
Total Price
(Non-sub/sub)
Serving Price
(Non-sub/sub)
Essentials (24 Servings)
$60/$50
$2.50/$2.08
Recovery (14 Servings)
$50/$40
$3.57/$2.86
USD
Shipping
LYFEfuel can only be purchased from their webpage. Free Economy shipping is offered and appears that all orders of any size and to any location in the continental US are included. Furthermore, Express Shipping is also offered and is only $15. A pretty good deal!
LYFEFuel Bars Review
We have reviewed a lot of meal replacement bars, but it's not often that we cross good ones.
The main flaws meal replacement bars tend to have is that they are too dry or tasteless, and sometimes too rich in sugars.
In this case, LYFEfuel Essentials Bars have surprised us greatly. Not only the taste and texture was amazing, but they are super healthy as to be expected by LYFEfuel.
In fact, we prefer them to other close competitors like the Ka'chava bars.
LYFEfuel Essentials Meal Bar Price
One of the downsides of Lyfefuel bars is the price, without a doubt.
At $4/serving without any subscription discounts, they are among the most expensive meal replacement bars we've tried.
You can lower it to $3.5/serving when you subscribe (13% off), but there will be cheaper alternatives out there.
That said, none of them will offer you the nutritional value LYFEfuel bars do.
Other Products
LYFEfuel sells an Explorer Bottle made from BPA-Free, borosilicate glass, with a natural bamboo cap. It is wrapped in a silicone sleeve which comes in three colors…Glacier, Alpine & Oceana. The bottle is 500ml and is sold for $40.
Having tried it, I must admit that it's very sleek, and seems incredibly durable. A great addition to my collection.
Also offered is a 21-day Transformation Program. For $250 ($150 currently) you'll receive a bag of the Essentials Shake, a bag of the Recovery Shake, an Explorer Bottle, a PDF guide + recipes, and their smartphone app.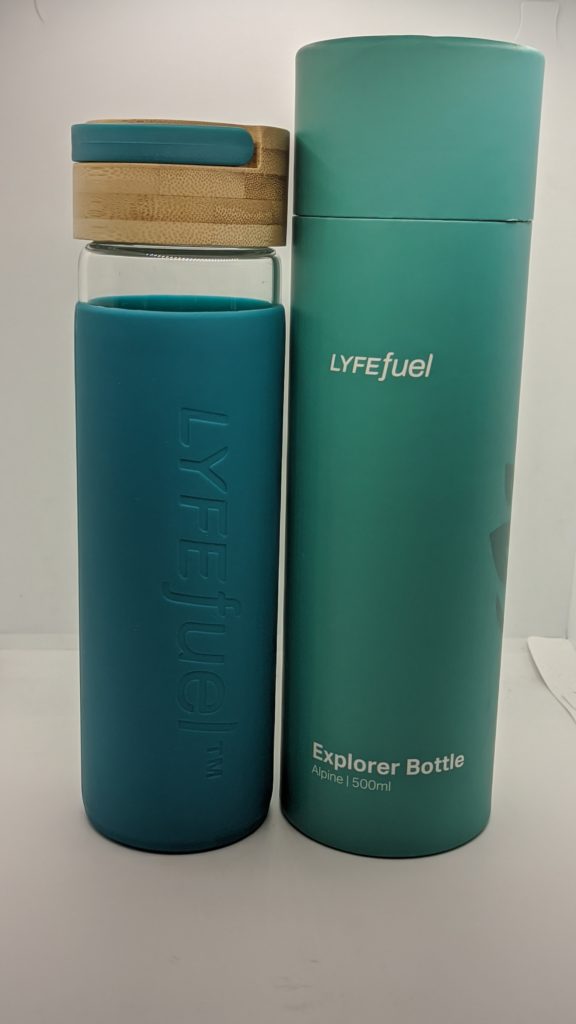 LYFEfuel vs. Ka'Chava
In this comparison, we have both offerings of LYFEfuel, up against Ka'Chava. Out of all the other products, we felt that these two compare favorably and that we can really see which facets of each stand out.
Lyfefuel is also a good alternative to Shakeology, or other popular (but not great) shakes like 310 Nutrition, Herbalife or Atkins.
However, for those new here…Ka'Chava is an all-natural complete nutrition mix that combines over 70 superfoods into a shake-and-go meal. It certainly is one of the best vegan shakes in the market.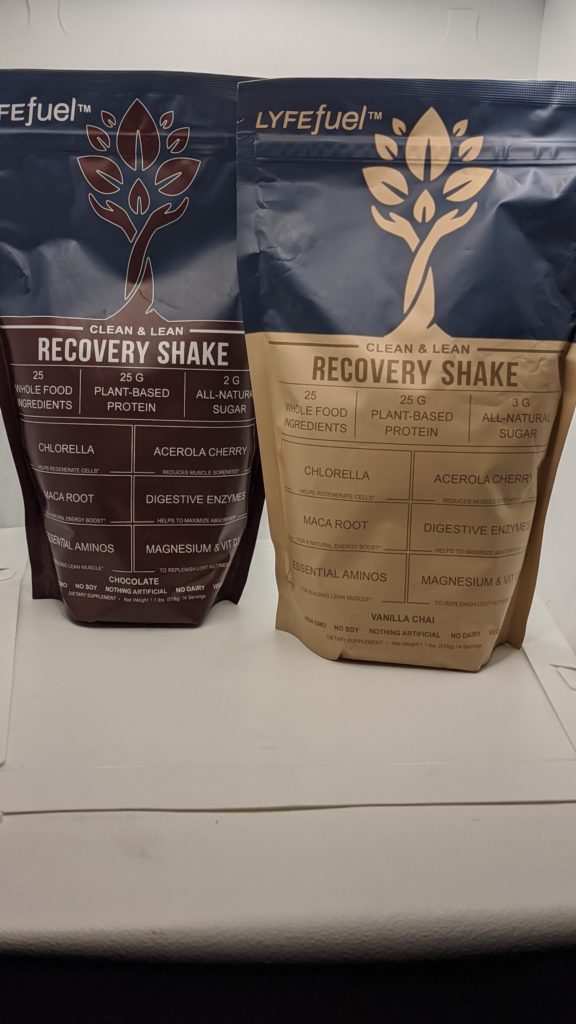 See the chart below to see how Essentials & Recovery compare to Ka'Chava.
Head to Head
Category
LYFEfuel
Essentials
LYFEfuel
Recovery
Ka'Chava
serving price
$2.50 (USD)
$3.57 (USD)
$4.67 (USD)
serving size
300ml
300ml
500ml
serving amount
1 scoop
1 scoop
2 scoops
servings per
24
14
15
kcal/serving
110
140
240
Packaging
Bag
Bag
Bag
Flavors
2
2
4
Protein (g)
18
25
25
Sugar (g)
3
2
6
Fiber (g)
1
2
6
Fats (g)
2
3
7
Carbs (g)
5
6
24
Vegan
Y
Y
Y
Organic
N
N
N
Micronutrients
27
10
26
Artificial Sweeteners
N
N
N
Synthetic Additives
N
N
N
GMO
N
N
N
Protein Source
Pea/Rice
Pea/Rice
Pea/Rice
Availability
USA
USA
USA
Wow…talk about a photo finish! There is a reason why we consider Lyfefuel Daily essentials one of the best Kachava alternatives.
This is because, LYFEfuel Daily Essentials and Ka'Chava are very close in many categories, including price, micros, and protein sources. This was expected as the cornerstone of both companies is to provide clean and nutritious offers first and foremost.
Essentials will really appeal to the low-carb crowd. Even you decided to double up the servings, it's still less than half of what Ka'Chava. Furthermore, LyfeFuel is richer in key vitamins and minerals often lacking on vegan diets (like vitamin B12), and I truly like their micronutrient blend.
Also from a taste perspective, Essentials (particularly vanilla) almost HAS to be combined with extras to be good. On the contrary, all flavors of Ka'Chava are very tasty with just water, and even better when mixed with extras.
You can try Kachava now, and be the judge.
Recovery Is Tailored to Boost Your Protein Intake, or Replace Small Meals
Recovery occupies a somewhat different space, as its aim is not to be nutritionally complete, but to ensure it has a high protein and complete amino acid profile. While Recovery matches Ka'Chava in protein, its lack of calories, micros, and its price put it at a disadvantage. But again, Recovery has a very specific purpose it's tailored for….keep that in mind.
LyfeFuel Alternatives
Sadly, LyfeFuel's Daily Essential shakes and Performance shakes are not going to fit all budgets. Furthermore, if you live outside the US, they can be hard to get hold of.
For those occasions, we recommend having a look at Rootana, the best LyfeFuel alternative that will give you an excellent plant-based shake at a more affordable price.
Other options can include Ambronite, Gaia Tribe, or Nuut, for instance.
LYFEFUEL FAQ
Why is it better than other shakes?
Essentials has more of the right kind of highly-concentrated nutrients that actually targets the specific needs you put your body through . . . whether it is working out, on a diet, on a stressful job. . . it's a complete plant-based fuel source made from ingredients that are easier to absorb without bloating or discomfort.


Why are they so low in calories?
Using fewer calories makes it easier to achieve the right caloric balance for your specific health goals. You can always add more fat from nut butter and carbs from fruit like we do with our signature smoothies & bowls…but try that with other shakes and you'll be at over 1,000 calories per smoothie!

What is the return policy?
If for any reason you are dissatisfied with your purchase, please let us know. Our return policy is simple: if you experience any issues with the product or shipping, simply contact us within 30 days of purchase so we can address the issue and find a solution. After our conversation, we will issue a full refund if we can't find a resolution that addresses your concern to your desired satisfaction.


Why is vitamin K so high?
We include both vitamin K1 and vitamin K2 in the product. Vitamin K2 is missing or lacking in most diets. It works in synergy with vitamin D to help deposit calcium into bones. Current evidence supports the notion that joint supplementation of vitamin D and K2 might be more effective than the consumption of either alone for bone and cardiovascular health.


Is LYFEfuel available outside of the US?
Not yet, but stay tuned.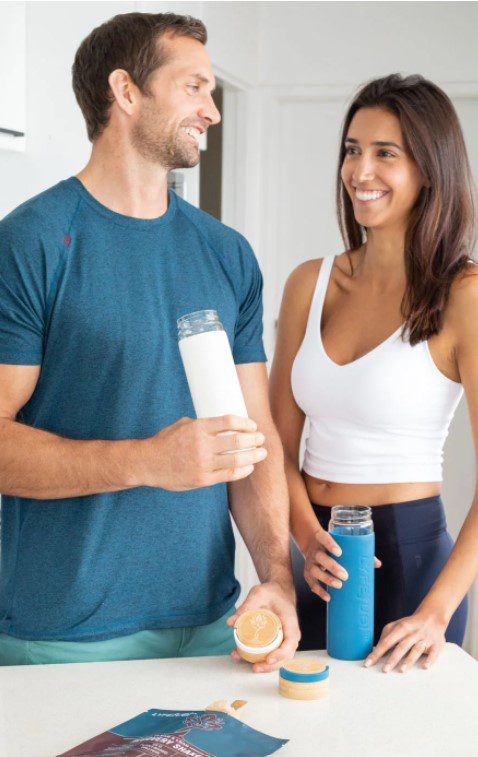 ---
Verdict – Lyfefuel Review
So, what do I think of LYFEfuel after this in-depth review?
There are aspects that I love about Lyfefuel such as a real commitment to focusing the product on course-correcting lacking diets with dense nutrients. Also, it's the sourcing of those nutrients is some of the best the planet has to offer. 
They seem to have one goal in mind: providing you with nutrients your diet is lacking (vitamins, minerals, antioxidants, etc), from premium whole food ingredients. Because they truly believe that this will make a huge positive impact on your health.
Looking at the research they have done, and the product they have produced, I must say they have truly accomplished this.
However, this comes at a cost. First, this is not a very affordable shake. All those premium ingredients, the multiple vegetables, and fruits are costly. Therefore, it won't fit everybody's budget.
Secondly, the greens do overpower the taste a little. It tastes much more like a green smoothie than a sweet sugary milkshake.
Thirdly, 110kcal will be a very small meal for most people. This is an intentional choice, and it allows you to blend it with milk and fruits like bananas to customize your shake.
However, it's worth mentioning that I found that this is the ideal way to use LYFEfuel, and super enjoyed both flavors from both products when incorporated into fruit/milk mixes.
The LYFEfuel bars were also surprisingly amazing. They are as natural as the shakes, while still being super tasty and not overly dry and hard. Some of the best bars available in the US.
All things considered, I think that LyfeFuel is an excellent product, but only if you are looking for a super healthy natural shake, and money is not an issue.
Lyfefuel Daily Essentials
From $2.5/serving
Pros
One of the healthiest shakes you can buy
Vegan, no soy, gluten free, mostly organic, with no artificial additives.
Includes tons of protein and micronutrients, which you might lack in your diet.
With digestive enzymes, greens blends and probiotics.
Free shipping, and great customer experience
Cons
Not very affordable
Low in calories, only 110kcal
A little low in quality fats, like omega-3
Tastes better when using a blender