Arthrozene Review 2023 | Is This Joint Supplement Effective?
Welcome to this Arthrozene review, where we will look at one of the best joint supplements for pain relief on the market.
No one knows how frustrating and uncomfortable it is to deal with chronic pain and inflammation in the joints, unless you suffer from it!
This condition is more common than you think. Around 58.5 million people in the United States have a form of arthritis.
If you're looking for a treatment to manage your painful joint issues, you may have come across Arthrozene.
This capsule supplement claims to tackle joint stiffness and discomfort to help boost your flexibility and mobility.
In this Arthrozene review, we're discussing everything you need to know so you can decide if it's the right option for your condition.
That said, if you want to skip reading the review and know our thoughts, I will let you know that this product is OK, but the dosages are too low to be really effective. As such, I prefer to use Flexagain for my daily joint care.
Quick Links
What Are the Ingredients of Arthrozene?
According to Arthrozene's website, this supplement uses an all-natural formula that's 100 percent free of synthetic chemicals.
Each capsule contains:
AprèsFlex®: 100 mg (registered trademark of Laila Nutraceuticals)
Mobilee®: 80 mg (licensed trademark of BIOIBERICA, SA)
B-2Cool®: 40 mg (licensed trademark of BIOIBERICA, SA)
Each of these natural ingredients is the source of a certain active constituent that supposedly slows down cartilage degradation, decreases inflammation, and boosts lubrication in joints.
Let's take a closer look at these three active ingredients and see what they can do for you.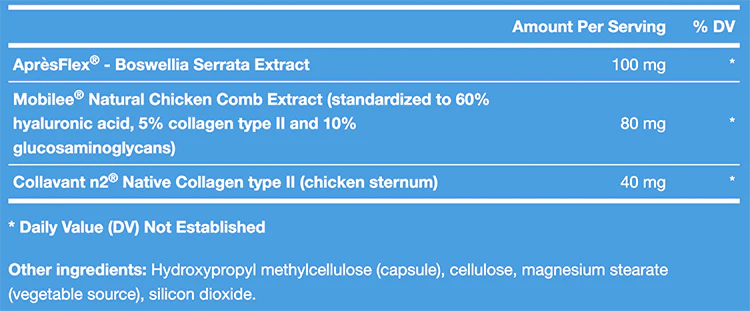 1. Type II Collagen
Our bodies naturally produce a bunch of different proteins. One of these is collagen, which you probably heard of before.
Collagen is present in a wide variety of skincare and cosmetic products. But did you know that it also plays a significant role in building the cartilage in our joints?
Besides keeping us looking youthful, collagen's main function is to build cells that make up all types of tissues, whether it's the bones, muscles, ligaments, or tendons.
As we get older, sadly, the ability of our bodies to produce collagen decreases. This results in joint problems such as stiffness and inflammation.
The 40 mg of collagen in Arthozene's formula is type two. It's undenatured and comes from the natural extract of chicken comb and sternum.
2. Boswellia
Sourced from the Boswellia serrata tree, Boswellia is a herbal extract.
It's also called Indian frankincense and has been used in African and Asian traditional medicine for centuries to treat chronic inflammatory conditions.
Arthrozene contains 100 mg of Boswellia. This ingredient may demonstrate positive effects in reducing inflammation and in managing osteoarthritis, rheumatoid arthritis, inflammatory bowel disease, and asthma.
Boswellia also has pain-killing properties, so it has the potential to make your discomfort more tolerable.
3. Hyaluronic Acid
Also known as hyaluronan or hyaluronate, hyaluronic acid is another compound that our bodies produce naturally.
It's a slippery, gooey substance that resides all over the body, particularly in the joints, skin, and eyes.
The main function of hyaluronic acid in joints is to provide lubrication. This prevents friction between bones, reducing stiffness, pain, and inflammation.
Similar to collagen, the ability of our bodies to keep up the production of hyaluronic acid decreases with age.
The Arthrozene formula contains less than 80 mg of hyaluronic acid
Does Arthrozene Work?
To put it lightly, Arthrozene may or may not work. The formula may be effective to a certain level against mild joint pains and aches.
Arthrozene claims to work for:
Slow the breakdown of cartilage
Increase the production of joint fluid
Reduce soreness and discomfort
Improve mobility and flexibility
While we think using Boswellia is a good thing, the dosage of the other two ingredients is insufficient. As such, we don't think there's enough evidence to support Arthrozene's claims.
Not Enough Collagen
Let's take collagen for example.
The daily recommended amount you need to consume to receive benefits from collagen is between 2.5 to 15 grams.
Despite the safety of its sources in Arthrozene, the oral form of the dosage has a relatively low bioavailability.
Your body only takes up between 49 percent to 57 percent of orally administered collagen.
Since the specified dose is one capsule per day, the amount your body will absorb won't be nearly enough to enjoy the benefits of collagen.
Hyaluronic Acid in Low Quantities
As for hyaluronic acid, its oral bioavailability is problematic and its amount in the formula is too low.
Hyaluronic acid is included within 80 mg of natural chicken comb extract that also contains glycosaminoglycans and collagen type two.
This means that the concentration of hyaluronic acid in the formula is well under 80 mg.
The recommended daily dosage of hyaluronic acid is between 80 and 200 mg. Arthrozene fails to meet this range.
What Are the Side Effects of Arthrozene?
The ingredients in the Arthrozene supplement are all-natural, so they're generally safe for most people.
That said, some users may suffer from side effects such as stomach pain, diarrhea, nausea, headaches, and dizziness.
Is Arthrozene Legit?
Yes, Arthozene is a legit supplement. It's owned and distributed by Fisico Inc, which is located in Westford, Massachusetts.
Along with Arthrozene, Fisico owns three other health product brands: Cerebra, The Cruise Control Diet, and Slimbiotine. 
Arthrozene has an official website, phone number, email, and postal address.
Where to Buy Arthrozene?
You can buy Arthrozne from the official website of the company. You can also get it from online stores and department stores such as Amazon and Walmart.
Arthrozene Price
So how much will Arthrozene cost you?
The cost on their website is:
1 tub – 30-day supply – for a total of $69.95, or $2.33/serving.
3 tubs (1 free) – 90-day supply – for $139.95, $1.55/serving
6 tubs (2 free) – 180-day supply – a total of $269.80 or $1.5/serving
Clearly, there are big incentives for you to buy in bulk. However, Arthrozene is incredibly expensive for what it offers and 100% not worth the money for most. Instead, something like Flexagain will offer you more for the same amount of money.
Real User Arthrozene Reviews
We've been quite critical about Arhtrozene, as we don't believe it to be one of the best joint supplements.
It certainly is not a scam, but it's criminally underdosed and it's too expensive for what it offers.
That said, all the user Arthrozene reviews on their site are extremely positive:
Well, I was surprised to actually feel some relief in my stiff knees. Now I can walk down stairs the real way. Not hobble one step at a time. Nice to find something that works as advertised for a change!

Kahren Rudbeck
That said, we are extremely skeptical about in-site reviews, as they are often biased and tempered with. Unfortunately, we could not find any Amazon Arthrozene reviews or Trustpilot reviews to compare them to.
We did find a Youtuber who claim he felt nothing when taking Arthrozene, though:
What Is the Best Alternative to Arthrozene?
Arthrozene may offer a level of effectiveness for reducing joint pain, stiffness, and inflammation.
However, most of its ingredients are present in insufficient doses for us to confidently recommend the supplement.
Additionally, Arthrozene is way overpriced for what it offers.
Our #1 Arthrozene Alternative – Flexagain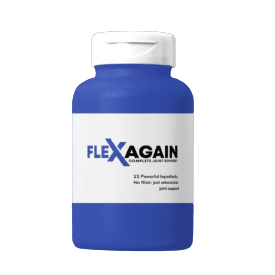 One product we do recommend for minimizing pain, alleviating swelling, decreasing stiffness, and supporting joint health is Flexagain.
Its list of highly effective ingredients includes enough concentrations of: 
Vegan-friendly Omega 3 fatty acids (no fish oil)
Curcumin
Resveratrol 
Glucosamine 
Bromelain 
Methylsulfonylmethane
Chondroitin
Boswellic Acid
Ginger and Blue Galangal extract
Vitamin D
Vitamin K
Also, Flexagain is made in the United States in facilities registered by the FDA and verified by cGMP.
#2 Arthrozene Alternative – Diet
While there are plenty of great joint supplements out there, like Relief Factor, we would recommend having a look at your diet, too.
This is because deficiencies in vitamin D are linked with rheumatoid arthritis. Similarly, omega-3 deficiencies are the cause of joint inflammation, and other vitamins like K2 or vitamin A have also been linked with joint pain.
Having a balanced diet is also key to controlling your weight and can help fight inflammation. That's why I tend to have LYFEfuel Daily Essentials.
This is one of the best meal replacement shakes on the market and contains all the essential nutrients, including 18g of plant-based proteins, 27 vitamins and minerals, and 34 real food ingredients. It's a mega boost to my nutrient intake, and I've noticed significant differences in mood, energy and overall health.
Arthrozene Review FAQ
Is Arthrozene vegan?
Yes, it is safe to consume for vegans.


Is Arthrozene safe to consume?
Most users should have no issues or side effects, as most ingredients are natural. That said, if you are having any negative side effects, you should stop taking Arthrozene immediately.


Does Arthrozene offer a money-back guarantee?
Yes, they offer a 90-day money-back guarantee.


Is there any caffeine in Arthrozene?
There are no caffeine or any type of stimulants in Arthrozene joint supplements.
---
Verdict – Arthrozene Review, A Good Idea, but Underdosed
There you have it, an in-depth Arthrozene review.
This supplement may be relatively effective in minimizing joint pain and inflammation. But it dropped the ball in ingredient concentration and variety.
Unfortunate, because the product itself showed great promise.
We feel more confident recommending Flexagain to manage joint stiffness, pain, and inflammation.
We believe it uses a longer and more effective list of ingredients, uses enough amounts to produce results, and gives you better value for your money.