An Analysis of Meal Replacements in Canada (2022)
The story about how Canadian citizens are kept away from the popular meal replacement brands
Finding the best meal replacements in Canada has been a nightmare for a while. Ever since Soylent was first kicked out in 2015, big meal replacement companies have been absent from Canada. It was only in early 2020 (heck something good happened in 2020), when Soylent was made available again. However, along the way we lost many Canadian companies, with some great shake options.
Furthermore, with Soylent's comeback, many were hoping to to see giants like Huel in Canada. It was proven to be a fool's dream, since the Canadian laws around meal replacements are as strict as ever. Consequently, most US based companies are unable to sell there.
Ironically, the losers of this story are the Canadian citizens, who are starved of great meal replacement shakes. That is why, I've compiled this list with the best meal replacement shakes available in Canada.
---
In a Rush?
Best Keto Meal Replacement Shake in Canada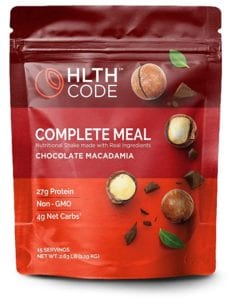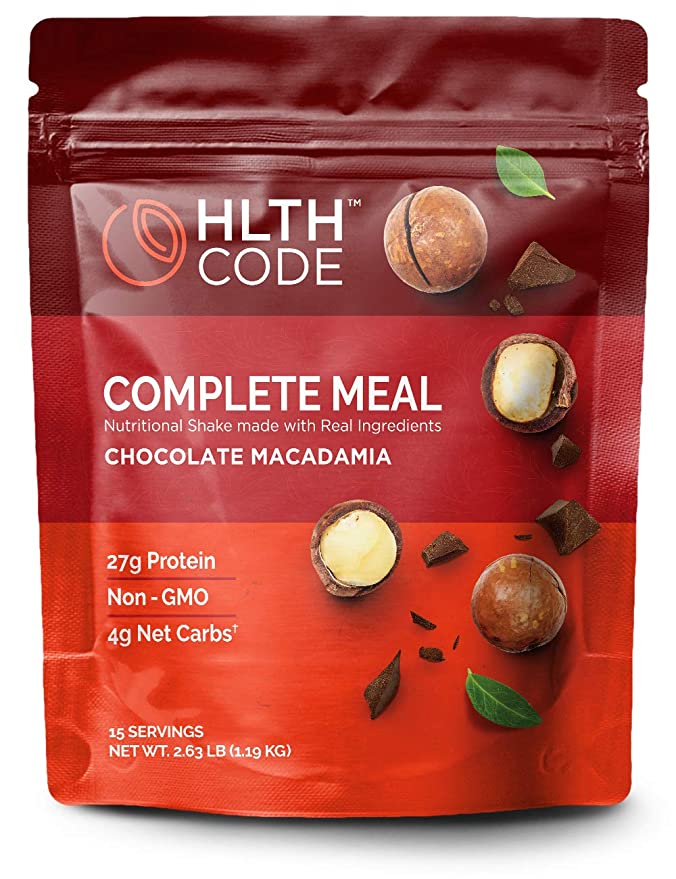 HLTH Code Complete Meal
Best keto powder.
4g of net carbs, 27g of premium fats and 27g of protein.
Includes probiotics, digestive enzymes; but no artificial ingredients.
From CAD4.23
Two delicious flavours to choose from
Best Canadian Meal Replacement Shake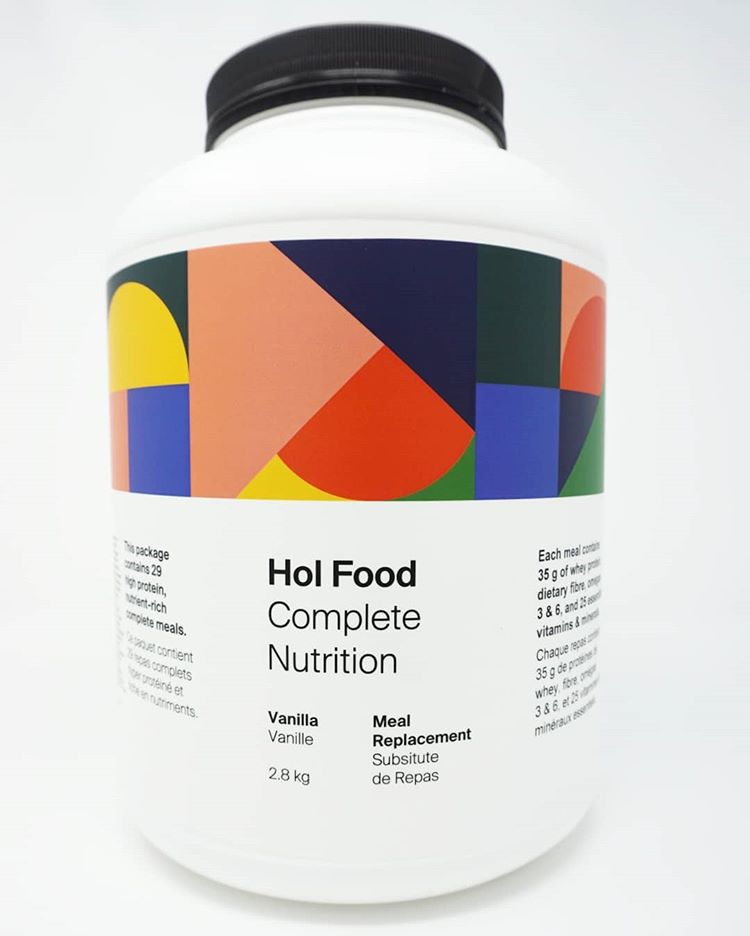 Best Canadian meal replacement powder.
From Canada. Ships from Canada.
35g of protein, 3-5g of fiber, and 20% of 24 vitamins and minerals.
Nutritionally balanced and complete.
From CAD3.00
Rich Chocolate is amazing
More
---
The Canadian Issue
Most meal replacements from outside Canada are unable to sell their products there or they get heavily taxed on the border; thus making consuming complete foods from foreign brands a really hard task. This issue has many layers to it; a lot of the problems come because the products are classified as meal replacements instead of food.
For instance, Huel is unable to sell in Canada (even if they have their North American manufacturing process there) due to the strict regulations applied to products classified as meal replacements. According to Huel staff TimOfficialHuel:
For example, the minimum amount of Vitamin D per serving in a meal replacement is 1.25mcg and the maximum is 2.5mcg. Huel contains, 5mcg per serving. So we do not meet the classification of a meal replacement, and thus would not be able to sell in Canada.

This is not the only point where we would be held up, but it is one of the most stark. […]

We are exploring different options to try and allow Huel to be sold in Canada, but these take a significant amount of time, and potentially product re-formulations. Concurrently, we are always reviewing our formula and trying to optimise Huel. Any change would reset the process.
The Harsh Rules of the North
Selling meal replacements in Canada is harder than in any other Wester country. This is not because of logistical issues, but due to the strict requirements of the Canadian government and their loyal subjects of the CFIA (Canadian Food Inspection Agency).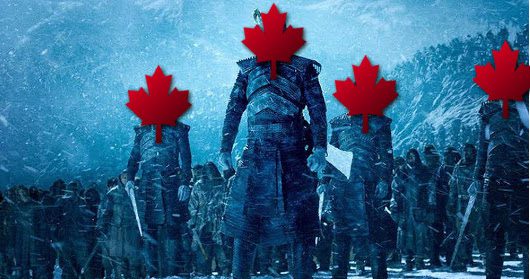 Any product that is sold under the "meal replacement" label will have to following rules:
Minimum food energy value of 225 Calories per serving.
A specified amount and quality of protein.
Not more than 35% of the total energy from fats.
A specified amount of various vitamins and mineral nutrients.
If milk needs to be added,  they will carry a statement establishing the need to do so.
Plus, the labeling will have to be:
Showing the energy in both Calories and kilojoules.
Protein, fat, linoleic acid, n-3 linolenic acid (omega-3), saturated fatty acid and carbohydrate content in grams.
The amount of the following vitamins and minerals expressed in % of daily values: vit A, vit D, vit C, thiamin, riboflavin, niacin, vitamin B6, vitamin B12, folate, pantothenic acid; calcium, phospohorus, iron, iodide, magnesium and zic.
On top of that, copper, potassium, sodium and manganese quantities will have to be expressed in grams; and biotin, selenium, chromium and molybdenum in micrograms.
As if these were not enough, any meal replacement that wants to advertise itself as replacement for all meals, will have to reduce the maximum energy from fat to 30% and no more than 10% from saturated fats; with an energy intake of at least 900kcal a day.
If you are looking for a low carb alternative in Canada I recommend you checking our picks for the best low carb shakes.

Soylent, The Exception to the Rule?
From June 2015 until late 2017, Soylent was able to sell their products in Canada. This, however, did not last long and US brand had to eventually stop.
There were many reasons for the CFIA to deny Soylent, including: the amount of fats (the regulations state less than 35% of the energy needs to come from fats); lack of bilingual labelling; the presence of sucralose; vitamins not meeting the required values by the FDR…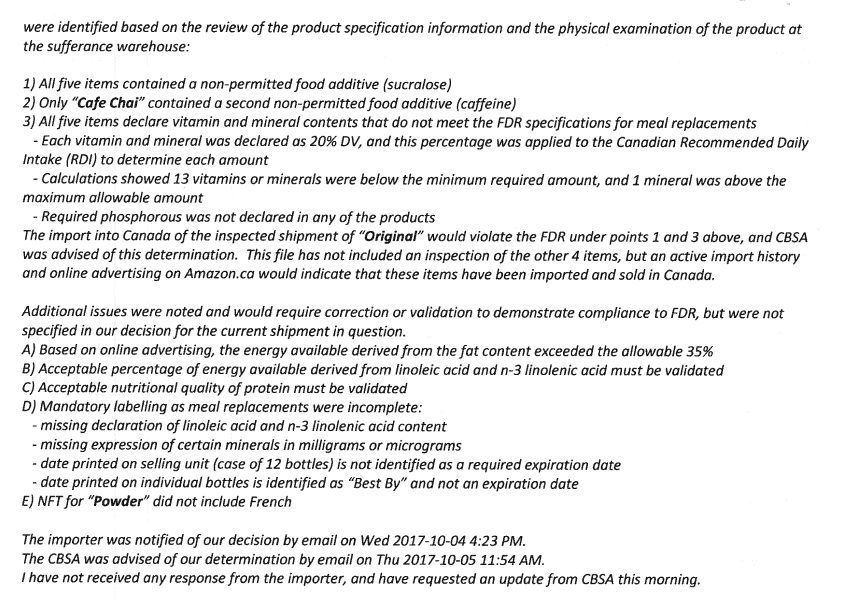 At the time Soylent founder, Rob Rhinehart, had to walk back with the tail between his legs; only leaving a dire message behind:
Dear Canadian Soylent customers,

Since June 2015, Soylent has been proud to sell and locally distribute our products in Canada. We are fortunate to have so many loyal customers who have supported our brand and community, even before we were officially available in the market. It's been quite the journey we've taken together through some proud successes and startup growing pains, and today I need to share an unfortunate situation impacting our Canadian business.

The Canadian Food Inspection Agency (CFIA) recently informed us that our products do not meet a select few of the CFIA requirements for a "meal replacement." Although we feel strongly that these requirements do not reflect the current understanding of human nutritional needs, we respect the CFIA's regulations and will fully comply with any regulatory action they deem appropriate. Unfortunately, this means we are unable to ship any additional product to our Canadian warehouses or sell Soylent to our Canadian customers until this is resolved. 

I want to reiterate that we are absolutely committed to working with Health Canada and the CFIA to resolve this as quickly as possible, but we don't have enough information at this time to share any timing. In order to keep all of you fully up to speed on our progress, we will be sending out regular updates. In the meantime, we have posted a detailed FAQ to share all the information we have at our disposal. We sincerely apologize for this product disruption, and we hope to be back selling in our favorite country to the North soon. 

We want to hear from you, so please feel free to contact us anytime with questions, concerns and suggestions at [email protected]. Thank you for your continued support.

– Rob Rhinehart
Founder & CEO, Rosa Foods, Inc.
Soylent's Return to Canada
Quite unexpectedly, Soylent announced that they were going to be back in Canada in 2020. Despite the mystery surrounding on how this was achieved, they were indeed back in Q1 of 2020.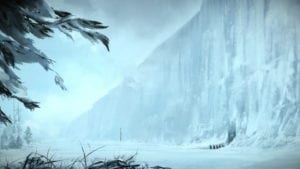 As shown in the picture above, only 5 products will be available. These is a pretty good range of Soylent's best-selling products, and the ones that most people will be looking for. Unfortunately, this also means that neither of the newest products, Soylent Complete Protein or Soylent Stacked will be available any time soon.
Soylent Canada Details
So what is the price? Is there any change in the nutritional aspect? Has Soylent changed the formula in order to be able to sell in Canada? The answer to the last questions is no. The formula seems to be almost the same, with some slight changes to meet Canadian standards.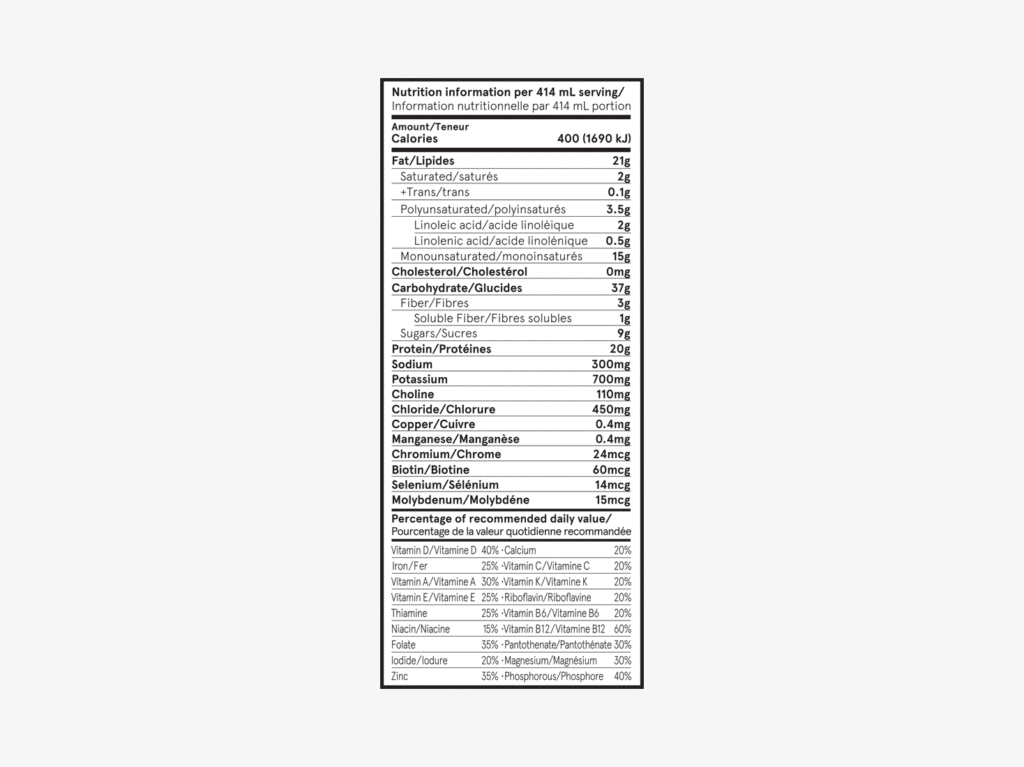 When it comes to the price of the products, they are a little more expensive than in the US:
Soylent Drink Cacao and Original are CAD$4.75 without subscription and $4.28 with subscription (10% off).
Powder Cacao and Original start at $2.51 and cost $2.09 with subscription (17% off).
Soylent Cafe Mocha is $4.75 without and $4.28 with subscription (10% off).
The RTDs (Drink and Cafe) are more expensive than the powder version, but that is standard. However, the price difference does seem higher than usual, which might be due to logistic issues (more expensive to ship). When comparing to the best Soylent alternatives, I think the price of the powder is quite competitive.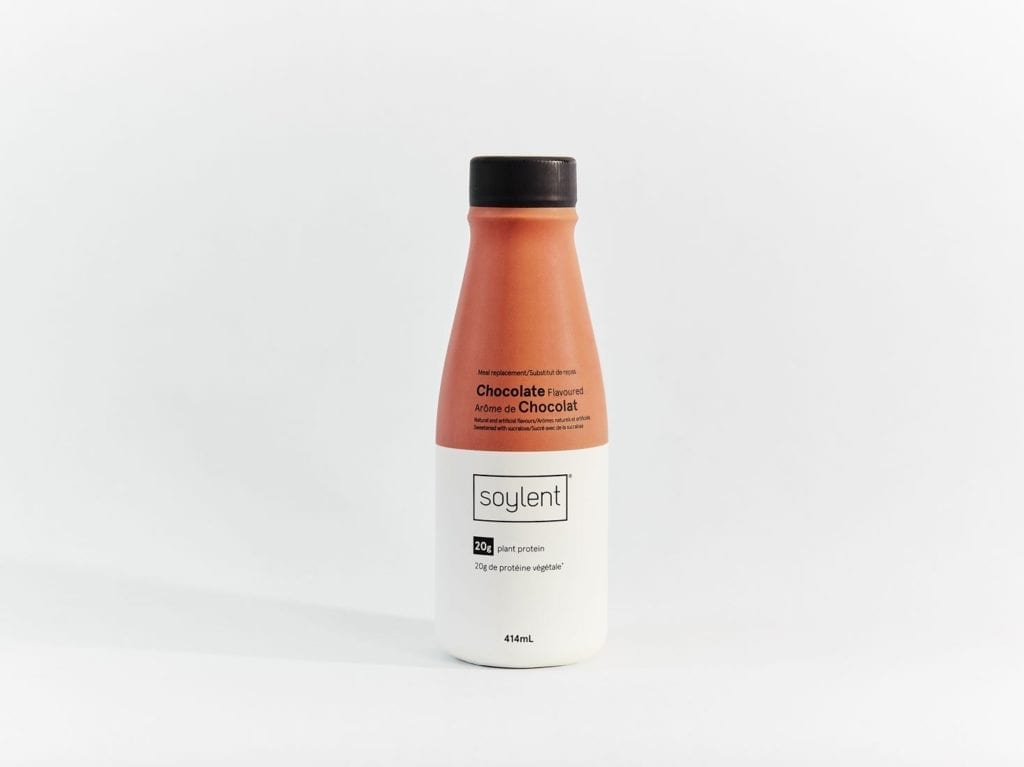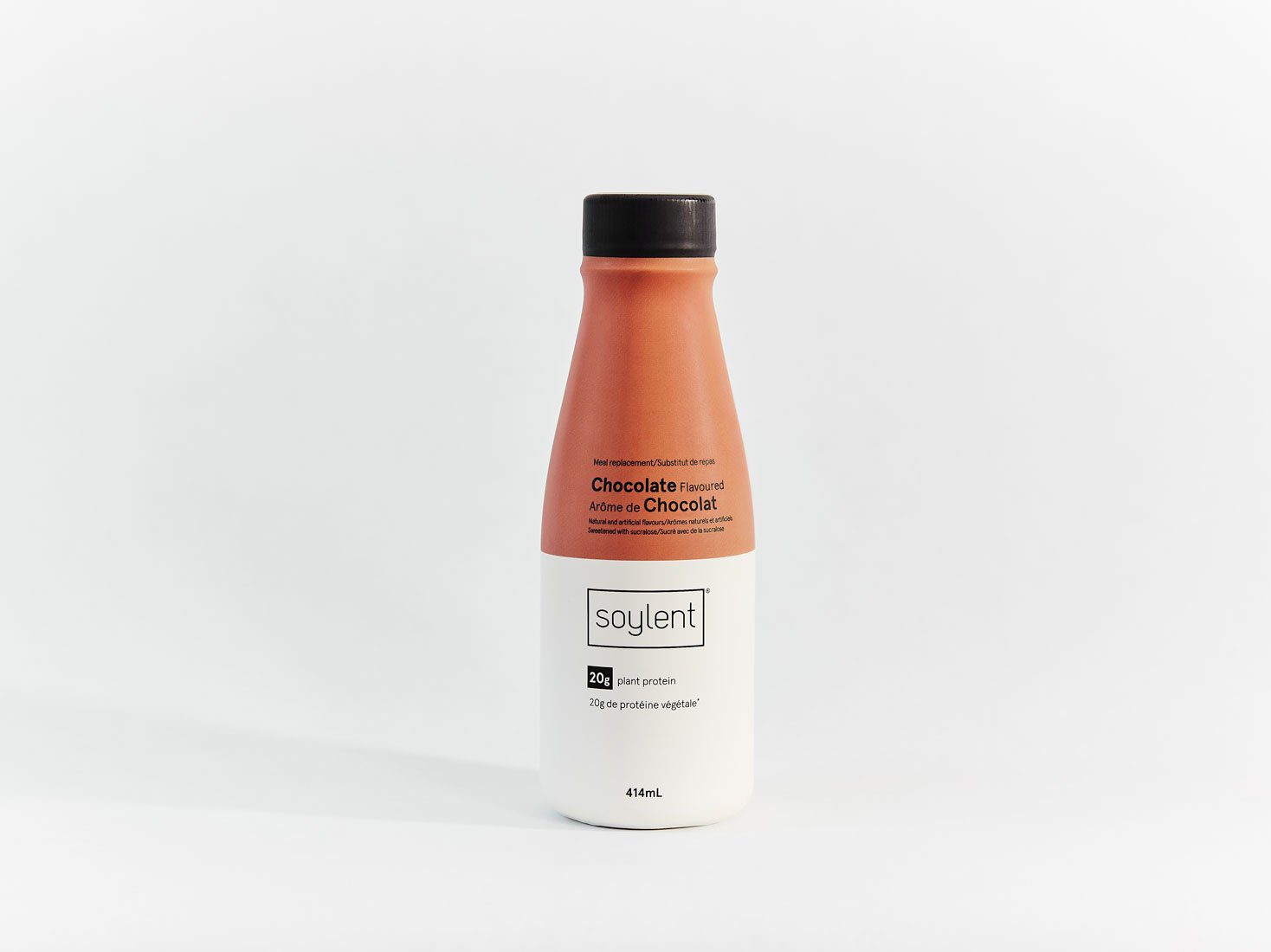 Another thing to consider is that for now, Soylent will only be available in their own website and not through Amazon too, like they do in the US.
---
Canadian Meal Replacements
So we have spoken about Soylent, but surely there must be a local option? The short answer to that is, sadly, no. While there have been few brands (e.g. Tudo, Biolent, Vitalhouse), slowly but surely they have all run out of business.
Honestly, there isn't a simple answer as to why this is the case, but here are some of the most important factors:
Small demand. Clearly the market is not big enough to support multiple brads, in particular, when they cannot get their name out there.
High costs. Being smaller companies, Canadian brands probably could not get the ingredients cheap enough or reduce the costs to be competitive.
Canada's topography. Another factor to consider is how spread Canada is and how that might affect shipping and costs related to that.
So, is there any Canadian meal replacement left?
| | | |
| --- | --- | --- |
| | Complete? | Active |
| HolFood | Yes | Yes |
| Vega All in One | No | Yes |
| Rumble | No | Yes |
| Tudo | Yes | No |
| Biolent | Yes | No |
| Vitalhouse | Yes | No |
| Kaizen Complete Meal | Yes | Yes |
A Brief Look to Canadian Meal Replacements
As shown above, there aren't many local options anymore. In fact, only HolFood is a complete meal, while the others are mostly protein shakes. Nonetheless, here is how they compare: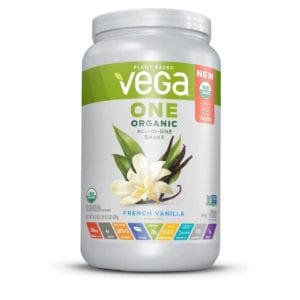 Vega All in One
Nutritional supplement company
Protein powders, all-in-ones, bars…
Macros: 17C/53P/30F
Energy: 150kcal/meal
Price: 3.68CAD/meal
Vegan
Available in chocolate, vanilla, mocha, chai vanilla, coconut almond, and unsweetened.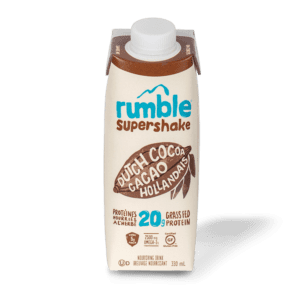 Rumble Supershake
Only sells supershakes
Lacks micronutrients
Macros: 39C/32P/29F
Energy: 250kcal/meal
Price: 4.58CAD/meal
Contains milk
Available in dutch cocoa, maple vanilla, and coffee bean.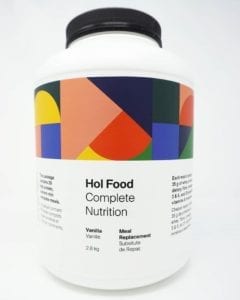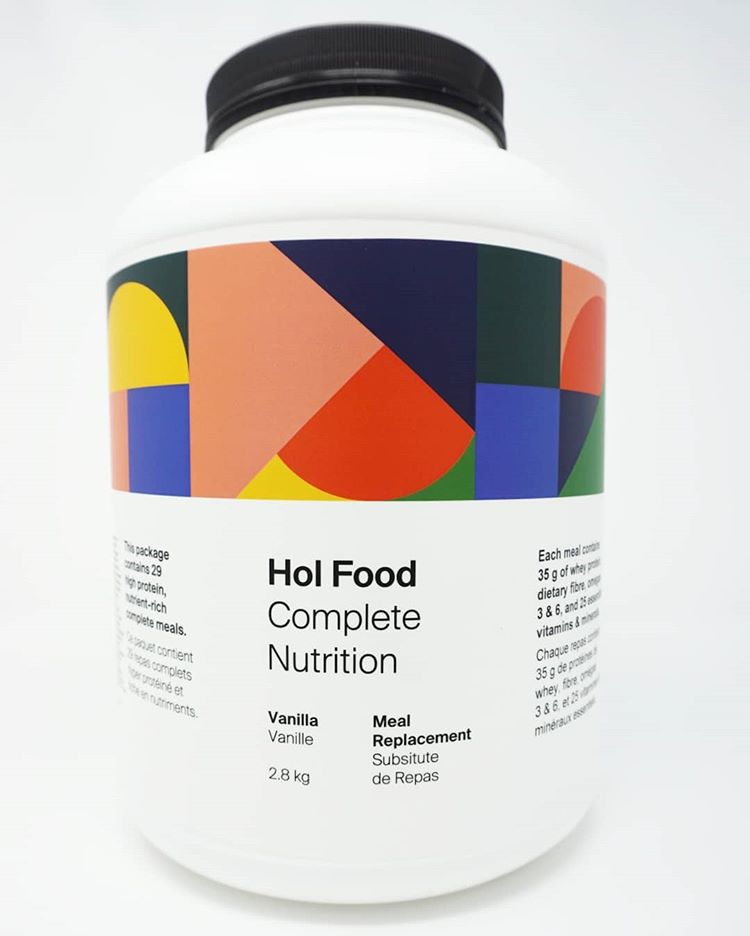 HolFood
Meal replacement company
Only sell powdered complete food
Macros: 45C/36P/19F
Energy: 400kcal/meal
Price: 2.96CAD/meal
Contains whey
Available in chocolate, and vanilla
Great taste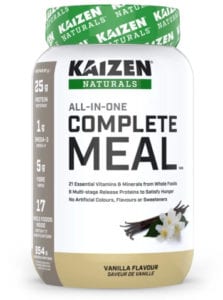 Kaizen All in One
Nutritional supplement company
Complete meals, pre-workouts, protein
Macros: 40C/42P/18F
Energy: 240kcal/meal
Price: 3.21CAD/meal
Has whey
Available in chocolate or vanilla.
I believe that Hol Food is currently the best Canadian meal replacement shake you can have.
Hol Food is currently manufactured in Toronto. They have been around for a while; but they limit their trade to North America.
Furthermore, they only produce a single powder meal replacement in two flavours: Chocolate and Vanilla. Each offers 400kcal per serving, of which 45% comes from carbs, 36% from protein, and 19% from fats.
Hol Food is not a vegan shake, since most of the protein comes from whey. Fat sources include whole milk powder and canola oil; whereas carbs come from rice flour and organic cane sugar, mainly.
According to some Hol Food reviews, the new formula highly improves the texture and the flavour over the previous one.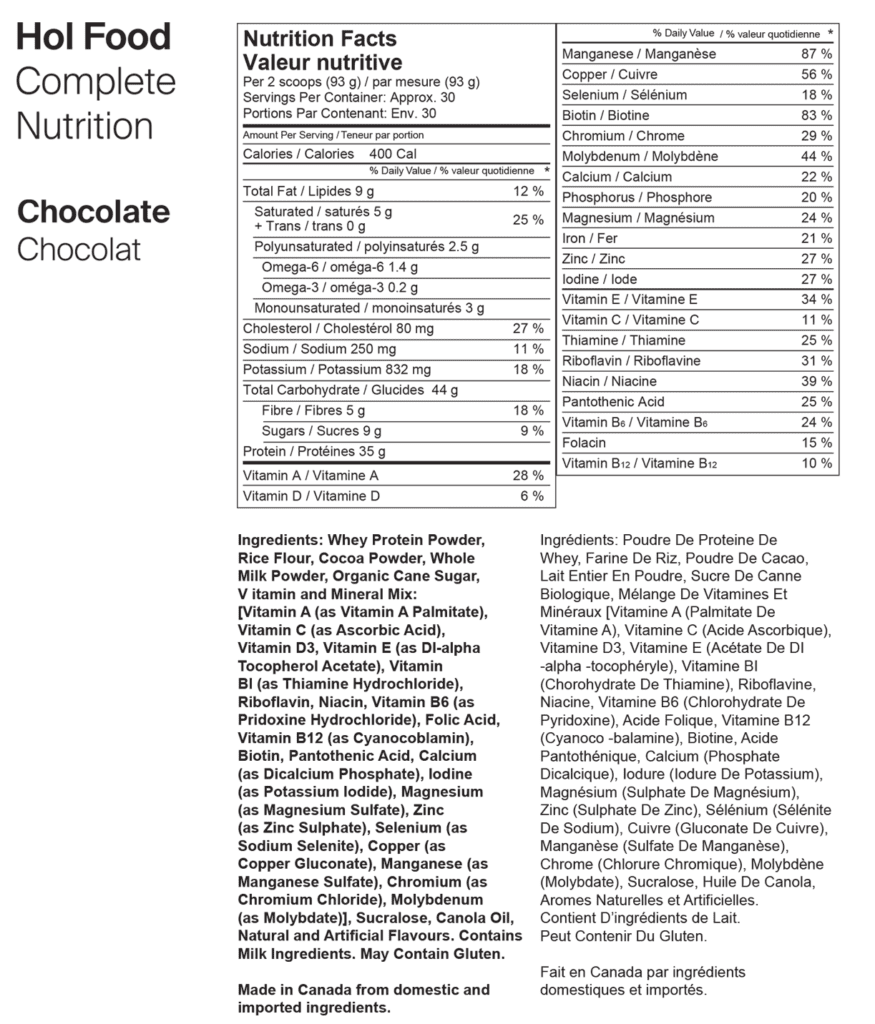 The Shortcomings of the Local Goods
Even an onlooker or a newbie would identify some of the limitations of the local brands.
Lack of flavour diversity.
Lack of nutritional differentiation. Most meal replacements offered in Canada are high in protein (which I like), but there are not many meals high in fats. This is mainly due to the legislation.
There is only one true meal replacement: Holfood.
All companies are small enterprises. There is nothing wrong with this, but the meal replacement companies in Canada are small. This creates the limitations mentioned above, as well as, restrictions in customer service, delivery speed, product R&D…
Thus, if you are looking for keto shakes, or meal replacement bars, you need to look elsewhere.
---
What Meal Replacements Are Available in Canada?
List of Available Meal Replacements in Canada
Brand
Type

C$/400kcal

Shipping**

Features
Canada
Hol Food

P
2.69
Free
–
Kaizen

P
5.35
Free
–
Europe
Ambronite
P
7.94
Free
V, NG, SF
Jake O

P,B
5.34
Free***
V,S*
Jimmyjoy
P,B,D
1.82
111+
V,S*
Queal
P,B
2.13
71
V*,S*
Shake2day
P,B
2.70
Varies
V*,S*
Vitaminfood
P
2.64
20
V
USA
HLTH Meal
P
4.23
$20
K
Superbodyfuel
P
3.27
$20
S*,K*
Sated
P,D*
3.92
Varies
K
Price based on their standard version without subscription. The threshold for free shipping in each Canadian brand varies.
Labels:
*Means that one of the product is but not all are.
**Shipping is without import taxes and values are in CAD.
***Jake offers free shipping but the total price of the product will increase, because you will have to pay for taxes and brokerage fees.
****Free above C$200.
Varies: It will depend on the size of the order. A good rule of thumb is at least half of the cost of the products.
V: Vegan.
S: Sport.
K:Keto.
NG: Non-GMO.
GF: Gluten-free.
SF: Soy-free
P: Powder meal replacement.
B: Meal replacement bar.
D: Ready to drink.
Meal Replacements That Ship to Canada – Fees
Fortunately, many European brands – as well as some US brands – do ship to Canada. Although, this is not always found and dandy; since there are extra shipping fees often involved.
Not only that, but if your package gets stopped at customs, you might have to pay Canadian import taxes. Consequently, you might end up paying 5-20% of the value of the goods in order to enjoy the items.
European Meal Replacements Available in Canada
Therefore, even if the below mentioned do ship to Canada, be aware of the extra charges this might incur.
After making that clear, here are the meal replacement companies that currently ship to Canada:
Ambronite. A real food based premium shakes.
Queal. The Dutch company that offers a wide array of products (4 shakes, a bar and a nootropic supplement).
Jimmyjoy. Plenny Shake might be the cheapest meal replacement, with little to no sacrifices in nutrition and taste.
Getlently. From the Netherlands to the world, they offer good tasting shakes (powder), but the shipping will be expensive.
Shake2day. Another Dutch manufacturer that offers 3 different powder meal replacement and a bar. Once again, the shipping will cost you as much as the order itself.
Jake. One more company from the Netherlands that offers a light, a standard and a sport meal replacement, as well as a bar. While they classify it as free shipping, the costs,  a 10.5% import duties, plus a brokerage fee (C$10-26), plus the HST/GST/PST will be included. Thus a product that costs 175CAD in Europe will cost you 214CAD. Not the worst.
Vitaminfood. Once again a Dutch company that offers a meal replacement powder in 4 different flavours. The shipping costs are 20CAD which seem to include taxes.
Vitaline. The French brand specializes in more natural meal replacements with organic ingredients.
The South of the Wall, US
Other brands that also venture to the North:
HLTH code. They provide with natural keto friendly shakes with probiotics and digestive enzymes. Thanks to the USD 20 flat rate, they offer a unique premium shake at a reasonable price.
Superbodyfuel. They subsidize orders outside the US, so your shipping will not be much of a problem. They offer powder meal replacements that then you need to add oil or milk to (depending the product). One of the, if not the cheapest option.
Sated. A brand focused on keto meal replacements, they currently only offer a powder based product, but they have an RTD in the making. The shipping costs start at 45CAD.
Solutions to Survive the Winter and Believe in Spring
There are temporary fixes that Canadian meal replacement enthusiast can do:
If you are lucky enough to live close to the border, you can cross it and purchase your goods in the US. The border authorities should not put you any trouble when crossing (according to most reports). You will just have to declare it, but you should not be taxed. Nyaddress is a company that might help you getting you a place to ships your orders to, if needed.
Befriend someone that is willing to reship the products to you (extra cost).
Order from European companies that are willing to ship to Canada and pay the import duties upfront or risk to have to pay them later. According to Queal, only 10-30% of their Canadian customers report that their goods have been taxed.
Use reshipping companies (not recommended).
Consume local brands to increase demand and promote the proliferation of new businesses.
DIY Soylent. Give it a go, it is easier than what you might think.
Cry. Just kidding. There is always hope.
Regarding to some more permanent fixes, the solutions are more complex. It is clear that the more the companies inquire due to internal and external (consumers) pressure, the more the awareness is going to spread.
As a single individual, you could also inquire the Canadian government about it (via your representative); or promote social campaigns, in Change.org or similar, acquiring signatures for the cause. The cause being a change in the legislation about meal replacements.
FAQ
Why does Huel not ship to Canada?
According to Canadian regulations, Huel cannot be sold as a meal replacement in Canada. This has to do with nutritional values of certain ingredients, like vitamin D, and the macronutrient profile. You can instead buy one of the best Huel alternatives.


Is Soylent available in Canada?
Since early 2020, some Soylent products are back. These are Soylent Drink (Original and Cacao), Soylent Cafe Mocha, and both Soylent Powder flavours.


What is the best Soylent alternative in Canada?
Please check the best Soylent alternatives here. However, there are many brands like Ambronite or Superbodyfuel that deliver to Canada.


Are there any Canadian meal replacement companies?
The only one left is Holfood.


Can I ship foreign meal replacement brands to Canada?
Some Europe and and US based companies do ship to Canada. However, they are often expensive and you might have to pay customs taxes.


Are there any RTDs available in Canada?
Yes, you can buy Soylent Drink. Besides Soylent, you can opt for Plenny Drink, but you will have to pay insaane shipping fees.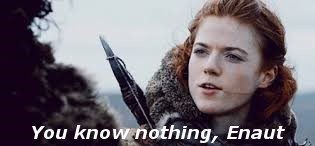 You have an insight? Please share your thoughts in the comment section below.

Latestfuels Recommends: What Is the Best Meal Replacement in Canada?
First of all, I would recommend going local. Not only because you will avoid any unpleasant surprises (extra payments), but because you will force the local industry to grow.
1. Hol Food – Best Shake in Canada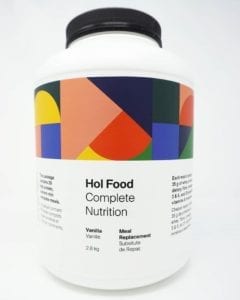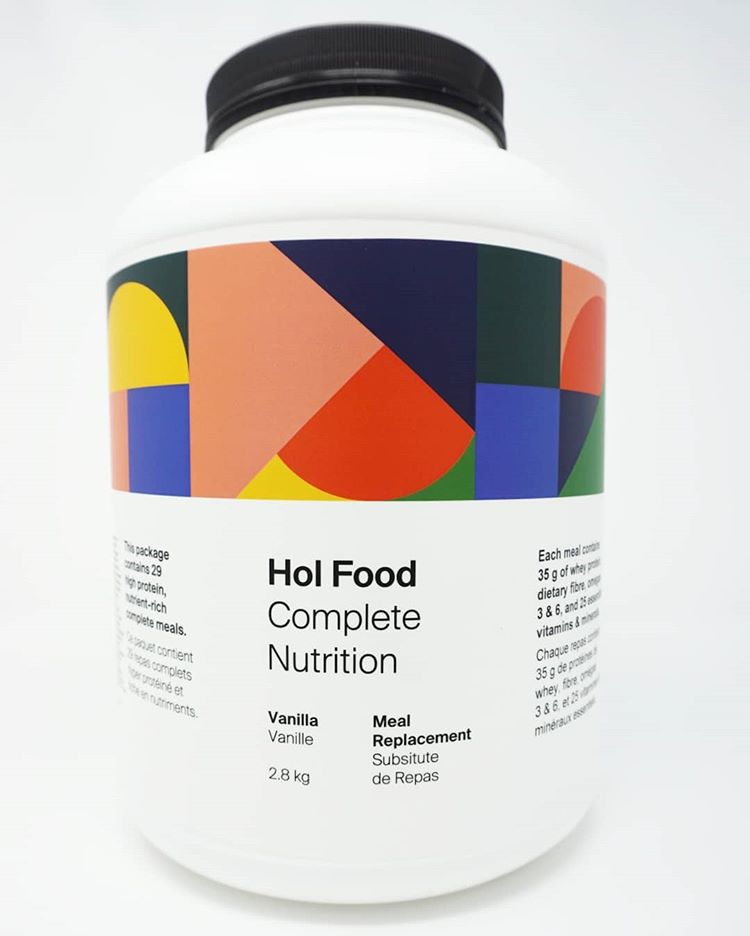 The best option currently in Canada is Hol Food. This Canadian manufacturer has been around for a while and has had its ups and downs. However, they now offer a great-tasting meal replacement shake that provides you with all the necessary nutrients.
Among its strengths there are:
35g of protein per serving, among the highest.
Contains all essential nutrients, good amount of fibres, nicely balanced macros.
Ships from Canada.
Affordable, with prices as low as CAD3.00 per 400kcal serving.
Much improved taste; Rich Chocolate is deliciuos
However, it does have some drawbacks:
It's not vegan-friendly.
They only offer 2 flavours.
All things considered, I truly enjoyed trying out Hol Food, and I would recommend it to anybody looking for a meal replacement in Canada.
Key Stats
| | HLTH Complete Meal |
| --- | --- |
| Form | Powder |
| Energy (kcal) | 400 |
| Macros (C/P/F) | 45/35/20 |
| Protein (g) | 35 |
| Sugar (g) | 9 |
| Vegan | No |
| Flavours | 2 |
| Price (CAD) | 3.00 |
| All Micronutrients? | Yes |
2. HLTH Meal – Best Low Carb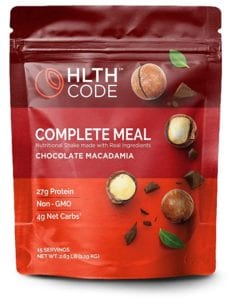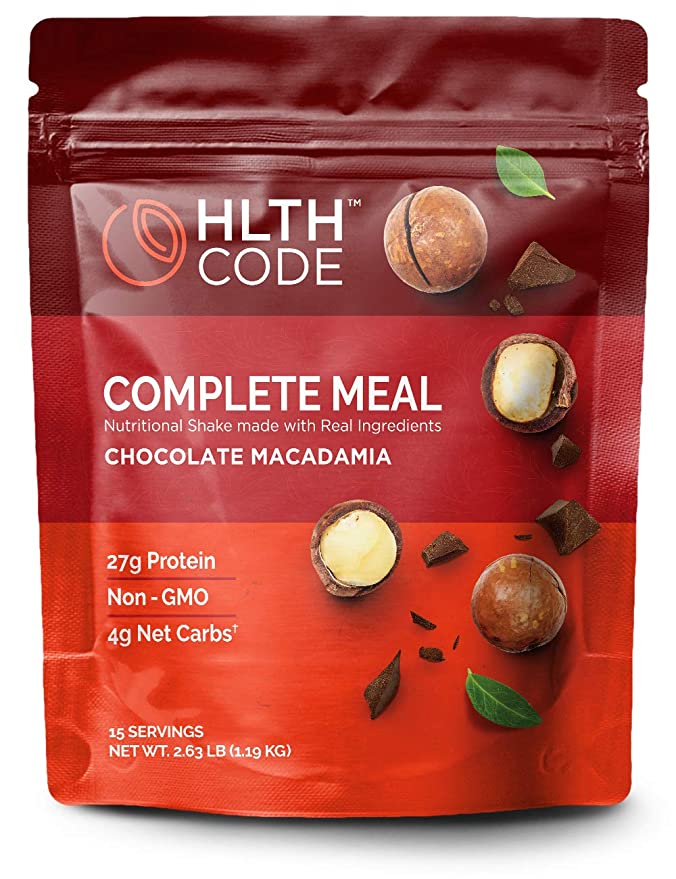 So what if you want a keto shake? Getting good quality keto meals in Canada is not as easy as in the US, but HLTH Complete Meal is the ideal solution.
With only 4g of net carbs, 27g of high-quality fat (olive oil, coconut, MCTs) and 27g of protein per serving; you can get an easy tasty keto shake anywhere. Plus, you will get 50% of your daily vitamins and minerals per serving.
Plus, the Chocolate Macadamia is simply delicious. Make eating keto easy with HLTH shakes.
Key Stats
| | HLTH Complete Meal |
| --- | --- |
| Form | Powder |
| Energy (kcal) | 400 |
| Macros (C/P/F) | 13/27/60 |
| Protein (g) | 27 |
| Sugar (g) | 2 |
| Vegan | No |
| Flavours | 2 |
| Price (CAD) | 4.23 |
| All Micronutrients? | Yes |
---
3. Ambronite Complete Meal Shake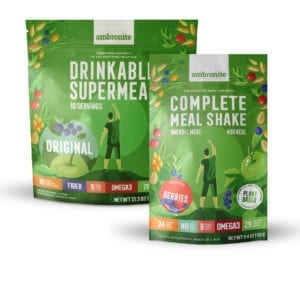 A shake made from real food, without any GMO ingredient, soy free and wheat free. Sounds good? Try Ambronite's Complete Meal Shake.
This is one of the best natural shakes in the market that will help you to feel great.
It comes in three flavours: Banana, Berries and Ginger&Apple. This last one is my favourite by far. Incredibly refreshing and unique taste. Only issue is that price per shake starts at $6.5/400kcal. Buy in bulk for better deals.
Otherwise, you can opt for Balanced Meal Shake. A more affordable meal shake, although it does not have all micronutrients.
| | Complete Meal | Balanced Meal |
| --- | --- | --- |
| Form | Powder | Powder |
| Energy (kcal) | 400 | 400 |
| Macros (C/P/F) | 41/24/35 | 41/21/38 |
| Protein (g) | 24 | 20 |
| Sugar (g) | 12 | 12 |
| Vegan | Yes | Yes |
| Flavours | 3 | 3 |
| Price (CAD) | 5.92 | 5.16 |
| All Micronutrients? | Yes | No |
Ambronite contains mostly naturally occurring sugars.
---
4. Soylent Drink – Best RTD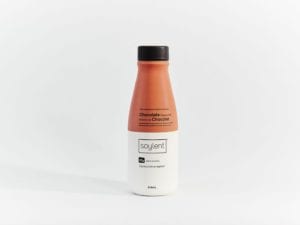 As far as Ready-to-Drink meal replacements is concerned, Soylent Drink might be your best option. Both the Cacao and Original flavour are some of the tastiest vegan shakes you can buy in Canada. Sadly, they are a little pricey.
If you are looking for a caffeinated kickstart to your mornings, Soylent Cafe Mocha is not a bad option, either.
Besides, you can always enjoy the more affordable powder option. These are similar to the RTD, even though they might not be as silky.
Key Stats
| | Soylent Drink | Soylent Powder |
| --- | --- | --- |
| Form | RTD | Powder |
| Energy (kcal) | 400 | 400 |
| Macros (C/P/F) | 33/20/47 | 37/20/43 |
| Protein (g) | 20 | 20 |
| Sugar (g) | 9 | 16 |
| Vegan | Yes | Yes |
| Flavours | 3 | 2 |
| Price (CAD) | 4.75 | 2.51 |
| All Micronutrients? | Yes | Yes |
---
5. Superbodyfuel – Best Variety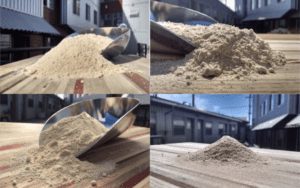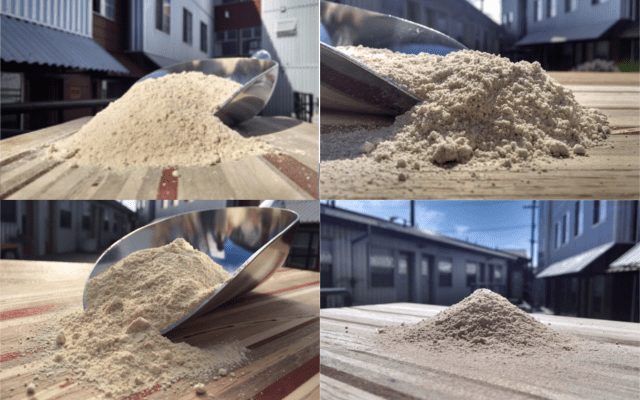 Last but not least, we have Superbodyfuel, a US-based company with affordable meal shakes.
They provide you with 4 different powder options: Milk Fuel (cheapest), Athlete Fuel (extra protein), Super Fuel (low carb), and Keto Fuel (keto).
For all of them, you will be required to add extra oil or milk to make the shake complete. However, the base powder will provide you with micronutrients, protein and complex carbs. This has 2 advantages, lower base pricing and the ability for you to customize the drink as you wish.
Besides, you will be able to get up to 6 flavours, therefore making it harder to get bored of the shakes.
Key Stats
| | Milk Fuel | Athlete Fuel |
| --- | --- | --- |
| Form | Powder | Powder |
| Energy (kcal) | 500 | 650 |
| Macros (C/P/F) | 45/20/35 | 40/30/30 |
| Protein (g) | 27 | 49 |
| Sugar (g) | 23 | 23 |
| Vegan | Yes | Yes |
| Flavours | 7 | 6 |
| Price (CAD) | 1.59 | 3.18 |
| All Micronutrients? | Yes | Yes |
As recommended serving. Macros will depend on how much milk/oil you add.
Interesting Resources:
1. Reddit thread about why Soylent is still banned. Many people discuss about the reasons why Soylent is banned in Canada and give different arguments than the ones that appear here. If you type "canada" in r/soylent you will get multiple threads discussing the topic. Outdated
2. Soylent's FAQ about why is banned in Canada. Outdated
3. Sign in to get to know when Huel Canada will be available.
4. Labelling laws in Canada. An in-depth powerpoint on how to label products in Canada.
5. Rules that a meal replacement product needs to comply in order to be legal in Canada.
6. Canadian import rules in goods received by mail or courier.
7. More on Soylent and CFIA interactions. Check page 15 and 16.