Are Queal Shakes the Best I Have Tried? | Review
An in-depth review of Queal, the up-and-coming meal replacement brand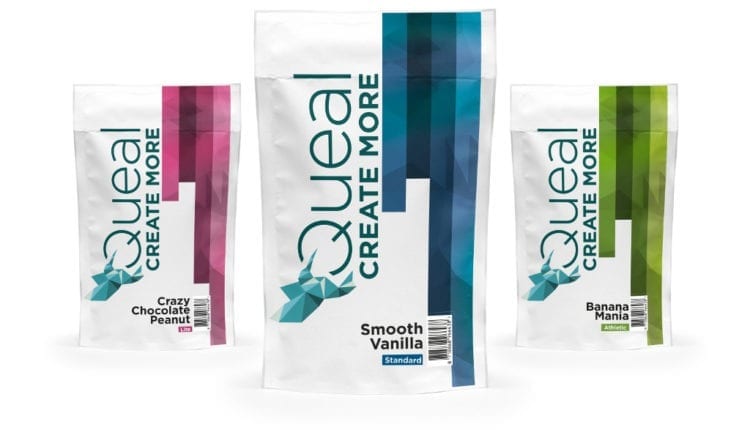 The naming of the brand explains it all, QUick mEAL, aka Queal, is a meal replacement aiming to deliver the highest quality products for your quick consumption. Queal ensures you are getting all the nutrients you need on a daily basis by providing carefully engineered food replacements. For that, they offer powder based meals (Steady Standard, Agile, Athletic and Vegan) on various flavours.
In fact, the community considers Queal to have some of the tastiest shakes in the market; so in this Queal review I wanted to check that. Let's see what Queal has to offer; and if they really are as tasty as people say.
In summary, Queal is a great brand with incredibly competent prices and a great selection of meal replacement products. Their powder meal replacements are one of the tastiest in the market, and very easy to like. Big thumbs up!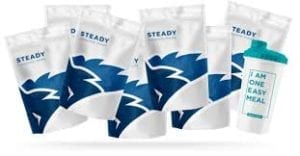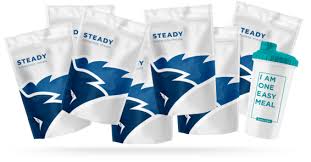 What I like
Taste
Range of Products: flavours, nutritional profiles, product types etc
Customer Service
Taster Version!
Limited Edition flavours
Worldwide presence
As mentioned I love the wide variety of flavours and at this stage I cannot get enough of Cool Chocolate and Happy Chocolate Hazelnut!
Another of Queal's strengths is their product variety and the quality of each product they release. With a powder version for each user (Agile, Standard, Athletic and Vegan) and a meal replacement bar among the best of the market. However, they also offer a nootropic product and a "chewable" meal replacement (Instant oats).
Perhaps, one of the coolest things about Queal is that they release limited edition flavours from time to time. In dates like Christmas they incorporate new flavours to adapt to the seasonal moods.
Finally, worth mentioning that you can get all these products worldwide, mostly for a reasonable shipping fee. For the US and Canada is a flat $25 fee after $75 order.
What I dislike
Mixability issues in their powder products
Lowered protein content
Sugar content
Queal offers nutritionally good products. With the recent 5.0 evolution of their powder products, they have shown they are ready to adapt. However, some of those adaptations are not great in my opinion. One of Queal's trademarks was the high protein content, which no longer is true after reducing it by 33%.
Some users have reported mixability issues with the powders, but we have yet to encounter any. In fact, with the new formula this should be lessen.
At last, I believe that the shopping experience and clarity can be improved as well. Nevertheless, I must say that this has improved considerably over the last year.
Improvements
Shipping Costs Reduced (Free in EU)
Neutral and Savoury Flavours
RTD
While I have praised the quality of their flavours, I feel that they can get tiring because all of them are sweet flavours. I would like to see a neutral flavour (so the user can customise it) and/or savoury flavours that can offer a good alternative.
Finally, with the current market trends favouring RTD products (Jimmyjoy releasing theirs in September 2018 and Huel at the end of 2018), it is time for Queal to follow the same footsteps if they do not want to fall behind. I would love to try a RTD from them.
What PRODUCTS does Queal offer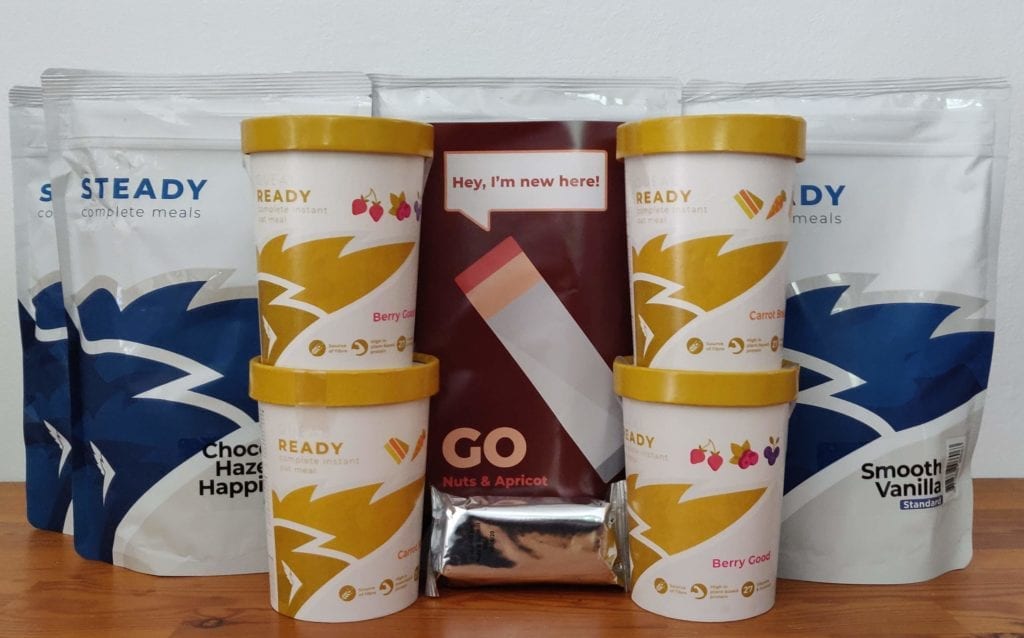 Queal offers four types of products:
Meal replacement powders; Queal Steady line. Standard, Athletic (sports variant), Agile (diet) and Vegan are part of it.
Meal replacement bars: GO Bars.
Breakfast options: Queal Ready (Instant oats).
Nootropic: Flow (Booster).
Queal Steady Standard
Meal Replacement
Powder
700kcal/meal
€2.33/meal
Soy, Gluten, Dairy
---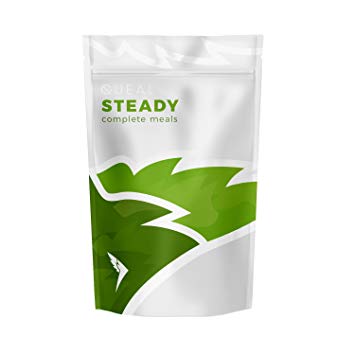 Queal Steady Athletic
Meal replacement
Powder
766kcal/meal
€2.5/meal
Soy, Gluten, Dairy
---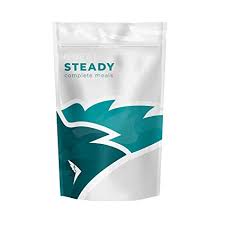 Queal Steady Vegan
Meal replacement
Powder
700kcal/meal
€2.5/meal
Soy, Gluten
---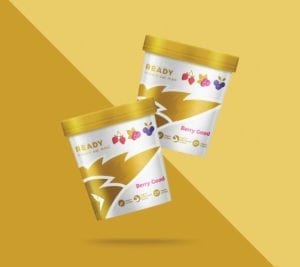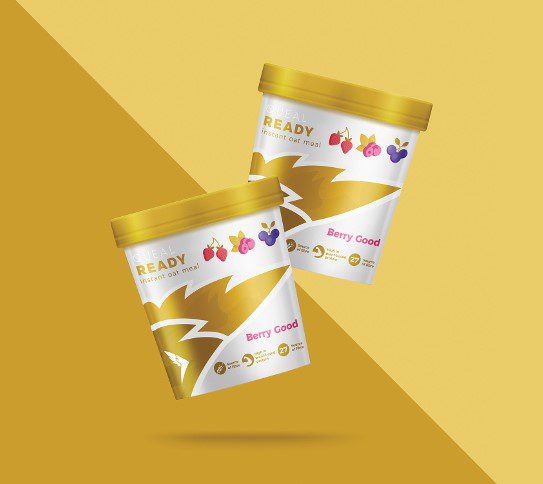 Queal Ready Instant Oats
Meal replacement
Solid
400kcal/meal
€1.6/meal
Soy, Gluten
---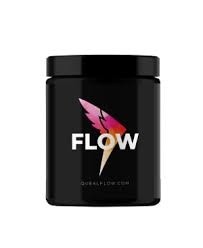 Queal Flow
Nootropic
Powder
0 cal
€2/serving
Contains Guarana
---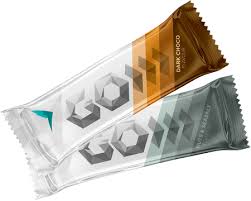 Queal GOBar
Meal Replacement
Solid
207kcal/bar
€1.5/meal
Soy, Gluten, Nuts*
Taste Taster
Queal Taste Taster is available for each one of the Steady products. It is the best deal by far when purchasing Queal, as you will get 7 pouches of your Queal of choice (in case of Queal Steady one of each flavour) and a shaker. This will provide you with 21 meals of pleasure and lets you decide which flavour you like best before commiting to any.
Try-Out Deal
This is the best way to start with Queal currently. It includes all the Queal products for €49, which is a 33% reduction of the total combined cost! The package includes:
9 Queal Steady meals (3 bags) in 3 different flavours: Chocolate, Banana and Strawberry.
2 GO Bars, one on each flavour: Nuts&Seasalt and Dark Chocolate.
A Flow jar, Queal's excellent nootropic product that you can have with water or add to your Queal shakes.
A shaker, a scoop and a booklet with explanations.
Taste Tester vs Try-Out Deal
The taster allows you to try all the different flavours for one product (Steady Standard, Agile, Athletic or Vegan). The try-out deal is for you to try all the different products (but only one powder product).
I want to share my experiences with the Queal powder products or the Steady line; so here are some brief reviews on each one of them:
Brief Queal Standard Review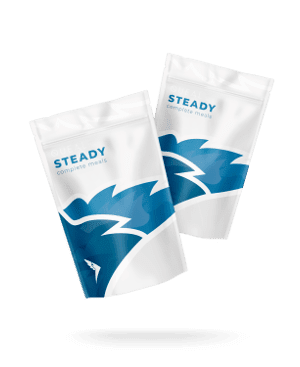 Flavours: Awesome Apple Pie, Cool Chocolate, Funky Forest Fruit, Super Strawberry, Smooth Vanilla, Banana Mania and Chocolate Hazelnut Happiness.
Queal Steady Standard is the ideal choice for most and one of the best Huel alternatives in both EU and US. It provides with 700kcal per serving with a 46C/20P/34P macronutrient spilt. Out of all the variants, Steady Standard is the one that gets all the limited editions.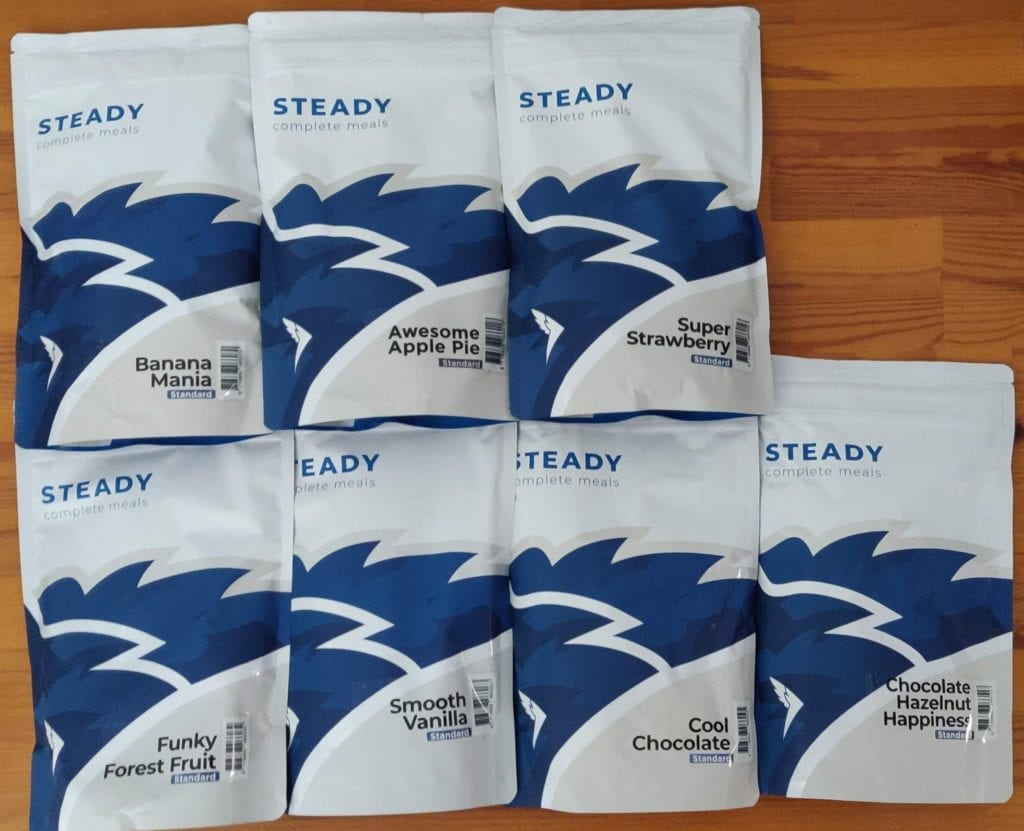 It is, also, the most affordable of the bunch costing €1.33/400kcal without taking into account the 15% subscription discount. Truly, the best one to consume on a daily basis.
While all flavours are pretty good; I would say satiety is something Queal might fail for you. The shakes are fairly thin and you do not need much water volume to mix them. Thus, even if this makes them easier to drink; you are likely to feel hungry faster too.
Macronutrients per serving (g)
Protein(g)
Carbs(g)
Fiber(g)
Fats(g)
% of Energy from each macronutrient
Carbs 46%
Prot 20%
Fats 34%
% of Recommended Intake per serving
RI based on 2,000kcal
RI based on 2,500kcal
---
Brief Queal Steady Athletic Review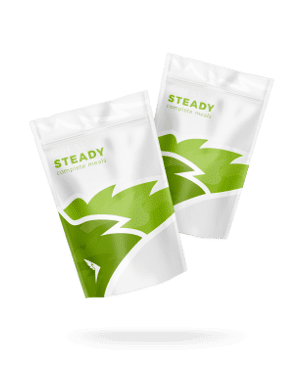 Flavours: Awesome Apple Pie, Cool Chocolate, Funky Forest Fruit, Super Strawberry, Smooth Vanilla, Banana Mania and Chocolate Hazelnut Happiness.
Who Is Queal Athletic for?
Are you a sportive person, active, enjoy weightlifting or struggle finding protein sources in your diet? Then, Queal Athletic is the ideal food replacement for you. It provides you with 766kcal and 49g of protein per shake.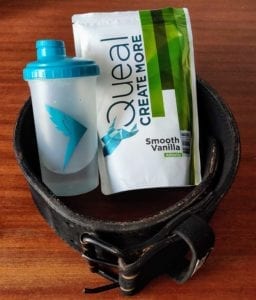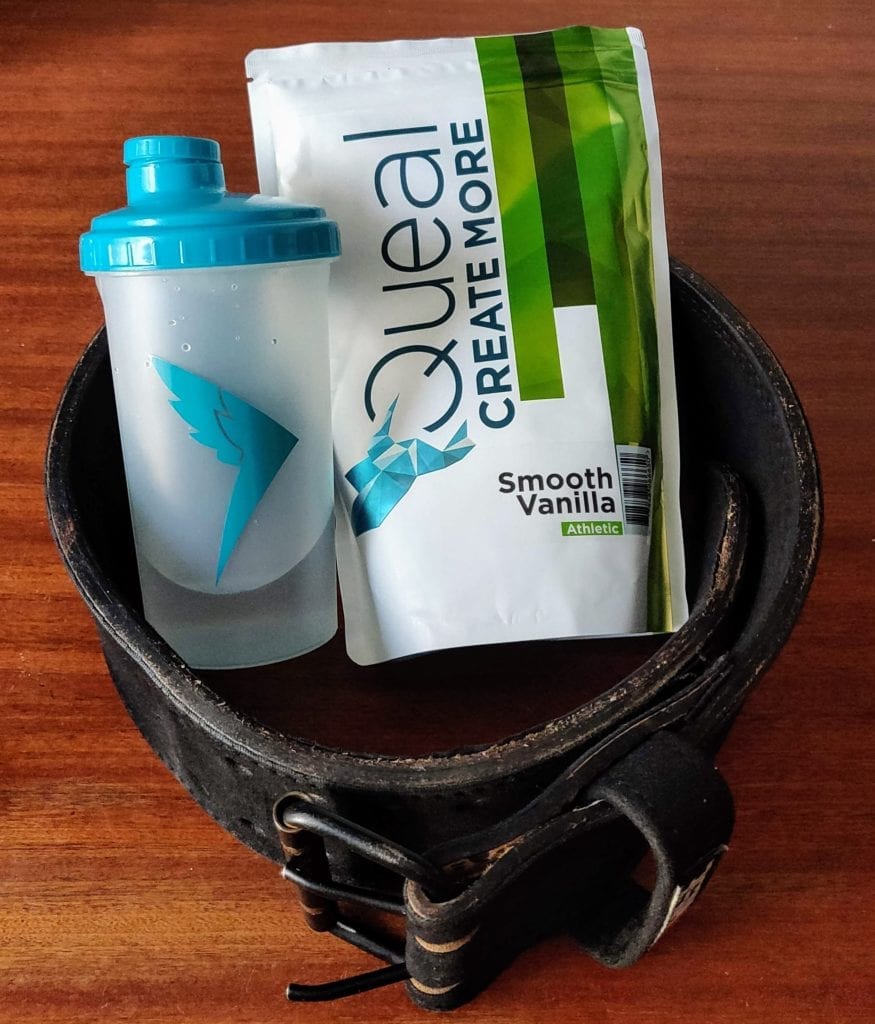 How Is the Taste?
Incredibly delicious, in any of the flavours provided. My personal favourite, Happy Chocolate Hazelnut, but if you are more of a fruity person, I would recommend you the Strawberry or the Banana Mania flavours.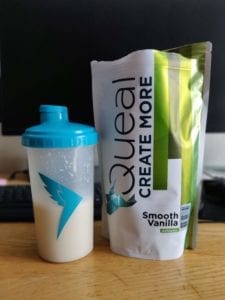 Queal Athletic Cost
€2.5 or £2.33 per meal (766kcal), plus shipping costs. While it might seem expensive, this is€1.48/400kcal without any discounts. You can buy it through the Queal website and get a subscription for 15% off.
If you are a first time buyer, you will be gifted with a practical shaker and an intro booklet. In fact, if you are a first time buyer I would recommend you going for the Taste Tester (€56/$49) that will allow you to try all the different flavours.
Queal Athletic Nutrition in Short
Macronutrients per serving (g)
Protein(g)
Carbs(g)
Fiber(g)
Fats(g)
% of Energy from each macronutrient
Carbs 40%
Prot 27%
Fats 33%
% of Recommended Intake per serving
RI based on 2,000kcal
RI based on 2,500kcal
---
Brief Queal Vegan Review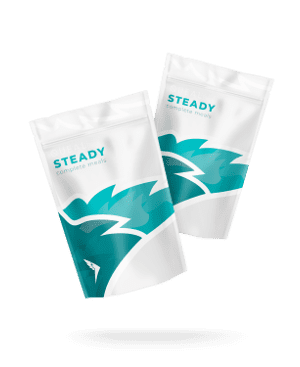 Flavours: Banana Mania, Chocolate Hazelnut Happiness Flavour and Smooth Vanilla Flavour.
Ingredients (Banana Mania): Whole Grain Oats Flour (Gluten), Isomaltulose, Maltodextrin, Soy Flour, Vegetable Oil (Sunflower- & Linseed), Pea Protein, Rice Protein, Vitamin and Mineral Mix ( Potassium Dihydrogen Phosphate, Sodium Chloride, Choline Bitartrate, Calcium Carbonate, Vitamin C, Vitamin E, Chromium Chloride, Potassium Iodide, Ferric Pyrophosphate, Vitamin B3, Soduimselenite, Vitamin A, D-biotin, Vitamin B5, Sodium Molybdate, Magnesium Oxide, Vitamin B12, Zinc Oxide, Vitamin D2, Copper Sulphate Monohydrate, Vitamin B6, Vitamin K1, Vitamin B9, Vitamin B2), Glucose Syrup, Natural Flavouring, Emulsifier: Sunflower Lecithine, Rainsing Agent: Sodium Bicarbonate, thickener: Xanthan Gum & Modified Starch, Anti-caking agent: Silicon Dioxide, Antioxidant: Rosemary Extract, Sweetener: Sucralose.
Steady Vegan vs Standard; Which Is Better?
Despite being almost the same as Steady Standard, Queal Vegan has a different protein source to the other three. The plant-based formula uses pea+rice protein instead of whey protein.
Personally, if you do not have any dietary requirements, I would recommend the whey protein mix.
Queal Steady Vegan also has less flavour options and tend to not have many limited editions.
Thus, I would go for Queal Standard, if I had to choose.
Nutrition
Macronutrients per serving (g)
Protein(g)
Carbs(g)
Fiber(g)
Fats(g)
% of Energy from each macronutrient
Carbs 48%
Prot 19%
Fats 33%
% of Recommended Intake per serving
RI based on 2,000kcal
RI based on 2,500kcal
So after all the gibberish about nutrition, let's get down to the real question, does it taste good?
The short answer is yes, Queal Steady tastes amazing in all its variations.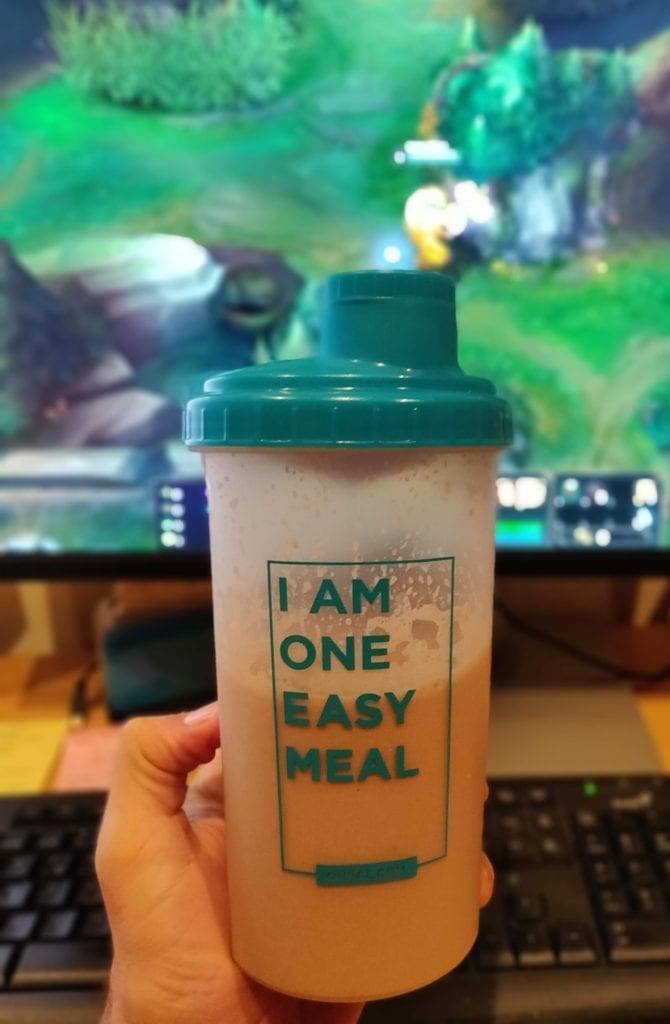 All in all, it was a very pleasant meal, easy to drink and with a nice aftertaste. I felt slightly hungry, straight after finishing, but that feeling went away in less than 5 minutes and I did not think about eating in the next 4 hours. Which is quite an accomplishment, since I'm used to eat every 3h! I would like to remark that I did not feel bloated or overly full, but rather re-energized and refocused.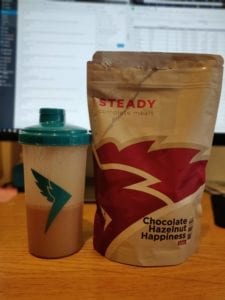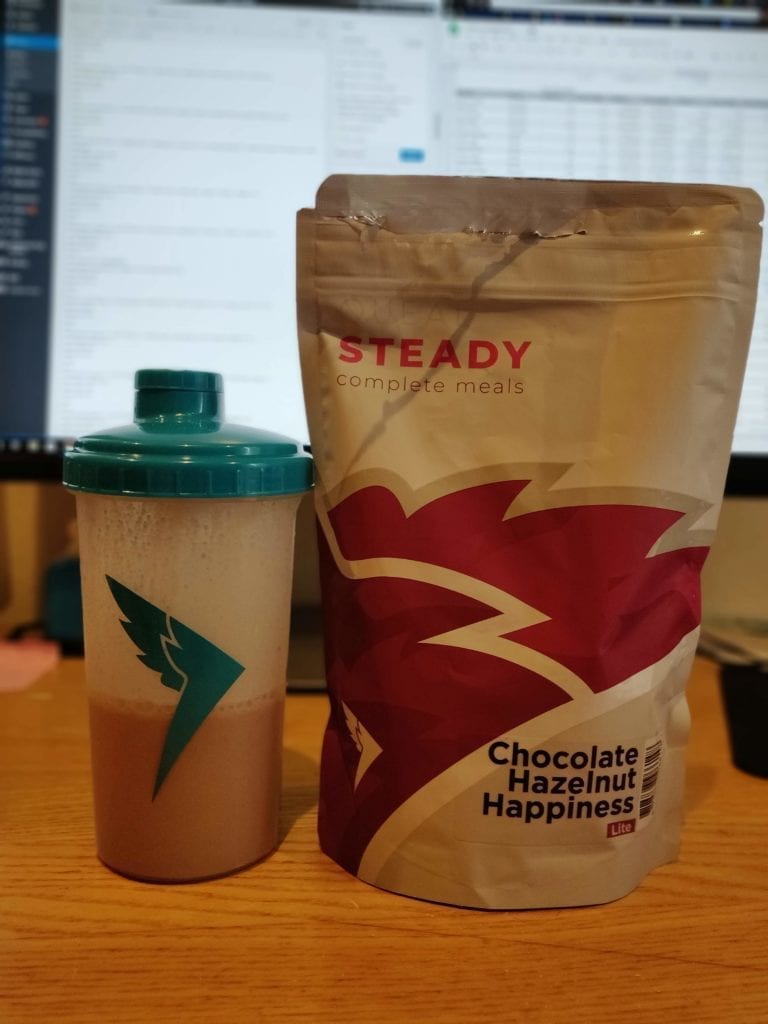 Which Queal Steady Tastes Best?
I have to say that all the Queal flavours are sweet. I found the Queal's chocolate options to be some of the best of the market, while the vanilla and the fruity ones were OK. Most shakes improved a lot with some milk (30milk/70water upwards) and I would strongly recommend it.
Chocolate Hazelnut Happiness (A+). Best out of the two chocolate flavours, because I personally enjoy the touch hazelnut gives to it.
Cool Chocolate (A+). With milk it tastes like a good chocolate milkshake, just slightly thinner and without the factory-blend smoothness (which I do not mind).
Awesome Apple Pie (A). For me it is the cinnamon touch, which is king in this flavour. It is fairly sweet and actually tastes like apple pie.
Morning Macchiato (B). Enjoyable coffee touch, which I would recommend consuming with at least 50/50 milk-water mix.
Super Strawberry (B). Do no expect to be a strong strawberry shake (For that I would recommend Next Level Meal Strawberry). However, the shake itself is really nice to drink.
Smooth Vanilla (C). Reportedly, many users like this. I personally enjoy stronger vanilla flavours. In my opinion, this is the closes you can get to a neutral flavoured Queal Standard. While not unpleasant, I did not think much of it.
Funky Forest Fruit (C). Similarly to Vanilla, I found the flavour to be to plain and not distinguishable enough. I would have liked some more character (like added bitterness).
Banana Mania. This flavour is probably great if you like Banana. I just simply do not enjoy it.
A+  Stand-out/Favourite
A    Very Good
B   Good
C   Nothing special (not bad, just average)
The powder versions of their complete foods are comprised of whole grain oat flour (35%), whey protein (15%), corn maltodextrin (15%), isomaltulose (15%), soy flour (10%), vegetable oils (8%) and vitamins and minerals (1%).
The Steady shakes are designed to provide you with 1/3rd of your nutritional needs per shake, unlike many others which offer with 1/5th per shake.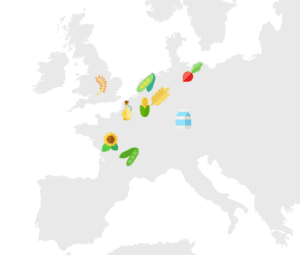 Protein
Per serving:
Queal Steady: 35.2g/700kcal.
Queal Athletic: 49.8g/766kcal.
Queal Agile: 30.1g/600kcal.
Queal Vegan: 30.9g/700kcal.
Queal used to be a brand where all the products were really high in protein. With the v5.0 update, Queal reduced the amount of protein by about 33% in their shakes. Not a decision I particularly like.
However, all Queal products will give you plenty of protein and above the European Food Safety Authority (EFSA) recommendation of 0.83g of protein per kg of body weight. This is, between 67g and 114g for adult males while 59g to 102g on non-pregnant women.
Whey vs Pea + Rice
All Queal products, except Queal Vegan, use whey protein as source. Whey protein is a top quality product due to its bioavailability, digestibility and muscle synthesis promotion being among the highest. It has also been linked with positive effects in decreasing muscle mass loss and bone issues in the elderly.
Queal Vegan uses pea protein plus rice protein, a combo also used by others, such as Huel. While this combination ensures a balanced amino acid profile; it does not have as high of a bioavailability as whey protein. Paired with the fact that has less than the others, Queal Vegan might not be the ideal shake to support your gains.
Carbohydrates
For those with more sedentary lifestyles, Queal still provides almost 80g of carbs per meal. The glycemic index of Queal shakes has been decreased to around 50 (not the lowest in the market by any mean); even if the sugar content has been increased.
This is due to isomaltulose, a carbohydrate classified as sugar that has a low GI (32), which means that it does not cause a big spike in blood sugar. With this, Queal uses maltodextrin and whole grain oat flour.
Queal shakes also provide 14g of fiber per meal in average, which is about 60% of the RI.
Fats
Regarding dietary issues, the damaging trans-fats are removed from the final products and they contain virtually none (0.1g/100g of product).
Similarly, Queal meal drinks are also within the recommended saturated fats range (13g according to the American Heart Association). Each serving of Queal Standard provides 3g of saturated fats for a total of 9g per day. Remember, diets with high saturated fat content have been linked with high heart disease risk!
If we look at the 'good' fats, each serving of Queal products has 5gr of monounsaturated fats, 7.67gr of polyunsaturated (both within EFSA and USDA recommendations) and include 2.5g of alpha-linoleic acid (omega-3 fatty acid).
Allergens
Be aware that their products might contain soybeans, egg, gluten and/or milk!
Queal was founded in 2014 by Floris Wolswijk and Onno Smits with the aim of increasing people's life quality. They wanted to achieve this by ensuring efficient, balanced and tasty meals, while helping them develop healthy nutritional habits. They've reached the milestone of providing more than 1 million meals and continue to iterate on their products and expand into new markets.
Checkout the Queal timeline to learn about their growth, as well as, upcoming prospects and things they are currently working on (very interesting).
The Importance of Customer Feedback
Queal is very prompt and active interacting with their customer base, especially through their forum but also through the customer dashboard.
The Queal dashboard (recently launched as phone app) is one of the best portals to manage your subscription, earn rewards and/or give feedback; I have seen. You can earn points by buying, referring friends, posting on the forum or through other channels and later cash them in for rewards.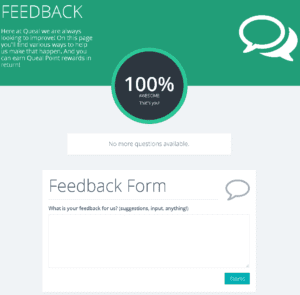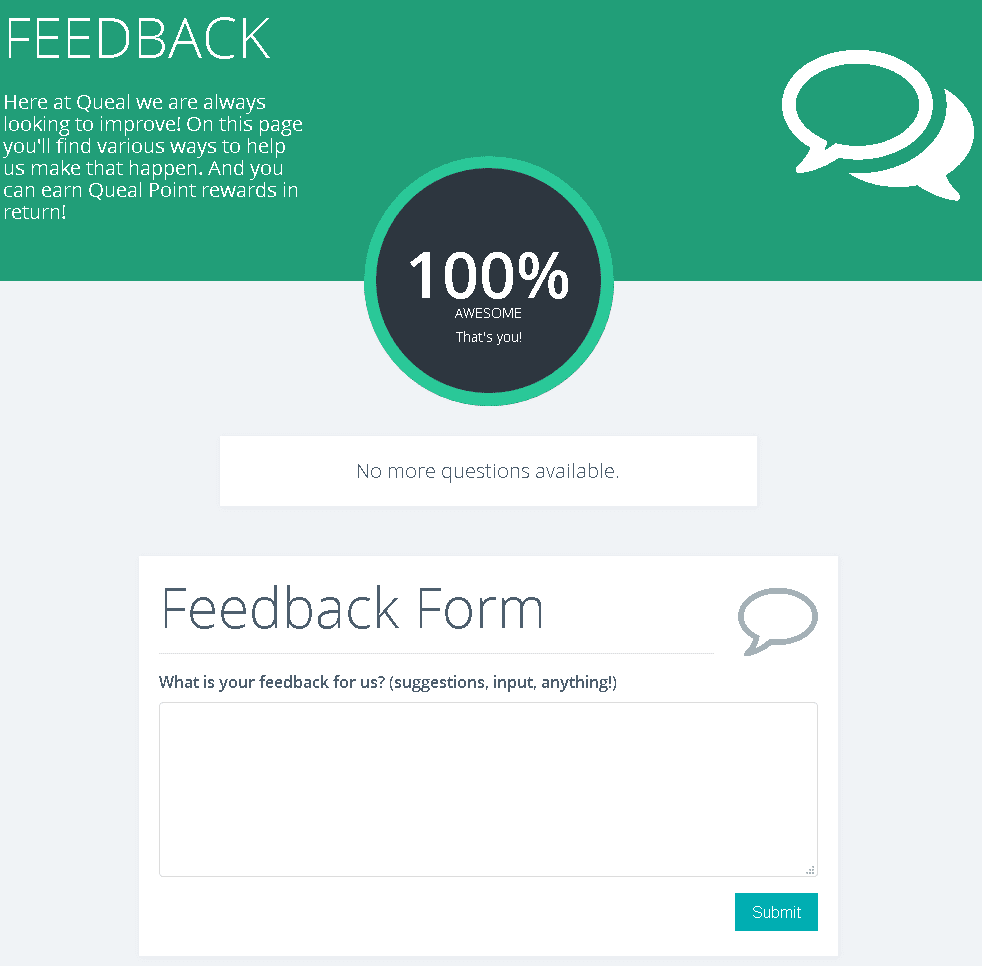 With the customer feedback, Queal has aimed to obtain more information about what people think about their products. Effectively, they have released the answers to the some of the biggest queries made by the customers, including: bag size, Queal Agile pricing, bulk packaging, US shipping… Great effort of transparency.
Besides, let me tell you a little secret. There are some Easter eggs hidden in the site if you dig deep enough to find them. Good luck in your hunt!
Queal Shipping Policy
Queal, unlike many of its competitors, ships worldwide. Great! However, there are few issues:
1-You live in the US? Unfortunately, Queal has decided that their warehouse in the US was not profitable enough and they moved back operations to the EU. This is mainly bad, but there is also good news.
The bad first: Shiping cost will be $25 in orders above $57.
The "good": US customers will be able to access all Queal products. I guess we will have to look at the silver lining
2-You live in the EU? Ill luck. Shipping cost will vary depending your country, and Queal has yet to implement a free shipping alternative. Living in the old continent has its flaws. Deliveries will still be quick.
This shipping cost will be unclear until you go to the cart and are ready to buy the product. Should not be higher than 8€ for most countries.
3- Some Canadian consumers have reported that they had to pay duties in their orders. You may want to ask in the forum or to their customer service before purchasing.
Return Policy & Subscription
If for some reason you do not find yourself satisfied with the product -we would be surprised- you can return your order 14 days after arrival for a refund. Unfortunately, they do not cover the return shipping cost, so it might not even be worth it.
For those looking for more regular purchasing, they run a 30-day subscription program and enjoy a 15% discount.
Queal US, Still Worth Buying?
US Queal customers were able to enjoy great shipping terms (free after $30) at the cost of product range (because it was not manufactured in the US). Now, it is the other way around. US Quealers can enjoy the whole range, but they will not have free shipping. It will cost $25 and will take 5-10 days.
What do you think? A downgrade or not so bad?
Quick maths on costs before and now using Queal Standard (US):
Ordering 8 bags of standard now (to meet $57) costs $90 or $11.25 per bag or $2.13 per 400kcal (note this will go down the more bags you order)
Before 8 bags cost $65 or $8.17 per bag or $1.55 per 400kcal.
This is 138% the price it was before.
10 bags= $106.66 = $10.6/bag= $2.02/400kcal   30 meals
20 bags= $188.33 = $9.41/bag= $1.79/400kcal   60 meal
30 bags= $269.99 = $8.99/bag= $1.71/400kcal   90 meals
US Quealers do you think you will keep buying from Queal?
Are Queal products vegan?
No, only 3 products are vegan: Queal Vegan Powder, Queal Ready (instant oats) and Queal Go (bar).


Are Queal products GMO free?
Yes, Queal shakes contain no GMO ingredients.


Can I buy Queal from the US?
Yes, Queal delivers worldwide. For the US, there is a flat fee of $25 for orders above $75.


Can I drink Queal if I am diabetic?
Yes, but I would recommend checking with your doctor first.



---
Verdict
So are Queal shakes some of the best I have ever reviewed? In short, yes.
Queal's strongest points are the taste and the value for money the shakes offer.
In fact, Queal Powders (Steady) have an unparalleled flavour variety and the taste of the shakes is among the best in the market. Particularly, Chocolate Hazelnut and the surprising Apple Pie.
Besides, Queal is one of the best brands in the market because it provides high quality shakes for different nutritional goals. While Athletic is great for those with bigger energy requirements (active people, athletes, etc); Queal Standard suits me better, and Vegan will be OK for those avoiding dairy.
Regarding the other products, Queal GO Bar is one of the best meal replacement bars available currently; and Flow is a very efficient nootropic (while not very good tasting).
Queal Steady
€1.13/400kcal
Pros
Great range of flavours; up to 8
Very yummy shakes, easy to like
4 powder options: Standard, Vegan, Athletic and Agile
Monthly Limited Editions with new flavours
Really good price, especially when subscribed
Cons
Contains maltodextrin and isomaltulose
All flavours are sweet, no Unflavoured option
Thin and small shakes might not fill you up like others