Cosamin ASU Reviews | Can You Relieve Joint Pain in 7 Days?
Welcome to this Cosamin ASU review, a look into their supplement for joint health.
The truth is that joint pain becomes an integral part of our lives. Up to one quarter of all Americans suffer from joint issues like inflammation, chronic pain and lack of flexibility.
That's the reason that we are pushed to look for the best joint supplements. I know that it was what pushed me to search and research all the joint supplements I could in order to find the best.
One brand that I read a lot about was Cosamin joint health supplements. The fast acting advance joint formula promised all I needed:
Pain relief
Increased joint mobility
Improved joint health
Unfortunately, like highlighted by other Cosamin ASU reviews, all Cosamin joint health supplements lack the ingredients required for proper joint support.
But more on that later on this Cosamin Review
In a hurry? Here are 5 takeaways:
Only 2 ingredients with science backed benefits
Proprietary blends hide the exact quantities
All Cosamin ASU joint health supplements are at best mildy-effectve
No omega-3, resveratrol, curcumin…
Not a top 5 joint supplement
For $8 more a month, you can get the best joint supplement in the market: Flexagain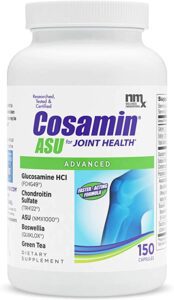 Quick Links
---
What Are the Ingredients of Cosamin ASU Joint Health Formula?
So what are Cosamin ASU ingredients? Is there anything effective in their advance joint formula?
Before diving deeper into that, we need to remark that, at Latestfuels, we strongly dislike proprietary blends. More often than not they are used to hide the quantities of ingredients and include fillers that your body doesn't need, like it's the case in Omega XL.
Below, you have the supplement facts of Cosamin ASU. Note that the different Cosamin formulas will have slightly different ingredients.
Glucosamine HCl (1,500mg)
Sodium Chondroitin Sulfate (350mg)
Concentrated ASU Blend (400mg)

Soy Unsaponifiables
Avocado Unsaponifiables
Soy Protein Isolate
Natural Mixed Tocopherols
Boswellia serrata, (?mg)
Decaffeinated Green Tea Extract (?mg)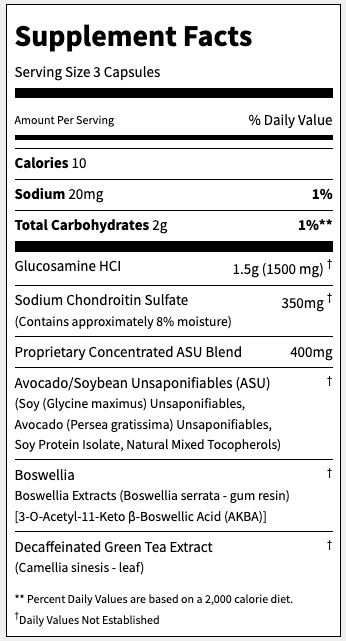 1. Glucosamine HCL – 1,500mg
On the positive side, Cosamin ASU has a scientifically effective dose of glucosamine, which is not the case in other joint supplements like Flexitrinol.
In fact, research has shown that glucosamine hydrochloride can be used as a treatment for osteoarthritis.
Furthermore, it has also considered effective for pain relief in RA patients and might even improve joint flexibility in people suffering from OA.
2. Chondroitin Sulfate – 350mg
Commonly found together with glucosamin HCL (and MSM), it has important roles in reducing inflammation. Thus, it can be effective against swollen joints.
That said, the current understanding is that doses of up to 1,200mg per day are required for chondroitin to be effective.
3. Proprietary Blend, 400mg
This is one of the big red flags in the Cosamin ASU formulation.
That aside, the evidence for avocado and soy unsaponifables in joint pain relief is weak at best. According to these studies, ASUs could reduce pain and stiffness, as well as, prevent OA progression. These were carried out by employees of pharmaceuticals providing the ASUs.
Besides, the addition of Boswellia serrata is a welcome one. The effective dose of the purest form of Boswellia is 100mg, so it could be in an effective dose. That said, we cannot know it for sure.
What Are the Benefits of Cosamin ASU Joint Support?
These active ingredients work together to decrease the markers associated with cartilage breakdown and joint discomfort in our advanced formula.

The ingredients in Cosamin ASU promote a positive response associated with cartilage protection and joint comfort. Laboratory studies show that the combination of ingredients in Cosamin ASU decreases levels of markers associated with cartilage breakdown and joint discomfort.*
In plain English, Cosamin joint supplements are designed to:
Relief joint pain
Improve joint health by decreasing the rate in which they deteriorate
Funnily, Cosamin ASU claims to be a fast-acting formula (7 days), but the truth is that most joint supplements will take weeks to restore your joints fully. So, this is a rather bold claim.
Will Cosamin ASU Relief Joint Pain?
As discussed above, there are a few ingredients in the mix that specialise in joint pain relief, like glucosamin, chondroitin and the ASUs.
Both glucosamine HCL and chondroitin are in effective dosages, so you should see some minor improvements.
However, much of the joint pain is often cause by inflammation, and Cosamin ASU lacks ingredients that target this area.
For this, we would be looking to ingredients like omega-3 (anti-inflammatory) or resveratrol.
Joint Health Support
ASU from soy and avocado are the ingredients in charge of taking care of your carthilage and trying to slow down the breakdown.
While there is some research suggesting that they can be effective at stopping OA progression by stopping carthilage breakdown, they are mostly done in vivo human trials. There needs to be more research done to truly prove the efficacy of ASUs.
Does Cosamin ASU Work?
All in all, it is possible that Cosamin ASU might provide you with some mild benefits, particularly when it comes to joint pain relief.
That said, you will be missing on a more comprehensive approach of taking care of your joints, as you won't be reducing swollen joints, decreasing inflammation or increasing mobility.
For that, as mentioned earlier, you would need resveratrol, omega-3, curcumin or other ingredients often found in the best joint supplements.
What Are the Side Effects of Cosamin ASU?
Cosamin ASU side effects should be minimal, but it does contain soy, so it's not suitable for those who have a soy allergy.
There's also green tea extract, but it's decaf.
Some joint supplements do cause nausea, diharrea and vomits, so if you have any early signs you should stop taking Cosamin.
Cosamin Price
Before diving into the price, it's worth mentioning that Cosamin also offer other joint supplements besides Cosamin ASU.
These include:
Should you buy Cosamin DS instead?
The short answer is, no. Cosamin DS is a worst supplement than Cosamin ASU, since it lacks the boswellia (actually effective ingredient) and replaces it with low doses of vit C and manganese.
If they wanted to add vitamins, they should have added vitamin D and/or Vitamin K instead, like Physio FlexPro or Flexagain.
How Much Does Cosamin ASU Cost?
Cosamin is available on Amazon and on their own website. Furthermore, it's also available in Costco, Wallgreens and CVS.
Unlike with other popular joint supplements, we recommend buying Cosamin ASU or Cosamin DC from Amazon.
1 Tub (50 servings) –> $25.96 in total, or $0.72 per serving.
Is Cosamin ASU Worth It?
"Woah! So cheap!" it might be your reaction when you see the price.
While it's true that this is significantly cheaper than other top-tier joint supplements like Performance Lab Flex, you are getting what you are paying for.
There's a reason why there are so many effective ingredients missing: cosamin is not adding them to make it cheaper.
As such, you will get a joint supplement that might work, but you will be missing on a lot of stuff.
We don't recommend cutting down on health like that.
Real User Cosamin ASU Reviews
Luckily, we can compare our expert opinion with Amazon Cosamin ASU reviews and see if it really worked.
That said, it's always worth taking the Amazon reviews about Cosamin with skepticism, since they can be manipulated.
At a glance, Cosamin reviews on Amazon are very positive, with 4.6-stars out of 461 reviews (at the time of writing this).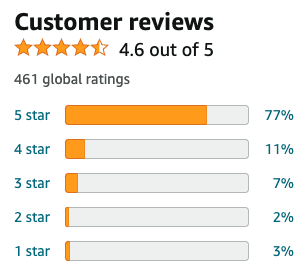 There are even some extremely positive remarks. It seems that Cosamin ASU does reasonably well for those who don't fare well with anti-inflammatory supplements (as we pointed out in this Cosamin review).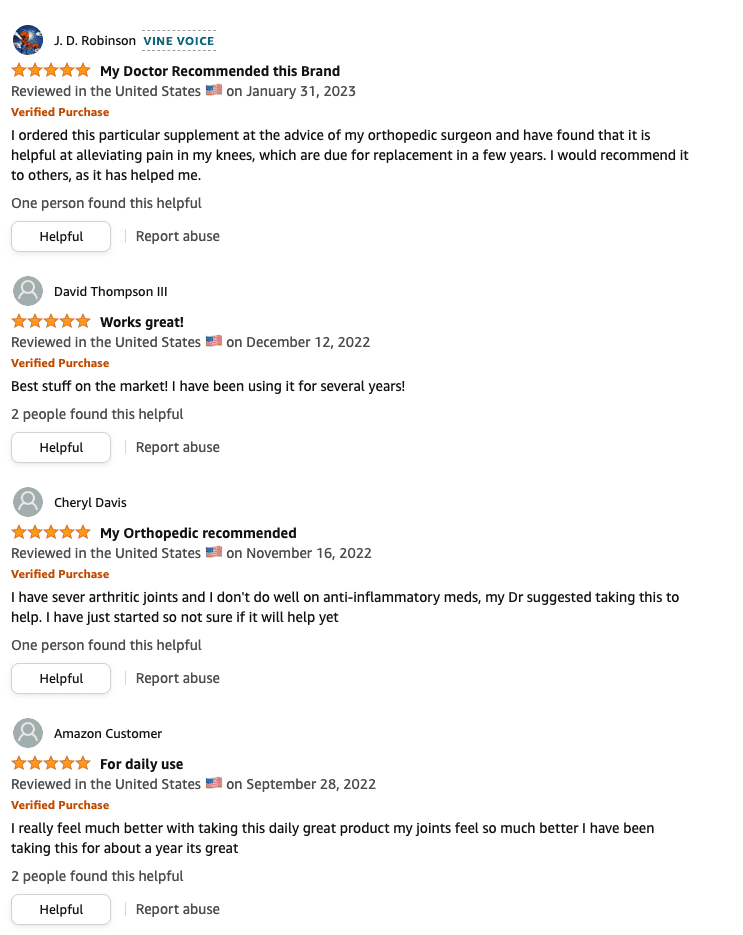 As for the more negative Cosamin reviews, most users highlighted that it did nothing for them. This could be due to them having more severe joint issues that Cosamin was just not enough for.
It is also worth noting that there was one instance where Cosamin ASU caused nausea. This could be due to Boswellia serrata, which is known to cause it.
Cosamin Reviews FAQ
What's the difference between Cosamin DC and Cosamin ASU?
As mentioned, Cosamin DC replaces Boswellia with low doses vitamin C and magnesium. This is a terrible trade, since you are trading one effective ingredient combating joint pain, for two that do nothing at low doses.

Does Cosamin contain soy?
Yes, Cosamin ASU has soy flavonoids.


Does Cosamin have any omega-3s?
No, Cosamin ASU does not have any omega-3 fatty acids
What Is the Best Alternative to Cosamin ASU?
Here at Latestfuels, we have done multiple joint supplement reviews, inculing Heal 'n' Soothe, Biotrust 33x, Megared 4-in-1, etc.
The truth is that most of the joint supplements are not as good as they could be since they end up sacrificing effectiveness for two reasons:
Providing you a smaller dose that's easier to swallow
Cost cutting
In our opinion, neither is worth it if you are serious about boosting your joint health and truly reducing joint inflammation while relieving the pain.
#1 Joint Supplement – Flexagain
That's why we only tend to recommend Flexagain.
This joint supplement has the most comprehensive formula with up to 11 active ingredients. And this ingredients are not in low dosages just to appear on the labels, but at effective doses.
For instance:
1,100mg of omega-3 fatty acids to combat inflammation
500mg of curcumin extract (2x what most brands offer)
Plus vitamin D, bromelain, ginger…
Consequently, Flexagain has a slightly bigger serving size (more capsules), but you can feel safe that you are tackling the different areas that matter.
Ultimately, diet pays a huge role on our joints health.
You cannot outbalance a crap diet with joint supplements. Whether you are not taking enough omega-3, vitamin D, vitamin K2, protein etc. will affect your body's ability to repair, recover and maintain healthy joints.
For instace, vitamin D deficiency is a common occurrence in RA patients.
Being overwieght or inactive also negatively affects your joints.
Due to that we recommend LYFEfuel Daily Essentials, the best meal replacement shake in the market that will provide you with all the nutrients you need in just 110kcal. They focus on providing you with nutrients your body tends to lack (omega-3, vitamin D, vitamin B12…) so that you can feel renergized and rejuvenated.
Like previously mentioned in this Cosamin ASU review, this supplement lacks omega-3 fatty acids.
However, these are essential anti-inflammatory agents with key roles in joint support, brain development, and eye health.
Yet, most Americans don't have enough of them.
As such, we recommend taking an omega-3 supplement, whether you end up buying Cosamin or not.
---
Verdict – Cosamin ASU Review, Incomplete
Once again, we've reached the end of this Cosamin ASU review.
In short, it's not the worst joint supplement we've ever tried and it even has some positive highlights:
Mildly effective against pain relief
Positive user reviews
Boswellia, chondroitin and glucosamin HCl in good doses
Affordable
As such, for people that are looking for an affordable joint supplement without any anti-inflammatory agents Cosamin ASU might work.
That's the key, though. For most people we recommend looking for joint supplements with anti-inflammatory agents, since they will reduce swollen joints and thus relieve joint pain more effectively.
For that, you will require a joint supplement that has omega-3 in large quantities, resveratrol and curcumin.
In our case, we like to recommend Flexagain, the most well-rounded joint supplement in the market.
Cosamin ASU
From $0.72/serving
Pros
Affordable
Mildly effective vs joint pain
Good dosages of Boswellia and glucosamin HCL
Positive user reviews
Cons
No anti-inflammatory ingredients
Not as effective as competitors
Lacks key ingredients
Worse than competition