Avantera Review | Why You Should Avoid these Nootropics & What To Buy
Have you ever felt tired and without any energy despite having rested plenty? Have you noticed that you can't focus or that you struggle to remember things? Yes, and so have I. And everybody else. That's why people have started using nootropics, aka products that can help you boost your focus and memory among other things. In today's Avantera review, we will check on of the most popular nootropic products in the US, and see if it's any good.
According to Avantera, Elevate and Unwind – their two nootropic products-, can help you clear your brain fog and feel energized. All of this using natural ingredients that are proven – we shall analyze the truth of this claim later on.
On top of that Avantera's premium nootropics have 4.8 rating in over 3,000 reviews. Sounds like a pretty good deal, doesn't it?
Spoiler: It's Not a Great Product
Here are two examples of better nootropics that we think will provide you with the cognitive boost that you are looking for:
Avantera Review at a Glance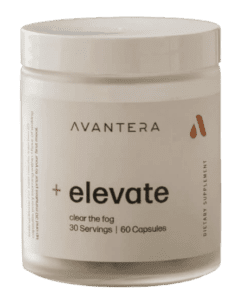 | | |
| --- | --- |
| From | US |
| Ships | US |
| Price/serving | $1.67 |
| User Reviews | Very Positive |
| Nootropics | 13 |
| LF Recommended | No |
Avantera claims to sell "premium" nootropics and has currently 2 formulas: Elevate (for focus and energy) and Unwind (for relaxation and stress relief). This US manufacturer claims to create products with 0 compromises to benefit the customer and make a positive impact in their lives.
Unfortunately, as you will get to find in this review, I feel like they've cut a few corners and despite providing your with affordable products, they're rather average.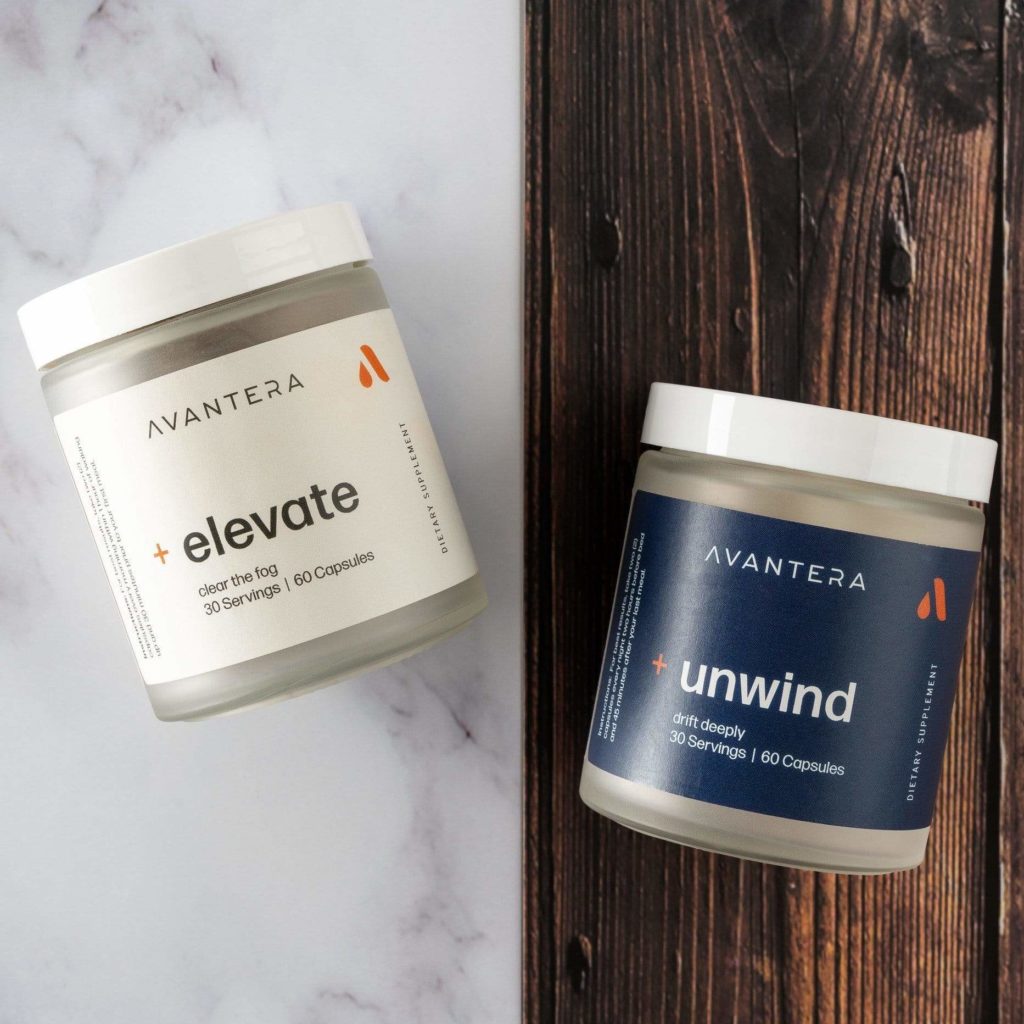 Avantera Nootropics: Pros & Cons
Pros
Affordable
Made in the US, suitable for vegans
Both formulas are synergistic
Small servings (only 2 capsules)
Safe to consume
Tons of positive reviews
Cons
Lacks many essential nootropics (B-vitamins, DHA, rhodiola…)
Many ingredients are not found in the right dosages
Sold as "premium" but it's very average
Not as good as the competition: Mind Lab Pro, Hunter Focus, Qualia Mind
You might not feel the benefits of taking nootropics
Avantera Ingredients
When doing this Avantera review, the first thing that I noticed was the fact that they claim to use "natural ingredients". Not only that, but both nootropic products are according to them vegan, soy-free, sugar free, non-GMO, keto-friendly and made in the US.
This is all good and Dandy, but here's where I found my first negative surprise. Avantera only uses 7 ingredients. When you compare to industry leading products like Qualia Mind (28) or my daily driver Hunter Focus (13), it certainly falls short.
Furthermore, they don't disclaim the exact quantities of key ingredients like L-theanine (can reduce stress and anxiety) or Lion's Mane (has neuroprotective properties). They are hidden behind the proprietary blend, and this is a big sticking point for me. Brands should be transparent with what they are providing you with.
Take-away: Avantera does not have too many nootropics, lacks key proven active ingredients (B-vitamins, for instance), and to top it all of, the exact quantities of ingredients are hidden behind their proprietary formulas. This is not good enough.
| Ingredient | Dosage | Effective? |
| --- | --- | --- |
| Turmeric Extract | ?mg | Low |
| Organic Lion's Mane | ?mg | Low |
| Black Pepper Extract | ?mg | Yes |
| Bacopa monnieri herb | 300mg | Yes |
| CDP Choline | ?mg | Low |
| L-Theanine | ?mg | ? |
| Caffeine (from Green Tea) | 45mg | Low |
| Magnesium* | 120mg | Low |
| Zinc* | 30mg | Yes |
| Ashwagandha Root and Leaf Extract* | ? | ? |
| Passionflower Herb* | ? | ? |
| English Lavander Flower Powder* | ? | ? |
| Chamomile Flower Powder* | ? | ? |
*Only in Avantera Unwind.
Avantera Ingredient Analysis
As you might have observed, Avantera Elevate and Avantera Unwind have different ingredients. For sure, most of these ingredients have proven benefits, as I've discussed in other reviews like Mind Lab Pro review or Qualia Mind review.
However, as mentioned previously, what's most shocking is the lack of certain ingredients like B-vitamins (vital in brain functioning) and how low the dosages seem to be.
Furthermore, I would've liked to see magnesium, zinc and Ashwaganha on Avantera Elevate – as they can help with focus and memory, too.
But let's analyze what some of these herbs do: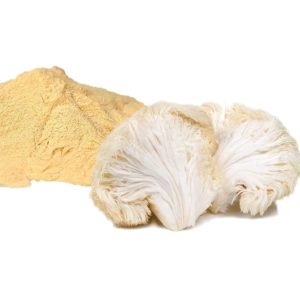 Lion's Mane
This mushroom is used extensively within nootropics. It has neuroprotective properties, might stimulate nerve growth, and might help with repairing neuronal pathways.
The effective dosage is widely discussed, but most premium nootropics use 500mg (way above the maximum 355mg that Avantera could have).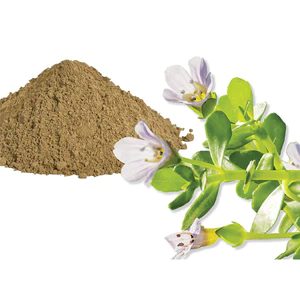 Bacopa Monnieri
One of the most trending nootropics as it has been shown to have multiple benefits, such as, increased cognitive functions, lowering cortisol levels (stress hormone), and helping reduce anxiety and depression.
As such, it's a must have in most nootropic blends. Effective dosage ranges from 300 to 600mg, thus, Avantera will be in the lower range.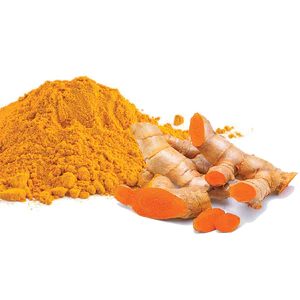 Turmeric Extract
This is a more unusual addition to a nootropic mix. Turmeric is a common spice that has strong anti-inflammatory and antioxidant properties. This is because it contains curcumin, the active compound. It's best when combined with black pepper (piperin), as this last helps with absorption.
One of the many benefits of curcumin is the ability to boost brain-derived nootropic factor (BNDF). In turn, BNDF is crucial for memory and learning, as it promotes neuronal growth needed for these processes.
However, due to the low absorption rate of curcumin by the body, it's often recommended to consume about 500 to 2,000mg. This is far above what Avantera Elevate offers you.
Avantera Unwind Ingredients
Earlier, I've mentioned that Avantera has two nootropic products. Each has individual ingredients for specific purposes. As such, in Avantera Unwind, you will find unique nootropics that are not found in Elevate.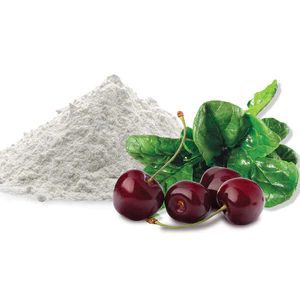 Melatonin
Melatonin is a key hormone released by the pineal gland at night that is tightly associated with sleep. It is often taken as a supplement to combat insomnia, jet lag or other sleep disorders.
The effective dosage in adults varies quite widely, but 1 to 10mg are considered safe. Unwind has 1mg so it should help you relax.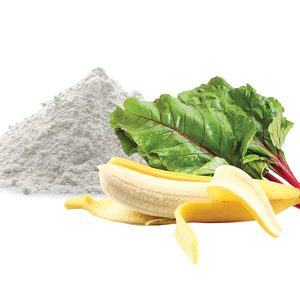 Magnesium
Magnesium is the 4th most common mineral in our body and a essential nutrient (this is, we need it daily – usually we get via food). Among the many key roles it has in our body, it's been showed that it can promote synaptic plasticity and might also help reduce migraines.
You can get your daily dose from whole grains, leafy grass, beans or even coffee. The recommended daily allowance is ~400mg for men and 320mg for women. Avantera Unwind will provide you with one quarter of that.
Avantera Benefits Reviewed
In the previous chapter, I've been quite critical of the dosages of ingredients in Avantera premium nootropic products. Furthermore, I believe that they could include even more nootropics in order to be more effective.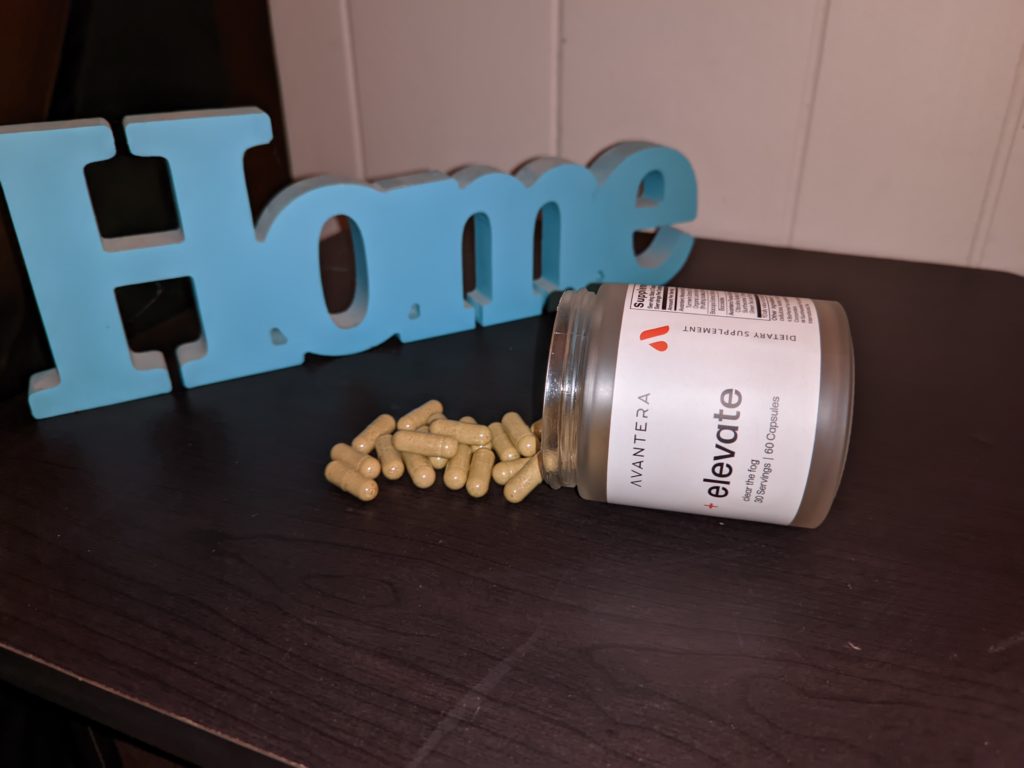 But, are these extra ingredients really needed? Or are Avantera products good enough? I think it's time in this Avantera review to see if it is really effective as nootropic or not.
Key-takeaway: Both products have ingredients with proven benefits, but due to the low dosages I don't think they will be as effective as the best nootropic stacks. They also lack other proven nootropics that could enhance the benefits of taking Avantera nootropics.
Avantera Elevate Review Benefits
So what are the benefits of taking Avantera Elevate? According to them, daily use can benefit you in the following areas:
Increased energy and focus.
Better memory.
Improved gut health.
More stable mood.
Unfortunately, I believe that the dosages in Avantera Elevate are too low to feel most of these benefits.
Increased Energy and Focus: Not Enough
For instance, caffeine and L-theanine are a superb pair for increased energy and focus. When taken in an 1:2 ratio (respectively), it increases alertness, focus, and attention. However, Avantera Elevate only has 45mg of caffeine and undisclosed amount of L-theanine. 45mg of caffeine will not be enough for those who are already used to caffeine.
Not only I believe that the dosages are a little low to be effective, but there are some key nootropics missing. For instance, vitamin B6, B9 and B12 have key roles in improving cognitive function. Another common nootropic that's missing is Panax Ginseng which reduces mental fatigue and increases cognitive performance. Even Ashwagandha (which is present in Unwind) has positive effects in energy levels and focus.
Consequently, I believe that many other competitors ( e.g. Mind Lab Pro, Hunter Focus) do a much better job.
Better Memory
There's no denying that ingredients found in Avantera Elevate have been linked to promoting memory and safeguarding from neural disorders. Among them, Lion's Mane, Turmeric Extract and Black Pepper extract have neuroprotective properties and can enhance memory and learning.
Not only that, but citicoline is a key precursor to acetylcholine, a key neurotransmitter in motor functions and memory.
However, once again, I find myself wondering why there aren't any of the B vitamins mentioned above (which are essential and have key roles in preserving brain health).
As such, while I do think Elevate has effective dosages, I believe it falls short once more.
Gut Health – Look for Other Supplements
If your primary interest is to look after your gut, you will be much better spending your money elsewhere. It's not Avantera's main focus, and it will not have many ingredients that are far more beneficial for your gut. Pre and probiotics (fiber, Bacillus coagulans); or greens (fruits and vegetables) will be much more effective at keeping your gut healthy. Particularly, when you pair it with a healthy diet.
Avantera Unwind Review Benefits
On the other hand, you have Avantera Unwind, which focuses more on sleep, helping you relax, managing stress and overall health. As such, you have different ingredients, including ashwagandha, zinc, melatonin and a floral blend.
Despite the fact that the different ingredients do in fact have positive effects in the areas above, I don't think there's enough on the mix. For example, there could be some bacopa monnieri, or L-theanine (both found on Elevate). Other nootrics that you could add to the mix include, rhodiola rosea, GABA, ginseng, sage, b-vitamins…
As a consequence, I believe that Avantera Unwind falls short, too. It wouldn't be my recommendation to tackle these issues, even though, some users might see positive effects.
Does Using Avantera Elevate + Unwind Work?
When analyzing both products together, it's clear to me that they have been designed to used in conjunctions. As showcased above, there's ingredients missing in one blend that would work wonderfully in the other nootropic mix (e.g. ashwagandha).
However, I think this is bad design that pushes the user to have to buy both instead of having the option to choose. Avantera gives you the illusion of choice, but truly it splits one product in two.
So yes, you can use Avantera Elevate and Unwind together and they will have synergistic effects.
Price and Offers
One of the main weaknesses of most nootropics is price. In order to have effective dosages, each serving is composed of many capsules and that comes at a cost.
In this case, Avantera offers a pretty affordable option. Partially, because they contain fewer nootropics in smaller dosages than the competition. Besides, you will be able to enjoy a 21% discount when you subscribe.
Avantera prices are as follows:
Elevate 1 Tub (30 servings) –> $64.95, $2.16/serving. With the subscription it will be $1.67/serving.
Unwind 1 Tub (30 servings) –> $54.95, 1.83/serving. With subscription it goes as low as $1.33.
There's no doubt that it's one of the most affordable nootropics out there.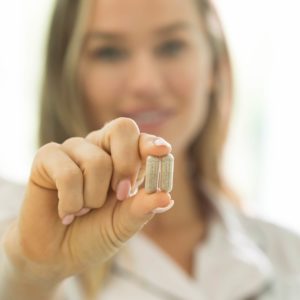 Is the Avantera Worth It?
Ultimately, do I think Avantera nootropics are worth it?
Honestly, not. For a little bit more (~$2/serving) you can have a much better nootropic, like Hunter Focus. This contains many of the nootropics that are missing here, and provides you with more effective dosages of each one of them. I would rather spend a little more to actually get something that I can notice the difference with.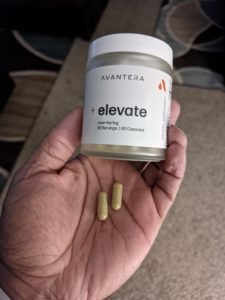 FAQ
Is Avantera safe to consume?
Yes, both Avantera nootropics are safe to consume for healthy individuals.


When should you take Avantera nootropics?
They recommend taking within the first hour of waking up with an empty stomach.


Can Avantera help me study?
There are better nootropics in the market for this purpose.


Will I notice the effects of Avantera Elevate immediately?
No, short-term effects could take 20-30 minutes, whereas longer effects (memory improvement etc) could take up to 30 days.


I have insomnia. Will Avantera Unwind help me sleep?
Avantera Unwind might help you relax and sleep if you have very mild sleep issues. It won't however "knock you down" or put you to sleep.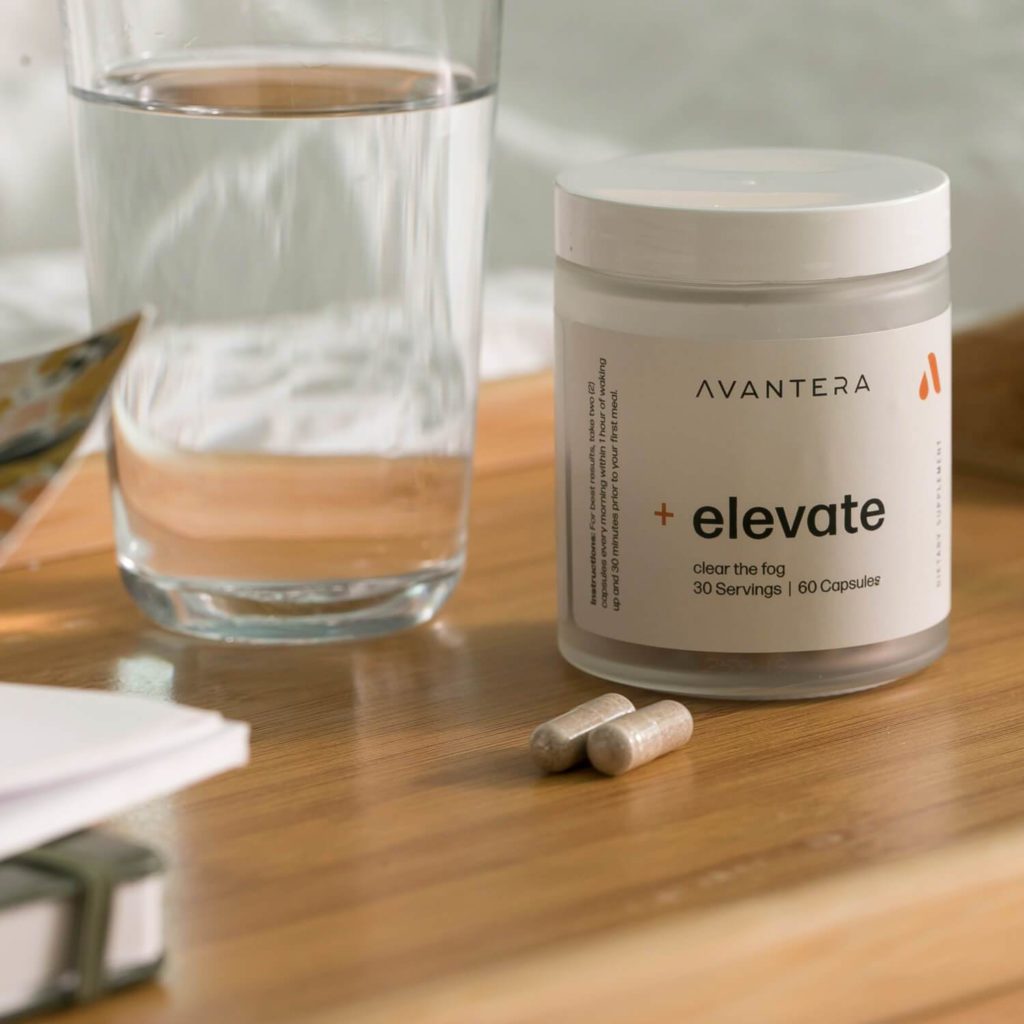 Verdict: Avantera Review – Skip It
Taking everything into consideration, I must admit that this Avantera review has been rather disappointing. I had high expectations considering the overwhelmingly positive reviews (4.8 in over 3k responses).
However, I feel that both Avantera "premium" nootropics fall short in comparison to the best, and I would not recommend them.
Firstly, both products are missing key ingredients that could help enhance the benefits they claim. Secondly, even the ingredients found in the servings are not in the right dosages (not effective enough). Lastly, I feel like Avantera Unwind and Elevate have been designed to be taken together, and on their own are just not good enough.
That said, I agree that the price is quite attractive, and this is perhaps why the reviews are so positive. Avantera nootropics could be ok for those who are new to these products.
Nevertheless, all in all, I would strongly recommend looking at other alternatives, like the above-mentioned Hunter Focus or Qualia Mind. Both offer more complete packages and are more effective at boosting your mood, increasing memory, focus, and relieving stress.
Avantera Nootropics
From $1.67
Pros
Affordable
Tons of positive user reviews
Made in the US, suitable for vegans
All ingredients have proven benefits
Both formulas are synergistic
Cons
Lacks many essential nootropics
Low dosages (not effective)
Not as good as the competition
No DHA, B-vitamins, ginseng...
You might not feel the effects (benefits)