These British brands are among the best meal replacement manufacturers. They specialise in high protein, low sugar, complete meals that are convenient and easy to drink.
In fact, both Huel meal replacement shakes and Complete 360 from Protein Works are among my favorite shakes available in the UK.
However, their trajectory has been slightly different. While Huel started in 2014 as a complete food or meal replacement company and has since expanded to other nutritional supplements, Protein Works started as a supplement company, and has in the past years created excellent meal replacement shakes.
Either way, in this Protein Works vs Huel comparison, I will analyse the strengths and weaknesses of each company, what products they offer, and ultimately which one is the best meal replacement shake for you.
Table of Contents
Short Introductions
I'll start with some short introductions for this Huel vs Protein Works article.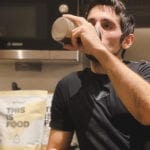 Enaut – The Expert
Editor in Chief of Latestfuels
Testing meal replacement shakes since 2017
Tried over 500 different variations
BSc in Biochemistry at the University of Bath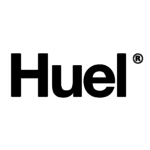 Huel – Complete Foods
Founded in 2014
Most popular meal replacement shake company
Nutrition first approach
Only plant-based, soy-free products
Started with complete foods, now expanded into other supplements
Protein Works – Supplements
Founded in 2012
Premium shakes (protein, meal replacements) and supplements
"The Best Shakes on the Planet"
Wide array of variety: vegan, whey-based, diet products
Great meal replacement shakes
Overview of the Products
As mentioned above, both Huel and Protein Works have an extensive catalog of nutrition products.
Today, I will be focusing on meal replacement shakes mostly, but I will also mention other products that both companies offer.
Protein Works
Huel
From
UK
UK
Ships to
USA & UK
Worldwide
Shipping fee
Free
Free
Vegan
Yes*
Yes
GMO
No
No

Soylent Powder
Huel Powder v3.0
Energy (C/P/F)
45/30/25
40/30/30
Kcal/serving
400
400
Price/serving
£1.5
£1.68
Gluten Free
No
No*
Flavours
6
10*
Minimum Order
£8.0
£57.2
Go to Comparison
Review
Read
Read
Huel Meal Replacement Shakes Overview
In the table above, I have briefly compared the Complete 360 Meal to Huel Powder Original, but Huel offers more than just one meal replacement powder (so does Protein Works, check below).
All of them are plant-based, free of any dairy ingredients, without soy, and nutritionally complete.
Furthermore, even though I show the starting price, both Huel Black and Huel Original have bulk purchasing discounts, and all Huel products have subscription discounts.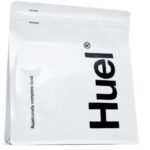 Huel Original 3.1
400kcal
Macros (C/P/F): 40/30/30
Gluten-free is optional
Best for regular people
10 flavors available
Starts at £1.68/meal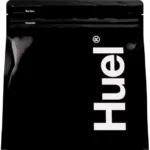 Huel Black
400kcal
Macros (C/P/F): 20/40/40
Gluten-free and free of artificial sweeteners
Best for those looking for extra protein
9 flavors available
Starts at £1.86/meal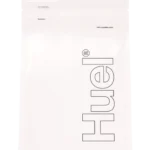 Huel Essentials
400kcal
Macros (C/P/F): 60/20/20
Higher in carbs
Best for budget-conscious
2 flavors available
Starts at £1.11/meal
As seen above, Huel offers a great variety when it comes to meal replacements in many ways: price, nutritional requirements, and flavors.
For most people, Huel Original will be the best choice, as it is the nutritionally most complete (without the extra protein or without being gluten-free), while offering an extremely competitive price.
Huel Black, on the other hand, it's Huel's most popular product, and it's ideal for those looking for extra protein. It's also worth noting that it's the only powder without any artificial sweeteners, contains 33% less carbs than Huel Original and it's gluten-free.
Last but not least, Huel Essential is the ideal compromise for those who are on a budget. Still nutritionally complete, but without any of the probiotics, MCTs (fancy add-ons) and with more carbs and less protein.
Protein Works Meal Replacement Shakes Overview
When it comes to Protein Works, there's a more clear division depending on what your weight goal is. This is, they have Complete 360 which is designed to fuel your normal daily life, and then they have specialised shakes for weight loss.
All shakes are available in a plant-based version and a whey-based version.
Furthermore, similarly to Huel, you can lower the prices by buying in bulk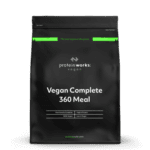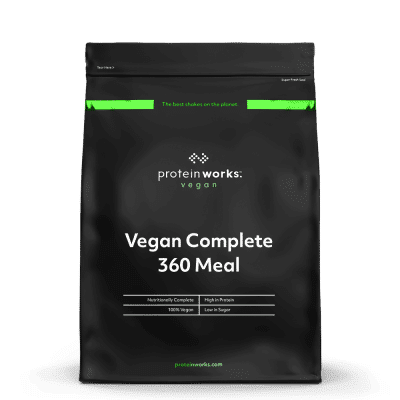 Complete 360 Meal
400kcal
Macros (C/P/F): 45/30/25
Best for daily use
7 flavors available
Starts at £1.5/meal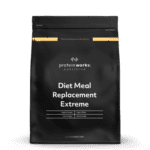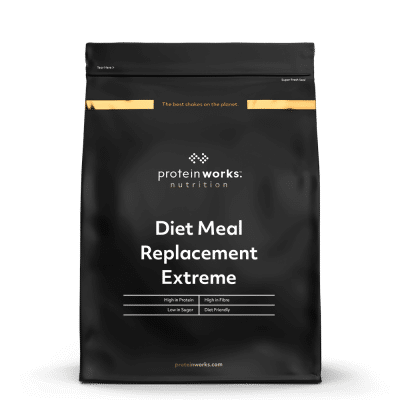 Diet Meal Replacement
216kcal
Macros (C/P/F): 36/46/18
Best for weight loss
20 flavors available
Starts at £1.4/meal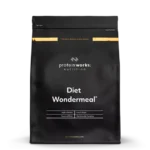 Diet Wondermeal
200kcal
Macros (C/P/F): 41/36/23
Good for weight loss
4 flavors available
Starts at £1.5/meal
Other Huel Products
Key Takeaway: Huel also has more complete food options – including their ultra successful Hot & Savory. They are reasonably priced, and offer great nutritional value. Similarly, there's now supplements that you can buy from Huel, like protein powder or greens, to round-up your nutritional needs.
Besides the meal replacement powders, Huel also has a wide array of complete food options including:
Ready-to-Drink. The most convenient form factor.
Huel Bars. Ideal snack bars (200kcals) with vitamins and minerals.
Huel Hot & Savory. A warm savory meal that comes with plenty of protein and can be prepped in 5 minutes.
From these, the Huel RTD 2.0s are noteworthy, as they are a plant-based drink with 20g of protein and no artificial sweeteners. You might find them in stores like Tesco or Sainsbury's, among others. I recommend trying the Salted Caramel.
Besides, Hot & Savory is the ideal healthy quick meal that you can grab instead of a takeaway. They come in multiple delicious flavours, and has become one of Huel's most popular products.
On top of this, Huel also offers:
Huel Complete Protein. Vegan protein with vitamins and minerals.
Huel Greens. Their greens powder to provide you with extra health benefits.
Huel Daily Vitamin A-Z. A healthy drink with all your daily vitamins and minerals on it.
Other Protein Works Products
On the other hand, Protein Works offers a plethora of products, mostly protein powders, green powders, thermogenic fat burners, and other snacks (bars, peanut butter, breakfast options, etc.).
In summary, you will find everything you need to boost your diet in the Protein Works catalog. Their prices might be more expensive than some direct competitors like MyProtein or Bulk, but the quality is also higher.
These are some of the most noteworthy products:
Super Greens. An affordable, yet efficient greens powder.
Hot Savory Meals. An alternative to Huel Hot & Savory, even though they are not as good.
Wondershake. The best plant-based protein powder in the UK.
Whey-based protein powders. They have tons to choose from, but they are all great.
Huel Vs Protein Works Meal Replacement Shakes
Coming back to the nitty-gritty of this article, let's compare the meal replacement shakes from both brands.
Key Takeaway: Huel edges slightly when it comes to nutrition, and it's also the only brand offering a gluten-free option. That said, Protein Works has much better tasting shakes (worth the trade), while still offering the same high protein shakes. Plus, Protein Works' meal replacements are better for weight loss.
Nutrition: Protein Works vs Huel
In the table below, you can see a quick overview of the nutritional features of each product
| | Huel Black | Huel v3.0 | C360 | Diet Extreme |
| --- | --- | --- | --- | --- |
| Vegan | Y | Y | Y* | Y* |
| GMO | N | N | N | N |
| Gluten | N | Y* | Y | Y |
| Soy | N | N | N | N* |
| Maltodextrin | Y | N | N | Y |
| Sweetener | Sugar | Sucralose | Sucralose | Sucralose |
| Probiotics | Y | Y | Y | N |
| GI | 27* | 27 | ? | ? |
Huel is the only brand offering gluten-free shakes.
As mentioned beforehand, Huel only offers plant-based meal replacement shakes, whereas Protein Works has whey-based and plant-based (which contain soy).
Besides, only Huel Black is free of artificial sweeteners, which considering the recent news published in Nature, might be a preference for some.
| | Huel Black | Huel v3.0 | C360 | Diet Extreme |
| --- | --- | --- | --- | --- |
| Energy (kcal) | 400 | 400 | 400 | 207 |
| Macros (C/P/F) | 20/40/40 | 40/30/30 | 45/30/25 | 36/36/18 |
| Fats (g) | 18.0 | 12.0 | 11.0 | 3.4 |
| of which saturates (g) | 2.7 | 2.5 | 1.3 | 0.8 |
| Carbs (g) | 16.0 | 39.0 | 45.0 | 17.0 |
| of which sugars (g) | 4.5 | 1.2 | 1.0 | 1.0 |
| Fiber (g) | 8.3 | 8.0 | 10.0 | 5.4 |
| Protein (g) | 40.0 | 29.0 | 29.0 | 24.0 |
| Salt (g) | 1.0 | 0.52 | 0.6 | 0.9 |
Per serving recommended
Looking at the ingredient lists, Huel does a better job adding extra ingredients that will give you antioxidants, anti-inflammatory agents and other non-essential nutrients. Huel also does not contain soy.
However, the main ingredients are still oats for both Huel 3.0 and Complete 360 meal, with flaxseed powder as source of omega-3.
The protein sources for vegan Complete 360 are pea protein isolate, brown rice, and pumpkin pea protein.
Huel Black is also the only that's truly low in carbs, if this is something you care about.
Taste: Huel vs Protein Works
When it comes to taste, there's a clear winner for me, even if taste is rather subjective and people have different preferences.
That said, the #1 reason why people look for Huel alternatives is taste.
Overall, Huel shakes are more complex, have weaker flavors, and the background mix of flaxseeds, pea, and oats is more noticeable. They are also noticeably less sweet than Protein Works meal replacement shakes, which might make them better for regular use.
On the other hand, Protein Work shakes will taste better for most people. They mix better, particularly Diet Meal replacement extreme, they have stronger flavors, and they just taste better. Only if you are not a fan of sweet shakes you should go for Huel.
From the Huel flavours, Vanilla and Salted Caramel are my favorite. Please, avoid Chocolate at all costs.
As fro Protein Works, I love the Double Chocolate Milk C360, and the Digestive Biscuit in Diet Meal Replacement Extreme.
Huel vs Protein Works: Pricing, Shipping & Customer Service
Let me preface this by saying that both are exceptional in all these categories.
Both companies offer next-day shipping within the UK, and their customer service has been exceptional at answering and solving the problems (on the rare occasions when I had one).
As far as the price is concern, both are neck to neck. Huel Essentials is a great budget option with £1 meals, but C360 can be purchased as low as £1.2 per meal and offers you more protein.
Ultimately, it will come down to taste or your nutritional preferences.
Verdict – Huel Vs Protein Works; Which One is Best?
These are two exceptional companies, and some of the best when it comes to nutrition products within the UK.
Both offer fast shipping (next-day), extremely competitive pricing, great customer service, and a plethora of products to choose from.
That said, I think that Protein Works has the better meal replacement powders over Huel:
They simply taste better
Very similar nutritionally
C360 is cheaper than Huel 3.0
Diet Extreme is the best weight loss shake in the UK
For most, the taste and texture will be the key difference. Those who enjoy less sweet shakes might like Huel more, but it will be rarely the case.
When it comes to protein, Wondershake is a better protein shake than Huel Complete. Huel Greens is a better product than Super Greens, but I would look for better alternatives.
Lastly, the one product that's clearly superior in the Huel line-up is Huel Hot & Savory. These are the best warm meals available in the market.