The Best Huel Flavors | Ranked from #1 to Worst
If you have read any Huel reviews, you know that the taste is one of the weakest aspects of Huel meal replacement shakes. While some of the flavors are quite tasty, there are a few that you should 100% avoid. I've tested all Huel products so that you don't have to and here I will rank the best Huel flavors for all Huel products.
In fact, I will let you know what's not in my #1 position. Huel Chocolate. Almost every chocolate flavor Huel offers is bad. If you are looking for a chocolate based meal replacement shake, buy Rootana Dark Cacao instead, my favorite chocolate-based meal shake
Either way, in this article I will rank the best Huel powder flavors, the best Huel Black flavors, the best Huel RTD flavors, and the best Huel H&S flavors.
Stay tuned to learn which ones to buy and which ones to avoid.
Quick Links
Intro to Huel
Huel is the biggest meal replacement shake manufacturer in the world. They offer a variety of complete food options from powders, to bars, RTDs and H&S options. Recently, they have even launched nutritional supplements like Huel Greens and Huel A-Z Vitamins Drink.
Despite the huge success and popularity of their meal replacement shakes, Huel has never been known for the taste of their shakes. At most they are OK, but often they are gritty, earthy, and not so tasty.
To give credit where credit is due, Huel has noticeably improved the taste of their shakes, but this is still the #1 reason Huel users look for Huel alternatives.
I don't blame them, since there are definitely much tastier meal replacement shakes in Europe, the US, and the UK.
However, there's no denying that Huel offers a great blend of convenience, nutritional goodness, and affordability. They offer some of the highest-protein vegan meal replacement shakes, which is also very appealing to consumers.
Best Huel Powder Flavors from Top to Worst
I will start with the most popular product, Huel's Original meal replacement shake (v3.1) or Huel White.
In general, Huel Original is the easiest Huel powder to like. It has a fairly thick consistency – when prepared according to the instructions- and blends fairly well into an almost smooth shake. For a smoother consistency, it's often recommended to let it sit overnight.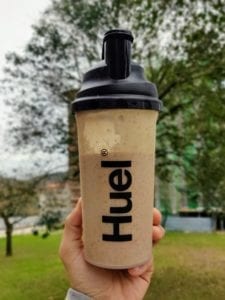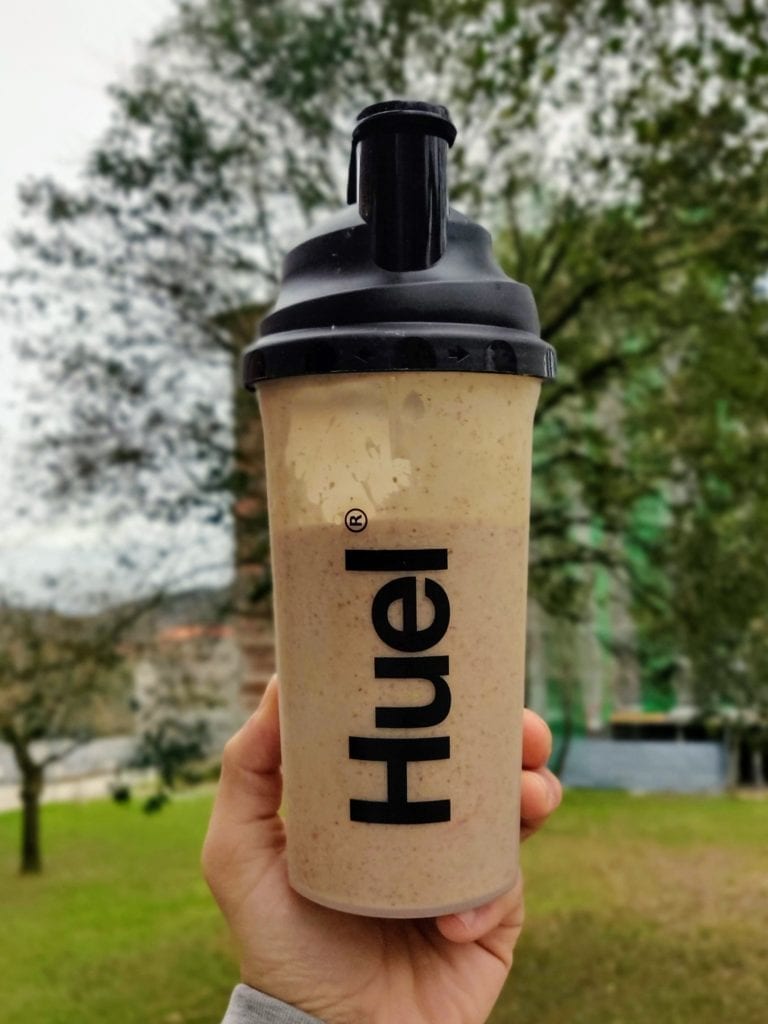 The sweetness in these shakes is quite mild, and the oat and pea protein flavor quite pronounced.
So here are the best Huel original flavors ranked:
Salted Caramel: S. Actually, delicious.
Vanilla: A+. One of the most solid vanilla meal replacement shakes. Timeless.
Cinnamon Swirl: A. For those who love sweet shakes.
Original: A. Classic, easy to drink forever.
Coffee Caramel: B. It's OK, but rather sweet.
Banana: B. Not the worst banana-flavored shake.
Mint Chocolate: C.
Unflavored & Unsweetened: C. For hardcore users and those who want a shake without artificial sweeteners.
Berry: AVOID.
Chocolate: AVOID.
The Best Huel Black Flavors Ranked
Huel Black is the high protein, gluten-free, artificial sweetener free powder-based meal replacement shake.
It's one of Huel's most popular products, since it's ideal for low-carb diets and avid gym-goers alike.
This is a thicker, more dense shake than the original and it has a stronger pea protein flavor. In fact, the flavoring does not mask the background flavor as well, and in general, Huel Black tastes worse than Huel Original.
It's definitely not as beginner friendly.
So what's the best Huel Black flavor?
Salted Caramel: A+. Surprise, surprise. It's definitely one of the best salted caramel shakes on the market.
Straberries & Cream: A. Not amazing when you first try it, but one that you end up liking.
Vanilla: A-. Solid option if you don't want anything heavily flavored.
Cinnamon Swirl: B. Extremely sweet, and cinnamon heavy.
Coffee Caramel: B.
Banana: C.
Cookies & Cream: C. Despite how awesome it sounds, you can taste the background ingredients and it just doesn't go well with the base mix.
Chocolate: AVOID.
Good Huel Black alternatives when it comes to taste include Instant Knockout Complete (only vanilla) and Complete 360 Meal.
Huel RTD Flavors Ranked
The ready to drink meal shakes from Huel are slightly different to the powder ones. They have less protein, and some of the ingredients change.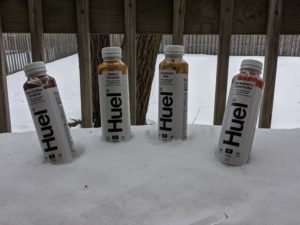 When it comes to the taste and texture, they are much smoother and they have a better consistency. As you would expect from a ready-to-drink meal replacement shake.
As far as RTDs go, they are not the worst tasting ones and the flavor variety they offer is welcome. In the US, Soylent Drink can be a good alternative, and in Europe, if you don't mind milk-based shakes, YFood is the king of RTDs.
Anyhow, what's the best Huel RTD flavor? There's one simple trick here. All 2.0 RTDs are better than the 1.0s.
Iced Coffee Caramel: S. Insanely tasty.
Salted Caramel: S. Another great RTD.
Cinnamon Swirl: A+.
Strawberries & Cream: B. Not as good as the other v2.0s.
Chocolate: B. It's actually fairly bad for a ready to drink, and I would look for other chocolate flavored RTDs.
Vanilla: C. One of the worst vanilla RTDs on the market.
Banana: C. Fairly mediocre.
Berry: AVOID.
If you are looking for Huel RTD alternatives, check out YFood, Mana, Soylent or OWYN.
Huel Hot & Savory Flavors Ranked
We've gone over our opinion of the flavor in our Huel H&S review, but we'll go over them again here.
In summary, Huel Hot & Savory meals are surprisingly tasty, as long as you have your expectations clear.
At the end of the day, these are reheated meals, and thus, they won't be as tasty as restaurant or freshly cooked meals. That said, when compared to other instant meals they are surprisingly tasty.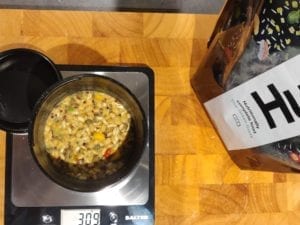 Perhaps, a little too heavy on the spices and the flavorings, and if not "cooked" properly they can be a little bit cardboardy.
The flavor variety is also worth noting. Each flavor is quite different to the rest, which is welcome.
So what's the best Huel Hot & Savory, and which ones should you avoid?
Chick'n & Mushroom Pasta: S. Creamy delicious mushroom pasta.
Thai Green Curry: A+. Not too spicy, creamy and very enjoyable.
Cajun Pasta: A. It can be a little bit heavy on the spices, so mix properly, but a very enjoyable meal.
Mexican Chilli: A. Not as good as your grandma's chilli, but great for a ready-meal.
Pasta Bolognese: B. Cosidering there's no meat, it's pretty good.
Korma: B. It's OK, but you won't achieve the perfect sweet Korma that you get in Indian restaurants.
Madras: B. The spiciest of the bunch. But not much flavor in the mx.
Mac & Cheeze: C. Perhaps the biggest disappointment here. It goes well when mixed with other flavors, but on it's own it's flat.
Sweet & Sour: AVOID. Not great.
Tomato & Herb: AVOID. Don't waste your money.
If you are looking for other options, Vite Ramen is a great alternative to Huel H&S. These healthy instant ramens are a little bit more pricy, but much more tasty.
In Europe, both YFood and Jimmyjoy offer pots that are arguably easier to like, but without the highs of H&S.
Summary
All in all, Huel offers very solid dairy-free meal replacement shakes.
Finding the flavor that suits you best can be a little daunting, so I hope that this ranking of Huel flavors can help you out.
Ultimatelty, though, you will notice the base flavor in all of them, and you might not like any. As highlighted in the Huel vs Ka'chava comparison, or in the Huel vs Soylent piece, Huel often loses in the tasting department.
Personally, I enjoy Rootana (Dark Chocolate) much more than Huel, partially because I'm a chocolate lover. Their vanilla is much better than Huel's, in particular for long term use.
That said, there are plenty of meal replacement shakes that are much better tasting than Huel out there, so if you don't like Huel, I recommend having a look at them.