YFood Review | Simply The Best Tasting RTD In The Market
Milk based and Vegan Ready to Drinks packed with protein and flavour
I love doing YFood RTD reviews. Ever since the very beginning, they have been one of my favourite products to have, and without a doubt the tastiest ready to drink meal replacements you can have.
So what does the YFood RTD offer? YFood is a no-soy, no-gluten, no-lactose ready to drink meal replacement manufacturer. Their product distinguishes itself for being protein heavy, ideal to fuel your exercise.
On top of that, the taste of YFood shakes is excellent, as mentioned earlier. This is where they shine.
Before, they used to only offer milk based shakes, but recently they have launched a plant-based alternative. I'll discuss all the details of both, in this YFood RTD review.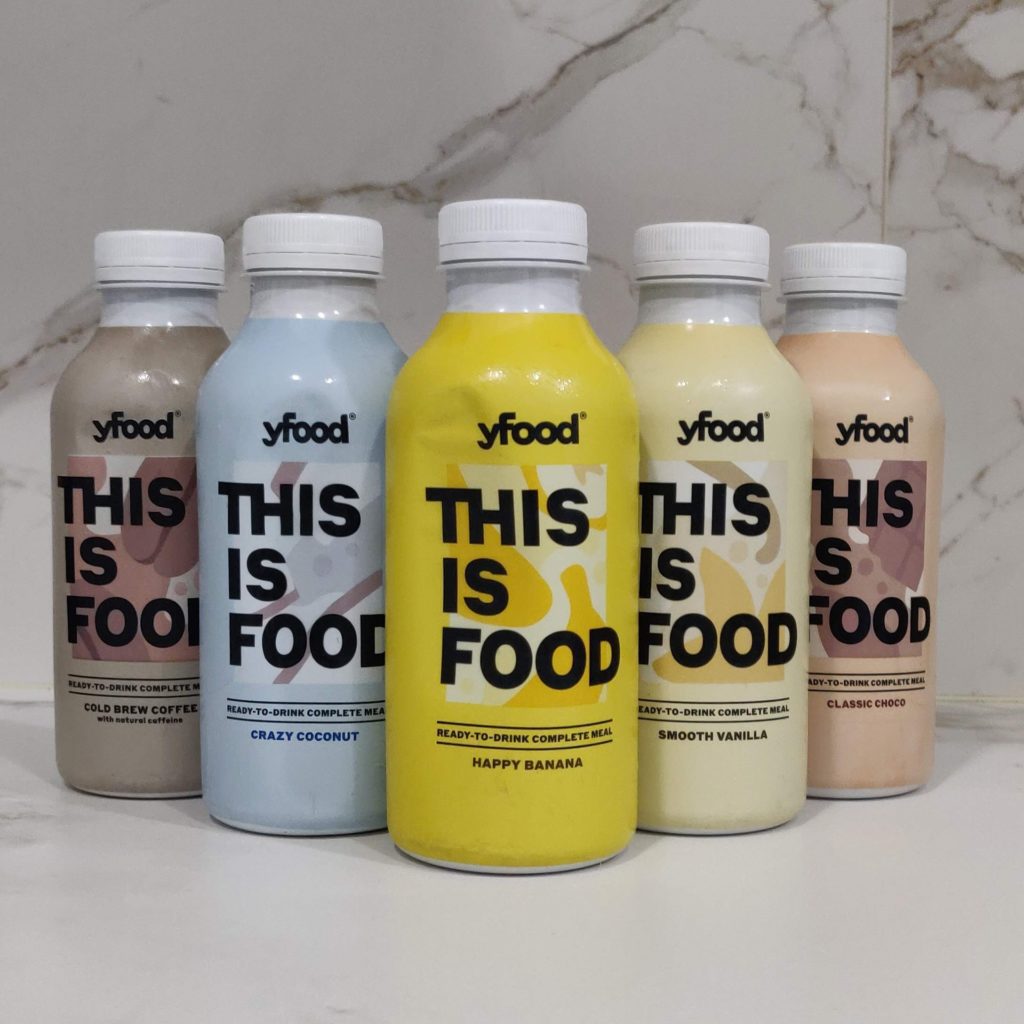 ---
YFood RTD Review at a Glance
Flavours: Classic Choco, Cold Brew Coffee, Smooth Vanilla, Fresh Berry, Happy Banana, Crazy Coconut, Salted Caramel, Heavenly Hazelnut. For the vegan version: Berry, Banana, Vanilla, and Choco.
---
Opinion
YFood is a nice breeze of fresh air in the European RTD market dominated by soy based products. Not only it is offering a great protein content and quality; but also offers a hypoallergenic product that will help many people.
The milk based RTD is a great product that has expanded the flavour range during the last year, while still holding the throne of the best tasting RTD that I have ever tried. In fact, their Lassi offering is one of the most unique and mouthwatering experiences you can have with a meal replacement.
Furthermore, they also offer a vegan alternative, making YFood a great choice for those seeking convenience and taste.
What I like
1. Outstanding taste. These have been my favourite shakes for 3 years in a row. The Chocolate shake is incredible, and the Lassi (Mango) is extremely refreshing and enjoyable.
2. Two alternatives: Vegan and Whey Based (original). The truth is that finding whey based complete RTDs is hard. Plant based ones are more common, thus I like YFood Original. However, with the recent addition of the Vegan line, now you can choose freely.
3. 33g of protein per shake (whey based). Another feature that I readily enjoy is the high protein content on the shakes (particularly on the milk based ones). Getting above 20g of protein per 400kcal on RTDs is almost impossible, but YFood provides you with 26.4g! Great to fuel your workouts.
4. Free of major allergens. Gluten free, lactose free, soy free…
5. Competitive pricing for a RTD. YFood's are not the cheapest ready-to-drink meals, but I consider them rightly priced. Nevertheless, I don't think that the Vegan shakes are worth the extra.
6. Clearly stated caffeine content. Finally!!
7. Taster for under €20.
What I dislike
1. Not all flavours are as good as the Lassi or the Chocolate. For the Berry lovers, I think YFood Berry is going to be a disappointment.
2. Vegan shakes are not as tasty.
3. Vegan RTDs are more expensive than the Original counterparts.  
4.  Too many processed ingredients. As it is the case with most RTDs, YFood contains maltodextrin and other highly processed ingredients.
5. High in sugars.
Improvements
1. Improve the Vegan line. I would like to see some improvements on the pricing and the taste.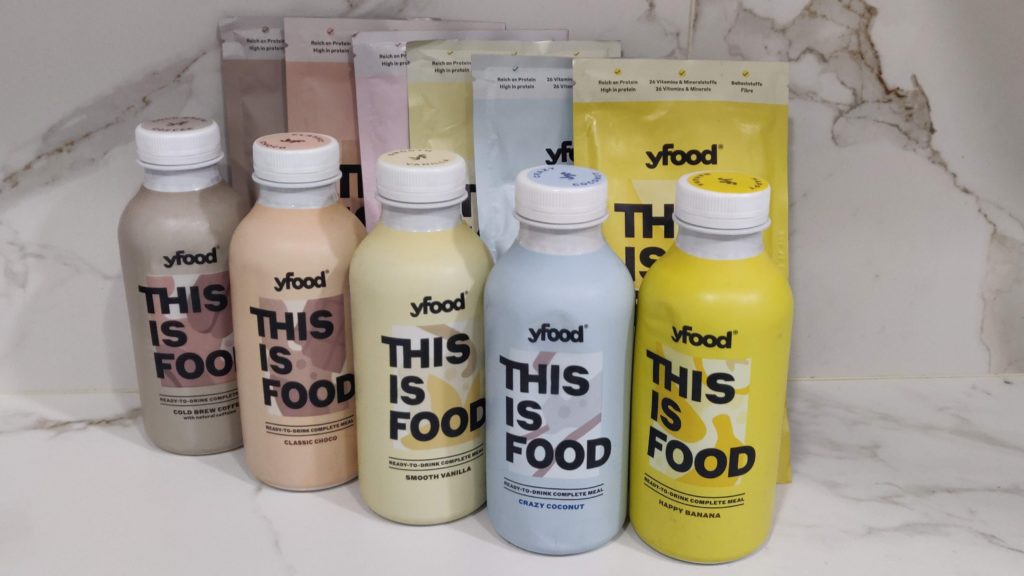 Taste Test
Not for the final time, I will repeat myself: YFood's ready to drink meal replacements are the best tasting shakes in the market.
In particular the Original line (Chocolate, Coffee, Coconut) and the new Lassi shakes are marvelous. They have clear milky background, but with strong flavours, nice sweetness and excellent texture.
Unfortunately, if you are looking to the vegan shakes, they are not as good in my opinion. They would still rank highly when compared to other vegan RTDs, but they are not as flavourful and the soy background is not as pleasant, in my opinion.
While the argument can be made that this is due to my preference for milk based products, I think the flavours are weaker and the texture thinner.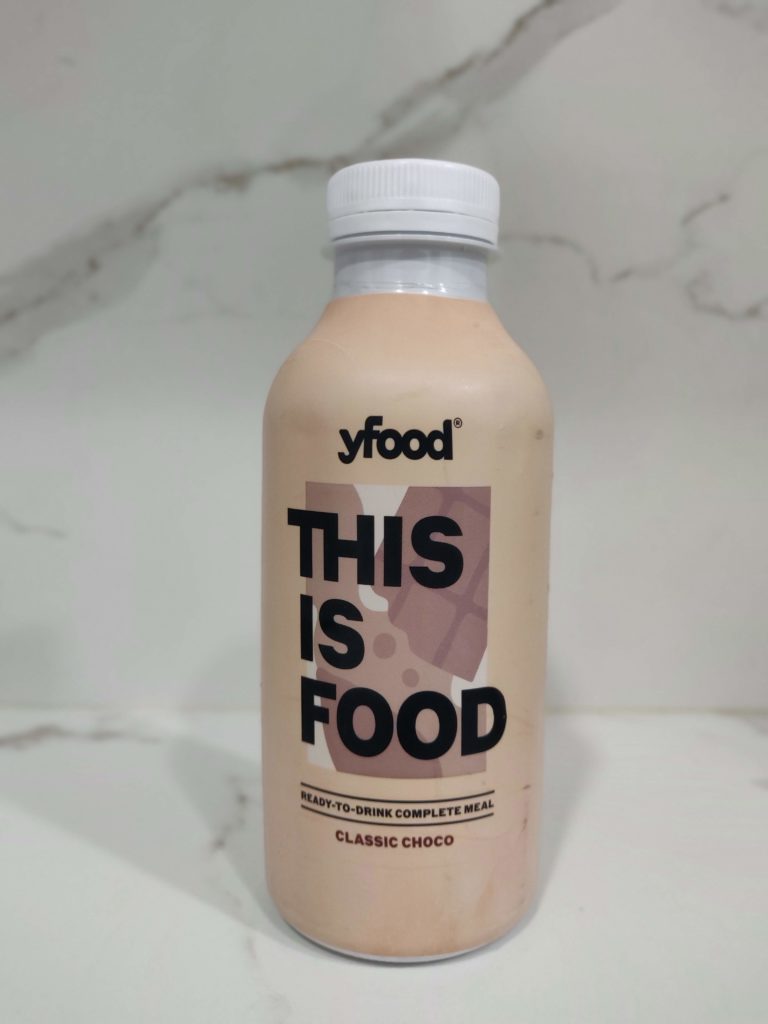 | | |
| --- | --- |
| Best flavour | Chocolate and Mango Lassi |
| Taste | The original line has a clear milky backround, smooth texture and quite strong flavours. Very similar to milkshakes. In the vegan shakes, you'll notice the soy, and the flavours are weaker. |
| Texture | Both have smooth texture, but the vegan line is a little thinner (more watery than the original). I do miss the thicker texture from previous iterations, though. |
| Satiety | Not great. For providing 500kcal, it only kept me full for about 2h |
| Easy to Clean | – |
| Afterthoughts | If you don't have any nutritional priorities, I would choose the Original line every day of the week. |
YFood RTD Flavours Ranking
Classic Choco.
Mango Lassi.
Crazy Coconut
Cold Brew Coffee.
Vegan Cacao.
Happy Banana.
Smooth Vanilla.
Vegan Vanilla.
Vegan Banana.
Fresh Berry.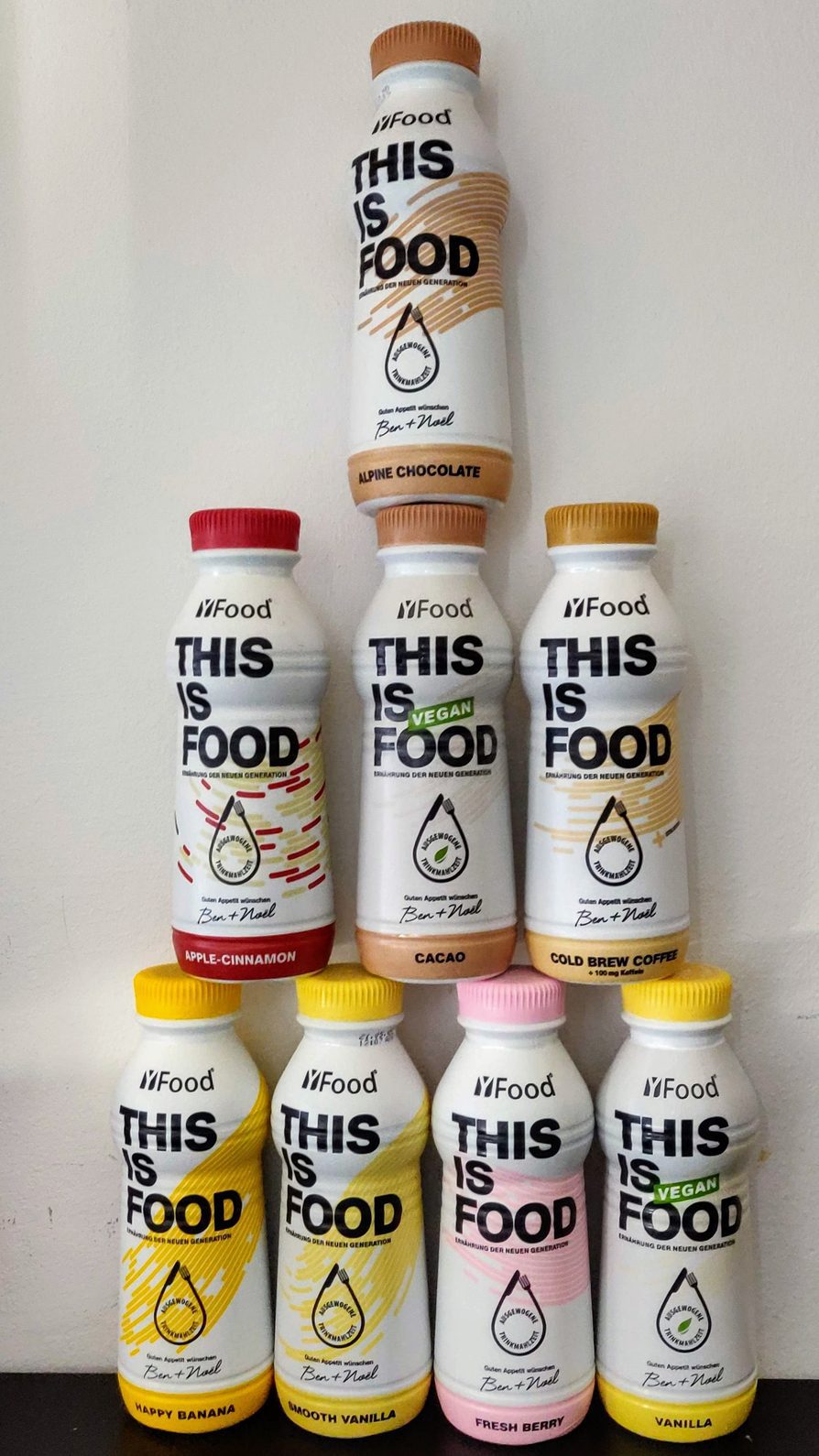 Unfortunately, the texture of Classic Choco has changed. It used to be thicker, closer to a thick hot chocolate; whereas now it's closer to a thick Nesquick.
In fact, I particularly disliked Fresh Berry, which I thought it taste overly artificial, weak and not very pleasant. On the other hand, Happy Banana was quite a positive surprise, and I found it to be delicious (despite my dislike to Banana flavoured products).
Besides, the Vanilla flavours are quite forgettable, too. Both the vegan and the original are pretty similar. I personally enjoy more the Soylent Original or Mana Origin approach to this flavour.
Lassi & Limited Editions Are a Must Try
As a final note, I want to remark how special the Lassi drinks are. They are an absolute delight, and there's nothing like it in the market. Mango Lassi absolutely blew my mind, and the Limited Editions have been super delicious in my experience.
If you don't mind the price tag, try them out.
Nutritional Breakdown
YFood is a fairly interesting shake, as far as nutritionally is concerned. It is a quite hypoallergenic product: lactose free, gluten free, soy free and nut free. In fact, they use lactose-free low fat milk and protein to make the shakes. This is a curious option, since many brands opt to go for vegan protein (Saturo, Huel), while YFood has made a conscious effort to get milk sourced protein.
This was true up until they released the vegan variation.
Besides, it has an energy split of 28P/31C/41F. It is a high fat low carb recipe, with a significant amount of protein (33g per 500kcal), even if they use low fat milk. Furthermore, a big part of carbs is comprised by sugars, despite the fact that YFood has no added sugars.
| | |
| --- | --- |
| Kcal/meal | 500 |
| Macros (C/P/F) | 31/28/41 |
| Vegan | Yes* |
| Keto | No |
| Features | Soy Free, Lactose Free, Gluten Free |
| Non-GMO | Yes |
| Organic | No |
| Includes Probiotics | No |
| Artificial Sweeteners | Yes |
| Synthetic Additives | Yes |
| Contains All Micronutrients | Yes |
| Controversial Ingredients | Maltodextrin, acesulfame-K |
Some values vary. Depends on if plant based or dairy.
Original: Semi-skimmed milk, water, milk protein, maltodextrin, vegetable oils (rapeseed, sunflower), coconut milk, gluten-free oat fibre, soluble corn fibre, rice starch, fat-reduced cocoa 1.5%, vitamins (A, C, D, K, B1, B3, B5, B6, folic acid, biotin), minerals (magnesium, iron, copper, manganese, selenium, chromium, molybdenum, iodine), emulsifier lecithin; sweeteners acesulfame K, sucralose; stabilisers gellan gum, carrageenan; lactase, natural flavourings.
Vegan: Water, soy protein, vegetable oils (rapeseed, sunflower), soluble corn fibre, maltodextrin, gluten-free oat fibre, tapioca starch, rice powder (rice flour, rice starch, rice syrup), vitamins (A, C, K, B1, B3, B5, B6, folic acid, B12), minerals (potassium, chloride, calcium, magnesium, zinc, manganese, selenium, chromium, molybdenum, iodine), emulsifier lecithin (soy); corn starch, sweetener sucralose; stabilisers locust bean gum, gellan gum; natural flavourings.
Energy
Each YFood bottle is designed to provide you with a quarter of your daily energy needs, 500kcal (based on a 2,000kcal diet). Most of the energy comes from fats, 44%. Only 31% of the energy comes from carbohydrates. These numbers are higher and lower, respectively, than the currently recommended by the EFSA, USHH and WHO (among others). The AMDR for fats is 20-35% and for carbohydrates 45-65%.
For the plant based, the macronutrient split is: 37% carbs, 20% protein and 43% fats.

Fats
Based on YFood (500ml)
Total Fats: 22g. 31.4% of the DRI.
Saturated Fats: 4.5g. 22.5% of DRI.
YFood Vegan (500ml)
Total Fats: 24g. 34% of the DRI.
Saturated Fats: 1.8g. 9% of DRI.
Regarding to the main fat sources, they are sunflower oil, coconut powder and canola oil. Sunflower oil is really high in omega 6 fats (70/1 ratio with omega-3) mostly composed by linoleic acid. This fatty acid is usually really high in polyunsaturated fat. While, sunflower oil is a common fat source, it is often the high oleic version, which is used (higher omega-9 content).
In fact, sunflower oil often is paired with canola oil to increase the amount of omega-3s in the shake. The ideal ratio of omega-3/6 is between 1 and 1/3. I cannot ensure until I know the exact amounts, but I would assume YFood might be close to that.
Lastly, there is coconut oil. One of the main drawbacks of this fat source is its high saturated fat content. However, it is also rich in medium-chain triglycerides (MCTs), which are linked to positive health effects and endurance exercise benefits. However, it must be noted that coconut oil raises low-density lipoprotein cholesterol (LDL), which some people might have to watch out for.
Carbs
Based on YFood (500ml)
Total Carbs: 38g (14.6% of RI).
Sugars: 22g (24.4% of UL).
Fiber: 6g (30% of RI).
YFood Vegan (500ml)
Total Carbs: 40g (16% of RI).
Sugars: 4.2g (5% of UL).
Fiber: 8.4g (40% of RI).
Most of the carbohydrates come from maltodextrin, a polysaccharide with high glycemic index, due to its fast breakdown into glucose and noticeable effect in blood sugar level. Nevertheless, even if the carbohydrates are high GI, I expect the overall effect of the shake in blood sugar levels not to be as sudden. This is due to the total amount of fats, that should difficult the digestion of these carbs.
YFood claims that has no added sugars (instead using sweeteners), but it is still high on sugars. In fact, the total amount of sugars is just under the upper level established by the ESFA. While not particularly worrying on its own, it is something to look out for in the rest of your diet, if you are prone to consume sugary drinks or high sugar meals (often hidden sugars). While the WHO has recommended avoiding sugars and sugars have been linked to obesity, the validity of the guidelines is currently under scrutiny (Sluik D et al.,2016).
Why Is Original High in Sugars and Vegan Not?
The answer to this question is simple: lactose. The original mix relies heavily on milk which contain lactose, a naturally occurring sugar in milk. The vegan formula does not include any milk, thus the lower sugar figures.
But wait a moment, I thought YFood was lactose free? Yes, it is. They include lactase, which breaks lactose and makes it drinkable for those who are lactose intolerant.
Regarding the fiber content, most of it comes from gluten free oat fiber. It is almost entire insoluble fiber that helps you with your stomach flow.
Protein
Based on YFood (500ml)
Total Protein: 34g, 67% of RI.
From Milk.
YFood Vegan (500ml)
Total Protein: 26g, 53% of RI.
From Soy protein.
Interestingly, each bottle is packed with 33.5g of protein (67% of RI), for a total of 134g. This would be about 1.6g/kg of bodyweight for a 80kg adult, which is fairly optimal for muscle growth. For a 60kg adult, it would be about 2.2g/kg of bodyweight, which is in the upper limits of what the body is able to use for anabolic purposes. This means, YFood is an ideal meal replacement for athletes and gym goers.
Secondly, and perhaps most importantly, is the conscious choice of sticking with milk based protein sources (even if they offer a lactose free product). While some plant-based protein (especially blends) have been found to be almost as effective as whey protein for muscle growth and recovery; whey protein and casein are still regarded as the better sources. This is because some studies have found whey protein to be faster digested and had a bigger stimulatory response than soy, particularly after resistance training (Phillips et al., 2009; Tang et al., 1985).
Both whey protein and casein have a very balance amino acid profile, rich in EAA and BCAAs. Particularly, Leucine, which is beneficial for muscle protein synthesis; and keeping lean mass in the elderly. It is noteworthy too, that both are digested differently, whey being digested faster, and hence complement each other nicely.
Vegan: Less Protein and from Soy
Nevertheless, the truth is that for most people all the above won't matter much. Unless you have specific sport-related goals, you will do fine with the amount of protein provided by the vegan mix.
Furthermore, soy is one of the best plant-based proteins, due to its high absorption rate and complete amino acid profile.
Micronutrients
YFood ready-to-drink shakes do a good job providing you the required vitamins and minerals. You will get at least 25% of the micros you need per shake. Only Vitamin B2, Vitamin B12, Chloride (50%), Phosphorus (52%) and Calcium (59%) will be significantly above 25%.
In fact, YFood might be a good way to reinforce your calcium levels, as some other shakes struggle to give you the DRI.
Allergens
As mentioned priorly, YFood is a fairly hypoallergenic product containing NO soy, NO gluten, NO lactose and NO nuts. Milk (without lactose) is the only allergen mentioned in YFood labels.

Sweeteners
I do not often stop to mention the sweeteners, even though some of you might find it important. YFood has chosen to use sweeteners instead of adding sugar for the taste. As such it contains Acesulfame-K and Sucralose.
Even though, both have been declared safe for human consumption, there is a lot that is not understood about how these affect the gut biome and contribute to gut inflammation (e.g. acesulfame-K). As such, the current scientific position is that better understanding of their roles is needed, and that potential link with cancer is weak in human studies.
More about YFood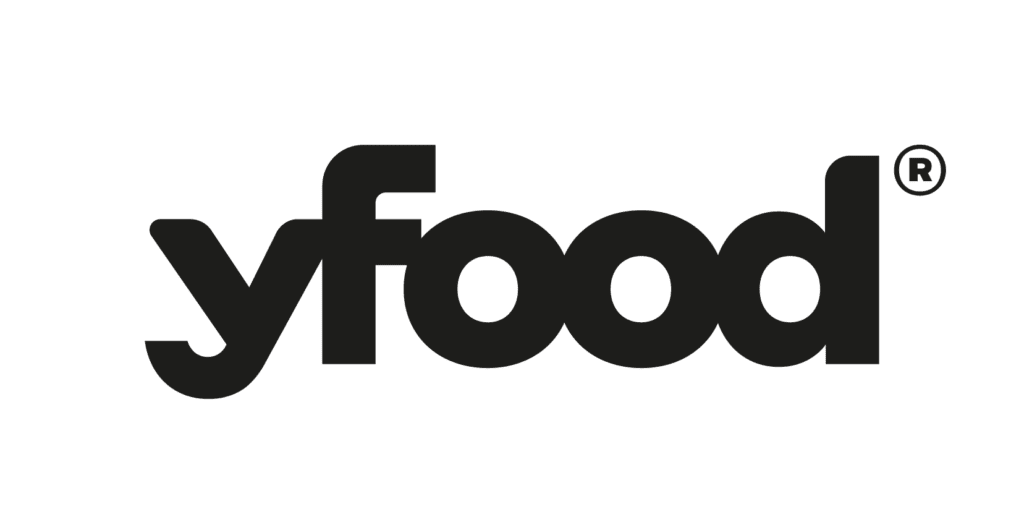 YFood is a German brand located in Munich and was born from the hands of Benjamin Kremer and Noel Bollman. It is trying to establish within the European RTD and meal replacement market; and has grown significantly since inception.
With the help of the funding they got from the German equivalent of the Shark's Tank, they were able to expand their repertoire and start releasing new products besides RTDs.
More About the Founders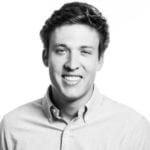 Benjamin Kremer studied BSc Business Administration in the University of Mannheim and has a MSc in Management by the London Business School. Prior to starting YFood, he had several analyst jobs, including in a job in Goldman Sachs.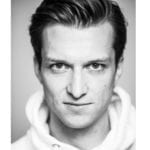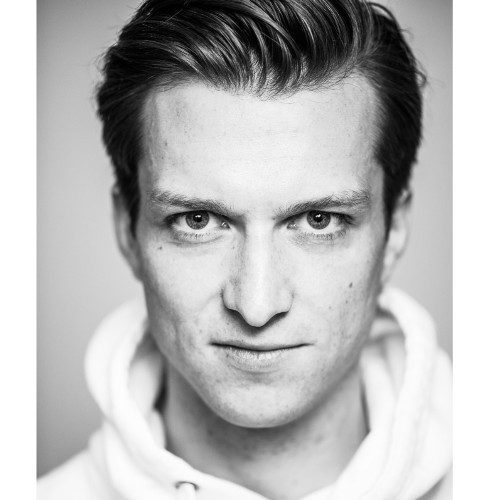 Noel Bollman is a Hardvard Economics and Computer Science graduate, with a career in investment banking for some of the best German banks and international companies.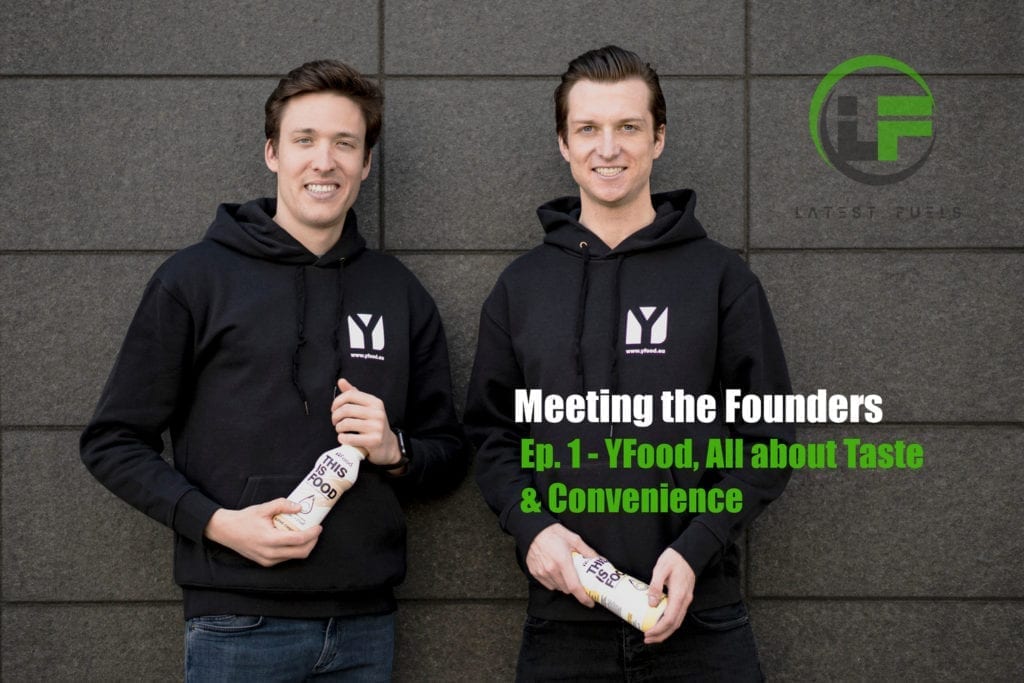 Other YFood Products
Despite the fact that YFood started with ready to drink meal replacements, over the last 2 years they have worked hard expanding their repertoire of complete foods.
Currently, they offer 4 different products: the vegan and original RTD, a powder based meal, and bars. All of them share the same DNA, with taste being the primordial focus.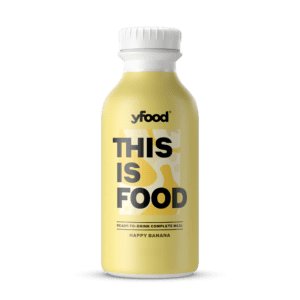 YFood RTD Original
Milk Based RTD – Complete Meal
Macros: 31C/28P/41F
22g of sugar, 4.5g of saturated fats
Available in 10 flavours
Best tasting of the bunch, cheapest and my go to if I had to choose.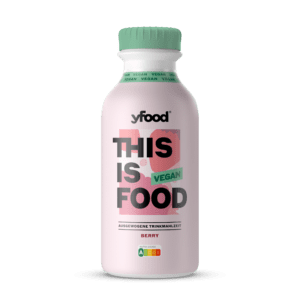 YFood RTD Vegan
Soy based – Complete Meal
Macros: 37C/20P/41F
4.2g of sugar, 1.8g of saturated fats
On sale in 4 flavours
Good vegan RTD, but competition vs other vegan RTDs is close.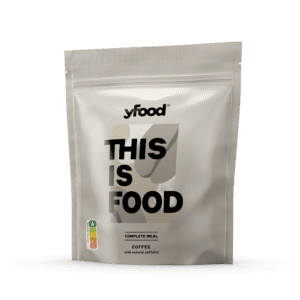 Powder based Complete Meal
Macros: 35C/26P/39F
15g of sugar, 2.4g of saturated fats
Available in 9 flavours
Great taste and really enjoyable, even though it doesn't have the consistency the RTD has.
Cheaper than the RTD
200kcal complete bars
Macros: 32C/24P/44F
3.1g of sugar, 4.6g of saturated fats
On sale in 3 flavours
Best to eat on the go, or for a mid-day snack. Pretty good at keeping you full for a couple hours.
You can read the full review of the YFood powder and bar by clicking on the headers above.
YFood Vegan RTD vs Original
In my opinion there are two factors that make the YFood Original RTD much better: the taste and the price. While the first can be subjective, I have found that most people do prefer how the original tastes. Besides, when you look at the price, it's not worth paying €0.3 more per meal.
Pricing
As far as the price is concerned, YFood RTD's are very affordable for a ready to drink meal. Even though RTDs are never going to be as affordable as the cheapest powder meal replacements (due to manufacturing and shipping costs), YFood offers a reasonably priced product.
| | | |
| --- | --- | --- |
| | EU (€) | UK (£) |
| Original (500kcal) | €3.49 | £3.49 |
| Vegan (500kcal) | €3.79 | £3.79 |
| Original w/ subs | €2.79 | £2.97 |
| Vegan w/ subs | – | |
Price for 500ml bottles and not the Lassi or the limited editions. Prices in Germany and neighboring countries might be cheaper.
YFood RTDs come in 6 bottle packs (around €20–€23 per pack); and the price can be reduced when you subscribed. At the time of this YFood RTD review, there's a 20% discount on subscription (EU), but only for the original version.
In the UK, the subscription discount is 15%, probably due to customs.
YFood's Packaging
My main issue with RTDs is that they create more waste and require more space for storage (fairly big issue if you live in a flat).
Regarding the first issue, it is true that YFood's bottles are all recyclable and made with recyclable plastic (30-50%).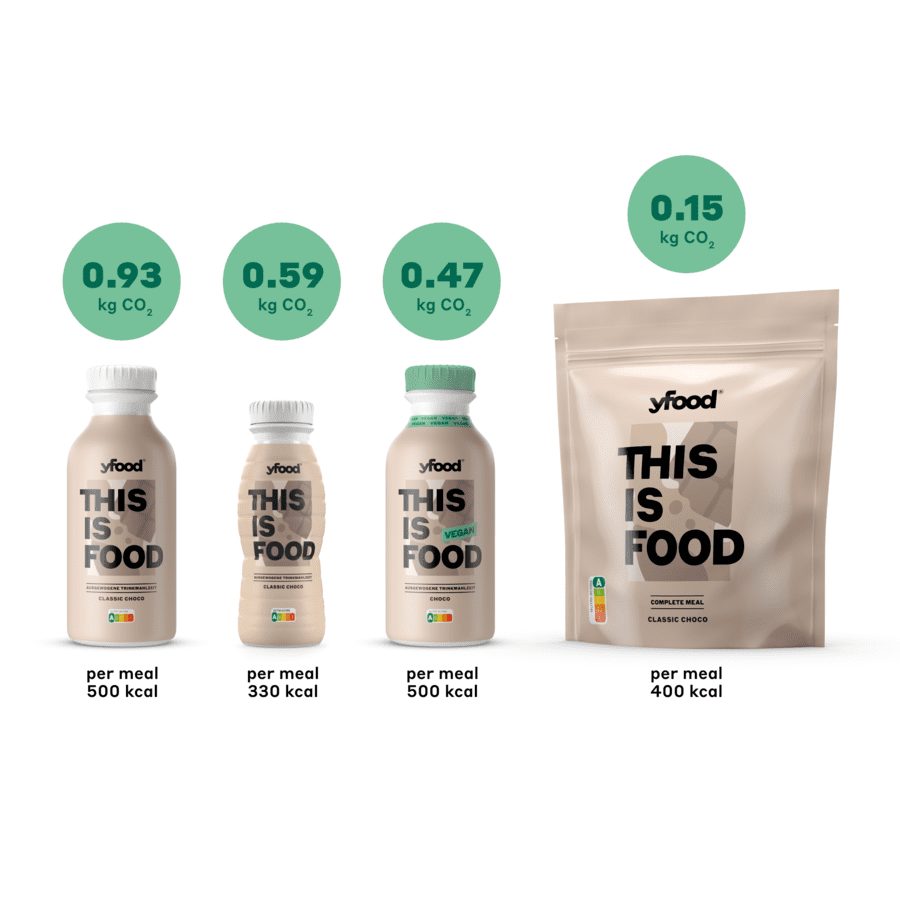 However, this process is energy consuming and expensive. Especially, if you compare to the minimal waste some powder meal replacements create. Therefore, despite the fact that YFood's model is based in convenience and commodity, I would like to see better solutions to this problem, such as:
Distribute with glass bottles in local shops (Germany, Austria) that can be returned and re-used.
Perhaps develop a bigger product that could be stored in the fridge for multiple uses, like milk.
Regarding my second complaint, about RTD storage, this might be a real issue for some. One solution could be a subscription that allows you 14-day redelivery, instead of full 30 days, so you do not need to order as much. Or offer bigger bottles for subscription-based customers, so they need less surface area.
The shell life is about 12 months. However, once it is open I would recommend consuming in one or maximum two days.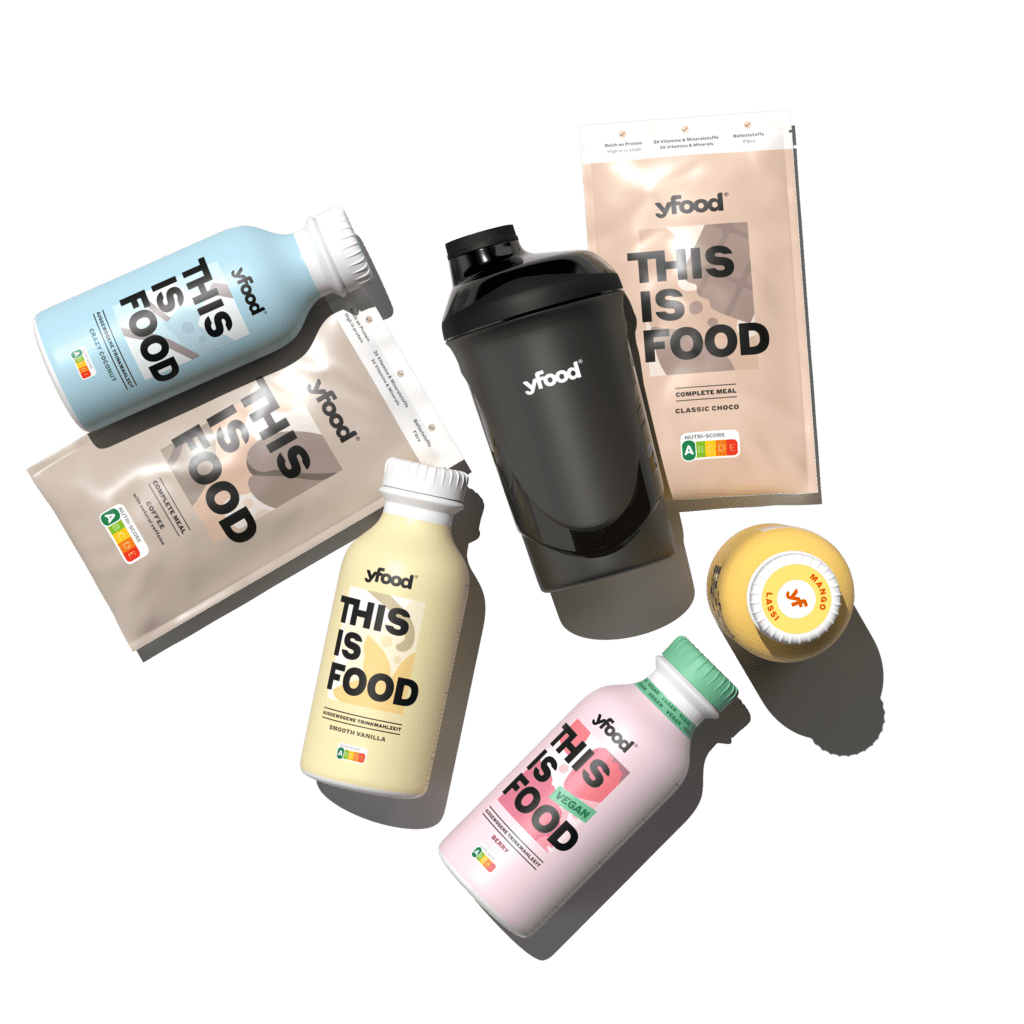 Shipping and Return Policy
Unfortunately, YFood is only available within Europe and UK. Bottles come on packs of 6 , and if you order 12 bottles (~€40) you will be eligible for free shipping. Fantastic deal and one of the easiest free shipping to get.
YFood Taster Pack
For those who are looking to start with YFood, the taster pack is the way in my opinion. While the price per meal is a little more expensive, you will get to try out all flavours for €18!
YFood FAQ
Can I get YFood in the US?
No, the German manufacturer only sells in Europe currently.


Is YFood vegan?
The standard version of the RTD, the powder and the bars are not suitable for vegans, since they contain milk (lactose-free). However, YFood does sell a vegan version of their RTD.


Is YFood RTD gluten-free?
Yes, YFood's RTD is gluten free.


Where is YFood manufactured?
Even though the company is set in Munich, the manufacturing process occurs in Austria.


How does YFood taste?
I recommend you reading the tasting section; but in short it tastes like a flavoured milkshake. The Vegan RTD is slightly different to the milk-based ones.


YFood Powder or RTD, which one is better?
It's situational. For most, YFood Powder will be the more affordable option and better suited for daily use. If you are looking for something more portable, the RTD will do. YFood's RTD is the better tasting one, out of both as well.


Is it suitable for diabetics?
While I would assume YFood has low GI, it does contain maltodextrin and 22g of sugar that are very likely to spike your blood sugar. I would advise against consuming, before asking your doctor.


Why choose YFood RTD over other powder meal replacements?
YFood is hypoallergenic, thus will be drinkable by more people than most other complete food products. As any other ready-to-drink meal replacement, the strongest point YFood has is convenience. That paired with the high protein content, actually makes it ideal as a post-exercise meal (if you tend to workout at lunch time, for instance).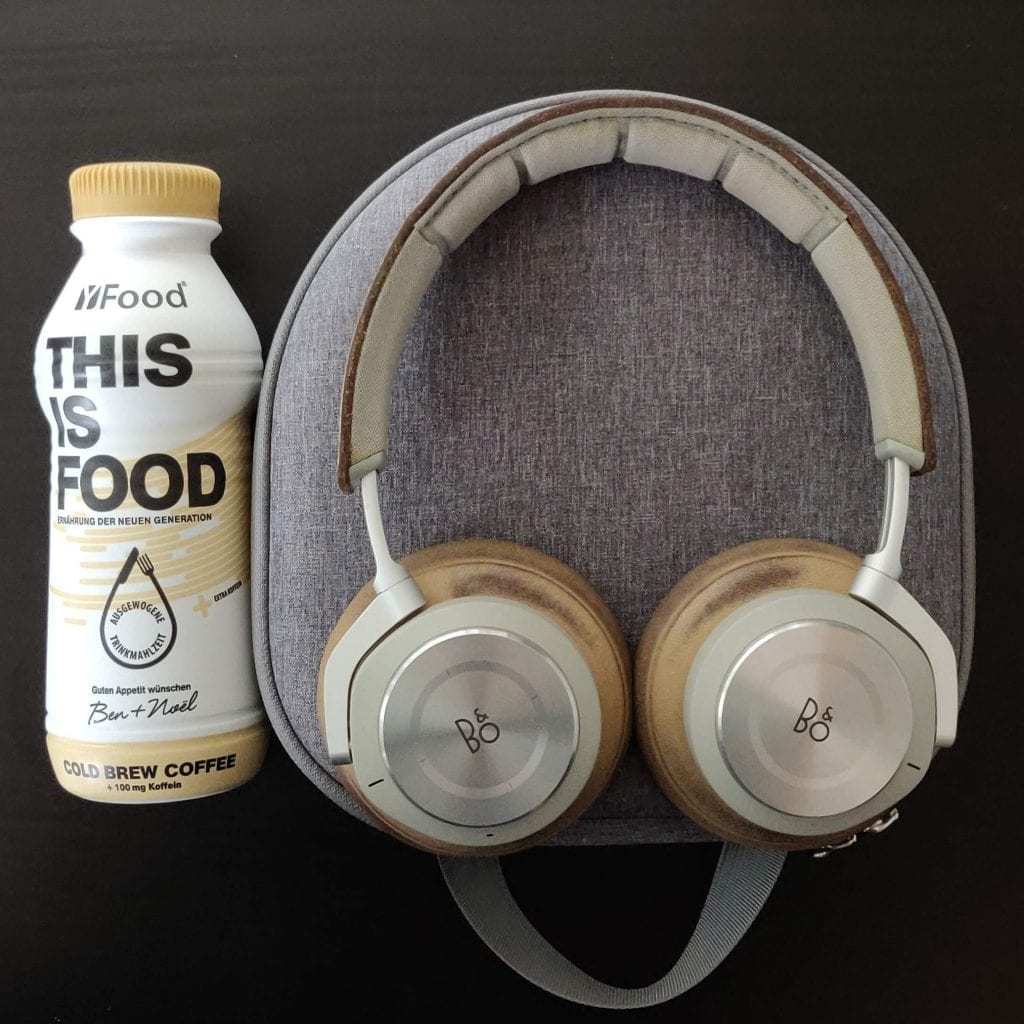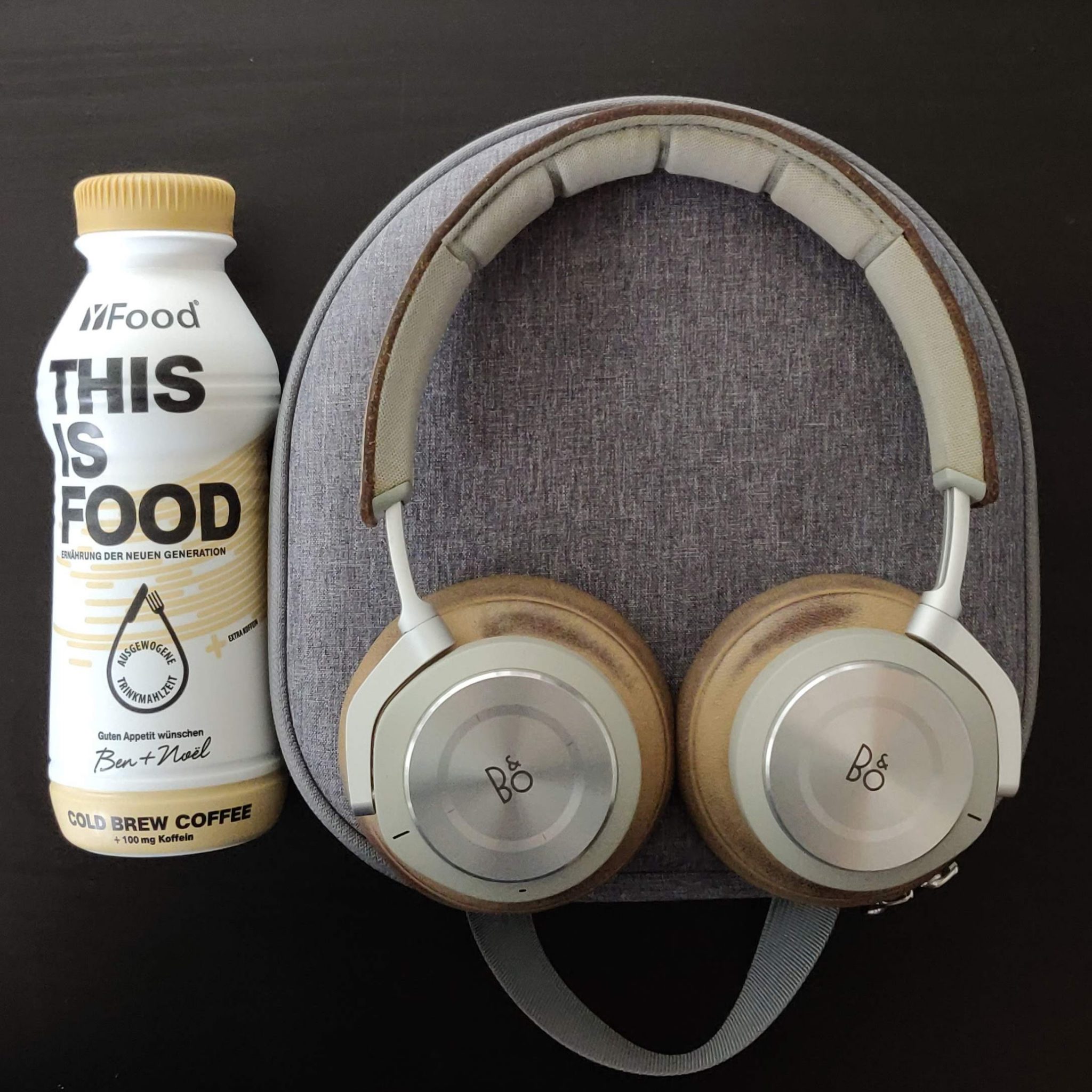 YFood vs
YFood's main competitors in the RTD market in Europe are: Saturo, Plenny Drink, Huel RTD, Mana RTD, and Feed. All the ones that I have just mentioned are plant based ready to drink products. In fact, there's only one other milk based RTD, Liquid Meal, and shares a lot of similarities with YFood.
How Does YFood RTD Price Compare to Other RTDs?
Beforehand, I have mentioned that YFood is relatively affordable in Europe. Here's how it compares to some other RTDs in the market:
| price (€) per 400kcal | YFood | Mana | Huel RTD | Plenny Drink |
| --- | --- | --- | --- | --- |
| Expensive | 2.79 | 3.93 | 4.72 | 2.50 |
| Cheap | 2.24 | 3.55 | 4.25 | 2.13 |
---
YFood vs Huel
I tend to compare every meal replacement to Huel, because they are the one of the biggest companies in the market. Their ready to drink meal is a soy free shake.
| | | |
| --- | --- | --- |
|   | Huel | YFood |
| From | UK | GER |
| Ships to | World | EU |
| $/400kcal | $$ | $$$ |
| C/P/F | 38/31/31 | 31/28/41 |
| Allergen | Gluten* | Milk |
| kCal/meal | 500 | 500 |
| Serv/day | 4 | 4 |
| Suitable | Vegan | Vegetarian |
| Flavours | 5* | 4 |
Key Points
Huel RTD
Vegan.
No soy, no allergens.
Available in EU and USA.
Doesn't rank highly in tasting comparisons.
Best price in the UK.
More expensive in Europe.
YFood
Both Vegan and non-vegan RTDs.
Vegan has soy.
Available in Europe.
Over 8 flavour available, plus 4 are vegan.
Much better tasting.
Higher protein content.
What Should I Buy?
In the USA you will have no chance but to consume Huel. However, I think that in Europe YFood is one of the best Huel alternatives, particularly if you are looking for ready to drink products. The cheaper price in Europe, paired with the excellent taste and bigger variety seal the deal for YFood.
---
Jimmyjoy is a very successful brand, with the budget Plenny Shakes being their best-selling product. They've been a fan favourite for a long time, however their ready to drink alternative has not been as successful as they hoped for.
| | | |
| --- | --- | --- |
|   | Jimmyjoy | YFood |
| From | NED | GER |
| Ships to | World | EU |
| $/400kcal | $$ | $$ |
| C/P/F | 54/13/33 | 31/28/41 |
| Allergen | Soy, Gluten | Milk* |
| kCal/meal | 400 | 500 |
| Serv/day | 5 | 4 |
| Suitable | Vegan | Vegetarian |
| Flavours | 1 | 4 |
Key Points
Plenny Drink
Vegan.
Includes soy.
Available in EU and USA.
Only sold in Vanilla.
Cheaper than YFood.
Vanilla tastes good, despite being a little too sweet.
YFood
Both Vegan and non-vegan RTDs.
Vegan has soy, milk based does not.
Available in Europe.
8 flavour available, 3 of which are vegan.
Much better tasting.
Higher protein content.
Which One Should You Buy?
Honestly, there's little to say in favour of Plenny Drink besides the more competitive pricing. While I must admit that it also tastes good, you would get bored by it fast. Therefore, I think that YFood is the clear choice here.
---
Saturo has been one of the dominant forces in the European RTD market. They took Soylent's formula to Europe and offer multiple flavours to choose from.
| | | |
| --- | --- | --- |
|   | Saturo | YFood |
| From | AUS | GER |
| Ships to | EU | EU |
| $/400kcal | $$ | $$$ |
| C/P/F | 35/20/44 | 31/28/41 |
| Allergen | Soy | Milk* |
| kCal/meal | 500 | 500 |
| Serv/day | 4 | 4 |
| Suitable | Vegan | Vegan* |
| Flavours | 8 | 4 |
Key Points
Saturo
Vegan.
Includes soy, maltodextrin and isomaltulose.
Available in EU.
5 flavours available.
Better than Vegan YFood.
YFood
Both Vegan and non-vegan RTDs.
Vegan has soy, milk based does not.
Available in Europe.
8 flavour available, 3 of which are vegan.
Whey based ones taste better.
Which One Should You Buy?
Considering the points made above, I would choose Saturo if I were vegan (although I recommend you trying both and see which one you like best). Saturo also has most of its flavours in 330ml (330kcal), as opposed to 500ml (500kcal).
Besides that, I would choose YFood.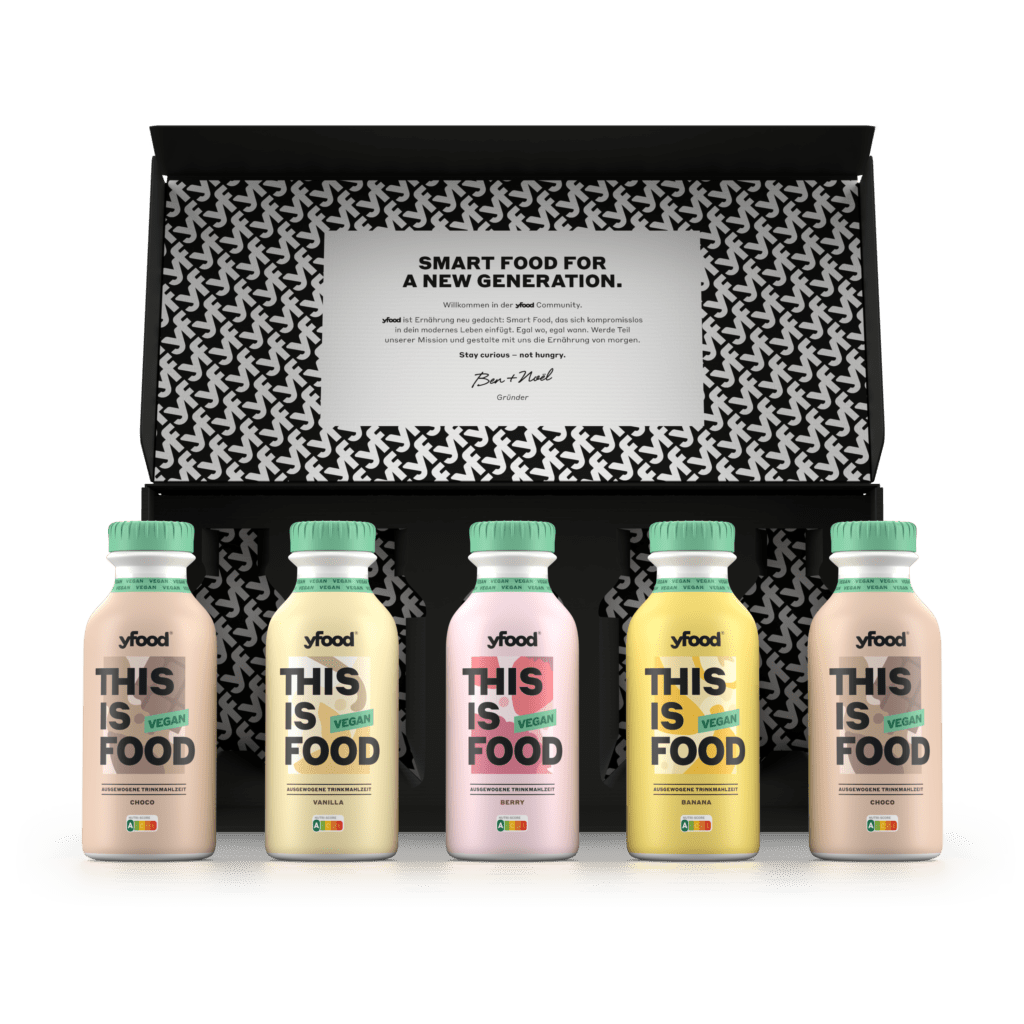 Verdict – YFood RTD Review
In short, YFood is still the king of taste; and the RTDs are the most delicious meal replacements you can get, particularly the original line.
As such, YFood is the ideal brand for those that do not care about paying a little extra, but want to experience good milky taste.
Nutritionally is good and has no allergens except milk (not lactose); on top of the fact that it contains no soy.
The protein content and source separates YFood from the rest, and actually make it better for people looking to gain muscle mass or do sports.
With the addition of the vegan line, it now brings YFood's excellent taste to those following a plant base diet. Despite the fact that I don't think these are as tasty as the sublime milk based shakes; they are still some of the best RTDs I have tried.
I would strongly recommend trying YFood and I consider it the best tasting RTD in the market.
Pros
Best chocolate shake in the market. Simply wonderful.
Great tasting shakes overall.
Price is competitive for an RTD.
Vegan and non-vegan options.
High in protein. 33g of protein per bottle.
Cons
Not very filling
Shopping experience for non-German buyers not as good.
Contains many processed ingredients.
Vegan is more expensive and not as tasty.