Shakes and smoothies are very popular because they are satisfying and nutritious. You can add various things to your daily shakes and smoothies to make them unique and healthy. With the best Herbalife recipes in this article, you can learn some shakes recipes that you can make at home using simple ingredients and make your customized Herbalife protein shake recipes.
These recipes are highly nutritious and will be a perfect replacement for your meal. Keep reading the article to learn some quick and easy shake recipes for your meals and healthy diet.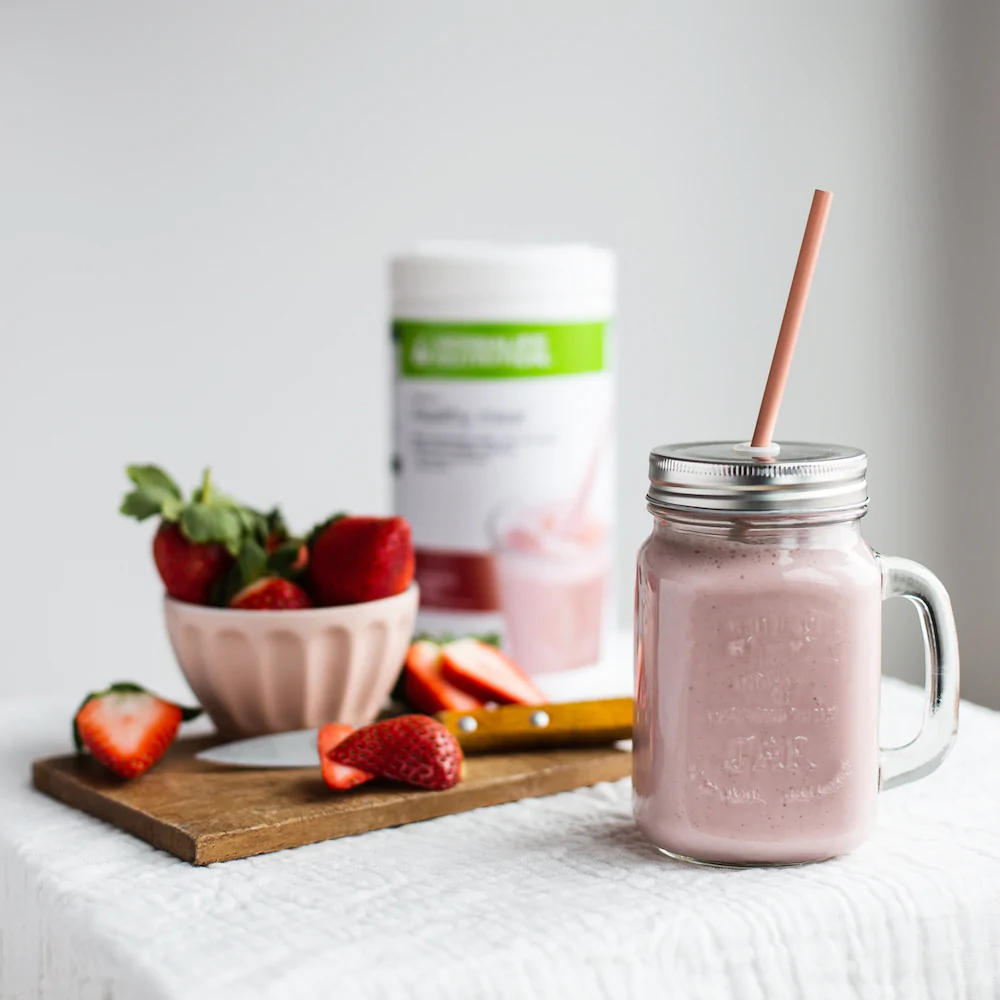 Why Herbalife Recipes?
People have shifted towards healthier food choices because of healthy and organic living. They want to focus on consuming foods rich in fiber, essential nutrients, and minerals to keep their body fit and healthy from the outside and inside.
Healthy foods such as recipes for Herbalife shakes allow people to keep their health in check while maintaining their taste simultaneously.
Nonetheless, as stated in our Herbalife review, we believe it is one of the worst meal replacement shakes you can buy. Consequently, we would strongly recommend changing to healthier shakes like Lyfefuel.
Easy Ways To Upgrade Your Herbalife Shake
You can purchase cheap and healthy ingredients to make these recipes home for your meals, such as breakfast and lunch. They are also perfect for snacking or when you feel hungry. These delicious Herbalife protein shake recipes will make you want more of these and they will only benefit your body and health. 
Some ingredients you could add to transform your Herbalife meal replacement shake include:
Plant-based milk, like almond milk.
Fruits like bananas, berries, kiwi…
Vegetables such as kale or spinach
Zero sugar syrups – 0 calories added, but tons
Flavorings like cocoa powder, honey, cinnamon…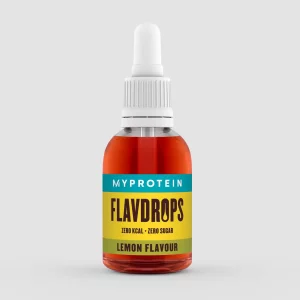 The best Herbalife shake recipes increase the nutritional value of the shakes. For instance, adding fruits or vegetables will boost the number of phytonutrients (like antioxidants) in these shakes.
If you are on a diet or want to follow a healthy lifestyle, you should maybe consider changing to the healthiest meal replacement shakes, instead. Eating nutritious and healthy foods will keep your weight in check while maintaining your energy and stamina.
You can shift towards Herbalife recipes because they are easy to make. Another great thing about these recipes is that they are filling and considered separate meals. Therefore, after you consume these smoothies, you will no longer have to prepare any meals.
The Best Herbalife Recipes That Will Enhance Your Meal Shakes 
Regarding Herbalife, you will find that their shake powders and protein powders are among the most popular items. These shakes are sold the most because they are convenient for consumers and are easy to prepare. Consumers can add these powders to food items such as smoothies, desserts, and shakes.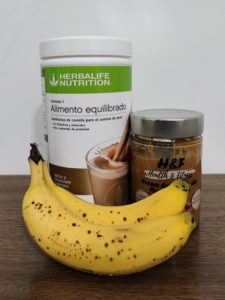 These powders can be used to prepare a Herbalifean shake recipe that is low in calories and rich in vitamins, essential minerals, and protein. These shakes will improve your life and transform your energy levels.
Below are some of the best recipes for Herbalife shakes you can make at home.  
1. Pumpkin Pie Herbalife Protein Shake 
Everyone loves pumpkin pie during the Autumn and winter season.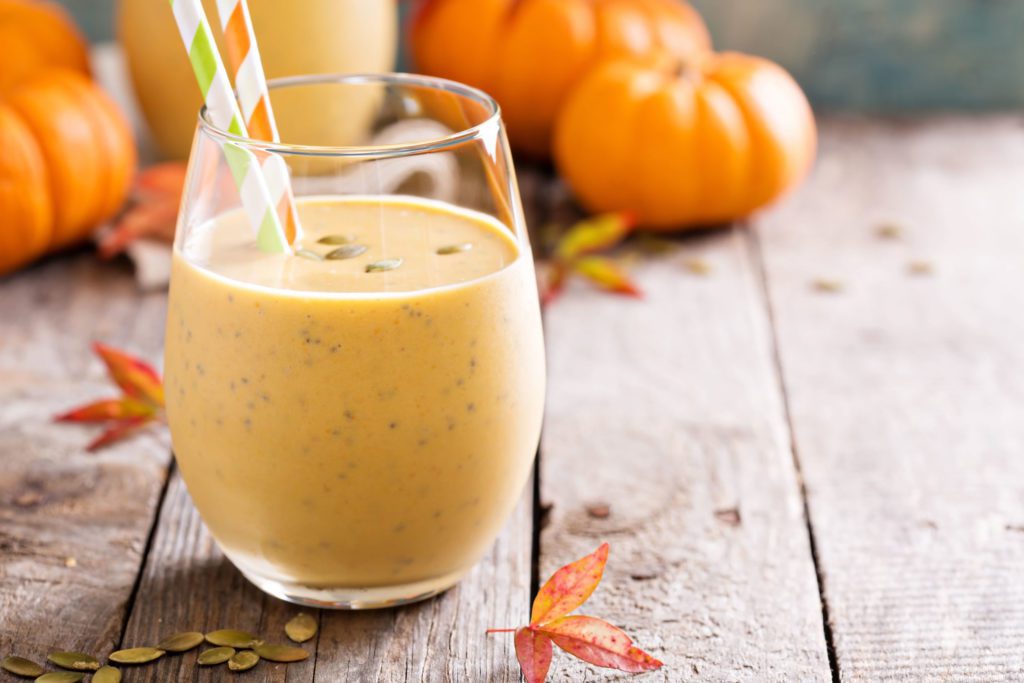 Pumpkin pie is made of fresh pumpkins and it is delicious and soul-warming. But you can also enjoy your shakes' delicious pumpkin pie flavor by making Herbalife recipes at home. There shall be no need to wait for the pumpkin pie season to arrive to enjoy the deliciousness. You can now enjoy this delicious drink all year by making a pumpkin pie shake full of protein.
This shake tastes like a pie and also has lesser calories. Hence, this is the perfect drink for weight loss.
Ingredients
Pureed Pumpkin (1 teaspoon)
Herbalife Vanilla (1 serving)
Banana
Almonds (optional)
Pie spices (optional)
Almond milk (300ml)
Sugar, cinnamon, and ginger
Prep
Requires a blender.
Add the dry ingredients to the blender.
Chop the banana and add to the blender.
Add the almond milk and the pureed pumpkin.
Blend all together.
Serve cold with a sprinkle of cinnamon on top and whipped cream if you fancy it.
This shake could be served warm if you mix the almond milk and the puree first. Make sure not to make it too warm, otherwise, the shake will be ruined. 
2. Birthday Cake Flavor Shake  
If you love birthday cake, you will also love the Herbalife recipes that include a hint of birthday cake flavor. Birthday cakes are often light and fluffy and they also have rainbow sprinkles on them.
However, these cakes are only sometimes the healthiest as they are packed with carbs and calories. This is why you should choose a healthier option that is delicious and also healthy at the same time. With the birthday cake recipes for Herbalife shakes, you can maintain your fitness and lifestyle.
A birthday cake flavor shake will be easy to prepare, delicious, and also packed with protein. This is the best recipe to make if you are in the mood for something sweet and tasty. 
Ingredients
Herbalife Formula 1 Vanilla or Chocolate (1 serving)
Cookies
Peanut Butter
Chocolate Syrup
Birthday Sprinkles
Milk (300ml)
Crushed ice
Prep
Requires a blender.
Crush the cookies.
Add it to the blender together with Herbalife.
Pour the milk, a spoon of peanut butter and the chocolate syrup.
Blend it well. Add the crushed ice and blend it again.
Serve on a glass with the birthday sprinkles on top.
3. Cinnamon Toast Shake  
Cinnamon is one of the best spices for flavoring. It has been used for centuries to flavor dishes and has many health benefits. Cinnamon is excellent for heart health and can regulate blood sugar levels. This is why you must use this spice in your meals.
Cinnamon toast cereal is loved by many, and you can now indulge in cinnamon toast shake with the help of Herbalife recipes. You can prepare this easy shake by adding some milk, Herbalife protein powder, and cinnamon. This drink also has hints of vanilla, and you can make it unique by adding some cheesecake powder, cracker crumbs, and chocolate. 
The shake has to be blended to get a smooth consistency. This recipe can be topped with some graham cracker sprinkles. You can also toast bread for the side to go with the recipe.
Ingredients
Herbalife Formula 1 Vanilla or Chocolate (1 serving)
Cookies
Peanut Butter
Chocolate Syrup
Birthday Sprinkles
Milk (300ml)
Crushed ice
Prep
Requires a blender.
Crush the cookies.
Add it to the blender together with Herbalife.
Pour the milk, a spoon of peanut butter and the chocolate syrup.
Blend it well. Add the crushed ice and blend it again.
Serve on a glass with the birthday sprinkles on top.
4. Peanut Butter and Cheesecake Herbalife Shake 
Won't you love to drink a shake that has flavors of peanut butter and cheesecake?
This can now be possible with the peanut butter cheesecake shake Herbalife recipe. This is one of the Herbalife recipes that are very popular among those who enjoy shakes and smoothies for breakfast. This delicious shake can be the ultimate winner for all who love peanut butter in their breakfast.
The recipe is also simple as it requires minimal ingredients. You can blend two full scoops of the delicious Vanilla Herbalife protein powder and a large tablespoon of some good-quality peanut butter. You can also add one tablespoon of sugarless cheesecake powder and coconut sugar. 
This will satisfy all your cravings for cheesecake and peanut butter desserts. You will no longer have to put your health at risk while consuming this recipe. You can even make this recipe when you have guests or are arranging a kid's birthday party. Kids love peanut butter and cheesecake, so they enjoy this drink. 
Ingredients
Herbalife Formula 1 (1 serving)
1 tablespoon of Peanut Butter
Sugarless Cheesecake Powder
Oat Milk (300ml)
Banana (optional)
Prep
Mix the Vanilla Herbalife with the cheesecake powder.
Pour the milk first and shake.
Then add the peanut butter and shake well.
Best if you let it sit a little bit.
Pro-tip: Why not add a ripped banana for some extra goodness?
5. Chocolate Chip Herbalife Recipe  
One of the some loved shakes of all time is the chocolate chip shake.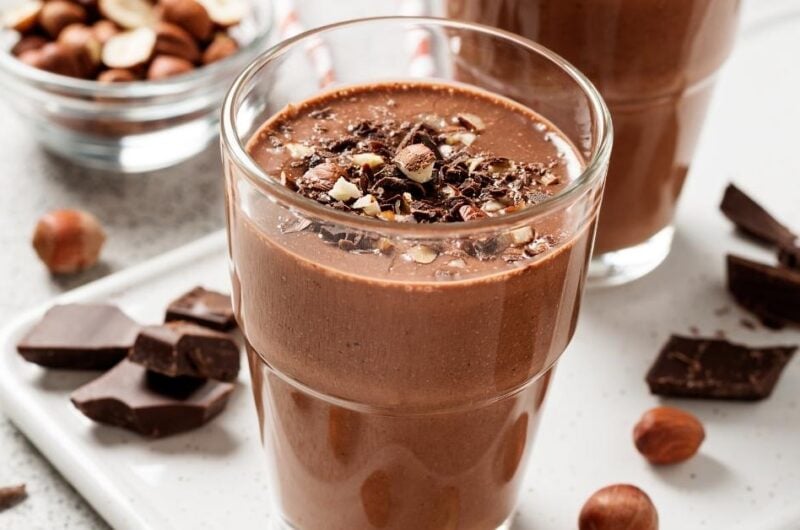 The chocolate chip shake can be even better if you add some mint chocolates or mint flavoring to the recipe to give it an original taste. If you love chocolate, ice cream, and mint, you should try this shake recipe by Herbalife. This drink is powered with protein, potassium, and vitamins.
Ingredients
Herbalife Chocolate (1 serving)
Chocolate chips (or crushed chocolate)
Soy Milk
Mint (optional)
Prep
Make sure to crush the chocolate chips.
Mix the soy milk with Herbalife powder and the chocolate chips.
Serve with ice cubes and a fresh mint leaf.
6. Summer Berries Vegan Herbalife Recipe 
This vegan Herbalife shake recipe is ideal for summer, but it can also be enjoyed anytime.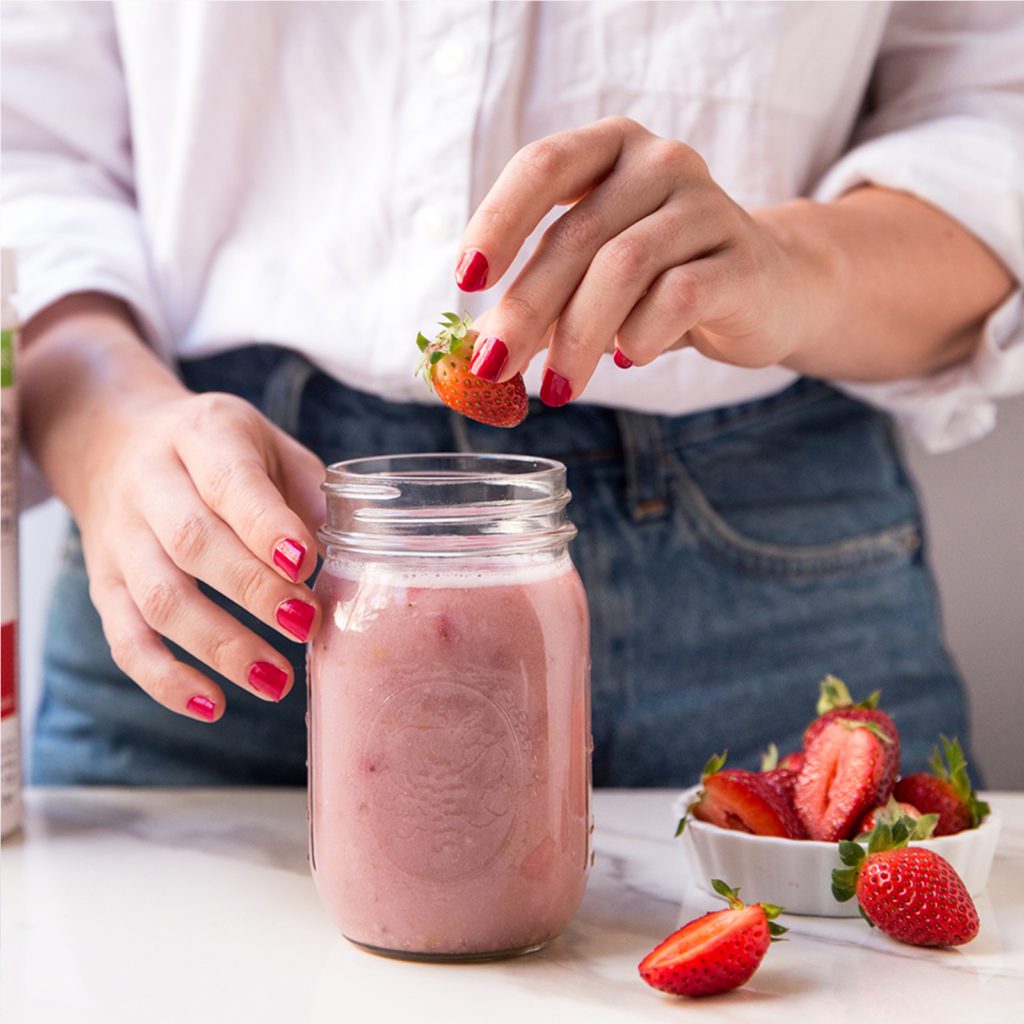 Berries are filled with antioxidants and nutrients, so they can boost your Herbalife meal shake to a whole new level.
It is one of the simplest and best vegan Herbalife recipes you can do.
Ingredients
Herbalife Formula (1 serving)
Frozen berry mix (also can be done with fresh)
Chia Seeds (optional)
Kiwi (optional)
Water (300ml)
Crushed ice
Prep
Requires a blender.
Simply add the water to the blender and pour the ingredients in.
Blend it well.
Enjoy.
The kiwi is optional, but it adds a level of sweetness that can balance the sourness of the berries.
7. Apple-pie Herbalife Shake 
Apple pie is a classic recipe, and a shake based on this recipe has to make a list. If you are entering the fall season and want to get into the whole fall spirit, you should try our delicious apple pie protein shake recipe.
Like other Herbalife recipes, this recipe is also a heart stealer as its tastes exactly like apple pie. This shake has a creamy texture. Also, it is packed with nutrients. Top it with some whipped cream and you will feel like you are tasting heaven.
Ingredients
Herbalife Formula 1 Vanilla (1 serving)
Green Apple
Shredded Coconut
Nutmeg
1 teaspoon of cinnamon
Maple Syrup (optional)
Milk (300ml)
Prep
Requires a blender.
Peel the apple and chop it into pieces.
Add the dry ingredients in the blender.
Pour 300ml of your favorite milk and add the maple syrup if you like it sweet.
Blend it well and let it sit for an hour (preferably).
8. Cappuccino Herbalife Breakfast Shake Recipe 
If you love a cappuccino and all things coffee-flavored, you will love the cappuccino protein shake by Herbalife. This recipe is like having coffee and a hearty meal simultaneously.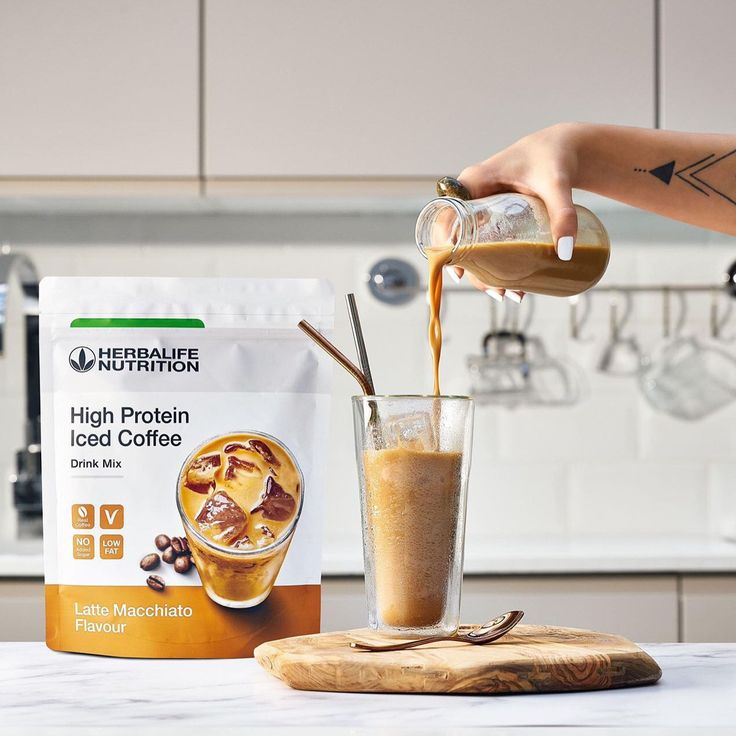 If you are a coffee lover, you must try out the breakfast recipe. This recipe is best when consumed in the morning as it contains caffeine that will give you a lot of energy and keep you going. The shake will be like a new best friend for a person who stays incredibly busy and does not have much time to cook breakfast. A cappuccino protein shake is best for days you're running late for work or college.  
This shake is lighter than coffee while keeping a person whole and satisfied. This coffee drink is super easy to prepare as all you need is the Herbalife Formula Cappuccino powder, low-fat or plant-based milk, fresh banana, grapes, and maple syrup. You will need a blender to blend all these ingredients to make a smooth shake. Some people like sprinkling coffee flakes and chocolate chips on their shakes. However, this is up to you. This drink is light, caffeinated, nutritious, and delicious. You can make this all year round for breakfast. 
Ingredients
Herbalife Formula 1 Cappuccino (1 serving)
Fresh Banana
Grapes
Chocolate Syrup
Whipped Cream (optional)
Low Fat Milk (300ml)
Prep
Requires a blender.
Start by adding all the dry ingredients to the blender.
Pour the milk of your choice and blend.
Serve it in a glass with a splash of whipped cream and chocolate syrup on top.
9. Smores Herbalife Shake 
Marshmallows on top of shakes and smoothies are mouthwatering. Smores are popular among desserts because they remind people of campfires and hot chocolate.
Having some smores and marshmallows in your shakes will give you nostalgia and bring back the old memories of campfires on cool summer nights and when you are relaxing at home on a cold winter day.
The Herbalife smores shake recipe will deliver excellent results and will make you crave more. This drink combines rich chocolate flavor, cookies, cream, protein, vanilla, and marshmallows.
This is the Herbalife recipe for those who want a drink to gain weight with—packed with extra calories to boost your gains.
Ingredients
Herbalife Formula 1 (2 servings)
Marshmallows
Cream
1 Oreo cookie
Cinnamon
Low Fat Milk (300ml)
Prep
Crush the Oreo cookie and mix it with Herbalife powder.
Add the milk and the cream and shake vigorously.
Serve to a mug and warm the mix a little.
Add the marshmallows on top with some sprinkles and cinnamon.
The Best Herbalife Recipes
Shakes and smoothies are becoming quite popular because people have become busy with work and social commitments. These Herbalife recipes are packed with nutrients and are also super easy. These recipes will save time and keep your health and fitness in check.
Whether you want to lose weight, move towards healthier food options, or improve your skin or your fitness, you can try the Herbalife shake recipes, as they are affordable to prepare. These recipes can also be prepared by those who need to learn to cook and struggle with maintaining their health. 
These recipes are perfect for post-workout and pre-workout meals as they are full of protein and work to improve mass, muscle, and strength. All the featured recipes will suit your workout and diet plans and aid in quick weight loss. These quick and hassle-free recipes are designed to go with all your meal plans and fitness regime.
The simplest way is to add your milk of choice and spice like cinnamon. Adding fruits and other vegetables, it's also a great idea, as discussed.
You can check out the complete nutrition details and information about these shakes online. At last, maybe this article is a little helpful in giving enough information to the readers about what they are seeking for the shakes of Herbalife.