Flexitrinol Reviews | Is This Joint Supplement As Bad As Users Say?
Joint pain can be an incredibly frustrating issue to deal with. It is also an evergrowing issue in our society, and that's where OTC joint pain supplements like Flexitrinol have risen in popularity.
Sadly, as you will discover in this Flexitrinol reviews, this is greatly underdosed and will do very little for joint pain relief.
In fact, some of the ingredients are in dosages 10 times smaller than the recommended for common issues like milk osteoarthritis.
Without going too deep into the issue in this Flexitrinol review intro, let's have a look at omega-3. Flexitrinol only provides 31mg per serving, in comparison to the 250mg recommended for normal adults, and the 1000mg dosages found in the best joint supplements.
We'll go further into this issue later, but here are 5 key take-aways for those who don't have the time to read this Flexitrinol review:
This is a highly underdosed joint pain supplement
It has multiple user reviews that complain about lack of efficacy
Flexinitrol is incredibly expensive – $100 for 15 day
It is not effective against RA, joint pain, or even increasing joint mobility
We recommend looking at Flexagain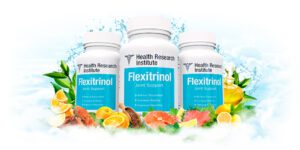 Quick Links
---
What Are the Ingredients of Flexitrinol?
The truth is that Flexitrinol uses all the right ingredients. Sadly, these are not found in the right dosages though.
Glucosamine HCL – 500mg
JointFlex Proprietary Blend – 200mg
Omega 3-6-9 Proprietary Blend – 90mg

Flaxseed oil (ALA)
Evening primrose oil
Fish oil (DHA, EPA)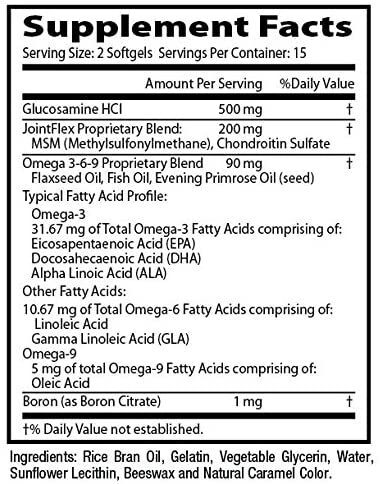 Let's have a look at each ingredient:
1. Glucosamine HCL, 500mg
This is the first example of what we've mentioned above.
Glucosamine hydrochloride has been used to treat arthritis (osteoarthritis) but at 3 times the dose found in Flexitrinol. In fact, randomized control trials found that glucosamine could noticeably improve joint flexibility in osteoarthritis patients.
It has also been linked with improvements for RA patients (pain relief), but without really improving the swollen joints.
2. Methylsulfonylmethane (MSM)
MSM has risen as an anti-inflammatory agent in recent years. Clinical trials have shown that MSM is effective at reducing pain in osteoarthritis and RA patients.
Furthermore, studies have shown to act in conjunction with glucosamine and chondroitin in inhibiting pro-inflammatory molecules, hence reducing joint inflammation.
It's considered generally safe to consume (GRAS recognition), and there are no known side-effects to consuming it.
That said, most studies using MSM use much higher dosages than those included in Flexitrinol.
3. Chondroitin Sulfate
As mentioned previously, chondroitin sulfate can act in conjunction with MSM and glucosamine relieving the inflammation and swelling of joints.
The recommended dosage of chondroitin in order to be effective is 800 to 1,200mg per day.
Unfortunately, the exact amounts of MSM and chondroitin are hidden behind a "proprietary blend". We are big advocates against any proprietary blend since usually mean one of the following:
Hiding filler ingredients
Hiding information to not reveal that they are underdosed
Either way, the JointFlex Proprietary Blend is 200mg, which is way below the required for chondroitin!
4. Boron
This mineral has been used to treat various types of arthritis. A dose of 6mg of boron has been proven effective for the prevention of arthritis and a general improvement in the health of bones and joints.
However, Flexitrinol only has 1mg of boron per serving, which is far from enough to notice any improvements.
Boron is relatively safe when used in low doses. However, the label doesn't show the exact concentration of the mineral.
5. Omega-3
For us, this is the biggest miss of them all.
Omega-3 supplements are great for joint support, and brain and eye health. They are essential fatty acids that are often lacking in our diets.
According to the latest research, a combined 250mg of DHA and EPA is recommended for healthy adults. Flexitrinol only provides you with 31mg!
Furthermore, this includes ALA (alpha linoleic acid) which converts at 2-8% into DHA and EPA (the fatty acids your body uses.
What does this mean? Well, you are basically getting 0 omega-3 fatty acids, and thus, not getting any anti-inflammatory benefits.
What Are the Benefits of Taking Flexitrinol?
Basically, none.

But jokes aside, here are the alleged Flexitrinol benefits:
Relief discomfort
Increase mobility
Improve flexibility
These are all benefits that you should expect from the best joint supplements. However, as discussed in the Flexitrinol ingredients section, this supplement won't work.
We could expect some minor benefits perhaps if you have never taken a joint supplement before, but if you are suffering from any major knee pain, joint mobility issues, or joint inflammation Flexinitrol won't give you any benefits.
Does Flexitrinol Work?
As such, scientific evidence and our experience say that Flexinitrol won't work for most people with joint issues.
It's simply ineffective, as the ingredients are in low doses.
Let's have a look at the table below:
| Ingredient | Suggested Dose | Flexitrinol Dose |
| --- | --- | --- |
| Glucosamine HCL | 1,500mg | 500mg |
| MSM | | >200mg |
| Chondroitin | 80 to 1,200mg | >200mg |
| Omega-3 | 250mg to 1,100mg | 31mg |
| Boron | 6mg | 1mg |
What Are the Side Effects of Flexitrinol?
Looking at the ingredients, they are all generally safe for consumption and thus, Flexitrinol should cause no serious side effects.
In other joint supplements for knee pain, high doses of collagen and glucosamine might provoke nausea and bloating, but due to the low concentrations, Flexitrinol has no side effects.
That said, if you feel any dizziness, nausea, stomach ache, itchiness, or similar you should stop taking Flexitrinol immediately and consult with your doctor.
Is Flexitrinol Legit?
Flexitrinol is sold in Walmart and on Amazon, which should make you feel safe.
However, there's very little information about the manufacturer of Health Research Institute, and despite its name is definitely not a research institute. This makes me be weary of Flexitrinol.
Flexitrinol Price
As mentioned above, Flexitrinol can be bought in their official store, on Amazon, and on Wallmart.
When looking at Flexitrinol prices on their Amazon:
2 Tubs (120 capsules) –> $59.95 in total, $0.5/serving.
Is Flexitrinol Worth It?
Flexitrinol is certainly among the cheaper joint supplements. However, this price is reflected on the quality of the supplement.
As discussed in this Flexitrinol review, it's underdose and hence, not a very effective joint supplement for pain relief, or improving your joint health.
Thus, we don't think Flexitrinol is worth it, and we would recommend spending a little bit more for a proper joint supplement like Flexagain, which is 100% more efficient in our experience.
Real User Flexitrinol Reviews
Luckly, we can check some Amazon Flexitrinol reviews to see if they agree with our perception.
In short, most users agree that Flexitrinol is not the solution for their joint issues as Flexitrinol has 3.2 stars from 45 reviews.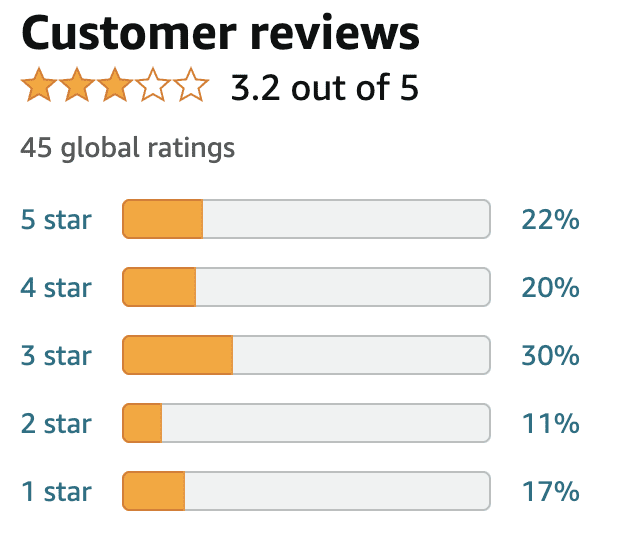 Most of the user Flexitrinol reviews complain about the lack of efficiency.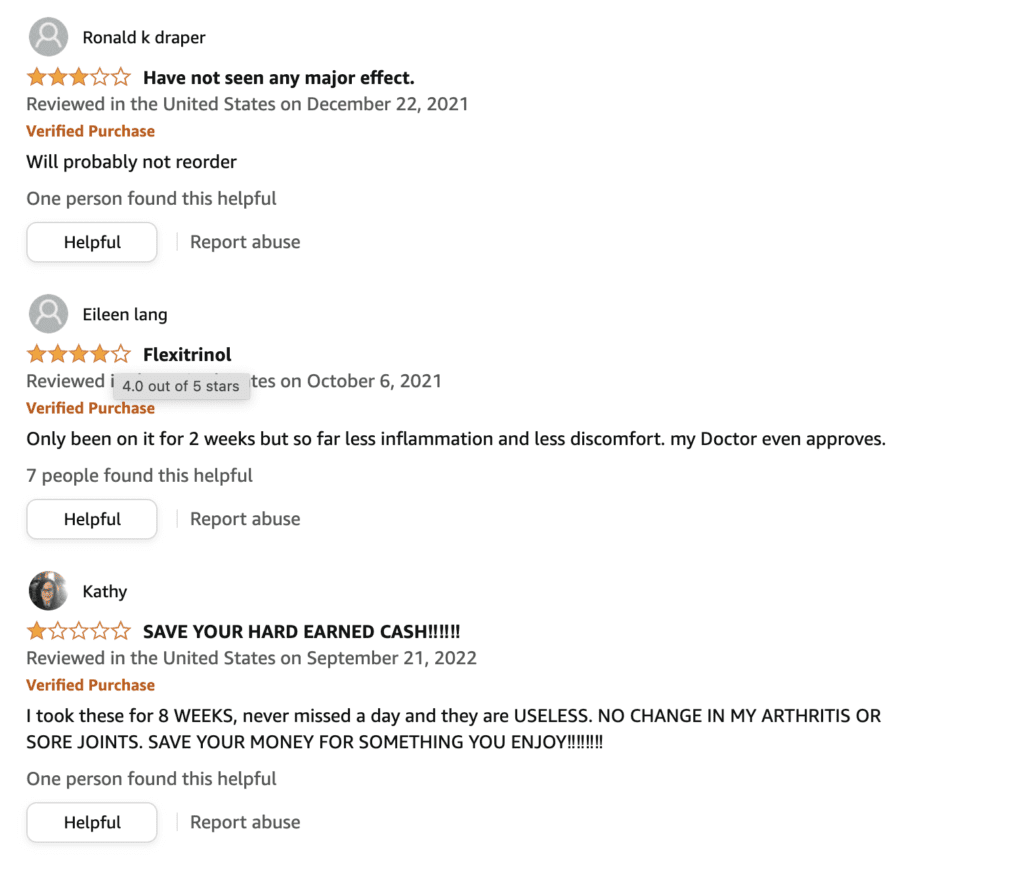 Flexitrinol Reviews FAQ
Is Flexitrinol safe?
Yes, Flexitrinol is safe and has minimal side effects. This is partially due to ingredients being in low dosages.


Is Flexitrinol FDA approved?
No, Flexitrinol is not approved by the FDA.


How long should you take Flexitrinol?
According to the manufacturer "You can take Flexitrinol after symptoms have already begun to get rid of them, or it can be taken preventatively to ensure that they do not return. When you take Flexitrinol will also depend on the severity of your symptoms and the length of time required to return to normal functionality".

That said, if you don't feel any positive effects within a week, you should probably try another joint supplement.

Is Flexitrinol vegan?
No, it contains omega-3 fatty acids from fish oil.
What Is the Best Alternative to Flexitrinol?
If the benefits claimed by Flexitrinol were accurate, you would need no Flexitrinol alternatives.
But as showcased in this Flexitrinol review, we belief that this is not the product you are looking for to sooth joint pain, inflammation and increase mobility.
There are many other joint supplements out there that will do this much better including Physio Flex Pro, or Osteo Bi Flex.]
#1 Joint Supplement for Pain Relief – Flexagain
However, our top pick as Flexitrinol alternative is Flexagain.
Why?
Because it's one of the only joint supplements in the market with actual effective dosages that will tackle all areas related to joints and carthilage health.
This includes:
Joint mobility
Overall joint health
Pain relief
Reducing inflammation
Let me show you some examples why Flexagain is better:
It has 35x times the amount of omega-3 –> really important to fight inflammation
Provides you with 100mg of Resveratrol –> shown to help RA prevention and improve joint health
Contains curcumin extract –> found to reduce pain induced by osteoarthritis
These are but some examples, but the key message is that Flexagain has more ingredients and at higher dosages.
Besides, there are more joint supplements like Relief Factor or Heal N Soothe, but we think that are not as good as Flexagain or Physio Flex.
---
Verdict – Flexitrinol Review, Underdosed and Not Effective
Ultimately, in this Flexitrinol review, we have tried to show that this is not the best joint supplement for pain relief and health.
The ingredients are right, scientifically-proven to work, but they are massively underdosed. For instance, you will only get 35mg of omega-3, when the recommended daily is 250mg! And this is for healthy adults, not for those who suffer for arthritis and joint pain.
As such, we cannot recommend Flexitrinol, and we instead recommend looking at other alternatives in the market.