CFS'20 | 82% Satisfaction but High Prices Are a Big Problem
5 Takeaways from the Complete Food Survey 20 Analysis
These are 5 of the most important facts, in my opinion, to take away and reflect upon from the 2020 Complete Food Survey:
CFS 2020 had a total of 803 participants, 28% less than in 2019. This disappointing result was partially due to few important brands dropping out, and also due to students consuming less Complete Foods.
Covid-19 has changed the customer purchasing habits; but has not significantly lowered consumption.
On average people are very satisfied with Complete Foods. Furthermore, 78% of the consumers were satisfied or extremely satisfied with the service provided by their main Complete Food brand.
Price, Price and Price. One of the major issues was the excessive cost of Complete Foods. 24% of users has taken a break at some point due to products being too expensive. Besides, it was the only factor that consumers felt Complete Foods didn't help during pandemic (managing budget). On top of that, it was the main complaint in the open questions.
There has been an increase on consumers buying in bulk and using subscriptions. The main drivers behind this were people looking for the best prices available to them and stock piling at the start of the pandemic. Even then, there are many reservations around the subscription system and not all consumers feel at ease using them.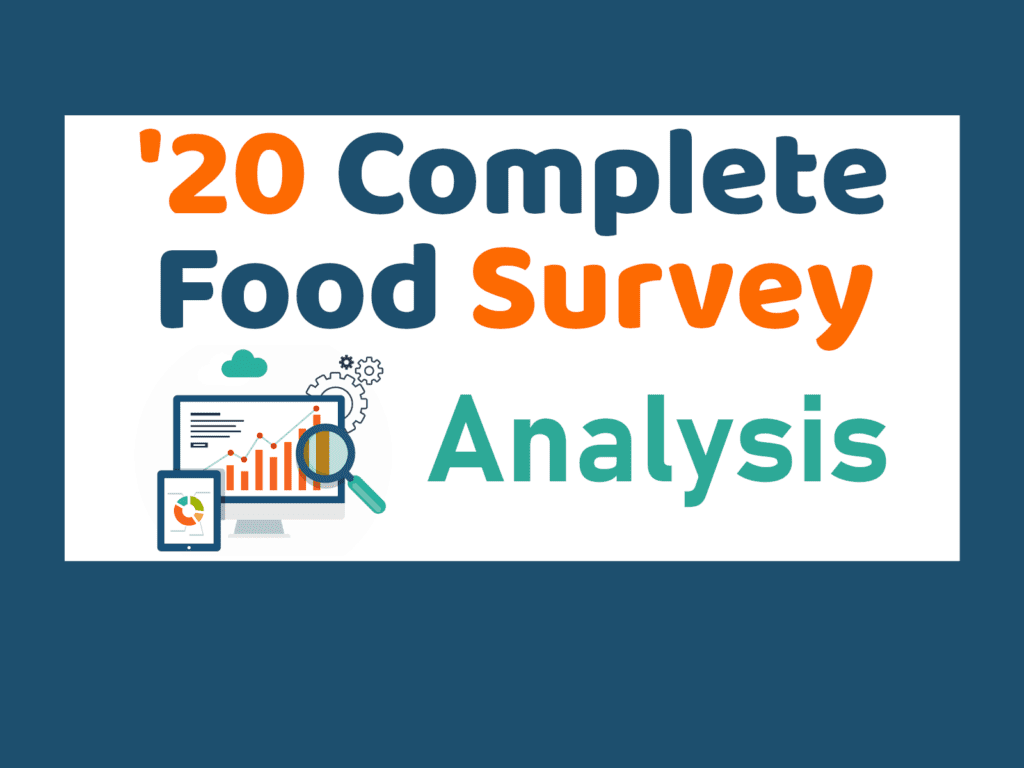 Full Analysis of CFS'20
28% Less Responses When Compared with CFS'19
This is one of the most devastating facts that has come from this year's survey. While, it is true that it has been a weird year in all regards, due to the COVID-19 pandemic (which has likely affected complete food consumption); it has stopped the positive growing trend.
As showcased below, there's been less than half respondents in Europe when compared to previous year; and close to 50% reduction as opposed to 2018.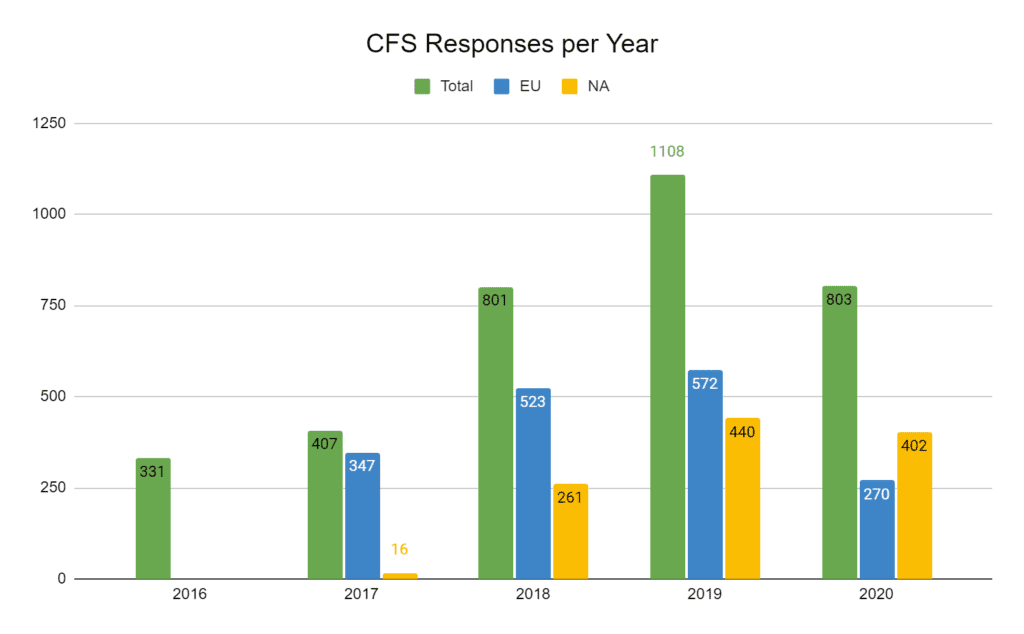 Discussion: Part of the European reduction could be attributed to less European brands taking part this year (Saturo, Jimmyjoy, for instance).
31 People Haven't Tried Complete Foods Before
Like in 2020, there was a section for those who've never consumed Complete Foods before. In the previous year, there were 51 responses.
Nevertheless, the percentage of people who hadn't heard of Complete Food survey increased. On the opposite hand, concerns about the negative health implications consuming them could have decreased by almost ten points.
Interestingly, when asked what could push them to try Complete Foods, most replied that a free sample and lower costs would go a long way.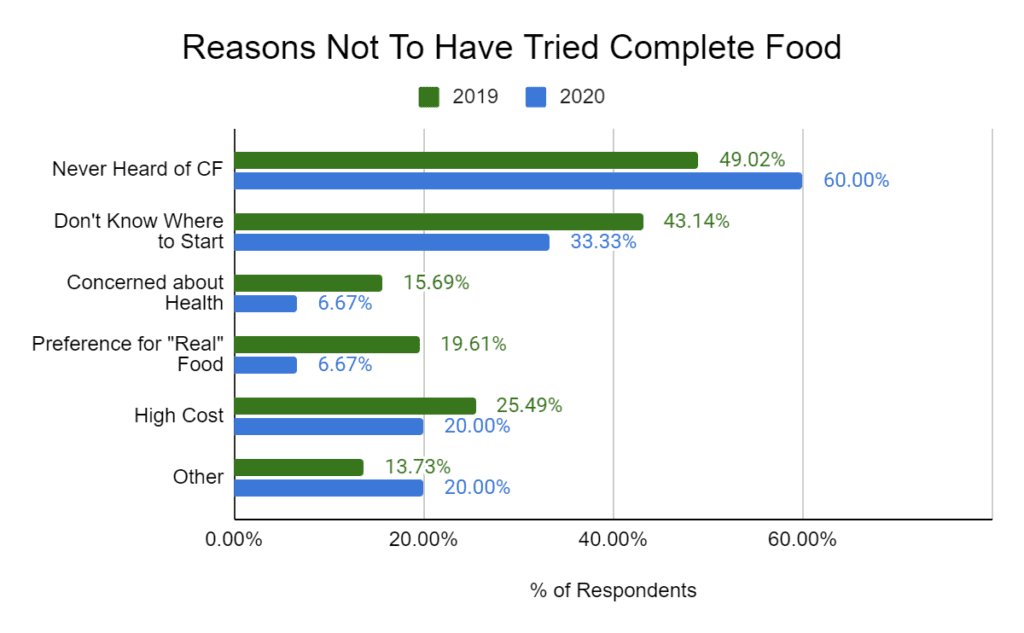 A package sample (not single product sample) product page where I can customize my sample package with check boxes to try multiple products types and flavors all at once. It's a lot more peace in mind to be able to see all products in one page from which I can custom select and try things that otherwise I wouldn't have. It also gives me confidence and assurance to be a part of the company in the long term when most users hesitate about what if the product is not for me or what if the flavor isn't my favorite.

Respondent 524.
Has Complete Food Consumption Changed in 2020?
One of the hot-topics is to analyze the change of Complete Food user behavior. Buying patterns, consumption habits and other areas have surely been affected due to COVID and people working from home.
How Long Have We Been Consuming Complete Foods?
Following the previous year's trend, there has been an increase in long term users (over two years). Furthermore, there was a 1 point increase in new users (17% to 18%), and while it's far from the 30% from the initial years it's a positive sign.
On the other hand, when we look at how often we consume Complete Food, the patterns haven't changed much, when compared to 2019. 27% of people consume at least one Complete Food meal a day during the work week; and almost one fifth eats one Complete Food meal a day on average.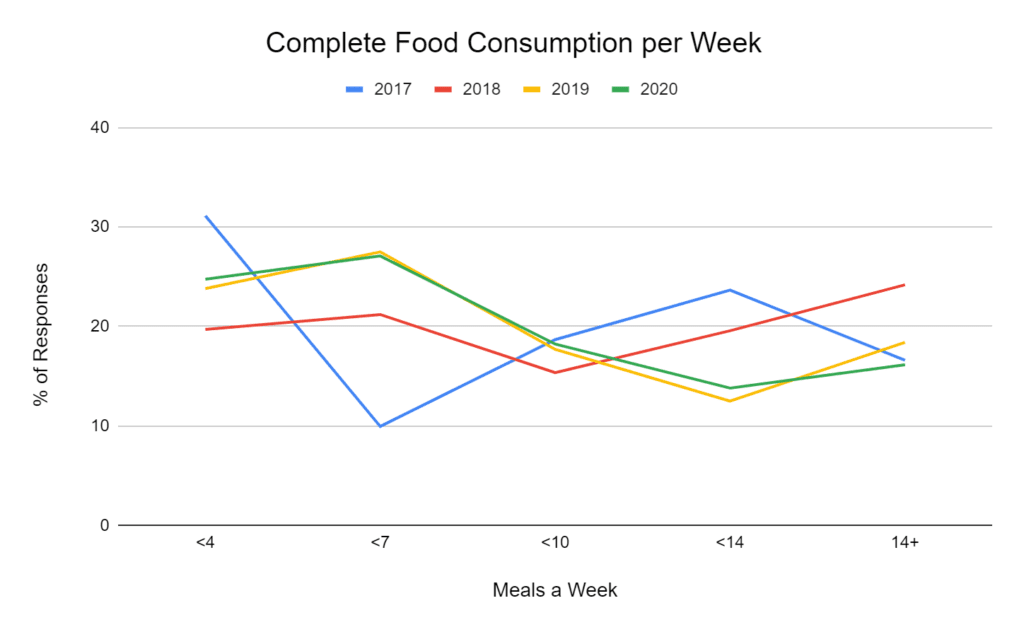 When asked if there was anything preventing them from consuming more; there were 5 main factors: cost of products, working from home (due to covid), due to social interactions (family dinner, etc.), boredom with the taste selection (mostly being sweet), and enjoying "normal" food.
Taste, price, or sometimes I want something solid to eat and not just a shake.

Response 722 to "Is anything preventing you from consuming more Complete Food meals?".
Discussion: Following previous year's patterns, it seems that people are happy to keep consuming Complete Foods regularly. While the % of new users remains low (17%), the % of long term users keeps growing. Even during the lockdown periods, people have kept their consumption habits, and eaten almost 1 Complete Food meal a day on average. There's the proof-of-concept, but the massive adoption is not coming, yet.
47% of Consumers Have Taken a Break from CF
Even though Complete Food users eat Complete meals regularly and tend to stick to using them long term; 47% of them have taken a break longer than 2 months at some point.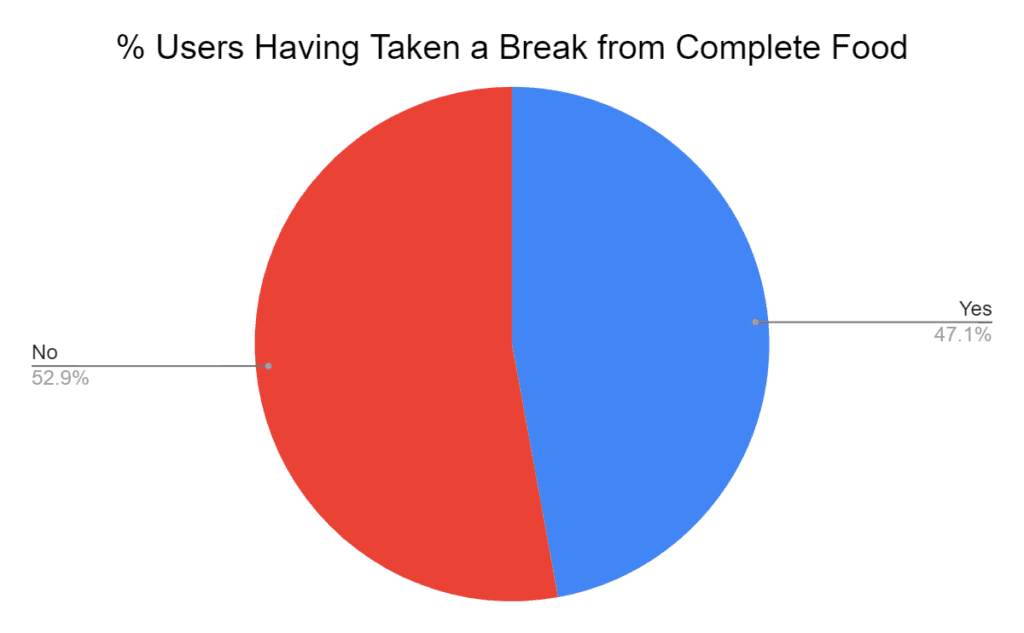 The main factors to take these breaks include; boredom, the high cost of Complete Food products or changes in lifestyle and life situation (ability to have "normal" food).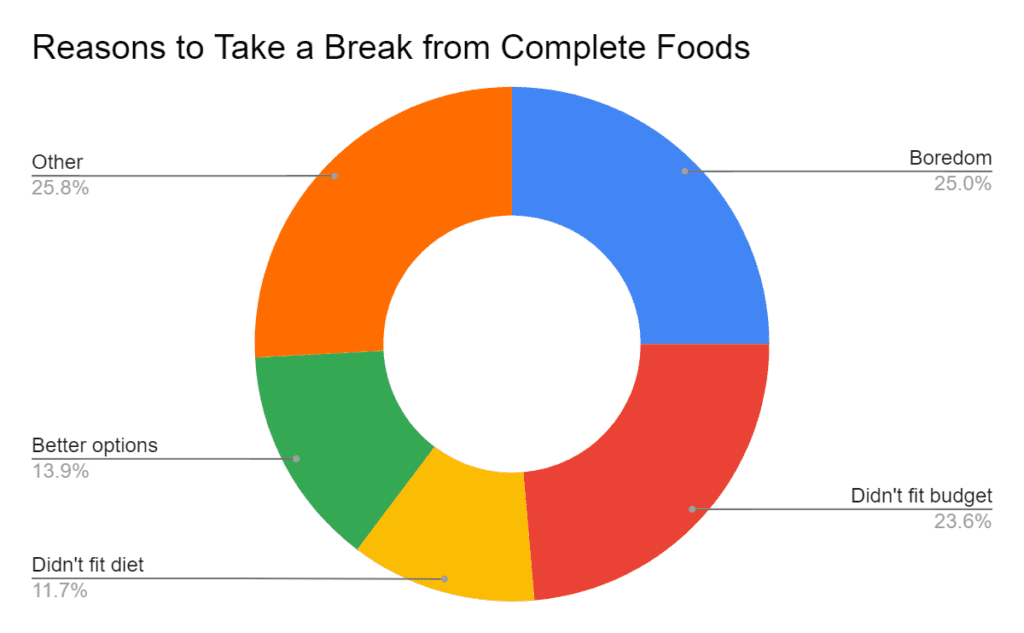 Despite taking a break, many users return due to the convenience of Complete Food factors, looking to improve their diet (health and weight loss), or having improved their income (being able to afford them).
Discussion: While I think that it's perfectly normal to want to have a break from Complete Food; some of the underlying reasons why consumers are taking breaks are worrisome. In particular, the fact that 24% of users can fit their meal replacement of choice into their budget; and that 25% of us are getting bored of them. Improving upon these two factors will be crucial for a brighter future for Complete Food brands.
I want to eat healthier. I also appreciate how quick and relatively cheap they are as a lunch box when at work/uni. No prep needed

Response 241 to "Why did you come back from the break?".
Convenience, during my seasonal job I use a lot of complete foods and during my off months I don't use complete foods as much.

Response 470 to "Why did you come back from the break?".
61% of Consumers Only Order From One Brand
Similarly to the previous year, Complete Food users showed a preference for ordering from a single brand. Once we find our fit, we like to stick with it.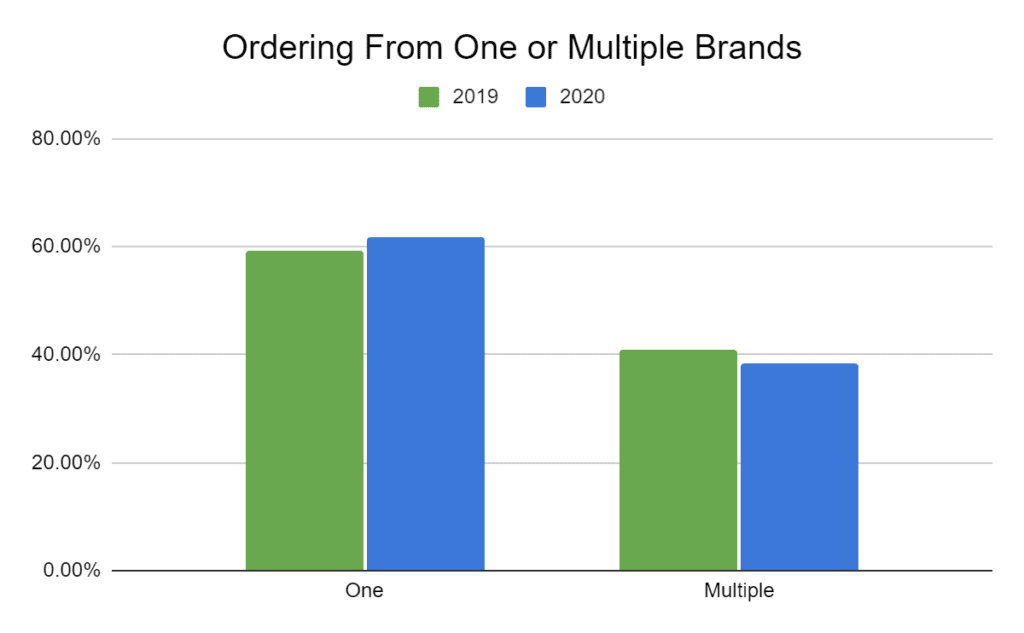 However, a little under 40% are regularly purchasing from more than one brand. Most likely, they are looking out for different flavours (64%), other types of products (57%), different nutrition (48%), or they are just curious (60%).
Furthermore, when asked for other reasons to change brands many of responses express the feeling of "to avoid getting bored". Interestingly, there are some concerns on missing out on some nutrients, hence consuming from more than one brand to cover for it.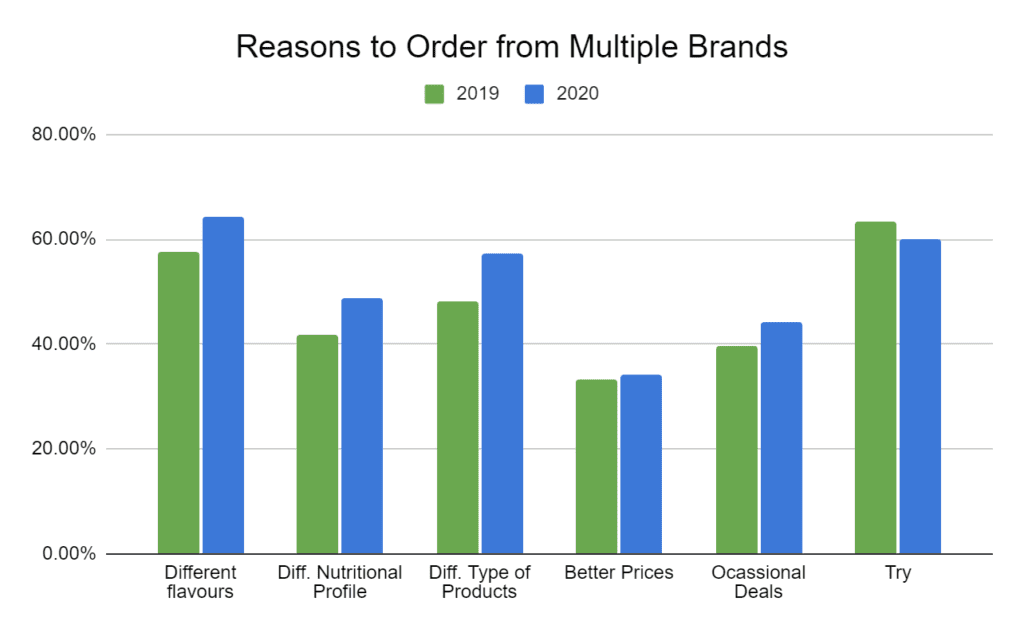 Discussion: Just like people tend to have a preference on their favourite soda or beer brand; most users seem to stick to what they like or their brand. Nonetheless, it is interesting to see the increased amount of people purchasing from more than one brand looking at different products, flavours and nutritional profiles. The appearance of more out-of-the-box meal replacements like Vite Ramen (instant noodles), Huel Hot & Savoury or Queal Ready might push the user to buy from multiple brands even further.
Chocolate Is Still Our Favourite
Just like in the previous survey, Chocolate is the most popular Complete Food flavour with over 70% consuming "chocolate and derivatives". In addition, Vanilla is still the second most popular flavour (62%), followed by Berries (40%) and Banana (28%).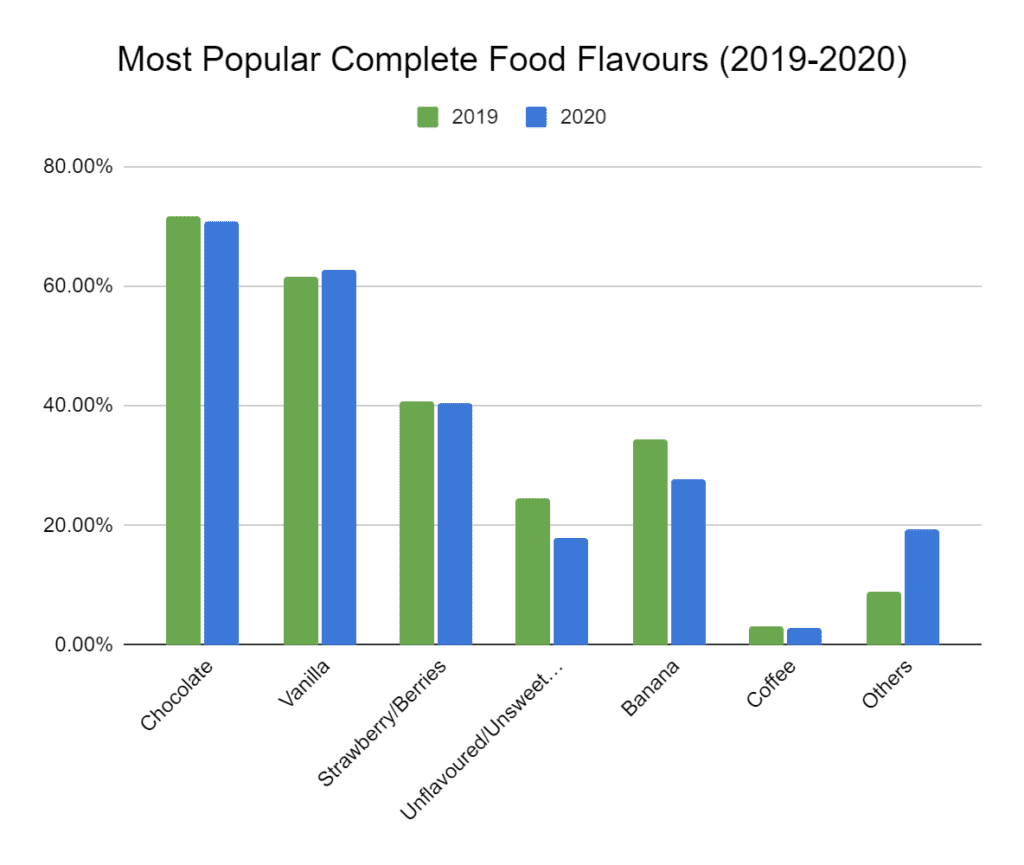 Once again, when asked about what other flavours consumers would like to see, savoury options were the most requested. However, flavours like Matcha, Peanut Butter, or Pistachio were also very popular.
Experimental flavors, maybe even hearty or combinations. E.g. Pistachio, or citrus base maybe. Steal flavors from high end ice cream makers. Oh cherry would be nice too.

Response 631 to "Are there any flavours you would like to see or miss?".
Discovering CF and Finding the Right Product
News Are Still Where Most People First Learn About CF
Although the number of people discovering Complete Foods via news keeps decreasing year after year, it is still the #1 point of discovery at 25%. Besides news, advertising (95% online), social media posts, friend recommendation and Reddit are the most relevant sources.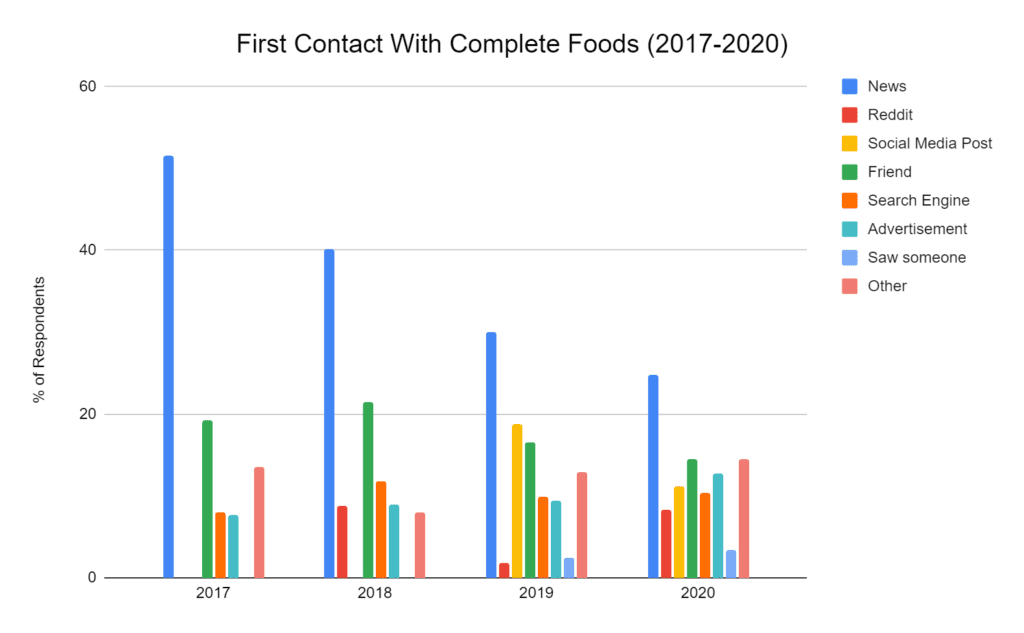 Discussion: It would be interesting to see how much the marketing budget of the companies has increased and how it correlates to increased new users via advertising. Furthermore, word of mouth is still a very important resource for the companies, but this might leave room to growth via online ads and more social media presence.
What Factors Are Important When Deciding to Try Out Complete Foods?
Convenience and Nutritional Completeness are still the two most important factors when we decide to try out Complete Foods for the first time. We are conscious of our diets and we keep trying to improve them, despite our time constraints.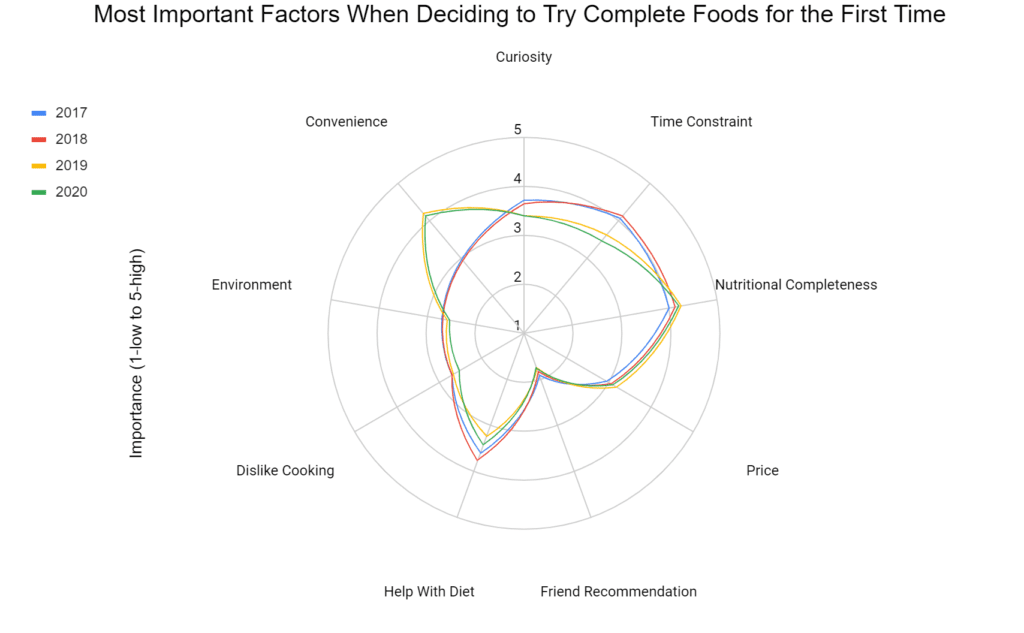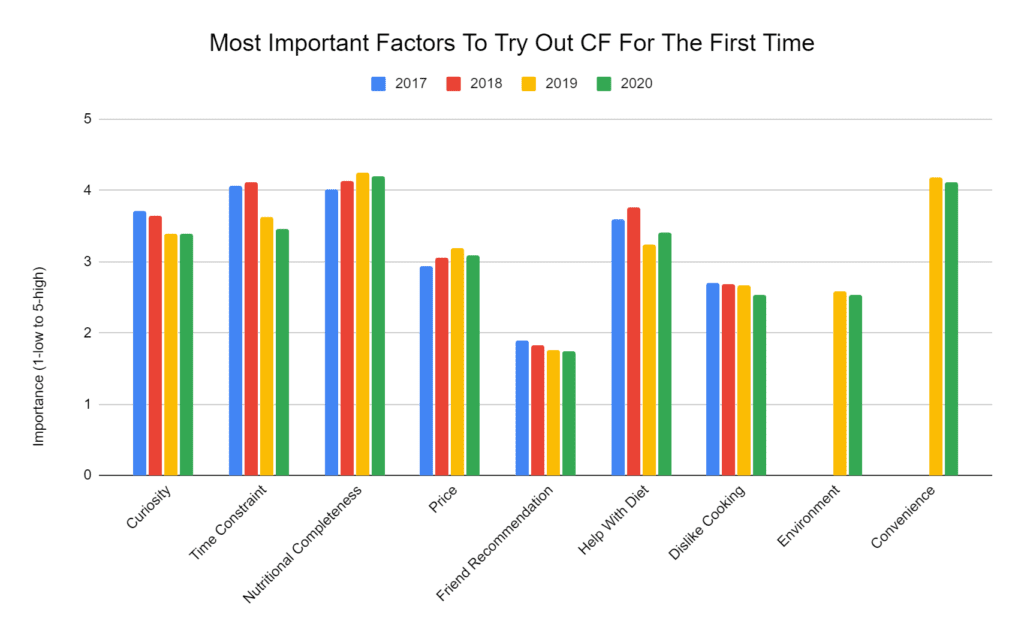 How We Chose Our First Product – Nutrition First
Choosing our first Complete Food product is no easy task. There are multiple factors people consider; but year after year, people state that Nutritional Balance is the most important factor. In 2020, 52% of respondents stated that this was very important (5); while just over 5% said it had low relevance (1-2).
On the opposite hand, only 3% of people considered friend recommendations to be extremely relevant when buying a CF for the first time.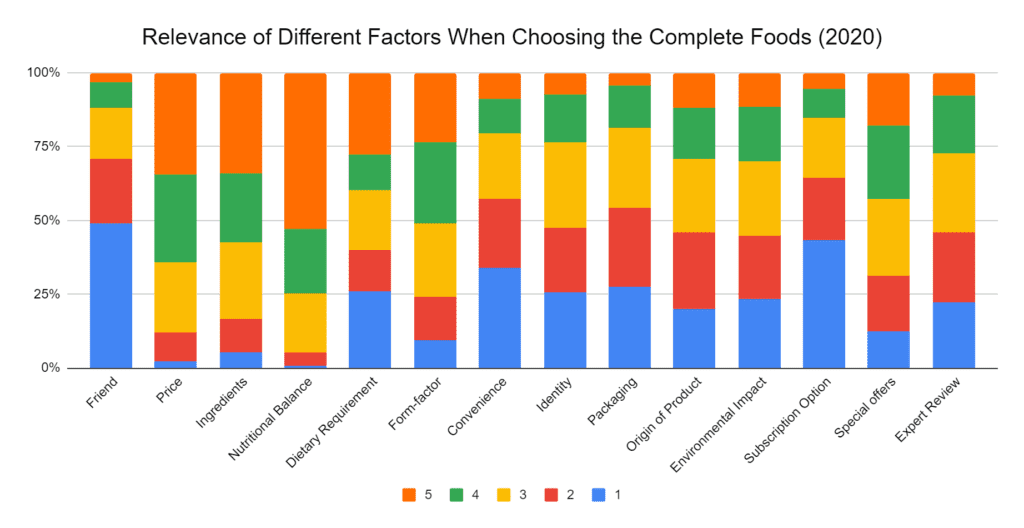 When looking at how the importance of each factor has changed over the years, it is interesting to see that Convenience is has raised significantly in 2020. On the contrary, the form factor (RTD, bars, powder) of the Complete Food product has not been as important for the user.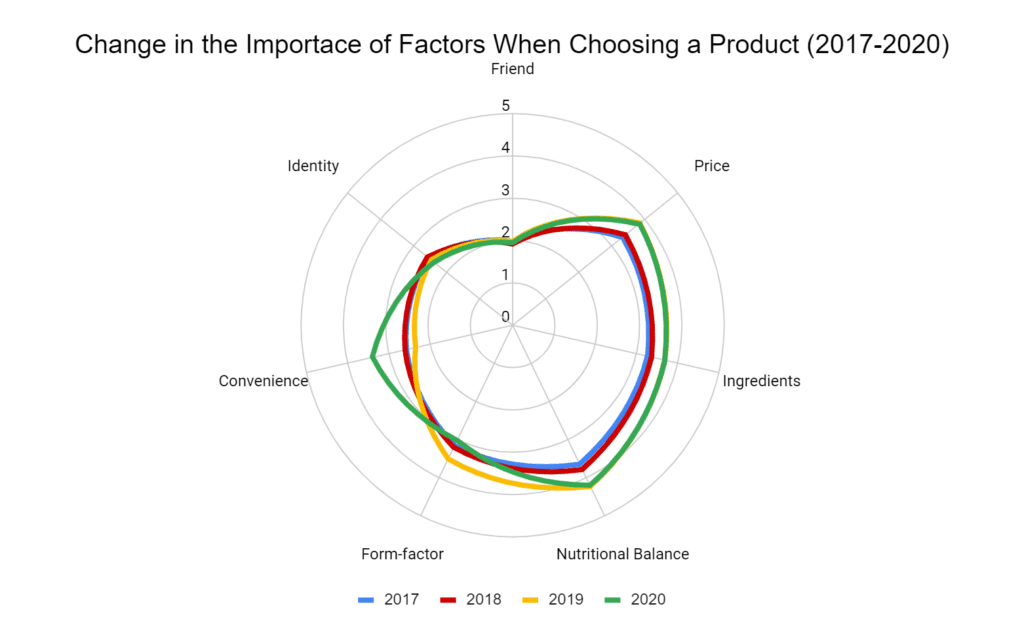 Further factors that the user considers when buying an CF product include "own research", quality of the website (how secure, trustworthy they feel the brand is) and other users' reviews. While doing their own research, buyers are looking at nutritional values (ingredients, GI), taste and texture of the shakes), and shipping options. Open communication channels with the brands and user oriented communities were also positives.
Only looked into one brand which was recommended by a couple of friends, read up on it and it looked interesting so I tried it and liked it, so a hard question to answer since I've not looked at any other brands. In general a high quality website gives a serious impression, and I prefer not to give my card number to every single company so prefer if there is either something like Paypal or invoice option.

Response 79, to the question "Are there other factors that are important when you do your purchase?".
User reviews, quality of company (don't wanna order from a shady place), quality and abundance of flavors.

Response 86, to the question "Are there other factors that are important when you do your purchase?".
Discussion: While nutrition is key when choosing our first product; the discovery step is the hardest part for the brands. As highlighted by the user above, their exposure to Complete Food brands is limited. However, even though it's positive users conduct their own research, they will be restraint to those brands that are aware of. Besides, it seems that the most hardcore users do appreciate the efforts brand are doing to be transparent, ethical, and community oriented.
We Care About The Ingredients
Naturally, because one of the main reasons we consume Complete Foods is their nutritional benefits; when it comes to buying our products we are very careful checking the ingredients.
Nearly 40% of the consumers looked for products without artificial additives and sweeteners; despite the big majority of complete foods containing them.
Besides, there was a huge surge in people looking for Keto shakes; but this result could be skewed (see discussion). Vegan and Organic were the other two most important factors, with 32% and 21% respectively.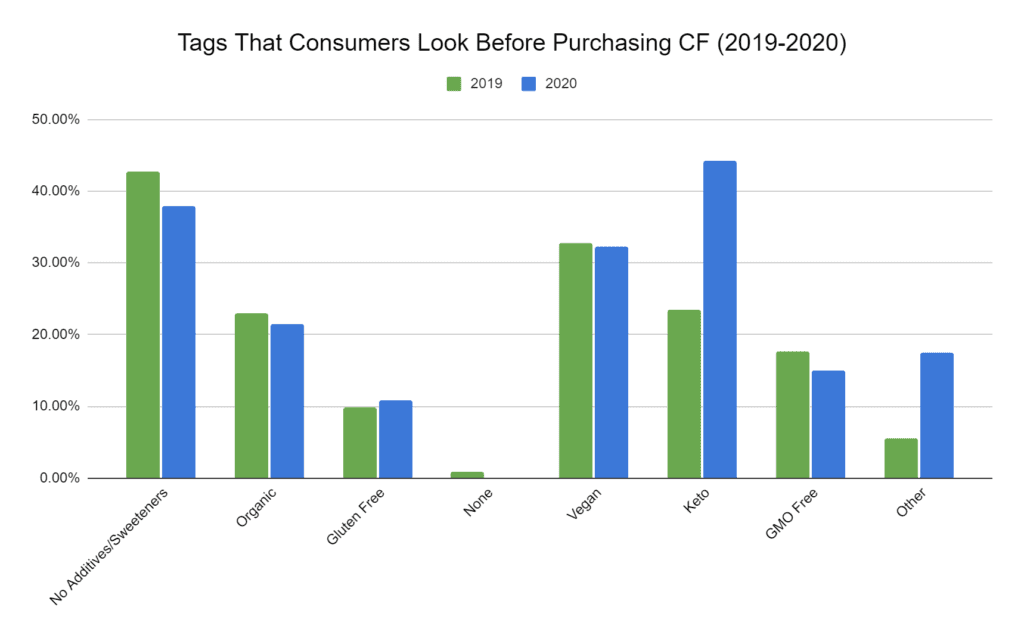 Discussion: Obviously, most consumers are very conscious of what their shakes contain. It is very interesting to observe such a high number of respondents showing concerns about additives and artificial sweeteners, when over 70% of the products on the market have some (mostly, sucralose). Could this be a new avenue to explore? Are users looking for natural sugars, instead? The success of Huel Black could indicate so (highly speculative and there are many other factors to consider. Another thing that can be observed is the high % of keto users. It must be noted that this is clearly a reflection of the CFS'20 survey bias; due to the high number of Keto brands participating (mostly from the USA).
Purchasing Habits
How Much Do We Spend on Complete Foods?
According to the 20 Survey, at least 2/3rds of Complete Food users spend more than $50 a week buying food. This includes both "normal" food and Complete Foods.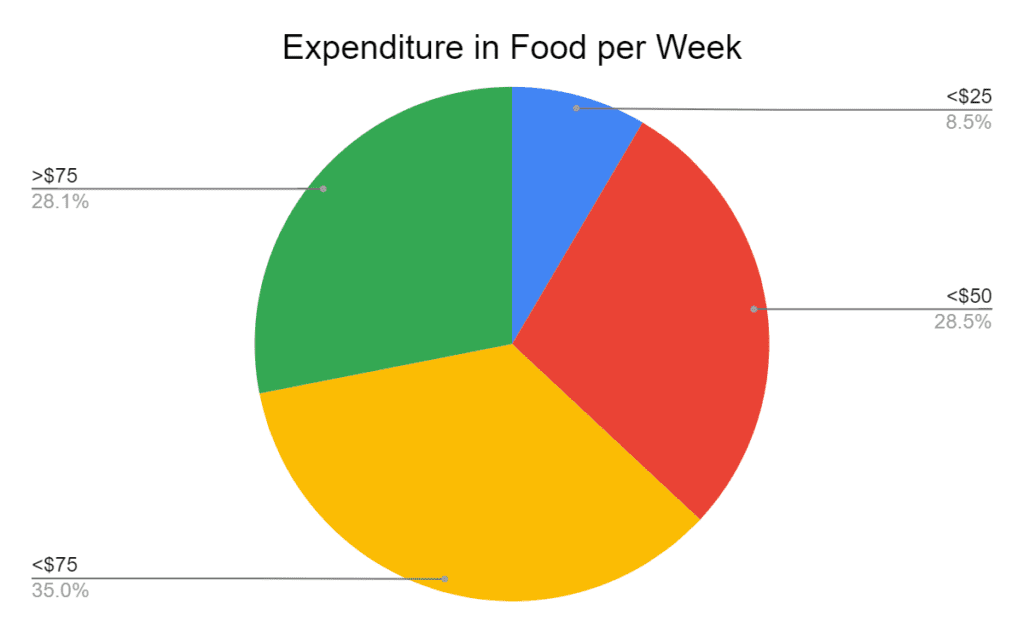 However, a big majority (58%) of them spend less than $25 on Complete Food meals. In contrast, less than 10% spend over $55 in powders, bars and other Complete Food products.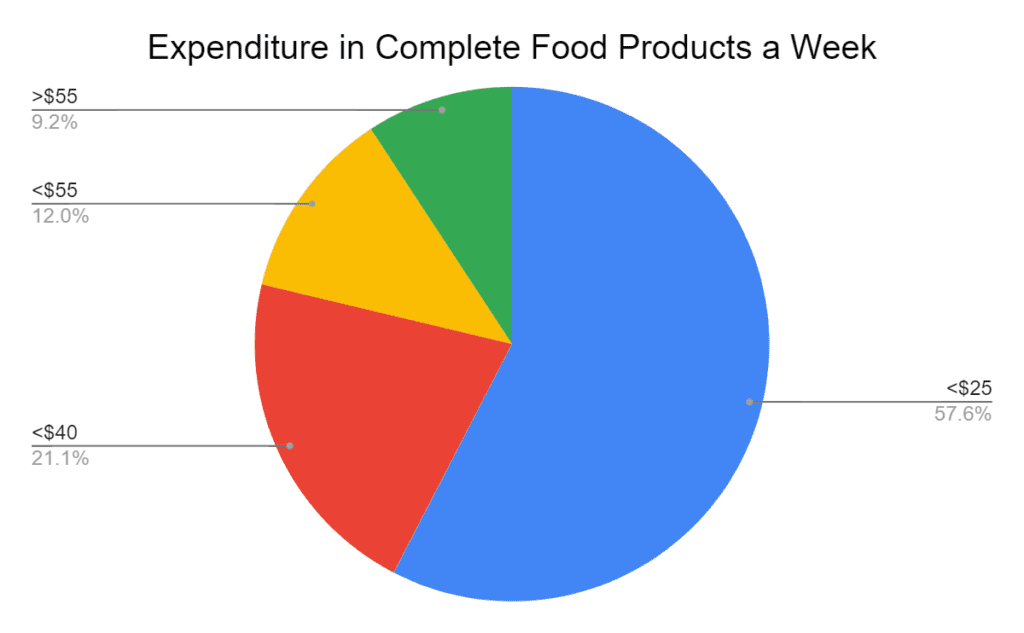 Discussion: Analysing expenditure patterns is hard without more specific questions. That said, considering the average US citizen spends $54 on food a week, it is interesting to see that most Complete Food users are likely above that average.
One of the most common ways to reduce the price per meal of Complete Foods is ordering via a subscription. Despite, 13 out of the 15 brands having subscription methods and 90% of the brands offering subscription in their Complete Food products, the majority of consumers don't regularly use it (65%).
The main reason to use them is the better pricing; and on the contrary, lack of willingness to commit is the main reason to not subscribe.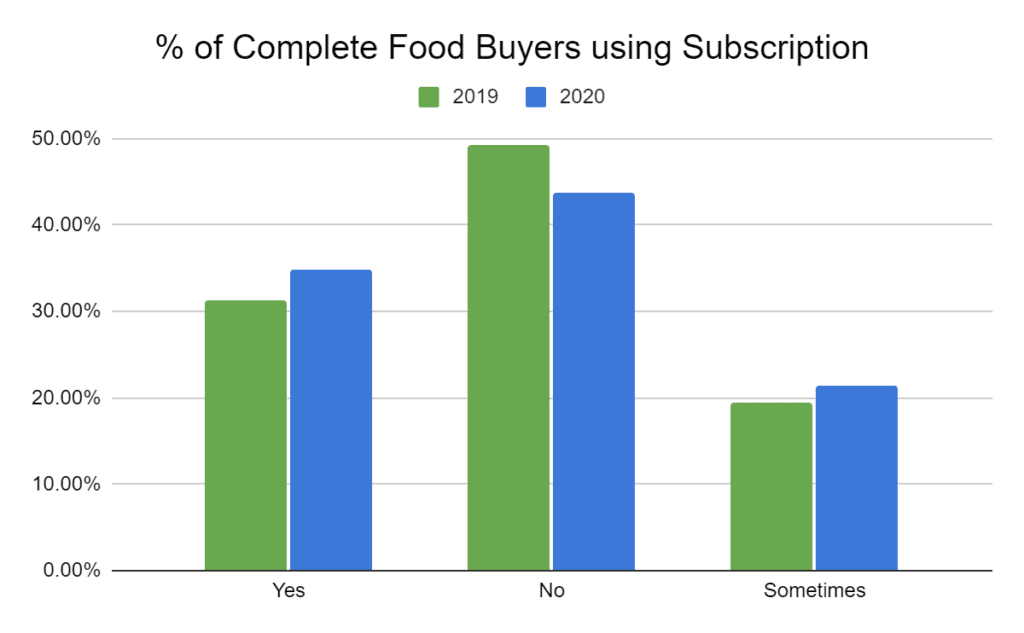 Subscription comes with a discount. I end up having to cancel and restart a lot though because I can't quite match the cadence to my consumption.

Response 376, to "Why do you, or do you not, order on subscription?".
Subscription requires commitment, and I find it hard to predict how much I am gonna consume in, say, a month.

Response 675, to "Why do you, or do you not, order on subscription?".
We Buy Online, and We Happy to Keep Doing So
Once again, virtually all purchases of Complete Foods are made online (96%); mostly by the brand's website. Amazon is the next outlet at 22% of the orders being made there. In 2020, there has been a slight increase of consumers buying in supermarkets (11% vs 10%), despite the COVID-19 pandemic.
Otherwise, consumer preferences on where to buy Complete Foods have not changed from previous year.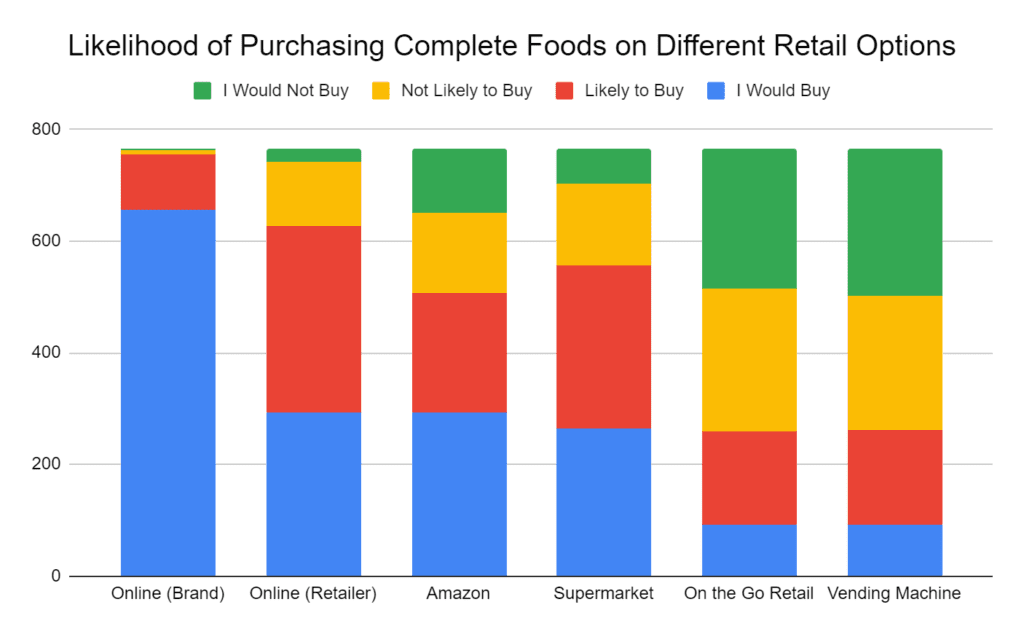 We Love to Buy in Bulk
In 2020, there was a 6% increase in people looking for bulk purchasing when compared to the previous 2 years. On the other hand, we can observe a decline in both Ready to Drink (RTD) and one day bags (powder).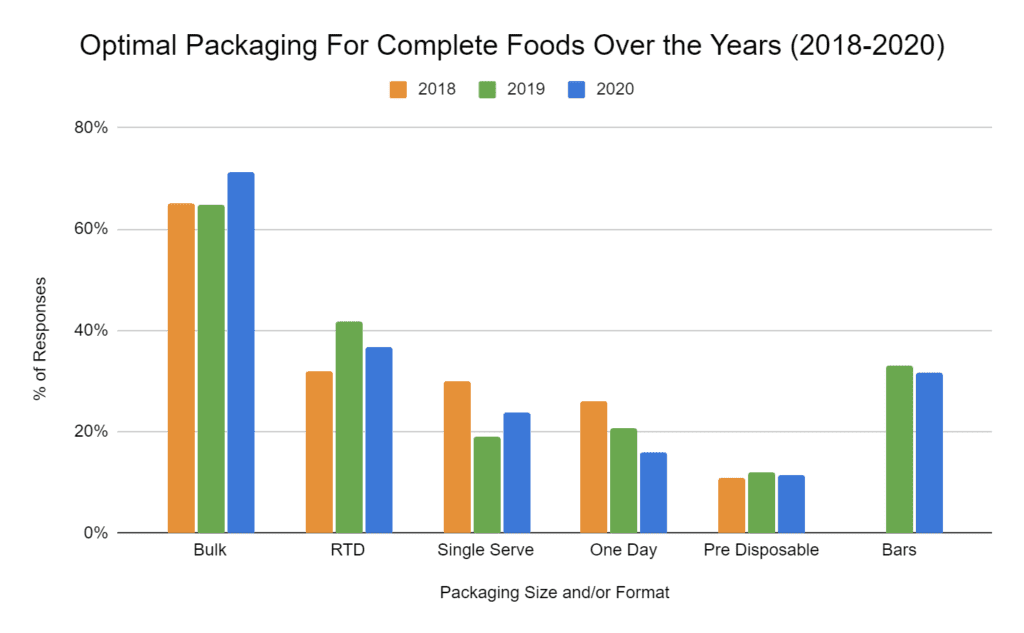 Discussion: It is likely that the Covid situation had more people working from home; where it's easier to plan everyday consumption and you can prepare your shakes without hassle. Consequently, the bulk purchasing has gone up; also probably motivated by fear (at some stages) and the lower price when buying big. On the other hand, because we don't move around that much, we don't need the convenience of RTDs- which demand was increasing. Likely, bars have remained strong due to the different state of matter (liquid vs solid); thus, people using them as a break. Lastly. It is very interesting to see that single servings and bulk are the preferred way to consume powder; walking away from the one-day sized bags.
The Average Satisfaction With Complete Foods Has Gone Up
In 2020, despite the circumstances, the satisfaction levels regarding the products and Complete Food options remained high. In fact, there hardly were any differences between 2019 and 2020 in this area.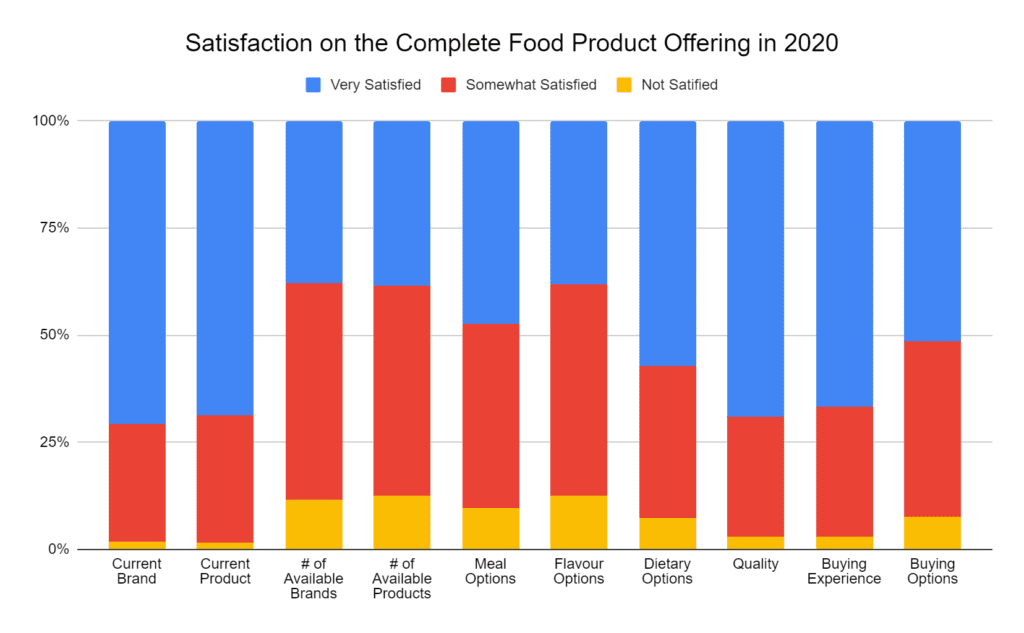 When looking at the satisfaction levels per region, we can see that it has overall increased. In fact, those who were "Extremely Satisfied" have almost doubled this year, and those who were "Satisfied" have also grown by nearly 10 points.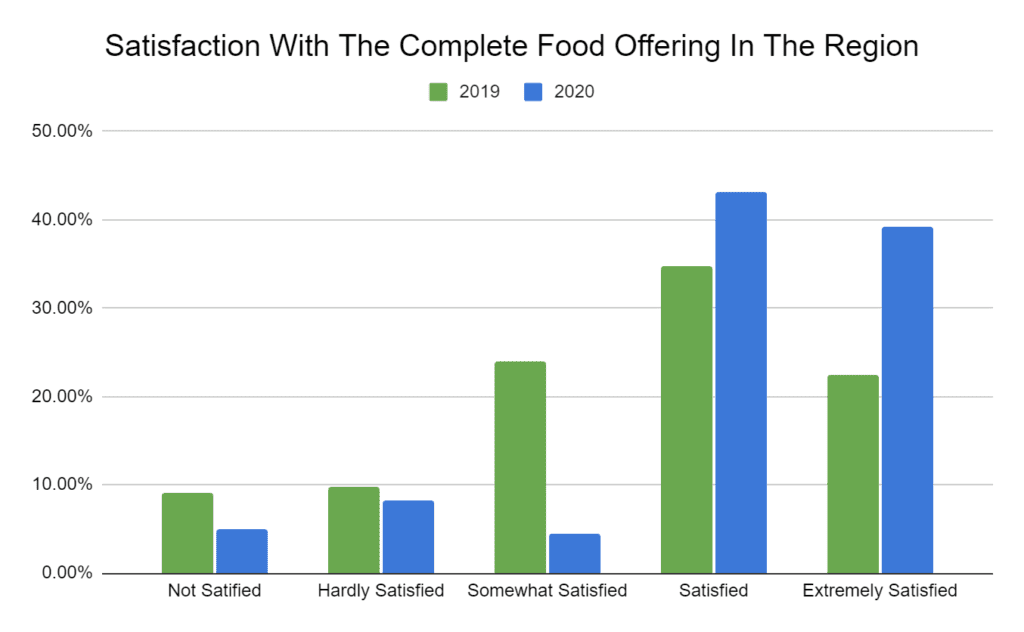 Discussion: Even though the higher satisfaction levels when compared to 2020 could be attributed to less responses from outside Europe and the US (where the offering is more scarce); the data suggest that there has been a real increase. When comparing data from some key regions, all have shown increased satisfaction levels (see table below). The reason for such growth remains unclear.
| | | |
| --- | --- | --- |
| | 2019 | 2020 |
| UK | 3.8 | 4.6 |
| US | 3.8 | 4.2 |
| CAN | 2.2 | 3.1 |
| GER | 3.0 | 4.3 |
| ESP | 3.1 | 4.5 |
Comparison of the average satisfaction levels in some key countries. There has been a significant increase in almost every country.
I'm pretty happy with what I can get. There are some European types with limited US presence though that I would want more of.

Response 523 to "Could you expand on your answer, regarding your satisfaction levels on the state of the Complete Food offering in your region?".
Ideally more brands shipping to Canada; there's some interesting form factors like Vitaramen that don't ship here yet.

Response 37 to "Could you expand on your answer, regarding your satisfaction levels on the state of the Complete Food offering in your region?".
Has Covid Drastically Affected Our Experience With Complete Foods?
The pandemic has hit everybody differently, but there more people have increased the consumption, rather than decrease it. Nonetheless, 42% stated that they hadn't changed their eating habits amid the pandemic.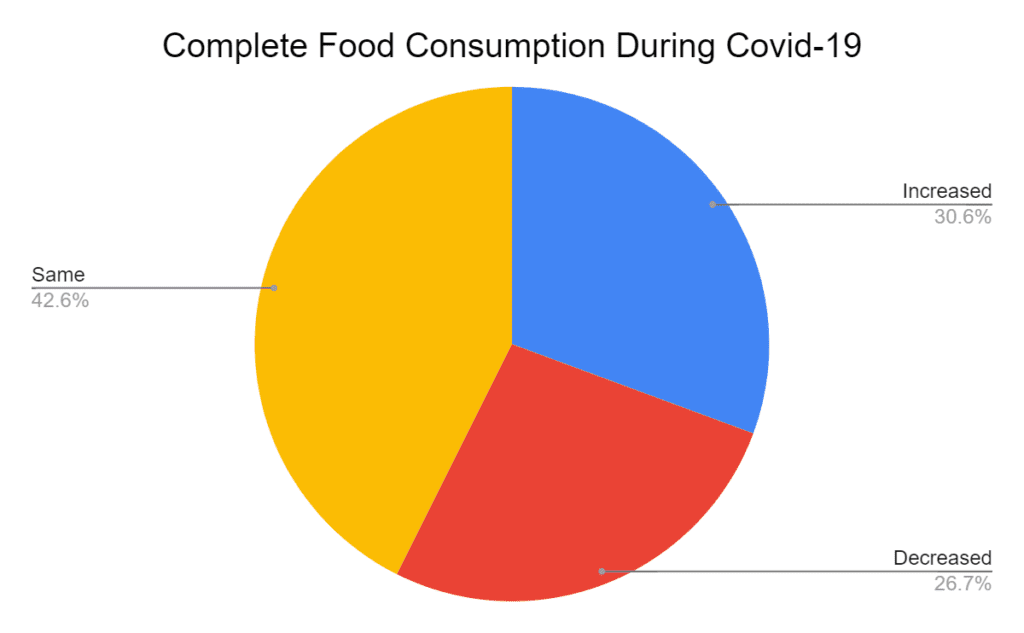 Looking at the data, it must be said that from a customer's perspective brands have risen to the occasion. In fact, over half of the respondents were very satisfied with the response provided by their usual brand during the pandemic, and over 3/4 were at least satisfied. On the contrary, dissatisfaction levels were almost non-existent (>2%).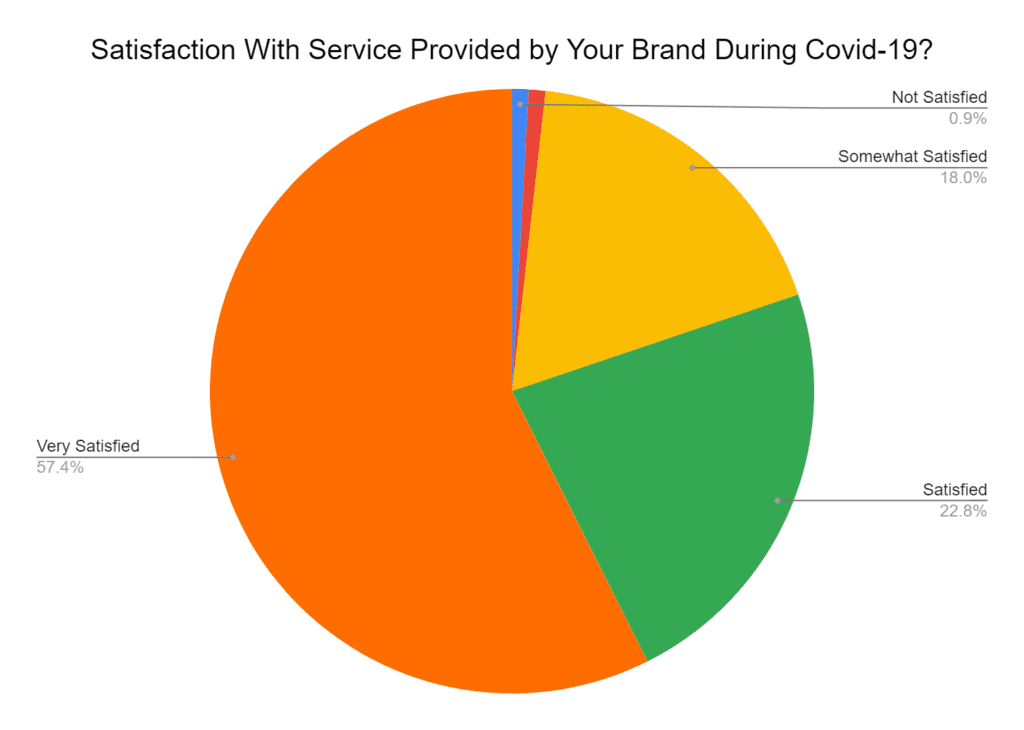 Partially, this could be due to not suffering from worse customer experience, according to the vast majority (88%).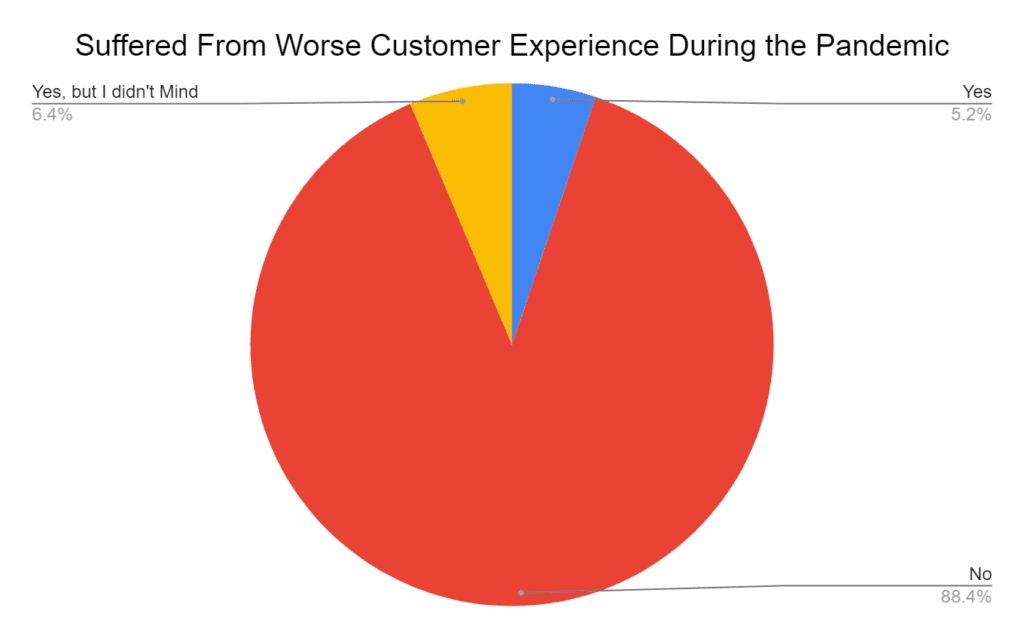 In fact, only 133 respondents highlighted suffering issues during the Covid pandemic in relation to their Complete Food experience. Mostly, these were regarding delays in delivery (61%) and shortage of supplies.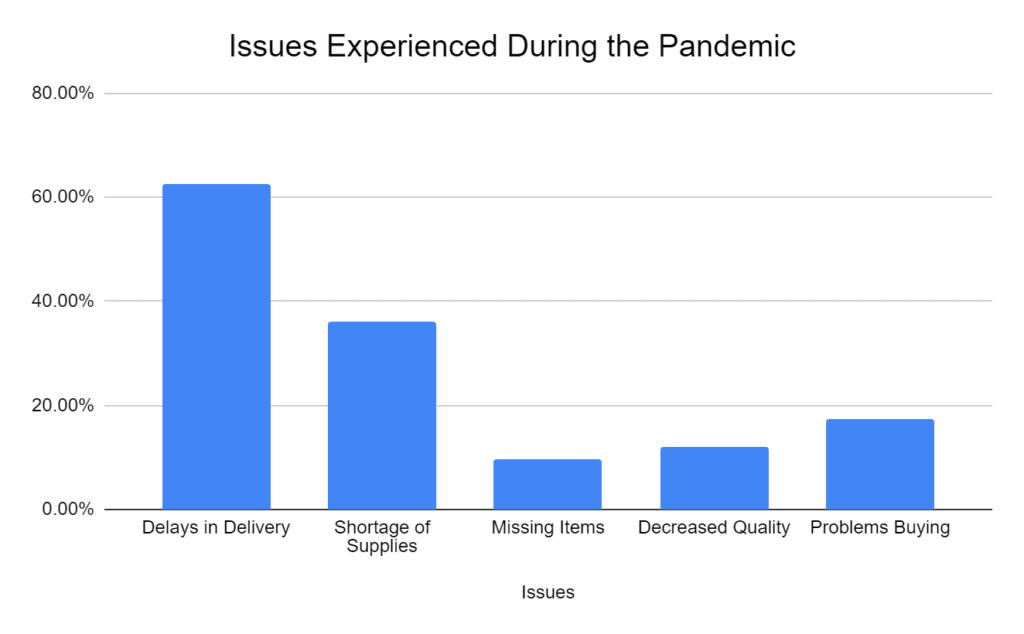 Despite this, the reactions when asked how Complete Foods have helped during this period were mixed. On average, consumers felt Complete Foods were somewhat useful in most aspects, except for managing their budget (54% not satisfied).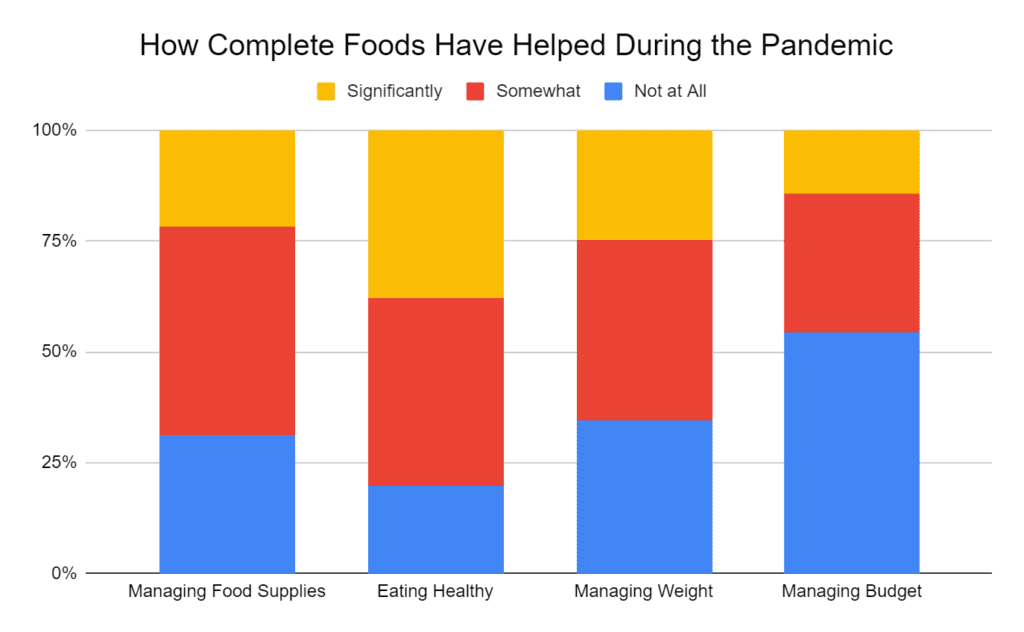 Discussion: There's much to be said about the proficiency with which brands have handled the pandemic. Although, the data might vary among brands; and some have suffered more shortages (due to having particular ingredient suppliers), the vast majority was very satisfied with their services. In particular with the customer service provided with only 5% really feeling they were let down. Nevertheless, most users didn't feel like Complete Foods were extremely helpful either. Again, the money issue was highlighted and it seems to be one of the biggest problems going forwards.
Ironically, the pandemic has allowed me more time to plan and make meals, which has sidelined the need for meal replacements to a certain extent. I believe I will come out of the pandemic more able to plan and prepare food.

Response 633 to "Any other comments on how the pandemic has affected your Complete Food experience?".
It has been so positive. I really appreciate the owners of the company who are extremely supportive and friendly and the product has helped manage my health as well as being delicious and sustaining, even when hitting periods of depression.

Response 441 to "Any other comments on how the pandemic has affected your Complete Food experience?".
2020 vs 2019
In order to understand changes in consumption patterns, there were few questions directly comparing 2019 and 2020. For instance, there were 163 consumers that weren't using Complete Foods in 2019 (21%).
Although 57% of respondents stated to have tried new products in 2020, only 30% of consumers have changed their main product.
Discussion: Without any frame of reference, it is hard to understand these results. Nevertheless, it is positive that over half of consumers seem to have found interesting products in 2020, and most have actually tried them out.
Demographics
On a positive note, yearly we are seeing a steady increase of female users, which are now over 1/4th. This is almost 4 times more than in 2016, where only 8% of the respondents were female.
Similarly, the average Complete Food user is getting older. In 2019, over half of consumers were between 25-35, which was 6 points lower in 2020. On the other hand; the 36 to 50 bracket has increased by 7% in 2020.
As far as the occupation is concerned, the majority of Complete Food users are still working on an IT related job (28%), similarly to 2017 (31%). Noticeably, in this year's survey, there has been a considerable decline of students using Complete Foods, 20% less when compared to 2017 (29% vs 9%).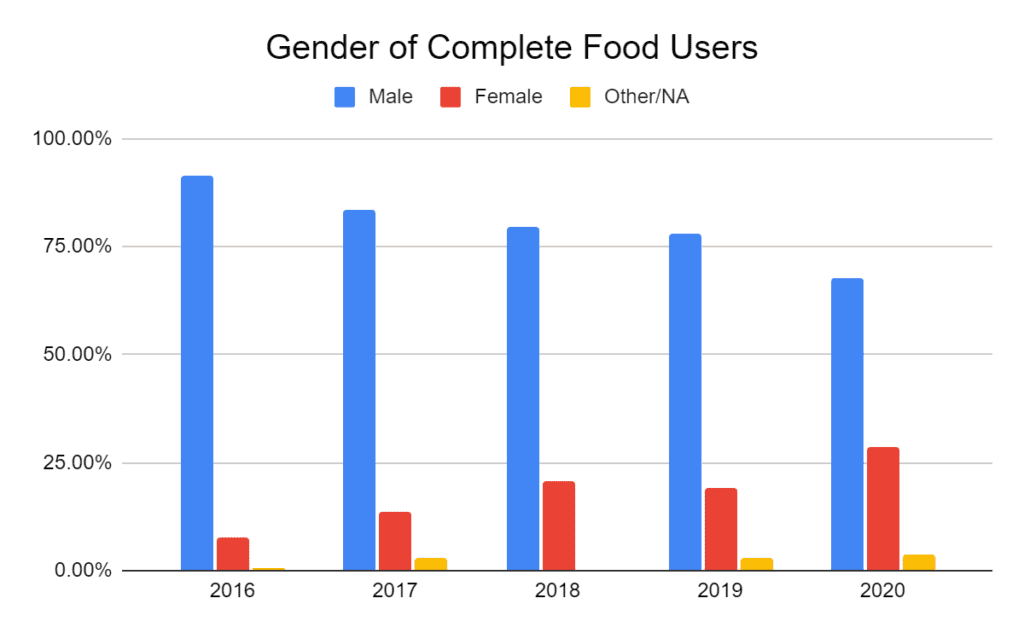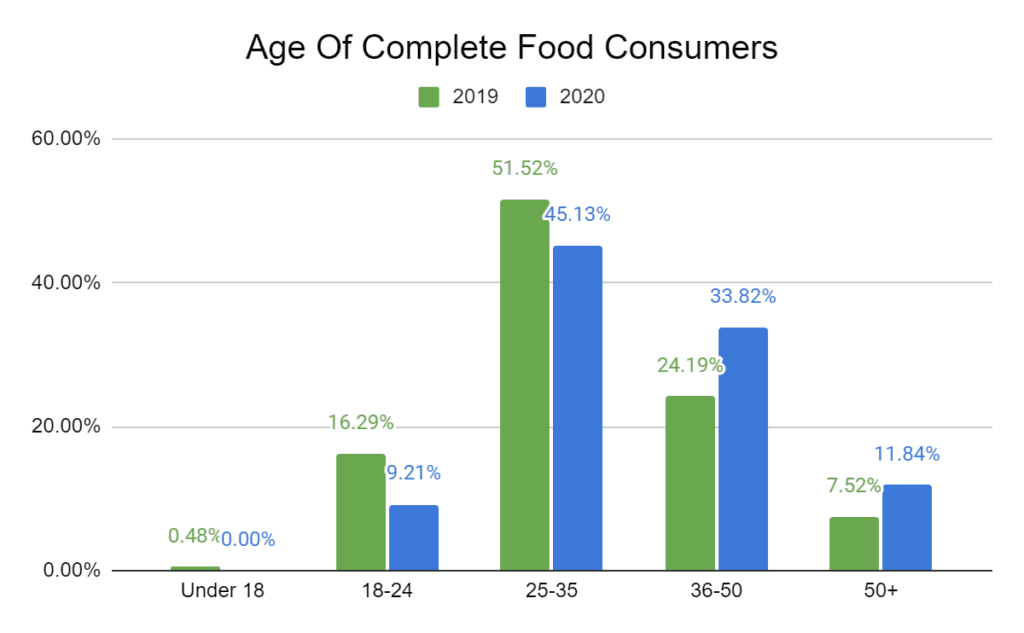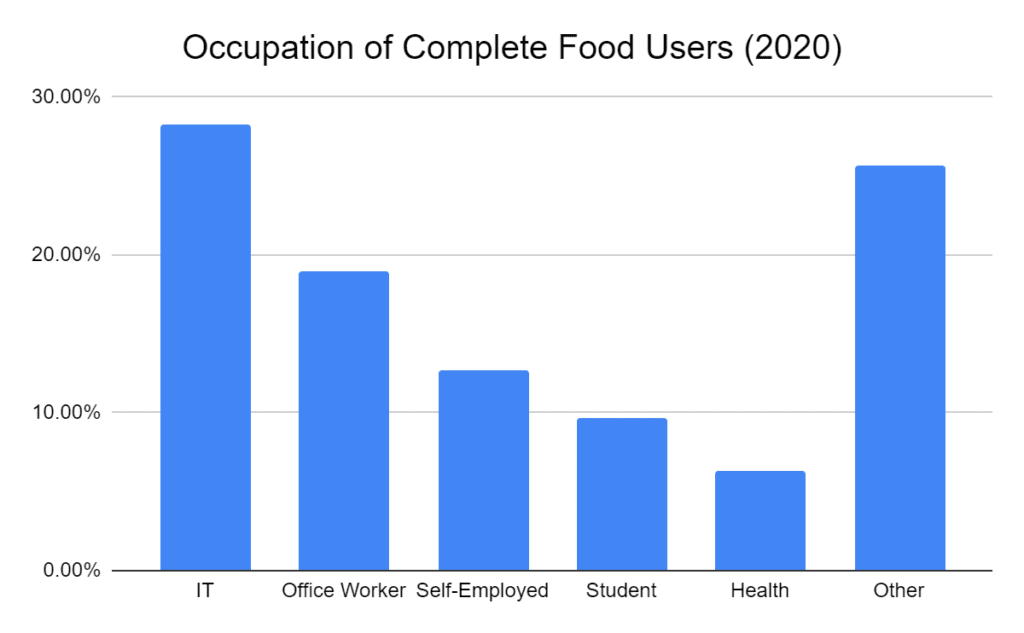 Discussion: There are a few interesting factors here, like the fact that the market seems to be heavily male oriented, even after 5 years. However, there seems to be a steady trend towards a more equal split, and I assume we will see a split closer to 45/45 within 4 years. Besides, one of the most interesting trivia from this data is the lack of students. It seems that COVID-19 has pushed more students to stay at home, consequently enjoying more home-cooked meals vs Complete Foods.
---
Discussion and Future of Complete Foods
The Pandemic and Complete Foods
One of the most interesting questions this year was to see how the Covid-19 pandemic had affected Complete Food users.
While many brands reported increased bulk buys at the start (March-May period), the remaining of the year sales have been steady (normal rates). Initial panic buy due to fears about the shortage of food was then swapped by a constant stream of purchases/customers, but less new customers (no growth).
Nonetheless, according to the survey there 28% of respondents have been consuming Complete Foods for under 1 year. This is a similar number to 2019 (29%). Thus, the influx of new customers seems to be stable; despite Covid.
One sector that has decreased Complete Food consumption is students. Lockdowns and measurements taken by higher education geared towards more online lectures have likely increased the amount of students at home, rather than in halls; as well as, decreased the need for on-the-go food on a daily basis. This is likely the reason for the 20% decline on student respondents.
Similarly, working from home could have had a similar effect on the working class; since they would have less need for convenience food – Complete Foods are just that for many. However, only 27% of the respondents decreased their consumption; as opposed to 42% remaining the same and 30% increasing it. I would see this as positive, since even when one of the most important factors about consuming Complete Foods was taken away almost 3/4 kept or increased their consumption (Convenience was the second most important factor after Nutrition when choosing to consume these types of meals).
High Satisfaction Towards Brands and their Covid-19 Service
Besides consumption pattern, it was extremely positive to observe that consumers felt very positive about how brands have behaved during the pandemic. The cargo industry has seen huge disruptions in both the EU and the USA, causing delays on shipments and congestions in the delivery services. As such, in an industry that's highly reliant in these services (96% purchases made online) issues delivering goods were unavoidable. In fact, out of the reported issues, 61% were due to delays in delivery, followed by shortage of supplies (38%).
However, only 2% of the consumers were not satisfied with the service provided by their brands during the lockdown periods; and more than 75% were satisfied. Furthermore, almost 9 out of 10 customers stated that they hadn't suffered worse customer service during this period either.
Going forward, it will be important to keep these standards and satisfaction levels; as well as, the capability to adapt to any given situation.
82% of Consumers are Satisfied or Extremely Satisfied with Complete Foods
Similarly to 2019, the satisfaction levels around the usage of Complete Food are very high. Not only that, but there was a sharp increase in consumers that were Satisfied or Extremely Satisfied about the offering in their region in 2020 vs 2019 (82% vs 56%). Countries like Germany, UK, Canada, or the USA had a significant raise. While the Canadian shift can partially be explained by the return of Soylent, the why is not as clear for the rest.
On the other hand, the consumers are somewhat dissatisfied with the amount of brands and products available to them. The number of brands offering Complete Foods does not seem to be increasing drastically though; and during 2020 at least 4 brands stopped serving food. In contrast, bigger brands like Huel or Jimmyjoy have increased their repertoire of products, while most of the brands promoting the survey have kept the same number of Complete Foods available.
Analyzing and tracking the number of new products and brands more closely might give a very useful insight towards the growth and future of the industry.
Something in a solid form that is not a dessert. Quest products do this very well. not only do they have protein bars that are dessert like, but they also have products that are savory such as chips. They even have products that satisfy the cravings that people have when on keto such as cookies or chocolate peanut butter cups. Eventually, I hope there are more products that can be substitutes to bread or wheat and grain products. I don't think a complete food can replace actual recipes of dishes, at least not now.

Answer to "What do you wish you could do with Complete Food, which you can't do today?".
Understanding Consumption Patterns in 2020
When it comes to choosing our favourite product, little has changed: 73% of consumers stated that nutritional completeness was important or extremely important. The second most important factor was convenience, followed by the price of the meals.
In fact, price has become even more under scrutiny during the pandemic; more consumers opting to buy bulk where possible (6% more). Convenience and price were once again the two major factors behind this. Similarly, the % of users using subscriptions increased in 2020; mostly to make use of the discounts.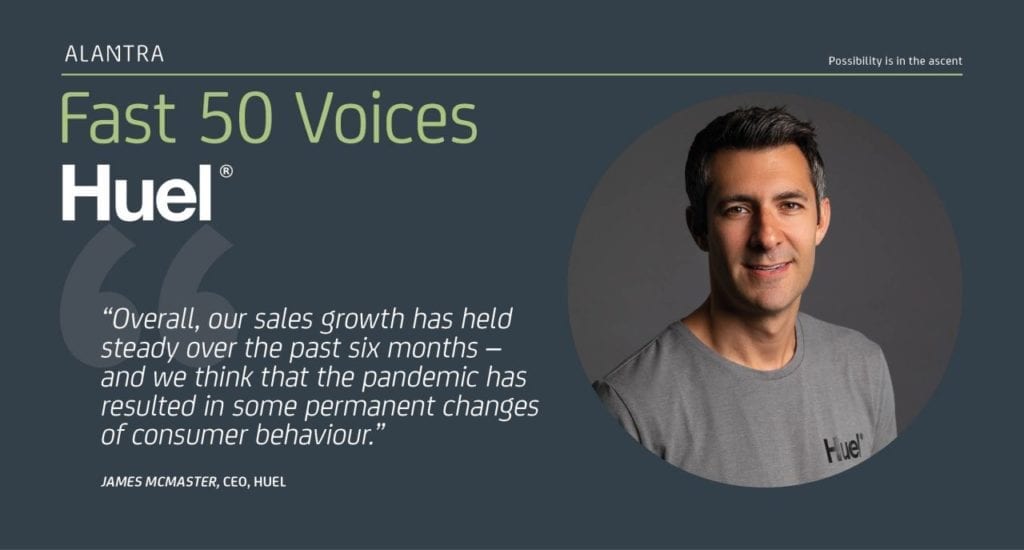 The biggest losers were ready-to-drink products and one-day bags. A combination of RTDs being more expensive, less on-the-go meals and increasing environmental concerns need to be noted.
Otherwise, 96% of the consumers are still buying online and happy doing so. Interestingly, there was a 1% increase in people looking to buy at supermarkets; as well as the overall feeling of wanting to see more retail presence. Yet, only 30% would buy from it, and over 25% would probably not buy from supermarkets.
Ubiquitous availability of products in retail, not only online. More ready-to-eat solid options and ready-to-drink options. More professional scientists developing, and updating, the product formulas and form factors. Support for cutting-edge independent scientific research on human nutrition.
Has the Complete Food Industry Stagnated in 2020?
As mentioned previously, few brands reported concerns about the lack of growth in 2020, and the hardships of acquiring new customers during the pandemic. While the decrease in participation in the Complete Food Survey '20 (28% less when compared to 2019) might indicate so; it is worth considering that key European brands did not take part this year (Saturo, Jimmyjoy). In fact, it was the European side that saw a 50% decrease of responses. In spite of that, there was a slight reduction in the US too, even though we had more US brands than last year.
Furthermore, there was a 7% decrease in the 18-24 age group; usually composed by students. This decrease, due to students not attending University regularly and consuming less Complete Food meals, can also help explain the lower participation rate.
As a counter argument, market leader Huel, on the other hand, reported a £72 million revenue ($96.6M), and a 43% YOY increase, plus the fifth consecutive year of growth. This growth, however, is partially explained by Huel gaining terrain to Soylent in the US.
All in all, only key players seem to be growing, while smaller brands might be struggling and stagnating. However, evidence for this is weak and circumstantial.
Do Consumers Have Unrealistic Expectations About the Pricing of Products?
Another hot topic year after year is the price of Complete Food products. For the second year in a row, expensive prices were the 2nd most important reason to push people to take a break. This is not the only factor that shows general discontent and the consumer believes that Complete Foods are too expensive:
Complete Foods not fitting the budget is the #2 reason to take a break (11% of total responses).
Price is the third most important factor when choosing a product, behind nutritional value and convenience.
The preferred method of buying Complete Foods is bulk buy; "because it enables the best prices". Furthermore, the amount of people using subscriptions (with discount) has increased in 2020, despite many complaining about this system.
Despite consumption of Complete Foods not decreasing during the pandemic most consumers didn't feel like they helped manage their budget.
17% of the respondents stated lower prices were an area to improve upon in the future.
So are these concerns well founded?
While a full cost analysis is beyond the scope of the survey, it is worth noting that the average powder-based meal cost $4.19 and had 460kcal ($0.014/kcal). This was more expensive than the market average of $3.35 for a powder based meal (397kcal and $0.010/kcal). The cheapest 400kcal meal without any discounts was $1.86 for the CFS brands; and $1 for all the brands.
| | | |
| --- | --- | --- |
| Average prices ($) | CFS'20 Brands | CFS+Popular Brands |
| Powder/per meal | 4.19 | 3.35 |
| Powder/per 400kcal* | 3.33 | 3.27 |
| All/per meal | 3.40 | 3.51 |
| All/per 400kcal* | 3.62 | 3.71 |
Average prices of Complete Food products considering the most expensive prices available (minimum purchase). For the averages per 400kcal some brands that require you to add oil/milk to be a full meal were removed. CFS brands n=11, products=37, powder-based=30. All brands=20; products=82, powder-based=51. The average meal had 460kcal in the CFS, while the average meal had 378kcal for the global.
Considering that powder-based meals are usually the cheapest and most consumed Complete Foods, it is possible that the products are quite pricey for the average consumer.
Therefore, while there are foundations to the customer's concerns, a further cost analysis should be done to reach more conclusive remarks.
What Are the Biggest Challenges For Complete Foods Moving Forward?
Looking towards the future, the survey highlighted many areas to improve upon. There's a general happiness with the product offering and quality; and while improvements in these areas are always welcome, the consumers are looking beyond that.
A perhaps unintentional focus on male customers, both in terms of marketing and in terms of how the product is made (the nutrition baselines are often developed with a generic 2000 calorie diet that is realistic for an average man but not an average woman).

Response 332 to "What is the one thing you dislike about Complete Food industry?".
For brands, acquisition of new customers is still a challenge. While people who are already in the bubble are highly satisfied, and the average period of consumption keeps increasing; the influx of new customers seems stagnated. Furthermore, according to the companies COVID-19 has done little to help in this regard. Despite that, this year there was an increased percentage of responses from people who never heard of Complete Foods. Thus, for brands to keep marketing the products and spreading the idea through social media is a must for the sector to grow.
Secondly, Complete Food companies need to do a better job keeping people interested. Close to 50% of the respondents have taken a break longer than 2 months from Complete Foods since they have started. Even though most end up coming back, boredom and high prices are the main culprits for this. Improving upon this area with the launch of new Complete Food products like Queal Ready, Huel Hot & Savoury, Jake Soup etc. might be the key to reduce this number in the future.
An increased tendency to more expensive products compared to the powders. Also, they're making the bars smaller every year, and turning them into snacks instead of a full 400kcal meal, and even with a reduced size they're way more expensive than their regular 400kcal counterparts. That doesn't make sense.

Response 276 to "What is the one thing you dislike about Complete Food industry?".
Lastly, there needs to be a serious debate about the prices of Complete Food products. The general feeling among the consumers is that they are too expensive. On one side, brands could try to be more transparent on the costs and the pricing. Furthermore, media sites could help spread out this information. On the other side, at $3.27/400kcal average, Complete Food products do, at a glance, feel expensive and the customer has rights to complain. Nevertheless, lowering these costs is not going to be easy: ingredient prices have been on the raise, the market is not developed enough, logistics of supplies are expensive for the companies, and there's money to be spent on marketing and RD&I. Market leaders should perhaps take more of the burden.
Nonetheless, solving these issues is the key to grow and expand the Complete Food market.
Biases and the Future of CFS
Before wrapping up, I would like to point out some of the biases of the Complete Food Survey 2020; and factors to take into account when making your own conclusions:
Small Company Bias. Two of the biggest players in the sector, Huel and Soylent didn't take part in the survey. This year, neither Jimmyjoy nor Saturo participated. This not only caused smaller participation, but also altered the data slightly.
Not the same companies as in 2019. In a similar fashion, because not all the same companies helped promote the survey in 2020, the profile of the consumer changes slightly.
Keto and US bias. Likewise, 5/11 companies offered a keto product or are solely focused on ketogenic shakes. This is not an accurate representation of the market, and also affects the results.
Besides these, it's also worth noting that everything is self reported and might not reflect actual habits.
Moving forward, I believe that keeping stability will be key to keep growing the survey. Maintaining the same brands, while having new ones joining could be key to results that reflect the market better.
Similarly, carrying on with almost identical questions can help to analyze the year by year change better.
Closing Remarks
Before I finish with the analysis, I would like to personally thank everyone that took part in the survey in 2020. Once again, there were tons of insights and great feedback for the companies to collect and hopefully improve upon.
Personally, I am a little disappointed due to lower participation, and it's something that definitely needs to be improved upon. As the organizer, I feel largely responsible.
Besides that, I am extremely happy that year after year the concept of the Survey is being ratified. Last year, the CFS'19 predicted trends that we've seen come alive in 2020, such as the hot and savoury craze. Brands like Jimmyjoy and Jake took the feedback from the survey and made it happen.
Therefore, despite the work and the step-backs in certain areas, I'm looking forward to the 2021 Complete Food Survey.
Thank you from Latesfuels,
and Actualize, Blendrunner, EatComplete, GenesisFoods, Holfood, Jake, Lently, KetoChow, Küik, Repas en poudre, Queal, Sated, Super Body Fuel, and Vitaline. Always open to anybody that wants to help spreading the word.