If you have been looking for the best meal replacement shakes, you might have seen both of these brands pop up. These American complete food manufacturers produce some of the healthiest meal shakes in the market, and are also some of our favorites. In this Ka'chava vs LyfeFuel comparison, we shall look into the strengths and weaknesses of each to determine which one is the best for you.
As mentioned, both brands focus on natural meal replacements made from real food ingredients and without artificial sweeteners or synthetic additives. They bet on wholefood ingredients to provide you with the nutrition your body requires in the most natural way.
Consequently, not only they provide you with a clean meal replacement shake, but also one with nutrients that are easily absorbed by your body.
So, without further ado, let's find out which one is best; Ka'chava or LYFEfuel?
Ka'chava Vs LYFEfuel Overview
| | LyfeFuel Daily | Ka'chava |
| --- | --- | --- |
| | Read Review | Read Review |
| | | |
| Nutrition | 99% | 98% |
| Taste | 90% | 92% |
| Texture | 90% | 92% |
| Satiety | 95% | 90% |
| Price | 85% | 82% |
| Flavours | 2 Flavors (Vanilla, Chocolate) | 4 Flavors (Vanilla, Chocolate, Chai, Coconut Acai, Matcha) |
| Overall | 92% | 91% |
| | TRY NOW | TRY NOW |
Overview and ratings on the main comparison points between Ka'chava meal shakes and LYFEfuel meal replacement shakes.
As a preface, it is worth stating that both are excellent meal replacement shakes.
When it comes to nutritional output, quality of product, and what you get for your health, both Ka'chava and LYFEfuel are the best meal replacement shakes you can buy.
That said, they both have a clear flaw: they are expensive and might not fit everybody's budget. For those, check out the LYFEfuel and Ka'chava alternatives section, below.
In this LyfeFuel vs Kachava comparison, we will have a look at the nutrition, taste and price of all the products they offer. Ultimately, we will lay out the pros and cons of each company so that you can decide what's best for you. However, given the quality both meal replacement companies offer, you can't go wrong with either of them!
Which is better for you? Keep reading, and you'll have all the information needed to answer that very question.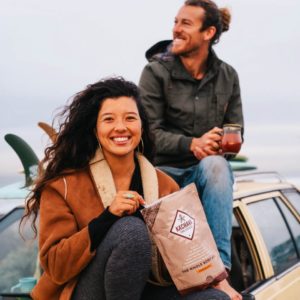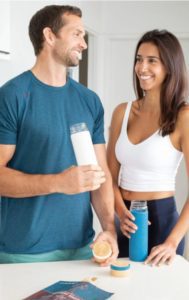 ---
Short Introductions
Ka'chava

Founded in 2014, the aim of Ka'Chava is to combine the world's best superfoods, into one single meal. Also vegan, and free from lactose, soy, and GMOs, Ka'Chava is a meal that is incredibly nutrient-dense and clean.
Ka'Chava is a top meal replacement in the US. It's a vegan meal replacement that manages to stand out from the rest. With an emphasis on its combination of 70 superfoods, Ka'Chava has earned thousands of positive reviews, from a loyal and vocal user base. Word is quickly spreading about how amazing it is, making it a force to be reckoned with.
LyfeFuel

With a vision to become a leader in personalized wellness, LyfeFuel launched its first product, The Daily Essentials Shake, in September of 2016. The purpose of the flagship formula was to provide the core nutritional components that most Americans don't get enough of, in a delicious and nutritious plant-based meal on the go.
LYFE Fuel is an all-in-one Essentials Nutrition Shake is one of the many plant-based meal replacement shakes popping up in today's market.
Meet the Experts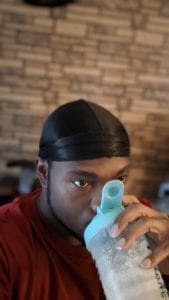 This article was written by Johnny, our US-based writer and long time meal replacement consumer. He first started with Soylent back in 2014, and he's tried dozens of shakes since! He's been writing for Latestfuels for 2 years and he knows all there is about the US meal replacement market.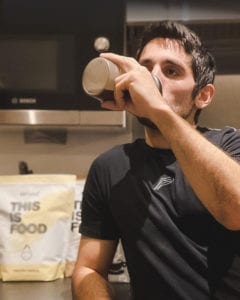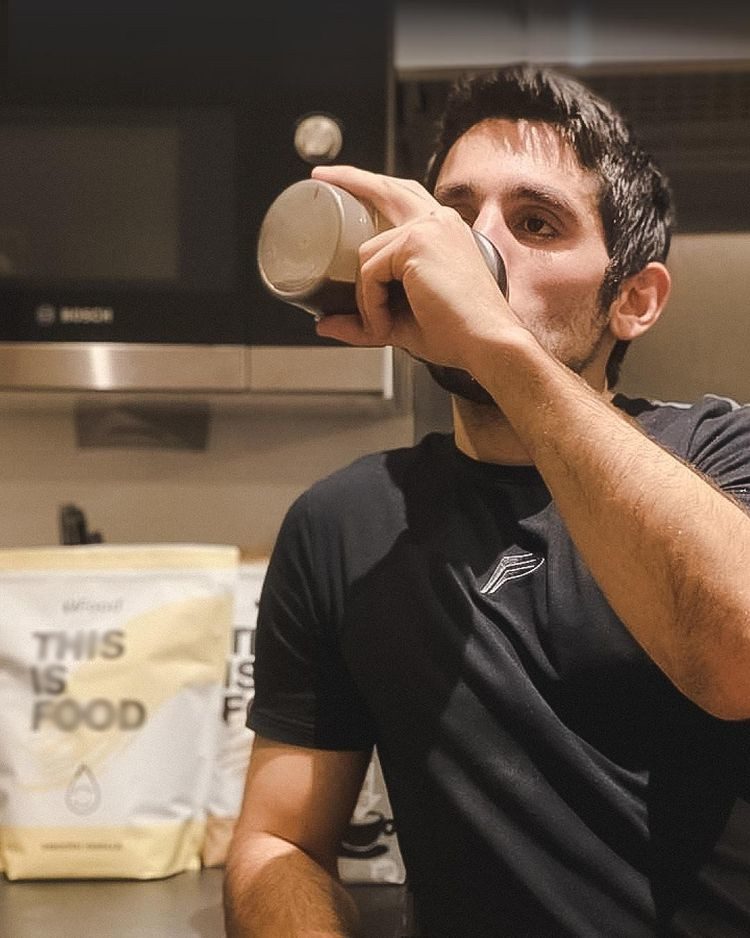 The comparison has been edited by the founder Latestfuels, Enaut. I have a BSc in Biochemistry and I've been writing about complete foods since 2018! I've tried hundreds of shakes, bars and RTDs. Now I try to share my experience with the readers, so that you can make an informed decision!
---
Ka'chava vs LyfeFuel Overview
Before we dive-in full on with all the details let's have a broad overview of what both companies offer.
As you can see below, on paper they are very similar with a very natural and whole-food focus to nutrition.
Ka'chava
LyfeFuel
From
USA
USA
Ships To
USA
USA
# of products
2
2
Powder
✅ 
✅ 
Ready-to-drink
❌ 
❌
Bar
✅ 
❌ 
Other
❌ 
❌
Nutrition
Vegan
✅ 
✅ 
Non-GMO
✅ 
✅ 
Organic
Mostly
Mostly
Soy-Free
✅ 
✅ 
Gluten-Free
✅
✅ 
No Artificial Sweeteners
✅
✅ 
---
Product Overview
So let's kick this off with a look at what each company offers. We will of course do deep dives on everything we have experience with, but for now, let's just examine the landscape.
| | LyfeFuel Daily | LyfeFuel Recovery | Ka'chava |
| --- | --- | --- | --- |
| | Read Review | Read Review | Read Review |
| | | | |
| Servings per bag | 24 | 24 | 15 |
| Price ($)/serving | $2.91 | $2.08 | $4.66 |
| Price ($)/100kcal | $2.07 | $1.39 | $1.94 |
| Price ($) with subscription | $2.50 | $1.67 | $3.99 |
| Minimum order | 1 bag ($60) | 1 bag ($50) | 1 bag ($70) |
| Flavours | 2 Flavors (Vanilla, Chocolate) | 2 Flavors (Vanilla, Chocolate) | 4 Flavors (Vanilla, Chocolate, Chai, Coconut Acai, Matcha) |
| Features | All essential nutrients | Protein Shake | All essential nutrients |
| | Go To Product | Go To Product | Go To Product |
Comparison between LyfeFuel's powder-based shakes and Ka'chava.
Note: LyfeFuel Daily Essentials and Ka'chava are meal replacement shakes with ALL essential nutrients that your body needs per meal. On the other hand, LyfeFuel Recovery Shake is a protein shake, thus it lacks essential vitamins & minerals and healthy fats. The latter is designed to boost your protein intake, not replace a meal.
Besides the powders, both Ka'chava and LyfeFuel also offer other products to round up their offering: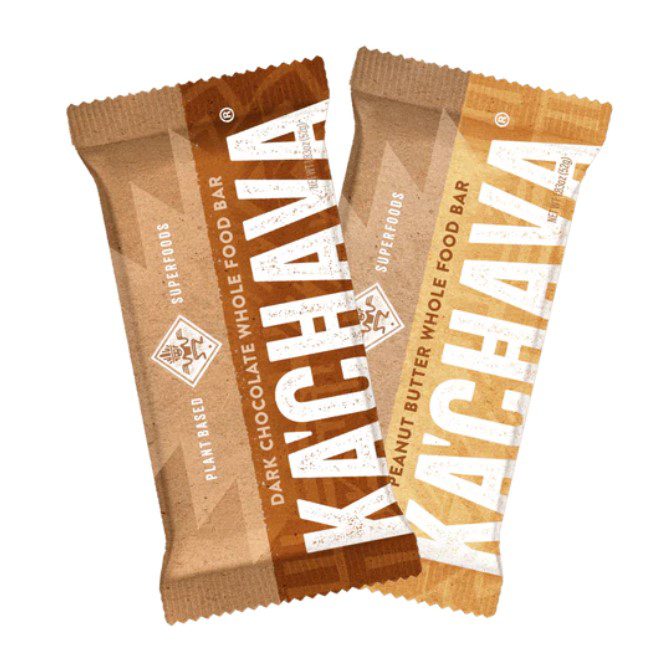 Ka'Chava Bar
2 Flavors (Chocolate, Peanut Butter)
Macros (C/P/F) – 6/11/13
4 Micronutrients
200 KCalories
12 Bars per Box
$3.33 per bar
Minimum Order – 1
Allergens – Tree Nuts (In all bars)
Vegan, Dairy free, Gluten free, Soy free, No Preservatives, No added sugar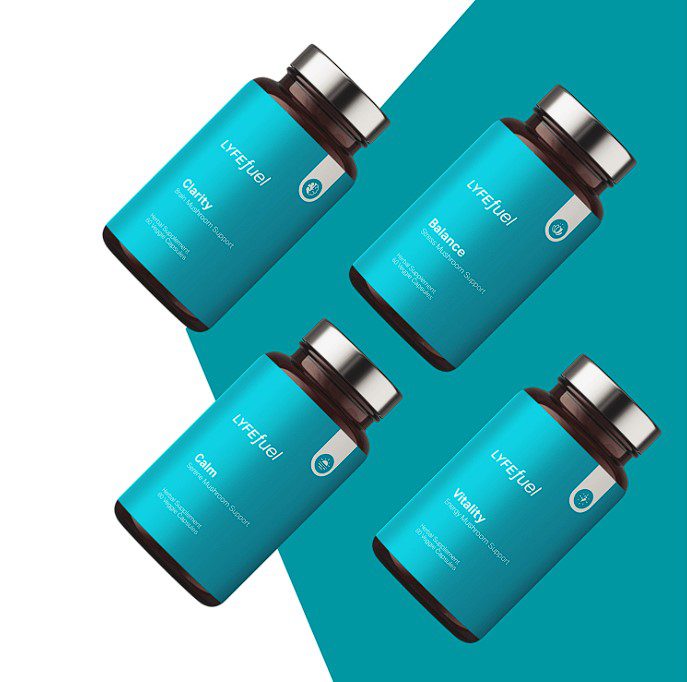 LyfeFuel Supplements
Brain supplements
Consists of four supplements:, Clarity, Calm, Vitality & Balance.
Has organic mushrooms and botanical herbs to provide powerful therapeutic benefits that elevate body, mind, and overall well-being.
Good for focus, clarity, sleep, and anxiety reduction.
Furthermore, LYFEfuel has recently added a meal replacement bar, but as we have not tested it yet, we shall not include it in this comparison.
---
Nutrition: LyfeFuel vs Kachava, What's the Healthiest Shake?
I should preface this by saying that both are among the healthiest shakes you can buy. They provide you with all essential nutrients from real food and even include superfoods to boost your nutritional input even further.
They add digestive enzymes, antioxidants, anti-inflammatory agents, and more to provide you with the most well-rounded product they can.
That said, we've taken all of the powdered mixes and placed them on an easy-to-read chart, that will quickly and succinctly outline the information on the main labels.
Ka'Chava
LF Essentials
LF Recovery
Micronutrients
26
27
9
# of Micros 25% or more
24
22
2
Energy (Kcal) per serving
240kcal
110kcal
150-160kcal
Protein (g) per serving
25g
18g
25g
Carbs (g) per serving
24g
6g
6g
Sugars (g) per serving
6g
3g
3g
Added Sugars (g) per serving
5g
1.5g
2g
Fiber (g)
6g
1g
1g
Fats (g)
7g
2g
3g
Saturated Fats (g)
4.5g
0.5g
0.5g
Sweetener
Lo Han Fruit
Extract
Coconut Sugar +
Stevia
Coconut Sugar +
Stevia
Gluten
N
N
N
Probiotics
Y
Y
Y
Digestive Enzymes
Y
Y
Y
Superfood Blend
Y
Y
Y
Adaptogens
Y
Y
Y
When the shakes are compared, apples to apples, you'll find some similarities, but far more differences between Ka'Chava and LyfeFuel.
Nutrition, What's Healthier Ka chava or LYFEfuel?
As mentioned, both are excellent plant-based meal replacement shakes that offer you top-notch nutrition.
They don't only provide you with nutrients that provide you energy, but also tackle areas like gut-health, mood and energy levels with their shakes.
The Small Stuff Matters
Ka'Chava & LyfeFuel Daily Essentials are about even when it comes to micronutrients, and the number of micros that are at least 25% or your RDI.
Also, since both companies share a vision of natural formulations and use of superfoods, you'll find that both use natural sweeteners, contain probiotics, digestive enzymes, and leverages the benefits of adaptogens.
That said, LYFEfuel does add K2 and D3 vitamins that Ka'chava shakes don't have.
LYFEfuel Can Be Low Carb
One factor they both share is that both shakes have only 6g of carbs, which is 1/4th the amount of Ka'Chava per serving. So if low carb is big for you, either would be a good candidate.
None of them is particularly high in carbs, but LYFEfuels Daily Essential can be used as part of a low-calorie meal. That said, if you are looking for keto meal replacement shakes, you better look elsewhere.
Furthermore, neither is high in sugars and both shakes have a very low glycemic index. This is ideal for slow energy release and reducing blood sugar spikes.
Ka'chava Has Bigger Servings
When comparing LYFEfuel to Ka'Chava, it's safe to say that you'll remain full longer with the latter. this is due to being a bigger serving (120 vs 240kcal) and having more fiber (6g).
Ingredients
Speaking of ingredients, both Ka'Chava and LyfeFuel are predicated on deriving their nutrition from superfood blends. As you can imagine, to cover all the bases without synthetics mean there are lots of individual ingredients that play a role here.
Both contain vegan protein blends, organic greens, super fruits, adaptogens, and probiotics. One area that Ka'Chava really stands out is they have included a fiber blend of whole grain oats, chia, and flax seeds.
Nutrition Conclusion: Ka'chava vs LYFEfuel
There really is no wrong answer here, no matter what choice you make. Both companies produce very nutritious products, containing amazing ingredients.
If you are into the smallest details, it is true that LYFEfuel does offer more vitamins (D3 and K2) that are often hard to get through your diet, and thus wins by a slight margin.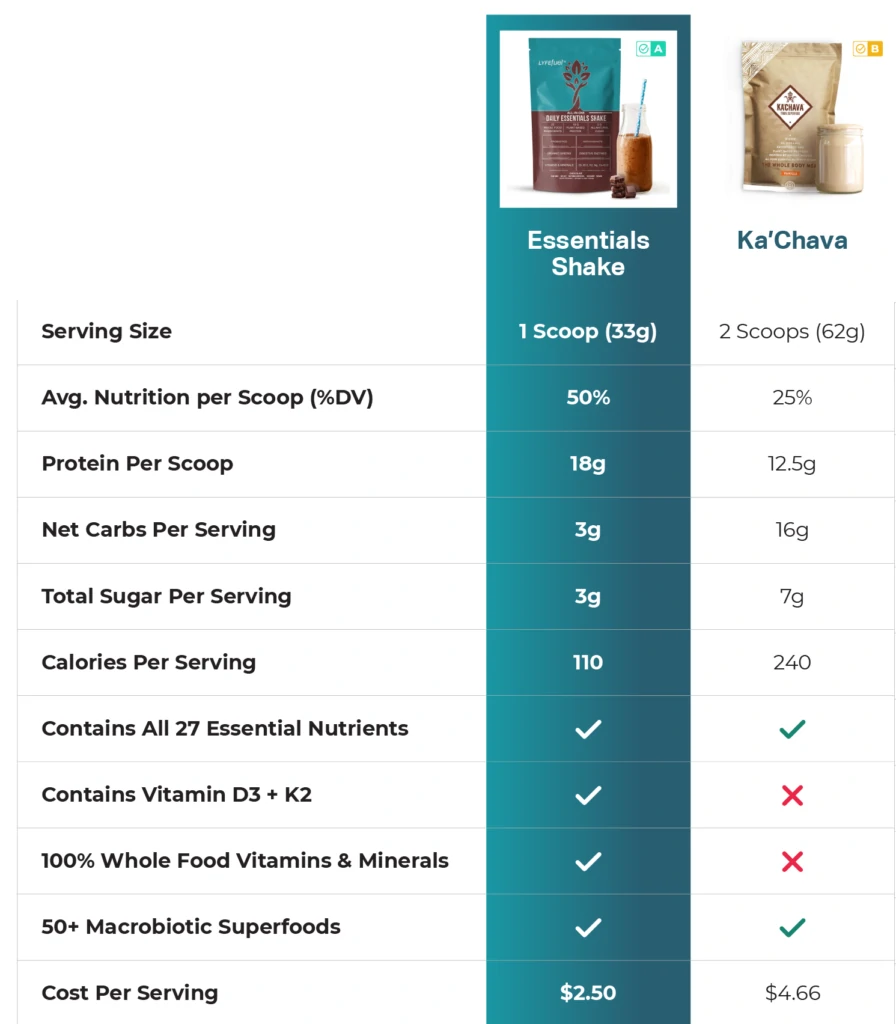 Taste Test
Arguably the most important section, taste!
A product could be the best in the world, but if it tastes like dumpster juice, it won't matter since no one would buy it. Word travels fast!
Ka'Chava
Since Ka'Chava has the most flavors with five, let's look at those first.
| | | |
| --- | --- | --- |
| Flavor | Taste Rating | Thoughts |
| Vanilla | 3 | Standard fare. Nothing special. |
| Chocolate | 4 | Above average. Liked it better than many chocolates. |
| Chai | 5 | Awesome! Rich cinnamon/spice flavor. Very enjoyable. |
| Coconut Acai | 4 | Tropical punch flavor. Very easy to drink |
| Matcha | 4 | Acquired taste, unique flavor. Great change of pace. |
Rated on a scale of 1 to 5.
There really is nothing to complain about here. These are some of the best-tasting shakes in the game. They work well shaken or blended, keep you full for a while, and there are no bad flavors!
LyfeFuel
Now on to LyfeFuel. They only have two flavors, and they taste identically between the two product lines so they'll get a collective rating.
| | | |
| --- | --- | --- |
| Flavor | Taste Rating | Thoughts |
| Vanilla | 2 | Not very good. Strong green smoothie flavor, and not much vanilla. |
| Chocolate | 4 | Much better than vanilla. Undoubtedly the better of the two. |
Rated on a scale of 1 to 5.
A mixed bag here. Chocolate was really good, and I found myself having finished all the chocolate, and was stuck with vanilla.
If you like, or are used to the green smoothie vibe, this may work for you, but it was a pass for me. Also, LyfeFuel is better blended, it doesn't mix well as well as Ka'chava does.
Summary
Safe to say that Ka'Chava takes the crown when it comes to taste, mixing and variety.
Personally, I love LYFEfuel Chocolate (better than Ka'chava Chocolate), but the sheer array of flavor options and the mixability edge this section in favor of Ka'chava meals.
Pricing & Availability
There is no doubt that in today's challenging climate, costs play a huge role for companies and consumers. Let's see how each product fares in the pricing arena.
It is worth noting, before moving further, that both are premium shakes, and that there are cheaper meal replacement shakes in the market that give you 80% for half the price (like Rootana).
Where Can You Buy LYFEfuel and Ka'chava?
Kachava Shakes
Only through their website
Ships to US
15 meal bags
Minimum order 1 bag
10% subscription discount
Free shipping
LYFEfuel Shakes
Their Website and Amazon
Ships to US
24 meal bags
Minimum order 1 bag
14% subscription discount
Free shipping w/ subscription
Ka'Chava can be purchased only from their webpage, and is certainly one of the pricier shakes you can purchase. They are only available in the US, and offer free shipping with the purchase of two or more bags.
LyfeFuel is a bit cheaper and more flexible. LyfeFuel products can be purchased directly, or can be found on Amazon for purchase. The Recovery Shake can be purchased for under $2 per serving, which is a great value. And though LyfeFuel has raised the price of its Daily Essentials Shake by $10 since our last review of the product, it still comes in a fair bit cheaper than Ka'Chava.
LyfeFuel is also US-only, and offers free economy shipping, and $15 for express shipping.
LYFEfuel vs Ka chava Price
Product
Total Price
(Non-sub/sub)
Serving Price
(Non-sub/sub)
Ka'Chava
(15 servings)
$70/$60
$4.66/$4.00
LyfeFuel Recovery
(24 servings)
$50/$40
$2.08/$1.66
LyfeFuel Daily Essentials
(24 servings)
$70/$60
$2.92/$2.50
Priced in USD
Other Alternatives
If you decide that neither product is for you, here are some comparable options that were rated highly by us!
Rootana – #1 Alternative, Best Value
Rootana is a meal replacement shake without any artificial sweeteners, including stevia. This natural shake offers 90% of the nutritional goodness LYFEfuel and Ka'chava do at half the cost. Their shakes are available in the UK and US.
Find out more about Rootana here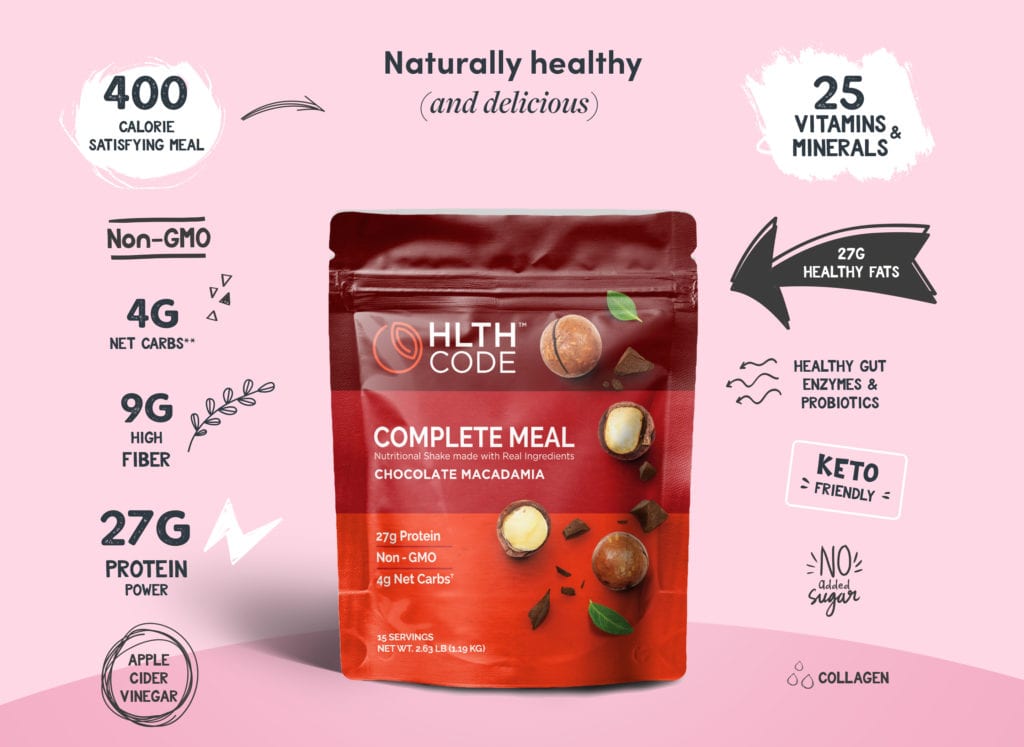 HLTH – #2 Alternative, Best Low-Carb
If you are looking for a keto-friendly meal replacement shake, the HLTH Complete is your choice. It is not plant-based like LYFEfuel or Ka'chava, but it contains a premium blend of protein, healthy fats, digestive enzymes and even apple cider vinegar to boost your gut health. Plus, the shakes are super delicious!
Find out more about HLTH here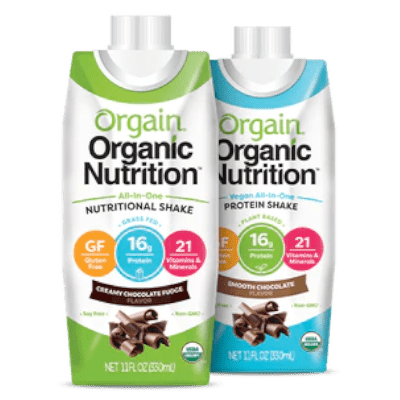 Orgain – #3 Alternative
What about 100% organic meal replacement shakes with tons of veggies and superfoods? That's what Orgain meal shakes offer. They have Ready-to-Drink and powder options that can suit your needs better. Not as tasty as Ka'chava or LYFEfuel, but more affordable for sure.
Find out more about Orgain here
Besides the above-mentioned, there are tons of other great meal replacement shakes that might suit your needs and budget better, like Huel Black, Soylent Drink, Plenny Shakes…
However, if you have the money to spend, I still recommend going for Ka'chava or LYFEfuel as your primary meal replacement shake.
LYFEfuel vs Ka'chava vs Shakeology
Some of you might have heard of Shakeology, a popular weight-loss meal replacement shake by Team Beachbody.
If I were to compare Kachava vs LYFEfuel vs Shakeology, it would be a short comparison. Do NOT buy Shakeology, as it is a far inferior product to both Lyfefuel Daily and Ka'chava.
But why? Here are a few reasons:
Shakeology is more expensive
Shakeology shakes taste much worse than Kachava or LYFEfuel
Awful customer service by Shakeology, as opposed to the other too
Shakeology shakes lack essential fats, like omega-3
Furthermore, Team Beachbody has been linked to multi-level marketing practices that make the customer the product. Stay away.
Kachava vs LYFEfuel vs Herbalife
Talking about MLMs, Herbalife is the worst of them all. This is a product a few leagues below Ka'chava and LYFEfuel in all aspects, including pricing, nutritional output and customer experience.
The only good thing to say about Herbalife shakes is that they are quite nice to drink. Otherwise, they are high in sugar, have tons of processed ingredients and have deficient nutritional input.
Furthermore, buying Herbalife is a nightmare. The prices fluctuate between vendors, products are not always available, and they have awful customer service.
FAQ
What is are the subscription discounts?
– LyfeFuel Daily Essentials offers 14% off plus free shipping
– LyfeFuel Recovery Shake offers 20% off plus free shipping
– Ka'Chava offers $10 off per bag, and free shipping on two or more bags.


Which would be better for weight loss?
While both combined with a balanced diet and exercise are excellent for fueling weight loss, LyfeFuel has intentionally kept its calorie and carb counts very low, making it the better of the two for weight loss.


Outline the return policies?
LyfeFuel asks that you contact them within 30 days in which they will work with you on a solution. After that exchange, if there is no resolution, they will issue a full refund.

Ka'Chava has the "Love it Gurantee" which says you can get a full refund, even if the bag is empty. This applies to one bag, per flavor. There is a form you'll have to complete, then you'll be emailed a return address. Return shipping will be at your cost.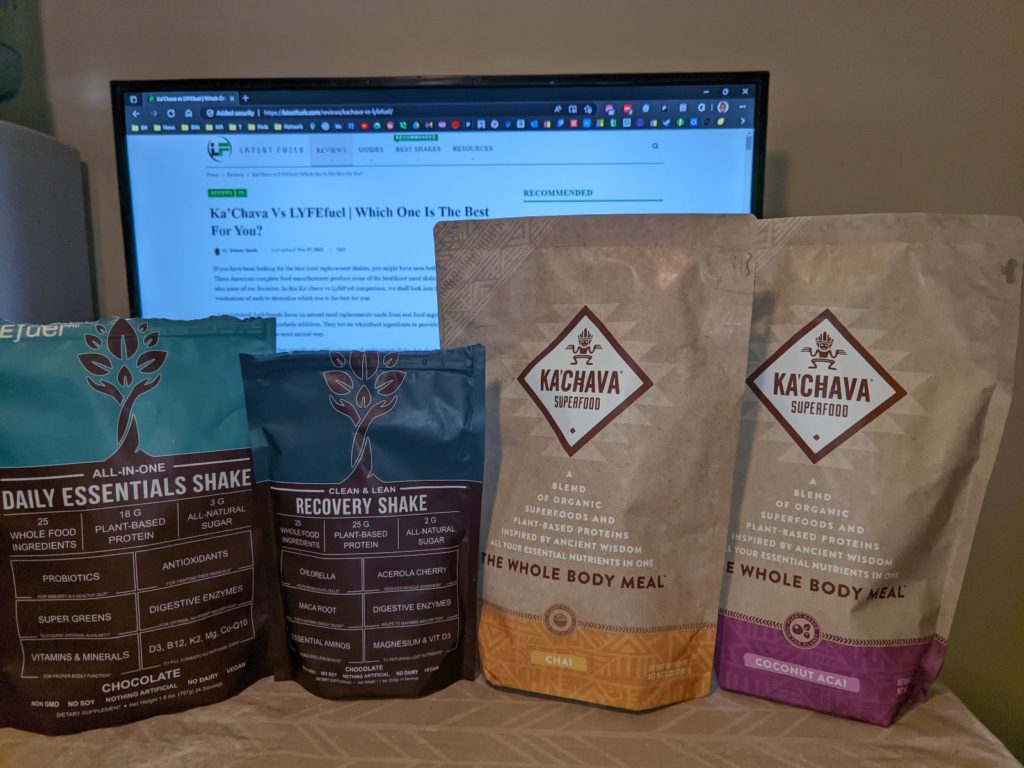 ---
Conclusion – LyfeFuel vs Ka'Chava
"What is the best product?" "What is your favorite meal replacement shake, Johnny?"
These are questions that I often get. The answer can vary depending on what the person asking the question is looking for, but for most Ka'chava or LYFEfuel are both excellent options.
In fact, these two brands produce some of the best meal replacement shakes, in particular when it comes to nutrition and health. As such, if you are looking for the best of the best, these two tend to be on top of my recommendations.
But, the point of this Ka'chava vs LYFEfuel comparison is to determine which one is the BEST, right?
I really appreciate LyfeFuel's "no unnecessary calories" approach. Their stance that more calories doesn't mean a better product is accurate, IMO. I for one love to add peanut butter to my chocolate shakes, if I'm already starting at 300-500kcal, then I'm well on my way towards 1000 when you count that plus the oat milk and fruit.
As for Ka'Chava, I really don't have anything to gripe about. It's flexible, has variety and all flavors are at least decent.
What I can say confidently, is that both LyfeFuel and Ka'Chava are prime examples of what meal replacements SHOULD be. They both have clear visions, use well-sourced ingredients, avoid taking shortcuts, and are both very well-polished products. This shows in their products, their packaging and their presentations, both having well-designed web pages.
Bottom Line: If I had to pick one, it'd be LYFEfuel, with Ka'chava as a close second.