Nourish+ Review| Excellent Meal Replacement Shakes With 1 Flaw
Welcome to this Nourish+ review, an in-depth look to one of the newest meal replacement shakes in the market.
However, there's plenty of experience around Nourish+. They come from the makers of Avantera, an extremely popular brain supplements with thousands of positive reviews on Amazon.
So will their meal replacement shake, Nourish+, be at the same level?
On paper, things look good:
Nourish+ is a vegan meal replacement containing 15g of protein, 3g of fiber, and 10g of carbs, all at 170 calories per serving. You can also look forward to 26 micronutrients, many of which are well north of 20% per serving…and all from real food.
Looks to be small container, but I'm told that good things come in small packages, so keep reading to find out how true that really is.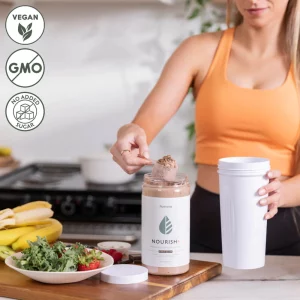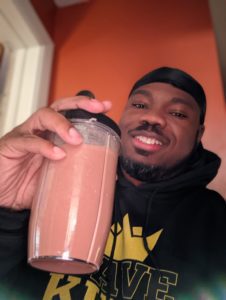 ---
Nourish+ Review at a Glance
Flavours: Chocolate.
---
Opinion
I'll be honest, there are tons of great shakes out there, but making one of the best meal replacement shake is hard. In this Nourish+ shake review, we shall check if this product makes it.
This year alone, I've reviewed multiple meal replacement shakes with a similar profile: vegan, soy-free, gmo-free… Including some of our favorites like Ka'chava or Lyfefuel.
Furthermore, the trend seems to have low-calorie options that can be a weight loss meal replacement shake.
So, the question is, which ones are the memorable and noteworthy shakes in the meal replacement middle class? Let's take a closer look at Nourish+ and see where it falls.
Positive Thoughts
1. Bulk discounts. I like saving money without having to subscribe
2. Great ingredients. Can't go wrong with real food for nutrients. The label is well outlined.
3. Smooth and tasty. Shakes very well with water or milk and is pleasant tasting.
4. Filling. Not only was I full afterwards, my hunger came back slowly as opposed to instantly starving.
5. Generous subscription discount. Around 25% off for subscription, which can be added to multipack discounts.
6. Great product.
Needs work
1. Inconsistent instructions. Webpage says one scoop is a full serving, whereas the tub says two scoops. Given the price per serving, this has to be fixed.
2. Not great value. Without discounts, one of the most expensive shakes you can buy.
3. Only 1 flavor is available.
Nutritional Breakdown
As mentioned in the section above, Nourish+ has a really solid nutritional profile. You'll fruits, veggies, probiotics and adaptogens all present, and from sources found at your local grocer or farmer market.
Nourish offers a vegan-friendly, gluten-free, soy-free, dairy-free meal replacement shake that includes all essential nutrients. Even omega-3 fatty acids, which are often lacking on cheaper alternatives.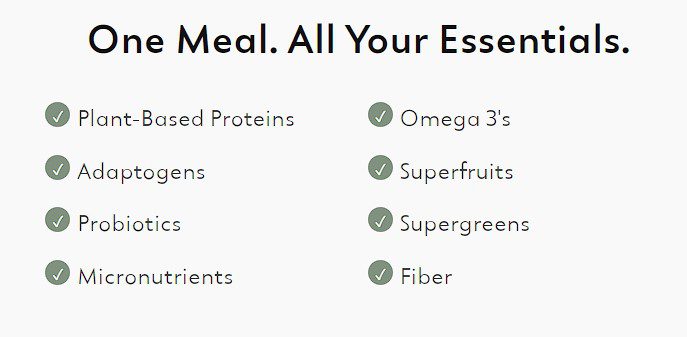 Nourish+ Nutrition Overview
| | |
| --- | --- |
| Kcal/meal | 170 |
| Macros (C/P/F) | 10/15/6 |
| Vegan | Yes |
| Keto | No |
| Features | Gluten Free, Nut Free, Soy Free, Dairy Free |
| Non-GMO | Yes |
| Organic | No |
| Includes Probiotics | Yes |
| Artificial Sweeteners | No |
| Synthetic Additives | No |
| Contains All Micronutrients | Yes |
| Controversial Ingredients | None |
Carbohydrates
Based on 170kcal serving:
Total Carbs: 10g, 4% of DV.
Net Carbs: 7g, (Total Carbs – Dietary Fiber – Non-digestible Carbs)
Sugars: 1g.
Fiber: 3g, 11% of DV.
If you are looking to cut weight, this could be a winner as its pretty light in the carb department of Nourish+.
This is a low-carb meal replacement shake with a low glycemic index. In fact, low sugar meal replacement shakes can be great to start the day without raising your blood sugar levels.
I honestly expected the fiber to be higher considering it contains spinach, broccoli, beets, cabbage and oat bran just to name a few fiber-rich ingredients.
Stevia is the sweetener used, and of course, natural sweetness from the many fruits included.
Protein
Per 170kcal serving:
Total Protein: 15g
Source: Pea protein, Brown rice protein
As far as protein content goes, it is not as high as in other products, but 15g isn't bad. You will get plenty of protein for the number of calories the shake offers.
Besides the shake uses pea and rice protein. These are also commonly used together since they are complementary. Also, lentil bean sprout powder is included, which can offer up to 6g of protein per half cup.
Lastly, all of them possess similar efficiency to promote muscle growth after exercise.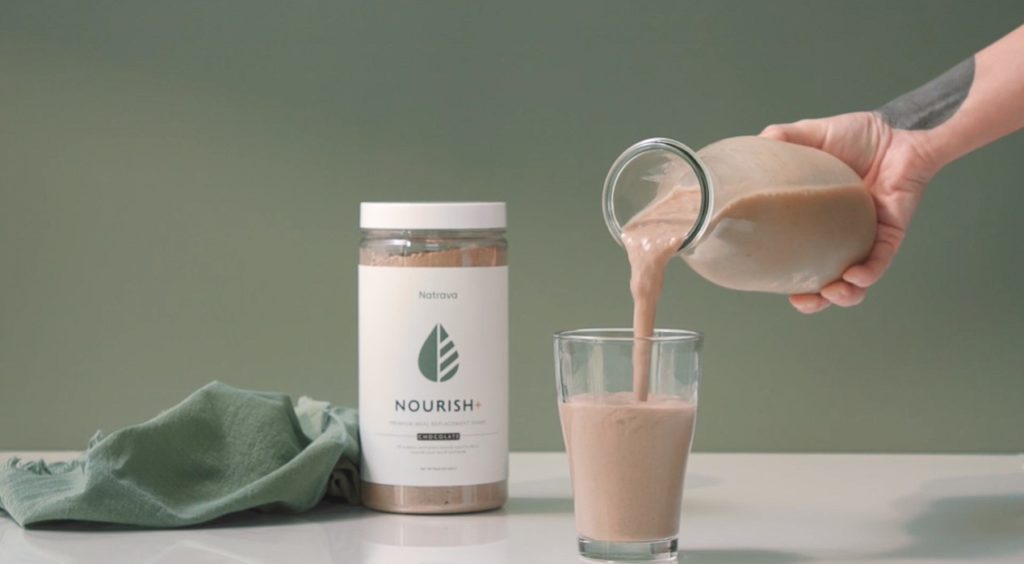 Fats
Per 170kcal serving:
Total Fats: 6g, 8% of DV.
Saturated Fats: 3g, 15% of DV.
Omega-3s, 1.3g.
Nourish+ contains MCT powder and a specific omega-3 blend of organic flaxseed powder & organic chia seed powder. Omega-3s aid brain function, and play an important role in a healthy diet.
Micronutrients
Nourish+ is very nourishing when it comes to nutrients.
Each serving comes packed with 26 micronutrients, each with varying amounts ranging from 14% to over 2000%. All nutrients are a result of the significant fruit and greens blends, with no synthetic vitamins.
Allergens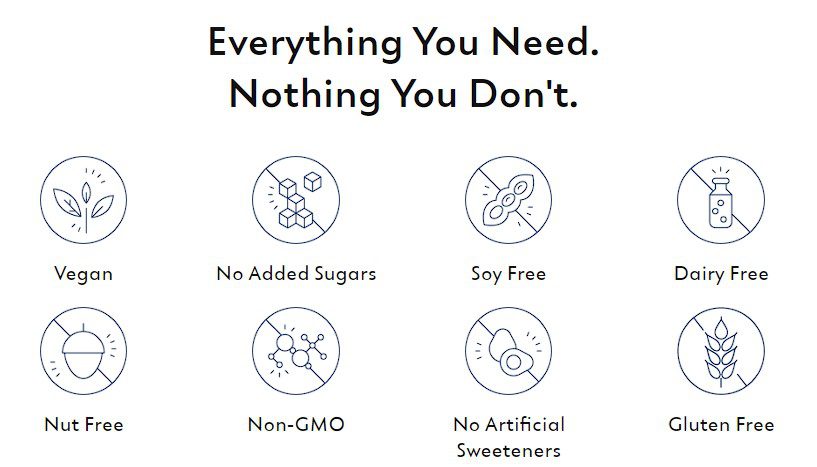 I think this speaks for itself.
Taste Test
Best flavour
Chocolate (Only flavor)
Taste
Decent
Texture
Pretty good
Satiety
At least two hours.
Easy to Clean
No worse than other shakes
After
Thoughts
Not my fave chocolate, but doable.
First, it's worth noting that the instructions aren't clear on the site. They state one scoop constitutes a serving, but the container says two scoops.
Personally, I went with two scoops, and I think that is the correct method, though they need to fix this.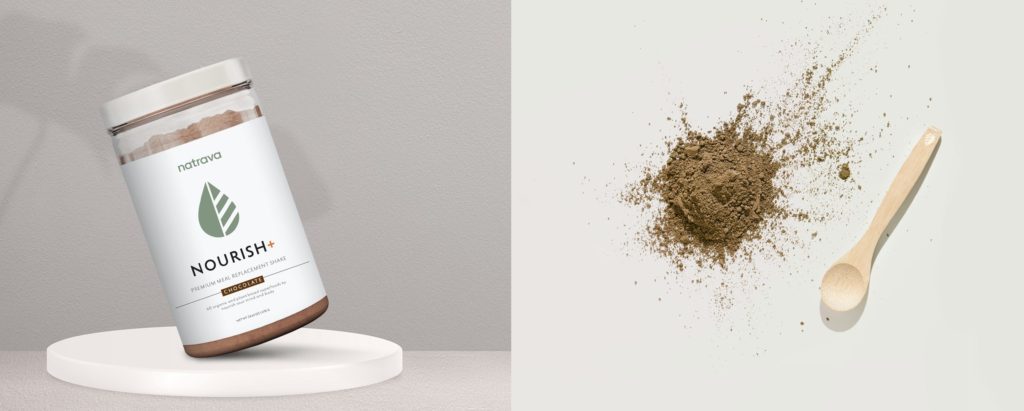 Shaking it up with 300ml of oat milk, produced a shake that was really smooth, and had a great consistency, a bit thick, but not too thick.
Taste-wise, you definitely taste the veggie mix, but it does have a rich chocolate flavor, that is not too sweet. On the other hand, with water, it's less sweet, but the chocolate flavor still hits.
Because of how thick the shake was I found myself pretty full for at least 2 hours, if not a bit more. This is more than I expected for the number of calories the shake had.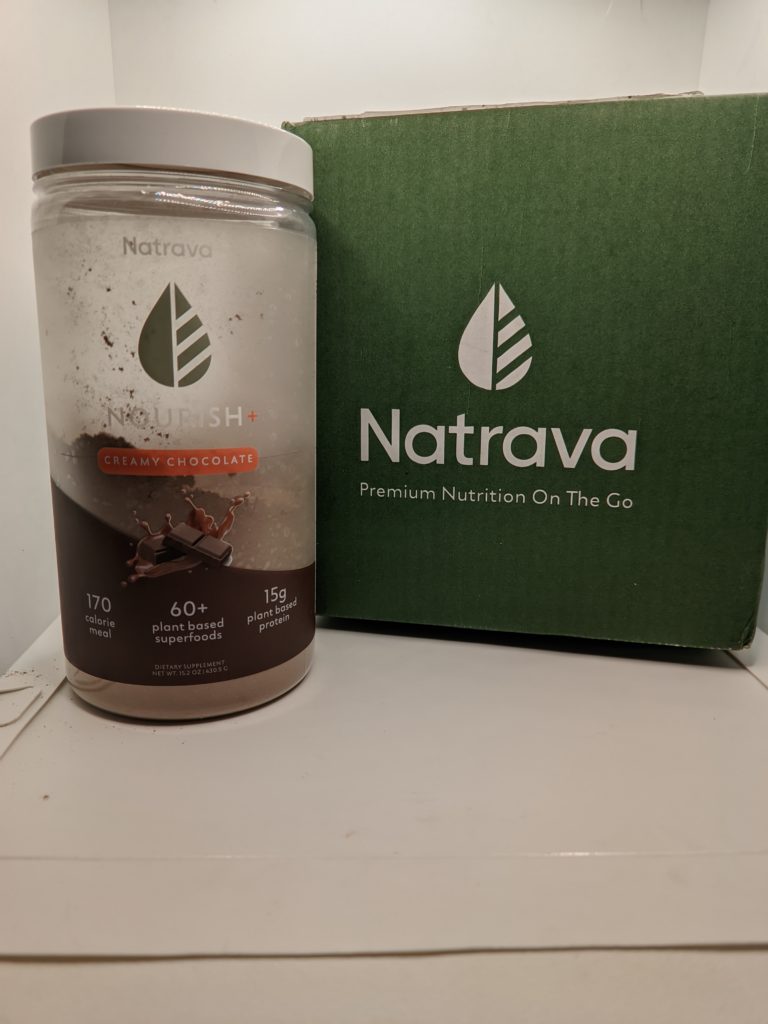 Learn about Nourish+

Brand Honey is an Austin-based health and wellness company co-founded by Chase Novak & Casey Husband with the sole purpose of helping people live happier, healthier, and more fulfilling lives by improving what they put into their body.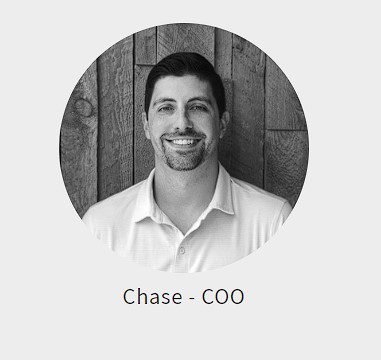 They have two wellness brands in their portfolio, Avantera and Natrava.
Natrava, headed by brand CEO Rahul Parikh, is a health brand that offers products that help provide the daily nutrients needed to support a healthy lifestyle, and it's the brand that produces Nourish+.
Avantera on the other hand, it's mostly focused on nootropics and brain supplements that can help you with stress, energy levels and mood.
We are passionate about creating products that help people live happier, healthier, and more fulfilling lives by building D2C brands with best-in-class products, branding, marketing, supply chain and customer service.

Brand Honey
Pricing & Shipping
As far as the price goes, Natrava's Nourish+ is sold in 15oz (430.5G) containers which have 10 servings.
Pricing
Nourish+ can be ordered from their webpage, or from Amazon, which as of this writing, is a bit cheaper than from its homepage.
Quantity
Total Price
(Non-sub/Sub)
Serving Price
(Non-sub/Sub)
1-Pack
(10 servs)
$56/$45
$5.60/$4.50
2-Pack
(20 servs)
$96/$75.90
$4.80/$3.80
3-Pack
(30 servs)
$130/$99.90
$4.33/$3.33
Priced in USD
Nourish+ offers a discount of about 25% when you subscribe. There are also discounts for multipack orders which apply to subscription orders, or single orders.
Shipping
Shipping is $5 flat rate throughout the United States. It has not been made clear as to which shipping partners are used.
Nourish+ vs. Basal, LYFE & Ka'Chava
This may be one of our closest comparisons yet! These have all received high marks from me, so it will be interesting to see if Nourish+ measures up when compared apples to apples. Nourish+ also reminds us of Supergut or Muniq.
We have full reviews of each on LatestFuels.
Before the head-to-head, a brief synopsis of each:
Next up, Ka'Chava…a LatestFuels legend. Nothing more to say here that has not already been said. Five great flavors and amazing ingredient sourcing make it one of the best. One of the best dairy-free shakes in the market.
Gaining ground quickly is LyfeFuel. The shake that made me realize that calories aren't everything, and what goes into the product should be paramount. They have one of the best chocolate shakes in the game.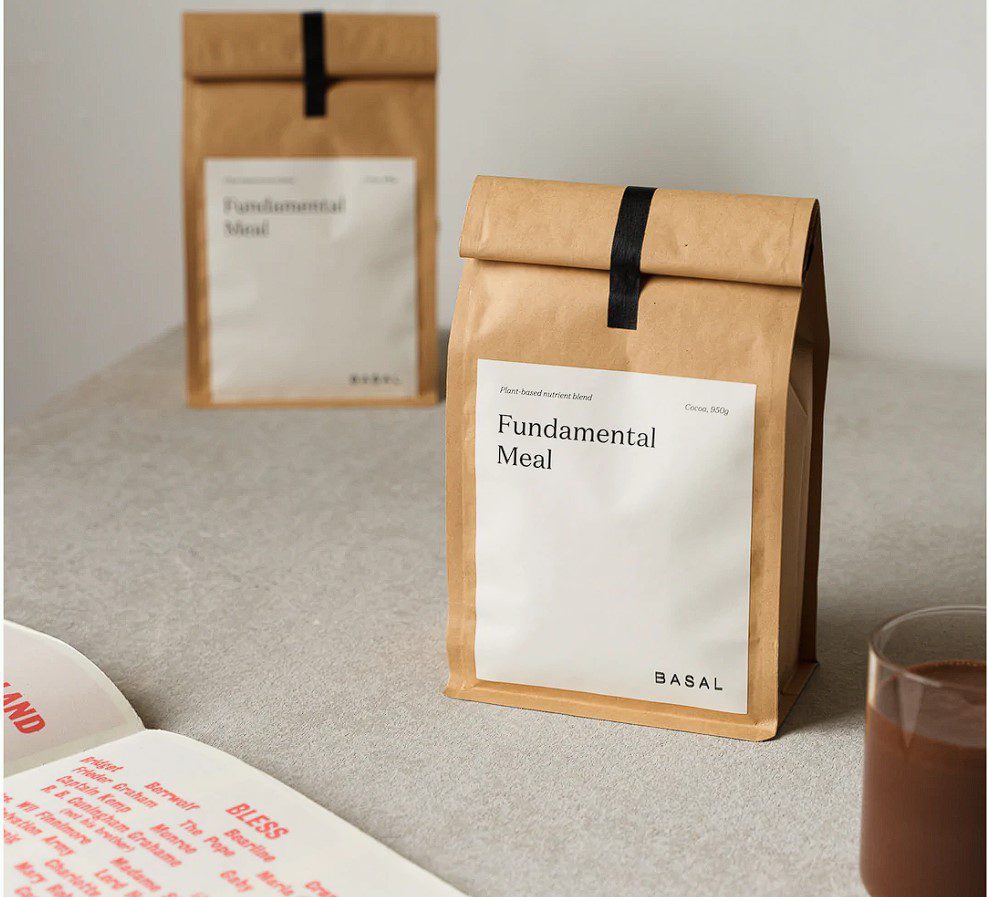 Head to Head
Category
Nourish+
Basal
Ka'chava
LyfeFuel
serving price
$5.60
(USD)
$5.70
(USD)
$4.66
(USD)
$2.92
(USD)
kcal/serving
170
350
240
110
$/kcal
0.033
0.016
0.019
0.0265
servings per
10
10
15
24
Packaging
Canister
Bag
Bag
Bag
Flavors
1
1
5
2
Protein (g)
15
24
25
18
Sugar (g)
1
3
6
3
Fiber (g)
3
7
4
1
Fats (g)
6
13
8
2
Carbs (g)
10
35
21
6
Vegan
Y
Y
Y
Y
Certified
Organic
N
N
N
N
Micronutrient
25
25
26
27
Artificial Sweeteners
N
N
N
N
Synthetic Additives
N
N
N
N
GMO?
N
N
N
N
Protein Source
Pea, Rice, Lentil
Pea & Rice
Pea & Rice
Pea & Rice
Availability
US
US & CAN
US
US
Other Products
Beets+
Hol Food
Bars
Recovery Shake, Bars
Nourish+ vs Basal
These two almost mirror images of one another. They even have similar tastes and mouthfeel.
Basal does however set itself apart by offering over double the calories and more protein per serving for the same price, and being based in Canada gives them far more reach than Nourish+
Nourish+ vs Ka'chava
For me, Ka'chava really runs away with it in terms of flavor count, calories and protein amounts. They also hold the edge in price too, considering you get five more servings per order than Nourish+. This is a lot to say, since Ka'chava is one of the most expensive shakes you can buy.
I feel like Ka'chava is worth the money though. They offer you a blend of 70+ superfoods that ensures you get one of the healthiest meals you can buy.
Nourish+ vs LyfeFuel
Up against the Daily Essentials shake, Nourish nutrition shake notches a win in the calorie department. But if LyfeFuel has taught us nothing else, it's that calories aren't everything. These two products really go blow for blow in many categories, but once again price comes back to bite Nourish+ with LyfeFuel offering more than double the servings and therefore, half the cost of Nourish+.
Plus, I feel that LYFEfuel Daily Essentials is tastier than Nourish+. It just leaves me with a better aftertaste and I tend to be more energized afterwards.
Nourish+ FAQ
Where are your products manufactured?
Our products are manufactured in the USA! We proudly manufacture our products in FDA registered facilities. Our facilities have the highest standards and have been recognized with a Good Manufacturing Practices (GMP) certification.


Are the ingredients clinically studied?
Yes! In working with doctors, nutritionists, and food scientists to come up with our products, we only selected ingredients that have substantial scientific research backing up our claims.


What is your return policy?
Try Nourish+ with confidence! At Natrava, we know that finding the right supplements to support your long-term health goals can take time. We believe in our products so much that we offer a no-hassle, 100% money-back guarantee for 30 days. In other words, try our products and if you don't like them for any reason within 30 days of purchase, return them with no questions asked.


When is the best time to have one?
Nourish+ meal shakes can be enjoyed at any time of the day or night depending on your daily schedule and dietary habits. In other words, there is no wrong time to enjoy Nourish+ and the right time really depends on your preferences. 


What payment options are accepted?
We accept all major credit cards (Visa, Mastercard, American Express, Discover) as well as payment options through PayPal, Apple Pay, Amazon Pay, Google Pay and Shopify Pay.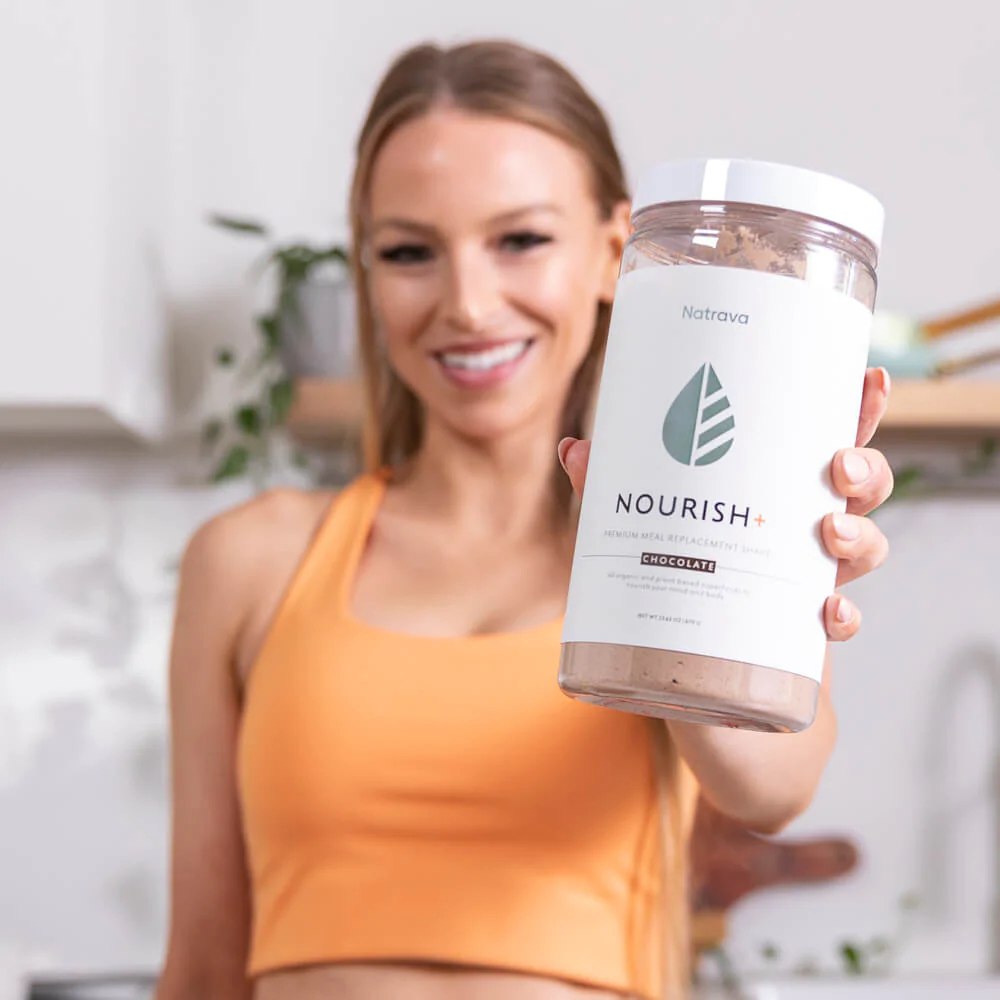 ---
Verdict – Nourish+ Review
So here we are again. A place that is all too familiar.
Me trying to come up with the right words for a product that I largely enjoyed, and had good experience with, but having to parse the counterbalance of being off-put by the price.
As mentioned, I liked Nourish+. It hit my marks of being easy to prepare, having smooth texture, and being pretty tasty, but the price may put it out of reach for some. Don't get me wrong, the bulk discounts and subscription discount are both pretty generous and redeems it somewhat in this regard.
I just feel that they should sell more servings per order, which would put it more in line with similar products in the superfood meal replacement category.
Bottom Line – Nourish+ is solid, but competition is stiff from its contemporaries. The company will have to do more if they want it to make a mark.