Kirkland Triple Action Review: Is It Worth It?
If you're suffering from chronic joint pain, especially in your knees and hips, you might consider using dietary supplements designed to target joint inflammation and support healthier bones.
One of the products that you might stumble across while researching is the Kirkland Signature Triple Action, as it is readily available in Kirkland. So, is it any good?
In today's guide, we'll walk you through a brief Kirkland Triple Action review with everything you need to know about its formula, including its mode of action, side effects, and more.
Sadly, you will find out that this is far from being one of the best joint supplements, and it's a rather useless one, in fact. It lacks many key ingredients that have been scientifically proven to relieve joint pain, and instead provides you with cheap ones that don't really work.
Spoiler: As with many other Kirkland white-label products, this is a terrible joint supplement and I would not recommend it to anybody. The money you might think you are saving, you will be expending it later on. For that, we recommend using Flexagain for joint pain relief, as it is the best.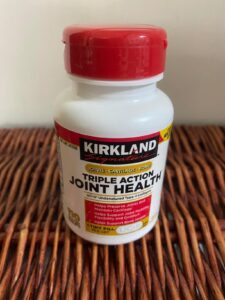 What Are the Ingredients of Kirkland Triple Action?
In order to understand how Kirkland Triple Action works, we'll need to look at its formula and what it has to offer. Here's an in-depth look at the active ingredients of the supplement:
1. Type II Collagen
Collagen is a protein that our bodies produce naturally. It plays an important role in building the cartilage in our joints. 
However, as we age, our bodies tend to produce less collagen, which causes inflammation, and other problems in joints.
Kirkland's formula has undenatured type II collagen that is sourced from chicken sternum bones. 
Although this is a safe source of collagen, it has a relatively low bioavailability. In other words, our bodies only absorb 49% to 57% of the oral collagen we take.
Since each tablet only contains 40 mg of collagen, the amount absorbed by the body isn't really that much at all.
2. Boron
Boron is a mineral that has been widely established as a reliable treatment for several forms of arthritis for over 60 years now, according to various studies.
The formula contains 5 mg of boron glycinate, which helps in reducing the effect of enzymes responsible for the inflammatory response in arthritic joints.
Unlike collagen, the boron content of Kirkland Triple Action is relatively decent and it does most of the work, but it may not be enough for everyone.
3. Hyaluronic Acid
Also known as "hyaluronate" or "hyaluronan", this one is also a compound that our bodies naturally produce but the rate of production decreases as we grow older.
This gooey substance acts as a lubricant that prevents friction between joints, reducing inflammation and pain.
The formula contains 3.3 mg of sodium hyaluronate. While the sodium form has a relatively decent bioavailability when compared to oligosaccharide forms, the amount of hyaluronate in the formula is still relatively low.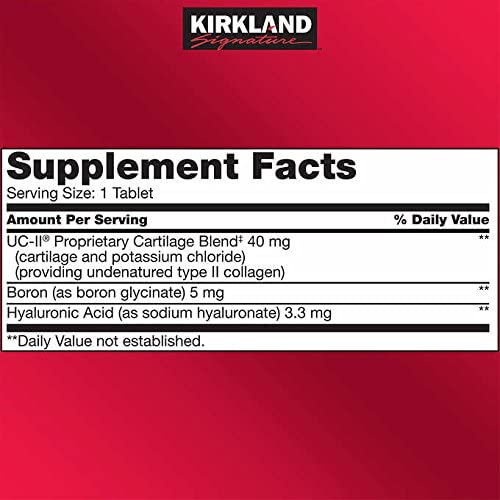 Does Kirkland Triple Action Work?
Now that you know more about the main ingredients in the Kirkland Triple Action formula, you might be wondering whether it does what it's supposed to, so here's a breakdown of the answer:
No, it does not work as intended. It has the wrong ingredients, misses key ones and is not even dosage properly.
When compared to our #1 joint supplement, Flexagain, it fails in every single aspect.
However, let's discover more:
How Kirkland Triple Action Works
As the name suggests, Kirkland Triple Action relies mainly on the effectiveness of its three main ingredients.
Since a lot of patients with inflammatory conditions have a lack of collagen and hyaluronic acid to blame for the pain, using this formula can deliver some sort of pain soothing.
With that being said, the Kirkland Triple Action formula lacks a wide variety of joint stimulating ingredients that can massively help with the pain, such as:
Methylsulfonylmethane (MSM)
Glucosamine
Chondroitin
Turmeric extracts
Kirkland Triple Action Dosage
According to the label of Kirkland Triple Action, the daily values necessary from each ingredient aren't listed, as they vary from one user to another depending on the condition of their joints and other factors.
However, in most cases, you'll only need 1 capsule per day, which is even mentioned on the label.
As previously established, while the dose of boron is pretty decent but the collagen and hyaluronic acid are somewhat low, not to mention the low oral bioavailability.
What Are the Side Effects of Kirkland Triple Action?
Technically speaking, Kirkland Triple Action is a relatively safe product. Two of the three ingredients are naturally produced by the body.
As such, you shouldn't expect any serious side effects from the dietary supplement, especially since the concentration of many ingredients (like collagen) is pretty low.
Despite the established safety, some people might suffer from hypersensitivity to any of the ingredients of the Kirkland Triple Action formula. 
While this is very rare, you should watch out for any unusual symptoms or discomfort while using the formula for the first time.
Also, collagen may interfere with some drugs and ingredients in other medications, so you have to consult a pharmacist or your physician before using it if you're on particular treatments.
Lastly, a few people may suffer digestive problems like constipation, nausea, diarrhea, bloating, or abdominal cramps upon using the capsules.
Is Kirkland Triple Action Legit?
Since Kirkland Triple Action uses scientifically established ingredients to target joint pain, the product is legit.
However, the joint dietary supplement remains a bit questionable due to its lack of ingredients that are offered in other formulas.
Also, Kirkland Triple Action is somewhat pricey when you consider the relatively low dose of collagen and hyaluronic acid in each capsule.
Where to Buy Kirkland Triple Action?
Kirkland Triple action is available in a variety of stores, whether online or offline, as well as in local pharmacies all over North America.
Namely, Costco and Wallmart. It is not available on Amazon officially, although you might find some 3rd party retailers.
Besides shipping fees, the pricing of the product may vary from one place to another. However, the product is generally overpriced regardless of where you buy it.
Real User Kirkland Triple Action Reviews
Despite our negative outlook on this joint supplement, it has overwhelmingly positive reviews on Amazon.
In fact, it's rated 4.7/5 after 700 user reviews of Triple Action 101. This is quite surprising to us, since there's nothing on the ingredients that makes us believe it works, and when tested it was not very effective.

On the opposite side, there were quite a few critical user reviews that highlighted the ineffectiveness of Kirkland Triple Action.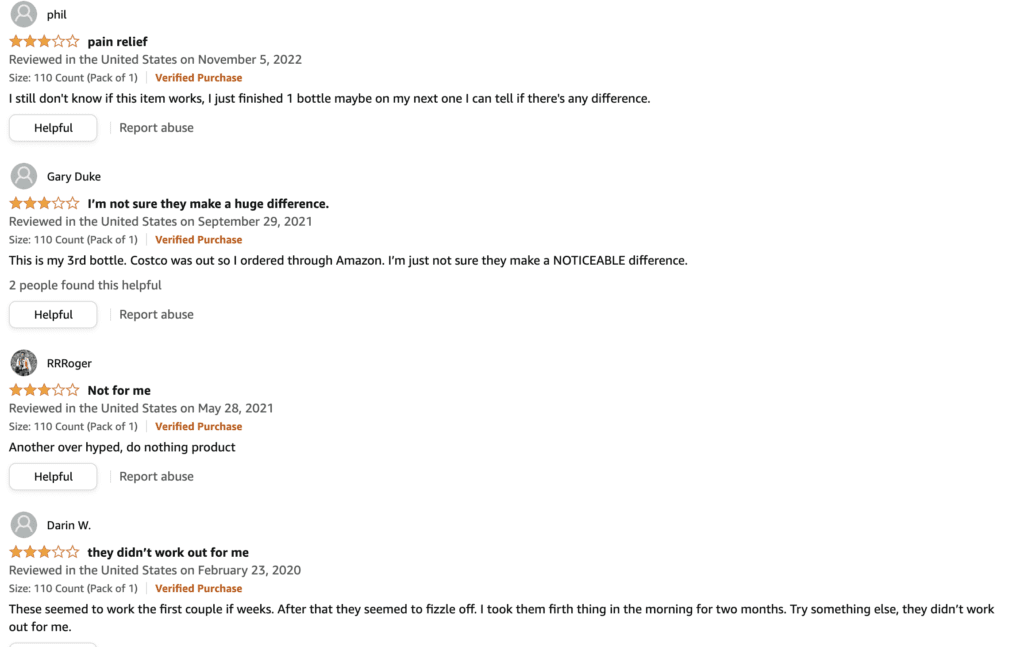 Whether you chose to believe the positive Kirkland Triple Action reviews or the negative ones, one thing is clear. This is not a product for everyone.
What Is the Best Alternative to Kirkland Triple Action?
As previously mentioned, we are not generally impressed by the formula of Kirkland Triple Action.
This is because the ingredients used in the dietary supplement don't include many essential ingredients that help in soothing joint pain all the while being incredibly pricey.
One product that we recommend instead of Kirkland Triple Action is Flexagain. This one contains a wide variety of established ingredients to soothe joint inflammation, such as:
Chondroitin
Glucosamine 
Bromelain 
Curcumin 
Methylsulfonylmethane
Vitamin D, and much more!
Kirkland Triple Action Review FAQ
Is Kirkland Triple Action vegan-friendly?
No, it's not. The collagen is made from chicken sternums.


Is Kirkland Triple Action effective?
User reviews are mixed, but we believe that the ingredients are not effective enough. In our experience, we did not notice any significant improvements.


Can I take Kirkland Triple Action for my ACL injury?
Yes, but it is unlikely to have any significant positive effect on the recovery.


How long do you need to take Kirkland Triple Action to see the effects?
With most joint supplements is best to try them for at least 2 weeks and 1 month if possible.


---
Verdict – Skip This Product, Buy Flexagain Instead
This wraps it up for this Kirkland Triple Action Review. Despite being safe and somewhat effective, this one isn't our top recommendation if you want to minimize joint inflammation.
Besides its limited ingredients and low dosage, it's also quite overpriced, which lowers its cost-effectiveness.
Instead, we highly recommend Flexagain as a perfect alternative with a larger variety of highly effective ingredients that make it worth the investment!
Kirkland Triple Action
From $0.25 per serving