Basically Food Review | Great Affordable Meal Replacement Shakes
In this Basically Food review, we will have a look at one of the most popular meal replacement shakes in the US, and one of the oldest brands in the industry.
As you can see by the opener, we will be taking a look at an old favorite, but this time with a fresh coat of paint! In the works for many moons, our friends over at Super Body Fuel have given LatestFuels access to their newest iteration of the product….Basically Food.
Allow me to reintroduce myself…

Jay-Z (Public Service Announcement)
As part of the rebranding, Basically Food has arguably the best brand name ever.
Behind the name and the rebrand, however, the beloved hypoallergenic, vegan-friendly, customizable formulas remain the same.
Milk Fuel –> BOOST: a low cost, yet very healthy meal.
Super Fuel –> BALANCE: is the low-carb alternative.
Athlete Fuel –> BUILD: offers a high calorie meal with tons of protein.
Keto Fuel –> BURN: the keto meal shake for those who want to burn fat.
Ultimately, much of what made SuperBodyFuel successful remains the same. However, according to the founder there have been some slight improvements in the formula.
So without further ado, we're going to revisit all of the formulas to see what subtle changes are present (if any) now that its Basically Food.
---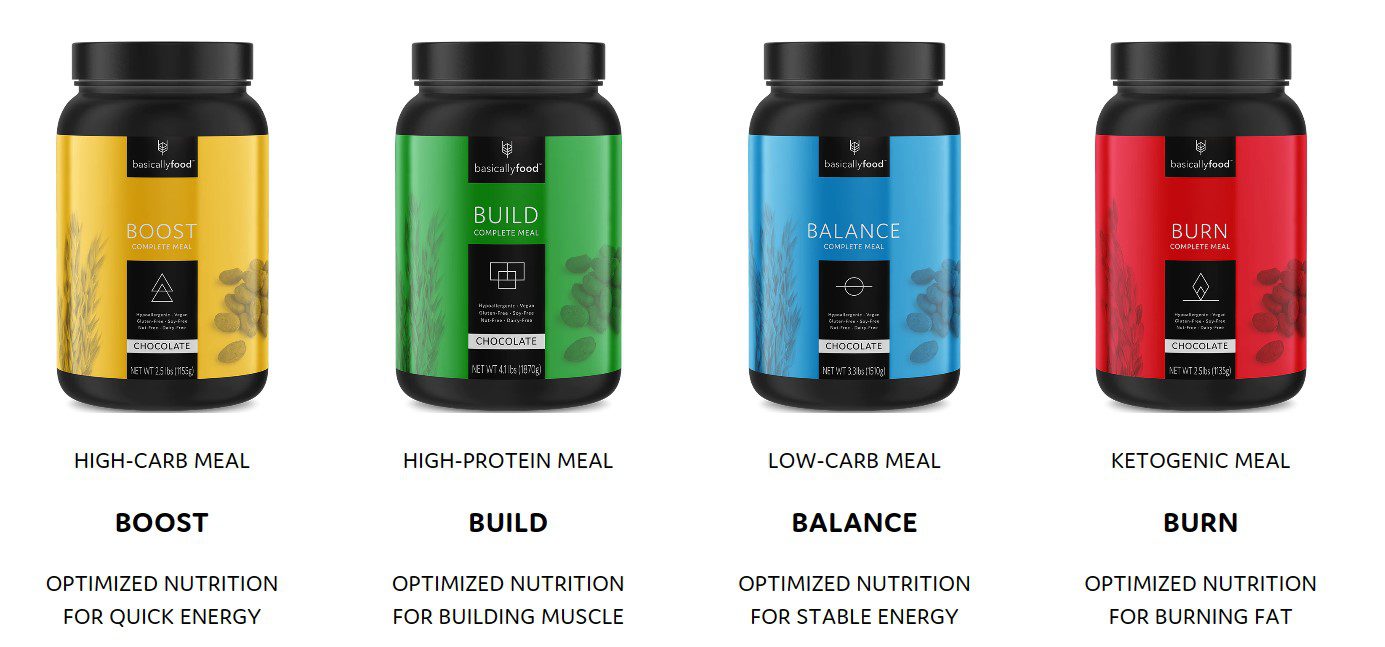 Basically Food at a Glance
Flavours: Chocolate, Vanilla, Cinnamon
Brands: BOOST, BALANCE, BURN, BUILD
---
Opinion
Super Body Fuel always held a special place with me.
Likely because of how receptive and accessible founder Alex Cho Snyder (axcho) was online. When I wanted to try it for the first time, I told him I was interested, and he asked for my address to send me some samples free of charge!
Anytime I was sick of Soylent, Super Body Fuel was my go- to as an inexpensive meal shake, tasty and filling option. SBF eventually replaced Soylent powder for me altogether.
While I'm sure I'll enjoy this just as much as always, I will be on the lookout for changes brought about due to the shift in manufacturing.
As with anything, sometimes those small changes can yield far different results and outcomes.
What We Like
1. Affordable! Basically Food has kept prices static while everything else has skyrocketed!
2. Inexpensive but high quality. BOOST (formerly Milk Fuel) is only $1.25 per serving. Literally, no other product comes close to that value, especially since whole milk is cheap right now.
3. Improved Packaging. The new tubs will hold up better in shipping, are rated for food storage, and are completely recyclable. An upgrade over the bags.
4. Transparency/Communication. As mentioned, the owner is very accessible, and they have top-notch customer service. They get in front of issues are do their best to make things right.
5. Very filling. A meal replacement in the truest sense of the word.
What We Dislike
1. Say goodbye to samples. New process = new casualties. No more samples
2. Not grab and go friendly. Be it water/oil or allowing it sit in the fridge for awhile, Basically Food will require some front end prep.
3. Texture can be hit or miss. Will require some trial/error to get it to your liking.
4. Requires to add oil/milk/cream. This is not the most beginner friendly meal replacement shake.
Nutritional Breakdown
All Basically Food meals are gluten-free, vegan-friendly, and hypoallergenic.
The different formulas of Basically Food provide a baseline for you to add your choices of milk, or choices of fats.
Basically Food Nutrition Overview
Basically Food Name
BOOST
SBF Name
Milk Fuel
Kcal/meal
200 – 500
Macros (C/P/F)
36/8/3.5
Vegan
Yes
Keto
No
Features
Gluten Free, Nut Free, Soy Free, Dairy Free
Non-GMO
No
Organic
No
Includes Probiotics
No
Artificial Sweeteners
No
Synthetic Additives
Yes
Contains All Micronutrients
Yes
Allergens
None
Recommended
Additions
Whole Milk or Plant Milk
Basically Food Name
BURN
SBF Name
Keto Fuel
Kcal/meal
210 – 450
Macros (C/P/F)
12/23/11
Vegan
Yes
Keto
Yes
Features
Gluten Free, Nut Free, Soy Free, Dairy Free
Non-GMO
No
Organic
No
Includes Probiotics
No
Artificial Sweeteners
No
Synthetic Additives
Yes
Contains All Micronutrients
Yes
Allergens
None
Recommended
Additions
Avocado, Olive, Coconut Oil or Heavy Cream
Basically Food Name
BALANCE
SBF Name
Super Fuel
Kcal/meal
260 – 500
Macros (C/P/F)
32/25/4.5
Vegan
Yes
Keto
No
Features
Gluten Free, Nut Free, Soy Free, Dairy Free
Non-GMO
No
Organic
No
Includes Probiotics
No
Artificial Sweeteners
No
Synthetic Additives
Yes
Contains All Micronutrients
Yes
Allergens
None
Recommended
Additions
Avocado, Olive, Coconut Oil or Heavy Cream
Basically Food Name
BUILD
SBF Name
Athlete Fuel
Kcal/meal
350 – 650
Macros (C/P/F)
42/33/6
Vegan
Yes
Keto
No
Features
Gluten Free, Nut Free, Soy Free, Dairy Free
Non-GMO
No
Organic
No
Includes Probiotics
No
Artificial Sweeteners
No
Synthetic Additives
Yes
Contains All Micronutrients
Yes
Allergens
None
Recommended
Additions
Whole Milk or Plant Milk
Carbohydrates
BOOST – Up to 60g
BUILD – Up to 50g
BURN – Up to 5g
BALANCE – Up to 40g
BOOST and BUILD are pretty carb-heavy, as their basis is gluten-free oat flour. Also having to add some form of milk to both, contributes to those higher numbers. Using whole milk is one way to keep the carb count around 40g.
BALANCE is a low-carb formula, and consequently has less oats, and even oil added, will not exceed 40g of carbs per serving.
BURN is the ultra low carb option, and is formulated to remain very low at 5g, perfect for any keto diet.
Each product also contains between 8g & 12g of fiber from ingredients such as cellulose, acacia gum & glucomannan.
Protein
BOOST – Up to 24g
BUILD – Up to 49g
BURN – Up to 23g
BALANCE – Up to 25g
The protein foundation of the Basically Food blends is organic brown rice protein, or gluten-free oat flour.
BOOST and BUILD require an outside protein source to supplement the gluten-free oat flour. BOOST only starts with 9g, whereas BUILD natively has 33g before the milk addition.
BURN and BALANCE both utilize brown rice protein, and already contains most of its protein. However, if you opt for heavy whipping cream as healthy fat source, you can squeeze in a bit more.
Fats
BOOST – Up to 20g
BUILD – Up to 22g
BURN – Up to 38g
BALANCE – Up to 32g
BOOST & BUILD both call for the use of milk to add fat, while BURN and BALANCE require the addition of healthy oils such as coconut oil, avocado oil, olive oil or high oleic sunflower oil.
Milk fat contains approximately 400 different fatty acid, which make it the most complex of all natural fats. Whole milk is made up of about 70% saturated fat.
Micronutrients
All micronutrients bases have been covered, and many contain more than 50% of your RDI.
Allergens

As you can see, as standalone products, they are allergen free. You have the freedom to choose which milks or oils you like in order to keep it that way.
Taste Test
So we have four products to try, but they fall into two categories. First are BOOST & BUILD, the ones that require milk to complete the shake, and then there is BALANCE & BURN, which both require water and an oil for completion.
It is also recommended to refrigerate the shake overnight for optimal results.
I remember Milk Fuel having a strong oat taste, and Keto Fuel being good, but a bit chalky, so let's see if these are exactly as I remember.
Taste Review Summary
All of this testing took nearly a week, but it was well worth it.
BOOST was my favorite for its ease of use and had the best mixing results.
BALANCE, I just could not get to cooperate as much, it wasn't bad at all and will get used, but I'll definitely have to experiment more to get it to my liking.
BUILD seemed to need longer in the fridge for my taste preference. And BURN was solid thanks to the recommendation to use a 1/4 cup measurement instead of the scoop due to the unexpected lighter consistency.
Product
Serving Size
Milk/Oil
Shake or Blend
Fridge?
BOOST
1 scoop
Slightly better with whole milk
Best blended
Seemed
better to me
BUILD
2 scoops
Slightly better with whole milk
Best blended
Didn't matter
BALANCE
2 scoops
Coconut oil for satiety. Cream for taste
Either
Didn't matter
BURN
1 scoop
Coconut oil for satiety. Cream for taste
Either
Didn't matter
BOOST/BUILD Taste Test
We're going to really experiment with these two. Contrasting between shaking/blending, fridge vs no fridge, and even the noticeable differences between whole milk and plant milk.
BOOST – Formerly Milk Fuel
The former Milk Fuel is very different from how I remember it.
Both flavors feel like an improvement over their bagged predecessors. Gone is the heavy oat taste, its seems so different now….better.
With chocolate, I blended the shake with oat milk, and let it sit in the fridge overnight. This is by far the superior way to enjoy Basically Food. It was smooth and felt like all the ingredients were in perfect harmony.
It was a tasty dark chocolate, that I could enjoy daily. We're off to a good start.
On to vanilla. I used whole milk with this one and I also shook it, and opted to not refrigerate it. The main takeaways here are that you can definitely notice the oat flour texture when not allowed sit and soak.
Also, like with most shakes, it was better with the whole milk as opposed to plant milk…which isn't surprising, as that's in line with product recommendations. It was more filling and tasted much like a homemade milkshake.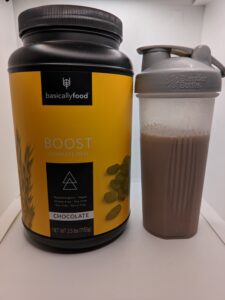 BUILD – Formerly Athlete Fuel
Formerly Super Fuel, BUILD is the high-calorie/protein shake in the line up.
Similar to BOOST, it requires your choice of milk in order to complete the drink, with your milk choice outlining how many calories and how much protein you ultimately get.
Starting with chocolate, much like BOOST, its a very tasty chocolate shake. However, even when placing it in the fridge overnight, I couldn't get the texture to smooth out as much as I had hoped. Still somewhat of a powdery mouthfeel with bits in it.
Same deal with cinnamon, while the flavor is solid, the right consistency with BUILD is tough, even with blending and refrigeration.
BALANCE/BURN
Like with BOOST & BUILD, there is quite a bit of flexibility. In this case, there are a few oils options including avocado oil, olive oil, coconut oil….and likely others. There is also an option for heavy cream or coconut cream.
BURN – Formerly Keto Fuel
BURN only requires one scoop for a serving, so be sure to keep that in mind. Blending with coconut oil produced a very filling shake, one that had me away from the fridge for over four hours! Extremely impressive!
Consistency was a tad chalky, but not a deal breaker. Of note, I did not place this one in the fridge, just blend and go.
BALANCE – Formerly Super Fuel
With BALANCE, I shook it, placed on the fridge overnight and also used heavy whipping cream as the fat source this time. The results were a bit puzzling as it did not smooth out as much as I would have hoped for. It did thicken rather nicely so, it too was very filling.
Both did a good job of masking the oil/cream. You would never know it's in there.
However, if you are looking for a ketogenic shake that doesn't require you to add oil, you can check HLTH Code.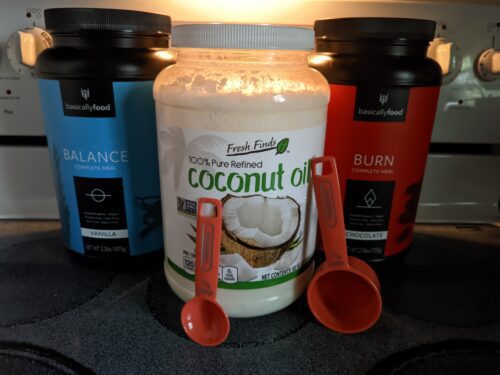 | | | |
| --- | --- | --- |
| Flavor | Taste Rating | Thoughts |
| Vanilla | 5 | A perfect vanilla. Not overly sweet, but with ice cream like flavor |
| Chocolate | 4 | Dark chocolate that's pretty good. |
| Cinnamon | 3 | A solid flavor that is a change of pace if you get bored. |
About Basically Food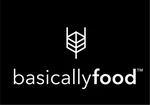 Basically Food is a small, self-funded food manufacturing startup in San Francisco's industrial Dogpatch neighborhood in 2014.
We make it easy for people to take control of their health and achieve their ideal diet, regardless of time, money, or dietary restrictions. That is, we make nutritionally complete, powdered meals available in diet plans ranging from ketogenic to high-protein.
Our products are engineered for optimal nutrition and the widest possible accessibility. That means they are not only affordable and tasty, but also vegan, hypoallergenic, and free of artificial sweeteners and added sugar.
Basically Food Pricing & Shipping
Basically Food can be purchased individually, or via subscription from their webpage.
Prices are the same for either option, but subscriptions will deliver at intervals of 30, 60 or 90 days.
| | | |
| --- | --- | --- |
| Product | Total Price | Serving Price |
| BOOST (20 servings) | $25 | $1.25 |
| BUILD (20 servings) | $50 | $2.50 |
| BALANCE (20 servings) | $50 | $2.50 |
| BURN (20 servings) | $50 | $2.50 |
All orders ship free within the US!
International shipping is now available, and the costs will be country dependent. Of course, other taxes and fees may apply, and unfortunately Germany and UK are places that they cannot ship to.
BOOST vs. Soylent vs. Huel Essentials
In this comparison, we'll take a look at Basically Food's low cost offering, BOOST vs the heavy hitters in the industry of Soylent and Huel Essentials. All occupy a similar price point, so its worth taking a look at how they stack against each other.
We all are familiar with Soylent. Its complete powder is largely unchanged since its beginnings in 2014.
Huel Essentials is a new, more affordable version of the popular meal replacement from the UK giant.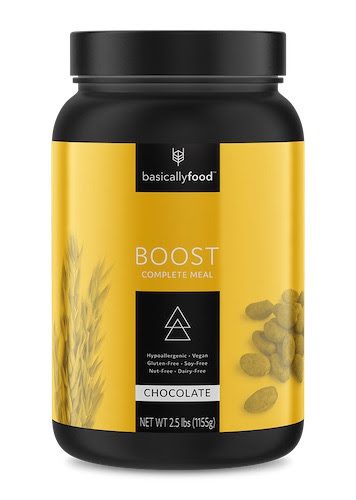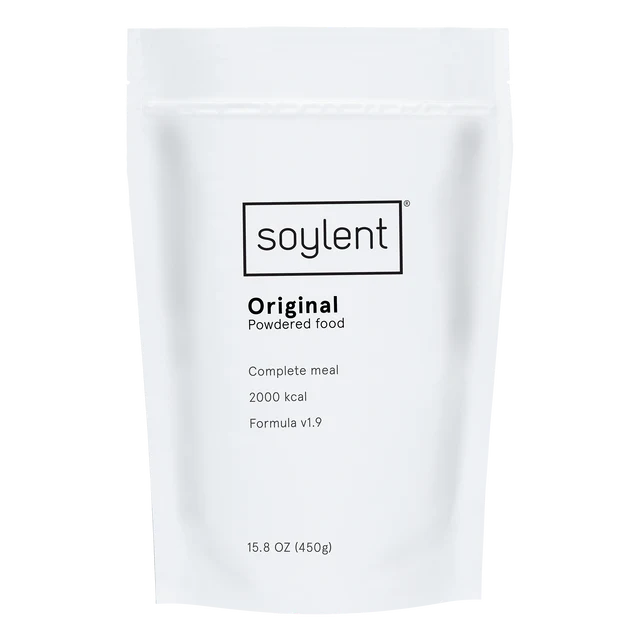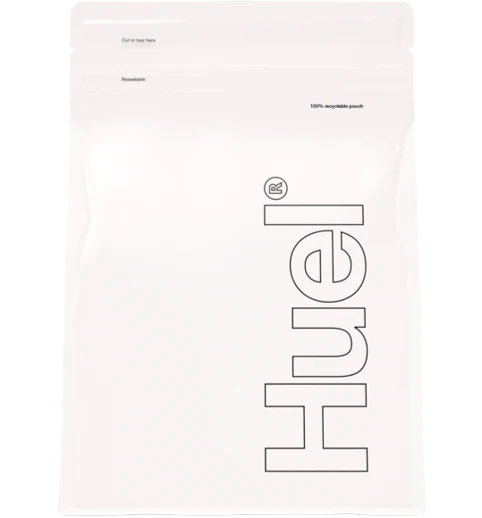 Head to Head
Category
BOOST
Soylent
Huel
Essentials
serving price
$1.25
(USD)
$1.99
(USD)
$1.49
(USD)
kcal/serving
200
400
400
servings per
20
35
12
Packaging
Tub
Bag
Bag
Flavors
3
2
2
Protein (g)
9
20
20
Sugar (g)
0
16
1
Fiber (g)
10
6
7
Fats (g)
4
19
9
Carbs (g)
37
42
63
Vegan
Y
Y
Y
Certified
Organic
N
N
N
Micronutrients
26
28
27
Artificial Sweeteners
N
Y
N
Synthetic Additives
Y
Y
Y
GMO?
N
Y
N
Protein Source
Oat Flour (plus milk)
Soy
Pea
Availability
Worldwide
US, CAN
Worldwide
Other Products
BUILD, BURN &
BALANCE
Powder, Bars,
Energy, Protein
Powder, Bars, Meals,
Protein
What a time to be alive…all of these products are pretty affordable per serving. Much needed in today's trying times.
While BOOST the least expensive, it is unique in that you HAVE to add another protein source for it to reach its true potential. While that protein source is flexible, it still adds some additional cost per serving.
| | | | | |
| --- | --- | --- | --- | --- |
| Milk Option | Added Cost per Serving | Final Cost per Serving | Calories | Macro % (C-P-F) |
| Whole Milk | 20 cents | $1.45 | 350 | 50-20-30 |
| Almond Milk | 31 cents | $1.56 | 260 | 65-15-20 |
| Soy Milk | 31 cents | $1.56 | 290 | 60-20-20 |
| Oat Milk | 48 cents | $1.73 | 300 | 65-15-20 |
Prices generated using Walmart generic brands. Costs will vary from different brands at different retailers.
Factoring in these added costs, as you can see the final costs can push ahead of Huel Essentials, and within range of Soylent. And not to be overlooked, many are unable to effectively digest whole milk, the cheapest & most complete addition, and will have to opt for a slightly more expensive alternative.
Milk requirements aside, BOOST competes favorably with both products in a couple of areas. Even with whole milk, BOOST contains the most fiber and 12 of its micronutrients have quantities of 90% or greater of your RDI per serving, so no having to drink 4 or 5 shakes a day to get what all you need.
Basically Food FAQ
Why do I have to let it sit in the fridge?
Letting the mixture sit in the fridge does two things. First of all, it gives time for the powder to dissolve more thoroughly and for the flavors to mix and mellow out. It also allows the fiber to absorb water and expand, thickening the resulting mixture slightly and giving it a smoother texture.


What kind of oil can I use?
Any oil that is mostly monounsaturated fat is a good choice, because it is easily digested and liquid at room temperature, but stable enough not to go rancid or oxidize. And unlike either saturated or polyunsaturated fat, no one says it's bad for you! Avocado oil, olive oil & coconut oil are recommended.

You should avoid canola oil and other seed oils, even though they are very cheap, as they are lower in monounsaturated fat and very high in inflammatory omega-6 fats which go rancid easily and can cause a variety of health problems!

What kind of milk can I use?
It varies depending on how many calories you want, how much you extra you prefer to spend, and what milk agrees with you. Whole milk provides the most benefit, but you can substitute that for plant based milk.


Is it perishable? How long is it good for?
The powder is nonperishable.  It should be good for at least a year, sealed and stored dry. Once mixed with water or milk, it can last for a few days in the fridge. Unrefrigerated, try to drink it within a few hours.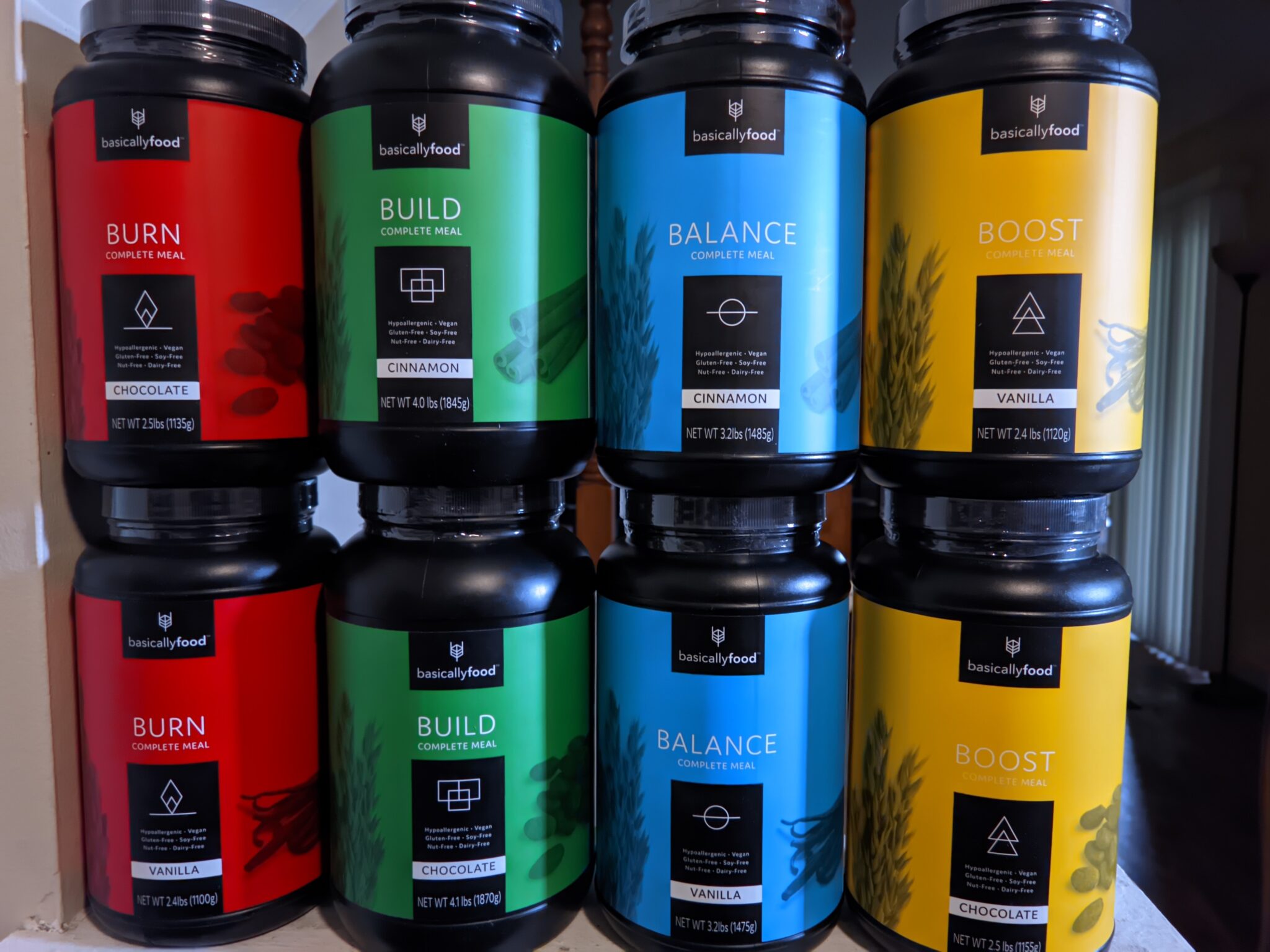 ---
Verdict – Basically Food, SuperBodyFuel's Improved Evolution
First, big thanks to axcho for being so communicative and generous, sending us so much product. Having everything really allowed to dive deeper into this Basically Food review, as well as the freedom to experiment.
That said, I think that Basically Food is polished rebrand which products are all very functional. I found myself enjoying the flavors, and being very full afterwards, and longer than many other products. And while BF is less expensive than other large scale product offerings, as well as boutique/premium products, it does not feel like any corners were cut.
I really liked BOOST and thought it really checks all the boxes. In fact, due to its low price and great nutritional profile, it's the formula that I would recommend for most people. At $1.25/serving you cannot go wrong.
The others were all solid, but I never got the consistency and texture I wanted with the others. You'll have to tinker with what to add, and the processes to find what works best for you. There are so many different avenues to take, I'm sure there is a perfect combination for you.
And just as I was going to complain about my beloved strawberry missing, in the latest email it outlines where things stand with the other flavors. Keep an eye out for those announcements.
For those who are looking for a more premium meal shake that will cover all the nutritional needs, I recommend checking out LyfeFuel, instead.
Bottom Line: Basically Food is by and large the same as Super Body Fuel, but still feels like an evolution.
Basically Food
From $1.25/serving
Pros
High Carb or High Protein or Keto options
Zero allergens
BOOST is the most affordable meal replacement shake
Can adjust macros to your liking
Multiple flavors available
Cons
Texture not as smooth as hoped
Requires to add your own milk/oil/cream
Better for advanced users
No more samples