Instant Knockout Complete Review | Great for Weight Loss & Building Lean Muscle
Today, we're stepping into the ring, in this Instant Knockout Complete review! 
Instant Knockout Complete is a meal replacement by Roar Ambition, a supplement manufacturer focused on athletes, healthy active individuals, and elite fighters. Be it powerlifting, amateur wrestling, boxing or MMA, most if not all strength/combat sports revolve around weight classes, and being able to stay within very specific ranges in order to compete. This is where Instant Knockout Complete comes in to aid in cutting weight, while not sacrificing vital nutrition.
However, it can also help everyday people achieve their goals by providing high-class nutrition.
Instant Knockout Complete comes in 14 serving bags and is 400 calories per serving. Contained therein, is 35g of protein, 35g of carbs, and 13g of fat. There are 27 micronutrients, all of which are 30% or more of your daily intake. Also present is 13g of fiber, which is nearly half of your RDI.
So knuckle up, as we take a swing at Instant Knockout Complete review!

---
Instant Complete Review at a Glance
Flavours: Vanilla.
---
Opinion
It was only a matter of time before a meal replacement debuted, that was aimed at this segment. There is usually super high emphasis on whey-based protein powders, but Instant KO is a plant-based offering, with of course many more micronutrients than protein powder has. 
The athletic focus of this product is seen in two ways: high protein content to fuel their sporting activities and recover; and the low GI that will help them with sustained energy.
This is also the first product I've seen that combines soy, pea & rice proteins in a single product. It'll be interesting to see how that affects taste, along with oat flour present as well.
Guess all there's left to do is ring the bell and get started! But first, let's talk about what we like at first:
What I like
1. High Protein, 35g per serving. Pea, soy & rice combine for 35g!
2. High in micronutrients. All 27 have at least 30% of your RDI.
3. 100% of Vitamin C per serving, high amounts of potassium, vitamin A and more. These have pivotal roles in sustaining energy production, combating fatigue, and helping you with exercise. I like seeing that they've put some thought into which vitamins and minerals you need.
4. Super Filling. Plan on not being hungry for a while. One of the best in this area!
5. Tasty when combined with milk. A big improvement over just using water.
6. Good for weight loss. They have paired their meal replacement with their thermogenic booster that is meant to help you lose weight faster.
7. Products have clear scientific research behind them.
8. Speedy delivery.
What I dislike
1. Only one flavor! Even if it mixes ok with fruits, peanut butter or other flavourings, for a weight loss focused shake, having different flavours would be benefitial.
2. Fiber can be a little high for regular use, if you are not used to it. Nearly 50% of your RDI per serving. You've been warned.
3. No subscription discounts. I think they should offer some kind of discount; either bulk or subscription to reward the usual buyer.
Improvements
1. Consistent prep instructions. The message on the product should reflect what's stated on the site.
2. Price. They should lower the price, increase the servings, or at least offer subscription or bundle discounts
Nutritional Breakdown
Other shakes designed for weight loss tend to minimize calories and carbs. Instant Knockout Complete offers a high-powered shake to maintain muscle. This vegan shake aims to provide you with more energy that will keep you going for longer, rather than providing you an ultra low-calorie shake that will leave you hungry in 1h.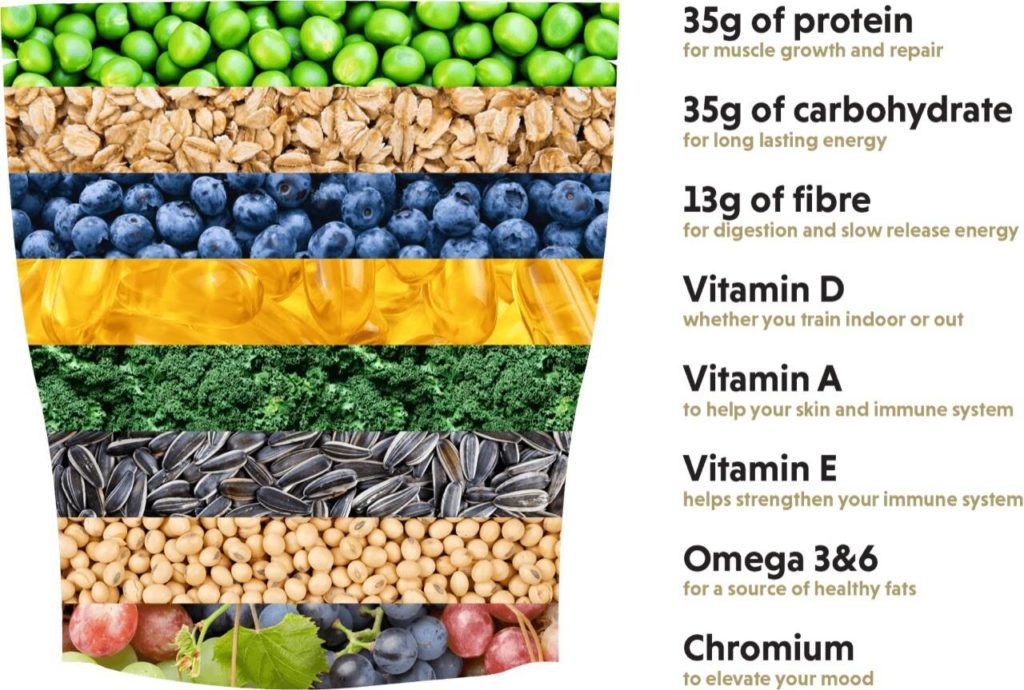 Instant Knockout Complete is designed to replicate the carbs and calories of a meal.
Instant Knockout Complete Nutrition Overview
| | |
| --- | --- |
| Kcal/meal | 400 |
| Macros (C/P/F) | 36/35/29 |
| Vegan | Yes |
| Keto | No |
| Features | Nut-Free, High Protein, High Fiber |
| Non-GMO | No |
| Organic | No |
| Includes Probiotics | No |
| Artificial Sweeteners | Yes |
| Synthetic Additives | Yes |
| Contains All Micronutrients | Yes |
| Controversial Ingredients | Sucralose |
Vanilla: Pea Protein, Soy Protein Isolate, MCT (from Coconut), Rice Hull Concentrate, Oat Flour, Pea Starch, Golden Flaxseed Powder, Natural Flavour, Brown Rice Protein, Vitamin & Mineral Blend, Chia Seed Powder, Xanthan Gum, Sucralose, Bacillus Coagulans, Lactobacillus Casei.
Carbohydrates
Based on 400kcal serving:
Total Carbs: 35g, 13% of DV.
Net Carbs: 22g, (Total Carbs – Dietary Fiber – Non-digestible Carbs)
Sugars: 3g.
Fiber: 13g, 45% of DV.
Take note of the high fiber content of Instant Knockout. This consists of flaxseed powder, golden chia seed powder, as well as pea starch.
The high amount of fiber, together with them using oats means that Complete has a low GI.
The sweetener used is sucralose, which we know is a mixed bag for some people.
Protein
Per 400kcal serving:
Total Protein: 35g, 70% of DV.
Source: Pea protein, Soy protein isolate, Brown rice protein
Instant KO has high protein with 35g, making it one of the leaders in this category.
It is also the first product I'm aware of that combines three of the most popular plant-based proteins into one shake. I really like soy protein, as it's one of the only complete proteins in the market. Pea and rice are also commonly used together since they are complementary.
All in all a great combo.
Lastly, all of them possess similar efficiency to promote muscle growth after exercise.
Fats
Per 400kcal serving:
Total Fats: 13g, 17% of DV.
Saturated Fats: 10g, 51% of DV.
Omega-3s, ?g.
Omega-6s: ?g.
Instant KO contains MCT from coconut and acacia gum.
Omega-3s are a must in any healthy diet, since they have key roles in healthy brain functioning. Instant KO contains golden flaxseed and chia seeds, both rich in omega-3.
Unfortunately, the amounts are unlisted. Personally, I would've liked to see some more unsaturated fats (monounsaturated and polyunsaturated) in exchange for less saturated fats. Even though, MCTs are great for energy, I don't believe the 10g of MCT are needed.
Micronutrients
Instant KO contains 27 micronutrients, most of which are 30% or better or your daily needs.
This includes 100% of vitamin C per serving, which is involved in cellular pathways controlling energy production. So great news. Other vitamins found in excess of what you would expect are vitamin A, vitamin B6 and minerals like potassium. This last, it is very important when you are doing exercise, that's why we often consume bananas around exercise. They are also rich in potassium.
Thus, it's great to see that they've put some thought into what electrolytes, vitamins and minerals you will need as an active individual, and try to cover them.
Allergens
Instant Knockout contains soy as one of its protein sources.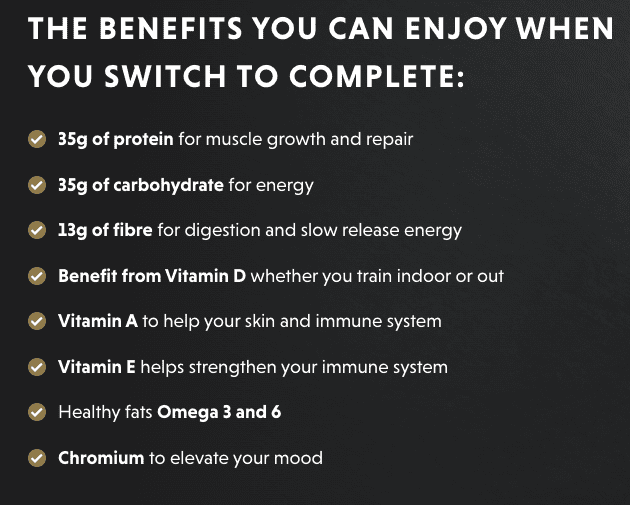 Taste Test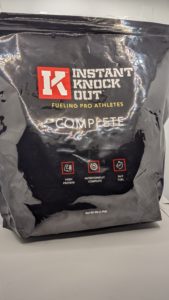 | | |
| --- | --- |
| Best flavour | Vanilla (Only flavor) |
| Taste | The shake improves a lot with milk, it was so much better – highly recommended. |
| Texture | Medium with water. Very thick with milk. |
| Satiety | Four hours! Wasn't hungry at all…but my stomach was rumbling due to all the fiber. |
| Easy to Clean | Relatively so. |
| Afterthoughts | With the high fiber, make sure access to facilities remains close. |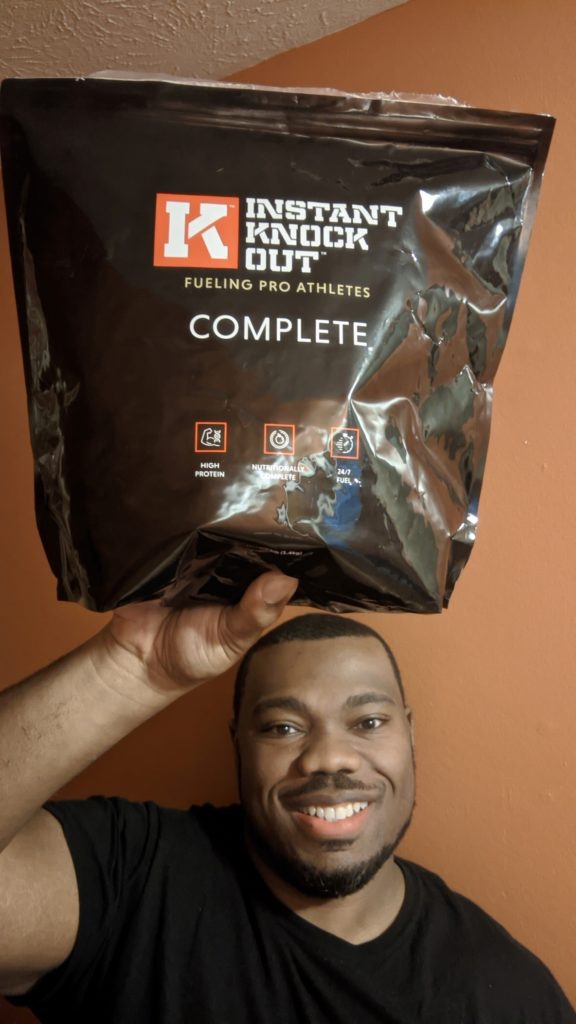 One flavor? Yup, just one flavor. Only vanilla this time guys as that's all they offer as of yet. One thing I notice is that the bag seems heavy. Like heavier than it should be for only 14 servings.
Anyway, the first thing you smell when opening is the strong oat smell. It smells like vanilla-flavored rolled oats.
So, as per usual, I did the taste review for Complete with water and milk. Let's see which one I liked better.
Vanilla (With Water)
In turned out that with water, Instant Complete was harder to mix than expected. However, after a thorough shake, I was able to get rid of any lumps. Alternatively, you could use a blender
Taste-wise, I thought it was OK, similar to other competitors, nothing out of the ordinary. It was the taste the pea protein, and oat flour, with the oat flour being the strongest throughout. It seemed to have an slight sucralose aftertaste. 
I'll say that I personally enjoyed it more with milk or a 50/50 mix.
Vanilla (With Milk)
Back at it, but this time with oat milk. This produced a much thicker shake, one that was too thick in fact. I had to add another 100ml or so to thin it out some. The same issue with shaking it, but letting it sit again did help quite a bit. 
The taste of this one was much better. Somehow the strong oat flavor was less front and center, and the aftertaste had been subdued too. This way was also very filling, actually the most filling shake I've had. That may be due to its high fiber, which I'll say, was "fibering" in my stomach for at least half of four hours!
Pro-tip: if you are trying to lose weight, make a smaller serving and add 50% water 50% milk to control your calories, plus some cinnamon. This will make a super delicious shake!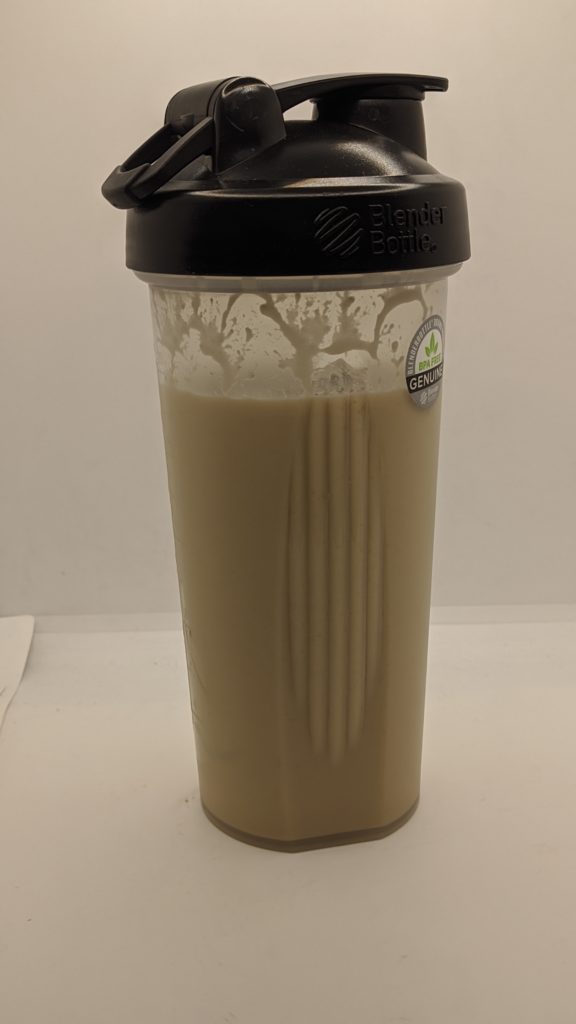 More about Instant Knockout

Instant Knockout is a subsidiary brand of Roar Nutrition, a leading supplement company.
Roar Ambition is a progressive sports nutrition company that is run by experienced internet marketers who have a keen interest in health and fitness. Founder Robert Parker is a 35-year-old digital marketing entrepreneur who started Roar Ambition in 2012.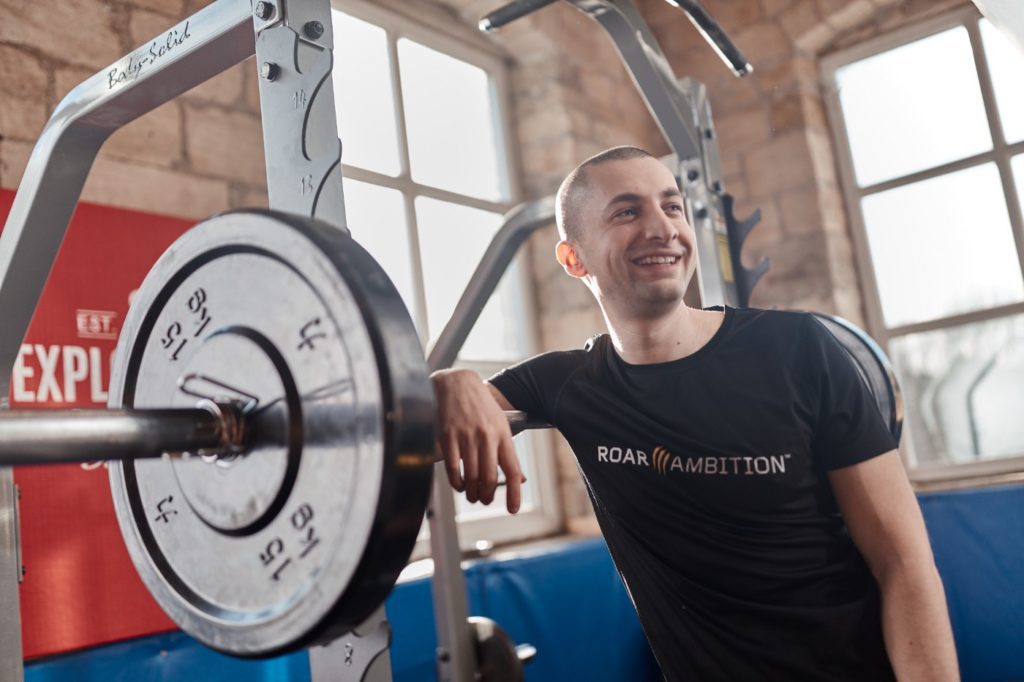 Roar Ambition was set up after I spotted a gap in the market. At the time of launch, there were very few direct-to-customer supplement brands and I knew there was a big opportunity in this space. If we could sell directly to the customer, we'd be able to cut out the retailer, which would mean we could spend more money creating a better product.

We work with nutritionists, formulators and manufacturers to create premium, unique supplements and sell them online directly to customers. We sell worldwide, with our main markets being the USA, UK, Australia and Canada.
Pricing & Shipping
The company makes three products under the Instant Knockout brand, including Instant Knockout Cut, Instant Knockout System, and Instant Knockout Complete. We've outlined the pricing and shipping below.
Pricing
Instant Knockout Complete can only be found on their website.
Instant Knockout Complete is sold as 1.4kg bags each containing 14 servings.
Each bag is $59, so you'd be looking at $4.21 per serving.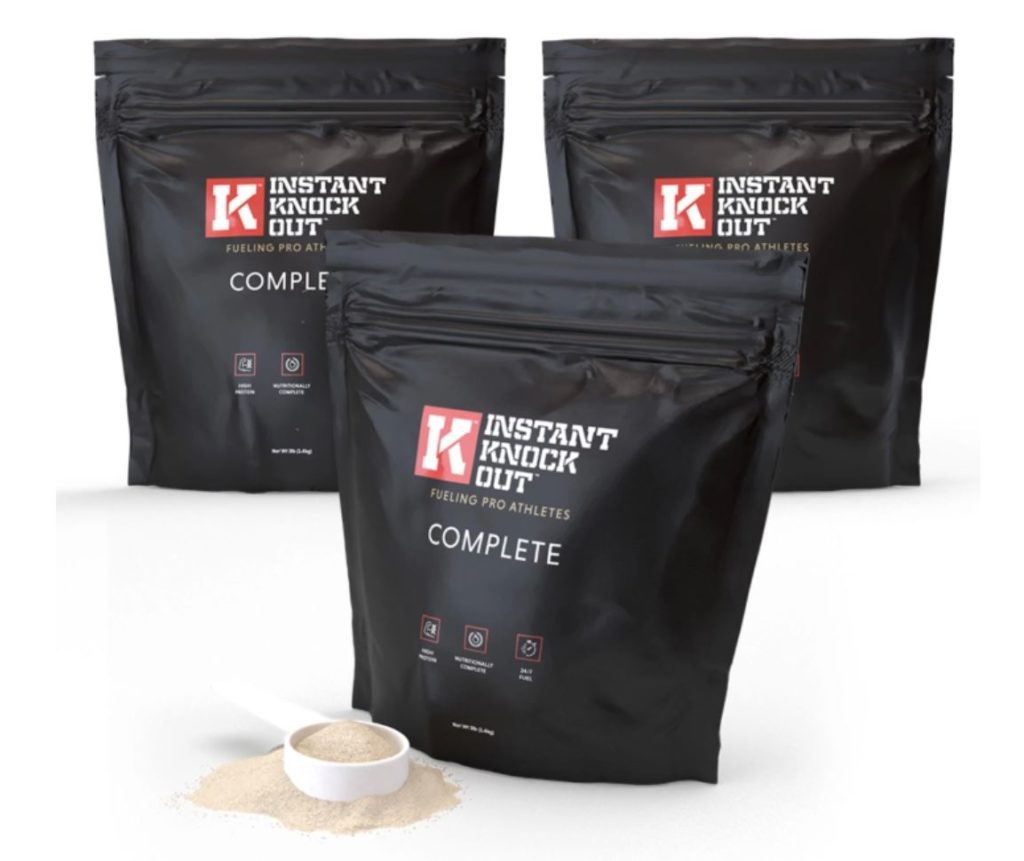 Also, there are no subscription orders or other discounts offered.
Shipping
Instant Knockout Complete is only available in the USA & UK. Shipping is $8.95 if purchasing one bag, but if you buy 2 or more, free shipping is offered. Products will be delivered by USPS or UK Royal Mail. Expected delivery is 2-4 working days for the US.
However, in the UK they will offer next day delivery.
Is Instant Knockout Effective for Weight Loss?
Ultimately, the product is aimed at 2 sectors: athletes and sporty people so that they can put on and maintain lean body mass, and those who are looking to lose weight.
The Instant Knockout Complete formula will be one of the best diet shakes in our opinion. This boils down to the shake being very healthy and balanced (as opposed to other commercial diet shakes like Slim Fast), for once.
Secondly, it's incredibly filling thanks to the combination of protein, fiber, low GI and MCTs. I had no issues on being full and energized for 5h plus with one serving.
Should you consume half a serving? I think that if your activity levels are low, or you are a woman, you could consider using half a serving.
What about Cut? Is It Worth It?
As mentioned previously in this Instant Complete review, the product has been designed to be used in conjunction with their thermogenic booster, CUT.
In fact, when buying both together you get a 25% discount.
So should you buy it? Does it work? Will it make you lose fat faster?
Well, according to Instant Knockout, Cut is a clean thermogenic booster that will help you:
Control your appetite,
Increase your metabolism
Burn more fat
Feel more energized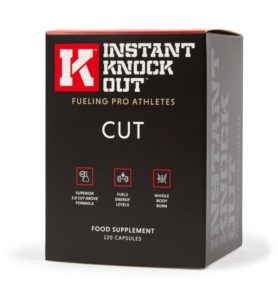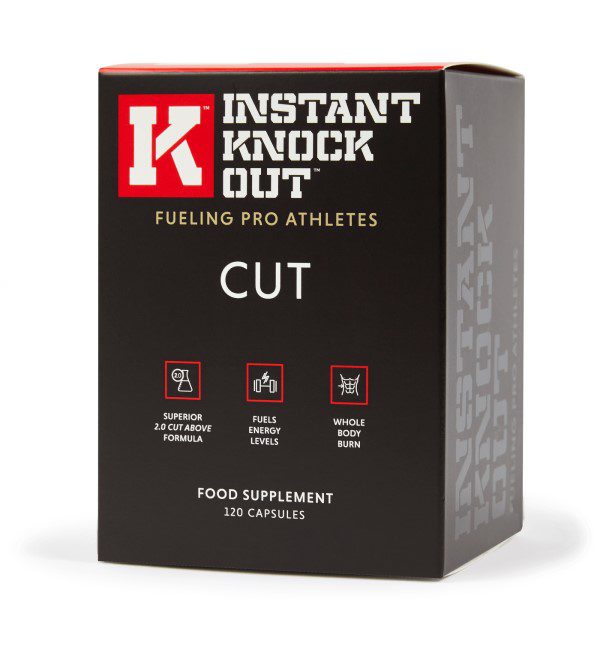 The Science Is There
When we look at the ingredients, we see that it contains 300mg of caffeine, glucomannan, and cayenne pepper extract among other things. Caffeine is useful for weight loss, among other things because it makes you more active.
Cayenne pepper also contains capsaicin which might increase your metabolic activity.
Similarly, glucomannan is commonly found in weight loss supplements to suppress appetite, but more research is needed on this.
Should You Buy It?
First of, if you are not used to caffeine, definitely not. This will send you to the moon.
However, if you don't mind the high caffeine dosage and you have spare budget to allocate to your weight loss journey, you might find CUT effective at speeding up the process.
Cut is, after all, one of the best fat burners in the market.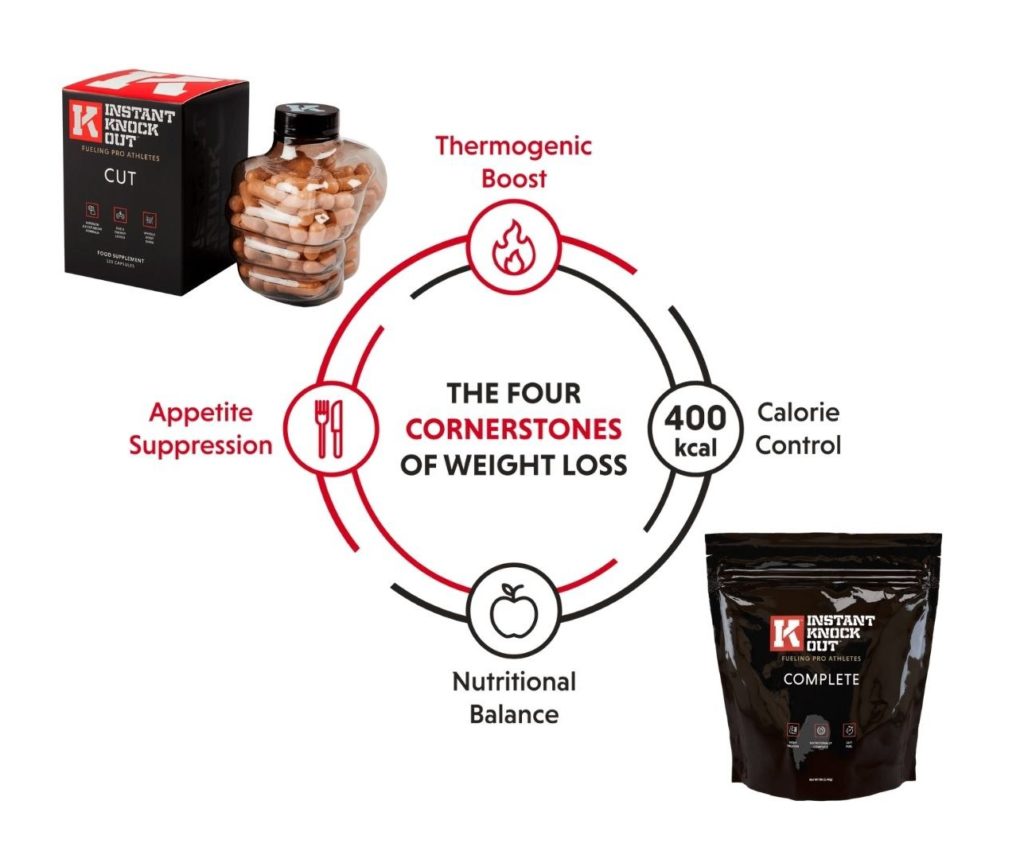 Instant KO vs. Huel Black vs. Hol Food
In this comparison, I wanted to compare Instant Knockout to other high-protein products. Most shakes fall between 15g and 25g, but there are some that exceed that and just so happen, we have full reviews of each on LatestFuels. Before the head-to-head, a brief synopsis of each:
First up, is industry-leading Huel, with Huel Black. They boast 40g of protein and are comparable to Instant KO in many aspects such as serving sizes, servings per bag, and kcal counts. Hell, even the bags look similar.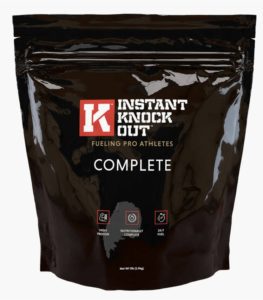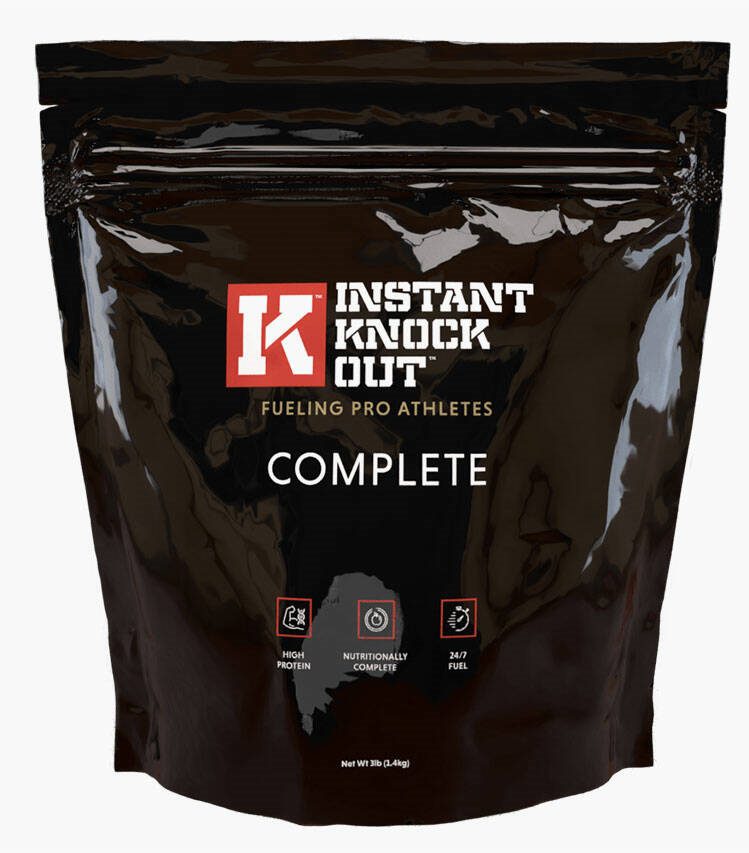 Our other competitor, is Canada's finest meal replacement, Hol Food. Matching Instant Knockout in the amount of protein, we thought this would also be worthy comparable.
Let's how Instant Knockout measures up to its contemporaries.
Head to Head
Category
Instant KO
Huel Black
Hol
Food
serving price
$4.64 (USD)
$2.78 (USD)
$3.33 (USD)
serving size
500ml
500ml
350ml
servings per
14
17
29
kcal/serving
400
400
400
Packaging
Bag
Bag
Tub
Flavors
1
9
2
Protein (g)
35
40
35
Sugar (g)
3
4
9
Fiber (g)
15
7
5
Fats (g)
13
17
9
Carbs (g)
35
24
49
Vegan
Y
Y
N
Organic
N
N
N
Micronutrients
27
27
24
Artificial Sweeteners
Y
N
Y
Synthetic Additives
N
N
N
GMO
N
N
N
Protein Source
Pea/Soy/Rice
Pea/Rice
Whey
Availability
US & UK
Worldwide
US & Canada
Instant Knockout Complete vs Huel Black
Huel Black is the least expensive and has the most protein of the trio. Huel is also king when it comes to variety, so you'll never get bored. One thing to remember about Huel is that they are the only company that requires at least a 2 item order, so you may end up having to spend more than you'd prefer per order.
However, I believe that Complete does better at keeping you full, even at smaller servings. After having it for lunch at 12, I was satisfied until 7pm without any issues.
Together with Cut, it might be a better tool to help you lose weight.
Hol Food vs Instant Knockout Complete
Hol Food is in the middle of the pack. A bit more expensive than Huel, but much cheaper than Instant KO. Only two flavors, but you get the most servings per container with Hol Food, so you won't have to order often.
By contrast, Instant KO has more fiber than both Huel and Hol Food combined. Also, of note, the lowest amount of sugar. So if the combination of high fiber & high protein is what you look for, then it may be worth the extra cost. I do believe that this is what makes it so effective for weight loss, too.
Other Alternatives
Ka'chava is one of our absolute favorites. It is one of the most nutritionally rich shakes; with all the essential nutrients and four great flavors. In addition, it was our favourite when it comes to taste, and surprised us a lot in this regard.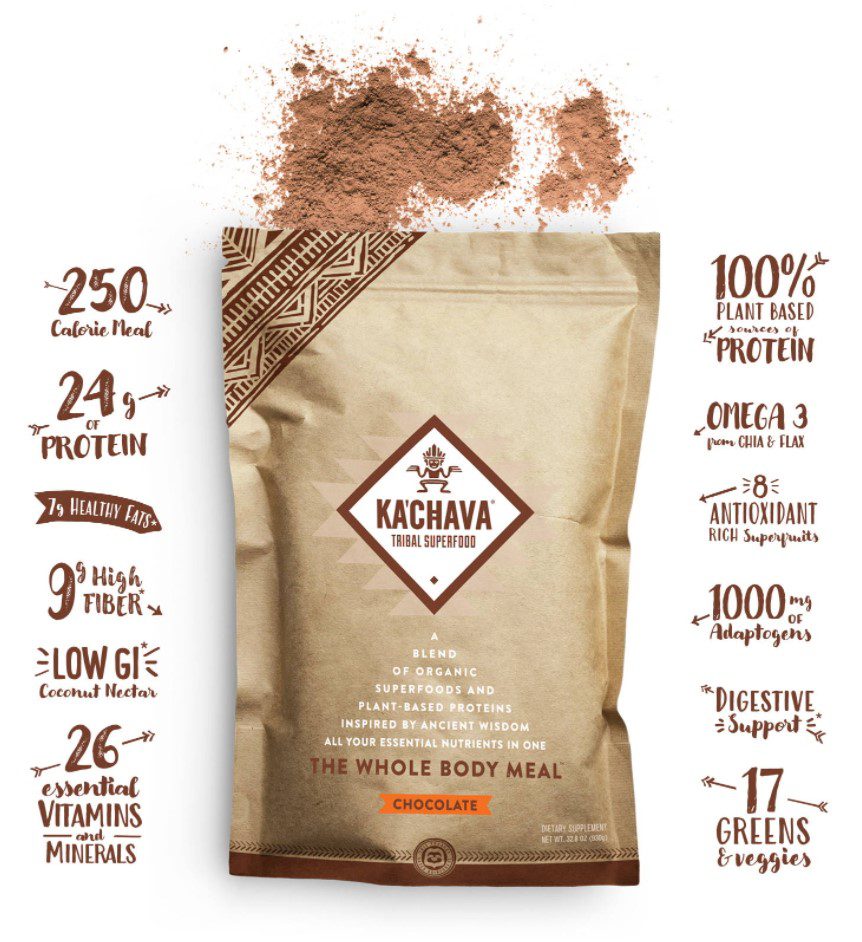 Besides Ka'chava, I think that HLTH Code is a very good alternative to Instant KO. It's also packed with fiber and prebiotics; probiotics to help your gut microbiome and natural ingredients only (no synthetic additives). It's also 400 calories and quite filling.
Instant Knockout FAQ
Does Instant Knockout Complete contain any allergens?
Yes. Instant Knockout Complete contains soy and coconut


Must Instant Knockout be combined with their fat-burning product?
No. While they are designed to be used together, this is a standalone product.


What payment methods are accepted?
Visa/Mastercard, Paypal & Amazon Pay.


What is the refund policy?
In the US & Canada, sealed unused products can be returned for refund within 30 days of purchase. In the UK, and worldwide, there is a 14-day refund window.


Is Instant Knockout Complete available outside of the US & UK?
No. Instant Knockout Complete will only ship within the US & UK. Their other products are offered worldwide.


---
Verdict – Instant Knockout Complete Review
Taking everything into consideration, after this Instant Knockout Complete review, I must admit there's a lot to like.
I was surprised at how efficiently the product is doing what it promises. It's a great product for athletes to build and maintain lean body mass, and for those looking to lose weight.
Instant Knockout has clearly done the research and provides you with exactly what you need for this goal: lots of protein, lots of fiber, low GI, and MCTs for sustained energy.
Plus it keeps you full for ages, so it can be super effective for weight loss.
On top of that, I like their attention to detail. You will get extra vitamins and minerals of key nutrients like vitamin C (essential in cellular energy).
However, there's no denying that there are some shortcomings in this first try, most noticeably the lack of flavour options and the price. The high fiber might cause a few people trouble, too.
On top of that, you could be tempted to buy CUT, which might also help you lose weight a little faster. There's a 25% discount when buying both together.
Bottom line, I think it's a good product, but there are competitors that offer more flavour and are cheaper. I would opt for Instant Knockout, in particular, if I were looking for weight loss or maintaining lean mass.
Instant Knockout Complete
From $4.21
Pros
Incredibly filling, great for weight loss
Provides you with sustained energy, no sugar crash
35g of premium plant-based protein per serving
Designed for athletes and weight loss
High amounts of vitamin C, A, D and potassium
Cons
Pricey
Only one flavour
Best when mixed with milk