Best Meal Replacement & Protein Shakes No Artificial Sweeteners 2023
Are you looking for a healthy meal replacement shake that doesn't contain any artificial sweeteners?
I know that you are because I've been there, too. That's why I've created a list of protein shakes and meal replacement shakes without artificial sweeteners that not only taste great but also provide you with a healthy meal.
The fear of the negative effects of sugar gave rise to the era of artificial sweeteners. Ingredients like acesulfame-k, aspartame or sucralose can be found anywhere. This is particularly true for protein powders, which try to provide you with the most amount of protein without too many calories. Therefore, finding the best meal replacements and protein shakes without artificial sweeteners is not easy.
You deserve to have a delicious, healthy shake without having to worry about the potentially harmful effects of artificial sweeteners.
As such, I have compiled a list of what I consider the best meal replacements and protein powders with no sucralose or aspartame, or similar.
Instead, the shakes listed below use natural sweeteners like monk fruit, stevia extract, honey, or just sugar (cane or coconut). Healthier alternatives can help you improve your gut health and reduce side effects.
Check out my list of protein shakes and the best meal replacement shakes with no artificial sweeteners today! They're all free from sucralose, ace-K, etc, so you can feel good about what you're eating.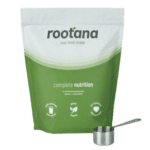 Rootana
Best Overall
Sweetened with sugar, no stevia
Vegan, natural, healthy
Great clean taste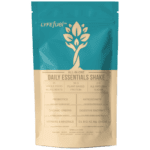 Daily Essentials
Best Low Calorie
Low calorie, high protein
Ultra rich in nutrients – Super healthy
0 artificial ingredients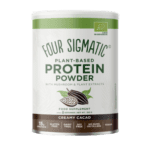 Four Sigmatic
Best Protein Powder w/o Artificial Sweeteners
Organic, vegan, no gluten
Sweet and tasty
18g of protein per serving
Before diving into the list, I want to let you know that it's divided into two parts:
Best Meal Replacement Shakes without Artificial Sweeteners.
Best Protein Shakes with no Artificial Sweeteners.
If the distinction is not clear now, don't worry, I will explain it later.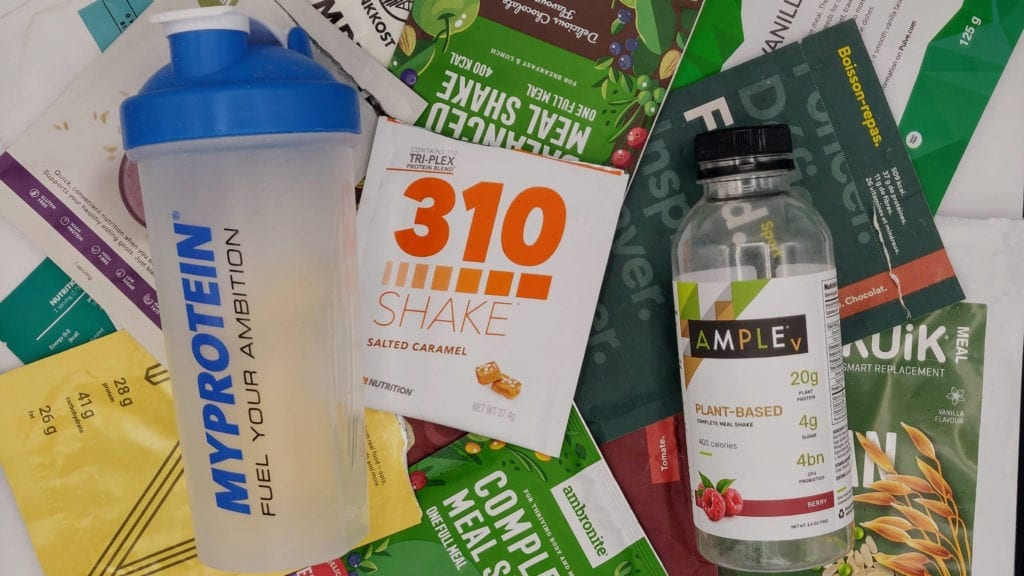 ---
Top Meal Replacement Shakes With No Artificial Sweeteners
In the table below, you can have a brief look into what I consider the best meal shakes without artificial sweeteners.
| | Vegan | Sweetener | Rating |
| --- | --- | --- | --- |
| #1 Rootana | Y | Coconut Sugar | 91% |
| #2 Lyfefuel | Y | Coconut Sugar, Stevia | 90% |
| #3 HLTH Code | N | Monk Fruit, Stevia | 89% |
| #4 Kachava | Y | Lo Han Fruit | 89% |
| #5 Huel RTD | Y | Coconut Sugar, Stevia | 86% |
| Four Sigmatic* | Y | Monk Fruit | – |
| Naked Whey* | N | Organic coconut Sugar | – |
| Complete Plant* | Y | Stevia | – |
* Protein powders.
Best Meal Replacement Shake Without Artificial Sweeteners
Best Artificial Sweetener-Free Protein Shake
---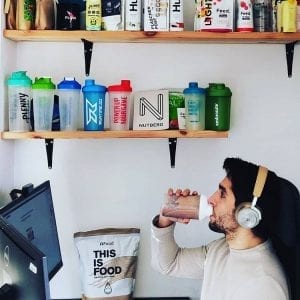 Meet the Expert
Hi! My name is Enaut and I'm the owner of Latestfuels. Welcome to the home of meal replacements, protein powders, and the latest nutritional trends.
I drink meal replacement shakes on a daily basis, and I've been consuming protein powders for over 10 years now. I enjoy analyzing them, breaking them down, and sharing my thoughts with my readers.
Enjoy your shake!
---
Best Meal Replacement Powders Without Artificial Sweeteners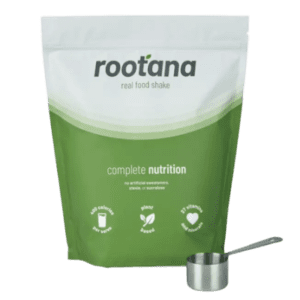 | | |
| --- | --- |
| Taste | 90% |
| Texture | 90% |
| Nutrition | 85% |
| Price | 85% |
| Overall | 85% |
Pros
Only sweetened with sugar
No stevia or monk fruit
No weird aftertastes
Affordable
Chocolate is lovely
20g of protein per serving
Cons
If you live in the UK or the US, you will have quite a few good meal replacements without artificial sweeteners. However, none will be as good as Rootana, which has zero artificial sweeteners and doesn't even have stevia.
This for me is a game changer since natural sugar alternatives like stevia can negatively affect the taste of the shake. For that reason, I love Rootana's meal shakes. They have a clean, refreshing taste without any weird background flavors or aftertaste.
Besides being artificial sweetener-free, Rootana's plant-based shakes are also extremely healthy. They come with 21g of protein per serving, plenty of fiber, and all the essential nutrients. Perhaps, I would've liked to see some probiotics, but this is a very minor complaint.
Even more when they deliver all this goodness for a very reasonable price, the customer experience is also great, and shipping is ultra-fast.
I would start with Vanilla and Chocolate, even though, I personally like Chocolate better. It has a dark pure strong cacao flavor that I adore.
Key Stats:
Macros (C/P/F): 46/21/33
Kcal: 400kcal
Protein (g): 21g – from organic pea protein
Sugars (g): 13.0g
Sweetener: Organic coconut sugar
Allergens: Oats
Profile: No Stevia,
Best Flavor: Chocolate
Flavors: Chocolate, Vanilla, and Natural
---
2. Lyfefuel Daily
Editor's Choice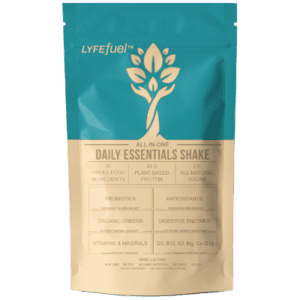 | | |
| --- | --- |
| Taste | 95% |
| Texture | 90% |
| Nutrition | 95% |
| Price | 80% |
| Overall | 90% |
Pros
Sweetened with stevia, only 2g of sugar
Vegan, nothing artificial, whole-food ingredients, no soy
Super healthy
Focused on providing nutrients you lack
Clean delicious taste
Cons
2 flavors only
Not the cheapest
Lyfefuel Daily Essentials Shake is the healthiest meal replacement shake without artificial sweeteners. It's not only clean (and will be even more natural on the next update), but it's also carefully crafted to provide you with a nutrient boost.
Instead of focusing on nutrients that are readily available to us (like calories), Daily Essential Shakes provide you with those that you might lack in your diet. For instance, it's really rich in vitamin B12, commonly missing in vegan diets. They also supplement vitamin K2 and D3, which are not found in every meal replacement shake.
This attention to detail is what makes this meal replacement shake special. They take scientific research and apply it to their shakes to provide you with the best of the best. You will notice improvements in your energy levels, mood, and health.
All of this in a 110kcal shake with 18g of premium plant protein. I wish the meal replacement drink had some more fats, to cover your omega-3 oils, though.
Lyfefuel's meal replacement shakes are also ideal for weight loss, as their low-calorie high-nutrient formula will allow you to eat healthily and avoid empty calories.
Besides, both flavors are lovely, although I need to admit that the Chocolate one is better, particularly when you mix it with oat milk.
Key Facts
Macros (C/P/F): 14/65/16
Energy: 110kcal
Protein (g): 18g – from pea protein and organic rice protein
Sugars (g): 3.0g of which 1.5g are from added sugars
Allergens: None
Sweetener: Organic Coconut Sugar and Stevia Leaf Extract
Profile: High protein, low-calorie, vegan
Flavors: Chocolate and Vanilla.
Best Flavour: Chocolate.
---
3. HLTH Complete Meal
Best Low Carb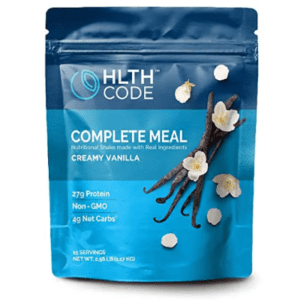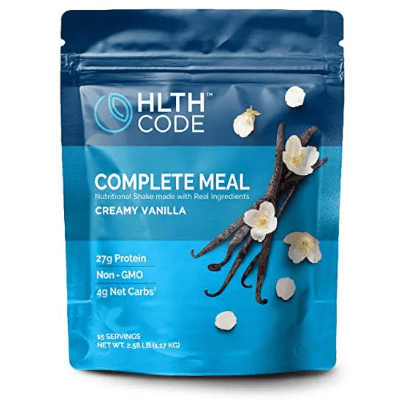 | | |
| --- | --- |
| Taste | 95% |
| Texture | 90% |
| Nutrition | 85% |
| Price | 85% |
| Overall | 89% |
Pros
No artificial sweeteners; sweetened with monk fruit and stevia
Keto-friendly: only 4g of net carbs
Rich in vitamins and minerals
Easy to digest
1:1 protein/fat ratio for ideal absorption
Cons
Not vegan-friendly
2 flavors only
This is another fabulous brand that offers real food-based shakes without any artificial additives or sweeteners. In fact, HLTH Complete meal is one of the healthiest and most pleasant drinks you can get.
Unfortunately, they do use stevia leaf extract, together with monk fruit; so if you are looking for a stevia-free shake, this won't be for you. Personally, I didn't notice any strong stevia taste, as some other shakes do.
Nutritionally, HLTH is a low carb (only 4g!) shake with tons of protein (27g). Engineered by Dr. Ben Bikman, the goal is to provide you with a science-backed meal that makes you feel good. For that, they also add healthy fats and protein in a 1:1 ratio, which ensures better absorption of nutrients.
Plus, they add probiotics and digestive enzymes, which in my experience, makes them easier to drink than other meal replacement shakes.
When it comes to taste, I have very few issues. Chocolate Macadamia (my favorite) is sublime; sweet and flavourful like a chocolate milkshake. I just wish it was slightly thicker!
Start now with the code LATESTFUELS and get 10% OFF on your first purchase.
Key Stats:
Macros (C/P/F): 12/27/61
Kcal: 400kcal
Protein (g): 27g – from whey protein isolate, collagen, egg whites
Sugars (g): 2.0g
Allergens: Milk
Sweetener: Monk Fruit Extract, Stevia Leaf Extract
Profile: Keto
Best Flavor: Chocolate Macadamia
Flavors: Chocolate Macadamia and Creamy Vanilla.
---
4. Kachava
Best Weight Loss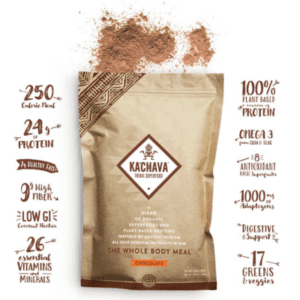 | | |
| --- | --- |
| Taste | 95% |
| Texture | 90% |
| Nutrition | 95% |
| Price | 75% |
| Overall | 89% |
Pros
No stevia or artificial sweeteners
One of the healthiest shakes money can get you
240kcal, 25g of protein, and all the vitamins and minerals
No artificial additives, soy-free, GMO-free and gluten-free
It contains digestive enzymes, probiotics and prebiotics to help your gut
Cons
Pricey
Blender for best texture
There are very few meal replacement shakes as healthy as Kachava shakes. These are not only some of the best artificial sweetener-free shakes, but simply some of the best meal replacement shakes.
What makes them so great?
They provide you with nutrients from whole foods only. No artificial sweeteners or additives. This ensures greater absorption of nutrients and no nasty side effects.
They come with 70+ superfoods (vegetables, fruits), probiotics, and digestive enzymes. Consequently, you will get essential nutrition plus an array of nutrients that have beneficial effects on your health (anti-oxidants, anti-inflammatory agents…)
Well-balanced nutrition. High in protein, plenty of fiber, and omega-3 essential fatty acids. You will get all you need with Kachava meal replacement shakes.
And yet, I'm to mention my favorite part. They are surprisingly tasty. I say surprisingly because healthy shakes often taste like undrinkable green smoothies. This is not the case with Kachava, they are simply delicious.
Nonetheless, there is an issue. Sadly, Kachava shakes are rather expensive. It's partially because this is an organic meal, but I still think this is a great meal replacement shake worth the price.
Key Stats:
Macros (C/P/F): 33/41/26
Kcal: 240kcal
Protein (g): 24g – from Yellow Pea Protein, Organic Whole Grain Brown Rice Protein, Organic Sacha Ichi, Organic Amaranth, Organic Quinoa
Profile: Natural, high protein, vegan, gluten-free
Allergens: Coconut
Sweetener: Lo Han Fruit Extract
Best Flavor: Coconut Acai
Flavors: Chocolate, Vanilla, Coconut Acai, Chai, and Matcha
---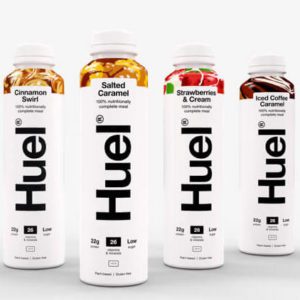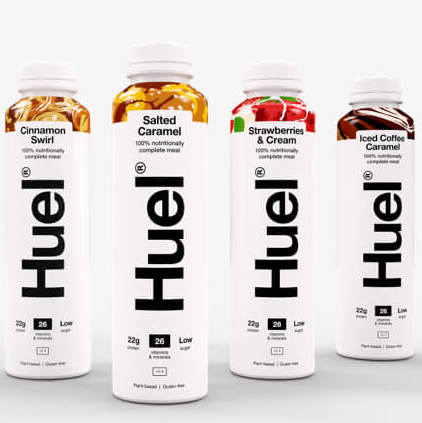 | | |
| --- | --- |
| Taste | 90% |
| Texture | 90% |
| Nutrition | 75% |
| Price | 80% |
| Overall | 84% |
Pros
Rare RTD without artificial sweeteners
22g of protein
Vegan, hypoallergenic, soy free
Variety box to try all flavors
Optimal to consume on the go
Ice Coffee Caramel is wild – must try
Cons
v1.0 (Chocolate, Vanilla…) not as tasty
Very sweet
Huel is the leading company in dairy-free shakes. Their previous ready-to-drink product was rather forgettable (and it contains sucralose), but the v2.0 absolutely blew my mind when I tried it. I didn't have the highest hopes, but I must admit that they outdid themselves.
Huel RTD v2.0 is a vegan, soy-free meal replacement shake that has all essential nutrients and no artificial sweeteners. Instead, they use coconut sugar and stevia leaf extract to sweeten the shakes.
There are two things I love about the new RTD. Firstly, it's convenient and how easily you can enjoy a healthy meal. Secondly, the taste. 3 out of the 4 new flavors are very good or great. Cinnamon Swirl and Ice Coffee Caramel are both must-try.
So do yourself a favor, and grab one now.
---
For those looking for a powder-based alternative, look at Huel Black. Ultra high in protein (40g per serving), low in carbs, and without artificial sweeteners. Try Salted Caramel first.
---
Key Facts:
Macros (C/P/F): 37/22/41
Serving size: 400kcal
Protein (g): 20g – from pea protein, rice, and hemp protein
Sugars (g): 5.0g – coconut sugar
Allergens:
Sweetener: Coconut Sugar and Stevia
Best Flavor: Ice Coffee Caramel
Flavors: Ice Coffee Caramel, Salted Caramel, Cinnamon Swirl, Strawberries and Cream.
---
Best Protein Powders Without Artificial Sweeteners
1. FourSigmatic Protein
Editor's Choice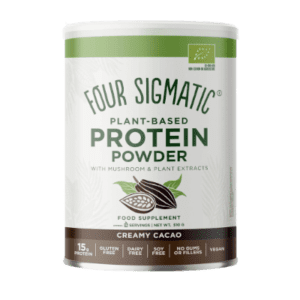 Pros
High quality organic ingredients, vegan and gluten free
Adaptogens to help mood and focus
Flavoured with monk fruit and only has 3g of sugar
Great taste
30% subscription discount and free shipping
Cons
Low protein/calorie
Single purchase is expensive
FourSigmatic offers the next evolution in protein powders; a plant-based protein shake without artificial sweeteners and added superfoods.
On one side, each 150kcal packs 18g of protein from organic pea, organic hemp, organic chia, organic pumpkin, and organic coconut. This diverse array of proteins ensures you get a balanced amino acid profile.
Besides, it also provides you with 7 adaptogens that will help you relieve stress levels, feel more focused and support your immune system.
All of this, without any unnecessary fillers or unwanted ingredients. Luckily, this means that you get a very pleasant rich dark Cacao flavour (my favourite).
Try it out for $35 and free shipping in th US. However, it is also available in Canada and Europe!
Nutrition
| Per Serving | FourSigmatic |
| --- | --- |
| Energy (kcal) | 150 |
| Protein (g) | 18 |
| Sugars (g) | 3.0 |
| Added sugars (g) | 2.0 |
| Acesulfame K | No |
| Sucralose | No |
| Stevia | No |
| Other additives | Adaptogens |
Sweetened with monk fruit. Unflavoured is also available.
---
2. Naked Whey Grass Fed
Best Overall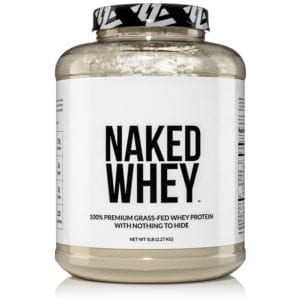 Pros
Premium grass-fed whey protein
No artificial sweeteners or flavors, gluten-free
No stevia
25g of protein, 6g BCAAs in 120kcal
Free of hormones, cold processed, high-quality manufacturing
Cons
Naked Nutrition is a brand that selects its ingredients carefully; aiming to provide clean, gut-friendly protein shakes. As such, they are not only free of artificial sweeteners; but also of soy, gluten, nasty hormones, and are processed without using bleach or acid.
Thus, this is always the brand I recommend when people are looking for clean, healthy protein shakes.
On top of being wholesome, they are nutritious: 25g of whey protein in only 120kcal! Fine sweetener-free shakes that have been trusted by Informed Sport and are made in the US.
Pair this with their fine taste and reasonable price – about $1.2 per serving-; you have one of the best artificial sweetener-free protein shakes in Naked Whey!
Nutrition
| Per Serving | Naked Whey |
| --- | --- |
| Energy (kcal) | 120 |
| Protein (g) | 25 |
| Sugars (g) | 2.0 |
| Added sugars (g) | 0.0 |
| Acesulfame K | No |
| Sucralose | No |
| Stevia | No |
| Other additives | No |
Also available in sweetened with organic coconut sugar version.
---
3. Optimum Naturally Sweetened
Best Whey Based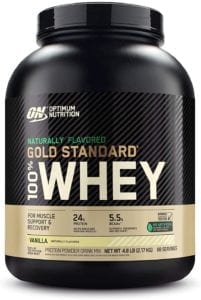 Pros
Golden standard of protein powders
Sweetened with stevia
24g of protein, 130kcal
Includes lactase for easier digestion
Delicious
Cons
I have drank protein powders for over 10 years now. I have two products that I love to buy; Impact Whey, and when I have more cash: Optimum Nutrition's Gold Standard. In fact, as the name suggests, it is the golden standard for those who consume protein regularly.
Their Naturally Sweetened formula allows you to enjoy the best whey protein isolate powder without artificial sweeteners (sucralose, aspartame or similar). This powder is sweetened with stevia, instead and it's available in 5 flavors (I strongly recommend buying chocolate).
Nutrition
| Per Serving | ON Gold Standard |
| --- | --- |
| Energy (kcal) | 130 |
| Protein (g) | 24 |
| Sugars (g) | 4.0 |
| Added sugars (g) | 3.0 |
| Acesulfame K | No |
| Sucralose | No |
| Stevia | Yes |
| Other additives | Digestive Enzymes |
---
4. Orgain Protein & Superfoods
Best Organic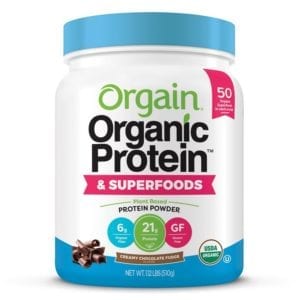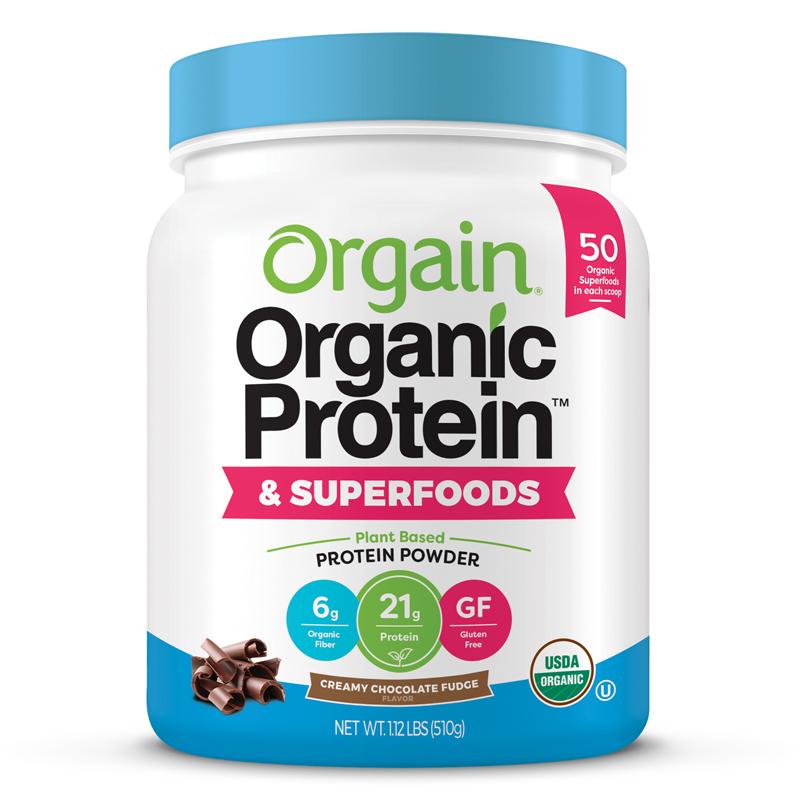 Pros
Organic
Includes superfoods for extra nutrition
0g of added sugars, 6g fiber
Plant-based: Organic pea, brown rice and chia seed protein blend
Gluten-free
Cons
High in fats
Lower protein %
Orgain is a US-based brand that creates organic meal replacements and protein powders. The Proteins & Superfood blend is a plant-based protein powder with no sucralose, but with custom greens blends that provide you with some extra vitamins, minerals, antioxidants etc.
This is a great protein powder for those who also want to boost their nutrient intake. The protein blend is organic pea, brown rice and chia seed protein to ensure an optimal amino acid profile. It also includes 6g of fibre and 0g of sugar. So how is it sweetened? They use erythritol and stevia.
Alternatively, if you are looking for a whey protein, they also have an organic grass-fed whey protein powder with no artificial sweeteners.
Nutrition
| Per Serving | Protein & Superfood |
| --- | --- |
| Energy (kcal) | 170 |
| Protein (g) | 21 |
| Sugars (g) | 1.0 |
| Added sugars (g) | 0.0 |
| Acesulfame K | No |
| Sucralose | No |
| Stevia | Yes |
| Other additives | Digestive Enzymes, Greens |
---
You might also be interested in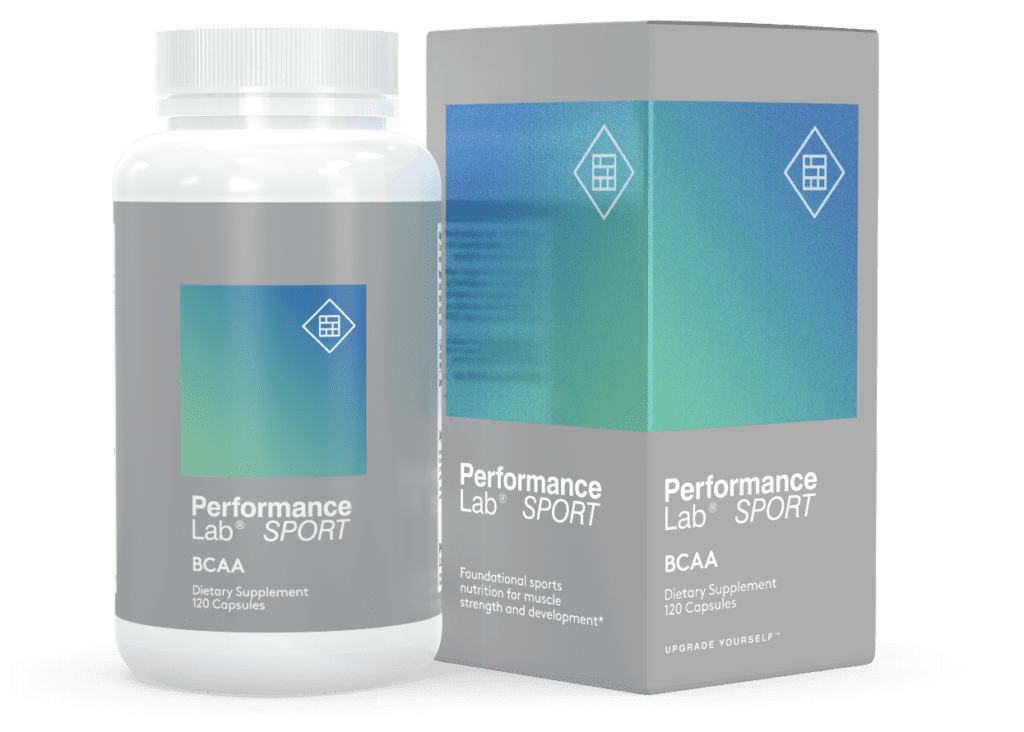 Looking for Extra BCAAS?
Extra boost to your branched-chain amino acids without any nasty surprises.
1500mg of L-leucine, 750mg of L-isoleucine, and 750mg of L-valine.
Maintain the energy levels during the workout; extend endurance, and preserve lean mass.
---
5. OWYN Protein
Stevia Free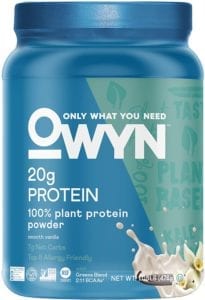 Pros
No stevia
Includes greens blend and probiotics
Plant-based, gluten-free, soy-free, nut-free and GMO-free
Ready-to-drink also available
Cons
High in sodium
RTD is smoother than powder
So what if you want a protein powder without artificial sweeteners and no stevia? That's what OWYN provides you. Sweetened with organic cane sugar and monk fruit, OWYN's shakes are among the most natural protein powders you can buy.
Gluten-free, soy-free, dairy-free, GMO-free, nut-free… 100% vegan and with 20g of protein per 140kcal, OWYN's is the hypoallergenic shake you have been waiting for.
Plus, you will get omega-3, 1B CFU probiotics and superfoods to help your gut health.
Sounds too good to be true? Well, unfortunately, they only have 2 flavors available: Chocolate and Vanilla. Furthermore, I personally enjoy the ready-to-drink more, but that's slightly more expensive.
Nutrition
| Per Serving | OWYN Protein |
| --- | --- |
| Energy (kcal) | 140 |
| Protein (g) | 20 |
| Sugars (g) | 4.0 |
| Added sugars (g) | 4.0 |
| Acesulfame K | No |
| Sucralose | No |
| Stevia | No |
| Other additives | Monk Fruit, Probiotics |
---
Understanding Artificial Sweeteners
Sweeteners are sugar substitutes that give food a sweet taste without adding as many calories. In fact, many provide no-calories and do not cause any effect on blood glucose as sugar does.
These sweeteners can be natural (derived from plants) or synthetically created. The latter is much more commonly used in the industry, particularly in sweets, low-calorie sodas etc.
They are often used to lose weight, as they don't provide you with any calories.
Types of Artificial Sweeteners Found on Protein Powders
Another common area where you will find artificial sweeteners is protein powders and other nutritional supplements. Because they can add sweetness without adding calories; they are widely used to create blends with fewer calories.
These are some of the most common culprits that you can find:
Acesulfame K or acesulfame potassium. A very common sweetener, 200 times sweeter than sucrose (sugar) that has a slightly bitter taste. Thus, it's often found in conjunction with other sweeteners (aspartame) with synergistic effects. There are concerns over the possible carcinogenic effects of ace-k; but these have been refuted by the FDA and ESFA.
Aspartame. Another popular sweetener in protein powders, often paired with ace-k. It is 200 as sweet as sugar, and it's been approved by the FDA since 1981. There are some health hazards for those with phenylketonuria due to the presence of phenylalanine. Despite being some of the most rigorously studied sweeteners, there is public concern about the carcinogenic and neurological effects of aspartame.
Sucralose. This synthetic sweetener is 3x as sweet as aspartame, and it's considered safe by most health agencies. It is even safe for diabetics, since it does not cause any alterations in blood glucose. Most of the sucralose ingested is not absorbed and only 2-8% is metabolized. However, there are some increasing concerns of the effect of sucralose, particularly after being heated.
To summarize, most of the artificial sweeteners used in protein powders are considered safe to very safe. However, there's a popular belief that the adverse effects have not been properly studied in humans and might cause some long-term negative effects.
Popular Alternatives to Artificial Sweeteners
Therefore, many have started looking for alternatives and protein powders with no artificial sweeteners. While the industry is still dominated by synthetic options, there are a few other ingredients:
Stevia. It is usually the #1 choice for manufacturers. The plant stevia contains steviol glycosides that are 30-150 times as sweet as sugar. There are a few concerns about stevia, but also about how it affects the flavour. That's why I included some protein powders without artificial sweeteners or stevia (Owyn).
Monk fruit. Another natural sweetener that is 300 times as sweet as sugar. While in the US is considered generally safe by the FDA, its use is not approved in Europe. Thus, most European powders will include stevia or sugar instead.
Honey. Honey is a caloric sweetener, unlike the previous two, since it contains fructose and glucose. However, it is usually packed with other nutrients (mostly vitamins and minerals), which might have beneficial health effects.
Coconut sugar. Instead of using white refined sugar, some brands will go for coconut sugar. Nutritionally, it's very similar to it though; with just some naturally occurring nutrients that are not destroyed in the refining process.
Besides the above-mentioned, you might also find coconut sugar, rice sugar, cane sugar or even normal sugar in protein powders and meal replacements that contain no artificial sweeteners.
Sugar or Natural Sweeteners, What is Best in Protein Powders?
There is no simple answer to this question, and it will largely come to what your preferences are. In the United States, for instance, food is blasted with hidden sugars, and consuming more than the daily recommended is not unusual. Therefore, for those naturally sweetened protein powders might make sense.
Another factor to look at is calories. If you are looking for diet drinks without aspartame, but don't want to add calories naturally sweetened drinks (like Complete Protein Powder) will be your best solution. Otherwise, you can still enjoy meal shakes that are low in sugar like Ample O.
If we considered taste, then you might want to avoid stevia (not always but for some might taste too bitter) or look for stevia extract. Honey, brown rice syrup, or coconut sugar can also be good alternatives.
Factors to Consider Before Buying the Best Artificial Sweetener-Free Shakes
So, you are ready to purchase your protein powder free of sucralose. Or so you think. Make sure you take these factors into consideration before buying the best powders without artificial sweeteners:
Vegan or vegetarian. Are you looking for a fully plant-based shake or you are happy with a whey protein powder with no artificial sweetener?
Naturally sweetened or sugar. As mentioned in the previous section, it's your choice to opt for a non-caloric sweetener like stevia, monk fruit or something more traditional like honey or coconut sugar.
Budget. Most of the best powders without artificial sweeteners mentioned in the list are fairly affordable. However, you will have some at less than $1 per serving, and others that might cost you over $2.
Protein shake or meal replacement shake. You might have realized that I have not used both terms as synonyms. Meal replacement shakes are better suited to replace meals, as they are more balanced and nutritionally complete. Protein shakes, on the other hand, are mostly protein and don't have essential ingredients like omega-3 or micronutrients.
Conclusion: The Best Meal Replacement Shakes and Protein Powder without Artificial Sweeteners are
… Rootana Real Food Shakes and Four Sigmatic Cacao. Two great shakes that will provide you with high-quality nutrients without artificial additives. They have a lovely taste and texture, on top of that.
Besides, if you it fits your budget, LyfeFuel Daily Essentials is one of the best dairy-free meal replacements you can buy, and I highly recommend it to anybody.
However, if you are looking for stevia-free meal replacement shakes I recommend you to look at OWYN or Rootana. For a more budget option, Vegan Blend for my protein might be your choice.
Have a good look at my top picks and enjoy!
Sources
1.US Dietary Guidelines 2015-20.
2. FDA Daily Values.
3. Protein and Amino Acid Requirements in Human Nutrition by WHO.
4. Ultimate Meal Replacement List.
5. Latestfuel's Best Meal Replacement Shakes.