Best Meal Replacement & Protein Shakes No Artificial Sweeteners 2023
Are you looking for a healthy meal replacement shake that doesn't contain any artificial sweeteners?
I know that you are because I've been there, too. That's why I've created a list of protein shakes and meal replacement shakes without artificial sweeteners that not only taste great but also provide you with a healthy meal.
The fear of the negative effects of sugar gave rise to the era of artificial sweeteners. Ingredients like acesulfame-k, aspartame or sucralose can be found anywhere. This is particularly true for protein powders, which try to provide you with the most amount of protein without adding sugars. Therefore, finding the best meal replacements and protein shakes without artificial sweeteners is not easy.
You deserve to have a delicious, healthy shake without having to worry about the potentially harmful effects of artificial sweeteners.
As such, I have compiled a list of what I consider the best meal replacements and protein powders with no sucralose or aspartame, or similar.
Instead, the shakes listed below use natural sweeteners like monk fruit, stevia extract, honey, or just sugar (cane or coconut). Healthier alternatives can help you improve your gut health and reduce side effects.
Check out my list of protein shakes and the best meal replacement shakes with no artificial sweeteners today! They're all free from sucralose, ace-K, etc, so you can feel good about what you're eating.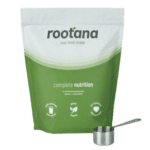 Rootana
Best Without Stevia
Sweetened with sugar, no stevia or artificial sweeteners
Vegan, natural, healthy
Great clean taste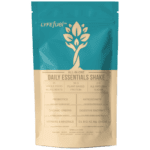 Daily Essentials
Best Low Calorie
Low calorie, high protein
Ultra rich in nutrients – Super healthy
0 artificial ingredients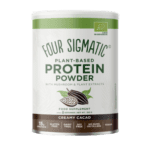 Four Sigmatic
Best Protein Powder w/o Artificial Sweeteners
Organic, vegan, no gluten
Sweet and tasty
18g of protein per serving
Before diving into the list, I want to let you know that it's divided into two parts:
Best Meal Replacement Shakes without Artificial Sweeteners. Shakes that provide you with all essential nutrients to replace meals with.
Best Protein Shakes with no Artificial Sweeteners. Shakes that contain mostly protein to boost your protein intake.
If the distinction is not clear now, don't worry, I will explain it later.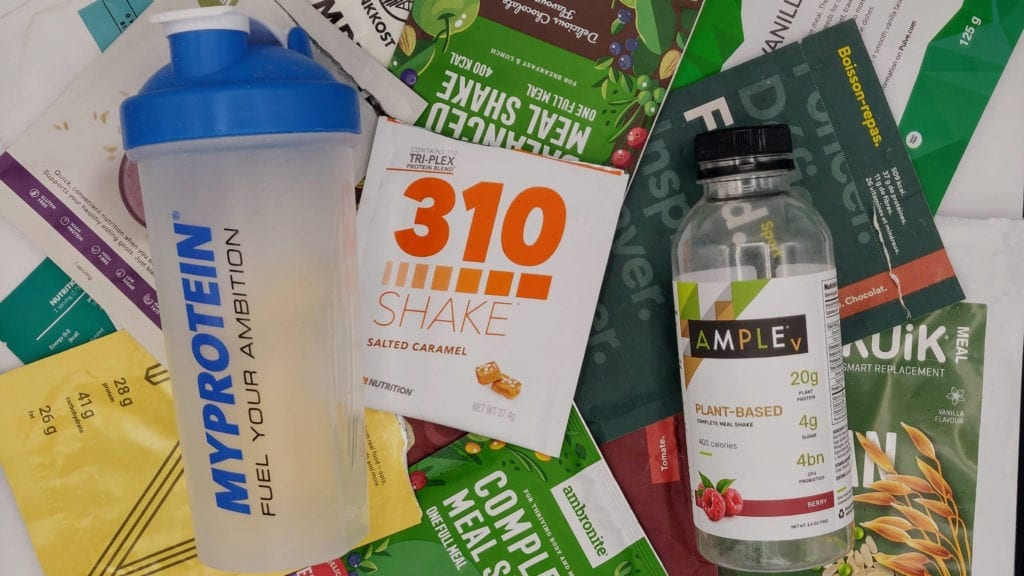 ---
Top Meal Replacement Shakes With No Artificial Sweeteners
In the table below, you can have a brief look into what I consider the best meal shakes without artificial sweeteners.
| | Vegan | Sweetener | Rating |
| --- | --- | --- | --- |
| #1 Rootana | Y | Coconut Sugar | 91% |
| #2 Lyfefuel | Y | Coconut Sugar, Stevia | 90% |
| #3 HLTH Code | N | Monk Fruit, Stevia | 89% |
| #4 Kachava | Y | Lo Han Fruit | 89% |
| #5 Huel RTD | Y | Coconut Sugar, Stevia | 86% |
| | | PROTEIN POWDERS | |
| Performance Shake( | Y | Coconut Sugar, Stevia, Monk Fruit | 92% |
| Four Sigmatic* | Y | Monk Fruit | – |
| Naked Whey* | N | Organic coconut Sugar | – |
| Complete Plant* | Y | Stevia | – |
* Protein powders.
Best Meal Replacement Shake Without Artificial Sweeteners
Best Artificial Sweetener-Free Protein Shake
---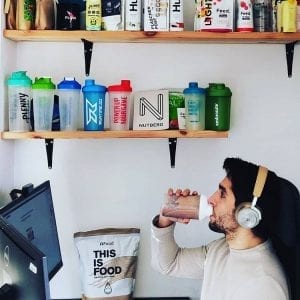 Meet the Expert
Hi! My name is Enaut and I'm the owner of Latestfuels. Welcome to the home of meal replacements, protein powders, and the latest nutritional trends.
I drink meal replacement shakes on a daily basis, and I've been consuming protein powders for over 10 years now. I enjoy analyzing them, breaking them down, and sharing my thoughts with my readers.
Enjoy your shake!
---
Best Meal Replacement Powders Without Artificial Sweeteners
1. Rootana – Best Meal Replacement Shake without Artificial Sweeteners or Stevia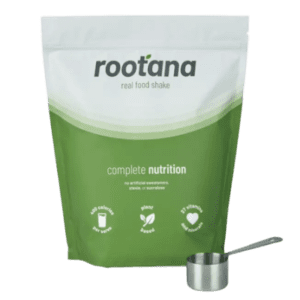 | | |
| --- | --- |
| Taste | 90% |
| Texture | 90% |
| Nutrition | 85% |
| Price | 85% |
| Overall | 85% |
Pros
Only sweetened with sugar
No stevia or monk fruit
No weird aftertastes
Affordable
Chocolate is lovely
20g of protein per serving
Cons
If you live in the UK or the US, you will have quite a few good meal replacements without artificial sweeteners. However, none will be as good as Rootana, which has zero artificial sweeteners and doesn't even have stevia.
This for me is a game changer since natural sugar alternatives like stevia can negatively affect the taste of the shake. For that reason, I love Rootana's meal shakes. They have a clean, refreshing taste without any weird background flavors or aftertaste.
Besides being artificial sweetener-free, Rootana's plant-based shakes are also extremely healthy. They come with 21g of protein per serving, plenty of fiber, and all the essential nutrients. Perhaps, I would've liked to see some probiotics, but this is a very minor complaint.
Even more when they deliver all this goodness for a very reasonable price, the customer experience is also great, and shipping is ultra-fast.
I would start with Vanilla and Chocolate, even though, I personally like Chocolate better. It has a dark pure strong cacao flavor that I adore.
Key Stats:
Macros (C/P/F): 46/21/33
Kcal: 400kcal
Protein (g): 21g – from organic pea protein
Sugars (g): 13.0g
Sweetener: Organic coconut sugar
Allergens: Oats
Profile: No Stevia,
Best Flavor: Chocolate
Flavors: Chocolate, Vanilla, and Natural
---
2. Lyfefuel Daily – Best Meal Replacemet without Artificial Sweeteners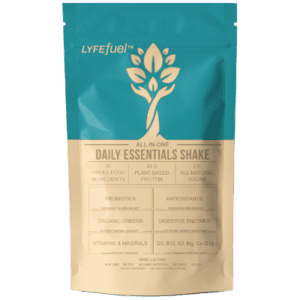 | | |
| --- | --- |
| Taste | 95% |
| Texture | 90% |
| Nutrition | 95% |
| Price | 80% |
| Overall | 90% |
Pros
Sweetened with stevia, only 2g of sugar
Vegan, nothing artificial, whole-food ingredients, no soy
Super healthy
Focused on providing nutrients you lack
Clean delicious taste
Cons
2 flavors only
Not the cheapest
Lyfefuel Daily Essentials Shake is the healthiest meal replacement shake without artificial sweeteners. It's not only clean, but it's also carefully crafted to provide you with a nutrient boost.
Instead of focusing on nutrients that are readily available to us (like calories), Daily Essential Shakes provide you with those that you might lack in your diet. For instance, it's really rich in vitamin B12, commonly missing in vegan diets. They also supplement vitamin K2 and D3, which are not found in every meal replacement shake.
This attention to detail is what makes this meal replacement shake special. They take scientific research and apply it to their shakes to provide you with the best of the best. You will notice improvements in your energy levels, mood, and health.
All of this in a 110kcal shake with 18g of premium plant protein. I wish the meal replacement drink had some more fats, to cover your omega-3 oils, though.
Lyfefuel's meal replacement shakes are also ideal for weight loss, as their low-calorie high-nutrient formula will allow you to eat healthily and avoid empty calories.
Besides, both flavors are lovely, although I need to admit that the Chocolate one is better, particularly when you mix it with oat milk.
Key Facts
Macros (C/P/F): 14/65/16
Energy: 110kcal
Protein (g): 18g – from pea protein and organic rice protein
Sugars (g): 3.0g of which 1.5g are from added sugars
Allergens: None
Sweetener: Organic Coconut Sugar and Stevia Leaf Extract
Profile: High protein, low-calorie, vegan
Flavors: Chocolate and Vanilla.
Best Flavour: Chocolate.
---
3. HLTH Complete Meal
Best Low Carb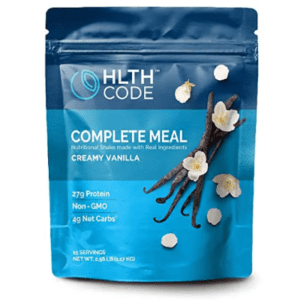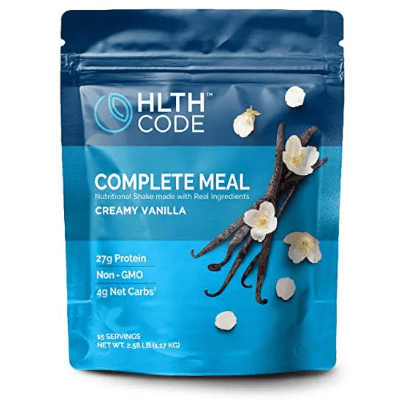 | | |
| --- | --- |
| Taste | 95% |
| Texture | 90% |
| Nutrition | 85% |
| Price | 85% |
| Overall | 89% |
Pros
No artificial sweeteners; sweetened with monk fruit and stevia
Keto-friendly: only 4g of net carbs
Rich in vitamins and minerals
Easy to digest
1:1 protein/fat ratio for ideal absorption
Cons
Not vegan-friendly
2 flavors only
This is another fabulous brand that offers real food-based shakes without any artificial additives or sweeteners. In fact, HLTH Complete meal is one of the healthiest and most pleasant drinks you can get.
Unfortunately, they do use stevia leaf extract, together with monk fruit; so if you are looking for a stevia-free shake, this won't be for you. Personally, I didn't notice any strong stevia taste, as some other shakes do.
Nutritionally, HLTH is a low carb (only 4g!) shake with tons of protein (27g). Engineered by Dr. Ben Bikman, the goal is to provide you with a science-backed meal that makes you feel good. For that, they also add healthy fats and protein in a 1:1 ratio, which ensures better absorption of nutrients.
Plus, they add probiotics and digestive enzymes, which in my experience, makes them easier to drink than other meal replacement shakes.
When it comes to taste, I have very few issues. Chocolate Macadamia (my favorite) is sublime; sweet and flavourful like a chocolate milkshake. I just wish it was slightly thicker!
Start now with the code LATESTFUELS and get 10% OFF on your first purchase.
Key Stats:
Macros (C/P/F): 12/27/61
Kcal: 400kcal
Protein (g): 27g – from whey protein isolate, collagen, egg whites
Sugars (g): 2.0g
Allergens: Milk
Sweetener: Monk Fruit Extract, Stevia Leaf Extract
Profile: Keto
Best Flavor: Chocolate Macadamia
Flavors: Chocolate Macadamia and Creamy Vanilla.
---
4. Kachava
Best Weight Loss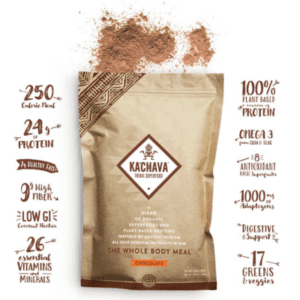 | | |
| --- | --- |
| Taste | 95% |
| Texture | 90% |
| Nutrition | 95% |
| Price | 75% |
| Overall | 89% |
Pros
No stevia or artificial sweeteners
One of the healthiest shakes money can get you
240kcal, 25g of protein, and all the vitamins and minerals
No artificial additives, soy-free, GMO-free and gluten-free
It contains digestive enzymes, probiotics and prebiotics to help your gut
Cons
Pricey
Blender for best texture
There are very few meal replacement shakes as healthy as Kachava shakes. These are not only some of the best artificial sweetener-free shakes, but simply some of the best meal replacement shakes.
What makes them so great?
They provide you with nutrients from whole foods only. No artificial sweeteners or additives. This ensures greater absorption of nutrients and no nasty side effects.
They come with 70+ superfoods (vegetables, fruits), probiotics, and digestive enzymes. Consequently, you will get essential nutrition plus an array of nutrients that have beneficial effects on your health (anti-oxidants, anti-inflammatory agents…)
Well-balanced nutrition. High in protein, plenty of fiber, and omega-3 essential fatty acids. You will get all you need with Kachava meal replacement shakes.
And yet, I'm to mention my favorite part. They are surprisingly tasty. I say surprisingly because healthy shakes often taste like undrinkable green smoothies. This is not the case with Kachava, they are simply delicious.
Nonetheless, there is an issue. Sadly, Kachava shakes are rather expensive. It's partially because this is an organic meal, but I still think this is a great meal replacement shake worth the price.
Key Stats:
Macros (C/P/F): 33/41/26
Kcal: 240kcal
Protein (g): 24g – from Yellow Pea Protein, Organic Whole Grain Brown Rice Protein, Organic Sacha Ichi, Organic Amaranth, Organic Quinoa
Profile: Natural, high protein, vegan, gluten-free
Allergens: Coconut
Sweetener: Lo Han Fruit Extract
Best Flavor: Coconut Acai
Flavors: Chocolate, Vanilla, Coconut Acai, Chai, and Matcha
---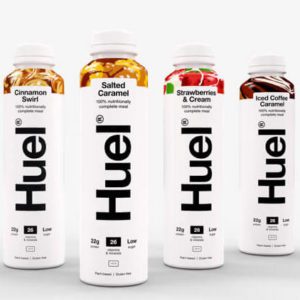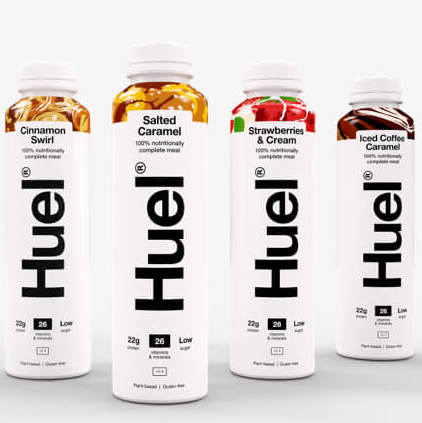 | | |
| --- | --- |
| Taste | 90% |
| Texture | 90% |
| Nutrition | 75% |
| Price | 80% |
| Overall | 84% |
Pros
Rare RTD without artificial sweeteners
22g of protein
Vegan, hypoallergenic, soy free
Variety box to try all flavors
Optimal to consume on the go
Ice Coffee Caramel is wild – must try
Cons
v1.0 (Chocolate, Vanilla…) not as tasty
Very sweet
Huel is the leading company in dairy-free shakes. Their previous ready-to-drink product was rather forgettable (and it contains sucralose), but the v2.0 absolutely blew my mind when I tried it. I didn't have the highest hopes, but I must admit that they outdid themselves.
Huel RTD v2.0 is a vegan, soy-free meal replacement shake that has all essential nutrients and no artificial sweeteners. Instead, they use coconut sugar and stevia leaf extract to sweeten the shakes.
There are two things I love about the new RTD. Firstly, it's convenient and how easily you can enjoy a healthy meal. Secondly, the taste. 3 out of the 4 new flavors are very good or great. Cinnamon Swirl and Ice Coffee Caramel are both must-try.
So do yourself a favor, and grab one now.
---
For those looking for a powder-based alternative, look at Huel Black. Ultra high in protein (40g per serving), low in carbs, and without artificial sweeteners. Try Salted Caramel first.
---
Key Facts:
Macros (C/P/F): 37/22/41
Serving size: 400kcal
Protein (g): 20g – from pea protein, rice, and hemp protein
Sugars (g): 5.0g – coconut sugar
Allergens:
Sweetener: Coconut Sugar and Stevia
Best Flavor: Ice Coffee Caramel
Flavors: Ice Coffee Caramel, Salted Caramel, Cinnamon Swirl, Strawberries and Cream.
---
Best Protein Powders Without Artificial Sweeteners
1. Performance Shake – Best Protein Shakes without Sucralose
Pros
25g of protein, 4.5g of BCAAs
Premium blend of plant-based proteins
Digestive enzymes for better absorption
Best tasting chocolate shake
Free shipping
Cons
No the most affordable
Only 2 flavors
Lyfefuels Performance Shake (old Recovery) is the best protein shake without sucralose and artificial sweeteners.
Their premium plant-based protein blend provides you with 25g of protein and 4.5g of BCAAs, which is excellent. The blend consists of pea protein isolate, brown rice protein, and quinoa to make a complete source.
Furthermore, to enhance nutrient absorption, they include digestive enzymes and a superfood blend. This superfood blend consists of chlorella, berries, and maca root which enhance recovery and energy levels.
On top of that, this is one of the tastiest chocolate protein shakes that we've tested at Latestfuels. Creamy, mixes great, and has a lovely sweet chocolate taste to it.
Definitely a great buy if you are looking for a protein drink without sucralose.
2. FourSigmatic Protein – Best Protein Shakes without Artificial Sweeteners or Stevia