Jocko Greens vs Athletic Greens (AG1) | Which is Best?
‍Jocko Greens is one of the best-selling green powders on Amazon. On top of that, it has overwhelmingly positive reviews, therefore people have started comparing Jocko Greens vs Athletic Greens AG1 and wondering if it's worth paying double for the top greens powder.
This is a good question, as Jocko Greens promises the same benefits as AG1 by Athletic Greens does, but at a much more affordable rate.
Therefore, what are the main differences between Athletic Greens vs Jocko Greens, which one is best, and should you buy either of them?
In this comparison, we will decide which one is the best green powder, and help you choose the right option for you.
Unfortunately, neither blend is as good as it should be. AG-1 is more effective and has more health benefits, but includes a lot of fillers hidden under a proprietary blend. Jocko Greens is half the price and has a transparent label. However, this shows that most greens are underdosed. That's why we recommend looking at Supergreen Tonik – a more effective use of your money.
Table of Contents
Jocko Greens vs Athletic Greens Overview
| | Athletic Greens | Jocko Greens |
| --- | --- | --- |
| Price/serving | $3.00 | $1.59 |
| Size(g)/serving | 12 | 10.2 |
| Kcal/serving | 50 | 30 |
| Sugars (g) | 0.0 | 2 |
| Protein (g) | 2.0 | 2 |
| Fibre (g) | 2.0 | 1 |
| Vegan | Y | Y |
| Organic | Partially | Yes |
| # of Greens | 70 | 20 |
| Adaptogens | Y | Y |
| Probiotics | Y | Y |
| Digestive Enzymes | Y | N |
| Sweetener | None | Monk Fruit |
| Unwanted Ingredients | None | None |
Jocko Greens Introduction
Jocko Greens is a superfood powder that aims to provide a comprehensive blend of organic superfoods. Created with the highest quality standards, Jocko Greens sets itself apart with its commitment to responsible sourcing and transparent labeling.
The company behind Jocko Greens is Jocko Fuel, founded by Jocko Wilink a retired Navy SEAL, who's now a writer and a podcaster on the topics of leadership, entrepreneurship, and nutrition.
Let's take a closer look at the features, benefits, and potential drawbacks of Jocko Greens.
Features of Jocko Greens
Organic Superfoods: Jocko Greens is made with 20 organic superfoods, ensuring that you're getting the highest quality ingredients in each serving.
Combat Stress: Jocko Greens contains adaptogens like ashwagandha and rhodiola, which have been traditionally used to help the body adapt to and manage stress.
Supports Gut Health: With a blend of probiotics, Jocko Greens promotes a healthy gut microbiome, which is essential for digestion, nutrient absorption, and overall well-being.
Plant-Based and Keto-Friendly: Jocko Greens is suitable for those following a plant-based or keto diet, making it a versatile option for a wide range of dietary preferences.
Manufactured in a cGMP Facility: Jocko Greens is produced in a facility that follows Current Good Manufacturing Practices (cGMP), ensuring high quality and safety standards.
AG1 Athletic Greens Intro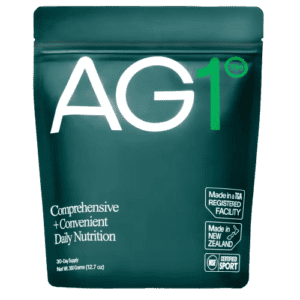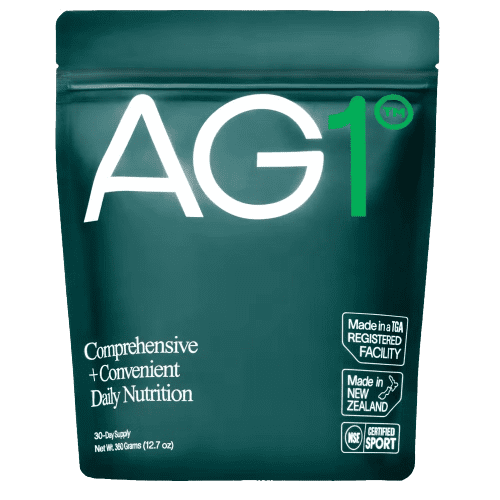 On the other hand, Athletic Greens or AG1 Drink is the most popular greens powder on the planet. They pioneered the greens market with their comprehensive blend of 75 ingredients (vegetables, adaptogens, fruits, herbs, pre-/probiotics etc).
Athletic Greens is a highly popular greens powder that has gained a loyal following among athletes, celebrities, and health enthusiasts. You might have seen them on Instagram Ads, Youtuber shoutouts or Influencer stories.
AG-1 is NSF-certified for sports, manufactured in the US and 3rd party tested.
Due to its premium pricing, many people look for Athletic Greens alternatives that better suit them.
Ingredients: AG1 vs Jocko Greens
From the get-go, there's one clear advantage for me in this regard.
JOCKO Greens offer a TRANSPARENT label that doesn't hide any of the ingredients, whereas Athletic Greens has more greens on its blend, but the quantities are unknown as they are hidden behind a proprietary blend.
Thus, it's hard to know how much of each ingredient there is and how effective AG1 really is, as we discussed in the negative AG review.
That being said the serving size in Jocko is a little smaller, and there are some ingredients that I would've liked to see more of, like chlorella.
| Category | Jocko Greens | Athletic Greens |
| --- | --- | --- |
| Probiotics | Just probiotics | Probiotics and prebiotics for gut health |
| Ingredients | 20+ organic superfoods | 75+ vitamins, minerals, and whole-food sourced nutrients |
| Organic | Yes | Partially |
| Sweetener | Monk Fruit Extract | None |
| Sourcing | Responsibly sourced from high-quality growers and manufacturers | Rigorous manufacturing standards and third-party testing |
| Guarantee | No money-back guarantee | 90-day money-back guarantee |
| Suitability | Plant-based and keto-friendly | Suitable for various dietary needs including vegan and paleo |
Ingredients of Athletic Greens
Alkaline, Nutrient-Dense Raw Superfood Complex: This blend provides a variety of fruits, vegetables, and other nutrient-dense ingredients to support overall health and well-being.
Nutrient-Dense Extracts, Herbs & Antioxidant Blend: This blend includes herbs and antioxidants that help combat oxidative stress and promote cellular health.
Digestive Enzyme & Super Mushroom Complex: This blend contains digestive enzymes and medicinal mushrooms that support digestion and immune function.
Dairy-Free Probiotics 7.2 Billion CFU: Athletic Greens includes a probiotic blend to promote a healthy gut microbiome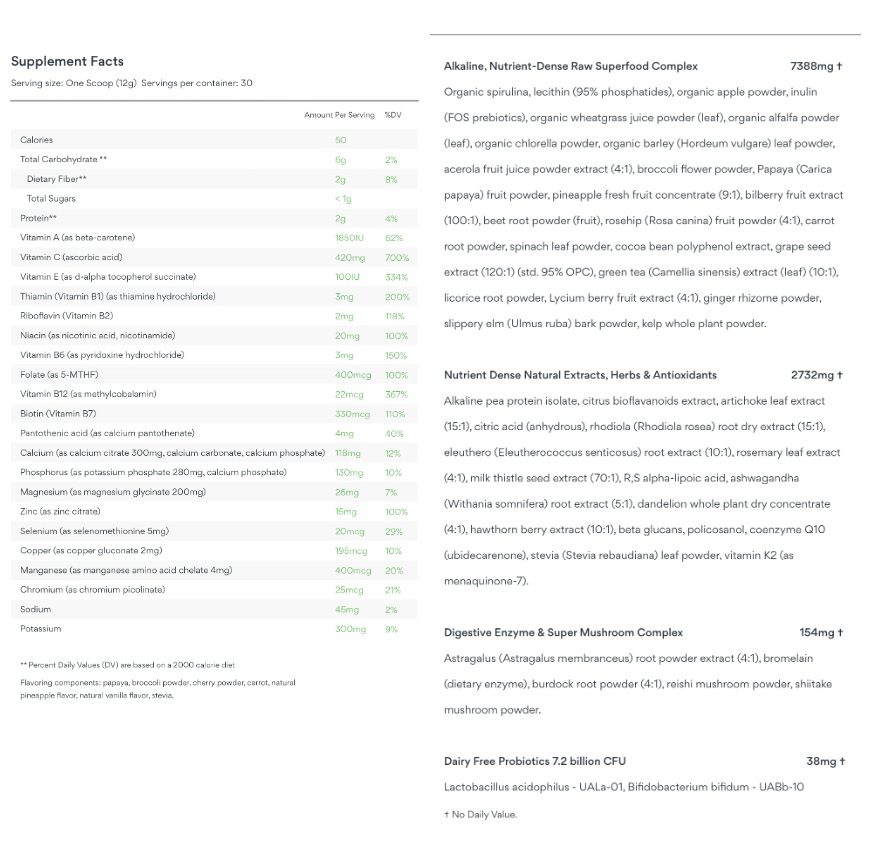 Ingredients of Jocko Greens
Organic Vegetable Blend (5.4g): With spirulina, wheat grass, kale, spinach, beets, sweet potato, broccoli, chlorella, oat grass, cabbage, and carrots.
Organic Fruit Blend (3.6g): Banana powder, pineapple, apple powder, grape, goji, pmegranate, acai powder, wild blueberry, and cranberry fruit extract.
Adaptogens (150mg): rhodiola extract, ashwagandha extract, milk thistle extract.
S11 Probiotics Blend (9B CFU): Lactobacillus casei, Lactobacillus acidophilus, Lactobacillus salvarius, Lactobacillus paracasei, Lactobacillus rhamnous, Lactobacillus pantarum, Fifidobacterium lactis, Bifidobacterium bifidum, Bifidobacterium longum, Lactobacilus bulgaricus, Bifidobacterium breve.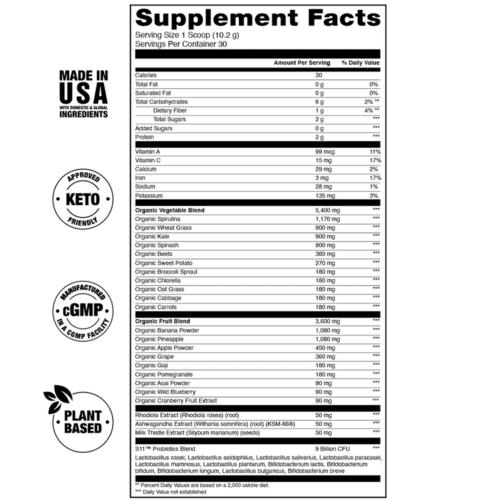 Differences between Athletic Greens vs Jocko Greens Ingredients
Besides the transparency aspect and the fact that Athletic Greens AG1 has far more ingredients there are a few other things worth noting:
Jocko Greens is not as rich in micronutrients (vitamins and minerals), and it's not a good source for them, unlike competitors like Huel Greens, or AG1 itself.
Jocko Greens does not have enough of key greens like chlorella, and their fruit blend is mostly a filler.
Both are deficient when it comes to adaptogens, and none of them are going to be a good source as a supplement to relax or boost your mind.
The one aspect Jocko Greens is better is when it comes to probiotics. It has the best probiotic blend in any greens.
Health Benefits: Jocko Greens vs AG1 Athletic Greens
Key-takeaway: Ingredients are largely underdosed in both green powders. AG1 will be slightly more efficient thanks to the higher amounts of micronutrients. That said, I recommend looking for a greens with less greens, but bigger doses of each.
| Claimed Benefits | AG1 | Jocko Greens |
| --- | --- | --- |
| Increased Energy | Mild effect | Negligible |
| Enhance Digestion | Strong | Strong |
| Immune Support | Mild | Mild |
| Improved Gut Health | Strong | Strong |
| Reduce Inflammation | Strong | Mild |
| Improved Sleep | Negligible | Negligible |
| Hormonal balance | Negligible | Negligible |
| | | |
The table above shows an overview of the major benefits of taking green powders.
However, when we look at the ingredient lists and the quantities for each, it's clear that most ingredients are not in high enough dosages to be effective.
For instance, chlorella has been linked with multiple health benefits including helping the body detox, fighting inflammation, or reducing oxidative damage. However, at minimum you will need 1g of chlorella – according to most studies – and neither product offers enough.
Similarly, adaptogens rhodiola and aswhagandha are massively underdosed in both Jocko Greens and Athletic Greens. This means that you won't get the relaxing and mood-enhancing effects linked with both.
Luckily, you will get a significant amount of vitamins and minerals, which most people don't get enough of. This will enhance your brain function, skin condition, and help the immune system. In particular, AG-1 is better for this.
All in all, if your diet is lacking greens, both products will still be a good source of antioxidants, vitamins, minerals, polyphenols, lignans, and other anti-inflammatory agents that your body will benefit from.
Taste Review: Jocko Greens vs Athletic Greens
Neither of the blends have the best-tasting greens powder.
However, Jocko Greens offers two flavors: Peach and Coconut Pineapple. These flavors provide a refreshing and enjoyable taste experience, making it easier to incorporate the greens powder into your daily routine.
On the other hand, AG1 by Athletic Greens comes in one natural flavor. It's quite green, leafy and raw. This can be offsetting for many people and it's not the best for beginners. That said, it's quite good to mix with juices or smoothies.
Alternatively, I would look for something like SuperGreen Tonik, with a nice refreshing berry tasting drink that hides most of the "greens" flavor and it's quite enjoyable to drink. We have also reviewed other greens that offer more than one flavor like Bloom or Kiala.
Price: Jocko Greens vs Athletic Greens
Product
Package Size
Pricing Option
Price
Price per Serving
Jocko Greens
30 servings
One-Time Purchase
$52.99
$1.77
Subscription (10% off)
$47.69
$1.59
Athletic Greens
30 servings
Travel Pack
$89
$2.97
30 servings
Pouch with subscription
$79
$2.63
60 servings
2 pouches with subscription
$149
$2.48
30 servings
Single Purchase
$99
Key-takeaway: Jocko is much more affordable, and it can be the choice for those looking to start with green powders. That said, both of them might feel like a waste of money if you take into consideration how effective they are.
Jocko Greens offers two purchasing options:
The one-time purchase price for a 30-serving container of Jocko Greens is $52.99.
If you choose to subscribe, you can save 10% on each container, bringing the price down to $47.69 per month.
Athletic Greens offers multiple purchasing options to cater to different needs.
The travel options include a 30-serving pack priced at $89, which comes with a shaker and an additional 5 travel packs.
If you opt for a bigger pouch, the prices are as follows: $79 for 30 servings, $149 for 60 servings, and $149 for a single one-time purchase.
While Athletic Greens is more expensive compared to some other greens powders, it provides a 90-day money-back guarantee, giving customers peace of mind when trying the product.
It's worth noting that AG-1 appeals to a more premium market and aims to compete among the best greens, whereas Jocko is a budget-friendly option. For the latter, we recommend Enso Superfood Greens.
Customer Reviews: Jocko Greens vs Athletic Greens
As discussed in the introduction, both Jocko and Athletic Greens have very positive customer reviews.
Reviews on Amazon for Jocko Greens are 4.5 stars in over 1,500 customer reviews, with 70% being 5 stars.
On the other hand, AG-1 by Athletic Greens scores 4.4 in over 3,200 reviews!
There's no denying that both are well-received.
Pros & Cons
Athletic Greens AG1 Pros
Bigger serving size (more effective)
More ingredients
Slightly more effective for your health
90-day money-back guarantee
Jocko Greens Pros
Budget-friendly
Transparent label
Better probiotics
Fully organic
Athletic Greens AG1 Cons
Proprietary blend
Largely underdosed
Very expensive
Only 1 flavor
Jocko Greens Cons
Underdosed in key ingredients
No money-guarantee
Not the best tasting
Conclusion: Athletic Greens vs Jocko Greens
Looking at everything we've learned in this Athletic Greens vs Jocko Greens comparison, we cannot recommend either.
There is no denying that for people who don't consume enough greens and vegetables in their diet, these two products are going to be an upgrade.
AG-1 by Athletic Greens will be better suited for those who can afford extra to ensure better coverage. However, we like the transparent labeling and the flavor options (as well as the competitive price) Jocko Greens offers.
Sadly, though, their transparency reveals that most greens are massively underdosed, so unless you are planning on doing double or triple servings, it's not going to be as effective as you would have hoped for.
That's why if you are on the lookout for a comprehensive greens blend that it's worth every penny, we recommend SuperGreen Tonik.
Instead, for a more budget-friendly option, Enso Supergreen will be the choice for you.
Related Content