6 of the Best Ready to Drink Meal Replacements 2021
RTDs or Ready to Drink meal replacement shakes are the most convenient form of food. No need to prepare anything, no need to clean you shaker, no need to worry about measuring. Just "Grab N' Go". However, choosing which is the best ready-to-drink meal replacement is not as easy.
For once, most of the top RTD shakes are more expensive than the powder counterparts. Secondly, they are usually less nutritious, too. Lastly, there aren't as many options either.
Thus, I have compiled my top picks for best meal replacement drinks to make your life easier. So you can have the healthiest RTDs that actually make you feel good.
I apologize in advance for the heavy cacao/chocolate bias.
Latestfuel's Top 3 RTDs
How to Find Your Ideal Ready-to-Drink
I always struggle on deciding how I will sort out these articles. Should I do it by region? Should I do it by their nutritional profile? Or should I list them by my preference?
In the end, I decided that it was most convenient to list the best ready to drink shakes according to my valuation.
I have put a tag on which country they are available on. However, if you are too impatient, here you have my picks sorted out by country:
Best RTD in the US.
Huel.
Soylent Drink and Soylent Cafe.
Saturo.
Honorable mention goes to Plenny Drink from Jimmyjoy. I have not listed it below, but it is a good alternative from $3.25/400kcal. The reasons why I have not included Plenny drink are the fact that is often unavailable (they ship from Europe) and that there is only one flavour that you can purchase, vanilla.
Best RTD in Europe (Including UK)
YFood.
Huel.
Saturo
Feed
Mana
Again, Plenny Drink is worth considering at a starting price of €2.50/400kcal. I wish they had more flavours than vanilla available. Another brand worth considering is Soylent (only in the UK).
Best Vegan RTDs
From a nutritional standpoint, all these shakes are vegan, excluding YFood, which contains milk. Besides, Huel and YFood are soy free, and perhaps the most different when looking at the ingredient list.
Without further ado, let's dive into my top ready-to-drink meal replacements.
---
The Very Best RTDs (US & EU)
1. YFood Original
Best Tasting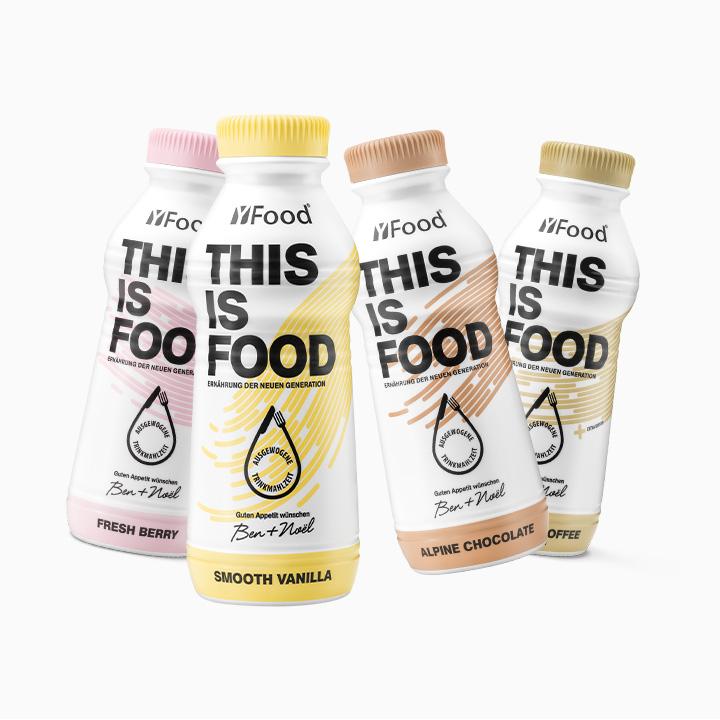 Pros
Most protein per calorie in RTDs
Good selection of flavours
Best tasting RTD
Competitive price
Two sizes available
Cons
Brand focused on Germany
Not a vegan RTD
Only available in Europe
YFood is my favourite RTD brand, and has, in my opinion, the best chocolate ready to drink shake in the market. Unfortunately, this is only available in Europe, so if you are from the US, you will have to stick to Huel or Soylent.
Furthermore, YFood is quite a curious brand with a quite unique product. While most are vegan and based on soy protein; YFood uses lactose free milk as a base. Consequently, the taste profile is slightly different, with similarities to dairy milkshakes. It is this one of the reasons, why I prefer YFood to the others.
On top of being special, YFood is also very competitive in price; with some of the most affordable shakes in Europe (particularly the 500ml version). Speaking about the 500ml version, it is worth noting that all YFood RTDs are available in both 330ml (330kcal) and 500ml (500kcal) bottles. This offers some flexibility to the buyer.
Finally, it is worth noting that YFood has the highest amount of protein per calorie in any RTD. Each 500ml will offer you with 33g of top quality protein.
Texture
I compare YFood to protein shakes available in supermarkets; smooth, milky and fairly thick (although the last iterations have been more watery).
Taste
Milky chocolate taste, without the soy background other RTDs (Soylent, Saturo have). It will be very familiar to you, if you have consumed chocolate protein shakes or milkshakes.
Hunger Quenching
The YFood shakes will successfuly keep you full for about 3-4h without any issues.
Ingredients
YFood (chocolate): low fat milk (1.5%), water, milk protein, maltodextrin, coconut powder, sunflower oil, oat fiber, canola oil, rice starch, low fat cocoa powder, vitamin blend, emuslifier: sunflower lecithin, sweetener: acesulfame K, sucralose, stabilizers: gellam gum and carrageen, lactase, natural flavouring.
Milk is the primary ingredient in YFood shakes; both for carbohydrates and protein. The protein is fortified with some extra milk protein, which is ideal for both slow and fast digesting amino acids.
Allergens
YFood uses lactose-free milk.
Nutrition
| | | |
| --- | --- | --- |
| per serving | YFood | RI (%) |
| Energy (C/P/F) | 31/28/41 | – |
| Energy (kCal) | 500 | 25 |
| Fats (g) | 22 | 31 |
| Saturated (g) | 4.5 | 23 |
| Carbs (g) | 38 | 15 |
| Sugars (g) | 22 | 24 |
| Fiber (g) | 6.0 | 43.0 |
| Protein (g) | 33.5 | 67 |
| Salt (g) | 0.6 | 9 |
Good For: people looking for high protein RTDs.
---
2. Huel Ready-to-Drink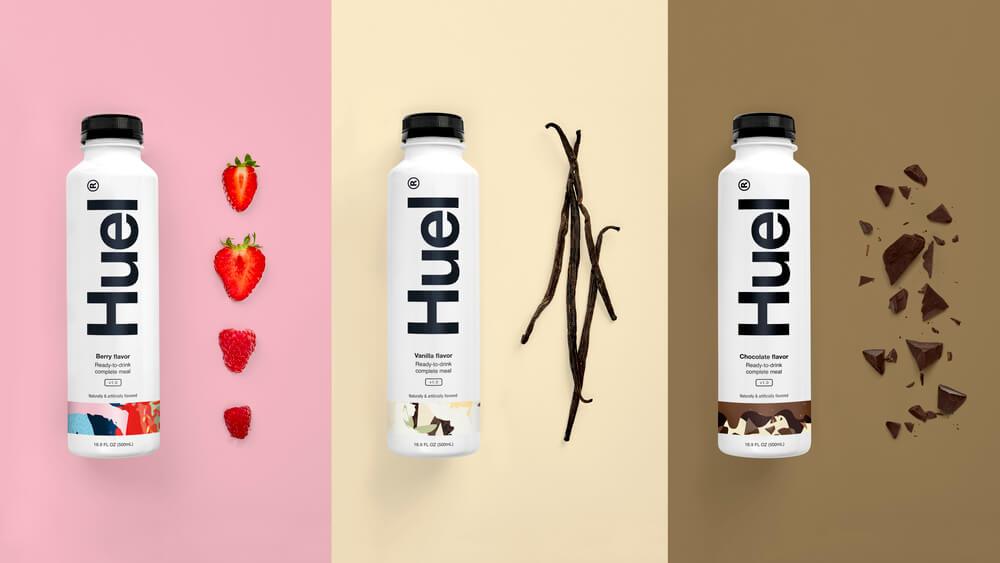 Pros
Best RTD in the UK
Vegan and soy free
Lowest GI
Available in US and EU
Cons
Starting price is high
Not the best tasting
One of the latest additions to the RTD market, Huel Ready-to-Drink is the most beginner friendly product from the British giant. Available in Vanilla, Berry and Chocolate (last only US and UK); it provides with 400kcal in 500ml.
While is not the most affordable shake in the selection, it has some of the best bulk discounts. Together with the bulk discount you can enjoy a further 10% off for subscribing. The prices are particularly cheap in the UK, which makes it my top pick for the UK.
On top of being nutritionally very solid, Huel Ready to Drink is also the only vegan RTD without soy. Thus, if you live in the US, Europe or UK and are looking for an soy-free RTD; Huel RTD is likely your pick.
Texture
If you had had Huel before, the RTD will be a surprisingly smooth change. It is silky, smooth and very easy to drink.
Taste
Unlike the powder, it will not have the oaty undertone and will feel slightly more artificial. However, they are tasty, slightly sweet and pleasant to drink.
Hunger Quenching
Each bottle should keep you full for about 3h.
Ingredients
There is one major difference with Huel RTD, when comparing to the rest of the best RTD shakes in this list. The protein sources are pea protein (much like the powder) which will give a different taste to the shakes. On top of that, it makes it soy free.
Not only that, but Huel RTD does not have any maltodextrin. Instead, they use tapioca starch and gluten free oat powder. These, together with the fats and the protein, lower the GI to 25; awesome if you have any issues regulating sugar.
As far as the fats is concerned, rapeseed oil, MCT from coconut and flaxseed are present in the drink. Huel RTD offers a balanced fatty acid composition with plenty of omega-3 and some MCTs for quick energy.
Vitamins and minerals are provided from a custom blend that gives you 20% of each per 400kcal bottle.
Allergens
Because it is soy free, Huel RTD does not have any major allergen.
Nutrition
| | | |
| --- | --- | --- |
| per serving | Huel RTD | RI (%) |
| Energy (C/P/F) | 38/20/42 | – |
| Energy (kCal) | 400 | 20 |
| Fats (g) | 18.6 | 27 |
| Saturated (g) | 3.9 | 20 |
| Carbs (g) | 33.9 | 13 |
| Sugars (g) | 4.3 | 5 |
| Fiber (g) | 5.7 | 29 |
| Protein (g) | 30.0 | 60 |
| Salt (g) | 0.7 | 12 |
Good For: people looking for soy free products.
---
3. Soylent Drink Cacao
Best US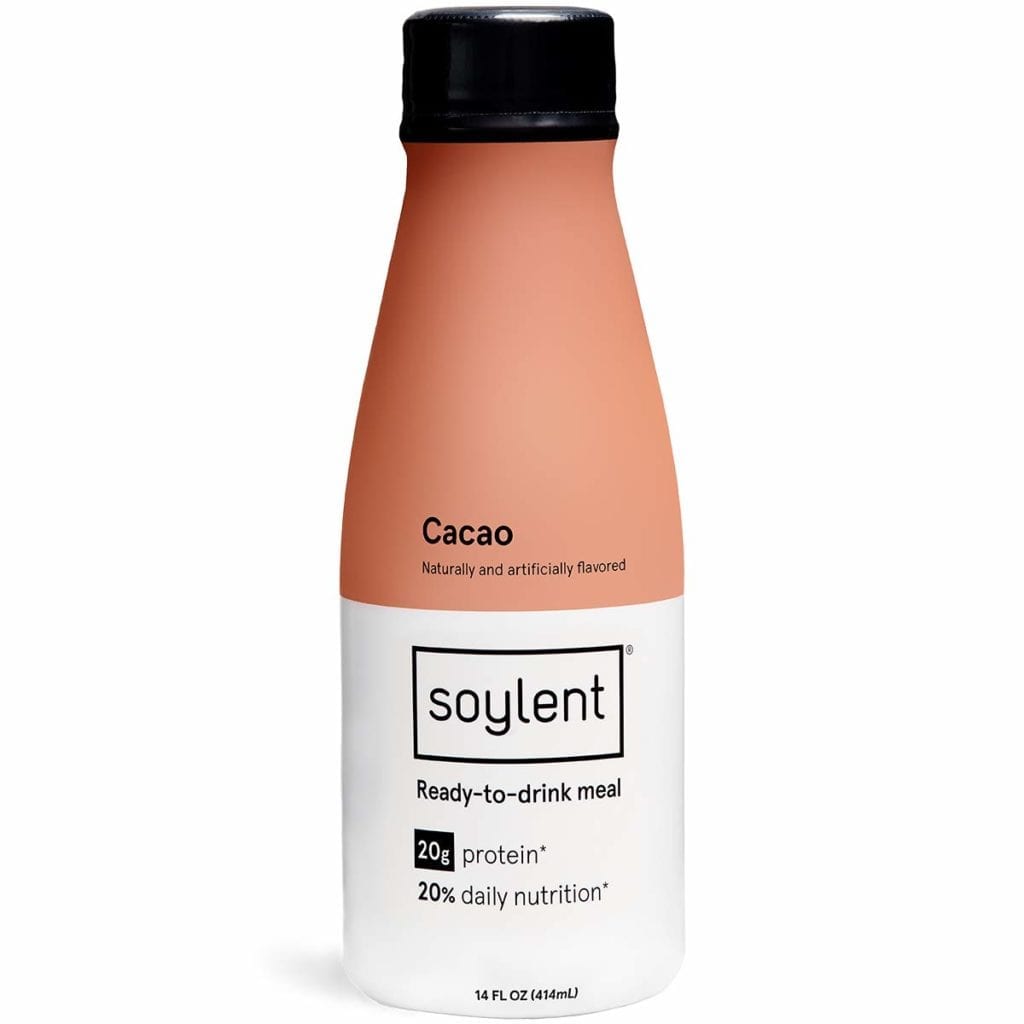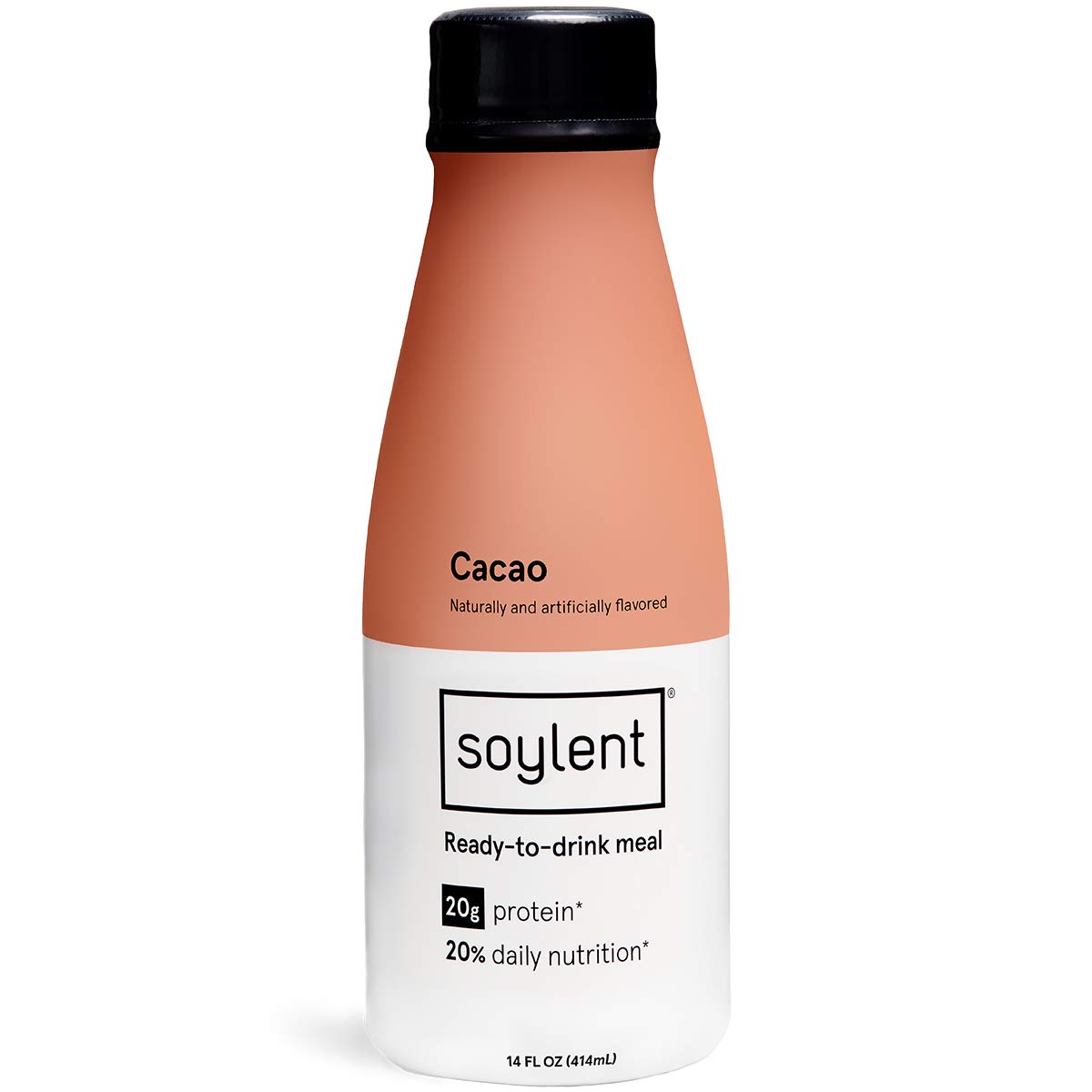 Pros
Nice range of flavours
Great availability in the US
Soylent Cafe tastes great
Variety packs to try the flavours
Cons
Only available in US and UK
GMO ingredients
Low on fiber
Soylent's RTDs are the original; the ones that started all, and have been hugely successful in the US. They are available in the US and in the UK, but not in the rest of Europe.
Not only they are the first, but also some of the most well known. Soylent's ready to drink shakes stand out for the taste and convenience. In the US, you can get Soylent on the site (better for regular purchases) and at the stores (7-Eleven, Costco, Wallmart….), which makes for a very handy meal.
They have two lines of RTDs; Soylent Drink and Soylent Cafe. The names are self explanatory, but besides the caffeine there are no differences. Soylent Drink is available in Original, Cacao, Vanilla and Strawberry. Soylent Cafe can be purchased in Cafe Mocha, Cafe Vanilla and Cafe Chai.
Thus, if you live in the US, I would recommend Soylent over Saturo, due to the flavours available, better pricing and better delivery terms. The best way to start with Soylent are the variety packs.
What about Soylent Bridge? Personally, I think that Soylent Bridge is too expensive for what it is.
Taste
Once again, I feel that Original is too plain and soy-milk like (a little fattier). In my opinion, Cacao is the best; the others can be too artificial and sweet.
Hunger Quenching
Soylent will keep you satiated for about 4h.
Ingredients
Soylent Drink (Original): filtered water, soy protein isolate, maltodextrin, high oleic sunflower oil, isomaltulose, canola oil, modified food starch, oat fiber, vitamin and mineral premix, isomaltooligosaccharide, soy lecithin, natural and artificial flavors, salt, gellan gum, sucralose.
Soylent's formula is based on highly processed ingredients, backed by science that will provide you with all the nutrients that you need. One difference with Saturo is that Soylent might include GMO ingredients on their shakes.
Allergens
Soy is present in Soylent ready-to-drink products.
Nutrition
| | | |
| --- | --- | --- |
| per serving | Soylent Drink | RI (%) |
| Energy (C/P/F) | 35/19/46 | – |
| Energy (kCal) | 400 | 20 |
| Fats (g) | 21 | 30 |
| Saturated (g) | 2.1 | 11 |
| Carbs (g) | 32 | 12 |
| Sugars (g) | 9.3 | 10 |
| Fiber (g) | 2.9 | 15 |
| Protein (g) | 20.0 | 40 |
| Salt (g) | 0.8 | 13 |
Good For: people living in the US and looking for flavours.
---
4. Saturo Drink -500ml Chocolate
Pros
Great prices in Europe
Good range of flavours
Nice chocolate shake
Cons
Inferior offering to Soylent in the US
Highly processed ingredients
Saturo is a brand that is available in both Europe and the US. Their recipe is very much like Soylent's. However, their offering in Europe is much better, and thus, I would put Saturo ahead of Soylent for Europe.
The Austrian brand's strengths are the price and the range of flavours that they offer. Currently, they offer 6 different flavours (Original, Vanilla, Chocolate, Strawberry, Coffee and Banana), which is more than any other. They also had some limited editions for a while, all which were better tasting than the standard line up.
You will be able to find Saturo RTDs in 330ml (330kcal) and 500ml (500kcal) bottles; although, not all sizes have all flavours, unfortunately. The bigger bottles are the more affordable ones, but also the ones with less flavour options.
Taste
In all honesty, chocolate is my favourite; however, Saturo offers high flavour fidelity and most are very good. Only the Original is something rather ordinary.
Ingredients
Saturo (Original): Water, Maltodextrin, Soy Protein Isolate, High Oleic Sunflower Oil, Isomaltulose*, Canola Oil, Tricalcium Phosphate, Dimagnesium Phosphate, Potassium Citrate, Sodium Fluoride, Zinc Sulphate, Sodium Selenite, Chromium Chloride, Manganese Sulphate, Potassium Iodide, Sodium Molybdate, Vitamins A, D, K, C, B1, B2, B6, B12, Niacin, Folic Acid, Biotin, Pantothenic Acid, Starch, Oat Fiber Gluten Free, Isomaltooligosaccharides, Emulsifier: SoyLecithin; Stabilizer: Gellan Gum, Locust Bean Gum; Salt, Flavourings.
This set of ingredients is very closed to the original formula set by the Soylent RTDs. In the end, it is a mix slightly low in fibre, however with a low GI due to the high fat content.
Nevertheless, you will get all the nutrients you need with Saturo shakes.
Allergens
There is soy in Saturo shakes.
Nutrition
| | | |
| --- | --- | --- |
| per serving | Saturo | RI (%) |
| Energy (C/P/F) | 36/21/43 | – |
| Energy (kCal) | 500 | 25 |
| Fats (g) | 24 | 34 |
| Saturated (g) | 2.2 | 11 |
| Carbs (g) | 44 | 17 |
| Sugars (g) | 11 | 13 |
| Fiber (g) | 4.9 | 25 |
| Protein (g) | 25.0 | 50 |
| Salt (g) | 1 | 16 |
Good For: those looking for different flavours.
---
5. Feed RTD – Chocolate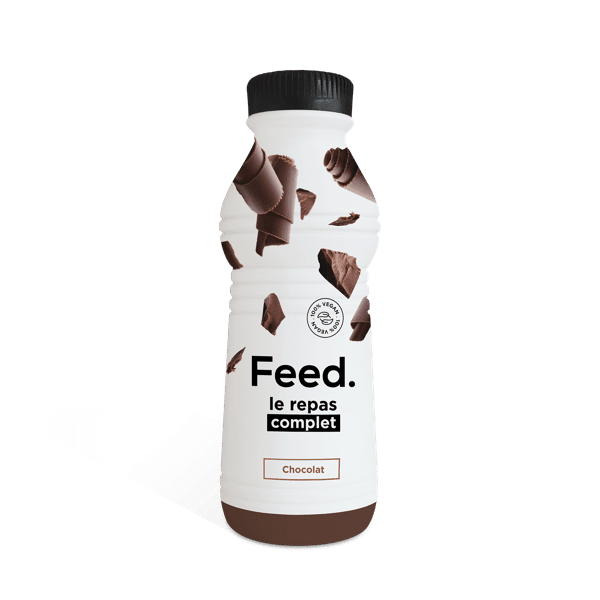 Pros
Only savoury flavour
400 and 600kcal RTDs
Cons
Available only in Europe
Low protein content
Feed. is the craziest company in the meal replacement market, due to the sheer size of their catalogue. In that catalogue, you have Feed. RTDs, which are very sweet and tasty shakes.
Out of the three flavours they offer currently (Strawbery, Vanilla and Chocolate), chocolate is undoubtedly the best. I lied, there is another flavour: Vegetables. That is right, Feed. has the only savoury RTD available in the market.
When comparing to other products on the list, Feed.'s RTD stands out due to the lower fat content and higher carbohydrate content. Furthermore, it is one of the shakes with the lowest protein per calorie. Besides the nutrition, they also offer the biggest RTD, with 600kcal per bottle (750ml).
Taste
Both Vanilla and Red Fruits are overpoweringly sweet, while the chocolate is not as much. I would recommend chocolate for that reason.
Ingredients
Feed. Chocolate: Water, maltodextrin, soy protein isolate, 2% low-fat cocoa powder, sunflower oil, rapeseed oil, gluten-free oat fibre, natural flavours, emulsifier: sunflower lecithin, thickener: gellan gum, rice starch, carob bean gum, salt, sweetener sucralose, minerals: phosphorus, potassium, calcium, magnesium, iron, zinc, copper, manganese, selenium, chromium, molybdenum, iodine, vitamins (A, D3, E, C, B1, B2, B3, B6, B5, B8, B9, B12, K)
The most curious thing is the presence of maltodextrin without isomaltulose, This means that the overall GI of Feed.'s shakes will be higher than the competitors (enhanced by the higher carb content).
Allergens
Feed. RTD contains soy.
Nutrition
| | | |
| --- | --- | --- |
| per serving | Feed. RTD | RI (%) |
| Energy (C/P/F) | 52/15/33 | – |
| Energy (kCal) | 435 | 27 |
| Fats (g) | 15 | 20 |
| Saturated (g) | 1 | 5 |
| Carbs (g) | 55 | 21 |
| Sugars (g) | 3 | 3 |
| Fiber (g) | 7 | 28 |
| Protein (g) | 15 | 30 |
| Salt (g) | 1 | 16 |
Good For: People looking for a savory RTD or really sweet flavours.
---
6. Mana Drink – Original
Pros
Most compact RTD
Great omega-3 profile
Very filling
Cons
Flavours a little flat
Salty background taste
Need to drink water after
ManaDrink is a Czech company that has Soylent like products; high fat low carb. However, what makes Mana Drink special is how compact their RTD is. 330ml give you 400kcal; making it the most calorie dense ready to drink.
This has benefits, such as, the fact that they take less space or that some will find it easier to consume. However, it does have some drawbacks, particularly the fact that they make you thirsty.
Mana has 4 flavours: Dream (Chocolate), Love (Red Fruits), Sunlight (Tropical) and Origin. In my opinion, Origin is the best out of the bunch (surprisingly), with a nice vanilla milk taste.
You are able to purchase Mana in Europe and soon (fall) in the US. You will find that the website is packed with nutritional information and lab analysis, proving the quality of their products.
Taste
Unlike Saturo and Soylent, Mana Origin is the best flavour in my opinion. The others are a little flat and have a salty finish (from the vitamins and minerals) that do not go well with the flavours.
Because Mana is so compact, the drink does feel a little more buttery and fatty.
Hunger Quenching
You will have no problems to be full for 3h.
Ingredients
Mana Drink (Origin): water, maltodextrin, soy protein isolate, canola oil, isomaltulose, oat beta glucans, emulsifier: soy lecithin, oil from microalgae Schizochytrium Sp., cold pressed coconut oil, sunflower oil, bulking agent: microcrystaline cellulose, sodium potassium, calcium, magnesium, zinc, iodine, bulking agent: cellulose gum, cold pressed flaxseed oil, sweetener: sucralose, vitamin A, thiamin, tiboflavin, niacin, pantothenic acid, vitamin B6, biotin, folic acid, vitamin B12, vitamin C, vitamin D2, vitamin E, vitamin K1, flavouring.
Perhaps, Mana's strongest point is the better rounded fatty acid profile. They provide you with plenty of omega-3, including EPA and DHA (that have proven beneficial effects) that are not included in many others. They achieve this by using oil from algae, a very rare ingredient indeed.
Allergens
Mana contains soy.
Nutrition
| | | |
| --- | --- | --- |
| per serving | Mana Drink | RI (%) |
| Energy (C/P/F) | 35/21/44 | – |
| Energy (kCal) | 400 | 20 |
| Fats (g) | 21 | 30 |
| Saturated (g) | 2 | 10 |
| Carbs (g) | 36 | 9 |
| Sugars (g) | 8 | 9 |
| Fiber (g) | 4.3 | 22 |
| Protein (g) | 21 | 40 |
| Salt (g) | 1 | 17 |
Good For: people living in the US and looking for flavours.
---
What If I Live Outside US and EU?
For most regions besides these two, it will be hard to find suitable alternatives. Even in Canada, you will not be able to purchase most of the RTDs mentioned above (Soylent, Huel, Saturo) due to the governmental restrictions.
Some of these brands, namely, Huel and Jimmyjoy (not included), do offer worldwide shipping. Despite this, because they use weight as a factor to estimate the shipping, it will be really expensive.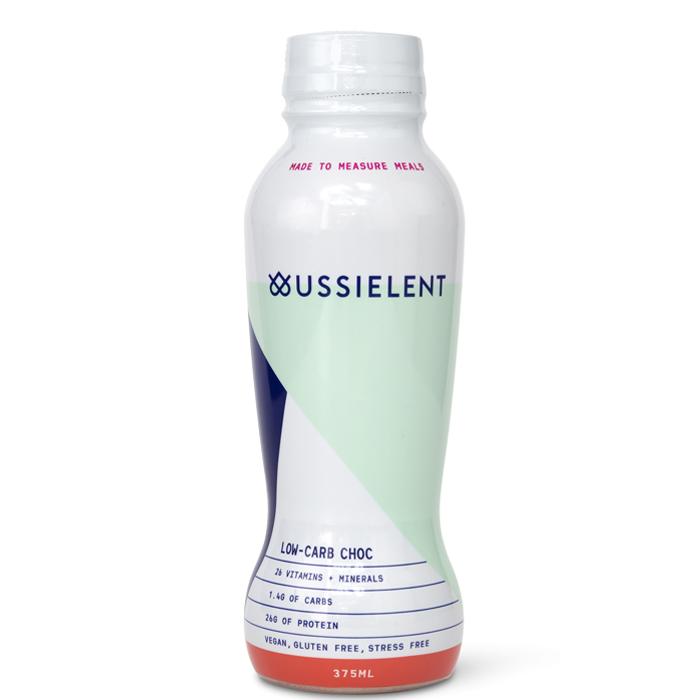 The shining star in the darkness is Aussilent. This Australian brand has 2 different ready to drink products, with one low-carb option (Ketoish) and one more similar to Soylent (but still more fat).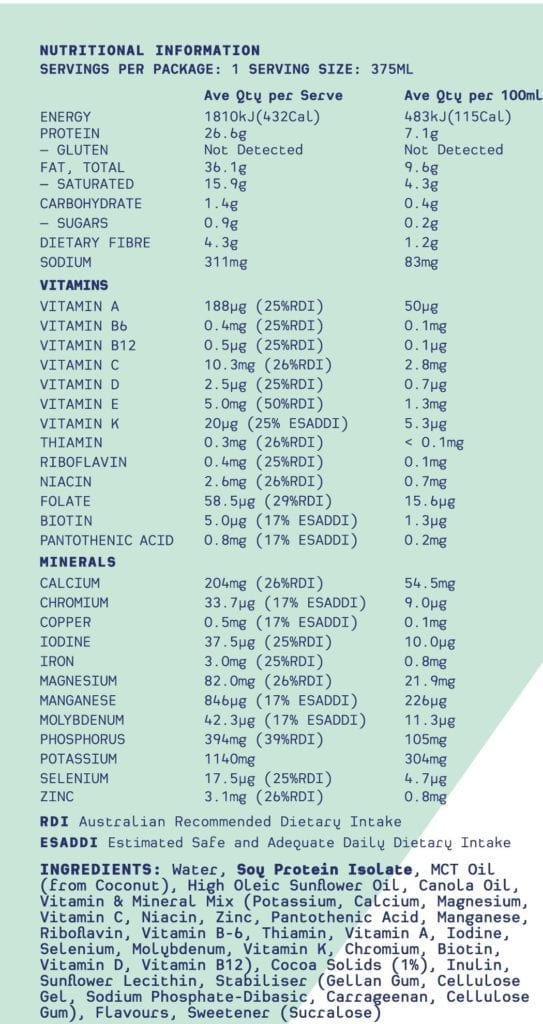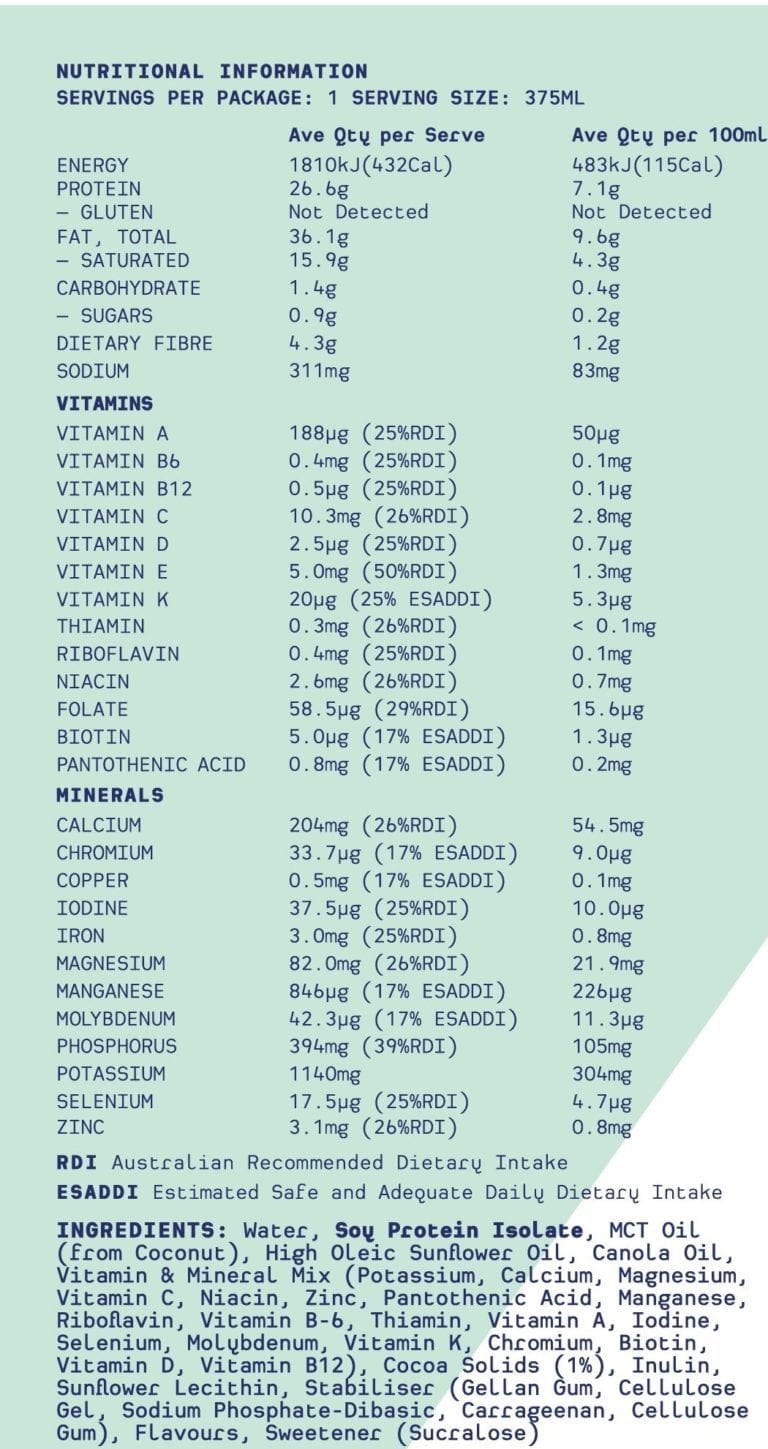 ---
Best RTDs That Are Not RTDs
What? You might be a little confused by the title, but I wanted to mention other products that offer the convenience of ready-to-drink meal replacements; while not being RTDs. I am talking about powder in the bottle meal replacements: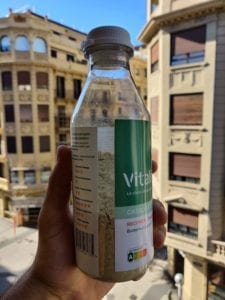 These offer the portability that RTDs do, but not the unique and smooth texture. Thus, while nutritionally there is more flexibility, the ultimate experience is closer usually to having a powder meal replacement.
Extra-US. Ample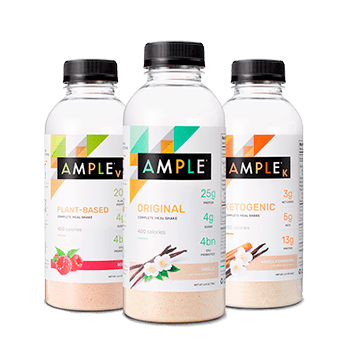 Either way, in the US I would like to mention Ample; brand that has a vegan, non-vegan and keto meal replacement shake on this format. Ample is a high-end brand with quality products, that have featured in some of the other best of (like the best keto shakes).
All these shakes are based on real food and contain no artificial ingredients. The nutritional profile is a little high in fats and low in carbohydrates; particularly on the Keto version (with only 5g of net carbs.
Extra- EU. Vitaline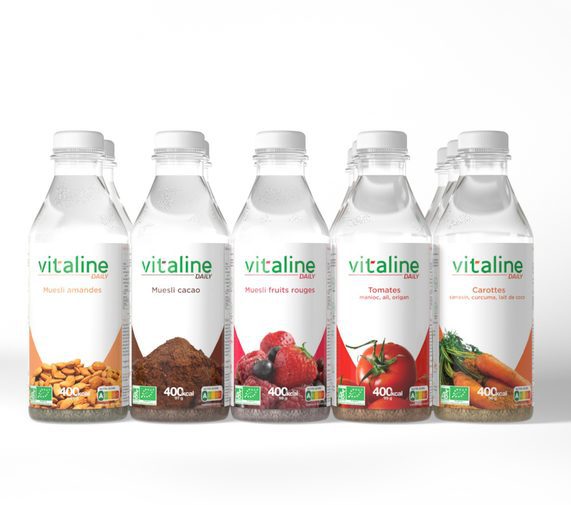 In Europe, I would remark Vitaline, a French brand with excellent organic meal replacements. The shakes strike as natural and refreshing, while the flavours are not as enhanced as in other RTDs.
Vitaline shakes excel due to the high quality ingredients and some of the highest scores in Nutriscore (a French system to value the quality of food). This reflects that they are nutrient rich, easily absorbed and incredibly healthy.
---
An Overview to RTD Market
North America
Ready to drink meal replacements have been around the US for a while, since Soylent launched Soylent Drink Original back in September 2015. They followed up with more flavours, namely, Cacao, Nectar (12/16), Strawberry (06/18) and recently Vanilla (09/18). Plus, Soylent Cafe (the caffeinated version) in August 2016, expanding the flavour options in June 2017 (Cafe Vanilla and Cafe Chai).
In July 2017, Soylent was available in 7-Eleven shops, which was a great jump forward on the introduction of complete foods to the general audience. Now, you can find them in other stores like Kroger, Walmart or Target; besides over 8,000 7-Elevens.
So, Yes a Lot of Soylent, but What About Other Soylent Alternatives?
Currently, there are 4 brands offering RTDs in the US: Huel, Soylent, Jimmyjoy (Plenny Drink) and Saturo. However, in this fall ManaDrink (a Central European giant) will join them in the US.
Sadly, Saturo, Mana and Soylent are very similar to each other in ingredients and macronutrient distribution. While they all offer something unique, I think Soylent still comes ahead.
Europe
The RTD market in Europe is at the most competitive it has ever been. Mana Drink was launched at the start of 2017. Closely followed by the Austrian RTD one-trick Saturo, which has become one of the biggest names in the market and is now already to jump to the US.
Later on, YFood brought a non-soy based RTD (my top pick). More recently, there has been other brands like Huel, Feed. or Trinkkost jumping on the RTD hype train.
Oh, and let's not forget. Soylent is also fight for a piece of the pie in Europe, after they launched their products via Amazon in the UK.
RTDs in the World
RTDs in the World
Company
Price
Ships To
Profile
C
P
F
Soylent
$$$
US&UK
V,GF
38
19
43
YFood
$$$
EU
NG,GF
31
28
41
Saturo
$$
EU&US
V,NG,GF
35
20
44
Feed.
$$$
EU
V,NG,GF
52
15
33
Runtime
$$$
EU
38
29
33
Sated
$$$$
World
V,K
8
17
75
Plenny Drink
$$
EU&US
V,NG
54
13
33
Jake Drink*
$$$
EU
V,NG
34
23
43
Huel RTD
$$$$
EU&US
V,NG,SF
38
20
42
Ample
$$$$
US
V,K*, NG
25
27
50
Mana
$$$
EU&US
V,NG
35
20
44
Trinkkost
$$$$
EU
V,NG
43
26
31
Appetite
$$$$
BEL
–
–
–
–
VitalHouse
$$$
NA
V, NG, GF
40
29
31
GF– Gluten Free.
V– Vegan.
NG– Non-GMO.
K– Keto.
LF– Lactose free but not Vegan.
SF– Soy Free.
---
Why Are RTDs So Popular Now?
First and foremost, it is important to remark that the meal replacement market is in its infancy right now. Much of the potential audience has not been introduced to complete foods and thus there is a huge piece of the pie yet to be tasted.
Thus, the companies are attempting different marketing techniques, as well as, producing various types of products, in order to find the key to the general population.
As such, they are trying to come up with the "perfect" product that will solve some of the issues the market presents (selling in retail, overcoming competition, convenience, price…) for both new and old consumers. RTDs have many advantages in this regard.
Furthermore, after seeing how Soylent made a bet on their RTD over the powder version and endeed up succeeding; it is normal that the European counterparts have tried to emulate it. Soylent achieved controll the US market and ensured retail deals with some of the biggest retailers in NA with Soylent Drink.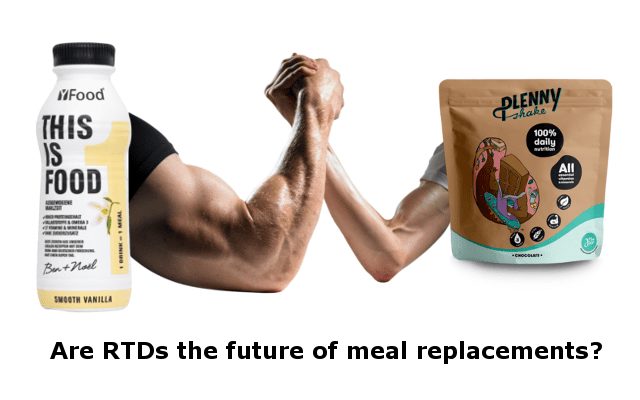 Ready-to-drink vs Powder
There are also other key factors that make RTDs more appealing to the consumers and the brands.
Benefits of RTDs
Convenience. Let's start with the most obvious one. RTDs are far more convenient than powders, particularly if you are to drink them on the go. It is not only that, but there is also the accountability factor. RTDs do not require use of scoops or any measurements. You know what you are getting in each drink, and that is a big load off some people.
Portability. Tied with the last point, it is obvious that RTDs are more portable than the powders. You do not need to bring a shaker, a pouch and/or water. You can take them almost anywhere (except plains) and drink them in an instant.
Time. Meal replacements are partially about saving time. There is not a quicker meal than the one already prepared for you in a bottle. Just open and drink.
Stigma. Complete foods have a certain stigma. "They are not real food". "They are unhealthy". "They are weird". Some people are put-off by shakers, powders and the preparation. However, the same people will likely buy a smoothie in the supermarket or even a protein shake. Just because they do not see the preparation method and these two are more accepted in the society.
Easier to sell in retail. Partially linked with the last reason I gave, RTD products will be more easily sold in retail. Think about it. Are you more likely to buy protein powder or a protein shake in the supermarket. There are a lot of factors that influence this decision in the consumer, but familiarity is one. I feel that currently customers are more familiar and comfortable with nutritional drinks than are with nutritional powders (the second just does not seem natural).
Easier for people to start with. Maybe a follow up of the last point, RTDs are easier to start with (if sold on retail). You can easily only buy one and it is not a big commitment (maybe a €2-4 commitment). If you see them close to the usual protein shake you buy, you might think "why not?".
Easier to buy. If they are in fact, expanded to real world stores (not online), like Soylent in US and Saturo in Austria, they are easier to buy. Not only because they are easier to compartmentalize in a store than powder (think about all the types of store that sell some kind of drinks over powdered food), but also because as said before they require less commitment and not preparation at all. Just buy and drink.
Consistency and taste. This one is subjective and personal, but RTD shakes are blended with industrial blenders, which creates smoother and better mixed shakes.
What Are the Downsides to RTDs?
Price. All RTD products are more expensive. Soylent Drink for instance is almost $2 more expensive than the powder version. This is due to many factors, including the processing cost, the shipping costs, the packaging… So, currently, if you are on a budget or likely to consume your meals at home, powder versions are far superior.
Production and shipping cost. It is basically the reason why the price tag is so much higher than the powder versions.
Shelf life. One of the issues with mixing the powder with water is that reduces the shelf life of the powder.
Preservatives. Some companies will have to add preservative to make longer shelf lives possible. This will change the formula, perhaps the taste and will go against the company policies of adding chemicals.
Environmentally less friendly. Let's face it, RTDs require more production cost, they are more expensive (both economically and environmentally) to recycle, they have a bigger transportation cost (volume and weight) and require more materials to produce.
More storage. For a lot of us, Europeans, this is an issue; since we live in "tiny" flats. Also, many of the potential consumers (office workers in big cities), they will have limited space in their houses. Having a 30 days worth of RTDs at home requires significant space, that powder simply does not.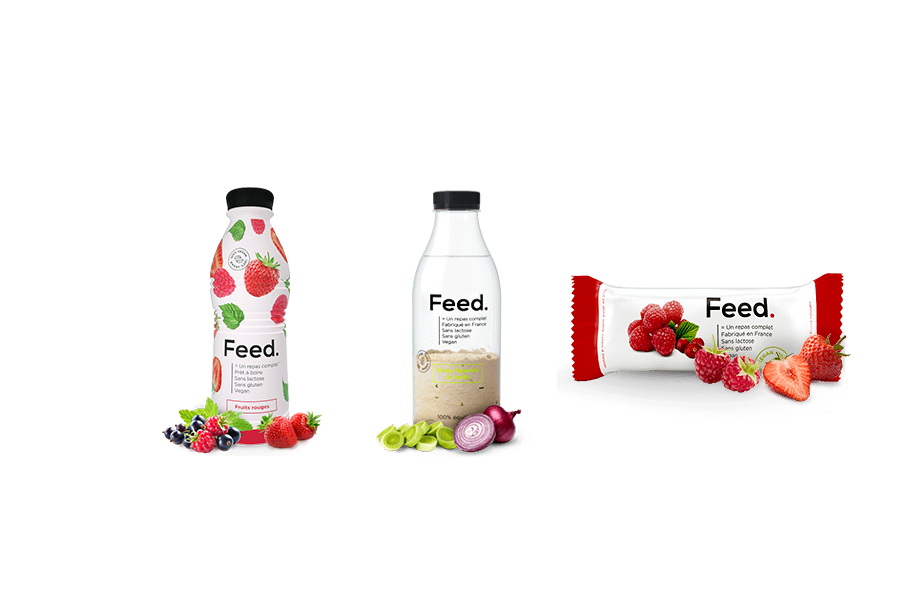 RTDs Vs Meal Replacement Bars
The other alternative for portable meal replacements is bars. Bars are not as common as RTD products, but have quite a following in Europe. Thus, they are more commonly found in European brands. But why would you choose RTDs over bars?
Benefits of RTDs
Regarding how RTDs fair vs bars, the first tend to be nutritionally more complete and balanced. This is due to the fact that bars need to deal with solidifying fats and other manufacturing issues.
On top of that, RTDs have more flavour options and are easier to tweak to different nutritional values. RTDs also offer hydration, while the bars would require a bottle of water or hydration method of choice.
Benefits of Bars
On the other hand, bars require less space, less volume to transport and perhaps are more discrete. They also have a smaller wrapping, which at first glance should mean more environmentally friendly; however, this wrappings are not as widely (easily) recycled as the bottles are.
Besides, meal replacement bars allow you to chew, which is sometimes appreciated when you are mostly on a liquid diet.
---
Are RTDs Environmentally Sustainable?
One fact that no one can hide is that they create significantly more waste than the powder meal replacements. Plastic bottles might be recyclable, but not only they require energy, water and an industrial process to do so; but also often are simply not recycled. Less than half of the bottles in 2016 were recycled and only 7% become new bottles as cited by The Guardian.
Many just end up on the sea. So many in fact, that a report by Ellen MacArtur estimates that there will be more bottles than fish in our oceans by 2050. So, if we are such an environmentally friendly industry, are we going to promote this trend?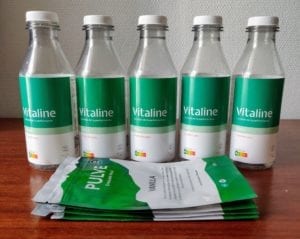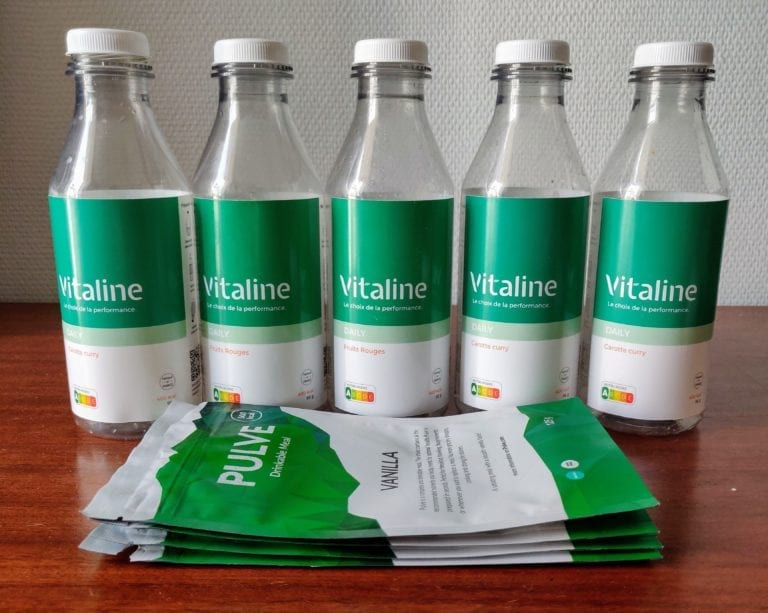 How do Companies Approach This Issue?
For most companies it is complicated, since RTDs have huge economic potential and could be key to open them to a new market. Thus, they need to juggle between their core believes and the need for profit.
Let me put an example. Huel's core beliefs are "being supported by experts", "being affordable", "zero food waste mimimal total waste", "high manufacturing standards", "being ethical" and "being environmentally friendly".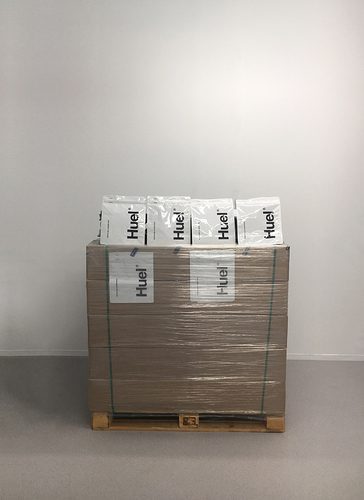 RTDs are not as "affordable", nor are "minimal waste", nor are the most environmentally friendly products. Even less, if we consider many plastic do not end up being recycled.
Huel does try to act upon this by using 25% recycled plastic in the bottles; which are 100% recyclable. Not only that, but they promise to increase this number to 60%.
Biodegradable Bottles
Besides the approach of using recycled plastic, there is the possibility to use biodegradable materials when making bottles. Bertrand (an European organic brand) uses these bottles on the pre-powedered bottles.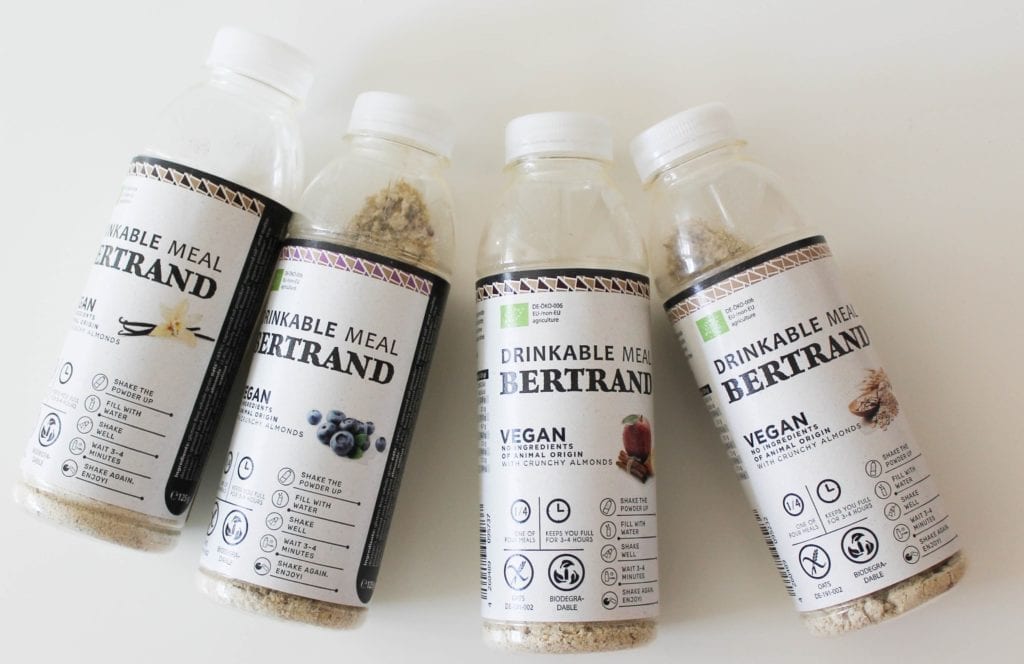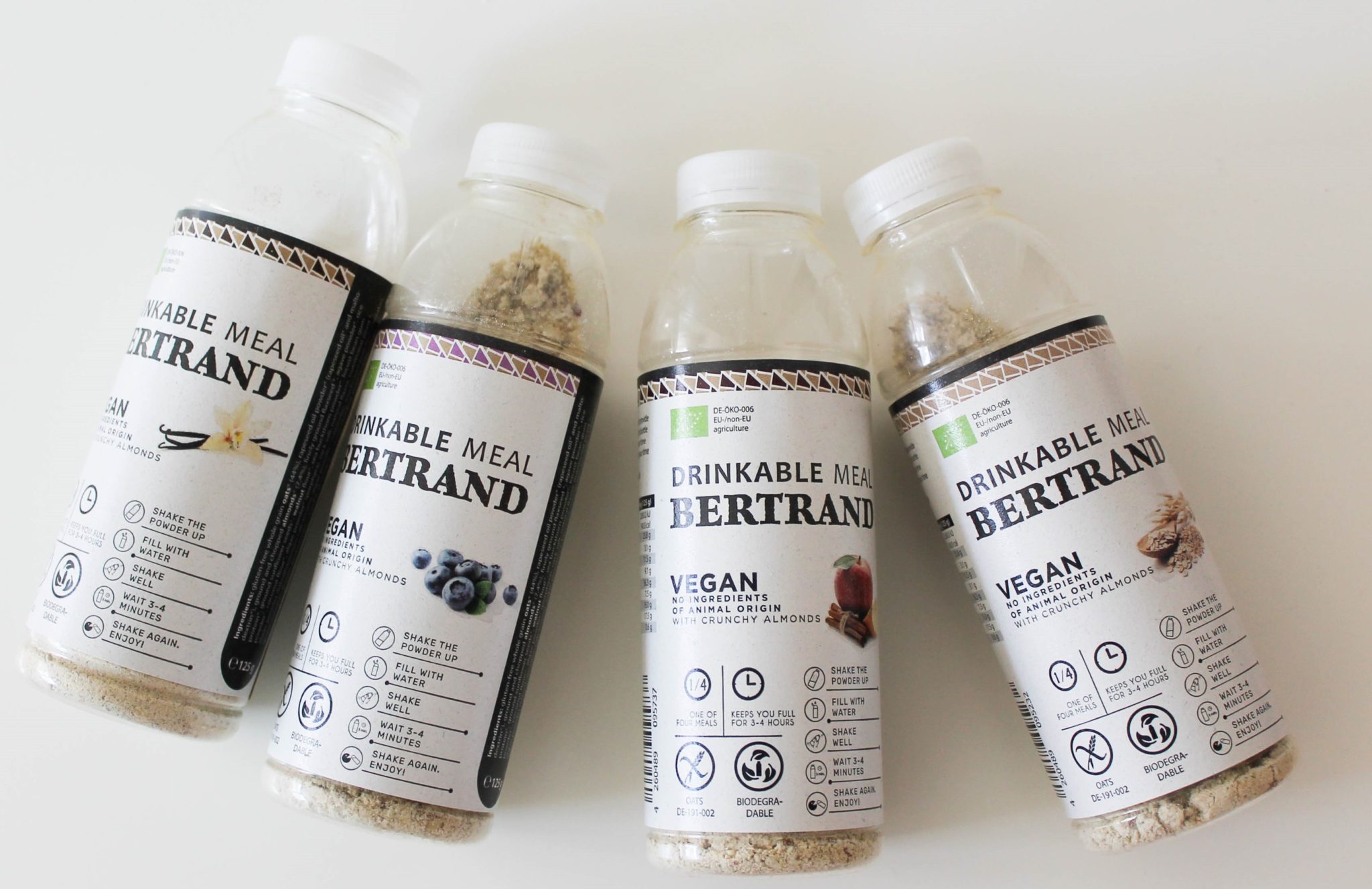 However, while these work with powder they would not work with a ready-to-drink product; due to the fact that they let light pass. On top of that, they would not meet the criteria that would keep the shake in good condition.
Thus, as for now, this is not a viable avenue.
RTDs vs "Normal" Food
One of the arguments that needs to be taken into consideration is that RTDs are still more environmentally friendly that most ready to eat meals. These are often wrapped by multiple layers of protection, some of which hard to recycle.
Thus, it is true that RTDs can cause less impact than "normal food" and could still help in the bigger picture. All as long as the customer also collaborates by recycling.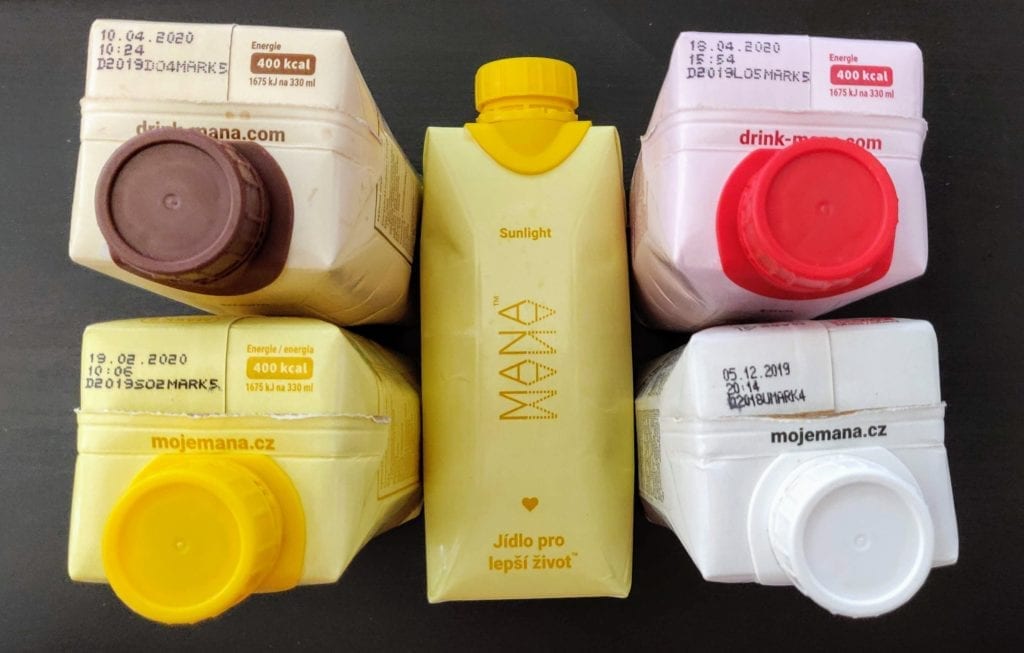 ---
Are RTDs the Future of Meal Replacements?
One of the most clear things is that RTDs are here to stay.
Are They Going to Become the Most Prominent Way to Consume Meal Replacement Shakes?
My guess, based on the protein shake industry, is no. The price difference is too important for most consumers (and definitely for the current audience) to make up for the convenience and portability. Most people will stick to the budget and "meal prep".
Besides, powder meal replacements offer logistical, economical and ecological advantages previously discussed that I do not think RTDs will overcome anytime soon.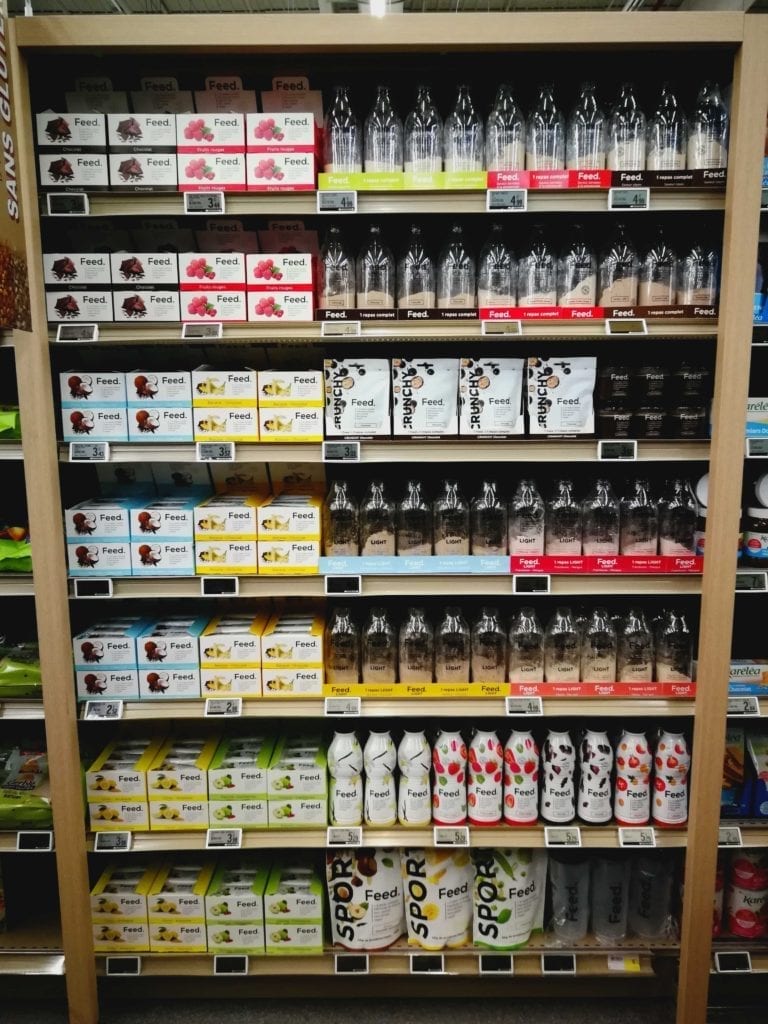 Are RTDs They Key to Open the Meal Replacement Industry to the Masses?
No. I think that will be a longer and more complicated process, where many other factors (marketing, health organizations backing up, time, familiarization with the concept) will have part.
It is, however, a way to start introducing the concept and de-alienize it. A way to let people know that this products are here and are safe for the average Joe. That they are not special shakes for dieting, or people that are ill or those who care "too much" about their health.
Are We Going to See More Ready-To-Drink Products from Other Brands?
There is no doubt about it. For instance, I am eager to see Sated's first in Keto RTD in the world. I think that the offer right now is too similar and that there are way too many opportunities to miss.
However, the expansion of new RTD products is currently gated by the size of the market and huge initial cost of producing them. No brand has the facilities to manufacture them, thus they rely on 3rd party factories that take order by the 10,000s.
Define the Future Industry
However, it is true that now could be a turning point in the meal replacement industry. If RTDs are a huge success, and both old and new customers embrace this kind of product with more ferocity than predicted, they could become the most common way to consume complete foods.
As such, it is always good to remember that part of the industry was born as a more environmental friendly, less impactful way to consume food. Just because we can safe some time we should not forget our core values. Nor why some of us believe in meal replacements as a more sustainable alternative to "real food".
Plastics are a huge problem in the current world, if we make a strong bet for RTDs, we are helping the issue instead of solving it.
---
FAQ
Are these all the RTDs meal replacements?
These are most of the RTDs available in Europe and North America. If you live outside these regions you will have trouble finding a suitable product. The exception being Aussilent's RTD (Australia).


Are RTDs healthy?
In my opinion, they are not as healthy as the powder, but will cause you no harm. The nutrients in the shakes are slightly more processed and less natural, but will still provide you with all you need in a daily basis.


Is there any cheap RTD?
In Europe, Saturo, Plenny Drink and YFood are the most affordable options. In the US, Soylent might be one of the better options, together with Plenny Drink.


Are RTDs better than normal shakes?
RTDs have pros and cons. In general, have a much more pleasant drinking experience, due to the smoothness and taste. However, they are sweeter and more artificial. Nevertheless, the strongest point for RTDs is that they are convenient and you can have a proper meal anywhere, with minimal effort.


Can I live off ready-to-drink meal replacements?
Yes, but I would advise against it. Among other things, because the ingredients tend to be more processed they lose nutrients and phytonutrients. Compounds like antioxidants are going to be more rare in these shakes.

What is the best ready to drink meal replacement shake for weight loss?
Any of these picks can be used to lose weight when paired with calorie restriction and balanced lifestyle. These RTDs are superb at keeping you full and helping you to count calories while providing you a diverse set of nutrients.
---
Final Thoughts
I have covered many things in this best ready to drink meal replacement shakes selection, including topics perhaps beyond the scope of choosing the best RTD.
However, I think they are interesting to think about; particularly the environmental impact RTDs have or how they could be sold (like they are) in supermarkets.
As usual, I hope you have enjoyed my insight in the topic and let me know what your favourite RTD is.
---
Sources
2. US Health Guidelines 2015-2020.
3. WHO Nutritional Guidelines.
4. EFSA Nutritional Guidelines.
5. More in: latestfuels.com/resources. A compilation with different governmental guidelines and references.
6. Ultimate Meal Replacement List. List with all the brands that deliver to the UK.