Herbalife Review | Are These Shakes As Bad As People Say?
Without a doubt, Herbalife is the most well-known meal replacement brand in the world. From a multi-level marketing scam to a wonderful diet shake, everyone seems to have an opinion about this brand. That's why, as the meal replacement expert, it's time for me to do the Herbalife review and tell you all the truth about Herbalife.
Is Herbalife really a scam? How does Herbalife work? Can I use Herbalife to lose weight? Should you buy it? What's really on it? You will find as many positive as negative reviews on Herbalife. But who's right?
I will try to answer all those questions and more in this Herbalife review. I will have a look at the nutritional values (is Herbalife healthy?), at the prices of the shakes, compare them to other meal replacements and give a verdict as an expert.
Spoiler: This is one of the worst products I've ever tried. Herbalife is a nightmare to buy, incredibly expensive for what it is, and has no customer service. On top of that, the company predicates on its vendors, and it's a pyramidal scheme. Instead, I would recommend you look at Lyfefuel or Ka'chava.
---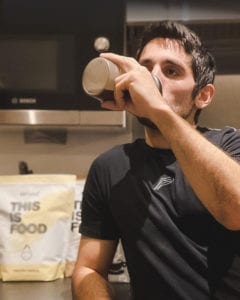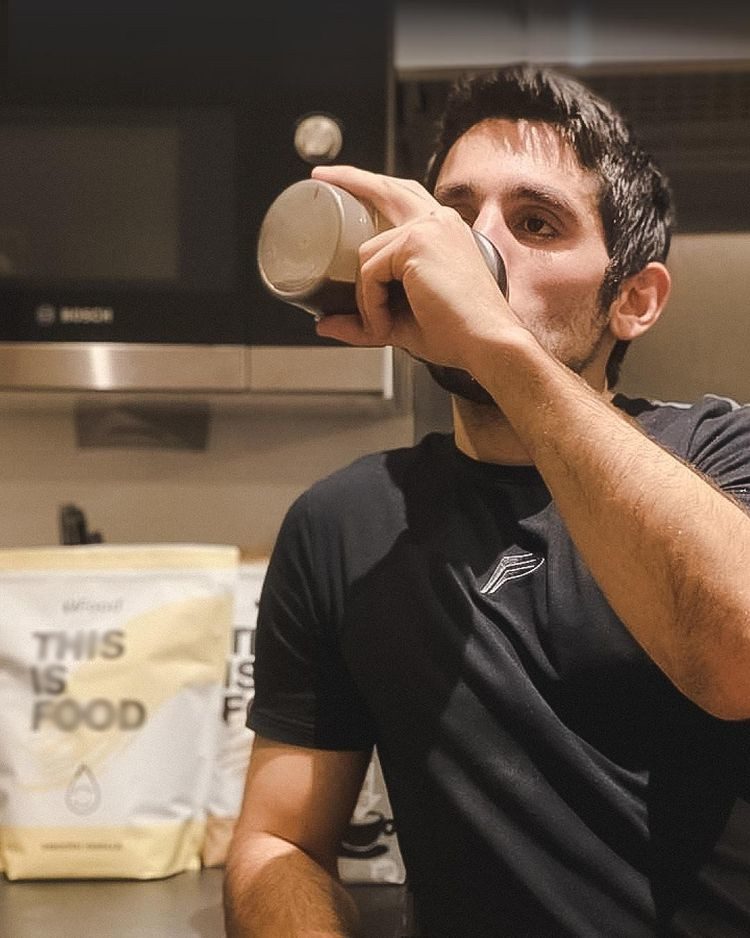 I have been trying and testing meal replacements for over 4 years now. Over the past years, I have tried over 300 different shakes, bars, and other meal replacement products. I have analyzed them, compare them, and written about them extensively here, on Latestfuels.
Enaut, Chief Editor, BSc in Biochemistry
---
Herbalife Review at a Glance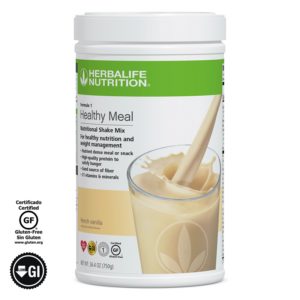 Flavours: Banana, Berries, Cookies & Cream, Chocolate, Cafe Late, and Banana Caramel.
---
Opinion
For this Herbalife review, I didn't really have high expectations. That said I tried to keep my mind open and give the infamous Herbalife shakes a try.
What came after it was a disaster though. From the get-go, my buying experience was awful. I went to the site and I was unable to buy any. Therefore, I used Amazon where there were so many options at different prices that it was hard to work out which one was a good deal. Many of the distributors had only 1 flavor available, and I could not find out how many servings there were per tub.
And then there was the price. 750g for $43?! This is very expensive. I could not believe my eyes. I thought that at least it was going to be cheap.
Thankfully, once the product arrived (not beautifully packed, or with helpful guides on how to start like the top competitors), I had the chance to taste it. This was the only good thing about this whole ordeal.
In short, Herbalife shakes are dreadful, and the only redeeming quality is the taste. Every other aspect has been a nightmare that I wouldn't recommend to anybody.
What I like
1. Good taste and texture. Shakes are easy to like, sweet, smooth, and tasty.
2. Available widely on Amazon.
3. Whey-based and plant-based formulas.
4. 6+ flavors to choose from.
What I dislike
1. Expensive for what it is. For what it offers, Herbalife is very expensive.
2. Nightmare to buy, awful customer experience. It's hard to find what products you can buy, what flavors are available or even to know which allergens the product has.
3. High in sugars, and it has added fructose. Even if the saturated fat is well within the recommended limits, and contains MCTs that can act as fast fuel, I think that it could be slightly lower.
4. Low in essential fats.
5. Can't buy directly from Herbalife website. You need to use an "independent Herbalife distributor".
6. Information is hard to find (allergens, price, product availability_.
7. No bulk or subscription discounts.
8. MLM structure. The company is notorious for taking advantage of its distributors and not caring about the final customer.
Nutritional Breakdown
Nutritionally, Herbalife tries to offer low calorie meal replacements that are best suited for those looking to lose weight. Even then, Herbalife's are far from being the best shakes for weight loss you can buy.
Within their range of products, Formula 1 is the meal replacement shake (Formula 2 and 3 are dietary supplements that I will talk about later). Despite its fancy name, Herbalife Formula 1 is a nutritionally awful meal shake and I would not recommend it as part of a balanced diet.
Formula 1 Herbalife is filled with low-quality ingredients, lacks many essential nutrients, it's filled with sugars and requires you to add milk to be complete. For instance, fructose (sugar) is the 2nd ingredient on the list. Furthermore, there is nothing but highly processed ingredients with very low nutritional value.
All in all, Herbalife meal replacements do not provide much nutritional value and they are not a balanced meal. Besides, it's worth noting that Herbalife is not a vegan brand, but they do have some plant-based shakes.
Herbalife Nutrition Overview
| | |
| --- | --- |
| Kcal/meal | 170** |
| Macros (C/P/F) | 55/40/5 |
| Vegan | No* |
| Keto | No |
| Features | High Protein |
| Non-GMO | Yes |
| Organic | No |
| Includes Probiotics | No |
| Artificial Sweeteners | Yes |
| Synthetic Additives | Yes |
| Contains All Micronutrients | Yes |
| Controversial Ingredients | Fructose |
Only selected flavours are vegan
Soy protein isolate, fructose, inulin, gluten-free oat fibre, soy oil, cocoa powder, minerals mixture (calcium citrate, magnesium oxide, ferrous fumarate, sodium selenite, zinc oxide, manganese carbonate, chromium (III) chloride, potassium iodide, cupric citrate), potassium phosphate, emulsifier (soy lecithin), organic flaxseed powder, thickeners (xanthan gum, guar gum), natural flavouring, colour (caramel), sodium chloride, vitamins mixture (L-ascorbic acid (Vit. C), DL-alpha-tocopheryl acetate (Vit. E), nicotinamide (Niacin), retinyl acetate (Vit. A), D-biotin (Biotin), calcium D-pantothenate (Pantothenic acid), cholecalciferol (Vit. D), pteroylmonoglutamic acid (Folic acid), phylloquinone (Vit. K), pyridoxine hydrochloride (Vit. B6), thiamin hydrochloride (Vit. B1), cyanocobalamin (Vit. B12), riboflavin (Vit. B2)), sweetener (steviol glycosides), papaya fruit powder, parsley herb powder, blueberry fruit powder, pomegranate fruit powder, anti-caking agent (silicon dioxide). Sweetener from natural source.
Carbohydrates
Based on 170kcal serving prepared with 8fl oz of non-fat milk:
Total Carbs: 25g, 9% of DV.
Net Carbs: 22g, (Total Carbs – Dietary Fiber – Non-digestible Carbs).
Sugars: 22g.
Of Which Added: 8g, 17% of DV.
Fiber: 3g, 11% of DV.
Looking at Herbalife Formula one's carbs there are multiple red flags:
High in added sugars. The powder formula (without the added milk) is already really high in added sugars. This is because Herbalife adds fructose, which is usually a low-quality source (unless it's naturally occurring).
Low in fiber. Fiber is essential for gut health and having a regular flow. In Western diets, this is a nutrient that is often lacking.
Low in complex carbs. Complex carbs are slower to digest and can have other nutrients (vitamins and minerals) that provide extra benefits.
All in all, you will be getting the lowest tier carbs possible, and it's clear that this is an area where the brand has looked for the cheapest alternative possible.
Protein
Based on 170kcal serving prepared with 8fl oz of non-fat milk:
Total Protein: 17g, 35% of DV.
Source: soy protein isolate and milk.
Herbalife's meal drinks are high in protein. Part of it comes from soy protein isolate, which is a complete protein source. This is, it contains all essential amino acids, and it's also easy to absorb for your body. Great.
Besides, because the recommended servings suggest adding milk, you will also get naturally occurring protein in milk. These are also excellent when it comes to quality.
Thus, unless you have an intolerance to soy or milk, you'll find that the protein in Herbalife shakes is good.
Fats
Based on 170kcal serving prepared with 8fl oz of non-fat milk:
Total Fats: 1g, 1% of DV.
Saturated Fats: 0g, 0% of DV.
Omega-3s, 0g.
Omega-6s: 0g.
When looking at how little fat there is in Herbalife's meal shakes, some of you might think this is good. Quite the opposite, actually.
Fats are essential nutrients. Our body needs them for energy, to protect our organs, help us absorb vitamins etc. Your body needs to consume fats like omega-3 fatty acids (which are essential for proper brain functioning), unsaturated fatty acids etc.
Since Herbalife has 0g of omega-3 and negligent amounts of fats, it means that it's not a complete source of nutrients. Thus, not as healthy of a meal as they want you to believe.
Micronutrients & Other Nutrients
Regarding micronutrients, Herbalife shakes contain at least 30% of 21 vitamins and minerals. Most top meal replacement brands contain 26, and include nutrients like choline which keeps your brain young.
Besides, many of them also add probiotics, prebiotics and/or greens to help you with your digestion. Herbalife adds none of it.
Allergens
Herbalife shakes might contain milk and soy.
Taste Test
Looking at the ingredients, I had little doubt that Herbalife had at least tasted good. There would be literally no reason to otherwise buy this product.
Plus, most Herbalife reviews hate on the product due to its distribution model, but are quite positive about the taste.
I wanted to buy a taster pack or multiple flavors, but I found 0 options near me, and the Herbalife site wasn't of any help (more of this later). I was even more shocked when I saw the price of the product! 50$ for 550g!!!!
Ridiculous.
I almost stopped then and there, but I got my hands in some Chocolate Herbalife Formula 1, nonetheless. Therefore, apologies for not reviewing all flavors Herbalife offers, but there simply wasn't an easy way.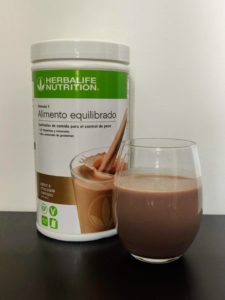 | | |
| --- | --- |
| Best flavour | Chocolate |
| Taste | It's really sweet, very reminiscent of a thin chocolate milkshake. I added milk and this added even more milkiness and sweetness. However, it was actually tasty. |
| Texture | Mixes surprisingly well, there's no sandiness and the shakes were quite smooth. |
| Satiety | Awful. I was hungry an hour after having the meal every time |
| Easy to Clean | Yes. |
| Afterthoughts | Herbalife shakes are fairly easy to drink and pleasant. I suspect this is the same for all flavors, quite sweet, but they blend well. |
Herbalife Shakes Taste Review
As mentioned beforehand, I was only able to test Herbalife Formula 1 Chocolate shake. However, it did give me a good idea of how most Herbalife flavors might taste.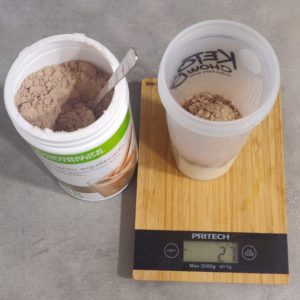 So, is Herbalife tasty? Ultimately, I think that Herbalife shakes are pretty tasty yes. Quite sweet, a little artificial, but it does have that familiar flavor that it's easy to like. It reminded me of a Nesquick or another milk-chocolate powder.
Furthermore, it had a thin but smooth consistency, which made it really easy to drink. I can see how Herbalife might appeal to those that struggle with eating.
That said, if you are not fond of sugary shakes or artificial flavors, you will hate Herbalife. For that, I recommend you check out shakes without artificial sweeteners.
Ultimately, Herbalife's are not the tastiest shakes I've tried (that might be Ka'chava), but they are pretty good.
However, you can check out some great Herbalife recipe ideas to spice your meal shakes a little.
More about Herbalife

Now, we will dive into my favorite part of this Herbalife review. While I usually don't enjoy talking about the company that much, and I rather focus on the product, Herbalife is different. The question is… where do I start?
Herbalife was funded in 1980 by Mark R. Hughes. It has since become one of the most well-known meal replacement brands in the world, partially due to controversy and partially due to their efforts in advertising.
Currently, Herbalife focuses on nutritional products directed to weight loss including meal replacements, protein bars, protein powders etc. They have a revenue of 5.4billion, which showcases that despite the controversy, they are still wildly successful.
Herbalife – The Dark Past
So why am I being so negative throughout this Herbalife review? Do I hate Herbalife? No, well, yes perhaps a little bit.
There are a few issues with Herbalife (that I experienced while trying to buy the product) and how the company fundamentally operates.
Is Herbalife an MLM (multi-level marketing)?
It is perhaps a little outside the scope of the Herbalife reviews, but I want to showcase where you are buying your product from.
The answer to "is Herbalife a pyramid scheme?" is simply, yes.
This means that the company makes most of its money by recruiting people to sell their products, rather than by selling the products themselves.
This recruitment-focused business model has been found to be incredibly harmful, both to the people who are recruited and to the general public.
Herbalife has also been found to use false advertising, misleading claims, and other unethical marketing practices.
The Ugly
For instance, in 2016 Herbalife paid a $200M fee to the Federal Trade Commission (FTC) as part of a settlement after accusations of being one. They even agreed to change their structure within the US.
The fact is that Herbalife uses independent contributors to sell their products, instead of using their website or other well-known retailers (Costco, Amazon, Wallmart…). Why use unprepared professionals instead of your own customer team? Why not have your in-house team deal with sales?
Furthermore, the Herbalife salespeople, "coaches" or distributors are more incentivized to get more people into selling Herbalife than selling Herbalife products. So, does this company really care about what they sell you? Does Herbalife care about the quality of its nutritional products?
Or do they just care about money and profit? You draw your own conclusions.
Here's some more reading if you are interested in the topic of MLM companies or pyramid schemes:
Also a great documentary on MLMs and why they are dangerous:
Pricing & Shipping
Anyhow, I've already strayed from this Herbalife review enough. I just wanted to share my concerns about the company, and reflect on how could affect your customer experience.
In fact, as previously mentioned, I found that buying Herbalife shakes is a nightmare. Here's why:
There's no official site to buy it from. This caused a lot of mistrust to me. I want to know that I'm buying the official product.
Different pricing. Because the independent distributors set the price, there are tons of Amazon "shops" with different Herbalife products and pricing.
Products are hard to find – stock is all over the place. Not all suppliers will have all their product catalogue. Thus, you will struggle to find all the flavors.
Product listings are incomplete and lack information. You will struggle to find out how many servings each tub is, or what other flavors are available, or which allergens the product contains etc. Nightmare!
Pricing
As such, for pricing, I will take Amazon listings as a reference.
Herbalife Formula 1 (1.8oz or 750g) – 30 Servings –> $43.99 or $1.47/serving.
There are no subscription or bulk discounts for most distributors.
Is Herbalife Expensive?
Is Herbalife expensive, then? Well, looking at the raw numbers is not. However, when you consider that for a "full serving" you need to add milk and the serving size, it's clear that it's not the cheapest meal replacement shake on the market.
Let's compare it to some other popular options:
| price ($) per 100kcal | Herbalife F1 | Huel | Instant |
| --- | --- | --- | --- |
| Expensive | $0.86 | $0.61 | $1.05 |
| Cheapest | $0.86 | $0.48 | $1.05 |
Huel is one of the most popular meal replacements on the market, whereas Instant Knockout is a weight loss oriented shake.
Herbalife Products
So what does Herbalife actually offer? Which nutritional products can you buy from them?
Well, there's a big array of Herbalife products but here are the nutritional products: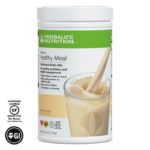 Herbalife Formula 1
Meal replacement shake
Best as a meal substitute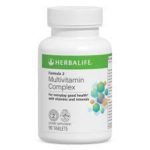 Herbalife Formula 2
Vitamin & mineral mix
Supplement your micronutrient intake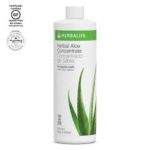 Herbalife Formula 3
Cell activator
Provides nutrient absorption support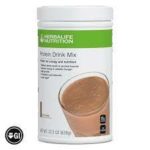 Herbalife Protein Mix
Protein powder
Boost protein intake. Snack.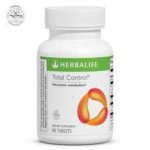 Herbalife Total Control
Nootropic mix
Stimulate your metabolism and awareness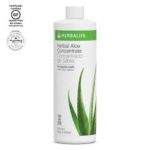 Herbalife Aloe
Moisturizing cream
Calming and hydration
As you can observe above, Herbalife has a wide range of products ranging from protein powders to Herbalife tea, to aloe vera moisturizing creams. Briefly looking at most products, I would say that they are below average. The protein mix and Formula 1 and 2 can be used at times, but Formula 3 feels like a cash grab.
If we look at the Herbalife Total Control review, I must say that this is a very disappointing products. It's set up to be a metabolic booster and a nootropic (cognitive booster); yet, it does neither right. When comparing it to the best fat burners (that usually accelerate your metabolism to increase fat burn), Herbalife Total Control is just awful. Instead, if your goal is to increase your cognitive performance, I would look for mixes with Caffeine, L-theanine, B-vitamins etc. Personally, I use Hunter Focus on a daily basis.
Similarly, the Herbalife program for a weight loss journey is a piece of crap. For proper weight management, I recommend you check our best weight loss shakes, which offer a healthier alternative and are more effective to lose weight.
All in all, I feel like most other Herbalife products are there to make bulk and sell you more unnecessary stuff. I would stick to the Formula 1 and 2, and the Protein mix, at max.
Shipping
Herbalife is available worldwide. Shipping terms, however, will vary according to the distributor that you use. On Amazon, it's very likely that you will be able to use your Prime account for free shipping.
Herbalife vs.
For this comparison, I will compare Herbalife Formula 1 to some of the best meal replacements. In fact, over the past few years, there has been a renaissance of meal replacements that aim to provide you with quality alternatives to fast food. Hence, they are not only for those looking to lose weight but for everybody that wants a healthy meal.
As such, they are very careful in choosing the right ingredients, making sure they provide you with all the essential nutrients and providing you a good customer experience.
Head to Head
| | | | |
| --- | --- | --- | --- |
| Category | Herbalife | Huel Black | Lyfefuel |
| serving price | $1.46 | $2.12 | $2.50 |
| servings per | 30* | 17 | 24 |
| kcal/serving | 170 | 400 | 140 |
| Packaging | Tub | Bag | Bag |
| Flavors | 6 | 9 | 2 |
| Protein (g) | 17 | 40 | 18 |
| Sugar (g) | 22 | 4 | 3 |
| Fiber (g) | 3 | 7 | 1 |
| Fats (g) | 1 | 17 | 2 |
| Carbs (g) | 25 | 24 | 24 |
| Vegan | Y | Y | Y |
| Organic | N | N | N |
| Micronutrients | 24 | 27 | 27 |
| Artificial Sweeteners | Y | N | N |
| Synthetic Additives | Y | Y | N |
| GMO | Y | N | N |
| Protein Source | Soy/Whey | Pea/Rice | Pea/Rice |
| Availability | Worldwide | Worldwide | US |
Herbalife vs Huel
Huel is the most popular meal replacement brand with over 5 different products (bars, powders, hot meals, ready-to-drinks). They are simply the best company that offers a little bit of everything. On top of that, their vegan meal powders are great value for the price.
Nutritionally, Huel's shakes are notorious for being very high in protein, low in sugars, and high in fibers. They take special care when it comes to nutrition, and they are some of the best daily drivers you can have.
In comparison to Herbalife, they offer 9 flavors per meal shake, but have a grittier more oaty flavor. It has a more acquired taste that's not of everyone's liking at first.
Another advantage when comparing Herbalife vs Huel is the price. Huel is much cheaper across the board. Huel's customer service is also among the best.
All in all, there's no reason (besides the taste), why you should choose Herbalife over Huel.
On the top part of the spectrum, we have Lyfefuel. A more premium brand that does natural meal replacement shakes without artificial sweeteners, no soy, no gluten, and all from real food ingredients.
This is, the complete opposite approach to Herbalife when it comes to nutrition. Lyfefuel also offers low-calorie shakes, that are packed with micronutrients, antioxidants, anti-inflammatory agents etc. In fact, they focus on providing you with nutrients you might lack in your diet.
As for the taste, Lyfefuel is easy to like, but it does not have the range of flavors Herbalife does. It's also more expensive due to the quality of the ingredients, so it might be out of budget for some.
They both offer a protein powder, and in this case, I think that Lyfefuel's protein drink is vastly superior. Not only from the taste angle but as a health supplement too. It's got better protein sources and a more complete amino acid profile.
However, if you are looking for the best money can buy, Lyfefuel would be one of my top choices.
Herbalife vs Shakeology
Shakeology might be one of the other most famous meal replacement brands, together with Atkins. Unlike Herbalife, Shakeology tries to appeal to a more premium crowd.
While nutritionally Shakeology shakes do offer something more (better ingredients, more nutritious shakes), they do have some shortcomings as well. In fact, it might not even be worth the difference in price, as Shakeology is much more expensive than Herbalife.
Besides, Herbalife's shakes taste better and have a much smoother texture. I was very disappointed with Shakeology in this regard.
It must also be said that they both have an MLM structure and that neither brand offers good customer service. Shakeology hides their best prices behind "coaches" from which you need to buy the product, for instance.
I would say buy neither, but if you are desperate, Herbalife might be marginally better.
Herbalife FAQ
Is Herbalife good for weight loss?
Yes, Herbalife can be used for weight loss. However, even if it's a low calorie meal, it's not very filling. Thus, it's far from being one of the best for it.


Is Herbalife healthy?
Relatively. When comparing to a takeaway meal or a burger, yes. However, when you compare it to other top meal replacement shakes, it's definitely not as healthy. It contains more processed ingredients, lacks some key micronutrients, and might contain GMO ingredients.



Is Herbalife safe?
Their meal replacement shakes are safe to consume, yes. Despite that, you will have healthier alternatives for long-term consumption (Lyfefuel, Huel, Soylent, Mana…).


Is there any danger in consuming Herbalife?
No, there shouldn't be. Herbalife shakes have common ingredients for human consumption and do not contain any toxic substances.


Can you trust Herbalife?
The short answer is no. The company has been found to use false advertising, make false claims and misslead their customers.


What are the dangers of Herbalife?
As a consumer, there are not many dangers, despite the fact that the company has had some issues with lead and other toxic metal levels on the past.


Is Herbalife protein powder healthy?
Yes, but it's not great. It's hard to trust many Herbalife reviews, but their plant-based protein powder is OK. Taste is not bad, but the nutritional output is below average. One of the biggest issue is the high sugar content.


---
Verdict – Herbalife Reviews, Awful All-Around
Coming to the conclusion of this Herbalife review, I can't hide how appalling the whole process has been. I had very low expectations already, but my experience as Herbalife customer has been awful and I'm highly disappointed.
Nonetheless, it's not all bad with Herbalife shakes. One of the few positives about Herbalife Formula 1 was its taste. It was easy to drink, reminiscent of a chocolate milkshake, and I can see how most people would find it tasty.
However, that's where my praises towards Herbalife end. The rest is below average or just outright bad. Here are a few issues I had with having Herbalife drinks:
Customer experience is awful
You cannot buy directly from Herbalife
It's hard to find information on the product
Hard to see what the prices are (varies from supplier to supplier)
Nutritionally deficient shakes (high in sugars, low in essential fats)
In short, my buying experience was terrible, and then I was very disappointed to see that the shakes needed milk to be nutritionally complete.
Herbalife meal replacement shakes are not good, and I would not recommend them to anyone. If you want a weight loss shake, go for Lyfefuel or Instant Knockout. If you want an all-around great shake at an affordable price, opt for Huel.
Whatever you do, do not buy Herbalife shakes.
Herbalife
Pros
Chocolate is sweet and smooth, nice taste.
Available on Amazon
6+ flavors to choose from
Cons
Nightmare to buy from. Awful customer experience
Hard to know anything about the product (price, allergens...)
High in sugars and has added fructose
Can't buy in their site
Shady company