Neuriva Review: Is It Worth Your Money?
If you want to improve your cognitive performance, you might have heard of Neuriva Brain Supplements. This is another brain supplement that aims to amp up your focus, memory, and mental sharpness.
With the current busy and performance-oriented lifestyle we live, brain supplements or nootropics are in the raise. Similar supplements to Neuriva are very popular to help you increase focus during work or studying while helping you relieve stress.
However, Neuriva takes a different approach offering you nootropic gummies. As such, you can skip the boring form factor in which 99% of the brain supplements come: capsules. Instead, Neuriva makes taking nootropics fun.
But, is Neuriva the best nootropic in the market? Will Neuriva work for you?
We will try to answer these and more questions in this Neuriva review by having a closer look at its ingredients, benefits, and possible side effects.
Here are the takeaways from this Neuriva review:
Neuriva brain supplements don't have enough nootropics to be effective
However, there are users that claim minimal benefits in memory
The best nootropics have more science backed ingredients
Neuriva won't help you with anxiety, focus increase and long term brain protection
We recommend looking at Hunter Focus instead, our #1 brain supplement
Neuriva Review at a Glance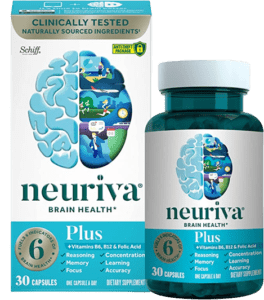 | | |
| --- | --- |
| From | US |
| Ships | US |
| Price/serving | $0.80 |
| User Reviews | Mixed |
| Nootropics | 2 |
| LF Recommended | No |
How Does Neuriva Work?
As we age, our cognitive abilities start declining. It can result from many things, including changes in diet, lifestyle, and even the environment around us. 
Thankfully, there are now supplements available that can help improve cognitive function.
Neuriva claims to contain key ingredients that can boost mental pathways, increase neurotransmitter production, and help with protection of your mental functions.
What Are the Ingredients of Neuriva?
Unlike, many other brains supplements, the ingredient list is rather short.
This is primarily a bad thing, since even it means that you will be missing out on many natural nootropics that have been proven by science to work, like, choline, l-theanine, caffeine, boswellia, rhodiola etc.
Most likely, this is due to the form factor, gummies. Gummies are not as efficient at packing ingredients like capsules and delivering them into your digestive system. As such, Neuriva can only pack a limited amount of nootropics in their gummies.
Another thing to mention, is that each serving of Neuriva has 3g of sugar! While this is not much at all, it's completely unnecessary for a nootropic supplement.
These are the nootropics found in Neuriva Original:
Coffee Fruit Extract (100mg)
Phosphatidylserine (100mg)
Note: In their Neuriva Plus Capsules, they also include vitamin B6, B9 and B12.
Phosphatidylserine 100mg
This phospholipid is present in cell membranes, and it's one of the most vital nutrients for brain health.
It's thought to help protect brain cells from damage. Furthermore, it improves communication between cells.
Research suggests that it can be effective at rasing attention in ADHD patients, and might even be good to combat fatigue.
All in all, it's a good ingredient to have, but not the #1 priority of any nootropic stack.
Caffeine 100mg
Caffeine is a strong stimulant that can increase both mental and physical performance.
Regular use of caffeine has been linked with decreased risk for Alzheimers, among other chronic diseases.
It's often paired with L-theanine to avoid the jitteriness, and use the synergistic effect of both ingredients in cognitive performance and mood, but this is not the case here.
However, 100mg of caffeine can be enough to provide you with a boost in attention, focus and help you fight fatigue. In particular if you are not used to it.
B vitamins
B vitamins are essential for many different processes in the body. They're responsible for energy production and nervous system function.
NEURIVA Plus contains Vitamins B6 and B12, particularly important for cognitive health. 
Vitamin B6 helps produce neurotransmitters like serotonin and dopamine. They are essential for mood regulation and brain function.
Moreover, Vitamin B12 is vital for your body. It helps create red blood and nerve cells, which are essential for staying healthy. The lack of it may cause cognitive decline.
Does Neuriva Work?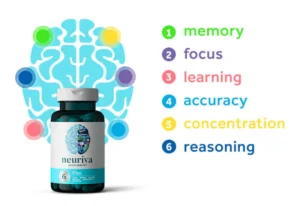 So after checking out the ingredients, does Neuriva work?
Can Neuriva gummies and capsules provide you with a boost in memory, focus, concentration and help you with learning?
In short, no. Or at least not significantly more than what a cup of coffee would do to you.
Despite the claims Neuriva makes about Neurofactor and the benefits of the whole fruit extract, this is no different to how regular caffeine regulates BDNF.
Similarly, adding phosphatidylserine to the mix is not enough to induce a significant enhancement on your attention span or focus.
There are better natural nootropics like citicholine, ashwagandha, rodiola, boswellia, alpha GPC etc that can help you increasing your attention span.
Ultimately, Neuriva's biggest downfall is that it lacks the required ingredients to be a comprehensive nootropic blend that will have a significant impact.
Is Neuriva Safe?
Neuriva doesn't have any serious side effects, and most of those who do report side effects often experience some nausea or headache. 
As such, healthy adults who are interested in keeping their brains healthy can take Neuriva gumies without issues, but they should keep an eye out for any side effects. 
Some individuals may have allergic reactions to certain ingredients in Neuriva, such as soy. Therefore, it's essential to check the ingredients list and speak with your healthcare provider if you have any known allergies before taking Neuriva.
Additionally, since not all the ingredients are on the official website, you should be cautious while taking NEURIVA if you have various allergies.
Real User Neuriva Reviews
All this said, what do other users think about Neuriva? Are customer Neuriva reviews positive.
Luckily we can check the Amazon Neuriva reviews. As shown below, Neuriva Gummies have 4.2-stars in 11.5k reviews.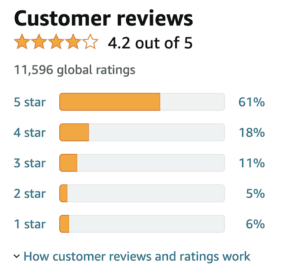 This is somewhat surprising, as we expected lower scores.
Positive user reviews highlight minimal improvements in their memory.
I noticed the change pretty quick. What surprising to me the most is over time my mind is making even stronger connections. Things I've always wanted to have in order cognitively, my mind is naturally keeping the information together. It feels pretty dope. Def feel more energy but not like over powered adderall. It's just a steady energy. The mind just feels more organized. The only thing I'm skeptical of is the other non natural chemicals. Reviews say it doesnt have major side effects but u never know. Great product though. Probably could charge alot more.

Ryan Rodgers
In fact most Amazon Neuriva reviews remark that it's more effective than they expected, with only a few saying that they did not notice any difference.
Pros and Cons of NEURIVA
NEURIVA is a brain health supplement that enhances cognitive function and memory. While it has gained popularity, it's crucial to consider both its benefits and disadvantages. Doing this will help you decide if it's worth the price.
Pros
Might increase memory
Positive Amazon reviews
Gummies make it fun to take
Affordable
Cons
Lacks many effective nootropics
Not good for anxiety or stress relief
Low dosages when compared to the best brain supplements
Has 3 g of sugars per serving (gummies)
Lacks potency
NEURIVA Price 
The price of NEURIVA can differ depending on where you buy it. Some sellers might charge you extra delivery costs as well.
Still, NEURIVA is considered a more budget-friendly option than other brain health supplements.
Typically, a bottle of NEURIVA supplement contains anywhere from 30 to 60 capsules and can cost between $20 and $40.
Currently on Amazon, Neuriva Gummies cost $0.88/serving – about $23 per bottle (25 servings).
On the contrary, Neuriva Plus costs $0.8/serving – about $23/bottle (30 servings).
Below you can see other Neuriva products readily available on Amazon.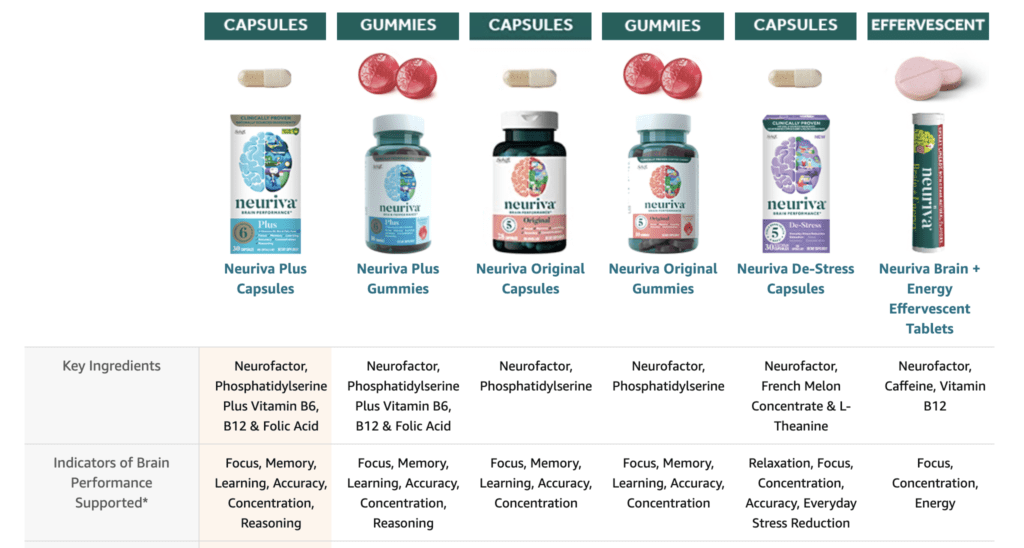 Neuriva Review FAQs
What is the source of Phosphatidylserine?
It's sourced from soybeans. Phosphatidylserine (Ps) is a phospholipid that is in every cell of the human body.
It's a crucial component of cell membranes and is vital for the proper functioning of cells. 
Phosphatidylserine is present in many different types of food, including meat and dairy products. But soybeans are the most common commercial source of it.


Is Neuriva vegan friendly?
No. Neuriva brain supplements are suitable for vegetarians but not for vegans


Can my child take Neuriva?
No. It's important to note that NEURIVA is intended for adult use only. Children have different nutritional needs than adults and require a specific balance of nutrients for their development and growth. 
Therefore, children should not take NEURIVA, as it won't meet their unique nutritional needs.
Additionally, because NEURIVA contains ingredients that may not be suitable for children, it's crucial to keep it out of reach of children.

What is a good alternative to Neuriva? 
Honestly, most nootropic supplements reviewed here have been better than Neuriva.
To name a few, Qualia Mind, Mind Lab Pro, Avantera, Noocube and Hunter Focus are all better at increasing attention span and clarity than Neuriva is. However, you will find many not-so-good alternatives to Neuriva on Amazon like Focus Factor or NeuroQ.
However, our #1 brain supplement is Hunter Focus. It contains only safe and tested ingredients scientifically proven to provide the cognitive advantage you require. 
The scientifically optimized formula at the heart of this nature-based supplement provides the nutrients your brain needs to perform at its peak. It will also help you even under pressure.
Moreover, all the ingredients are clearly listed on the manufacturer's website, so you can rest assured that there are no hidden ingredients that you may be allergic to. 
Verdict – Neuriva Review, A Surprisingly Bad Nootropic Supplement
Reaching the end of this Neuriva review, there's little good to say about this nootropic.
Their gummies are fun and can be an easy way to have nootropics, but also come with 3g of sugars that you don't need.
The Neuriva capsules are not much better, since they have only 5 ingredients, and miss many natural nootropics that could take this to the next level.
In fact, when compared to the best brain supplements Neuriva falls short in efficacy, dosage and ingredients.
That said, Neuriva does have positive Amazon reviews, with people claiming minimal improvements in memory.
For us, it's better to spend the money on a proper nootropic like Hunter Focus, or have a coffee instead of Neuriva.
Neuriva Brain Supplements
From $0.8/serving