Onnit New Mood Review: Is It Effective and Should You Buy It?
Welcome to this Onnit New Mood review.
Onnit New Mood is described as a product that can help you deal with stress by enhancing your serotonin levels. Is it as effective as advertised, though? What ingredients does it contain? Also, does it have any downsides?
For those, who are unaware of who Onnit is, they are the brand behind the popular nootropic Alpha Brain backed by Joe Rogan. They focus on brain, workout and health supplements that can make a difference in your day-to-day performance.
In this case, while Alpha Brain is a nootropic focused on increasing mental clarity and focus, New Mood is designed to help you wind down after a long day of work. In other words, New Mood is a supplement that will help you relax and fight stress. This is not to be confused with sleep supplements that aim to help you fall sleep.
In this post, we'll be giving you an in-depth Onnit New Mood review so you can decide whether it's right for you or not, so stick around. 
Key takeaways:
The exact quantity of ingredients hidden behind a proprietary blend
New Mood has the right ingredients, but at low dosage
When tested it produced a minimal calming effect, but no help with sleep
Positive user reviews – most claim that helps them sleep better
Ultimately, New Mood might work for those who are not used to calming supplements
Quick Links
Alpha Brain Review at a Glance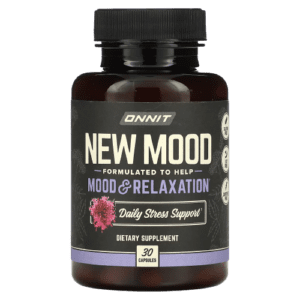 | | |
| --- | --- |
| From | US |
| Ships | US |
| Price/serving | $1.70 |
| User Reviews | Positive |
| Nootropics | 6 |
| LF Recommended | Yes |
Pros of Onnit New Mood
High-quality ingredients
Helps with stress levels
Competitive price
Positive user reviews claim that helps them calm down
Cons of Onnit New Mood
Large capsules
Possible side effects
Notably underdosed
Not effective to induce sleep
Ingredients in Onnit New Mood
Onnit New Mood contains a variety of ingredients that can help boost your mood and give you a deeply relaxing sensation.
Few ingredients we expect on this blend are natural nootropics like ashwagandha, bacopa monieri, Rhodiola rosea, and valerian root, among others.
While the New Mood blend does contain some of these natural herbs, the first red flag is that they are hidden behind a proprietary blend. This means that we cannot know for sure what the amount of ingredients is, and if they are in the right dosages.
So, let's take a closer look at these ingredients:
Vitamin D (25mcg) – 125% of DV
Niacin (30 mg) – 188% of DV
Vitamin B6 (20mg) – 1176% of DV
Magnesium (40mg) – 10% of DV
Onnit Tranquility Blend (450mg)

Valerian Root Extract
Chamomile Flower Extract
Lemon Balm Extract
Jujube Seed Extract

L-tryptophan (400mg)
5-HTP (150mg)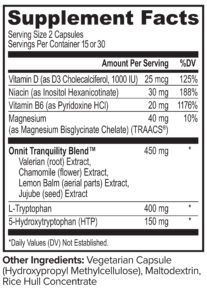 Onnit Tranquility Blend – 450mg
As previously mentioned, we are not the biggest supporters of proprietary blends, as you can't know the exact amounts of each ingredient. For instance, it could be 400mg of valerian root, and 50mg of the rest.
Valerian Root – ?
This extract is classified as a mild sedative that helps you drift off to sleep and reduce stress. However, none of these presumptions have been validated, so its functionality isn't assured.
It's proclaimed to not affect the quality of sleep at all, despite being advertised for faster sleep. A meta analysis found that valerian root "could be a safe and effective herb to promote sleep and prevent associated disorders".
That said, the dosage is the problem, though. According to Examine, you must take 450 mg of Valerian Root daily to experience results. No matter how big they stretched the capsule, it'd be hard to contain such an amount.
Chamomile Extract – ?
This herb has long been used as a sedative and helps people calm down. Studies have suggested that flavonoids in chamomile might help you fall asleep and even reduce stress.
Chamomile has also been used in treatments for generalized anxiety disorder showing mild benefits.
While doses are yet to be established, ranges from 1.1g to 6g are thought to be effective. Thus, it's not possible for New Mood to have enough chamomile extract.
Lemon Balm Extract – ?
In a 2014 study, Lemon balm was proven to be effective at reducing stress in young adults, as well as, helping them with mood and cognitive performance.
However, they were given doses of 1.8g which is far from what New Mood Onnit will provide you.
Jujube Extract – ?
In a study with postmenopausal women, they were given 250mg of jujube seed extract to help them sleep better. The study found the extract to be a safe and efficient method to improve the quality of sleep, without any reported side effects.
Thus, it's clear that jujube extract can be a very effective tool to help you relax, but it's not clear if it's in effective dosages in New Mood.
5-HTP
This is an amino acid that can boost the brain's production of serotonin if you consume at least 200 mg of it. In turn, serotonin is known to modulate sleep, even though the exact mechanisms remain unclear.
Unfortunately, since Onnit New Mood contains 150 mg only per serving, you'd need to take two capsules to get the result expected.
Magnesium
It's a primary component of most brain supplements because it encourages restful sleep, sharp thinking, and concentration. 
The issue is that studies indicate that for magnesium to be beneficial, a daily dose of between 250 and 450 mg must be taken. There's only 40 mg per serving in New Mood.
L-Tryptophan
This amino acid is the one responsible for a peaceful good night's sleep in most supplements. 
However, its presence is so low in New Mood that you wouldn't get the expected result unless you take three capsules a day, which is advised against.
Vitamin B-3 (Niacin)
It's a vitamin that can improve mental performance and reduce random stress stimuli. Yet again, these advantages are only noticeable when 1,500 mg of this vitamin are taken daily. 
So, with only 30 mg of Niacin in New Mood, it's almost non-existent!
Vitamin B-6
Six different compounds make vitamin B-6, which in turn influences more than 140 coenzyme processes in the body. Despite its multiple positive effects, only amounts of 1.5 mg or less per day are recommended as safe.
Unfortunately, Onnit New Mood contains 20 mg per serving, which is simply too dangerous to be consumed long-term.
Vitamin D
This vitamin helps the digestive system absorb nutrients and helps with mood regulation. Its quantity is quite low, yet it might help some consumers feel better throughout the day.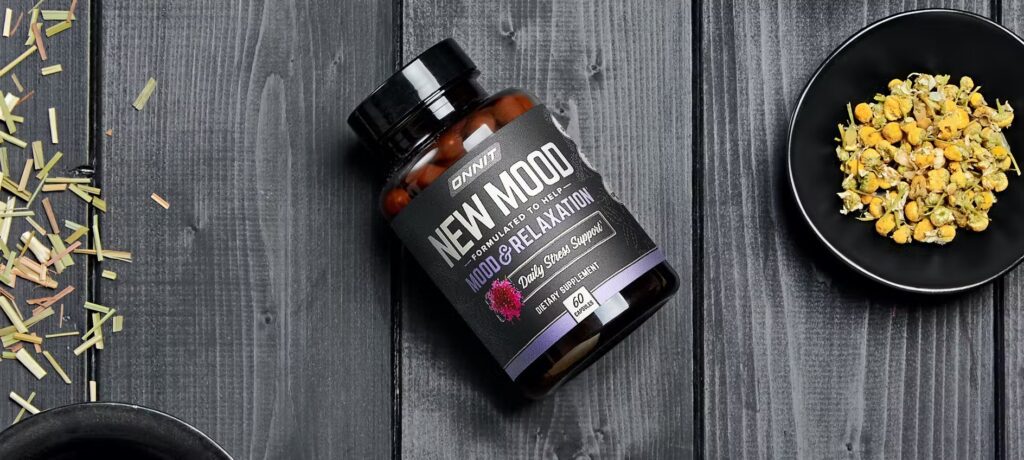 Benefits of Onnit New Mood Reviewed
According to the brand here are the main benefits of New Mood by Onnit:
Assists your mood and relaxation
Promotes a calm state
Supports healthy mood balance
Improves natural serotonin production
Despite the fact that some of these are quite subjective, the ingredients in New Mood have definitely been chosen to help you relax, reduce stress, and improve your sleep.
However, as highlighted in the previous section, the main issue with New Mood is not that the ingredients are not useful, but that they are heavily underdosed.
Help Relaxing and Reducing Stress
The ingredients in Onnit New Mood are acquired from numerous partner farmers that use ethical, sustainable ways.
Additionally, their active ingredients, such as Tryptophan, 5-HTP, and Valerian Root, are proven to help with mood enhancement alongside anxiety, depression, and stress disorders.
The only real downside here is how inaccurate the quantities of the ingredients used are. Having multiple ingredients of good quality doesn't necessarily mean better product quality.
Perhaps it could've been better if they used fewer ingredients but with suitable quantities to make a difference. 
Mood Enhancing Ability
As this is the main purpose of Onnit New Mood, it's important to ensure that it does its job correctly. As far as short-term consumption is concerned, the supplement almost hasn't shown any negative side effects.
However, studies have shown that the depletion of Tryptophan from a human's body can cause memory loss and depression episodes. 
So, despite being advertised as a mood enhancer, it could be risky to consume without proper caution. Tryptophan also has a list of possible side effects that include drowsiness, dizziness, and nausea.  
Does Onnit New Mood Work?
To summarize the review of Onnit New Mood, it's fair to say that it could work for some people. Especially for those that are not used to taking supplements or nootropics that help them relax.
That said, New Mood is heavily underdosed in ALL ingredients, and thus, it's far from being the best sleep aid or relaxation.
Here are some of the ingredients that in low dosages in New Mood:
| | Dose in New Mood | Effective Dose |
| --- | --- | --- |
| Lemon Balm | <450mg | >1.8g |
| Chamomile | <450mg | >1.1g |
| Valerian Root | <450mg | >450mg |
| Jujube Extract | <450mg | 250mg |
| Magnesium | 40mg | 250-400mg |
| 5-HTP | 150mg | >200mg |
It's worth noting that valerian root is found in conjunction with chamomile, lemon balm and jujube extract, so it's impossible that New Mood contains 450mg. Similarly, it's highly unlikely that there are 250mg of jujube extract in New Mood.
Therefore, it's more likely that New Mood will not work for people with severe stress and anxiety issues.
How Much Does Onnit New Mood Cost?
You can buy New Mood via their website or on Amazon.
New Mood costs $59.90 for 60 capsules, which would suffice the consumption of one person for a month if used regularly. 
That said they offer a 15% discount when subscribed ($50.92 per bottle or $1.7/serving).
If you don't need the whole-month package, you could get 30 capsules for $29.95.
Real User New Mood Reviews
In our expert opinion, New Mood is quite underwhelming, particularly due to the low doses of the key ingredients found in the tranquility blend.
We did not notice the calming effects that we were hoping for, when tested.
However, let's look at customer Onnit New Mood reviews and see if they disagree.
New Mood Reviews on their Website
The customer New Mood reviews on the Onnit website are fairly positive, with 4.2-stars in 720 reviews.
Those who are positive about New Mood Calm pills highlight that they are effective at relaxing them, and helping them sleep.
I have struggled with sleeping issues and refuse to use sleeping aid by the government that has got my friends hooked and caused more friends harm than good. Causing them to be addicted to Melatonin and other meds. This has not only allowed me to sleep but also helped with my dreams. They are more intense but less negitive. This product has helped and I love that it's all natural.

5-star review
The more negative reviews state that it didn't make them feel any different, although one customer even said that they were too strong.
Amazon New Mood Reviews
On Amazon, New Mood has 4.3-stars out of 5 in more than 5.5k reviews! This is a fairly good rating, and it's clear that New Mood is working for many users.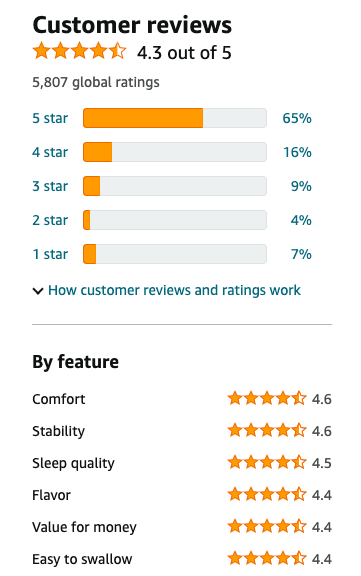 Once again, users highlight that it helps them sleep better.
I started these a few years ago, only taking one when I feel my body reacting in an anxious way. These have helped tremendously. If you feel a crying act/ anxiety reaction is coming on just pop one and you calm right down. Really good just to seemingly chill yourself to get thru a situation in the day. I love that these don't comatose you like regular anxiety meds make you feel. They don't make me feel tired but do help me sleep.

Karman Pace, Amazon buyer
New Mood Onnit Review FAQs
When to Take Onnit New Mood?
It's advisable to take two capsules daily. It's also recommended to take it in the afternoon as it helps you deal better with the night stress.
Additionally, you can use this supplement to promote a restful sleeping pattern. So, it's okay to take one before you head into bed.


Can Pregnant Women Take Onnit New Mood?
It's not ideal to try any supplements without the advice of your doctor. Additionally, most of the ingredients in Onnit New Mood don't have the proper research that marks them safe for a fetus. 


Does New Mood have melatonin?
No, New Mood does not contain any melatonin.


Is New Mood safe for vegans?
New Mood is advertised as safe for vegetarians, and does not contain any dairy. But the capsules might not be vegan friendly.


Verdict – New Mood Review, Not the Most Effective but Might Help You
Coming to the conclusion of this New Mood Calm review, we have mixed feelings.
On one hand New Mood does use proven ingredients that help you calm down, reduce stress and anxiety, and might even induce sleep.
That said, these ingredients are heavily underdosed when compared to what science and other publications suggest on what's effective.
When tested, we felt minimal calming effects, but it wasn't particularly effective as a sleep aid.
However, when reading New Mood user reviews, many highlighted that it made them sleep better and that it even reduce anxiety for some customers.
This is probably due to them not having extreme anxiety or stress issues, or not being used to nootropics – thus these being more effective.
Consequenlty, we do think that New Mood is a good calming supplement, albeit it will work better on people that have not used other sleep supplements before.
Probably worth a try if you need help relaxing during the evenings.
New Mood
From $1.7/serving