Field of Greens Review | Is It Worth Buying?
In the realm of green superfood supplements, there's a product that's been generating buzz among health enthusiasts – Field of Greens by Brickhouse Nutrition. This superfood formula is laden with a variety of fruits, vegetables, herbs, probiotics, and prebiotics. The brand touts the product's potential to enhance the immune system, aid detoxification, boost energy levels, and foster a healthy metabolism. But does it live up to its promises? We shall find out in this Field of Greens review.
Field of Greens is a superfood formula created by Brickhouse Nutrition, a brand that has made quite a name for itself in the nutritional supplement industry. This product, in particular, boasts over 2,500 reviews, making it one of the most popular offerings from the brand.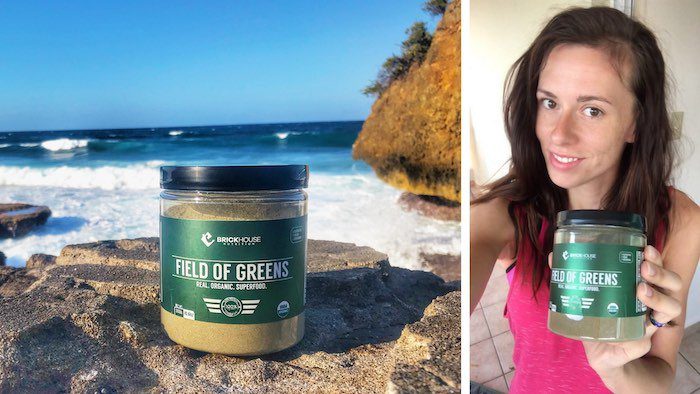 The brand claims that Field of Greens has the potential to enhance the immune system, facilitate detoxification processes, increase energy levels, and support a healthy metabolism. The product is vegan, vegetarian, gluten-free, and USDA-certified organic, meaning that over 95% of the ingredients in the formula are organic.
That said, these are fairly common claims among green powders. So how much of this is real? What are the real benefits of Filed of Greens? And ultimately, should you buy it?
Key Takeaways
Over 25 certified USDA organic, vegan, and gluten-free ingredients, including spirulina, chlorella, and various greens, the proprietary blends offer a diverse mix.
The undisclosed ingredient quantities hinder determining its effectiveness.
Available in Wildberry and unflavored, Field of Greens is refreshing with no overpowering 'grassy' taste.
For most it will be a waste of money
For better options, check our top green powder.
---
Fields of Greens Review at a Glance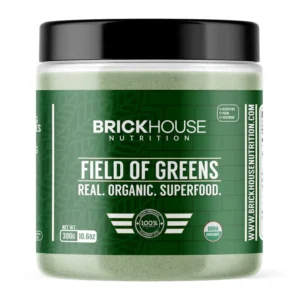 Flavors: Wildberry, Unflavored.
Pros
Good bulk discounts
Can help you boosting your immune system
Fully organic
Cons
Proprietary blend – hiding ingredients
Contains filler ingredients at the top of the list (grasses)
Low doses
---
Field of Greens Ingredients
Out of the bat the first red flag is that ingredient quantities are not disclosed. In a greens powder where the most important factor is the amount of each green superfood, you need to be transparent.
Otherwise, you end up with greens like Field of Greens where the main ingredients are grass-based, aka leftovers from other industries. Instead, algae like chlorella or spirulina should be higher up, as these have significant health benefits.
The serving size for Field of Greens is 10g, and the formula contains over 25 ingredients. All these ingredients are certified USDA organic, vegan, and gluten-free.
Here is the full ingredients list of Field of Greens, below:
Organic Greens Blend (4 grams) – This blend includes Organic Spinach Powder, Organic Parsley Powder, Organic Kale Powder, Organic Barley Grass Powder, Organic Wheat Grass Powder, Organic Spirulina Powder, Organic Chlorella Powder, Organic Green Pepper Powder, Organic Green Apple Powder, Organic Green Banana Powder, Organic Sweet Potato Powder, and Organic Broccoli Powder.
Organic Prebiotic Fiber (2 grams) – This blend includes Inulin.
Organic Antioxidant Reds Blend (1.5 grams) – This blend includes Organic Beet Root Powder, Organic Strawberry Powder, Organic Raspberry Powder, Organic Blueberry Powder, Organic Tart Cherry Powder, Organic Pomegranate Powder, and Organic Cranberry Powder.
Organic Metabolic Blend (1 gram) – This blend includes Organic Ginger Powder, Organic Licorice Powder, Organic Turmeric Powder, and Organic Green Tea Powder.
Prebiotic Blend (3 Billion CFU/g) – This blend includes Bacillus Coagulans, supplying 3 Billion CFU/g.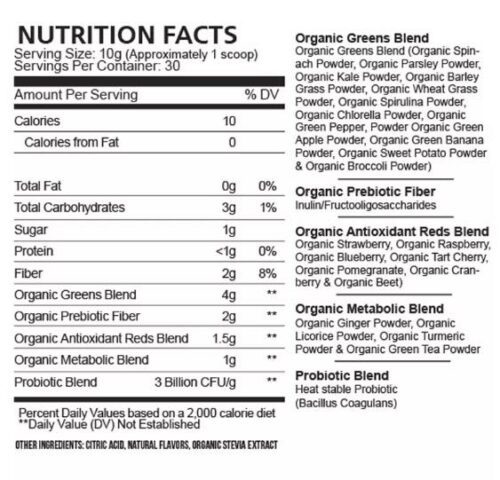 Organic Greens Blend (4g)
This should be the core of any greens blend. The main ingredients in this blend are spinach, barley, parsley, kale, and wheat grass. Considering that the optimal dose for spirulina and chlorella is above 1g (for each) it's hard to believe that the ingredients are dosed appropriately
Organic Spinach Powder

: Spinach is rich in vitamins A, C, and K, as well as minerals like iron and magnesium. It also contains antioxidants like beta-carotene and lutein.

Doses of 1g or higher are linked with lower blood pressure, improved heart health, and reduction of oxidative stress. Unfortunately, it is unlikely you will find 1g in this mix.
Organic Kale Powder

: Kale is a source of vitamins A, C, and K, along with minerals like calcium and potassium. It contains antioxidants such as quercetin and kaempferol

.
Organic Spirulina Powder

: Spirulina is a blue-green algae known for its high protein content and a wide array of nutrients, including vitamins B12 and ir

on. Higher doses of spirulina have been linked with weight loss, antioxidative effects, antiinflammatory properties, and multiple other health benefits.
Organic Chlorella Powder

: Chlorella is another type of algae, rich in chlorophyll and nutrients like vitamin B12, iron, and magnesium.

Organic Broccoli Powder

: Broccoli is a cruciferous vegetable that contains sulforaphane, a compound with potential health benefits, including antioxidant and anti-inflammatory properties.
Organic Prebiotic Fiber (2g)
This blend includes inulin, a type of dietary fiber that serves as a prebiotic, supporting the growth and activity of beneficial gut bacteria. Prebiotic fibers like inulin can contribute to improved gut health and digestion.
Most of these benefits are seen at higher doses of at least 10g.
Organic Antioxidant Reds Blend (1.5g)
This blend is rich in red and purple fruits, which are known for their high content of antioxidants.
Organic Beet Root Powder

: Beets are a source of betalains, which are pigments with antioxidant and anti-inflammatory properties.

Among other health benefits, beet root can reduce inflammation, blood pressure, help you regulate cholesterol levels, and even increase your stamina.
Organic Blueberry Powder

: Blueberries are rich in anthocyanins, potent antioxidants associated with various health benefits.

Organic Pomegranate Powder

: Pomegranates contain punicalagins and anthocyanins, which have antioxidant and potential cardiovascular benefits.
Organic Metabolic Blend (1g)
This blend contains turmeric with the active ingredient curcumin, a compound with anti-inflammatory and antioxidant properties. Sadly, this is another instance where you won't get enough, since you need 500mg of curcumin to make the best of its health benefits
Organic Green Tea Powder: Green tea contains catechins, such as epigallocatechin gallate (EGCG), known for their potential to enhance metabolism and support weight management.
Prebiotic Blend (3 Billion CFU/g)
This blend includes Bacillus coagulans, a probiotic strain that supports gut health by promoting the growth of beneficial gut bacteria. Probiotics like Bacillus coagulans have been studied for their potential to improve digestive health and immune function.
Field of Greens Health Benefits Reviewed
So if most of the Field of Greens ingredients are underdosed, will you get any health benefits?
First of, let's look at what they claim:
Anti-oxidants
Boosts immunity 
Completely organic
Supports healthy metabolism
Natural source of vitamins and minerals
Interestingly, they do not make bold claims like many other manufactures do (AG1 for instance). Most of the greens powders claim to help you with:
Weight loss
Immunity
Digestion
Energy Levels
Mood
Field of Greens Antioxidants
There's no denying that Field of Greens will be a good source of antioxidants, particularly if you are not having many vegetables in your diet.
Antioxidants are key to keep the oxidative damage at a minimum. For instance, beta-carotene is linked with a slight reduction of the rate of cognitive decline.
However, this does not make Field of Greens any different to other greens like Bloom, Supergreen Tonik, Kiala etc. All green powders are rich in antioxidants.
Immunity Booster
As mentioned in the ingredients list, there are many plants that are rich in polyphenols that will boost your immunity response and help you fight inflammation.
The issue with Field of Greens is that most of these are in very low doses, thus you won't be boosting your immune system as much as you should with a good greens powder.
Field of Greens Side Effects
The only warning on the Field of Greens formula is regarding the green tea extract and beetroot in the mix. Due to the caffeine content in green tea extract, there's a warning label for consumers in California.
Luckily, most greens are safe for consumption for the general population. This is no exception for Field of Greens, however, if you feel any side effect medication that you are taking or some sort of allergy might be causing it.
Customer Field of Greens Reviews
There are over 2500 reviews on the brand's website, and while the reviews lean towards the positive side, there's a lack of 1-star or 2-star reviews. Here's a selection of the reviews:
"Even if I could eat all the fruits and vegetables in a balanced diet, I'd probably still add Field of Greens. But since I can't reach that goal every day, Field of Greens fills that gap. And it's delicious."

5-star review
"As this is the first time I've tried the Field of greens and have not used the product very much, I like what it's starting with the way my system is reacting to this product. I'm still testing the product but I love it."

4-star review
I've been taking this daily for a almost two months. In those two months I've completely cut coffee and have a consistent amount of energy through the day. I notice I require less sleep through the night which is wild. I've had a lot more gumption to exercise in the evenings which is helpful and I've begun to lose weight at a healthy and consistent level. I also notice that I'm able to focus better through the day, no more 3pm slump. I know all this anecdotal but it's my experience!

5-star, Logan D
Amazon Field of Greens Reviews
Unfortunately, they don't sell Field of Greens on Amazon, so there are no user reviews to check upon.
Field of Greens Review Reddit
While there are some redditors that swear by Field of Greens, many users say that they prefer other brands like Vibrant Health, AG1 or Bloom.
Some even complain about the price of Field of Greens, for what you are getting is pretty expensive.
Is Field of Greens Worth It?
In short, after having tested the product, I don't think Field of Greens is worth it.
A tub of Field of Greens, from the Brickhouse Nutrition website, costs $58.95. This translates to a cost of $1.97 per serving. If you opt for a subscription, you can avail a 15% discount.
While this is a reasonably fair price for a super greens formula, the lack of transparency about the weight of ingredients makes it difficult to ascertain its value for money.
Furthermore, if you take into account that most of the ingredients are criminaly underdosed, you are almost better buying nothing. For a cheaper alternative, you should look at Enso Greens.
But if you want the best, then spending extra for SuperGreen Tonik will save you cash in the long term.
Taste Test: How Does Field of Greens Taste?
Field of Greens comes in two flavors: Wildberry and unflavored. The Wildberry flavor contains stevia extract, citric acid, natural flavorings, and artificial flavorings. Despite the brand's emphasis on being organic and natural, the inclusion of artificial flavorings is a bit disappointing.
However, both the formulas are refreshing and light, without the strong 'grassy' taste that some super greens formulas have. It's straightforward to drink and enjoy the formula simply mixed with water.
---
Verdict – Field of Greens Review, Another Useless Greens Product
Unfortunately, the greens superfood market is filled with subpar, overpriced supplements.
Most of them have the same issues:
Proprietary blends and lack of transparency
Underdosed ingredients
Overpriced
Thus, while for those who consume virtually 0 vegetables these will offer some consolation, they are pretty useless for most adults.
Instead, green powders should focus on transparency, less active ingredients and more of them. Achieving clinically proven effective doses is more effective at boosting your health than having too little of too many things.
That's why I cannot recommend buying Field of Greens, and instead I would recommend looking at our top green powder.
My Recommendation: SuperGreen Tonik
Having tried many different types of super greens supplements, I discovered that most of them failed to meet my expectations. I was looking for a product that was transparent with its labeling, had effective ingredient doses, and provided benefits like improved immunity, clarity of thought, and relief from brain fog.
Eventually, I found a greens supplement that checked off all these boxes: no secret amounts of ingredients, effective doses, and ingredients that help with immunity, mental clarity, and foggy thinking. I take it daily and it has given me back my energy and my life.