8 Of The Best High Calorie Shakes For Weight Gain In 2023
High calorie shakes are some of the easiest tools to use when looking to gain weight. You can drink easily drink 600 to 1,200kcal in one go with high-calorie drinks; which anyone putting on weight knows it's no easy task.
After the summer, I regularly put on 10kg of mass (autumn-winter period). I could've not done this without using high calorie drinks to supplement my food intake.
In fact, I used two types of high calorie drinks for weight gain:
Alternatively, you can DIY your own drinks that are high in calories. A mix of oats or maltodextrin, with some peanut butter, fruits (banana), and full-fat milk. Doing these every day can be a chore, so that's why I tend to prefer to use the ones above.
Here, I compile the best drinks to gain weight; including meal replacement shakes for weight gain and traditional weight gainers.
No time to read?
The Best High Calorie Protein Shake is –> Naked Mass
The Best High Calorie Meal Replacement Shake is –> HLTH Code
---
Top High-Calorie Drinks at a Glance
| | Naked Mass | Transparent Labs | Total Extreme | HLTH Code |
| --- | --- | --- | --- | --- |
| | Best Weight Gain Shake | Healthy Weight Gainer | Best High-Calorie Shake EU | Best Meal Replacement Shake for Weight Gain |
| Serving (kcal) | 1,360kcal | 790kcal | 1,000kcal | 400kcal |
| Protein (g) | 50g | 60g | 60g | 27g |
| Protein Source | Pea + Rice Protein | Whey Concentrate | Whey Concentrate | Whey + Eggs |
| Highlight | Clean, tasty, and good quality | Balanced, high-protein | Good price and taste | Healthy, easy to digest |
| | CHECK PRICE | CHECK PRICE | LATESTFUELS12 | LATESTFUELS |
---
Best High Calorie Meal Replacement Shakes and Protein Powders for Weight Gain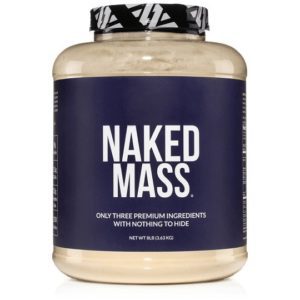 Naked Mass
High Calorie Protein Shake
Up to 1,360kcal per serving and 50g of protein
Clean, quality ingredients and no bullshit
Easy to drink, and enjoyable (go for Chocolate)
Available in vegan and whey-based versions
Made in the US, Trusted by Sport
Fast free shipping in the US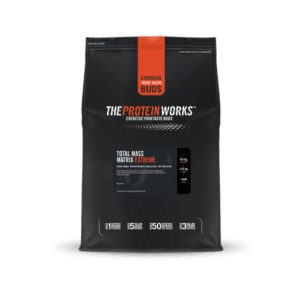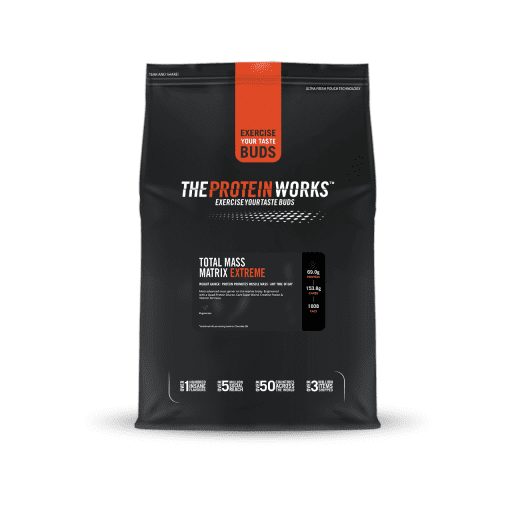 Total Mass Extreme
Best Weight Gain EU
Up to 1,000kcal per serving and 60g of protein
High in fibre, complex carbs and quality protein
Blends well, and it's easy to drink.
Available in 10+ flavours so that you don't get bored easily
Smooth Chocolate is super tasty
Ships to UK, EU, US
MOST POPULAR –> Serius Mass
BEST VEGAN MASS GAINER –>Naked Mass
Best Weight Gainers & Calorie Drinks for Men
Before diving any deeper, I wanted a short foreword on the top weight gainers for men.
Generally speaking, men will require more calories than women (even more if you live an active lifestyle). Thus, I would recommend you choose a higher calorie drink like Naked Mass to put some extra lean mass on.
Similarly, adding milk, peanut butter, bananas, honey or cocoa powder to your protein shakes can be an easy way to add up calories. In fact, having a couple of protein shakes can help you boost your calorie intake by 300 to 600kcal without much effort.
For instance, you can take one with whole-fat milk in the morning, and another before you go to bed (or around work-outs).
Some might even look for testosterone boosters, but I don't think they are necessary. If you choose to do so to help you in your journey, make sure to use one of the best.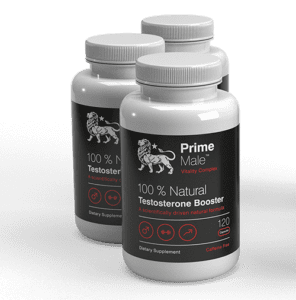 Weight Gainers for Women
Unfortunately, this industry is not very developed. Most products are oriented to men (visually and nutritionally). Furthermore, it's worth considering that the nutritional needs of women are different. Most noticeably, women will require fewer calories to put on weight.
As such, I would recommend starting with smaller servings of the recommended products here or having a look at meal replacements.
Something like HLTH will provide you with 400kcal that are easy to consume, 27g of protein, all the necessary nutrients, and even extra ingredients to take care of your gut. This is important considering that you will be eating more than normal. Plus, the sweet flavors are really enjoyable.
---
Best Weight Gain Powders
1. Vegan Weight Gainer
Best in the US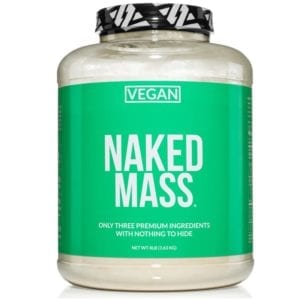 | | |
| --- | --- |
| Taste | 90% |
| Texture | 90% |
| Nutrition | 80% |
| Price | 85% |
Pros
1,230kcal and 50g plant-based protein
Organic pea + rice protein blend
Plant-based, gluten-free, soy-free and GMO-free
Easy and enjoyable to drink
Clean label, no hidden ingredients
Cons
It's about time that I discuss a vegan high-calorie drink. Naked Nutrition's Weight Gainer is just the ideal choice if you are looking for a vegan nutritional drink for weight gain.
Each serving of this high calorie protein shake includes 1,230kcal, 50g of soy-free protein, and 10.3g of BCAAs. Instead, they use a rice and protein blend to deliver a complete amino acid profile. Perfect for those who are looking to put some muscle on.
Nutritionally, it's very simple since it only includes 3 ingredients: organic maltodextrin and the two protein sources mentioned above. This simplicity is what will bring you the gains that you are looking for. There's 0 crap on this weight gain drink.
You can also enjoy Chocolate and Vanilla flavors, which contain organic coconut sugar. Simple, great, and filled with calories.
This is also available in whey-version.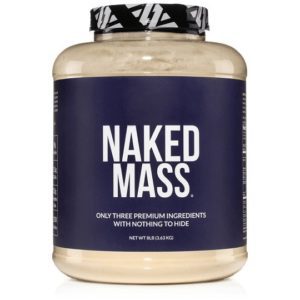 Nutrition
Energy (kcal): 1,230kcal per serving
Protein (g): 50g from pea and rice protein
Carbs (g): 252g
Fats (g): 2.5g
Sugars (g): 21g
Best Flavour: Chocolate
---
2. Transparent Labs Mass Gainer
Best for Moderate Weight Gain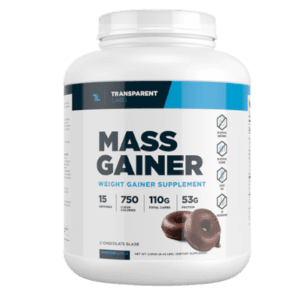 | | |
| --- | --- |
| Taste | 85% |
| Texture | 90% |
| Nutrition | 90% |
| Price | 80% |
Pros
More protein per calorie: 60g per 800kcal
More balanced macros – healthier
No artificial sweeteners
Smaller servings – better for most people
Cons
Only 2 flavors
No vegan option
While most mass gainers for men try to pack as many calories as possible, Transparent Labs prefers to offer you a more balanced high protein high-calorie shake.
In fact, they do not solely rely on cheap carbs (oats or maltodextrin) but they add essential fats and medium chain triglycerides to support your weight gain. Fats are essential for micronutrient absorption, and hormonal production to support muscle growth.
As such, they offer more balanced macros and an even higher ratio of protein per calorie. Each 800kcal serving has 60g of grass-fed whey protein concentrate. The mix also adds some creatine (3g) that will provide you with extra energy and help you acquire volume.
Sadly, they only offer whey-based versions and just 2 flavors. The Donut Chocolate is amazing but can get tiring when used regularly.
Nutrition
Energy (kcal): 800kcal per serving
Protein (g): 60g from whey protein concentrate
Carbs (g): 114g
Fats (g): 14g
Sugars (g): 17g
Best Flavour: Donut Chocolate
---
3. Serious Mass
Most Popular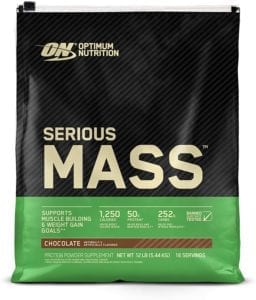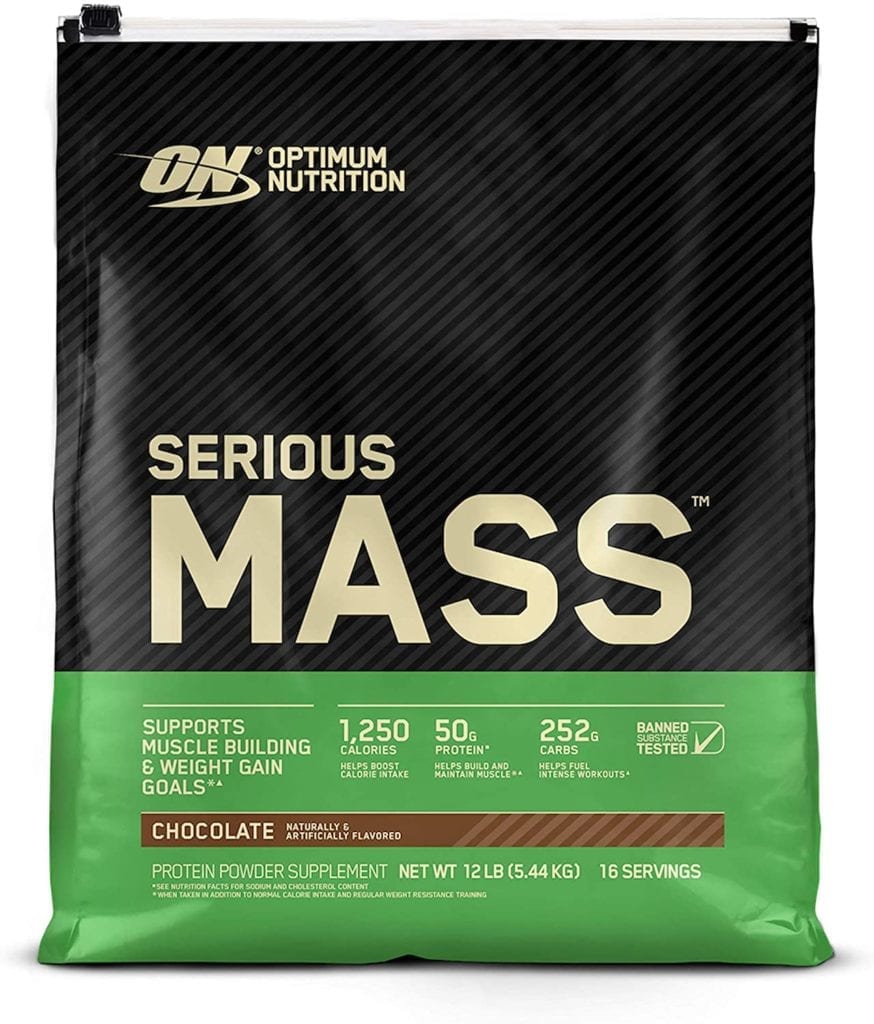 | | |
| --- | --- |
| Taste | 95% |
| Texture | 95% |
| Nutrition | 80% |
| Price | 80% |
Pros
Extremely high in calories: 1,250kcal per serving
Includes all vitamins & minerals
50g of protein, 9g of sugar
Great taste and flavor options
Superb for extreme weight gain
Cons
Low in essential fats
Better with a blender
Serious Mass by Optimum Nutrition best drink to gain weight with. A namesake that most avid gym-goers recognize. Serious Mass is a high calorie powder that will provide you with up to 1,250kcal per serving!
I would recommend this high calorie for weight gain to those who are extremely active or desperate to put on mass; due to the sheer amount of calories that this drink provides. I've used it multiple times in the past and it's the perfect solution to put on weight (I went from 80kg to 90kg in 4months).
It comes mostly from high-quality carbohydrates and 50g of premium protein. On top of that, it includes 25 vitamins and minerals that will boost your daily nutrient intake.
Plus, I can personally say that it tastes fantastic. I was an avid Chocolate Serious Mass user in the past; however, you can also get other flavours like, Banana, Chocolate Peanut Butter or Strawberry.
Nutrition
Energy (kcal): 1,230kcal per serving
Protein (g): 50g from whey protein concentrate
Carbs (g): 252g
Fats (g): 2.5g
Sugars (g): 18g
Best Flavour: Chocolate
---
4. Total Mass Extreme
Best in Europe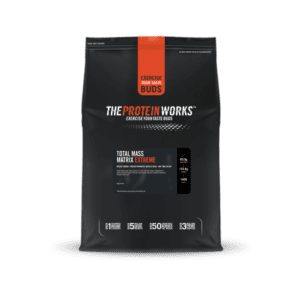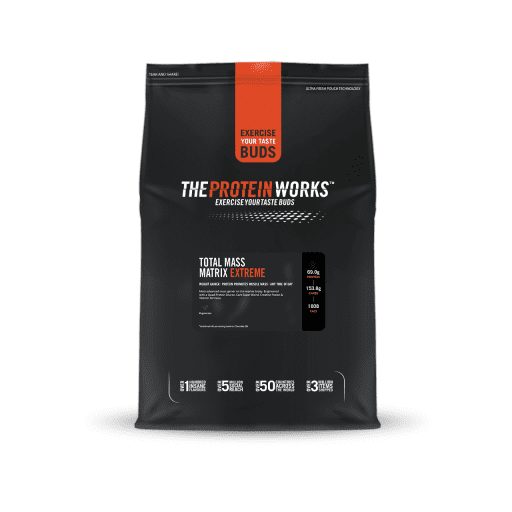 | | |
| --- | --- |
| Taste | 85% |
| Texture | 90% |
| Nutrition | 80% |
| Price | 80% |
Pros
Extra protein: 60g per 1,000kcal
Thinner than competitors – easier to drink
Multiple delicious flavours available (10)
Affordable pricing and multiple discounts
Cons
Best prices available only with discounts
Shipping to the US takes 5 days
Total Mass Matrix Extreme is one of the best drinks to gain weight for men: 1,000kcal per serving, 60g of protein and a mix of vitamins and minerals. Thus, this is a meal replacement shake that you can enjoy when trying to gain those extra pounds.
Nutritionally, it has a great balance of macros and a premium blend of protein to help you put on muscle. It also includes some MCTs, multiple sources of carbs (for more nutrients), and some creatine.
Unlike other meal replacements, Total Mass is quite thin and mixes very well with water; which makes it easier to drink. Plus, it is available in 10 flavours, so you don't get bored easily. I would recommend starting with Smooth Chocolate or Chocolate Hazelnut heaven. Also, get a big bag or you will run out very fast.
Three are always discounts running, like Latestfuels12 for an extra 12% OFF.
Nutrition
| | | |
| --- | --- | --- |
| per serving | Total Mass | RI (%) |
| Energy (C/P/F) | 64/22/12 | – |
| Energy (kCal) | 966 | 49 |
| Fats (g) | 13.0 | 19 |
| Saturated (g) | 6.6 | 33 |
| Carbs (g) | 161.0 | 62 |
| Sugars (g) | 38 | 42 |
| Fiber (g) | 6.9 | 35 |
| Protein (g) | 54.0 | 108 |
| Salt (g) | 0.8 | 13 |
---
5. Muscle Milk Gainer
Most Affordable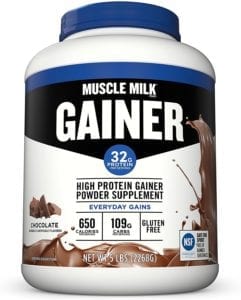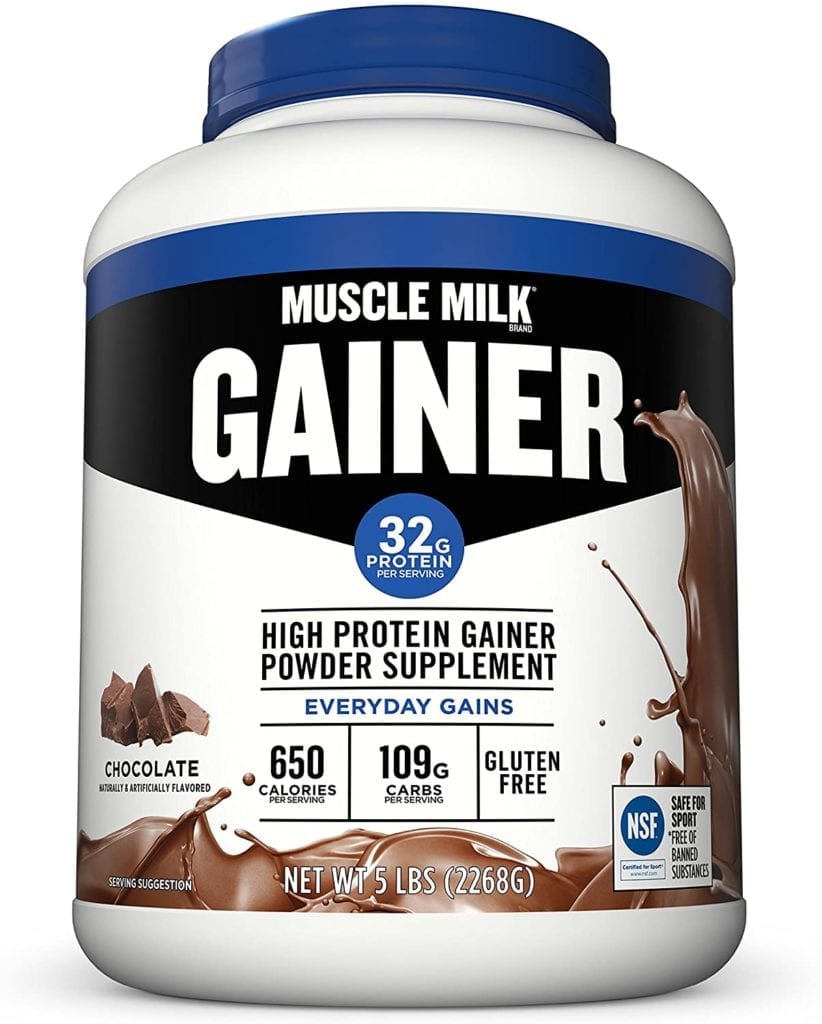 | | |
| --- | --- |
| Taste | 85% |
| Texture | 80% |
| Nutrition | 70% |
| Price | 90% |
Pros
Very competitive price
More moderate shake (650kcal)
Chocolate flavor is nice
Rich in micronutrients
Available on Amazon
Cons
Lower quality ingredients
Not very high in protein
Muscle Milk Gainer is a more affordable high calorie drink. While it is not at the same premium level as other choices, it still offers 650kcal per serving and 32g of protein from milk.
In fact, milk is a complete source of protein and efficient in promoting muscle growth. It is also low in sugars, with only 6g per serving, and rich in dietary fiber.
Out of the three flavors they offer (Vanilla, Cookies'N Creme, and Chocolate), I think Chocolate is the best. However, it is not as good as the ready-to-drink bottles you might find on 7-Eleven and other retailers.
Nutrition
| | | |
| --- | --- | --- |
| per serving | Muscle Milk | DV (%) |
| Energy (C/P/F) | 68/20/12 | – |
| Energy (kCal) | 650 | 33 |
| Fats (g) | 9.0 | 14 |
| Saturated (g) | 3.5 | 18 |
| Cholesterol (mg) | 25 | 8 |
| Carbs (g) | 109.0 | 35 |
| Sugars (g) | 6.0 | |
| of which added (g) | 0.0 | 0 |
| Fiber (g) | 5.0 | 20 |
| Protein (g) | 32.0 | 64 |
| Sodium (mg) | 200.0 | 8 |
---
Best Meal Replacement Shakes for Weight Gain
1. HLTH Complete Meal
Best Weight Gain for Men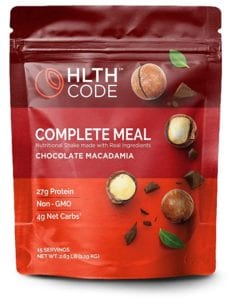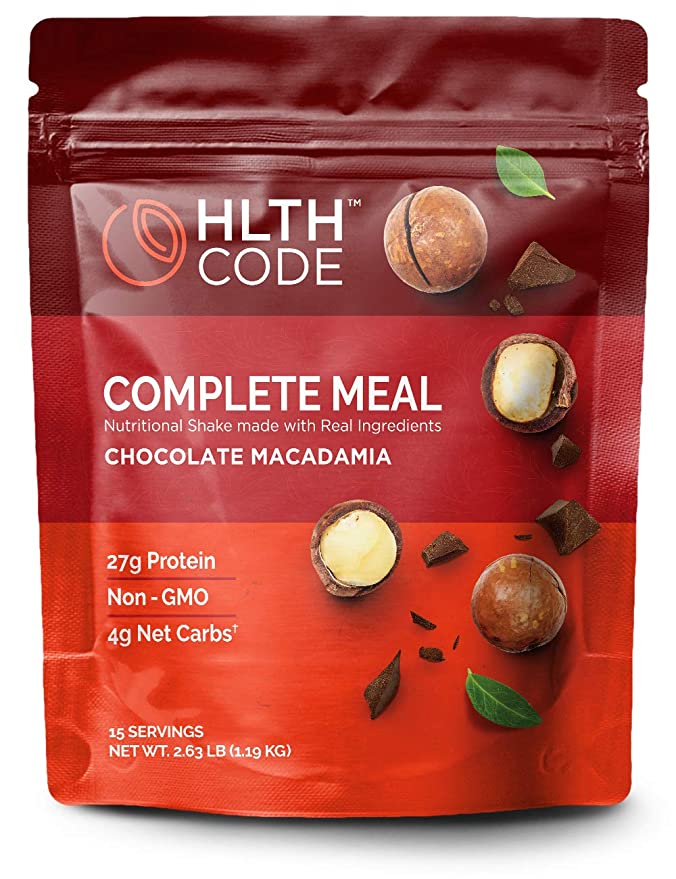 | | |
| --- | --- |
| Taste | 90% |
| Texture | 90% |
| Nutrition | 90% |
| Price | 80% |
Pros
400kcal, 27g of protein and all the nutrients your body needs
Only 4g of net carbs – keto-friendly
Digestive enzymes, probiotics and apple cider vinegar for easy digestion
Rich in micronutrients
Super easy to drink and delicious
Cons
I would increase the serving size to 1.5x at least
Only 2 flavors
If for some reason you are looking for a low-carb mix to use as a high-calorie meal replacement; then HLTH Complete Meal will be the ideal choice. It has only 4g of net carbs, and a whopping 27g of protein.
Furthermore, even if the recommended serving is just 400kcal; you can easily up to 600 or even 800kcal by adding one or two more scoops. Because the shakes are so thin and tasty; you will drink them fairly easily.
On top of that, due to the digestive enzymes, apple cider vinegar and prebiotics, you won't have any stomach issues; unlike with other keto shakes. In my experience, this is one of the most pleasant low-carb shakes to drink.
Finally, because it's loaded with 50% of your daily values for all vitamins and minerals; you can make sure that you are getting all the quality nutrients that you need. The higher micronutrient content is ideal for those who need more calories, thus making this the best meal replacement shake for weight gain for men.
Nutrition
Energy (kcal): 400kcal per serving
Protein (g): 27g from whey protein isolate, grass-fed collagen, egg whites
Carbs (g): 13g
Fats (g): 27g
Sugars (g): 2g
Best Flavour: Chocolate Macadamia
---
2. Huel Black
High Protein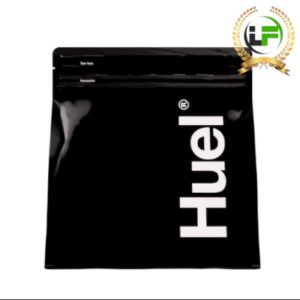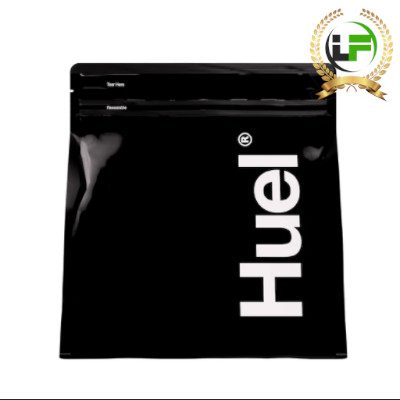 | | |
| --- | --- |
| Taste | 85% |
| Texture | 80% |
| Nutrition | 90% |
| Price | 85% |
Pros
Ultra high in protein: 40g/400kcal
9 flavors to choose from – Salted Caramel is the way to go
Very healthy meal
Vegan, gluten-free, soy-free, no artificial sweeteners
Available worldwide
Cons
Harder to drink: quite thick
Can cause stomach gas issues
Pros
40g of protein per 400kcal
Vegan, soy free, gluten-free and nutritionally complete
Includes healthy fats, vitamins and minerals
Only 4g of added sugar
Salted Caramel is delicious
Cons
Very filling
Can cause gas problems
Huel Black is a meal replacement shake packed with protein and low in carbs. It has quickly become one of the most popular drinks among those who are trying to put on weight and muscle mass.
In fact, there are very few vegan shakes out there that will provide you as much protein as Huel Black at this value. Plus, it's not only about protein, but also healthy carbohydrates, essential fats (like omega-3s), and vitamins and minerals. This ensures that you are gaining weight without sacrificing health (eating low-nutrition foods). This makes it one of the best vegan meal replacement shakes for weight gain.
My favorite flavor from Black is Salted Caramel, and in fact, I would stay away from some of the others like Chocolate. I would stick to Vanilla and Caramel mostly.
The one downside of Huel Black is that the shakes are thicker than some of its competitors, and does keep you full for a while. I would recommend using a blender and making a big (double serving) portion in order to avoid this.
Nutrition
Energy (kcal): 400kcal per serving
Protein (g): 40g from pea and rice protein
Carbs (g): 17g
Fats (g): 17g
Sugars (g): 4g
Best Flavour: Salted Caramel
---
Weight Gain
Putting on weight can be a struggle for those who have a high metabolic rate, are very active during the day, or wrestle to eat tons of food. In fact, it is usually a chore to think and cook to get to 3,000kcal or more. Even more in a world where the most popular choices are low fat and low calorie.
For those, the highest calorie weight gain shakes can be really helpful. Each shake can pack up to 1,250kcal, and be much easier to prepare and drink than a meal that size. However, not all very high-calorie drinks for weight gain are that large.
Nevertheless, if your aim is to put on weight you should be looking for caloric surplus. This is, consuming more calories from food than what you burn during the day.
Healthy Weight Gain
In order to do so, the easiest way is to start with a calorie tracker or a calorie calculator (like Myfitnesspal). These will give you an estimate of the number of calories you need per day, and how many over that you need to put weight.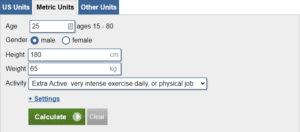 A popular method of adding weight is the "dirty bulk" or basically eating as much as you want of whatever you desire. Nonetheless, I think that meal replacements can be healthy high-calorie drinks that can help you achieve the same goal in a more sustainable manner. They contain higher quality ingredients, more macronutrient balance, and include micronutrients. You could also look at green powders to ensure that you are getting enough nutrients from vegetables and fruits.
Using The Best Meal Replacements For Weight Gain
There are many factors that make meal replacements so great to gain weight with and add muscle mass:
Meal replacements make drinking calories easy.
They are healthier and more balanced than standard weight gainers.
The best meal replacements include vitamins and minerals, plus essential fatty acids.
You can have vegan, gluten-free, soy-free or dairy-free shakes.
Convenient. You can have them on the go and make sure you don't skip any meals.
Tasty. In general, meal replacements have better consistency, texture and taste when compared to protein powders.
What High Calorie Drinks are Best?
When it comes to deciding the best meal replacements for weight gain or the best high calorie protein powders; it depends a lot on the preference.
Meal replacements are going to be usually more balanced and might contain less protein than traditional weight gainers. They might even be smaller in size with about 600kcal per drink; but also easier to use in the long run. Thus, more sustainable.
High-calorie protein powders on the other hand are usually made with more processed ingredients and aim to boost your calorie intake and protein intake mainly. Hence, they do not look at essential fats or micronutrients. Nonetheless, they can be a great high calorie supplement to help you reach your goals.
Other Tips and Tricks
I'm not going to share any major tricks here, but just a couple of ways you can easily and healthily increase your calorie count.
Drink milk. Ideally, you would drink full-fat milk, since it's the most calorie-rich option. Nonetheless, adding milk to your high calorie nutrition drink will add another 200-400kcal easily.
Peanut butter, banana, and honey. Particularly if you are using drinks, blending these into your favorite meal shake can add a few extra calories that you won't notice while drinking.
Eat green powders. When you are looking to add calories, you tend to ignore vegetables in favor of more calorie-rich not nutrient-dense alternatives. Green powders can be a great way to ensure you get your nutrients. You could also look at multivitamins.
Eat often. Another trick is to get used to eating every 3h. That's where the high calorie drinks will come in handy, too.
Do Your Own High Calorie Shake
So let's say you want to save some money. You could do your own weight gainer drink at home without the need for any of the abovementioned shakes.
Key ingredients that you will need:
Full fat milk or plant-based alternative. Cost: $1/L or $3.77/gallon
Protein powder of your choice. I personally like Impact Whey: $0.75 per serving (1 scoop). A good plant-based alternative would be:
Oats. Cheap and good quality source of carbs. Cost: $0.13/ounce. Alternatively, you can use maltodextrin, which makes shakes smoother.
Some good fillers include:
Bananas. Great source of potassium and key vitamins and minerals. Good amount of calories for a fruit.
Peanut butter. A superb source of healthy fats and protein, plus it tastes great.
Honey or maple syrup. Adds sweetness and some extra calories.
Cacao powder. For those who like to make it chocolate flavored.
Here are some ideas for high calorie drink recipes:
Simple Weight Gain Drink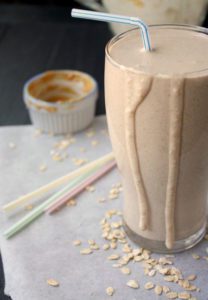 Ingredients
Milk (500ml or 17 oz)
Oats (100g)
Banana x2
Peanut butter (2 tablespoons)
Protein powder – Impact Whey (2 scoops)
Cacao powder (optional)
Nutrition:
Energy: 1296kcal
Macros (C/P/F): 43/25/32
Carbs: 146g
Protein: 80g
Fats: 46g
Tips:
You can add water, and remove milk as you wish (50/50, 40/60) or use a plant-based alternative.
If you don't like Bananas swap for other fruit

Extravaganza Weight Gain Drink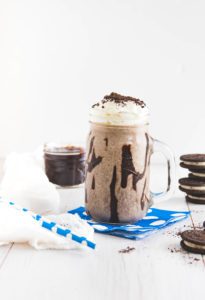 Ingredients
Milk (500ml or 17 oz)
Oats (100g)
Ice cream 2 scoops – Personal pick: B&J Brownie Chocolate
Protein powder – Impact Whey (3 scoops)
Oreo Cookie 3 (optional)
Whipped Cream (optional)
Nutrition:
Energy: 1395kcal
Macros (C/P/F): 39/28/33
Carbs: 142g
Protein: 96g
Fats: 51g

Berry Blast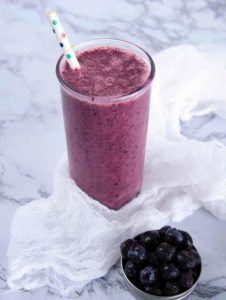 Ingredients
Oat Milk (240ml or 8 oz)
Maltodextrin (100g)
Frozen Berries (2 cups)
Protein powder – Impact Whey (32 scoops)
Kiwi 2
Full fat greek yogurt (8oz)
Honey or maple syrup (2 teaspoon)
Nutrition:
Energy: 1203kcal
Macros (C/P/F): 65/22/13
Carbs: 198g
Protein: 69g
Fats: 18g

More High Calorie Meal Replacement Shakes for Weight Gain
Besides the ones mentioned above, there are more meal replacement shakes that can help you support your active lifestyle. Some of these are could easily be among the best meal replacements for weight gain.
| | Kcal/serving | Ships to |
| --- | --- | --- |
| Queal Athletic | 766 | World* |
| Jake Sports | 743 | World* |
| Jake Original | 670 | World* |
| Feed. Sports | 500 | EU |
| SBF Athlete Fuel | 650 | World* |
| Runtime | 600 | EU, US |
Besides this, thin shakes like YFood and Saturo can also make drinking 500kcal very easy.
You might have heard of others like Ensure high calorie or Boost high calorie drinks; but in reality, those tend to have less than 350kcal per serving.
Conclusion: High Calorie Shakes
… can be great for gaining weight or fueling your active lifestyle. While some of them are for more extreme cases, like Serious Mass, many high calorie drinks can be used regularly as part of a healthy diet.
In fact, the best high calorie meal replacements can help you sustain your caloric needs in a balanced manner. Look for quality ingredients and complete nutritional profiles to ensure you eating good nutrients.
No matter what you choose, though, make sure you never feel bloated, sick or have unwanted secondary effects. Because there's something out there that will suit you better if that's the case.
Sources
1.US Dietary Guidelines 2015-20.
2. FDA Daily Values.
3. Ultimate Meal Replacement List.
4. Latestfuel's Best Meal Replacement Shakes.