Optimal Focus Coffee Review | The Best Coffee for Mental Performance?
In the current hectic society, we are expected to continuously perform at our best. For that purpose, many rely on brain supplements that can help them focus and increase their cognitive performance while helping them fight stress and anxiety.
But, who's tired of popping pills? 🙋🏾🙋‍♀️🙋🏼
Luckily, some companies are actually listening and giving us some options as to how get what we need, without adding another pill into the mix.
Today we're taking a look at another unique nootropic, this time in the form of ground coffee. We've taken a look at fruity gummies, chewing gum, breath mints, protein powders with mushrooms, and now your morning cup of joe can provide with you so much more than just a caffeinated pick-me-up.
Our friends over at Optimal Nutrition have architected Optimal Focus Coffee, a premium brand of roasted coffee, formulated to improve memory, mood, and focus.
Not fully awake? Here are LatestFuel's quick takeaways:
A new, easy way to get your daily nootropics.
It's premium ground coffee with adaptogens for focus, mood and energy.
It's $35 per 15 serving bag + $5 shipping. No subscriptions.
The coffee was pleasant tasting, and did provide noticeable benefits, without jitters.
Optimal Focus Coffee is ideal for those who want to dabble into nootropics without having to consume pills
Use de code LATESTFUELS10 for a 10% discount.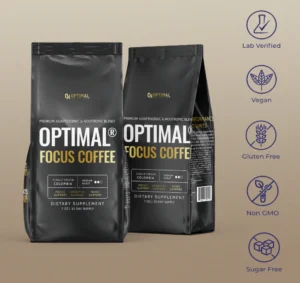 ---
Optimal Focus Coffee at a Glance
---
Opinion
I wasn't really a gum chewer, but Neuro Gum -nootropic gummies- changed that for me. I'm also not really a coffee drinker, so maybe Optimal Focus Coffee can make me a return drinker.
For most of my adulthood, I've stayed away from coffee. I think it tastes great and all, but more often than not, the caffeine will get the better of me. Like really get the better of me, I'm talking hyperactivity, jitters and my heart feels like it's going to explode.
For this, Focus Coffee claims to have additives in it that will prevent that, which I certainly hope is the case. I bought a cheap coffee maker just for this, so I'm hopeful that I can finish the bag.
Before I subject myself to this, see my pros and cons below:
Wide Awake
1. Kills two birds with one stone. Get your coffee, and your nootropics all in one.
2. Good taste. Corners were not cut when it comes to taste.
3. Reasonably priced. Not much more than store-bought coffee.
4. Cheap, flat-rate shipping. Only $5 anywhere in the US
Kinda Tired
1. No listed caffeine amounts. According to FAQ is about 100mg. Prefer it on the label.
2. Missed out on the focus benefits. Your mileage may vary. Won't work for everyone.
Ingredients & Benefits
Optimal Focus Coffee wants you focused and feeling good. They have a lovely complement of adaptogens to relax you, improve your mood, and keep you in the game.
Sadly, the exact quantities of each ingredient are semi-hidden under proprietary blends – which is something we strongly advocate against. As mentioned with other popular nootropics like Alpha Brain, proprietary blends could hide fillers and might indicate that some ingredients are not in high enough dosages.
Here are the ingredients in Optimal Focus Coffee:
Vitamin B Blend – 26mg
Ground Coffee 11g (100mg of caffeine)
Focus Blend – 660mg

Alpha GPC – 200mg
Huperzine A – ?
Phosphatidylserine – ?

State Blend – 250mg

L-theanine – 125mg
Rhodiola Rhosea 3% – ?
Ashwagandha – ?

Mood Blend – 900mg

L-tyrosine – 250mg
Lion's Mane Mushroom – 300mg
Mucuna Pruriens – ?
Optimal Focus Coffee Benefits
How are these extra ingredients going to help? What makes this different from any other coffee?
Optimal Focus Coffee has three adaptogen blends all working together in each cup:
Focus Blend
State Blend
Mood Blend
Focus Blend
Containing Alpha GPC, Hyperzine A, Choline & Phosphatidylserine, this blend is designed to get you, and keep you focused and locked in.
This blend is seen in many popular nootropic blends as it can tackle various areas of brain health and cognition including neuroprotection, memory, learning, reaction speeds, and focus.
State Blend
This blend combines, L-Theanine, Ashwagandha & Rhodiola Rosea to relax you, reduce stress, level off the caffeine and reduce mental fatigue. The perfect complement to the Focus Blend.
L-theanine is the factor that will counteract caffeine and stop the jitters.
Mood Blend
Lion's Mane, L-Tyrosine & Mucana Pruriens are all included with the goal of having you feeling your best.
If you are fighting anxiety and stress with supplements, you will definitely want Lion's mane, but it would have been good to see bacopa, too.
Does Optimal Focus Coffee Work?
Like with anything, your mileage may vary, and depends on a whole host of variables. Some studies show that the benefits of some of these additives are inconclusive.
As a larger, middle-aged man, that doesn't use nootropics or caffeine regularly, I can say I did notice some specific effects.
I felt energized, but not out of control. The caffeine effect was held in check. Seemed like I kept finding reasons to get up and do something.
I did feel surprisingly good. Better than I had felt all week.
Can't say that it improved my focus. I'm scatterbrained by nature, and it's going to take much more than augmented coffee to fix that.
Other top nootropics, like Hunter Focus, have been more effective at controlling my mood and improving my focus and attention span. However, they are also more cumbersome to consume (6-pills). Optimal Focus was also better at keeping me energized.
Taste Test
Disclaimer…. I don't drink enough coffee to tell the difference between good, and really good.
I can weed bad coffee and will know if it tastes as it came from a gas station, but just saying I'm no aficionado. Hell, I didn't even own a coffee maker, I had to do some ridiculous 1 guy, 2 cups thing just for my first cup.
My first cup was good, but not great…likely because I needed a coffee maker. The second cup was better using the coffee maker, it had a full taste, and I was able to drink it with or without cream. Honestly, I felt it was better without cream, as the generic half & half I had, seemed to dampen the taste.
My makeshift Frappuccino (mixed with OWYN) was good as well, though I learned it doesn't exactly mix as it does on TV. That velvety, silky combining effect was more like coffee sitting on top of the denser shake lol. Still rather good when mixed, nonetheless.
Taking everything into consideration, I must admit that the taste of Optimal is better than some nootropic coffee supplements like Supersonic Coffee.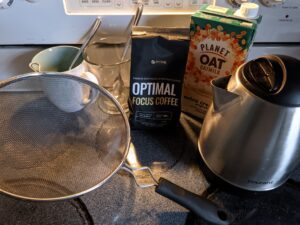 Meet the Founders
Optimal Nutrition is a company based in Oxnard, CA, that delivers superior supplement blends to individuals who wish to exceed their limits and attain their objectives.
The company's initial product, a focus coffee, has been carefully designed for over a year to give the ideal combination of nootropics and adaptogens to improve mental focus and performance.
Now, a bit about the founders: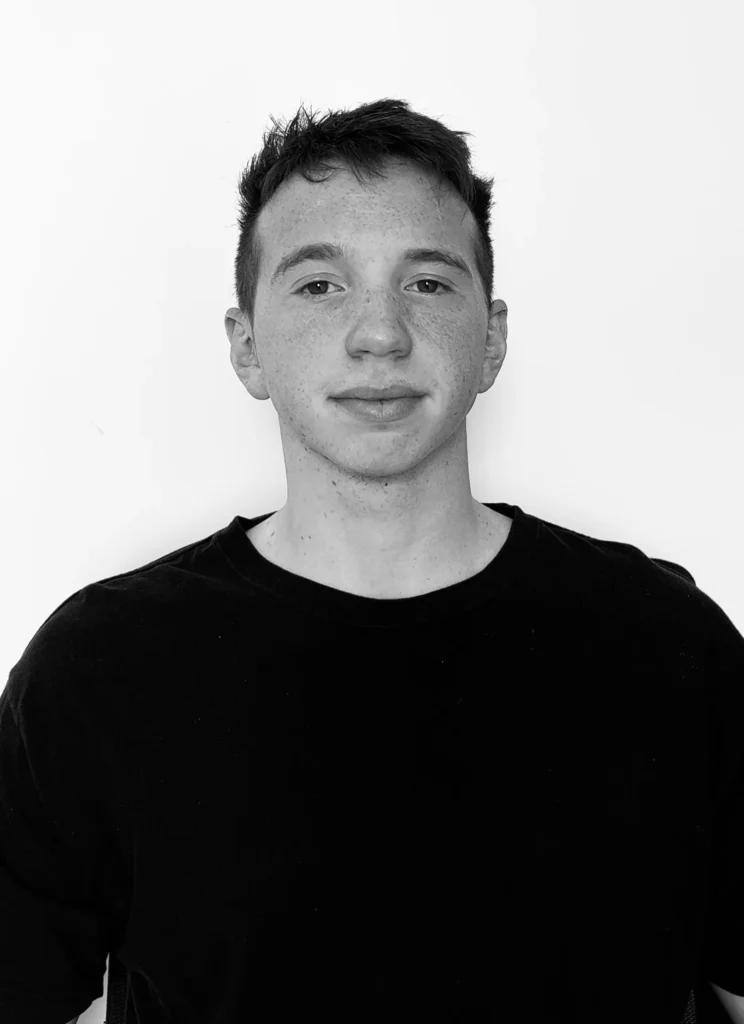 Sebastian Schmidt
I always knew that I wanted to make a difference in the world. From the time I was in university studying business administration and in my Master of Business Analytics, I was determined to find a way to improve the lives of others.
As someone who is passionate about human performance and loves weightlifting and soccer, I saw firsthand the importance of finding ways to help people reach their full potential. But when I looked at the performance-enhancing products on the market, I was disappointed by their low quality and high cost.
So right now I'm completely focusing on revolutionizing the performance industry and creating products that truly make a difference in people's lives.
Vicente Mantero
Hello, I am one of the founders of Optimal Nutrition. I have been on a personal journey to increase my own personal performance as an individual for years, and I am very excited to share what I have learned with others. This is the reason why I wanted to start Optimal Nutrition and help other people increase their performance and focus through functional, easy-to-consume products.
My goal at Optimal Nutrition is to help individuals discover new, healthy ways to boost their performance and strive for high performance. I'm are here to assist you on your journey and help you achieve optimal levels of performance.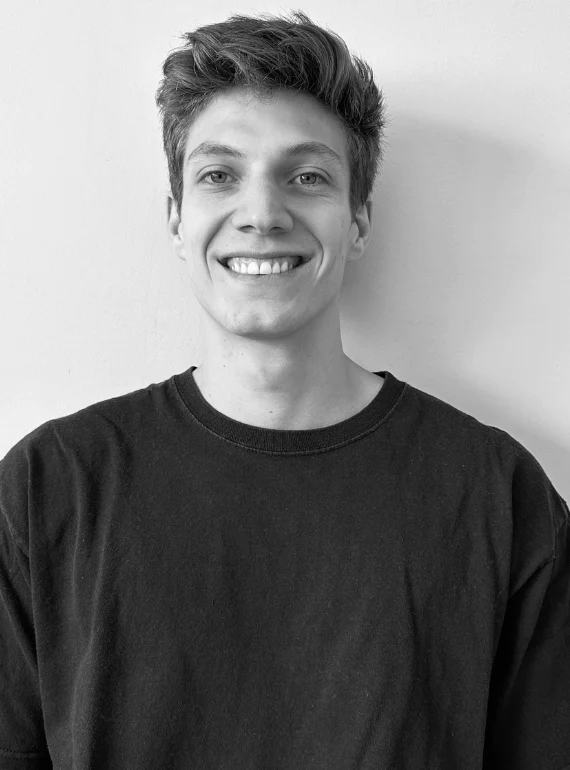 Pricing & Shipping
Each bag of Optimal Focus Coffee contains 15 servings and is currently priced at $34.90, or $2.33 per serving. It can only be purchased from their webpage.
For those who love the product, Optimal Focus Coffee offers a 10% subscription discount where you can get your coffee delivered at the rate that best suits you.
Shipping is a flat rate of $5 anywhere in the US no matter the quantity.
Real User Optimal Focus Coffee Reviews
Optimal Nutrition is a relatively new brand. However, their first product, Optimal Focus Coffee has been received extremely positively by the users.
They have 22 5-star user reviews on their site.
Most Optimal Focus Coffee reviews remark on its efficiency:
I was hesitant to try this coffee, but Im glad I did. Not only does it taste good, but it also helps me get more done during the day. I just get in a good mood to do all the tasks I need to do.

Jonah M, 5-star
I have been using it to study for my finals and it is working really good. recommended for students.

5-star review
Other Nootropics & Mushroom Coffees
There are multiple brain supplements and cognitive boosters on the market.
They come in various shapes and forms including pills, gummies, gum, powder, energy shots, and even coffee, as we've seen.
Many other coffees use mushrooms like Lion's Mane, ashwagandha or shiitake in order to provide you with a mental boost.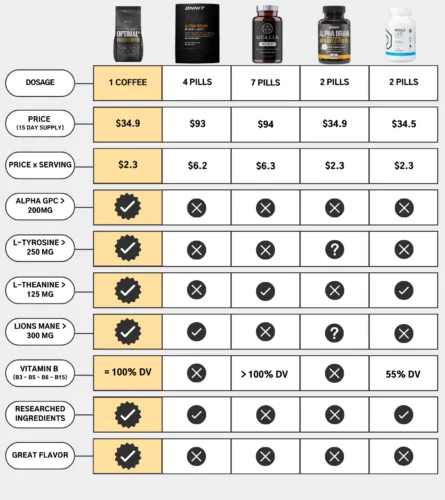 Four Sigmatic vs Optimal Coffee
Perhaps, the most well-known mushroom coffee is Four Sigmatic, an excellent coffee blend for mental and immune support and stress relief.
Besides coffee, Four Sigmatic Think includes Lion's Mane and Chaga extract. This is much less powerful than the blend Optimal Coffee offers.
Other products include mushrooms like cordyceps or green tea extract, but none of them are as well-rounded as Optimal Coffee.
Optimal Coffee vs the Best Nootropics
For those not used to brain supplements and coffee lovers, Optimal Coffee could offer a good alternative to the best nootropics.
The taste and the ease of format are a big plus in favor of Optimal Coffee. Together with meaningful ingredient dosages, it's a winner combination.
That said, the best nootropics like Qualia Mind, Hunter or Mind Lab Pro will have higher dosages and larger quantities of active ingredients. This is simply due to the format, in which they can pack more. The absorption will also be better, and thus the effectiveness.
In particular, when it comes to stress relief and anxiety relief, I prefer using nootropic pills.
Despite that Optimal Coffee can be a good starter in the nootropic world and it's a much easier way to consume them.
Optimal Focus Coffee FAQ
What are Nootropics?
Nootropics are a supplement, drug, or substance that researchers believe help to support improving memory, concentration, and thought patterns and increase overall cognitive functioning. Nootropics provide the perfect boost for productivity in any field of study or work and can be used as a "Nootropic Stack". Nootropic Stacks consist of two or more Nootropics taken together to create a stronger effect than individual nootropics alone and work together to enhance the cognitive effects of the formulation.


Can I drink Optimal Focus Coffee ev
ery day?
You can definitely take it every day. Every day can be a productive day.
However, we recommend people who are new to the world of nootropics to start slowly and see how they react to our formula. Some people are more sensitive to nootropics than others, so it is best to test and evaluate the levels.


When should I enjoy Optimal Focus Coffee?
You can take it at any time of the day, it depends on you and what you plan to do.
You can take it in the morning to start the day concentrated and efficiently, or you can take it after lunch to recharge your energy.
It is not recommended to coffee late at night when you plan to go to sleep, because it will activate you.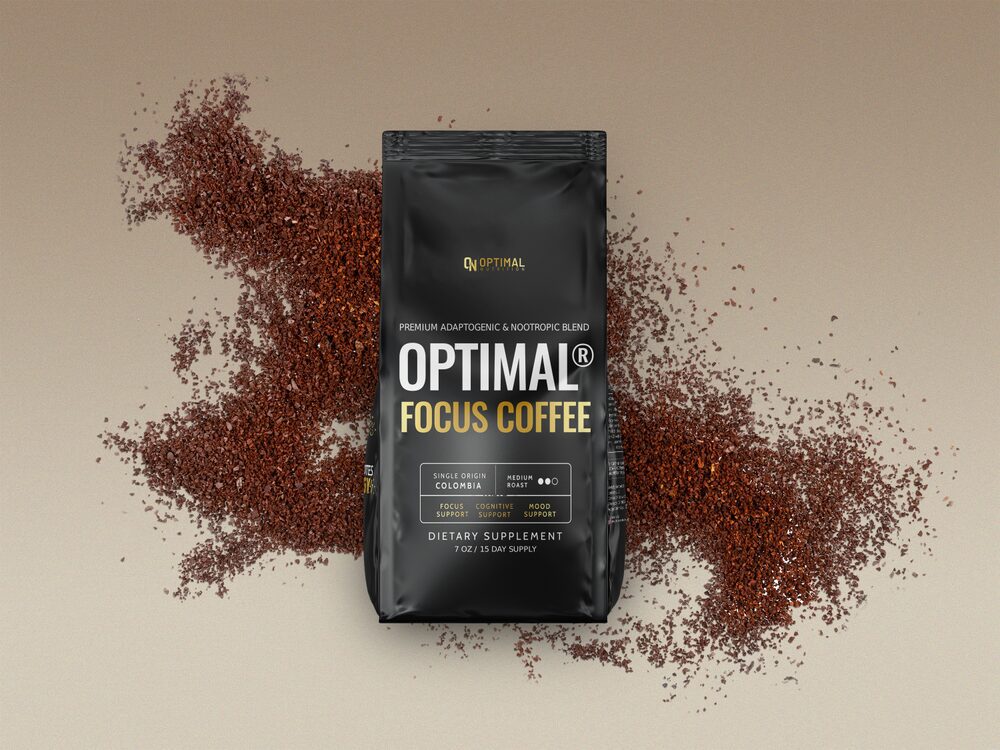 ---
Verdict – Optimal Focus Coffee Review
Another fun way to help you focus and feel energized. I'm all for it!
I appreciate these novel ways of thinking outside of the box and better including those of us who stay away from other energy supplements, or the crowd that hates swallowing pills.
I hope to see them expand into different flavors of coffee. I'm sure there are coffee fanatics out there that would love that. Decaf alternatives would be interesting, too.
Overall, I enjoyed Optimal Focus Coffee. There were some definite benefits that I felt right away, but a subtle enough way that I wasn't spooked. Some stuff just hits you way too fast.
Bottom line, Optimal Focus Coffee is a new, tasty way to help you relax and focus, while not having to add new pills/powders to your daily routine.
Optimal Focus Coffee
$2.3 per serving
Pros
Easy way to get nootropics in
Good coffee taste
Reasonable price
Proven ingredients only
Positive user reviews
Cons
Ingredients quantites not listed clearly
Regular intake required for best results
Not as effective for focus as other nootropics