Bloom Greens Review | Super Smoothie or Useless Supplement?
Welcome to our review of Bloom Nutrition's Super Greens Powder Smoothie & Juice Mix. This product is designed to provide a convenient and nutritious way to get your daily dose of greens. Bloom Super greens is a powder mix that can be added to water, juice, or a smoothie. It contains a blend of organic green powders, fruits, and vegetables.
Why would you want a greens powder though? Well, the best green powders can provide you with multiple benefits including:
Increased energy levels
Improved joint, eye and skin health
Boost your immune system
Might even help you decrease the risk of chronic diseases
This is mostly accomplished by providing you with a blend of vegetables, fruits, and mushrooms that are rich in nutrients (vitamins, minerals, phytonutrients), but low in calories. Considering that according to the CDC, only 10% of Americans consume enough vegetables, greens powders can be extremely useful.
That said, many can be a waste of money, due to lack of effective dosages or supbar ingredients. So what's the case with Super Greens Powder by Bloom?
We will test and provide you with all the answers in this Bloom Super Greens review.
---
Bloom Nutrition Greens Review at a Glance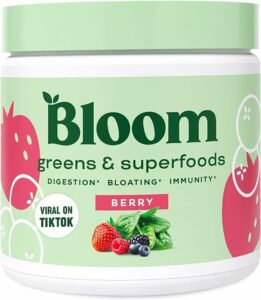 Flavors: Strawberry Kiwi, Mango, Berry, Coconut, Original, and Citrus.
Pros
Good for bloating
Affordable
Good tasting
Cons
Proprietary blend
Underdosed
Too many filler ingredients
Not as good as competitors
---
Bloom Super Greens Ingredients
We will begin by taking a look at the ingredients in Bloom Greens.
The Science Behind Bloom Nutrition Greens & Superfoods
Bloom Greens & Superfood blend is composed of multiple proprietary blends.
Once again, this is a red flag for any supplement, since it does not allow you to know how much of each ingredient there is in the mix. Often allowing for filler and cheaper ingredients to be the bulk of the mix.
In this case, because it's broken down in multiple blends, you can get a better idea of how much there is of each.
Fiber Blend, 1.6g
The Fiber Blend in Bloom Greens consists of chicory root fructooligosaccharides, organic flax seed powder, and apple fruit powder.
Chicory root fructo-oligosaccharides are rich in a prebiotic called inulin, which has been shown to improve digestive health, enhance nutrient absorption, and reduce cholesterol and inflammation.
Flax seeds contain alpha-linolenic acid, which has been associated with regulating blood sugar, blood pressure, and cholesterol levels.
Apple fruit powder, although it may contain vitamin C, does not provide significant health benefits in the blend.
Green Superfood Blend, 1.56g
The Green Superfood Blend in Bloom Nutrition Greens & Superfoods includes organic barley grass powder, organic spirulina powder, organic wheatgrass powder, organic alfalfa leaf powder, and organic chlorella powder.
Barley grass is rich in fiber, vitamins, and minerals, and may contribute to better heart health and improved fat loss when consumed in sufficient amounts.
Spirulina, a natural cyanobacteria, is packed with antioxidants, fatty acids, minerals, protein, and vitamins, and has been associated with various health benefits, including lower blood pressure and improved heart health.
Chlorella, a green algae, is abundant in antioxidants, vitamins, and minerals, and has been linked to increased energy levels, regulated blood sugar and cholesterol levels, and improved overall health and wellbeing.
Pre & Probiotic Blend, 648mg
The Pre & Probiotic Blend in Bloom Nutrition Superfoods contains blue agave inulin, Bifidobacterium bifidum, Lactobacillus rhamnosus, and Lactobacillus acidophilus. Inulin, a prebiotic fiber, can enhance gut health, digestion, and nutrient absorption.
Bifidobacterium bifidum, Lactobacillus rhamnosus, and Lactobacillus acidophilus are probiotic bacteria that have been associated with improved gut health, reduced blood pressure, and enhanced brain function.
However, without knowing the specific strains and colony-forming units (CFUs) present in the blend, it is difficult to determine the effectiveness of this pre and probiotic combination.
Fruit & Vegetable Blend, 572mg
The Fruit & Vegetable Blend in Bloom greens includes organic carrot root powder, beetroot powder, kale leaf powder, blueberry fruit powder, spinach leaf powder, broccoli head powder, and ginger root extract.
Kale and spinach powders are nutrient-dense and offer various health benefits such as improved vision, reduced blood pressure and cholesterol levels, and protection against oxidative damage and heart disease.
Blueberry powder is rich in antioxidants and anthocyanins, which support heart and brain health, cognitive function, and liver protection.
Beetroot powder contains vitamins and minerals that reduce inflammation, blood pressure, and cholesterol, and promote eye, heart, and immune health.
Ginger extract possesses antioxidants and anti-inflammatory properties, aiding joint health, cholesterol reduction, and digestion.
Antioxidant Beauty Blend, 550mg
This blend includes cranberry fruit powder, strawberry fruit powder, raspberry fruit powder, elderberry, sour cherry fruit extract, acai berry, goji berry, horseradish tea leaf, grape seed extract, and matcha green tea leaf.
These fruits and berries are rich in vitamin C, minerals, and antioxidants, which contribute to various health benefits including improved bone, brain, eye, heart, skin, and gut health11.
Horseradish tea, grape seed extract, and matcha green tea leaf are known for their antioxidant and anti-inflammatory properties, supporting detoxification, protection against diseases, and boosting energy levels.
It is important to note that while these ingredients have potential benefits, the low doses in the blend may limit their effectiveness.
Digestive Enzyme Blend, 150mg
The Digestive Enzyme Blend in Bloom Nutrition Greens & Superfoods contains amylase, amyloglucasidase, protease, acid protease, cellulase, and lipase, along with maltodextrin.
These digestive enzymes aid in the breakdown and absorption of carbohydrates, proteins, and fats, supporting overall digestion and gut health.
However, it is worth noting that lactase, maltase, and sucrase, which are important digestive enzymes, are missing from this blend.
Additionally, the presence of maltodextrin, an artificial sweetener that can spike blood sugar levels, may pose health risks and dilute the already low doses of digestive enzymes.
Adaptogenic Blend, 100mg
This includes licorice root extract, rhodiola root powder, American ginseng root powder, ashwagandha root powder, astragalus root powder, and eleuthero root powder.
Licorice root extract may improve digestion but has the potential to lower testosterone and raise cortisol levels.
Rhodiola root powder may slightly reduce stress and fatigue, but its other claimed benefits require further research.
American ginseng and ashwagandha have been associated with various health benefits, including improved testosterone levels, sleep, brain function, and immune function. Astragalus root powder is an anti-inflammatory agent that boosts immunity, heart health, and liver health when consumed in sufficient amounts.
Eleuthero root improves physical performance and reduces fatigue.
Key takeaway: The quantities of these ingredients in Bloom Nutrition Greens & Superfoods may be too small to provide significant effects.
Stevia Leaf Extract
Stevia leaf extract is used as a natural, low-calorie sweetener. It also possesses anti-inflammatory and antioxidative properties, which can protect various organs such as the brain, kidneys, liver, and pancreas.
However, it is important to note that stevia has the potential to be toxic and may cause infertility and certain diseases. It's often used as an alternative to artificial sweeteners in many food supplements, and it's also deemed safe to consume.
Bloom Nutrition Greens & Superfoods Benefits Reviewed
According to Bloom the benefits of taking their greens powder are the following:
Support gut health,
Boost energy,
Soothe uncomfortable bloat.
Besides, you should also benefit from taking increased vitamins and minerals, as well as antioxidants, helping you with:
Joint pain
Eye, skin health
Reducing the risk of chronic diseases
That said, as mentioned in the ingredients section, most of the ingredients found in Bloom Greens are heavily underdosed.
For instance, the adaptogen blend is almost useless, and you would be much better taking a nootropic supplement to help you with stress relief, and help with memory and learning.
Similarly, when looking at the vegetable blend, most of the vegetables are in super low quantities. The recommended dose for Ginger is 0.5 to 4g a day, so you are not getting enough of it.
Key takeaway: For those who consume no vegetables, Bloom might provide a minor boost to bloating and gut health, but for most other benefits is not going to be effective enough.
Bloom Greens Side Effects?
As with any dietary supplement, it is important to be aware of potential side effects. While Bloom Greens & Superfoods is generally well-tolerated, some users may experience gastrointestinal symptoms such as nausea, diarrhea, and abdominal pain.
Additionally, certain ingredients in the blend, such as spirulina and chlorella, have been associated with potential contamination by toxins, including heavy metals and pesticides.
As Bloom Nutrition products are not third-party tested, it is advisable to exercise caution when consuming their supplements.
Real Customer Bloom Greens Reviews
Based on real customer reviews, Bloom Nutrition Greens & Superfoods has garnered positive feedback, with many users reporting reduced bloating, improved digestion, increased energy levels, and enhanced mood.
These benefits may be partially attributed to the fiber content, prebiotics, probiotics, and digestive enzymes present in the supplement.
Looking at the Amazon Bloom Nutrition Greens & Superfood reviews, they have a very positive rating. 4.3 stars in over 40k reviews!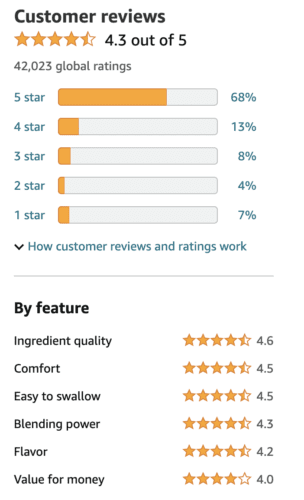 Nonetheless, it's worth noting that Amazon reviews are often filled with fake reviews. That said, ReviewMeta (Amazon review analyzer) only found that 10% of the reviews were suspicious.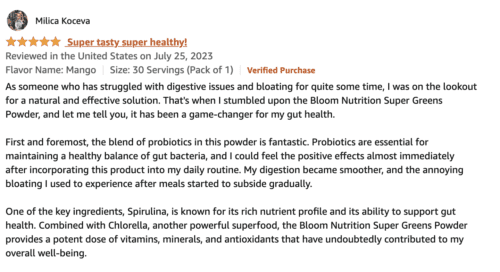 Bloom Nutrition Super Greens Powder Taste
​If you're anything like us, you're always on the lookout for new and interesting ways to get your daily dose of greens.
However, most other green powders before and they always seem to have a bit of a weird taste. This includes some of our recently reviewed greens like Primal Greens or Organifi Greens.
But we were pleasantly surprised by the taste of Bloom Nutrition's Super Greens Powder. It's a really light, refreshing taste that's not too earthy or grassy.
The different flavors are well achieved as well, and most customer reviews agree on this point.
One drawback, however, is that they are rather sweet. So, if you are not a fan of overly sweet greens, you won't like Bloom's taste.
Bloom Greens Price
The cost of Bloom Nutrition Greens & Superfoods varies depending on the size of the container.
1 Tub (30 servings) costs $39.99, or $1.33 per serving.
Unfortunately, Bloom does not offer any subscription or bulk discounts.
Bloom Greens are available on Amazon and on their own site. For the best prices, we recommend purchasing on their site.
They also ship worldwide, although the prices to ship to remote locations might be exorbitant.
Is Bloom Greens Worth It?
If you look at the price per serving, you might think that Bloom Greens are worth it. They are certainly among the cheaper greens, together with Huel Greens, Amazing Greens or Kiala.
However, as discussed before, you get what you pay for. Bloom's greens powder falls short in many key ingredients and it is packed with fillers.
In our opinion, it's better to spend a little extra on a greens blend that will actually be useful like SuperGreen Tonik. Even AG-1 Drink is better, even though it's not as good as the former.
Bloom Greens Review FAQ
Can Bloom Greens help me lose weight?
Although Bloom Greens has some ingredients linked with weight loss (spirulina), it's not an effective weight loss supplement. It can help you nourish your body while on a diet, but a weight-loss meal replacement shake will be more effective at that.


Do Bloom Greens work?
The benefits might vary from individual to individual, but Bloom Greens can be a good way to combat bloating, and help your digestion. It does not work as well for immune support and increasing your vegetable intake as other competitors, though.


What does Bloom Greens do for your body?
Bloom Greens might reduce your bloating, improved your gut health, boost your energy levels, support your immune system, and even improve your skin health. That said, it's not the most effective greens supplement at doing so.


Who is the owner of Bloom Nutrition?
Mari Llewellyn is the owner of Bloom.


Is Bloom FDA-approved?
Bloom is not FDA-approved and it's not 3rd party tested, either.


Verdict – Bloom Greens Review
Bloom Nutrition Greens & Superfoods offers a convenient way to incorporate a variety of plant-based nutrients into your daily routine.
While the blend contains several ingredients that have been associated with potential health benefits, such as improved digestion, reduced bloating, increased energy levels, and enhanced immune function, it is important to consider the low doses of these ingredients in the supplement.
Scientific evidence supporting the specific claims made by Bloom Nutrition is limited, and individual experiences may vary.
From our testing, we found Bloom to be lackluster in most areas. In particular, we were disappointed with the ingredient quantities. Most certainly, you won't get the benefits that you are looking for when taking Bloom Greens.
As such, we recommend looking at alternatives like SuperGreen Tonik, instead.