Primal Greens Review | Is It Better than AG-1?
In today's fast-paced world, it's easy to overlook the importance of maintaining a healthy diet. With busy schedules and endless options for convenient processed foods, it's no wonder that more and more people are turning to nutritional supplements to fill the gaps in their diet.
Meal replacements, nootropics, and greens supplements are among the most popular hacks to save time, improve your health, and boost your productivity. Green powders are supplements that focus on providing you with the benefits you get from eating vegetables and fruits.
One such supplement is Primal Greens, a nutrient-packed powder that promises to give you the essential vitamins and minerals your body needs for optimal health.
But how good is Primal Greens really? In this Primal Greens review, we'll dive into the product's benefits, whether it's healthy, and how it stacks up against other supplements like AG-1 Athletic Greens and other popular greens.
Key takeaways
Primal Greens is an affordable greens powder, and a good alternative to AG-1
It has 50+ superfoods, antioxidants, digestive enzymes, and probiotics
Ingredients are hidden under a proprietary blend, which makes it hard to judge the effectiveness
Primal Greens does not mix very well, and the taste is below average
For a more effective greens powder, I recommend you Supergreen Tonik
---
Primal Greens Review at a Glance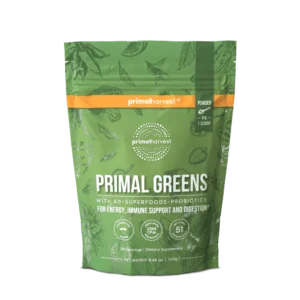 Primal Greens is a dietary supplement that contains a blend of nutrient-dense superfoods, probiotics, and digestive enzymes. It's designed to provide a convenient and effective way to boost your intake of essential vitamins and minerals that may be lacking in your diet.
---
Primal Greens Ingredients
This is a fully plant-based, vegan, gmo-free, and gluten-free blend.
Similarly to the top green powders, it offers a comprehensive blend of 50+ ingredients mostly comprised of organic herbs and fruits and some synthetic vitamins and minerals.
However, the exact quantities of each ingredient are sadly not disclosed, which makes assessing the efficiency of each harder. This trend to hide under proprietary labels is sadly quite common in the industry, as set by the most popular green brand AG-1.
Instead, we recommend looking at brands that are 100% transparent with their labels like Supertonik Green.
Below you can see the ingredients in Primal Greens:
Vitamin C (as Ascorbic Acid), Vitamin E (as DL-Alpha Tocopheryl Acetate), Vitamin B12 (as Cyanocobalamin), Zinc (as Zinc AAC), Copper (Sodium Copper Chlorophyllin), Superfood, Antioxidant and Mushroom Blend (Alfalfa Leaf, Carrot, Wheat Grass, Spinach, Spirulina, Banana, Coconut Juice, Broccoli, Tomato, Beet, Cucumber, Brussel Sprout, Cabbage, Celery, Kale, Asparagus, Green Bell Pepper, Cauliflower, Parsley, Pomegranate, Blueberry, Blackberry, Raspberry, Cranberry, Pineapple, Concord Grape, Cherry, Apricot, Orange, Strawberry, Chlorella (Cracked Cell Wall), Camu Camu Fruit, Reishi Mushroom, Shitake Mushroom, Maitake Mushroom),  Herb and Extract Blend (Acacia Gum, Acerola Cherry Extract, Turmeric Root, Green Tea Leaf, Cinnamon Bark, Eleuthero Root, GInger Root, Enzyme Treated Stevia Extract, Mangosteen Extract, Ashwagandha Root, Korean Ginseng Root, Chlorophyllin), Digestive Complex (Apple Fiber, Inulin (Chicory Root Ext.), Fungal Amylase, Fungal Protease, Glucoamylase, Lipase, Cellulase), Probiotic Blend (B. Longum, L. Acidophilus, L. Rhamnosus).
Is Primal Greens Healthy?
When it comes to nutritional supplements, it's important to ensure that the ingredients are healthy and safe for consumption.
In the case of Primal Greens, the answer is yes. The supplement is made from natural, whole-food sources, and is free from artificial preservatives and flavors.
Here are some of the key ingredients in Primal Greens and their health benefits:
Organic greens blend: A mixture of nutrient-dense greens like kale, spinach, and broccoli, which are high in vitamins A, C, and K, as well as fiber and antioxidants.
Probiotics: These beneficial bacteria help support digestion and boost immunity.
Digestive enzymes: These enzymes help break down food and aid in nutrient absorption.
Organic fruit and vegetable blend: Provides additional vitamins and minerals, as well as antioxidants to help protect against free radicals.
Organic sprouts blend: Sprouts are packed with nutrients and enzymes, making them a great addition to any diet.
Overall, Primal Greens is a healthy supplement that can help fill the nutritional gaps in your diet.
However, when compared to close competitors, many of these are found at lower quantities.
What Are the Benefits of Primal Greens?
Primal Greens has several benefits that can help improve your overall health and wellness. Here are some of the key benefits of this supplement:
Improved digestion: Primal Greens contains both probiotics and digestive enzymes, which can help improve digestion and nutrient absorption.
Increased energy: The blend of superfoods and nutrients in Primal Greens can provide a natural energy boost without the crash that comes with sugary energy drinks.
Reduced inflammation: Many of the ingredients in Primal Greens, such as turmeric and ginger, have anti-inflammatory properties that can help reduce inflammation in the body.
Better immune function: Probiotics and antioxidants in Primal Greens can help support a healthy immune system.
Enhanced mental clarity: The nutrient-dense ingredients in Primal Greens can help improve brain function and mental clarity.
Nevertheless, it's worth noting that the extent of each benefit is hard to judge. For once, they don't disclose the exact quantities of all ingredients.
On the other hand, for some of the benefits daily intake will be required, which we were unable to do for this review.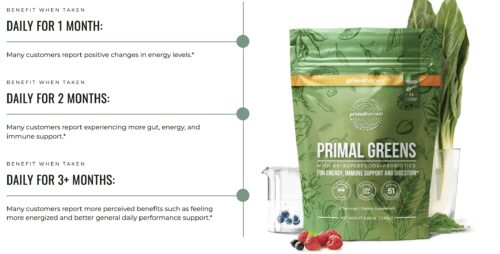 Primal Greens Price
When it comes to greens powders, the prices vary significantly. There are the more affordable barebone greens and the ultra-premium expensive powders.
Primal Greens falls in the middle.
1 Bag (30 servings) will cost you $49.95 in total or $1.67 per serving
However, there are bulk and subscription discounts that can bring the price to $1.34, which is very affordable.
Where Can I Buy Primal Greens?
This greens powder is available on Amazon and their own website. While Amazon might offer you free speedy shipping, the best prices are on Primal Harvest's site.
Is Primal Greens Worth It?
When it comes to nutritional supplements, it's important to consider whether they're worth the investment.
If you are looking for an affordable greens supplement, then the answer might be yes.
However, if you are looking for the best greens powder you can afford, then the response is no.
As discussed above, Primal Greens is not transparent with its labeling. They have lower quantities of key plants, has no vitamin A, lower quantities of vitamin C per serving and overall a lower quality formulation.
Primal Greens Alternatives
Fortunately, there are many alternatives to Primal Greens that offer you more for your money.
#1 Primal Green Alternative – SuperGreen Tonik
Our favorite is SuperGreen Tonik, as it offers a more comprehensive greens blend.
Not only that, but they have a fully transparent label so that you know the greens are in effective doses.
Furthermore, the berry flavor is much better tasting than what Primal Green offers, and mixes better with water.
You will have to pay extra, but I think it's 100% worth it.
#2 Primal Green Alternative – Huel Daily Greens
If you are looking for more affordable options you can consider both Amazing Grass or Huel Greens.
The latter cost $1.5/serving but has 75+ ingredients, 25 more than Primal Greens. Huel Greens is also richer in vitamins and minerals, making it a more complete package.
As far as the taste is concerned, Huel Daily Greens takes the edge here. The refreshing pineapple and lime drink is actually quite enjoyable to drink, unlike many other green counterparts.
Besides the above, there are cheaper alternatives like Bloom Greens and Organifi, but they are not really worth the money.
Primal Greens vs AG-1: Which Is Better?
AG-1 is another popular nutritional supplement that contains a blend of superfoods, probiotics, and digestive enzymes. So how does it compare to Primal Greens? Here are some key differences between the two:
Ingredients: While both supplements contain similar ingredients, Athletic Greens has a more extensive list of superfoods and nutrients.
Price: AG-1 Greens is considerably more expensive than Primal, but the quality of the ingredients is worth the investment.
Taste: Neither of them was a favorite of mine when testing, but perhaps Primal Greens is slightly better.
Convenience: Both are incredibly convenient. That said, AG-1 can be bought in 15-serving bags or single-serving bags.
Overall, both supplements have their strengths and weaknesses, but AG-1 Greens is the better choice for individuals who want a more extensive list of superfoods and nutrients, and the convenience of a powder that can be easily added to drinks or smoothies.
Primal Greens, on the other, hand will be a better fit for those looking for a cheaper greens powder.
Real User Primal Greens Reviews
So I have had a mixed experience with Primal Greens.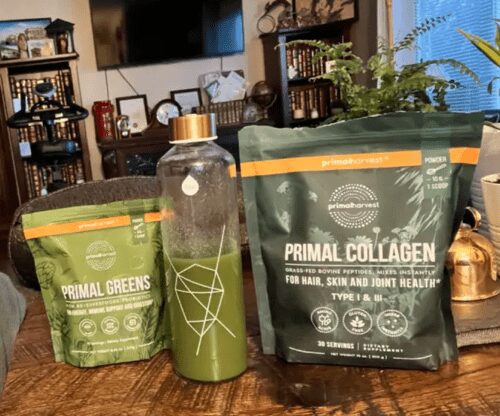 While I think the product is affordable and has a good set of ingredients, I think it lacks transparency and some key ingredients. Similarly, I didn't enjoy the taste.
That said, Primal Green reviews by users are overwhelmingly positive.
On their website, they have 4.9 stars from 483 reviews.
On Amazon, Primal Greens has 4.3 stars from 1,400 reviews!
Primal greens hits all the right buttons for me with the super foods the probiotics immune support and digestion. It's a perfect mix of everything I need and I start my day and the bonus says it taste great. I like to add a little milk and water to the mix and I actually enjoy it.

Peter N, 5 star review
More critical reviews remark that the taste and mixability are not as good as some competitors.
Not the best tasting greens. Really need to use a frother/blender to mix it well or it doesn't fully dissolve in water. I can choke it down but won't be buying again.

Courtney, 3 star review on Amazon
Primal Greens Review FAQs
Does Primal Greens contain any artificial ingredients?
No, Primal Greens is made from natural, whole-food sources and is free from artificial preservatives and flavors.


Can Primal Greens help with weight loss?
While Primal Greens isn't specifically marketed as a weight loss supplement, the nutrient-dense ingredients can help support a healthy metabolism and aid in weight loss.


Is Primal Greens safe for children to consume?
Primal Greens is safe for most individuals to consume, including children. However, it's always important to consult with a healthcare professional before adding any new supplements to your child's diet.


Verdict – Primal Greens Review
In conclusion, Primal Greens is a highly beneficial supplement that can help improve your overall health and wellness.
Its blend of superfoods, probiotics, and digestive enzymes can help improve digestion, boost energy, reduce inflammation, support a healthy immune system, and enhance mental clarity.
While it may be cheaper than some other supplements on the market, it does come with some downsides.
The taste is not as good as close competitors, like SuperGreen Tonik
The dosages of key ingredients are lower – thus it's less effective
Lacks some key minerals
Taking all that into consideration, while Primal Greens is a competitive product, I think that it's well worth spending a little more for a product like SuperGreen Tonik instead.
Primal Greens
From $1.67/serving
Pros
Affordable
Good set of greens
Includes digestive enzymes and probiotics
Good value for the price
Cons
Lacks vitamins
Proprietary blend hiding ingredients
Taste and mixability are not the best
Worst than competition