The 7 Best Shakeology Alternatives: Cheaper & Healthier (2023)
Despite what they might want you to believe, Shakeology is not the healthiest or the best meal replacement shake. Not even close. I would go as far as saying that they are overpriced and fail to meet expectations. Don't worry. Here you will find the best Shakeology alternatives that actually taste delicious and are good for your body.
Do you think Shakeology is too expensive? Are you looking for a healthy meal replacement shake that fits your budget? You will find all the answers you are looking for
Over the past 5 years, I've tested over 250 different meal replacement shakes, including Shakeology shakes. With the knowledge I've acquired through this experience, I've crafted a list of the top alternatives to Shakeology.
Shakeology is a meal replacement shake directed primarily to those who are looking to lose weight. According to them, Shakeology is a powerful superfood blend crafted to provide the body with the right nutrients.
Despite this premise, their drinks have clear nutritional imbalances and fail to deliver all the weight-loss claims. Thus, many start looking for the best Shakeology alternatives.
So if you are bored of overpaying and are looking for cheap alternatives to Shakeology; you are in the right place. If you are looking for a healthier Shakeology substitute, you'll find one here.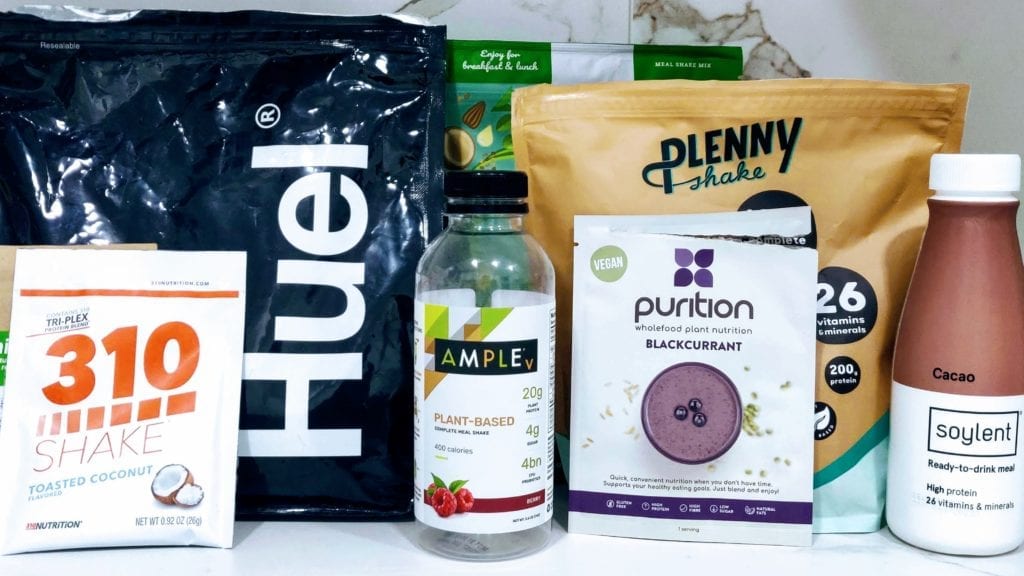 ---
Top Shakeology Alternatives at a Glance
Let's have a brief overlook at the best alternatives to Shakeology meal replacement shakes:
Best Shakeology Alternative –> LYFEfuel Daily Essentials
Best Value Shakeology Alternative –> Rootana
Best Shakeology Alternative for Weight Loss –> Instant Knockout
Best Low Carb Shakeology Alternative –> HLTH Complete Meal
Top Shakeology Organic Alternative –> Orgain All in One
The Best Protein Shakeology Alternative –> Four Sigmatic
Below you can see the main benefits of the best alternatives to Shakeology.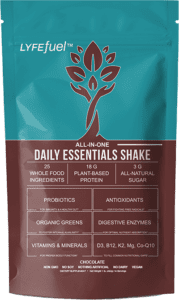 #1 LYFEfuel – Best Shakeology Alternative
Natural, high-quality ingredients, no synthetic additives
Super nutritious with over 25 whole food ingredients (kale, broccoli, spinach, organic pea…)
Low in calories, high in protein, super filling
Lovely chocolate shake.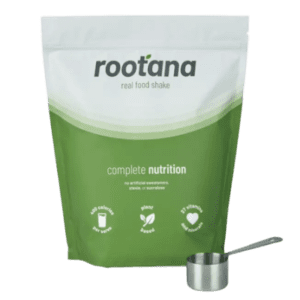 #2 Rootana – Best Cheaper Alternative to Shakeology
As healthy as Shakeology but half the price
No artificial sweeteners, not even stevia
No processed carbs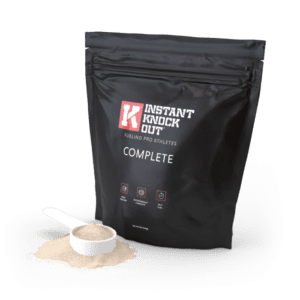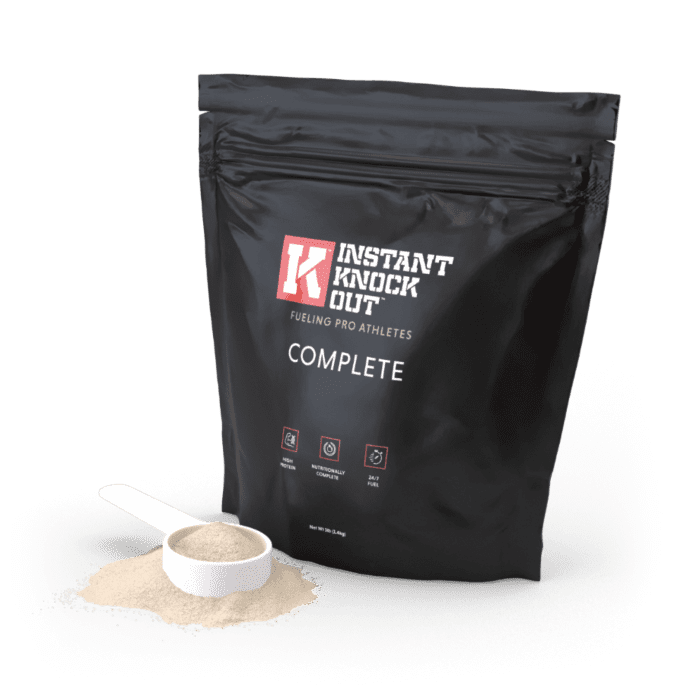 #3 Complete – Best Weight Loss
Designed for weight loss and performance
35g of plant-based protein per serving
Packed with fiber, vitamins and minerals, and all essential nutrients
Great for long-term sustained weight loss
---
5 Reasons Why You Need a Shakeology Alternative
Recently, I did an in-depth Shakeology review where I highlighted all the issues with the brand, including:
Awful customer experience,
Bad selling practices,
Supbar tasting shakes,
… and obviously the price.
In fact, one of the main issues with Shakeology is that they charge a premium for a product that's average at best.
That's why when I compiled this list of top Shakeology alternatives, I've looked for reputable brands, with great products and that actually care about the customer.
You are not the product. Most companies won't try to sell you anything besides their meal replacement. No hidden subscription behind coaches or 3rd party sellers.
Actually nutritionally complete. Unlike many of the shakes on this list, Shakeology lacks some vitamins and minerals.
Better prices. Not only most meal replacement shakes are more affordable, but they are also better value for money.
Tastier. Ultimately, many of us want tasty shakes. Shakeology's drinks are average at best. On this list, you'll find some of the best-tasting shakes in the industry.
Excellent customer service. Most products listed here have reputable companies behind them. Their customer services are among the best in any area: fast, attentive, and actually useful.
Bonus: Clean websites with tons of nutritional information. If you are looking to learn more, meal replacement brands will offer you tons of quality information about nutrition on their site. They are not trying to hide anything, they are trying to educate you.
---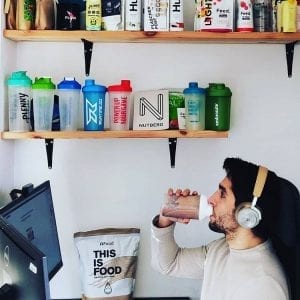 Meet the Expert
Hi! My name is Enaut and I'm the owner of Latestfuels. This site is a place for clear information on meal replacements and the latest nutritional trends.
I drink meal shakes on a daily basis, and they have improved my life greatly. Thus, I now share my knowledge on the topic with those looking for help.
Let me help you find the right shake!
---
1. Lyfefuel Essentials
Best Shake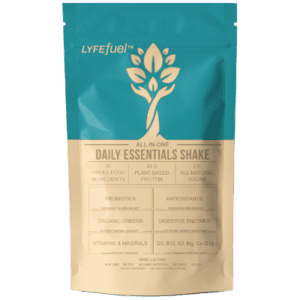 | | |
| --- | --- |
| Taste | 95% |
| Texture | 95% |
| Nutrition | 95% |
| Price | 80% |
| Overall | 92% |
Pros
110kcal, all essential nutrients, from real food ingredients
Rich in nutrients that are lacking in our diets
Best quality food you can get
Includes probiotics, organic greens, digestive enzymes and antioxidants
Superb taste
Cons
Not the cheapest alternative
Only 2 flavors
Do you want a natural, plant-based nutrient-rich shake that's cheaper than Shakeology?
Then Lyfefuel Essential Shake is the right answer for you. This is a US-based meal shake that aims to provide you with the most nutrient-rich shake you've had.
Their aim is to make sure to provide you with the nutrients that you are lacking in your diet. Including:
Vitamin B12 – good for our metabolism
Vitamin D – good for our skin
Biotin – helps you with energy levels
Vitamin E – great antioxidant
Zinc – good for the brain
Magnesium – good for our muscles
These are essential nutrients that are often lacking in plant-based diets (and in the general American diet, too).
Thus, their shakes are designed to provide you with a healthy boost of nutrients that will make a huge effect on your short and long-term health.
On top of that, they come with 18g of plant-based protein (Canadian pea and organic brown rice protein) per 110kcal serving. It's also low in sugars and unnecessary carbs, which prevents you from "crashing" after consuming the shake.
I found the shakes to be surprisingly filling too, and I loved how energized it made me feel after consuming them. Both flavors are good (I wish they had more, to be honest), but Chocolate was my favorite.
Key Stats:
Macros (C/P/F): 14/65/16
Kcal: 118kcal
Protein (g): 18g – from pea protein and organic rice protein
Sugars (g): 3.0g of which 1.5g are from added sugars
Allergens: None
Profile: High protein, low-calorie, vegan
Flavors: Chocolate and Vanilla.
Best Flavor: Chocolate.
---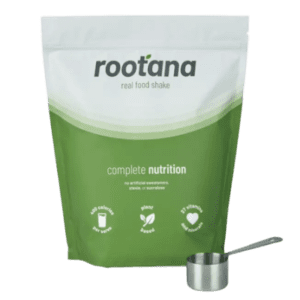 | | |
| --- | --- |
| Taste | 90% |
| Texture | 90% |
| Nutrition | 90% |
| Price | 90% |
| Overall | 90% |
Pros
Half the cost, but as healthy as Shakeology
No artificial sweeteners, no stevia, no monk fruit
Fully plant-based, soy-free, and non-GMO
Delicious dark chocolate shake
Great for daily use
Cons
2 flavors available
High in sugars
Let's not fool ourselves. The price matters, and many of these premium shakes are rather expensive.
If you are looking for a more budget-friendly Shakeology look no further than Rootana. For half the price you have a plant-based meal replacement shake that is 99% as good as Shakeolgy and 95% as good as LYFEfuel Daily Essentials.
It might not have as many fancy added superfoods, but it provides you 400kcal, 20g of plant based protein, all the essential nutrients and no artificial sweeteners.
This is great seeing how many meal replacement shakes rely too heavily on artificial sweeteners, even though they might be harmful to your gut microbiota.
Besides, I've fallen in love with the Chocolate flavor. It's a less sweet, darker, bolder chocolate flavor that even goes well when mixed 50/50 with Vanilla.
Ultimately, Rootana is a shake that I've found myself coming back regularly, and I think it's excellent for the price.
Key Stats:
Macros (C/P/F): 39/46/15
Kcal: 400kcal
Protein (g): 20g – from pea protein isolate
Sugars (g): 13.0g
Allergens: Gluten
Profile: Without artificial sweeteners
Best Flavour: Chocolate
Flavors: Vanilla, and Chocolate.
---
3. Instant Complete
Best Weight Loss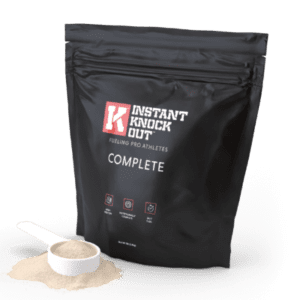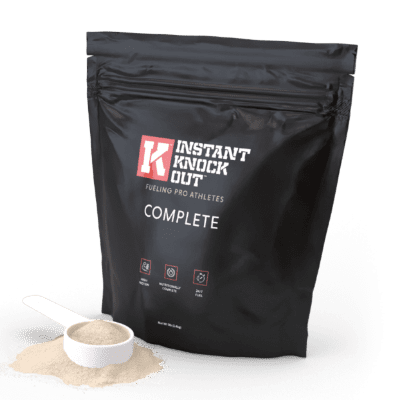 | | |
| --- | --- |
| Taste | 85% |
| Texture | 90% |
| Nutrition | 85% |
| Price | 90% |
| Overall | 88% |
Pros
35g of high-quality plant-based protein
Specially designed for weight loss by elite athletes & nutritionists
Ultra filling – but easy to drink
Much cheaper than Shakeology
Add CUT to boost weight loss
Cons
1 flavor only
No digestive enzymes or superfoods
Looking to keep your muscle mass and lose weight at the same time? Then Instant Knockout Complete is your Shakeology alternative of choice.
Their high protein (35g), high fiber formula is perfect to help you lose some weight while maintaining muscle mass. It will keep you energized for hours, thanks to slow-burning carbs, and full at the same time. Both protein and fiber are great at this.
Besides that, Complete is fully plant-based. It contains high-quality ingredients that are perfect for a well-balanced meal replacement. Unlike other shakes that neglect some essential nutrients like omega-3, Complete will provide you will all your body needs, including 100% of your vitamin D, 90% of your vitamin A and 50% of your vitamin C.
This is why, even if you have half a serving, you will still get a big boost towards your daily intake. That said, I do recommend generally taking the full serving, as it will keep you full for longer and prevent you from snacking.
If you are looking for extra help on your weight loss journey, you can also try CUT, their thermogenic booster that helps you keep your hunger at bay and promote fat burn (according to them).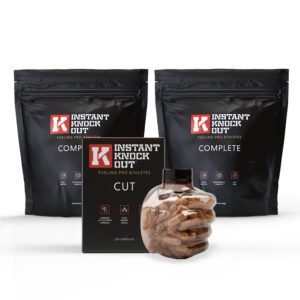 Key Facts
Macros (C/P/F): 40/35/25
Energy (Kcal): 400kcal
Protein (g): 35g – from pea, soy and organic brown rice
Sugars (g): 3.0g
Allergens: soy
Profile: Vegan, high protein
Flavors: Vanilla
Best Flavor: Vanilla
---
You might be interested in
---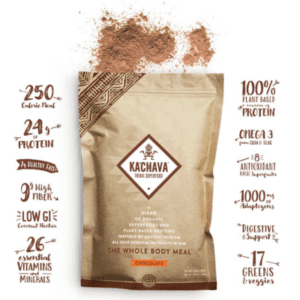 | | |
| --- | --- |
| Taste | 90% |
| Texture | 90% |
| Nutrition | 90% |
| Price | 80% |
| Overall | 88% |
Pros
One of the best-tasting shakes
Plant-based, soy-free, gluten-free, mostly organic, no artificial sweeteners
Includes 70 superfoods to provide you benefits from fruits and vegetables
240kcal per serving and 29g of protein
Healthiest shake you can buy
Cons
Not cheap
Would recommend using a blender
Are you looking for the best Shakeology alternative money can buy? You want to make sure you get the best healthiest meal in the market? Then Ka'chava shakes are the answer.
They are the most similar alternative to Shakeology shakes, just with better customer support, cheaper and tastier, as discussed in the Ka'chava vs Shakeology comparison.
Initially, I was a little bit skeptical about the company, but when I did my Kachava review, I was completely blown away by it. All my doubts were cleared and I fell in love.
This is because Ka'chava has all you would want from a meal replacement:
All the essential nutrients from whole food premium ingredients. No rubbish and no fillers.
Extra vegetables and fruits that provide you with extra nutrients other shakes don't. Great to boost your immune system, long-term health, digestion, and mood.
Great tasting shakes (all flavors not only some of them). Even though, I would recommend blending it.
That said, it's clear that it comes at a cost. It's cheaper than Shakeology by a little bit, but provides you with a much better product.
Key Facts
Macros (C/P/F): 33/41/26
Kcal: 240kcal
Protein (g): 29g – from Yellow Pea Protein, Organic Whole Grain Brown Rice Protein, Organic Sacha Ichi (Plukenetia bolubilis linneo, seed), Organic Amaranth (Amaranthus caudatus, seed), Organic Quinoa (Chenopodium quinoa, seed).
Sugars (g): 6.0g
Allergens:
Profile: Vegan, high protein, soy-free, gluten-free, organic
Flavors: Vanilla, Chocolate, Coconut Acai, Chai, and Matcha.
Best Flavor: Chocolate or Chai
---
5. HLTH Complete
Best Low Carb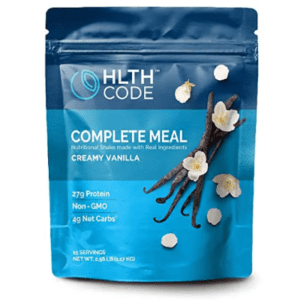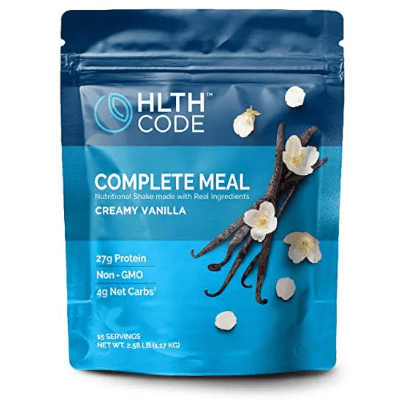 | | |
| --- | --- |
| Taste | 90% |
| Texture | 85% |
| Nutrition | 85% |
| Price | 85% |
| Overall | 86% |
Pros
Keto-friendly: only 4g of net carbs
No artificial ingredients, no GMOs, no artificial sweeteners
Special formula designed by Dr Bikman – metabolic doctor
High in vitamins and minerals
Includes digestive enzymes, probiotics and 9g of fibre
Cons
2 flavors only for sale
Not vegan friendly
So what about a keto-friendly Shakekology alternative? I've mentioned Ample K; but HLTH Complete Meal is also a great shake. It's richer in micronutrients (50% of DV per serving!) and also contains more protein than Ample.
Furthermore, HLTH has been designed with your health in mind; and it includes 9g of fiber, a unique blend of digestive enzymes (amylase, protease, lipase, cellulase…) and probiotics (Lactobacillus acidophilus). All of this to help you out with your digestion, and take care of your gut flora.
Plus, they add collagen protein which helps rejuvenate your skin, joints and hair.
Nonetheless, nothing matters if it doesn't taste good. Fortunately, HLTH shakes are very tasty. They are very natural (without the artificial sweeter touch), creamy, buttery and mixes very well. My personal favorite is the Chocolate Macadamia, for sure.
One of my go-to's when I'm looking to lose weight and burn fat.
Key Facts
Macros (C/P/F): 12/27/61
Serving Size: 400kcal
Protein (g): 27g – from whey protein concentrate, collage, egg whites
Sugars (g): 2.0g
Allergens: Milk, egg, coconut
Profile: Low carb, high protein, keto-friendly
Flavors: Vanilla, Chocolate Macadamia
Best Flavor: Chocolate Macadamia
---
6. Diet Extreme
Low-calorie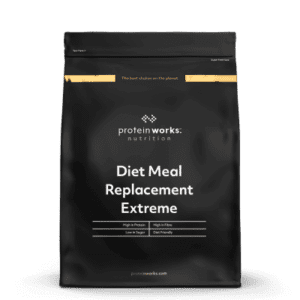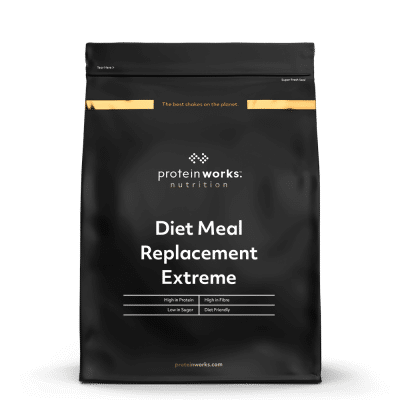 | | |
| --- | --- |
| Taste | 85% |
| Texture | 85% |
| Nutrition | 85% |
| Price | 85% |
| Overall | 85% |
Pros
13 incredibly delicious flavours: Caramel Latte, Choc Coconut, Banana Sundae…
Smooth, and very easily mixable
Only 207kcal per serving and 24g of protein
Includes active ingredients to help with weight loss
Over 400 positive reviews (98% rating)
Cons
Ships from the UK
Need discounts for the best prices
Simply put, Diet Meal Replacement Extreme is a godsent shake. It's absolutely delicious, contains tons of nutrients, and it's actually quite affordable.
Let's start with the taste. These are incredibly tasty, smooth, and without any bits. My favorites are Chocolate Coconut, Caramel Latte, and Choc Peanut Cookie. You do, however, have over 13 flavors to choose from:
Banana Sundae
Butterscotch Ripple
Choc Hazelnut Heaven
Strawberries N' Cream
Salted Caramel Bandit
and more…
On top of that, nutritionally these are brilliant shakes. Unlike others in this list, Diet Extreme is a low-fat-high protein shake.
Plus, they also add ingredients like glucomannan, green tea extract, and acetyl-L-carnitine, among others, to help you lose some weight.
All of this for as low as $1.5 per serving!
Key Facts
Macros (C/P/F): 36/46/15
Kcal: 207kcal
Protein (g): 24g – from soy protein isolate, milk concentrate, and whey protein isolate
Sugars (g): 1.0g
Allergens: Milk, gluten, soy
Profile: Low fat, high protein, diet – also available in vegan
Flavours: Banana Smooth Sundae, Butterscotch Ripple, Caramel Latte, Cheeky Choc Coconut, Choc Hazelnut Heaven, Choc Mint Brownie, Choc Peanut Cookie, Chocolate Silk, Cookies & Cream, Dark Choc Raspberry, Millionaire's Shortbread, Chocolate Digestive, Salted Caramel Bandit, Strawberries N' Cream, Tiramisu Italiano, Vanilla Creme Crush, and White Choc Peanut Sundae.
Best Flavour: Digestive Chocolate
---
BONUS. Orgain Meal
Best Organic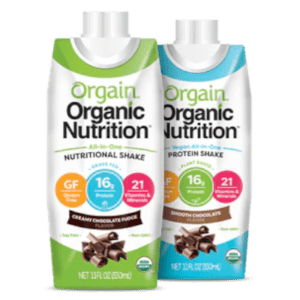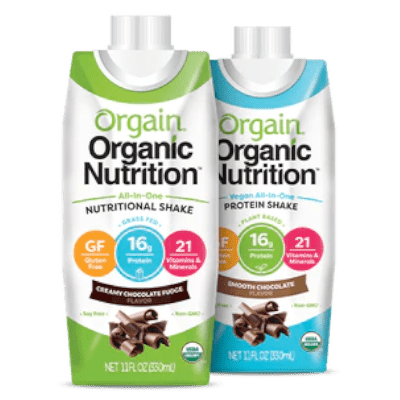 | | |
| --- | --- |
| Taste | 80% |
| Texture | 85% |
| Nutrition | 80% |
| Price | 80% |
| Overall | 81% |
Pros
Only 250kcal per shake, 16g of protein
USDA organic, gluten-free, soy-free
Pack with micronutrients and antioxidants to support weight loss
RTD has a smoother consistency
Plant-based and whey-based versions
Cons
Not many flavors to choose from
Only available in the US
Are you looking for an organic Shakeology alternative to help you with your weight loss? Then, Orgain Nutrition Shake is the right choice for you. Not only is more affordable than Shakeology, but it's also tastier.
In fact, one of the benefits of ready-to-drink shakes (RTDs) is that they are smoother than powders. They have an improved texture and taste, thus making them ideal for newcomers.
In this case, Orgain's shake will give you all the goodness you need, in 4 delicious flavours (Creamy Chocolate is the best).
Plus, nutritionally Orgain only uses the highest quality ingredients: USDA organic certified vegetables and sprouts. This shake also uses grass-fed organic whey protein, but they also sell a vegan version.
Enjoy a 250kcal shake that will keep you full and energized for hours!
If you are looking for protein powders similar to Shakeology; I also recommend looking at their organic protein powder range!
Key Facts
Macros (C/P/F): 47/21/32
Kcal: 250kcal
Protein (g): 16g – from organic pea protein, organic chia seeds
Sugars (g): 11.0g
Allergens:
Profile: Vegan, organic, kosher, gluten-free
Flavors: Creamy Chocolate Fudge, Sweet Vanilla Bean, Iced Cafe Mocha, and Strawberries.
Best Flavour: Creamy Chocolate
---
Why Do You Need A Shakeology Alternative?
There are multiple reasons why I think you would do well looking for a substitute for Shakeology shakes. Here are a few that I considered when choosing my best Shakeology alternatives:
Nutritionally better-balanced meal replacement shakes. Shakeology is not a perfect shake, and in fact, it is too rich in protein and contains too little fat according to dietary guidelines. Thus, I included products similar to Shakeology that had a more balanced approach and included essential oils (like omega-3).
Shakeology is high in sugars. Similarly to the above mentioned, you want to consume a meal shake that is lower in sugars than Shakeology. High sugar diets are a big problem in the US and can lead to diabetes, obesity, and other chronic diseases.
Cheaper alternatives to Shakeology. Let's be honest, budget is something that most of us need to take care of. As such, I listed cheap alternatives to Shakeology that are still nutritionally complete.
Keto meal shakes. One of the best diets to lose weight is the keto diet. Currently, Shakeology does not offer any keto meal replacement shakes, so I've included some.
What Are the Cons of Consuming Shakeology?
In spite of the fact that Shakeology is a well-regarded weight loss meal replacement it has some glaring flaws or weaknesses. For instance, there are better products out there for daily use if you are a "normal" adult.
Complete Foods are products that are designed following the health guidelines of the World Health Organization, US Health Department etc. Thus, these meal replacements are better suited for prolonged use and a healthy lifestyle.
Besides, it needs to be taken into account that Shakeology is not a miracle weight loss drink. Despite their claims about certain ingredients, the most important factor in weight loss is caloric deficit (eating less than you need).
The best meal replacements can help you in a similar fashion, by helping you track calories and keep you full for longer.
Finally, we must consider the price. Most of the shakes mentioned above are much cheaper than Shakeology.
What's a Cheaper Alternative to Shakeology?
| Cost | per 400kcal ($) | per 2,000kcal ($) |
| --- | --- | --- |
| Shakeology | 10.75 | 53.75 |
| Ample O | 5.00 | 25.00 |
| Ambronite CMS | 4.50 | 22.50 |
| Soylent Drink | 3.25 | 16.25 |
| My Protein | 4.76 | 23.80 |
| Garden of Life | 4.50 | 22.50 |
| Huel | 2.12 | 10.60 |
| Complete 360 Meal | 1.50 | 7.50 |
| Plenny Shake | 1.45 | 7.25 |
2,000kcal is the recommended daily energy intake according to most health guidelines.
Some of the cheaper alternatives to Shakeology, like Complete 360 meal are actually almost as good as the more expensive ones.
In fact, I think Complete 360 meal is far superior to Shakeology, despite the price discrepancy. It has better taste, more rounded nutrition, and less sugar content and it won't ruin you.
There are also other organic alternatives like 310 shakes, or Orgain that could fit you well.
Shakeology Comparisons With Other Meal Replacements
Lastly, I want to compare Shakeology with some of the other popular meal replacements that are available on the market. These, unlike the US brand, are not solely focused on weight loss and are designed to be complete food. What does this mean? It means that they will provide you with all the essential nutrients your body needs on a daily basis. Most of the time they will be based on governmental health guidelines and the latest scientific recommendations.
Shakeology vs Dietary Guidelines
First, let's compare Shakeology with the US health guidelines:
| | Shakeology (per serving) | Dietary Guidelines |
| --- | --- | --- |
| Total Energy (kcal) | 160 | 2000/day |
| Energy From Carbs (%) | 43 | 45-65 |
| Energy From Fats (%) | 11 | 20-35 |
| Energy From Protein (%) | 46 | 15-30 |
| Added Sugars (%) | 13 | 10 |
| Saturated Fats (%) | 1 | 10 |
% of energy is used to set acceptable ranges for macronutrients. Protein measurements are also stated as 0.8g of protein per kg of bodyweight.
As you can observe, when comparing Shakeology to dietary guidelines there are a few shortcomings:
Low-calorie content per serving. You would need to take 12.5 shakes per day to reach the daily recommended; which would be hard and expensive to do. However, it might work when you are looking to lose weight (consume fewer calories).
Low in fats. Fats are essential to protect our organs and help with signaling within our bodies. For instance, omega-3 fatty acids are necessary for our brain and eyes to function. Thus, we need to make sure our meal replacement shakes provide us with omega-3 (particularly since we often don't consume enough otherwise).
High in sugars. Added sugars are everywhere, they make our dishes taste better and we've been taught to love them. However, they are not so good for our bodies and excessive consumption can lead to diabetes, obesity and other chronic illnesses.
It is not all bad, however. Shakeology does provide you with some non-essential nutrients and agents that might boost your digestion, or boost your cognitive performance. These include digestive enzymes, adaptogens, and probiotics.
Essential vs non-essential. Essential nutrients are those that we need to consume in a daily basis (carbs, protein, fats, vitamins and minerals). Non-essential nutrients are compounds that might have a beneficial impact but are not deemed to be primordial.
Shakeology vs the Best Shakeology Alternatives
So how does Shakeology compare to some of the alternatives I've listed above? We have already seen that it is significantly more expensive; but what about nutrition?
For once, many of the meal replacements listed above will have 400kcal per serving (thus, you could take 5 a day). Therefore, they are better suited to replace more meals.
Furthermore, they will have all the essential nutrients that your body needs on a daily basis. For instance, Huel has 3.5g of omega-3 per serving and 3.5g of omega-6 (ideal balance). They will also have a balanced amino acid profile (protein), complex carbs, fiber, and micronutrients.
Nonetheless, it is worth mentioning that Shakeology does include ingredients other meal replacements don't:
Digestive enzymes: cellulase, amylase, lactase, invertase, etc. are enzymes that help you digest certain nutrients.
Probiotics: healthy bacteria that help you balance your gut microbiome (healthier gut).
Adaptogens: ashwagandha, maitake, reishi… these plants and mushrooms are often seen in energy drinks and cognitive boosters. They can help you with stress, mood-boosting, reduce anxiety etc.
Shakeology vs 310 Shakes
A shake that I have not mentioned in this list is 310 Shakes, a popular alternative to Shakeology. Which one is better Shakeology or 310 Shakes?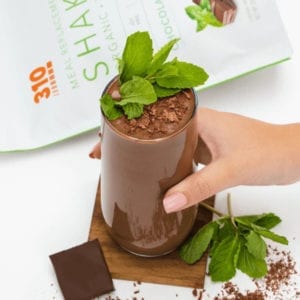 In all honesty, I think that neither of them are worth the money. Both are too expensive for what they offer. In fact, I would recommend you to have a look at Lyfefuel instead, or another alternative mentioned above.
| | Shakeology | 310 Shakes |
| --- | --- | --- |
| Total Energy (kcal) | 160 | 110 |
| Macros (C/P/F) | 43/46/11 | 29/55/16 |
| Vegan | Yes | Yes |
| Organic | Yes | Yes |
| Added Artificial | No | No |
| Price/meal | $4.18 | $2.43 |
| Taste | 4/5 | 3.8/5 |
Both offer organic, vegan meal replacement shakes.
Is Herbalife a Good Shakeology Alternative?
I'll be brief, no. Herbalife is a shady company from which is hard to buy products. My customer experience was awful and I always felt like they were hiding stuff from me.
Similarly to Shakeology, you need to buy through their distributors (coaches for Shakeology) which adds a layer of distrust. You depend on the distributors having enough stock and being fair.
Furthermore, nutritionally Herbalife is worse than Shakeology. It has more added sugars (22g), which include fructose, more processed ingredients, and lacks some essential nutrients.
If I were you I would look for better Herbalife alternatives than Shakeology.
Shakeology vs Atkins Shakes
When we compare Atkins shakes with Shakeology, we are making a pears to apples comparison. Even though both are meal replacement shakes, Atkins ready to drink shakes are keto-friendly, designed for low carb diets.
Furthermore, Atkins shakes are highly processed and contain low quality ingredients, whereas Shakeology does offer tons of nutrients from whole-food ingredients.
Despite of all these, I think both are pretty bad choices, and I would not recommend either.
FAQ
Are these the only Shakeology alternatives?
No, there are plenty more meal replacement brands out there that simply didn't make the list.


Why should I buy a substitute to Shakeology?
While Shakeology is a very popular meal replacement, it is far from the best. Nutritionally is skewed and not designed to be a balanced meal. It has too much protein and sugars, and too little fats. It is also much more expensive to other alternatives mentioned in this list.


Are there any Keto alternatives to Shakeology?
Yes, there are. In this list, I mention HLTH Code as the best keto alternative to Shakeology.


Can I lose weight with these Shakeology alternatives?
Yes, all these meal replacements can be used to lose weight. They are rich in fiber, and filling and help you control how many calories you eat.


What about Herbalife or Slimfast?
These two brands produce meal replacement shakes that I did not seem fit to include in this list. In my opinion, there are far better Shakeology alternatives available in the market.


Is Shakeology sold in Amazon?
No, it's not. However, some of the Shakeology substitutes mentioned here are.


What can I use instead of Shakeology?
You can use the shakes mentioned above: Ample, HLTH Complete Meal, Four Sigmatic… All of these are cheaper alternatives to Shakeology, as well as healthier.


Is Shakeology worth it?
In my opinion, it is not. The price is not justified, it's too rich in protein, and there are much more balanced alternatives on the market.


---
Conclusion: The Best Shakeology Alternative is
… Lyfefuel Daily Essentials. They offer a great blend of top-quality ingredients and a carefully designed formula for optimal health, and they are just delicious.
However, it will vastly differ on what your needs are. If you are looking for a complete meal replacement with more micronutrients, then HLTH might be your choice.
Here, I have listed what I consider to be the best alternatives to Shakeology but the ultimate pick it will largely depend on what you are looking for. Thus, I've included a varied array of meal replacements to make sure you find the ideal Shakeology replacement.
Sources
1.US Dietary Guidelines 2020-25.
2. FDA Daily Values.
3. Shakeology Ingredients Label.
4. Ultimate Meal Replacement List.
5. Latestfuel's Best Meal Replacement Shakes.