Today we're taking a closer look at two of our favorite and highly rated meal replacement shakes: Kachava vs Huel.
Anyone who has been looking for the best meal replacement shakes might have heard of both names. Both brands are widely recognized and often appear on experts' lists as their recommended shakes.
Spoilers: We love both, Ka'chava and Huel, but LYFEfuel Daily Essentials is our #1 meal replacement shake.
We think that this is the best meal replacement shake on the market, as it is the best at providing us with all the nutrients we need (including vit K2 and D3 that Ka'chava lacks), without having any filler or unnecessary calories. It has 2x as many nutrients as Huel, and tastes better than both.
However, as we are going to showcase in this Huel vs Kachava piece, they are wildly different. For instance, Huel's price per meal is around $2, whereas Kachava's is $5.
In fact, both companies have slightly different approaches to how they see meal replacement shakes. More on this later on, but Kachava is generally the more natural shake, whereas Huel is more functional and affordable.
Nonetheless, both are excellent vegan shakes that we love here at Latestfuels. We've tried and analyzed them both, and we are going to explain the key differences today. So that, you can decide which shake is best for you, Huel or Kachava.
Therefore in this Ka'chava vs Huel comparison, we want to look at both from top to bottom. This includes their ingredients, how they taste, best use cases, costs, product stacks, and more! We will highlight the good points, what we'd want to improve, and what makes them different.
---
Short Introductions
Meet the Experts
Kachava at a Glance
Founded in 2014, the aim of Ka'Chava is to combine the world's best superfoods, into one single meal. Also vegan, and free from lactose, soy, and GMOs, Ka'Chava is a meal that is incredibly nutrient-dense and clean.
Ka'Chava is a top meal replacement in the US. It's a vegan meal replacement that manages to stand out from the rest. With an emphasis on its combination of 70 superfoods, Ka'Chava has earned thousands of positive reviews, from a loyal and vocal user base. Word is quickly spreading about how amazing it is, making it a force to be reckoned with.
Even in our Kachava review, we were surprised by the package they offer. It's not often that a product is able to take us by surprise, but this was a welcome discovery.
Huel at a Glance
The UK-based Huel offers lines of meal replacements, bars, and hot meals aimed at complete nutrition, as simple as possible and highly scalable.
Huel is a titan in the meal replacement industry. Its smart branding makes it well-known even to those outside of the scene. It is one of the best meal replacement shakes in the UK, and also has a solid foothold in the US. 
Launched in 2015, Huel's products have always been plant-based, high in protein, low in sugar, and lactose-free.
From the original Huel Powder, they have never contained any soy, GMOs, or palm oil, and they have always been affordable.
Their goal is to produce highly scalable nutrition that produces minimal waste, has minimal environmental impact, and is convenient enough for everyone to use.
---
Huel vs Kachava Overview
Before we go into the nitty-gritty of this comparison, we should have a general overview of what both brands offer.
As mentioned earlier, both Kachava and Huel offer plant-based, fully complete (provide you with all essential nutrients), soy-free meal replacement shakes. However, there are a few key differences worth noting:
As shown in the table above, there are many similarities between the brands. However, it's worth noting that they have different products. In this case, we will mostly compare Huel Powder meal replacements with Ka'chava's own meal replacement.
---
Product Overview
In this section, we want to look at what products each company offers. We'll look at all product types and their variations. We'll also compare similar products to paint a clear picture of the entire landscape.
Powders
Both companies offer the obligatory complete nutrition powders for a quick mix to go. Ka'chava offers four flavors of their powder, all of which are very good I must say. Huel offers a staggering nine flavors!
There's no denying that Huel is the more affordable meal replacement shake. If budget is your main concern, Huel will offer you a better bang for your buck. They have both subscription and bulk discounts that can significantly decrease the cost of each meal.
On the opposite side, Kachava drinks are more premium (due to the cost of ingredients) and you can only reduce the price with the 10% subscription discount. Still, I believe that they are worth every penny.
Meal Bars
Also offered by both companies are their versions of a healthy meal replacement bar.
The Ka'chava bar is advertised as a whole-food bar. It contains no sugary binders, which make some other bars sticky. Their bar is fairly new, and has two flavors at the moment – Peanut Butter & Chocolate. Of note, Ka'chava's bars contain many types of tree nuts if you have allergies.
As for Huel, they claim their bar is better used as a snack, but it still contains all the essential nutrients. They offer six flavors, as well as a variety box. Their peanut butter bar does contain peanuts, but outside of that are largely allergen-free.
Other Products
While Ka'Chava's focus is on its major staple, its powder….and now a new bar, Huel has many other products in its portfolio. Below is a brief summary of each of the other products that Huel has to offer.
Availability
Both brands are to primarily be purchased online.
Ka'Chava is online-only and is only available in the US. Free shipping is offered if you purchase two bags or more.
Huel has very limited local availability in the UK and it is only for the RTDs which can be found at Sainsbury's and Selfridges. However, online Huel can be ordered and shipped worldwide. Keep in mind that each product has at least a two-item minimum.
Both have great customer service and fast shipping. In the UK, Huel will be delivered the next day, whereas in the US it shouldn't take longer than 5 days (2 days usually).
---
Nutrition: Kachava vs Huel, What's Healthier?
As showcased above, there's a clear difference in price between Huel and Kachava. Why? Well, it mostly comes to the ingredients used in each shake.
Whereas Huel uses some more processed ingredients and synthetic additives (vitamins & minerals), Ka'chava uses whole-food ingredients and a superfood blend.
Huel shakes provide you with all the essential nutrients. On the other hand, Kachava shakes have all essential nutrients plus a ton of non-essential nutrients.
Info: Essential nutrients are those our body requires on a daily basis to function (e.g. fats, protein, vitamins…). Non-essential nutrients might still have a quintessential role in our health, but are the dosages have not been set or the exact amounts needed are unknown (e.g. antioxidants).
Ingredients
I discuss the exact ingredients in detail in each review. However, one thing is clear: Ka'chava has more ingredients.
In fact, there is no shake in the market with as many ingredients as Kachava. They use up to 70 superfoods (berry, spinach, kale, maca root, quinoa…) in their blend. With this, they cover essential nutrients, but also provide you with adaptogens, antioxidants, anti-inflammatory agents, immune boosters etc.
Huel's ingredient list is more practical, but still, one of the best when it comes to the more regular vegan shakes. No GMO ingredients, no soy, and no weird syrups or other subpar fillers. They take pride in the nutritional quality of their shakes.
Nutrition
Besides the ingredients, as seen in the table, both are great when it comes to nutrition. Without a doubt, two of the healthiest shakes on the market.
Huel's approach is high-protein, low-carb, and low GI. They make sure to use complex carbohydrates (oats) that have little impact on blood glucose levels, add a lot of fiber (which takes time to get used to), and have little to no sugar.
Plus, they use a combination of pea and rice protein to provide you with a full amino acid profile. Tons of protein, but is balanced. Similarly, Huel is a great source of vegan omega-3 fatty acids, which are often lacking in many meal replacement shakes.
On the other hand, Kachava shakes are a little lower in fat content and have a more balanced macro profile, even though it's still heavy on protein. What stands out the most, perhaps, is how rich in micronutrients Ka'chava is when compared to Huel. They are aiming to provide you with nutrients that are lacking in Western diets, as opposed to nutrients that we have plenty of (calories, carbs etc).
Summary
Both are excellent vegan shakes from a nutritional standpoint. Ka'chava offers a more comprehensive, and all-around nutritional boost; whereas Huel covers the essential nutrients perfectly and even provides you with some more.
---
Huel vs Kachava: Which One Is the Tastiest?
As has been the theme of the article, you really can't go wrong with either product. It really just comes down to your personal preferences, and how available each is to you.
Kachava Shakes Are Better Tasting in General
Ka'Chava has great-tasting meal replacement shakes from top to bottom.
Their vanilla is solid, chocolate was one of the best, and both of their new flavors are big winners as well. As far as texture goes, I will say that vanilla and chocolate were much better blended than shaken, but the new ones are great no matter how you prepare them.
All flavors turned out pretty smooth and filling. For more information and an in-depth review, check our article dedicated to Ka'Chava.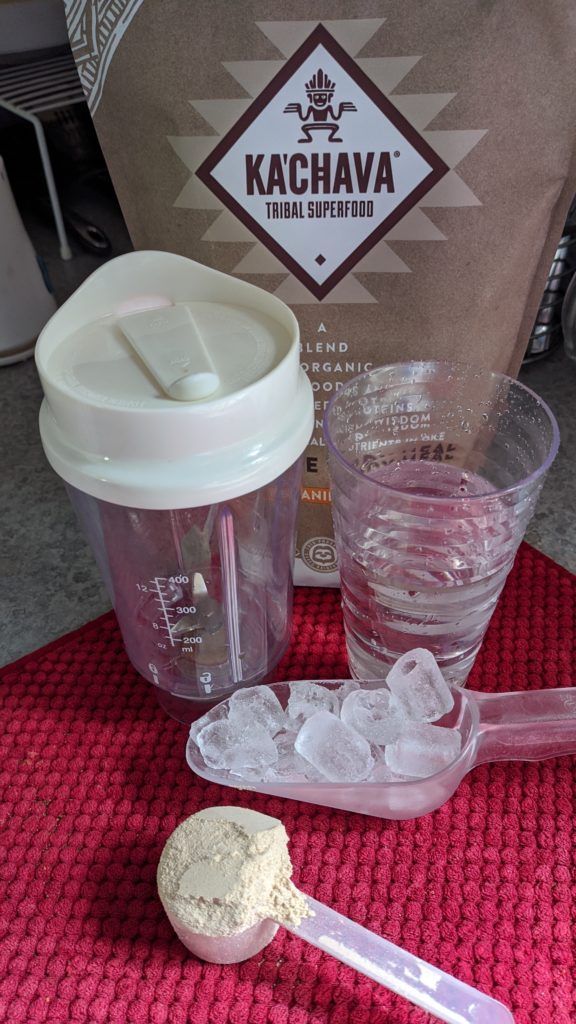 Huel Is OK, Some Flavours Are Great, Others a Pass
Truth be told, Huel has come a long way. The initial flavoring was not great, but has improved over time.
On the other hand, Huel Black was great tasting and very filling. The flavors I had were accurate and kept me coming back.
As far as texture, I think with Huel, either you love it, or hate it. I for one love it because it's very thick and hearty; and I enjoyed it. In the review, I described it as "drinking a bran muffin". While I know that will not appeal to everyone, you can't argue with 3+ hours of being full.
Without a doubt, Salted Caramel is Huel's best flavor, followed by Vanilla, Coffee, and Banana. The rest are a little weak in my opinion.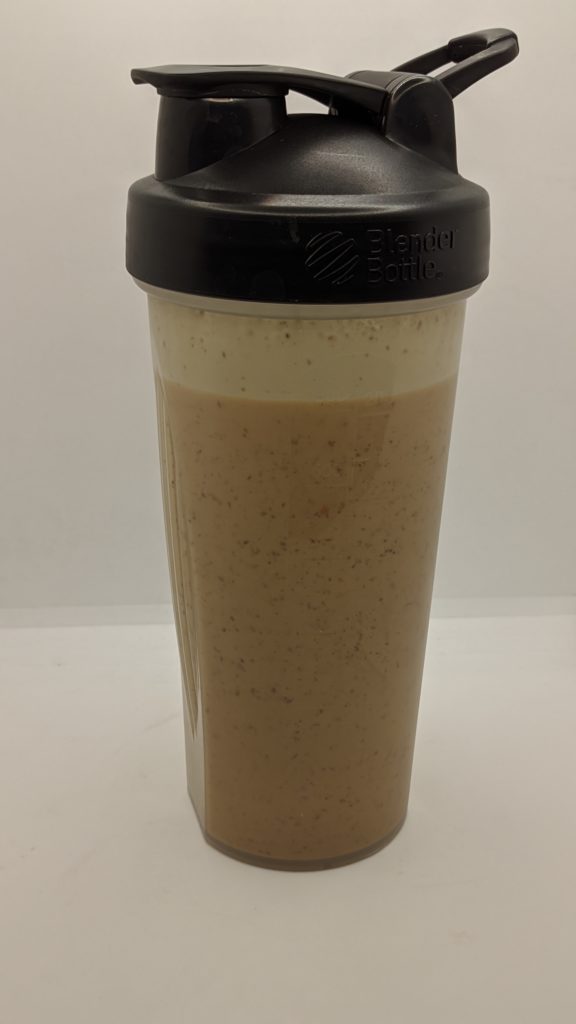 The bottom line for me, Ka'Chava tastes better, but I find Huel to be much more filling.
---
Kachava or Huel: Which One Should I Buy?
Despite the title, I can't tell you which one definitively to get. Ultimately, that decision will be dictated by what works best for your diet, wallet, and location.
I'd argue that Ka'Chava is targeting those that want to get top-notch nutrition in the easiest and quickest way possible. Also, at only 240 calories per serving, this should really appeal to the weight-loss crowd.
As for Huel, while realizing the same ideals as Ka'Chava, its higher protein and calorie counts may be more suitable for those who are active. It's a dense shake with high protein that can really help in rebuilding muscles post-workout.
Here's a chart that will break down some of the key factors that individuals look for when using meal replacements.
Other Alternatives
Taking into consideration the popularity of both brands, there's no shortage of competitors. In fact, there is a plethora of meal replacement shakes out there that might suit you better than either of these two.
I have compiled a list of suitable alternatives to both:
However, I want to go over a few meal replacement shakes that I think might interest you.
If you are looking for convenience and don't care about whole-food ingredients, I recommend looking at Mana or Soylent.
---
FAQ
---
Conclusion – KaChava vs Huel
The best vs. the best, we've all heard it before, it's so cliche. But what really happens when you have an unstoppable force clash with an immovable object?
In this case, everyone wins! It pushes the industry, as it shows others that it's not a race to the bottom, but instead a journey, to try to get the most nutrition into clean, affordable, and available products.
When it comes to choosing which one is the best, here are the main takeaways:
Bottom line is that these are both excellent products, with the choice coming down to what is best for you, and what is most available to you.
Our #1 Meal Replacement Shake – LYFEfuel Daily Essentials