Huel Bar Review | 3.1 Here to Solve All Issues
Huel Bar Review!
Creating a good meal replacement bar is a challenge that no brand has fully achieved yet. There are plenty of good bars out there (Queal GObar, Saturo Cocoa, Jake Vitaminbar…), but all have flaws. Huel, being the industry leader, is expected to deliver the perfect product every time they launch a new one. So, is Huel Bar the best meal replacement bar in the market?
Huel Bar 3.1 is out in the market and it solves many of the issues highlighted in this review (mainly the texture and consistency).
From:

Ships to:

Worldwide

Price:

$$| From €2.25

Kcal/meal:

250

Servings/day:

8

Type:

Bar

Allergens

Caffeine*
Flavours: Cocoa, Cocoa & Orange, Coffee
Disclaimer: Perhaps, I might be a little harsh on Huel bar, but when judging a product from the top brand in the market, I feel that I higher my expectations, and so my criteria.
Overall Feeling: Just Barely Good Enough
I would not buy Huel bars. It is as simple as that. After trying different products in the market and knowing the different available options, I would opt for something different. Why?
Because Huel bars do not taste good. They are a chore to eat, hard on the first bite and the powdery in your mouth. Meanwhile, I did not find the taste pleasant.
Yes, nutritionally they are OK, they have plenty of protein, good fats, in a fairly balanced way. But they also contain 11g of sugar per 250kcal; and the saturated fats are higher than the monounsaturated or polyunsaturated counterparts. It is good that they provide with all the micronutrients you need, but then again so do other bars.
Thus, when I look at the whole picture, apply what I have experienced with Huel (shakes) and other bars to Huel bar, I do not find it satisfactory. It is not bad, but it is barely good enough.
Things That I Would like Them to Improve:
1- The texture of the bar. I feel that a more moist bar will already be a huge improvement. There are technical difficulties that might make this hard, but in the current status, it just feels like sand in the mouth.
2- Sugar quantity. Yes, it is true that other snack bars have more sugar per kcal or weight. However, when looking to offer a balanced meals and better nutrition; this is an area to look to improve on.
3- Taste. The best part of the Cacao & Orange flavour was the orange hint towards the end. Why? Because, it was a distinguishable flavour in an overall fairly bland bar. Enhancing the flavours to make them less bland would improve the bar immediately.
4- Price (EU not UK). Let's be honest, 250kcal can hardly be considered a meal but a snack. Are you willing to pay €2.25 for a snack bar (with 10% discount)? Think about how much a snack bar costs in the supermarket. Surely enough you are getting some micronutrients and a balanced snack, but is it worth that much? I know pricing is always hard to improve on, but when I can get a 400kcal bar for €2.5, Huel Bar just seems expensive.
5- Packaging or buying options. They only way to get started with Huel Bar is to buy a 16 bar pack. That is a big commitment, even more if you consider that all 16 will be of the same flavour. I would advocate for smaller boxes or selling them individually, so people can try them when they buy their Huel Powder. Also, a mixed box would be a very welcomed addition.
Things That I like:
1- Protein quantity. 15g per 250kcal is a very respectable amount of protein, which comes from good sources. Pea and rice protein combo ensure a well rounded amino acid profile.
2- UK price. For those in the UK, the bar only costs £1.55 (with subscription discount). Now, this is a more likely pricing for the product.
3- Macronutrient distribution. I think Huel bar has a very nice macro distribution that should suit most people.
Macronutrients per serving (g)
Protein(g)
Carbs(g)
Fiber(g)
Fats(g)
% of Energy from each macronutrient
Carbs 47%
Prot 25%
Fats 28%
% of Recommended Intake per serving
RI based on 2,000kcal
RI based on 2,500kcal
Ingredients of Huel Cocoa Bar
Brown Rice Syrup, Pea Protein, Soluble Gluco Fibre, Brown Rice Protein, Gluten-Free Oat Flour, Gluten-Free Rolled Oats, Cocoa Powder (5%), Coconut Nectar, Date Syrup, Sunflower Lecithin, Flaxseed Powder, Rice Bran, Cacao Nibs, MCT Oil, Sunflower Oil, Micronutrient Blend*, Vanilla Flavour.
Ingredients of Huel Cocoa & Orange Bar
Brown Rice Syrup, Pea Protein, Soluble Gluco Fibre, Brown Rice Protein, Gluten-Free Oat Flour, Gluten-Free Rolled Oats, Cocoa Powder (5%), Coconut Nectar, Date Syrup, Sunflower Lecithin, Flaxseed Powder, Rice Bran, Cacao Nibs, MCT Oil, Sunflower Oil, Micronutrient Blend*, Orange Oil.
Ingredients of Huel Coffee Bar
Brown Rice Syrup, Pea Protein, Soluble Gluco Fibre, Brown Rice Protein, Gluten-Free Rolled Oats, Gluten-Free Oat Flour, Coconut Nectar, Date Syrup, Sunflower Lecithin, Flaxseed Powder, Rice Bran, Instant Coffee Powder (3%), Cacao Nibs, MCT Oil, Sunflower Oil, Cocoa Powder, Micronutrient Blend*, Natural Flavouring.

Carbohydrates
Based on Cocoa:

Total Carbs: 25.4g, 10% of RI.
Sugars: 11.2g, 12.9% of RI (based on EU).
Fiber: 6.8g, 34% of RI.
It is worth noting that all flavours have high amount of sugars, at around 45% of the total carbs. Those sugars include fructose and fructose containing sugars from date syrup and brown rice syrup. These sugars are used to bind the different ingredients together. Other bars do also have high sugar content like Shake2day Break, Vitaminbar or the Saturo Cocoa bar.
Another feature of meal replacement bars is usually the high fiber content, which is the case for Huel Bar. With 6.8g per 250kcal serving it provides you with 34% of your recommended intake. Because of this, over consumption can have laxative effects and Huel recommends a maximum of 4 bars a day.
Fats
Based on Cocoa:

Total Fats: 7.3g. 10.4% of the DRI.
Saturated Fats: 2.9g. 14.5% of DRI.
Monosaturated (MUFA): 1.4g. This is 6% of the calories per serving.
Polyunsaturated (PUFA): 2.6g. This is 10.9% of the calories per serving.
Omega-3 (ALA): 1g.
Omega-6: 1.6g.
Interestinly, the amount of saturated fats is higher than MUFA and PUFA, which are more obesigenic. In fact, the WHO recommends to replace saturated fats with MUFA and PUFA, when possible and to keep them below 10% of total energy (about 20g). Another reason to consume Huel Bars as compliment and not as main source of food.
Part of the saturated fats are medium chain triglycerides (MCT) which are consumed faster and as used as energy source more easily by the body (1.2g/bar).
Protein
Cocoa: 15.4g of protein from pea and Rice.

Huel's products are all vegan and most of the time the protein source is a mix of pea and rice protein. These two protein sources work well in conjunction, since they balance out the deficiencies in the amino acids of each source. In fact, both of them together provide one of the best vegan protein sources.

Micronutrients
Every Huel Bar will provide you with at least 15% of you daily vitamins and minerals. Because Huel bars are currently only available in the EU (plus UK), the daily recommended are calculated using European guidelines.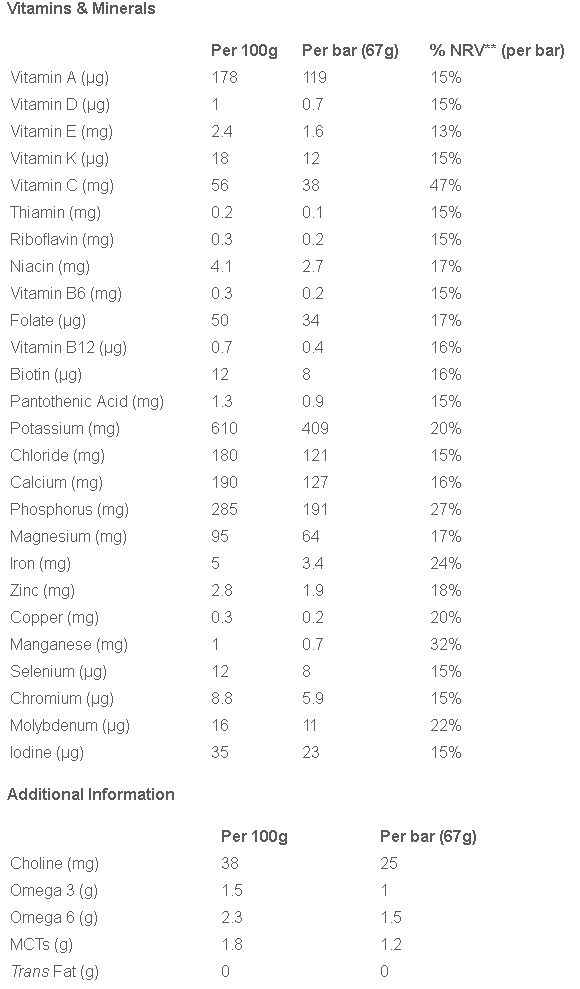 Allergens
Huel uses gluten-free oats in the mix making the bars free of the most common allergens. The coffee flavour has some caffeine.

With three flavours you might want to know which Huel bar tastes better? The truth is that flavour is subjective and we might not agree. However, the three flavours are quite similar overall, while they have subtle distictions.
The Taste: Not Very Good (6/10)
While taste is subjective, I must say I found Huel bars to be a little disappointing in this regard. I would not go as far as saying that they tasted bad, but very neutral. The Cacao & Orange flavour did not taste much like cacao, but had a clear hint of orange in the end.
Texture: the Main Issue (4/10)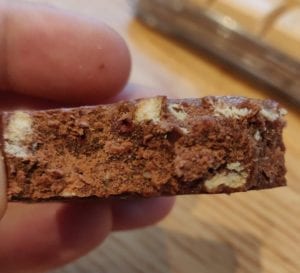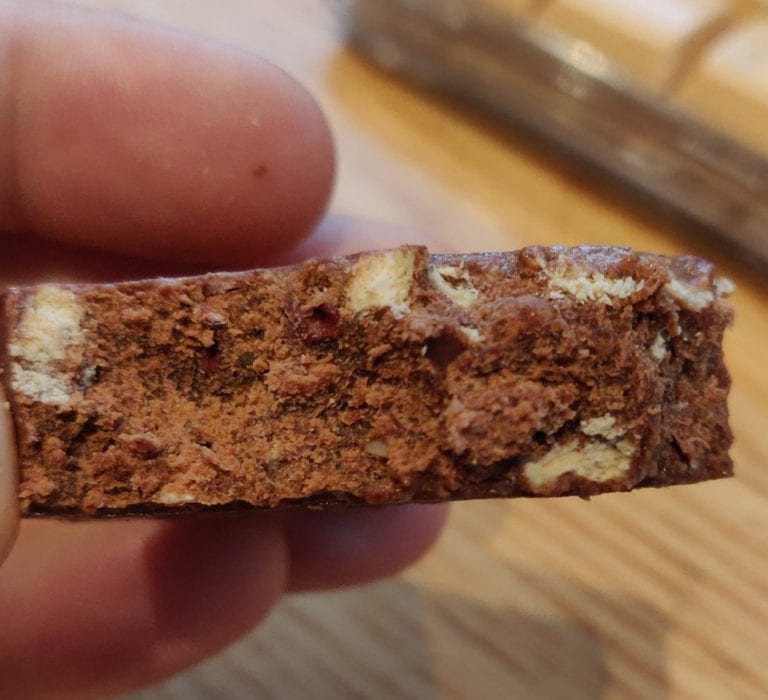 Now, the main issue when eating the bars was the texture. In the first bite the bar was as hard as a brick, almost to the point of hurting your teeth. Afterwards, it melted into powder in your mouth, without any hint of moisture, feeling really dry.
Aftertaste: OK (7/10)
Because the flavours are not very strong, the bar leaves a very mild aftertaste.
Hunger Quenching: Good (7/10)
For a 250kcal bar, it does a very good job filling you up for 2-3h. Therefore, it could be a good way to kill your mid-morning hunger.
Conclusion: Good (6/10)
All in all, it is a OK bar. You will not find it very tasty, but will be enough to fill you up and give you the nutrition you need. I would only eat it if I really do not have the opportunity for a Huel shake. Otherwise, the shakes are much better than the bars.
If you are looking for taste, I would recommend the Feed. bars, which were chosen as the tastiest meal replacement bars. For a 250kcal bar, I would look at Queal GO bars.
Huel Bar vs other meal replacement bars
Huel Bars are a very good deal if you live in the UK, since the price is lower there. However, they are not available in the US and the price is higher than other competitors within Europe. I would look for other Huel alternatives.
Other brands like Feed.; Jake (Vitaminbar); Queal (GObar)… also offer more flavour options from standard Chocolate variants to more exotic options like Apple & Lemon (Feed.)
General Information
| | | | | | | |
| --- | --- | --- | --- | --- | --- | --- |
| per serving | Compact | Huel Bar | GOBar | Vitaminbar | Saturo | Twennybar |
| Price (€)/bar | 2.5 | 2.25 | 2.5 | 2.5 | 2.5 | 1.9 |
| Energy (C/P/F) | 41/19/40 | 53/25/22 | 39/33/28 | 42/24/35 | 44/23/33 | 47/20/33 |
| Energy (kCal) | 427 | 250 | 385 | 332 | 250 | 385 |
| Fats (g) | 17 | 7.2 | 11.7 | 12.0 | 8.7 | 15.0 |
| Saturated (g) | 3.3 | 2.9 | 5 | 1.6 | 4.3 | 4.0 |
| Carbs (g) | 39 | 25.4 | 38.4 | 34.0 | 16.9 | 46.0 |
| Sugars (g) | 4.5 | 11.2 | 3.6 | 14.0 | 13 | 5.4 |
| Fiber (g) | 30 | 7.5 | 4.0 | 6.0 | 9 | 9.3 |
| Protein (g) | 17 | 15.4 | 32.4 | 19.0 | 12.5 | 20 |
| Salt (g) | 0.3 | 0.3 | 0.91 | 0.9 | 0.15 | 1.22 |
From these there are few that are vegan, including: Vitaminbar, Saturo Bar and Compact.
Currently, brands are opting for small snack bars of ~250kcal (like Huel Bar), in which Saturo Cocoa bar might be the most interesting option. Megabite tastes good, but it does not come with the micronutrients that round up a meal replacement bar.
Other companies like Jimmyjoy or Feed. opt for bars closer to 400kcal, in which case they are more like a small meal. Both brands have very good tasting bars, but I would go for the latter.
Huel Bar Alternatives in the US
Worth noting that none of the US based companies offers bars. Most likely you will have to go for Queal (pay $25 shipping fee) or Twennybars (Jimmyjoy).
Interestingly, Twennybars are now being replaced by Plenny Bar, which have a new vegan recipe.
Besides them, you can opt to buy Soylent Squared, 100kcal snack bars from the American brand. As stated in the Huel vs Soylent article, however, I don't think these are very good, though.
Verdict
Huel Bars are OK 250kcal snacks; particularly if you live in the UK. Nutritionally they are too sugary and fatty; and the taste is far from being the best. On top of that, I find that the texture is too dry for my liking; thus it is hard for me to recommend them to anybody.
In all honesty, from having tried over 10 different bars, I would look for alternatives (Feed., Queal) or stick to Huel Powder or Huel Ready-to-Drink.
---
Other Alternatives
If Huel Bar is not the product you are looking for, I would strongly recommend having a look to other Huel products or our top meal replacement bars (bottom right).
Huel shakes, with the new Chocolate Mint flavour, are much better tasting and have some of the best nutritional values in the market. If you are looking for something more portable, they have just released their ready-to-drink option; for less worries and more convenience.
Huel Bar v3.1
From $2.07 | £1.44 | €1.93
Pros
4 different flavours to choose from.
Great size to snack between meals.
Soft and chewy, feels very satiating.
Cons
Price outside the UK is quite high.
Taste has room for improvement.
Minimum order is too large and no option to buy mixed boxes.