Huel Bar Review | 3.1 Here to Solve All Issues
In this Huel Bar review, we shall find out if the UK based giant has finally hit the nail and created a good meal replacement bar.
In fact, Huel's has had very little success in this area. Despite them having some of the best meal replacement shakes, the bars have been below average to put it mildly.
Huel Bar v1.0 was also known as the brick. v2.0 wasn't much better, and the v3.0 wasn't the success the company expected.
Soon after v3.0, Huel released the v3.1 formula in 2020. This latest iteration has been the most stable, and seems that Huel has finally found the meal replacement bar they were looking for.
So, how good is the Huel Bar really, and is it a contender to be the best meal replacement bar in the market?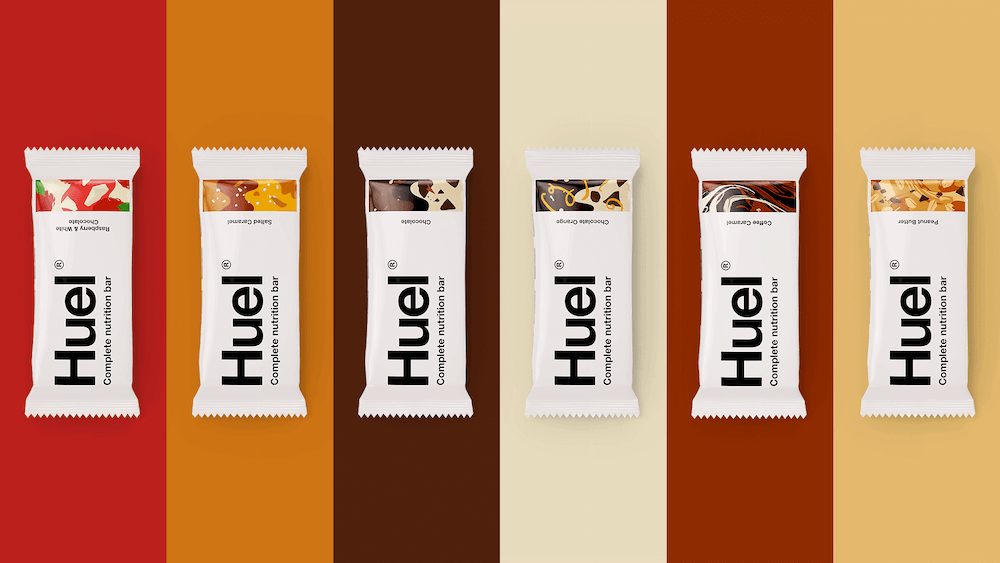 Huel Bar Review at a Glance
From:

Ships to:

Worldwide

Price:

From £1.45

Subscription:

10%

Kcal/meal:

200

Type:

Bar

Allergens

Caffeine*

User Reviews

Positive
Flavours: Peanut Butter, Salted Caramel, Coffee Caramel, Chocolate Orange, Chocolate, and Raspberry & White Chocolate.
Opinion
As mentioned above, the Huel Bar has never been a hit. Despite being one of the first items after their powder meal replacement, it was never of the liking of the customers.
This was mainly to the bars being too dry, flavourless and rather hard. Therefore, Huel has always been looking to make a more chewy and moist bar.
Because Huel bars do not taste good. They are a chore to eat, hard on the first bite and the powdery in your mouth.

Me, previous Huel Bar review
So what about the latest version of the Huel Bar?
I think that it's a big step forward, and the first Huel Bar I would buy. However, some of the flavours are not great, and the 200kcal bar is still better used as a snack, rather than to replace a meal.
What I like
1. Variety box and option to buy single serving. The variety box is a great way to try all flavours. However, if you don't want to spend £52, you can also add single bars when ordering other Huel products.
2. Peanut Butter and Salted Caramel are delicious.  
3. Very filling.
4. Plant based, soy free, gluten free and includes all essential nutrients.
5. Available worldwide.
What I dislike
1. Not the cheapest meal replacement bar.
2. Chocolate based flavours are not great. They don't have the sweetness or the texture that would make them enjoyable.
3. Texture works well in some flavours and not others. It's rather dry and hard, which goes well with flavours like Peanut Butter, but fails in Chocolate.
4. Fairly high in sugars and saturated fats.
5. Minimum order is £52 (2 boxes).
6. If you like sweet bars, this is not for you.
Improvements
1. Improve the chocolate bars.
2. Introduce new bars with different macros.
Nutritional Breakdown
The Huel Bar is a 200kcal bar, instead of the 400kcal meal bar that many competitors use. As such, it does not provide you with enough calories to replace a full meal.
Besides, it's a vegan meal replacement bar, high in fibre and protein. It includes all 26 vitamins and minerals.
Huel Bar Nutritional Overview
| | |
| --- | --- |
| | Huel Bar |
| Kcal/meal | 200 |
| Macros (C/P/F) | 41/24/35 |
| Vegan | Yes |
| Keto | No |
| Features | Soy Free, Nut Free |
| Non-GMO | Y |
| Organic | No |
| Includes Probiotics | No |
| Artificial Sweeteners | Yes |
| Synthetic Additives | Yes |
| Contains All Micronutrients | Yes |
| Controversial Ingredients | |
Based on Chocolate: Pea Protein, Brown Rice Syrup, Soluble Gluco Fibre, Concentrated Grape Juice, Rice Starch, Brown Rice Protein, Gluten-Free Rolled Oats, Chocolate (Cocoa Mass, Coconut Sugar, Cocoa Butter), Gluten-Free Oat Flour, Sunflower Oil, Flaxseed Powder, Sunflower Lecithin, Rice Bran, Cocoa Powder (2.5%), Micronutrient Blend*, Medium-Chain Triglyceride Oil (from Coconut), Tapioca Starch, Natural Flavouring.
*Potassium Citrate, Potassium Chloride, Calcium Carbonate, Maltodextrin, Vitamin C, Magnesium Oxide, Niacin (as Niacinamide), Vitamin E (as D-Alpha Tocopheryl), Pantothenic Acid (as Calcium-D-Pantothenate), Zinc Oxide, Riboflavin, Vitamin B6 (as Pyridoxine Hydrochloride), Vitamin B1 (as Thiamin Mononitrate), Potassium Iodide, Vitamin K2 (as Menaquinone-7), L-Methylfolate Calcium, Vitamin A (as Retinyl Acetate), Vitamin D2, Vitamin B12 (as Cyanocobalamin).
Carbohydrates
Based on Chocolate:
Total Carbs: 18.0g, 7% of RI.
Sugars: 7.6g, 8% of RI (based on EU).
Fiber: 4.9g, 16% of RI.
One of the main issues with meal replacement bars are the usage of syrups and sugars to bind the ingredients together. In this case, Huel uses brown rice syrup and concentrated grape juice (fructose).
Consequently, each bar has almost 8% of your recommended intake; which is within limits, but high nonetheless.
Another feature of meal replacement bars is usually the high fibre content, which is the case for Huel Bar. With 4.9g per 200kcal serving it provides you with 34% of your recommended intake. Because of this, over consumption can have laxative effects and Huel recommends a maximum of 4 bars a day.
Fats
Based on Chocolate:
Total Fats: 8.0g. 11% of the RI.
Saturated Fats: 2.9g. 13% of DRI.
Monosaturated (MUFA): 1.6g.
Polyunsaturated (PUFA): 2.8g.
Omega-3 (ALA): 0.4g.
Omega-6: 2.6g.
The fat content has been increased in the v3.1. However, the omega-3 content of the bars has gone down.
This omega-3 comes from flaxseed (ALA), which is not converted into omega-3 (DHA, EPA) very efficiently. Still, it should provide a good base.
Part of the saturated fats are medium chain triglycerides (MCT) which are consumed faster and as used as energy source more easily by the body (1.0g/bar).
Protein
Based on Chocolate:
Total protein: 12.0g, 24% of DV.
Source: pea protein and rice protein.

Huel's products are all vegan and most of the time the protein source is a mix of pea and rice protein. These two protein sources work well in conjunction, since they balance out the deficiencies in the amino acids of each source. In fact, both of them together provide one of the best vegan protein sources.
Micronutrients
Every Huel Bar will provide you with at least 15% of you daily vitamins and minerals.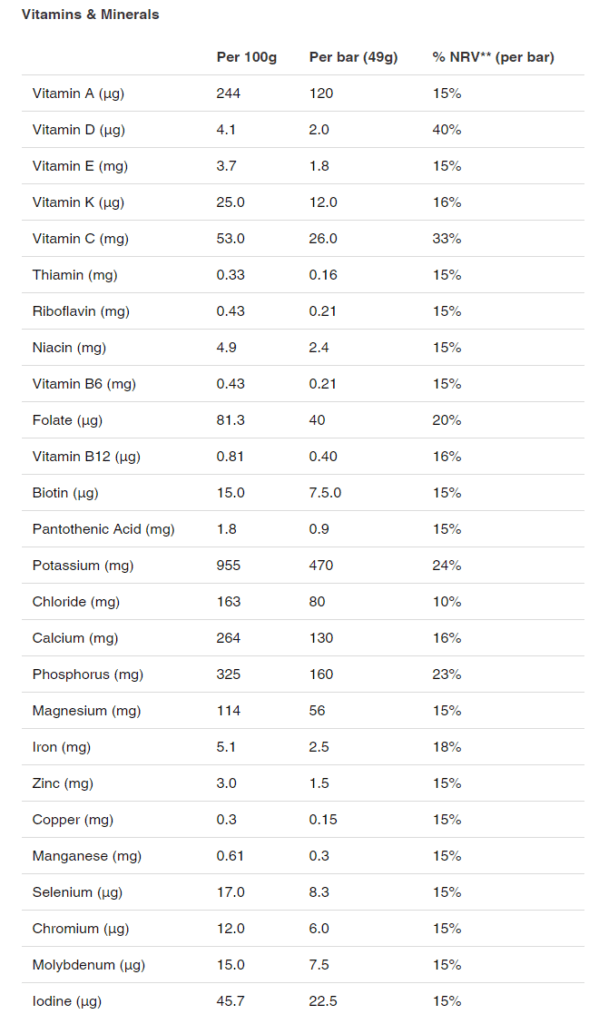 Allergens
Huel uses gluten-free oats in the mix making the bars free of the most common allergens. The coffee flavours have some caffeine.
Tasting Test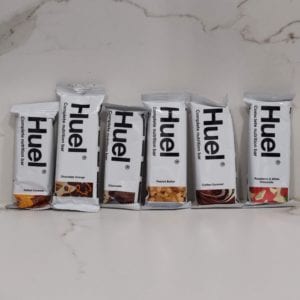 | | |
| --- | --- |
| Best flavour | Peanut Butter and Salted Caramel |
| Best to Worst | Peanut Butter, Salted Caramel, Coffee Caramel, Chocolate, Chocolate Orange, and Raspberry & White Chocolate. |
| Taste | Mostly what's promised, but the chocolate based flavours are not very good. They don't taste chocolaty enough, nor are as sweet as you would expect. |
| Texture | Not as soft or chewy as protein bars, nor crumbly like other meal replacement bars. Huel's are in the middle, with some moisture on the outside, but drier in the inside |
| Satiety | For a 200kcal bar, they do well keeping you full for 2h. |
| Afterthoughts | A great product. No hard complaints. |
With six flavours you might want to know which Huel bar tastes better? The truth is that flavour is subjective and we might not agree. However, the three flavours are quite similar overall, while they have subtle distinctions.
The Taste: Hit and Miss
While none of the bars are truly awful, I found out that there were 2 different groups:
Peanut Butter, Salted Caramel, and Coffee Caramel. These I would recommend and they were a pleasure to eat. In particular the first two.
Chocolate, Chocolate Orange and Raspeberry and White Chocolate. On the other hand, it's hard to perceive the flavour in these, or to separate them. They are too dry, flavourless and rather forgettable.
Still, I couldn't say Huel bars are the tastiest in the market. I like the fact that they are not overly sweet, and they require some biting. However, sometimes they can feel a little powdery, and you need to careful with the bits.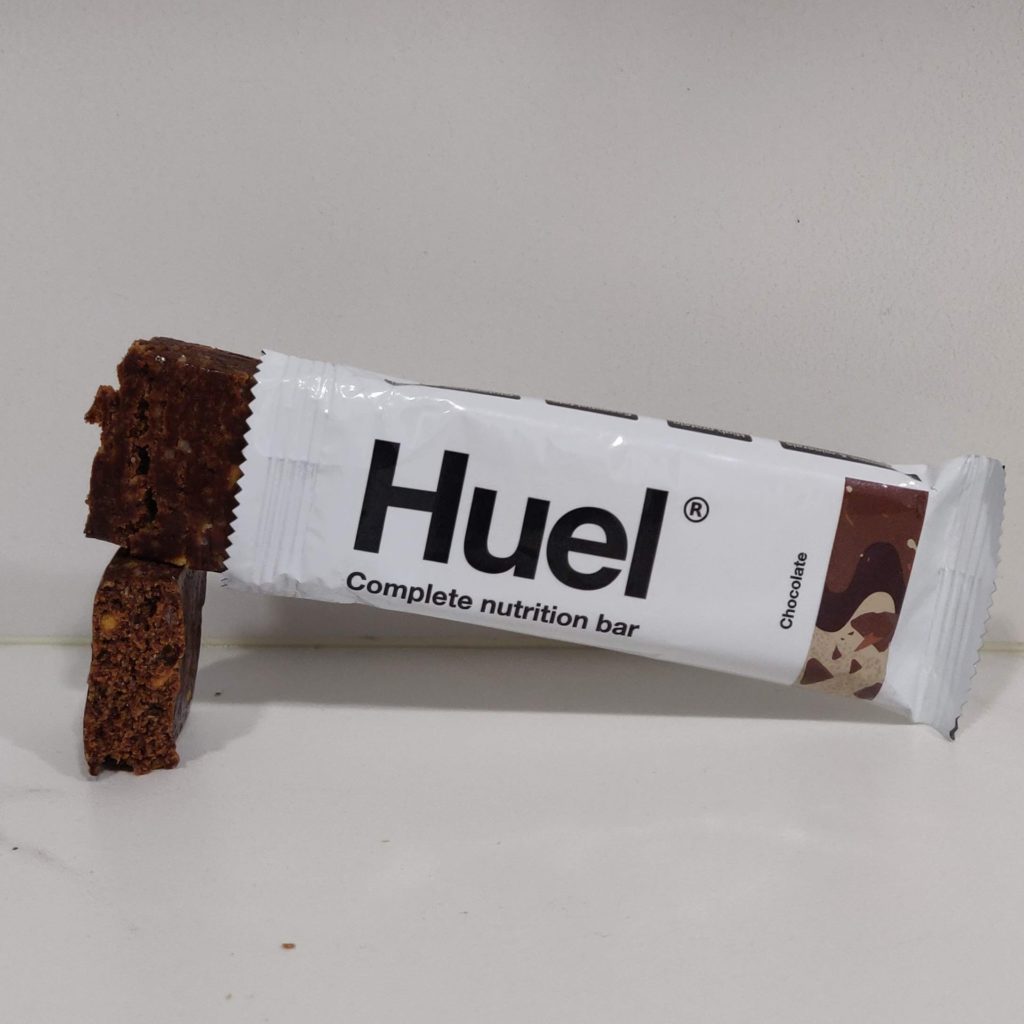 More about Huel Bars
Huel Bars are part of Huel's complete food line up. The UK based meal replacement company started in 2014, and since has become the largest complete food manufacturer.
As such, besides the bars they offer powder based meals, a ready to drink, a warm complete food, and a complete protein. All of them, plant-based, without soy, and high in protein. I discuss each of them in more detail in my Huel review.
Pricing
Now, going back to the bars, let's discuss one of the most important aspects: the price.
This will vary according your region (US, UK, EU), how many you buy (there's bulk discount), and whether you are subscribed (10% discount).
However, in all regions bars come in boxes of 15, and you need to purchase at least 2.
| | | | |
| --- | --- | --- | --- |
| | EU (€) | UK (£) | US ($) |
| Expensive (2 boxes) | 1.92 | 1.45 | 2.07 |
| Cheapest | 1.46 | 1.06 | 1.51 |
Price per serving
Shipping
Huel Bars are available in most places worldwide. Few exceptions include Canada.
For the EU, UK and the US, buying 2 boxes will qualify you for free shipping. In the UK this is next day delivery.
Variety Box – Start Here
For those who are undecided or want to try out the bars, there are two options.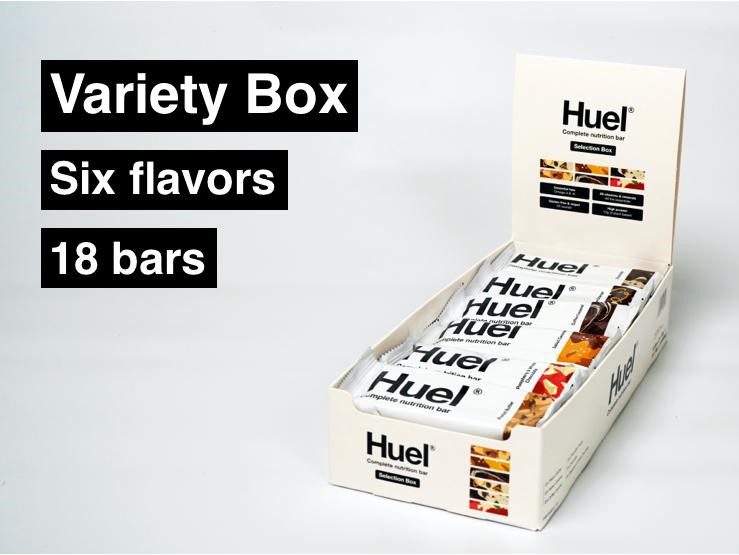 One is the variety box. These includes 18 bars (3 of each) at the normal price. I think that this is the best place to start.
However, this will require to buy 2 boxes and a commitment of $75/€68/£52. If you are not willing to commit, you can buy single bars at checkout when ordering other Huel products.
Huel Bar vs other meal replacement bars
Huel Bars are a very good deal if you live in the UK, since the price is lower there. However, the price is higher than other competitors within Europe. I would look for other Huel alternatives like Feed.; Jake (Vitaminbar); Queal (GObar)…
Furthermore, you will have the options to go for light (100kcal) bars or bigger (400kcal) bars; as well as enjoy different textures.
General Information
| | | | | |
| --- | --- | --- | --- | --- |
| | Huel Bar | Vitaminbar | Feed | Plenny Bar |
| serving size | 250 | 333 | 400 | 400 |
| serving price | €1.92 | €2.20 | €3.50 | €2.50 |
| price/400kcal | €3.84 | €2.66 | €3.50 | €2.50 |
| Protein (g) | 12 | 19 | 20 | 20 |
| Vegan | Y | Y | Y | Y |
| Organic | N | N | N | N |
| Sold in | World | World | EU | World |
| Flavours | 6 | 5 | 6* | 3 |
Besides those shown above, there are many more options; particularly in Europe. These include, Kui, Satislent Bars or Queal Go bars. 
However, I think that the ones above cover a wide array of option, and include some of the best tasting bars.
Other companies like Jimmyjoy or Feed. opt for bars closer to 400kcal, in which case they are more like a small meal. Both brands have very good tasting bars, but I would go for the latter.
Huel Bars vs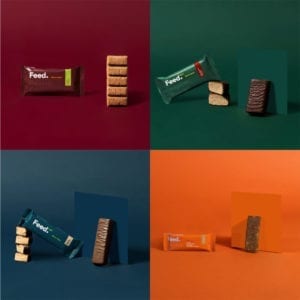 Feed. is a French bar that offers over 18 different bars: Original, Light, Sport and Snack. All of which are vegan and complete. In fact Feed. has some of the best tasting bars. For instance, Feed. Original bars are crumbly, cake-like, sweet and delicious. Feed. Sport Bars, on the other hand, are more reminiscent of protein bars.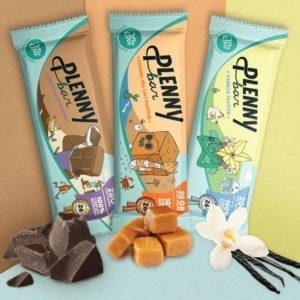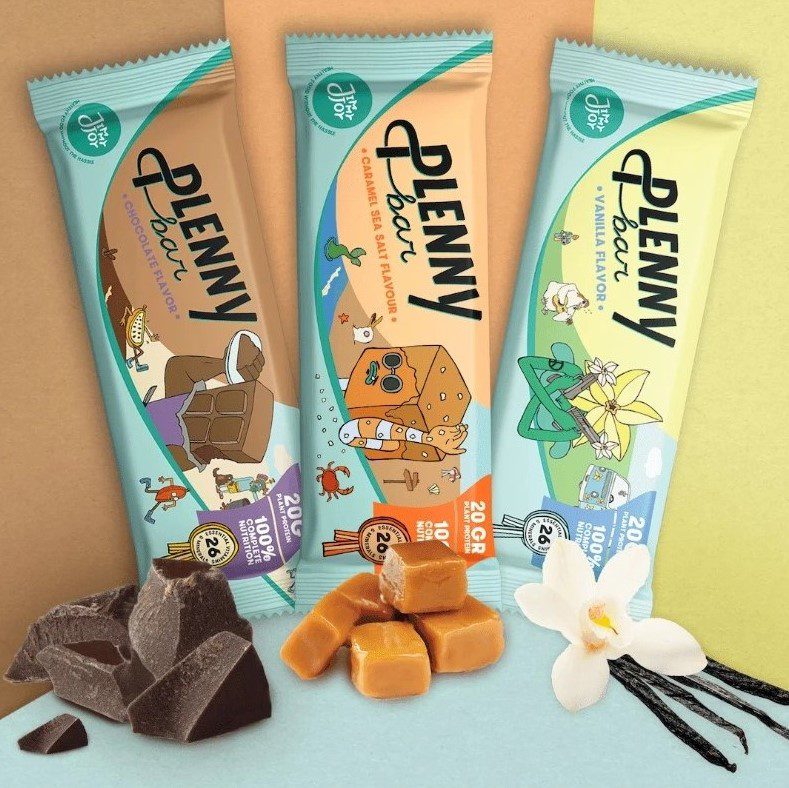 Another favourite of mine. They are available in both the US and Europe, and offer a more affordable bar that can easily replace a meal. Not only that, but the flapjack like texture is more enjoyable and most taste better than Huel bars.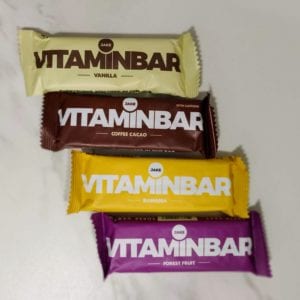 Vitaminbar
Last but not least, Jake's Vitaminbars, which are also available in both sides of the Atlantic. These are 333kcal meal bars that have also a flapjack like texture, but moister than Huel Bars. Taste-wise, most of them are better too.
Huel Bar FAQ
Are Huel Bars vegan?
Yes, all ingredients found in Huel meals are plant based.


Can I eat only Huel bars?
Unlike their powder meal replacements, Huel states to use the Bars for snacking purposes only.

Are Huel Bars available in the US?
Yes, you can buy Huel Bars worldwide.


What's the shelf life of the bars?
They should last at least 12 months when stored in a cool, dry place, avoiding direct sunlight.


Verdict – Huel Bar Review
Summarizing this Huel Bar review, would I recommend them?
I think that if you live in the UK and you already consume Huel products, they can be a good healthy snack to pick up (instead of your mars bar or the snicker).
However, they are not overly tasty, they won't do for those with a sweet tooth, and the texture is not particularly nice either (rather dry).
In fact, I can only recommend 3 of the flavours (Peanut Butter, Coffee Caramel, Salted Caramel), and I think that all chocolate based Huel Bars are not good enough.
Besides, if you plan to use them as a meal replacement, there are many better alternatives, such as Plenny Bars, Vitaminbars or Feed. bars.
Therefore, if you are not a Huel customer, I don't think the bars are an appealing offer.
Huel Bar v3.1
From $2.04 | £1.44 | €1.93
Pros
Peanut Butter and Salted Caramel are great
High protein, soy free, gluten free and vegan
Very filling
Variety box to try out all flavours
Better than the old bars
Cons
Not great for those who like sweet bars
Chocolate based flavours are lackluster
Minimum order is £53
Texture can be a little dry
High in sugar and saturated fats