Why I Think Plenny Bars are Worth Every Penny (Review)
This is a fresh look to the Plenny Bar review, one of the best meal replacement bars in the market.
Spoiler alert: they are still bloody awesome.
When Jimmyjoy (manufacturer) announced that they were discontinuing the Twennybars for a fully plant-based meal replacement bar there was a lot of push back.
However, over the past years, Plenny Bars have shown to be a very successful successor: tasty, affordable, and with multiple flavours to choose from.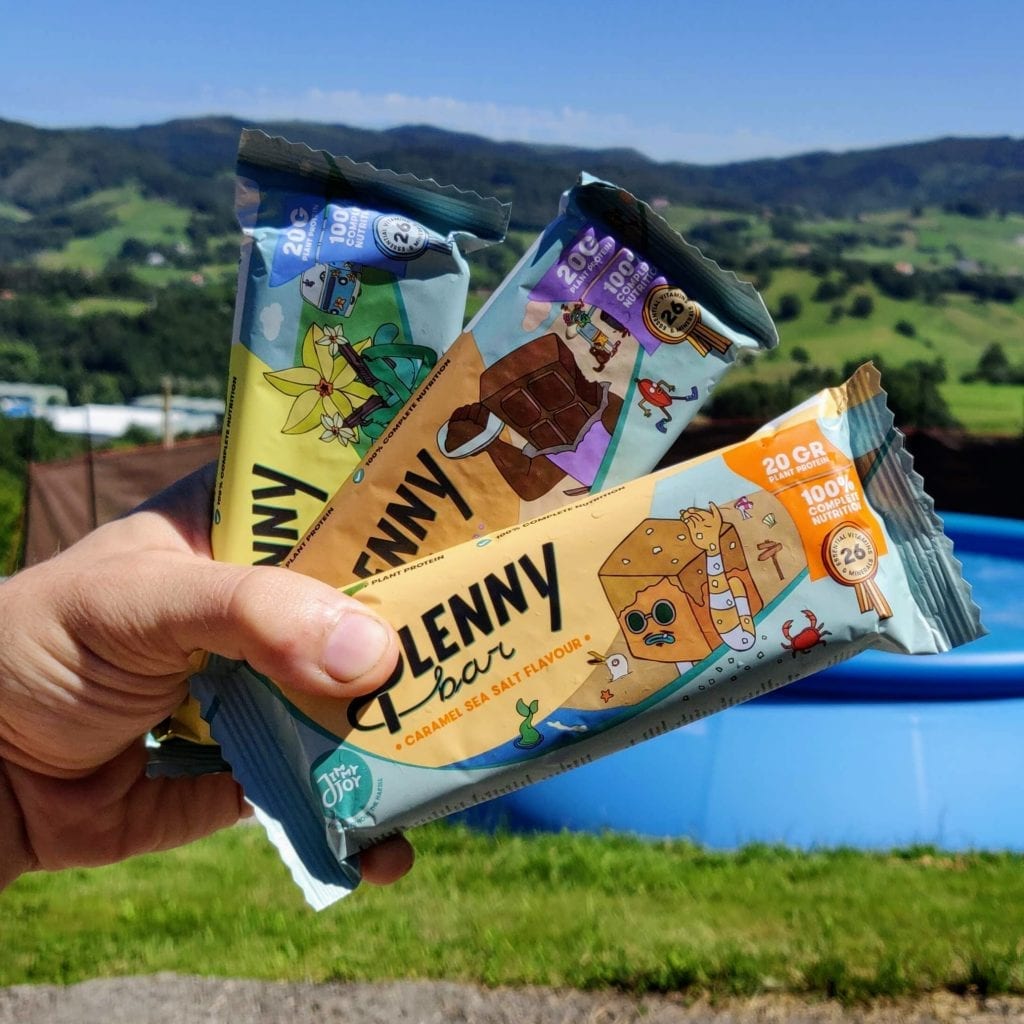 Plenny Bar Review at a Glance
Flavours: Caramel Sea Salt, Vanilla, Fig & Almond, Hazelnut Coffee, Pizza and Chocolate.
Opinion
Last time I did the Plenny Bar review, I applauded them for improving upon the old Twennybars. This time around, I am congratulating them because they've released 3 more flavours, 2 of which are excellent.
The rest is the same: excellent price, great taste and texture, and solid nutrition. As such, this vegan bars are some of the best in the market and face little competition in the US.
In fact, I think Plenny Bars are worth every penny. Without a doubt they are among the best meal replacement bars in the market.
What I like
1. The taste and texture. The taste is not mind-blowing at first bit, but I'm always looking forward to the next bar. That's an accomplishment.
2. Salted Caramel is yummy. The new flavours are also fantastic, Hazelnut Coffee and Almond & Fig in particular.
3. Very competitive price. Bars are always more expensive than powder-based alternatives. However, starting at €2.13 per 400kcal; the new Plenny Bars are the cheapest meal bars you can buy.
4. 400kcal makes it feel like a meal. Lately, the trend in the industry has been to release snack oriented bars (200kcal max). As such, it's great to have something bigger than I can actually replace a meal with.
5. Relatively low in sugars and no sugar alcohols. Due to the fact that sugar and sugar alcohols tend to have a key role at binding the bars together; many bars have them in excess. This, however, is not true for the Plenny Bars, which have 6g of sugars only per bar.
What I dislike
1. They are not soft. I personally didn't mind it, but the Plenny Bars require you to do some chewing. They resemble a flapjack, rather than a protein bar.
2. Nutritionally still a bar. It is well-rounded as a bar, but still contains maltodextrin, rice syrup and other ingredients you won't find in the healthiest shakes.
3. Pizza flavour is a bit of a letdown, and Chocolate is good, but weak. Considering the field, Plenny Bar Chocolate is one of the weakest chocolate bars you can have, and the Pizza bar is rather forgettable.
4. Stock issues in the US. Plenny Bars are the best bars in the US… when you can buy them; which latetly is almost never. I hope they can fix the logistic issues.
Improvements
1. I look forward to seeing even more flavours. So far, I've been positively impressed with the Plenny Bar v2.0. I hope they keep making small adjustments and perhaps adding some more new flavours.
Plenny Bar Taste Review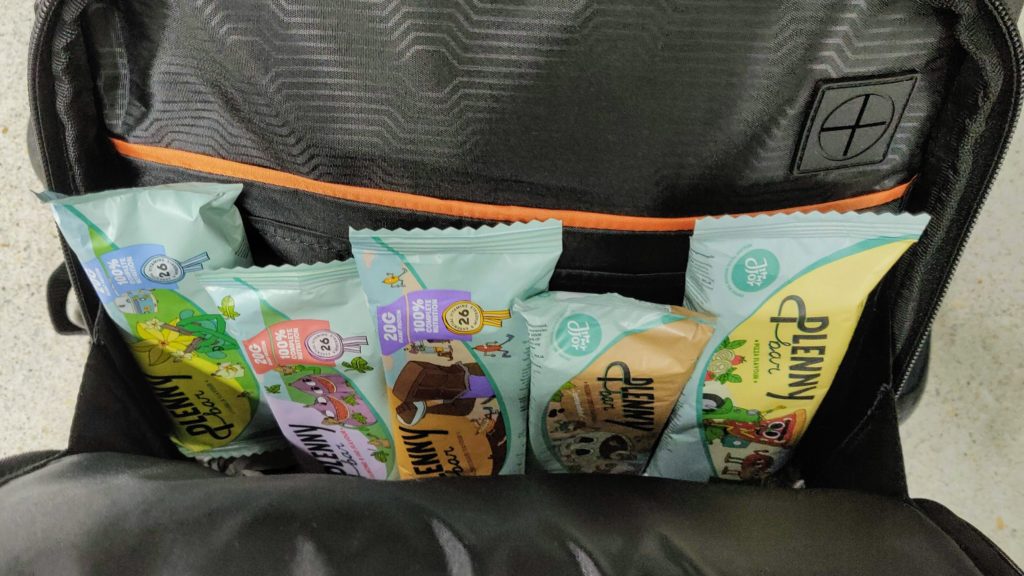 | | |
| --- | --- |
| Best Flavour | Salted Caramel |
| Worst Flavour | Pizza |
| Taste | All bars have a similar background taste, more oaty; which works great in most flavours, but fails in the Pizza bar. |
| Texture | Rather hard, like a flapjack, but still moist enough and chewy enough so that you don't break your teeth. |
| Easy to Mix | N/A |
| Satiety | Each bar was good for about 3h. |
| Easy to Clean | N/A |
| Afterthoughts | They have a rather addictive taste. Not overly sweet or ultra-powered, like many protein bars do; but one that sticks with you and does not get annoying fast. I also enjoy the harder texture, which makes it feel like a bigger meal than it is. |
One characteristic I truly enjoyed about the Plenny Bars is the taste and texture. Despite the fact that they are not mind-blowing, there's something to them that makes me come back eagerly. To look forward to the next bar, unlike some of it's competitors.
In fact, it wasn't love at first bite. They can be a little oaty, dry and plain. However, with each bite I grew into liking them. They are not sickly sweet; or do not have any overpowering flavours. This makes eating them easy. Just like the one Pringle's is not enough, you need a second bite to the Plenny Bars. And it is because of this feeling that I fell in love with them.
Texture
There's something to be said about the texture. It's harder than the old Twennybars, which mixed crunchy and soft. In fact, Plenny Bars are not soft at all, they are more compact; like oats mashed together. I found this enjoyable, since they are not hard enough to break your teeth. Just in the right spot where you need to chew through them; which offers a good break even from the best shakes.
Which Plenny Bar Tastes Best?
I guess it depends on the day. Jokes aside, I found really hard to choose in-between them, and generally depends on my mood. However, I do feel that Salted Caramel is a tiny bit better than the other two.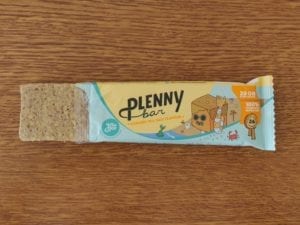 1.Caramel Sea Salt: When you first open the package, there's a distinctive smoky smell. Don't be put off by the smell, since the bar doesn't taste anything like it. It's hard to describe the flavour, but it's a toffee-like bar with an oat base.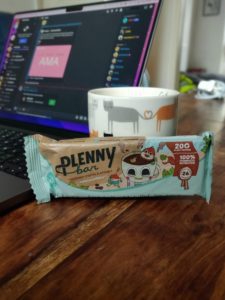 2.Hazelnut Coffee: This is a close second in my opinion. I love the combination of hazelnuts with the coffee, and it's a strong contender to be the best flavour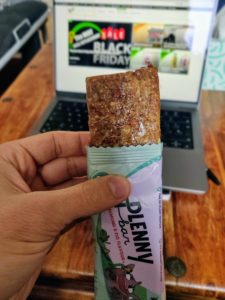 3.Almond & Fig: It was another flavour that I had no hopes for. I'm not a fan of figs, but in this bar they work to perfection. The blend of the sweetness with a touch of sourness adds balance and richness to the bar.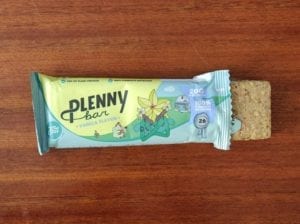 4.Vanilla: This is the most "bland" or plain flavour out of the three. This does not mean bad; but it won't excite you if you are used to strong flavours. It is a more oaty bar with hints of vanilla and honey-like sweetness (from rice syrup.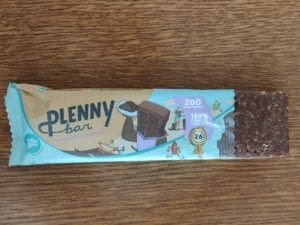 5.Chocolate: The chocolate flavour is rather weak, unless you bite one of the chocolate bits spread throughout the bar. It is then when the bar truly comes alive, and you experienced the most enjoyable parts. Otherwise, the taste is quite oaty.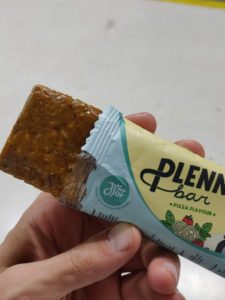 6.Pizza: I was always afraid that this was more of a gimmicky flavour. And indeed, it is. It tastes like cheese, oregano and tomato sticks; with a strong emphasis on the herbs. It does not go well with the sweeter, more oaty background; and it's the only one that I wouldn't buy myself.
Plenny Bar Nutrition Breakdown
As previously mentioned, the new Plenny Bars are fully plant based; but they are not gluten-free, unlike other competitors. Going Vegan was one of Jimmyjoy's objective through 2019; and the main reason to create the Plenny Bars (old Twennybars were vegetarian).
However, the removal of non-plant based ingredients has not been the only significant change. They have also removed maltitol, which can cause laxative effects; and instead they have added maltodextrin.
Nutritional Overview of Plenny Bars:
| per serving 100g | Caramel | % of RI |
| --- | --- | --- |
| Macros (C/P/F) | 44/20/36 | |
| Energy (kcal) | 400.0 | 20 |
| Total fat (g) | 16.0 | 23 |
| Saturated (g) | 1.7 | 8.5 |
| Carbs (g) | 39.0 | 15 |
| Sugars (g) | 6.3 | 7 |
| Protein (g) | 20.0 | 40 |
| Salt (g) | 1.28 | 21 |
| Fibre (g) | 8.0 | 40 |
% of RI based on a 2,000kcal diet. Other flavours will have less salt content.
Ingredients (Caramel): oats, maltodextrin, soya protein crisp (soya protein isolate, tapioca starch, stabilizer: calcium carbonate, salt), sunflower oil, rice syrup, soya protein isolate, milled brown flaxseed, humectant: glycerin, chicory fibre, vitamin- and mineral- mix, natural flavouring, sea salt, sweetener: sucralose.
Carbohydrates
There are two main sources of carbs in the Plenny Bars: oats and maltodextrin. The first are a great source of complex carbohydrates and other nutrients. On the other hand, maltodextrin is a complex carb that is easy to break down. Consequently, it has a high GI (raises blood sugar quickly). Nevertheless, due to the composite nature of the bar; it's not that big of an issue.
In fact, Plenny Bars contain more complex carbs and fewer sugars than other competitors (Feed.). Often, you will find that meal replacement bars are filled with sugar, because this help to bind ingredients together. In this case, Jimmyjoy's bars only have 6.3g of sugar per serving (from rice syrup).
The bars also have almost 8g of fibre per 400kcal; or 40% of the recommended intake per serving.
Protein
I previously mentioned that one of the biggest changes has been the protein source. Jimmyjoy has moved to a fully vegan-friendly bar and for that they have replaced milk protein with soy protein isolate.
Each bar will offer you with 20g of protein, mostly from a complete source like soy protein. I personally think this is a sidegrade, since milk protein is also complete.
Fats
Another slight variation when comparing to the old Twennybars is that the new meal bars have less saturated fat. In fact, they only provide you with 1.7g. This is largely due to the removal of coconut oil.
Instead, the main sources of fats are sunflower oil and milled brown flaxseed. The latter is to provide you with essential omega-3 fatty acids; whereas sunflower is the primary source of mono- and poly-unsaturated fatty acids.
Micronutrients
As shown in the image below, each bar will provide you with at least 20% of each vitamin and mineral. However, there are micronutrients that surpass 20%; like Vitamin C or Vitamin B12 (1120%). In spite of the high values, it is worth noting that they won't have any toxic effects in your body.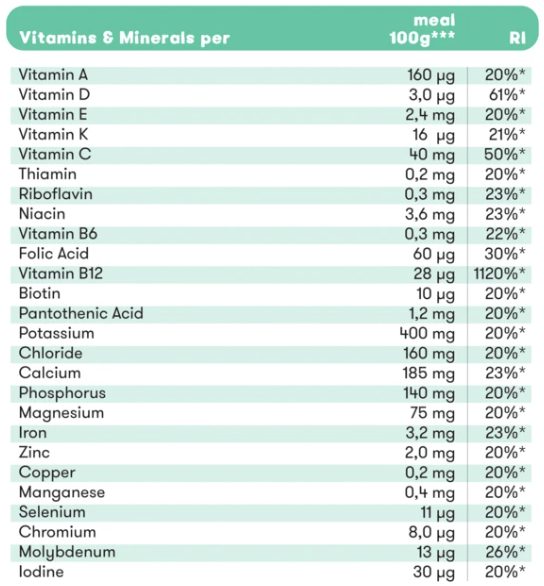 Allergens
Plenny Bars contain oats and soy.
More about Plenny Bars
Pricing & Packaging
Besides the taste, the pricing of the bars has been always a strength of Jimmyjoy's bars. This is also the case for the new Plenny Bars, and they are some of the cheapest in the industry.
| | | | | |
| --- | --- | --- | --- | --- |
| | Plenny Bar | Feed. | Powdermatter | Huel |
| Per 400kcal (expensive) | €2.50 | €3.50 | €3.50 | €3.86 |
| Per 400kcal (cheapest) | €2.13 | €2.98 | €3.00 | €2.94 |
Price comparison between some of the best meal replacement bars.
This is also true for the US, where I think they might be the best option if you are looking for a bar.
| | | | |
| --- | --- | --- | --- |
| | Plenny Bar | Huel | Soylent S |
| Per 400kcal (expensive) | $3.00 | $4.14 | $4.00 |
| Per 400kcal (cheapest) | $2.55 | $3.34 | $3.80 |
Price comparison between some of the best meal replacement bars available in the US.
When it comes to buying the Plenny Bars, they are sold in boxes of 12.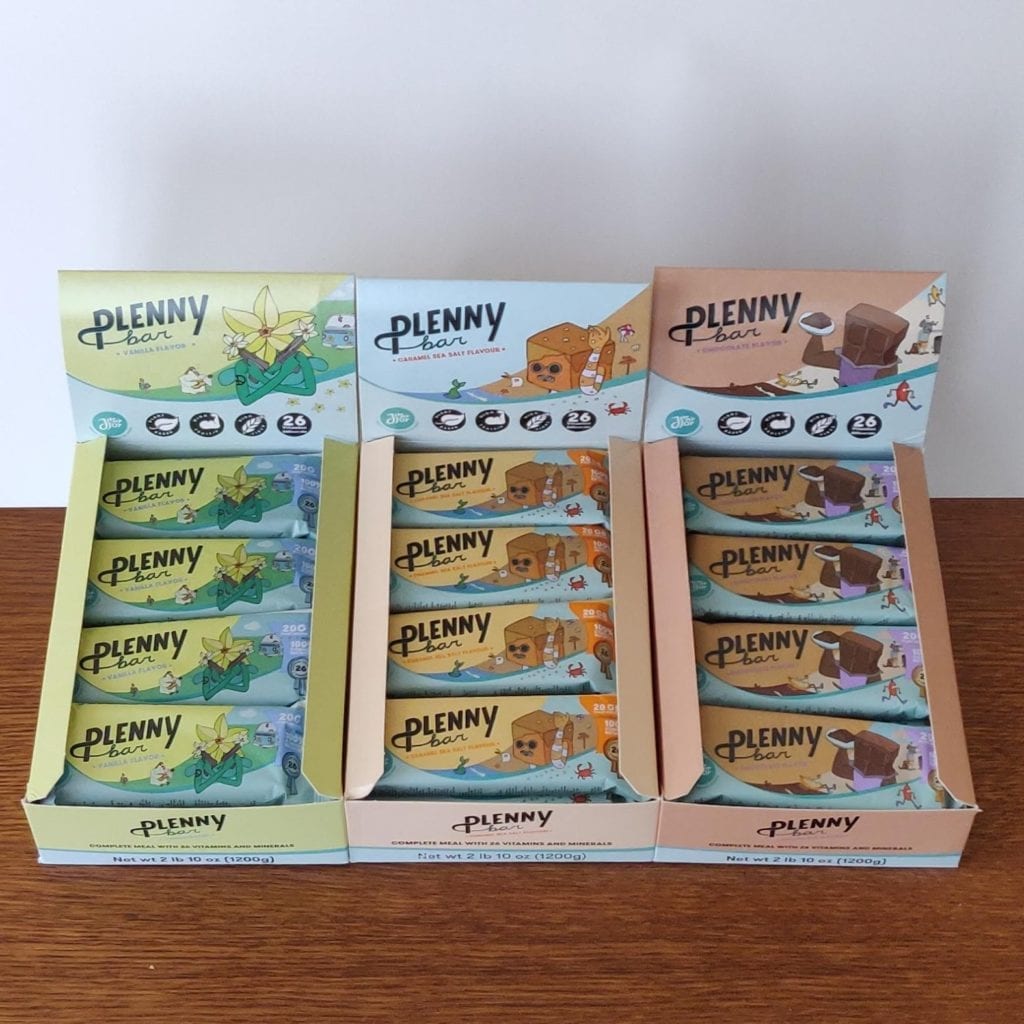 Luckily, there's a Variety Box where you can try all flavours! Definitely what I would recommend to start with.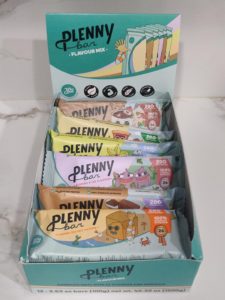 Regarding storage; Plenny Bars should at least have a one year shelf-life.
Plenny Bar vs
I've included some price comparisons above; with bars that I consider to be among the best in the market.
The options in the US are more limited; and honestly, Plenny Bars are an easy choice to make (when they are available). However, in Europe things are slightly more competitive.
Few options to consider in Europe include:
Powdermatter bars.
Feed. bars.
Saturo bars.
Queal bars.
Queal is another Dutch brand that offers tasty and affordable meal replacements. Queal Go bars are also vegan, after recent changes; and are one of the most likely Plenny Bar alternatives.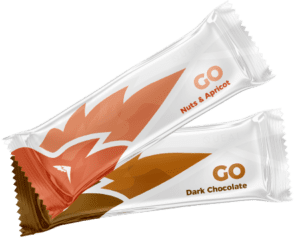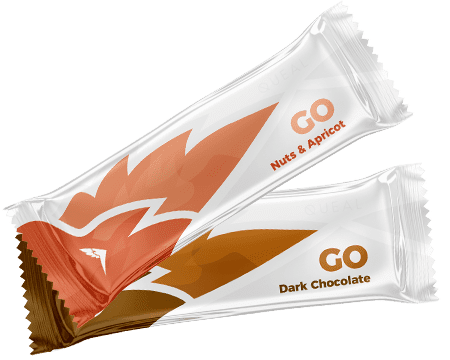 Flavours
Plenny Bars: Vanilla, Salted Caramel and Chocolate.
Queal GO Bars: Dark Chocolate and Nuts & Apricot.
Price
Price

Plenny Bar

Queal GO

EU (€)
per 400 (expensive)
2.50
3.00
per 400 (cheapest)
2.13
2.55
Queal Go bars are 200kcal per serving; thus each bar will cost less, but it will also be smaller.
Taste
A fact to consider here is that Queal offers 2 very different flavour profiles. Nuts&Apricot is a nutty bar; whereas Dark Chocolate is a softer, much sweeter meal. Both are incredibly enjoyable, and perhaps easier to like than the Plenny Bars.
On the other hand, as previously discussed, Jimmyjoy's bars are harder, and have a more clear oat base.
Nutrition
| | | | | |
| --- | --- | --- | --- | --- |
| per serving | Plenny Bar | RI (%) | Queal GO Nuts | RI (%) |
| Energy (C/P/F) | 44/20/36 | – | 35/18/47 | – |
| Energy (kCal) | 400 | 20 | 207 | 10 |
| Fats (g) | 16.0 | 20 | 10.8 | 1.5 |
| Saturated (g) | 1.7 | 9 | 1.5 | 8 |
| Carbs (g) | 39.0 | 15 | 16 | 6 |
| Sugars (g) | 6.3 | 7 | 7.3 | 8 |
| Fibre (g) | 8.0 | 40 | 5.1 | 26 |
| Protein (g) | 20.0 | 40 | 9.4 | 19 |
| Salt (g) | 1.3 | 21 | 0.2 | 3 |
There will be some variation between the flavours.
What Should I Buy?
If you are looking for a meal and want something that will fit your budget, then the Plenny Bars are likely the better option. Alternatively, Queal GO bars function better as a snack; not only because they are smaller, but also because they are easier to like.
---
There are other alternatives to Plenny Bars, such as, Powdermatter Bars, Feed. Bars, Huel Bars… Make sure you check out the list of my favourite bars. However here are some general thoughts:
vs Powdermatter bars. Powdermatter's are also 400kcal meal bars; ideal to be used for bigger meals. However, these are slightly more natural (less artificial ingredients and flavourings). Nutritionally, they have more protein content (up to 30g), but also more sugars, since they rely heavily on dates. They also offer whey based bars.
vs Feed. Bars. Full comparison is on the Feed. review. The French brand offers a bigger variety nutritionally (Sports, Light, Raw and Original) and in terms of flavours (up to 18!).
Vitaline Bars. These are an odd one and unlike any other. They are organic, and made out of unique ingredients (carrots, sweet potato…). They are more dry, more savoury and more complex. However, they can be more expensive, too.
Plenny Bar FAQ
Are Plenny Bars vegan?
Yes, Plenny Bars are vegan, like the rest of meal replacements Jimmyjoy offers.


Can I only eat Plenny Bars?
My personal recommendation is to consume them as part of a varied diet. While they have all the nutrients your body requires in theory, they might be lacking phytonutrients.


Are Plenny Bars gluten-free?
Plenny Bars are not gluten-free certified. They contain oats that could be cross-contamined.


Can I buy Plenny Bars in the US?
Yes, Plenny Bars are available in both Europe and the USA.


What are the differences between Twennybars and Plenny Bars?
Twennybars were vegetarian; whereas, Plenny Bars are suitable for vegans. One of the biggest changes has been the removal of whey protein, in exchange for protein from soy. Consequently, there have also been some changes in the texture and taste of the bars.


---
Verdict – Plenny Bar Review
I knew coming to this Plenny Bar review that I was thouroughly going to enjoy my time trying them out.
Indeed, they did not disappoint, and they still are a top 2 meal replacement bar in the market. In fact, they might even be the best option in the US.
There are two main reasons to like the Plenny Bars. Firstly, there's the price; since they are the most affordable meal replacement bars in both Europe and the US. Secondly, there's the taste. They didn't blow me out of the park, but I thoroughly enjoyed them, and I always came back looking for more.
However, there are a couple of drawbacks:
Stock issues in the US, make them hard to get Plenny Bars there.
They are quite hard and dry, not soft and chewy like protein bars, which might put some people off.
All in all, I had a great experience reviewing Plenny Bars, and I highly recommended as an on-the-go meal.
Plenny Bars
€2.13/400kcal
Pros
Great price for a bar
Caramel Sea Salt is superb
Very enjoyable to eat and they keep you full for more than 3h easily
Available worldwide
Covers all the basics well
Cons
Nutritionally weaker than the shakes
Flavours can seem very similar.
Harder texture than other bars. You will have to chew more
Pizza Bar is not great - not recommended
Stock issues in the US