Vitaline Review | Shakes with Character and Purpose
A French company with passion and care for every shake they make.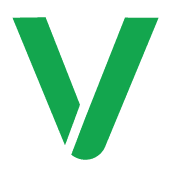 I like Vitaline, if simply because it is not a vegan brand (not that I have anything about vegan brands, it is just too many of them at the moment). They are a ecologically friendly brand, that favours local organic ingredients, to ensure high quality shakes. Vitaline provides meal replacement shakes that are non-GMO, soy free, gluten-free and without additives. A true French experience, with French ingredients and French flavours. Plus they have some of the best shakes to help you with your exercise. Let's check Vitaline out.
---
LatestFuels Recommended brand.
---
I feel that Vitaline is another one of Europe's "hidden" treasures. It has the most nutritious meal replacement bar, some of the best organic shakes and incredible range of products. I am impressed by how each shake has a purpose, and that purpose can be seen in the ingredients and the nutritional profile. Not just a "sport" supplement, but also pre- and post-exercise shakes. That is the level of dedication and commitment a true meal replacement brand should have.
What We like
Shakes are different between each other and they serve a purpose.
Milk as protein source.
Great nutrition in most shakes, quality ingredients.
Flavour options truly show the French character.
Low free shipping threshold.
Open Beta system.
First and foremost, I want to remark the fact that the shakes are nutritionally different. They are engineered to cater for different situations in our daily routines and reflect upon real situations. Just as you do not have certain meals around your workouts and tend to favour foods that will improve your performance, all meal replacements are no good for all the situations. As such the Catalyst range is a great specialisation to come from Vitaline. If you are a sportive person you must check them out.
Secondly, to a more controversial point. I do like that brands are going for vegan options, since they believe is ecologically more sustainable. However, if you do that but then use soy, which is not produce in Europe, you are contradicting yourself. For that reason, I like that Vitaline is opting for locally sourced ingredients in both normal and vegan products.
That is one of the reasons why organic milk protein is a top quality ingredient. Not only because of the sourcing, but also due to the fact that nutritionally is superior to soy protein isolate.
In fact, overall Vitaline shakes have a great nutritional balance at macronutrient level and micronutrient level; plus top quality antioxidants. In my taste, the Daily Range shakes are perhaps a little bit high in fats and shy in carbs.
Another thing to praise is the low threshold (€25) required to trigger the free shipping within Europe, which is even lower in France.
As last point, I would like to say that I lilke the "pilot program" or the open beta. Giving the users the ability to test and provide feedback on products while fine tuning the end shake is actually really interesting and gets the customer involved with the brand.
What We dislike
Shipping range.
English site seems to bug out and parts are in French.
Nutrition Labels are in French.
Micronutrient levels are inconsistent.
Each Catalyst product is only available in one flavour.
I struggled finding negatives to Vitaline. However, there are things the company can polish. For instance, while their website provides tons of info, the English version seems to have some bugs, where the description of the products is in French instead of English.
Following with the language barrier, the nutrition labels in the products seem to be in French instead of English. While this is great for French consumers, it is not great in order to sell the product in the rest of Europe.
Regarding nutrition, there is something that I have found strange. Micronutrient levels amond the different shakes are different, which is understandable if you are using real ingredients. However, somtimes certain micros are lacking and in other shakes different micros will be short. I would like to see this "fixed".
Besides, I am a little disappointed that the Catalyst Range products are available in a single flavour. While they are the most interesting products Vitaline offers, Red Berries, Butternut Onion and Tangarine are not the tastiest flavours in my mind.
Finally, I would love to see Vitaline expanding into Europe. Currently, they only cover 10 countries, which do not include the likes of Czech Republic (big on meal replacements) or the Nordic countries.
Improvements
Ship to the whole EU.
Micronutrients at least 20% in all products.
More standard flavours in the Catalyst Range shakes.
Fix the website issues.
For me there are a couple of things that are very important. Firslty, I want to see Vitaline getting a stronger presence outside home soil (France), because it has the products to do so. For that, I think they will benefit greatly from offering shipping to the whole Europe; plus it would be good if they offer the labels in English and fixed the minor issues with the website.
Secondly, I would like them to ensure 20% of all micronutrients per 400kcal shake. The deficiencies are minimal, even non-significant for most shakes, but I feel that if you are focusing in offering high quality products, every little detail matters.
In a more personal request, I would like to see more flavours in the Catalyst Range. These are the products that I am the most excited about and feel they have the most potential. However, having them in a single flavour (and quite odd) is a little off-putting.
Vitaline truly has the tools and the products already develop to compete in the European market. They just need to put the name out there and let the shakes do the talking.
It is hard to judge taste, since a lot of it is very subjective. However, I think the fresheness and homemade feeling Vitaline shakes offer is undeniable. They have been the closest thing to real food I have experienced from a shake.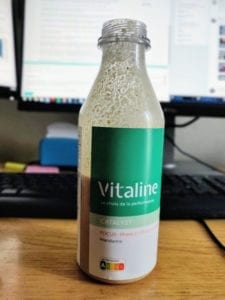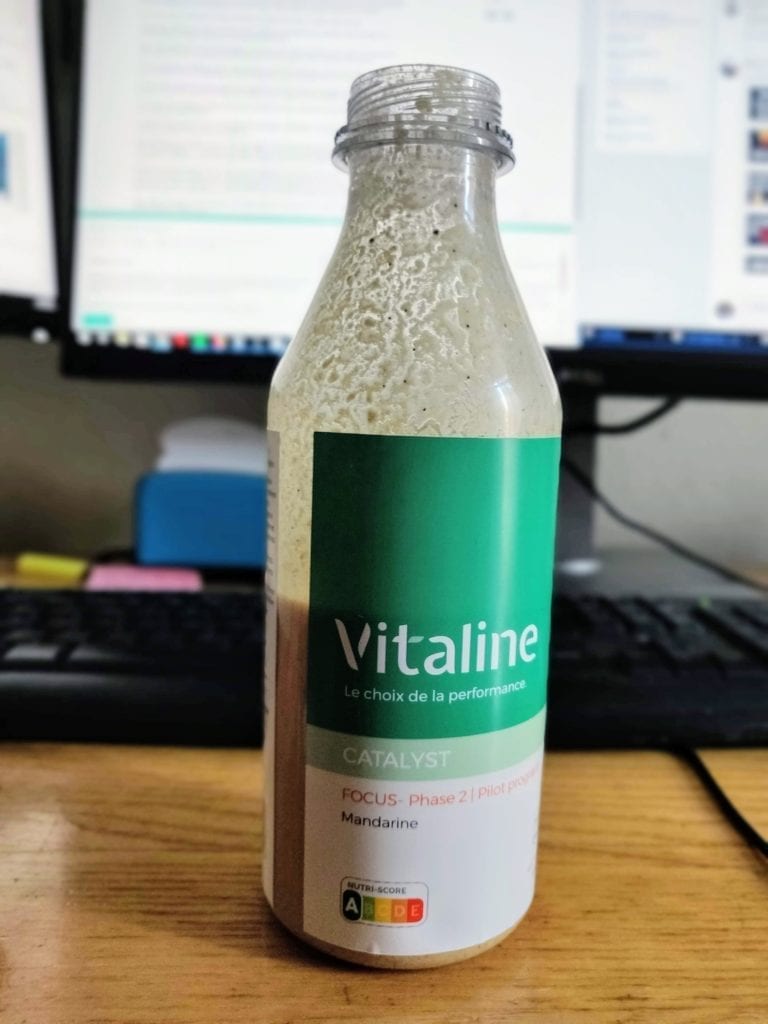 Overall: 7.7 (27/35)
Taste: 4/5.
All the flavours felt very real, however the sweet versions were not very sweet or strong in flavour. They felt more like oat blends. The tomato and the butternut onion were pretty bad (subjectively) and I struggle to finish them. The acidic Framboise and Mandarine were the bet.
Flavour Fidelity: 4.5/5.
This one is 50/50. I feel like some of the flavours like Tomato, Mandarine, Framboise or Carrot Curry were very real. The cacao one was too mild to notice and the Red Fruits did not taste as I expected either.
Aftertaste: 4/5.
Some of the flavours had a mild aftertaste, which was not very pleasant.
Texture: 3.5/5.
All the shakes felt quite rough, as if Vitaline had used a home blender. You could definitely notice the oats in most of the shakes, and they had bits. It was not something I minded much though.

Consistency: 4/5.
They were neither very thick, nor thin. It was a middle ground towards thick. There were some unmixed clutches in some of the shakes, but mostly they mixed fairly well (particularly if considered they had no grid).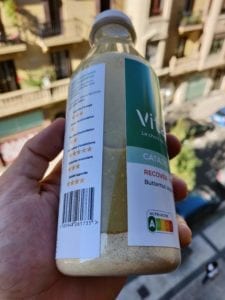 Easiness to drink: 4/5.
The ones that I dislike the most were harder to drink. Nevertheless, most shakes were easy to finish, perhaps because it is a fairly small shake, after all.
Hunger Quenching: 3/5.
I think this was the weakest aspect of the shakes. I do not know if it is because I was eating more, too; but most shakes kept me satiated for 2-3h at the time. Less than what I have experienced so far.
What Vitaline tastes the best?
The savoury ones are the better tasting ones in my opinion and they are the more different ones to what you can find in the market. My personal ranking: Framboise (Ignite) = Mandarine (Focus)> Carrot Curry (warm)> Almond (with milk)> Cocoa> Red Fruits>>Tomato (Vegan)>>Butternut Onion (Catalyst).
Framboise: Very true to the original fruit, acidic and strong flavour. A different shake.
Mandarine: Similarly to the Framboise flavour, mandarine was acidic and punchy. It had a very distinguishable citric taste, too.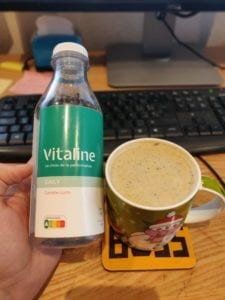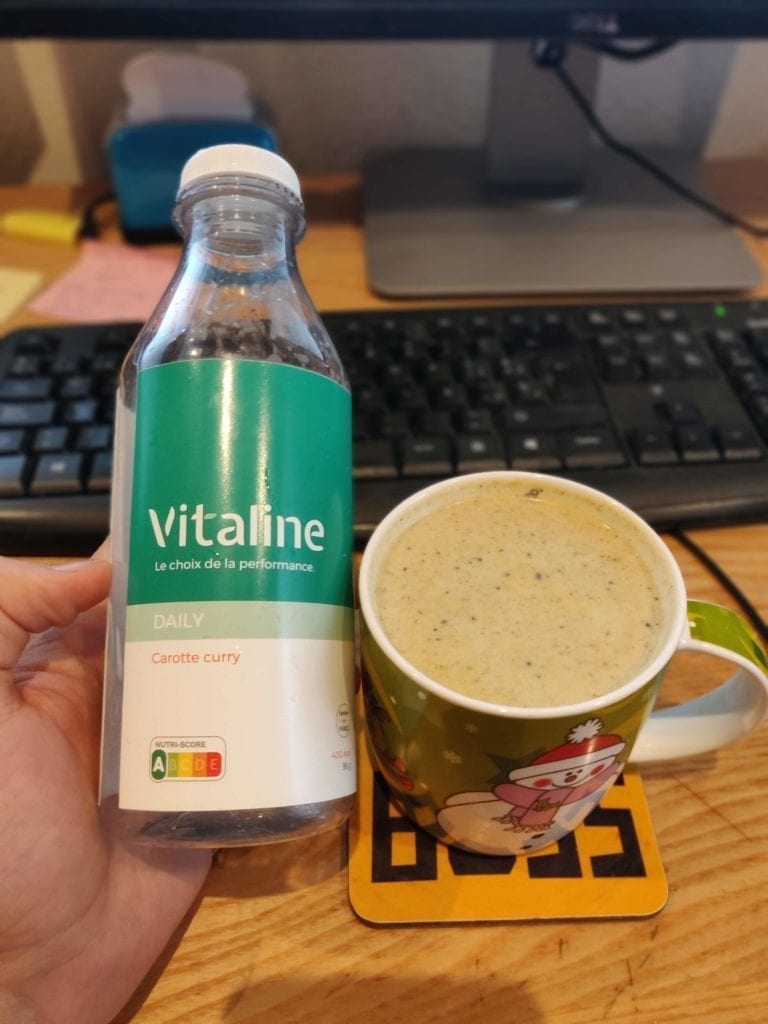 Carrot Curry: Honestly, it was like drinking a carrot soup. I particularly enjoyed when mixing with hot water (out of the tap, not boiling). I feel that this is a great lunch for the cold winter days.
Almond: Not as good as the three above, I was hoping for a more nutty flavour. It improved when mixed with a little bit of milk, and would probably taste better with almond milk.
Cocoa: It was like homemade blended oats mixed with a little bit of cocoa powder, so little that you wonder if you forgot to put enough.
Red Fruits: I was expecting something like Framboise, however, it tries to be sweet and fails. It is mostly oats with a weird flavour on top.
Tomato: I must say, I am not a big fan of tomato soups and similar. It tasted like tomato soup with added oats and I did not think the flavours mixed very well with each other. If you are looking for dairy-free meal replacement shakes I would recommend looking elsewhere.
Butternut Onion: The disappointment of the line-up. It was like a bad vegetable soup. I struggled to finish. It has a very characteristic flavour, that either you like it or you do not.
What PRODUCTS does Vitaline offer?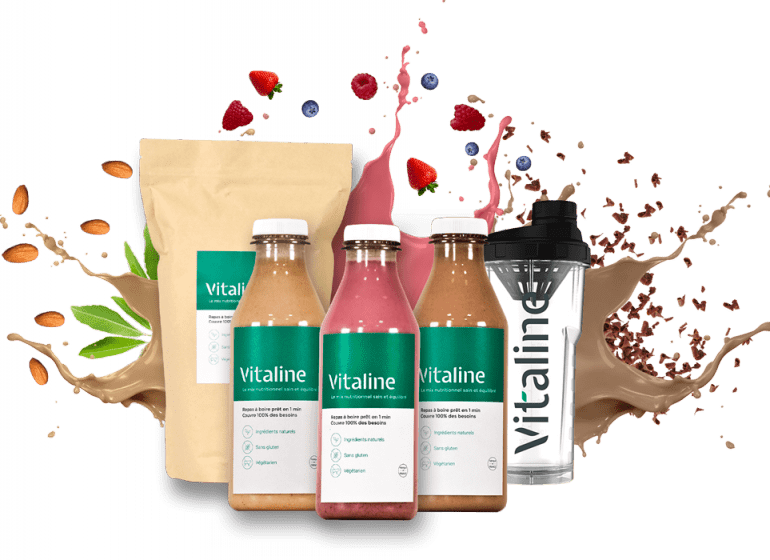 Honestly I do not know if it is a French thing (Feed., sight), but the amount of options and variations in Vitaline can be a little overwhelming for the first user. Allow me to explain:
Daily Shakes. These are the "standard" meal replacements, which you can choose in powder or ready-to-drink (RTD) versions. There is currently 4 flavours available, plus the vegan option.
Catalyst Range Shakes. These shakes are for specific purposes and all of them come in RTD. The Catalyst Ignite is meant to use as pre-workout meal; Catalyst Recover is designed to be used as post-workout meal; and Catalyst Focus has active ingredients (like guarana) to help you boost your concentration.
On top of that, Vitaline releases products in a "open beta" stage. They call this the Pilot Program. It does not mean they are not safe to consume, but that they are open to feedback and are in active process of improving the product. A shake can be in Pilot Program but be design to in the end be in the Daily Range.
Did you understand much? Do not worry, I will keep mentioning the differences below, and hopefully by the end everything will be crystal clear.
All RTDs are sold in groups of 6 bottles and the powder versions come in one pouch containing 6 meals. However, the meals in the powder version are bigger than the RTD meals, 668ish kcal vs 400kcal (RTD).
Vitaline Daily RTD
Meal Replacement
Powder in bottle
400kcal/meal
18P/43C/39F % of Energy from
5.5g of sugars/2.6g of Saturated Fats per serving
Price no subscription: €3.99/400kcal
Price subscription: €3.59/400kcal
Lowest: €2.69/400kcal
Allergen: Dairy
---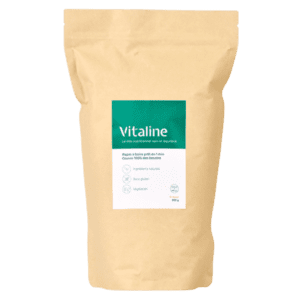 Vitaline Daily Powder
Meal Replacement
Powder
668kcal/meal
18P/43C/39F % of Energy from
9.2g of  sugars/4.3g of Saturated Fats per serving
Price no subscription: €2.87/400kcal
Price subscription: €2.58/400kcal
Lowest: €2.04/400kcal
Allergen: Dairy
---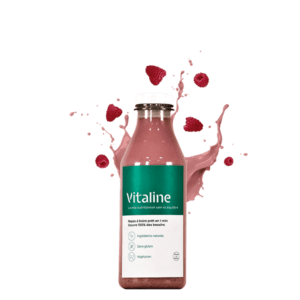 Vitaline Catalyst Ignite
Meal Replacement
Powder in bottle
400kcal/meal
12P/72C/16F % of Energy from
21.8g of sugars/1.6g of Saturated Fats per serving
Price no subscription: €3.99/400kcal
Price subscription: not applicable
Lowest: €3.99/400kcal
Allergen: Dairy
---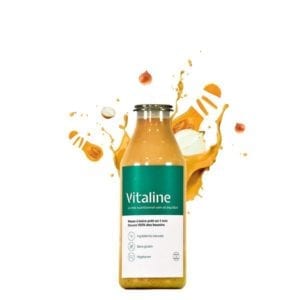 Vitaline Catalyst Recover
Meal Replacement
Powder in bottle
400kcal/meal
27P/52C/21F % of Energy from
10.6g of sugars/1.8g of Saturated Fats per serving
Price no subscription: €3.99/400kcal
Price subscription: not applicable
Lowest: €3.99/400kcal
Allergen: Dairy
---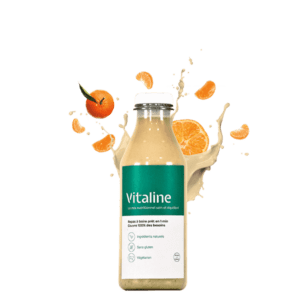 Vitaline Catalyst Focus
Meal Replacement
Powder in bottle
500kcal/meal
20P/42C/38F % of Energy from
8.2g of sugars/3.0g of Saturated Fats per serving
Price no subscription: €3.99/400kcal
Price subscription: not applicable
Lowest: €3.99/400kcal
Allergen: Dairy
---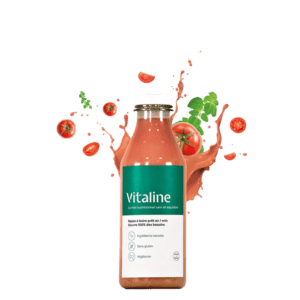 Vitaline Vegan RTD
Meal Replacement
Powder in bottle/ Powder
500kcal/meal
18P/47C/35F % of Energy from
7.3g of sugars/2.0g of Saturated Fats per serving
Price no subscription: €3.99/400kcal
Price subscription: not applicable
Lowest: €2.99/400kcal
Allergen: Dairy
---
Brief Vitaline Daily RTD and Powder Review
I will review both the ready-to-drink (more like powder in the bottle) version and the powder version together, since they are practically the same. The only difference is that each serving in the RTD versions is smaller (400kcal vs 668kcal) and that the price per kcal is higher.
If you are looking for real ready to drink meal replacement shake, check my personal favourites.
The daily range serves as the "standard" meal replacement option in Vitaline. They offer 4 flavours: Cacao, Almond, Red Fruits and Carrot Curry. This are vegetarian friendly but not vegan, since they contain organic milk from French farmers, as protein source. Only the Tomato flavour is vegan.
The Vitaline Daily Range comes offers 18% of the energy from protein, 43% from carbohydrates and 39% from fats.The main sources are organic milk for protein, oats for carbohydrates and high oleic sunflower oil for fats. All of the shakes are organic, gluten free, non-GMO, soy free and without added sugars or artificial flavourings.
Due to this last fact, Vitaline claims that the taste of the shakes "is very natural".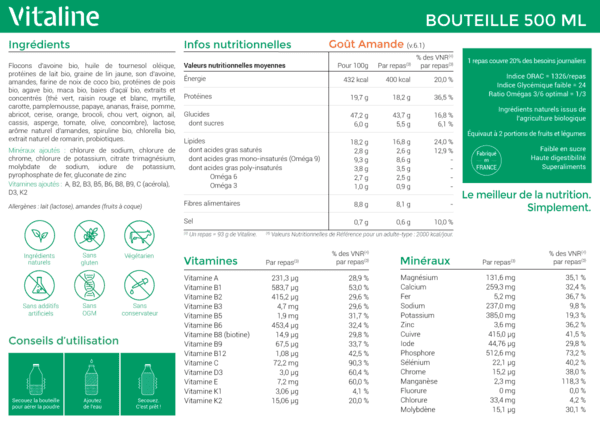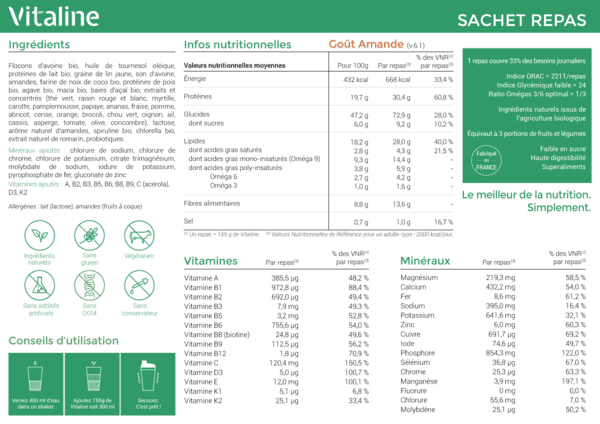 If you had to choose between them both, I would recommend buying the pouch versions, simply because they are cheaper and you can choose the size of you meal more easily. However, if you care about portability and you are planning to consume your Vitaline shake on the go, then you will have to pay the extra.
Brief Vitaline Catalyst Ignite Review
Let me say that I really like how this products have been developed individually for specific purposes and you can tell in the ingredients and nutritional composition. Perhaps, it would have been great to have similar flavours in all products, but that would be a manufacturing and food engineering challenge.
Catalyst ignite is designed as a pre-workout meal. You can tell that by the amount of carbohydrates (73g/400kcal) and the high sugar levels (21.8/400kcal). Carbohydrates are the main fuel source for the body during exercise, particularly in endurance and athlete level training. Besides, from an energetic standpoint, each shake provides you with 400kcal, with a 12P/72C/16F energy split.
On top of that, Catalyst includes extra amounts of branched-chain amino acids (BCAAs) which are essential in muscle growth, especially leucine. It also comes with creatine (1.5g) and taurine (1g); both standard additions to boost drinks. Creatine has a role in ATP (molecular fuel) recycling and creatine supplementation has positive effect in metabolism and performance together with carbohydrate ingestion. Taurine plays a role in many processes in the body, including development of central neural system and immunity.
Unfortunately, it is only available in a single flavour, Red Fruits.
As a final note in Catalyst Ignite, let me say that I would not recommend it as main meal replacement (replacing multiple a day), since it fairly high in sugars (a day in Ignite would provide you with 125% of the recommended intake) and low in protein.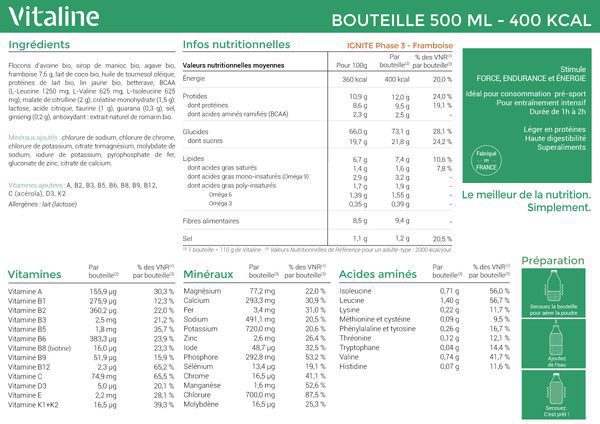 Brief Vitaline Catalyst Recover Review
Catalyst Recover is like a Ignite twin, but designed to be a post-workout meal. Even if it provides the same amount of calories per serving (400kcal), the macronutrient distribution is different 27P/52C/21F. Recover is high in proteins, providing with 27.2g per serving and extra BCAAs for muscle recovery and optimal anabolic response. In fact, Recover could be better than your standard post-workout protein shake.
Recover is also a great source of omega-3 and omega-6 amino acids, plus has a great fatty acid balance. On top of that, you will bet at least 25% of your daily vitamins (except Vit B9, 19%) and 20% of your daily minerals (except, sodium, 17%; zinc, 15%; copper, 15%; and manganese, 17%).
Recover is currently in phase 2 of their pilot program, which means it is subject to change. Once again, Recover is only available in one flavour: Butternut onion. I know this might be off-puting for some, but I find it refreshing to have different flavours.
While recover does have a better macronutrient balance than Ignite to become a your main meal replacement, I must remember that you would fall short of few micronutrients.
Brief Vitaline Catalyst Focus Review
Catalyst Focus is meant to be a booster meal replacement, a sort of nootropic or a bulked up energy drink. I say so, because not only does it provide you with 400kcal (20P/42C/38F) and at least 20% of daily micronutrients; but includes active ingredients to enhance your performance.
What active ingredients? Guarana, maca, schisandra, phosphatidylserine, lion's mane, acetyl-L-carnitine, choline bitartrate, N-acetyl-tyrosine, L-theanine and gingseng. I will not go explaining them all in detail (hopefully in a future individual review), but these are common ingredients in drinks, such as Red Bull and Monster. Guarana, for instance, offers additional stimulation when paired with caffeine. Many of these ingredients are also linked with fatigue prevention, sleep deprivation and cognitive stimulation.
Regarding the product, it is currently on phase one of the pilot program (starting) and it is available in one flavour: Tangarine. Once again, I would recommend using this product, sporadically (more like maximum once a day), because your body will get used to the stimulants.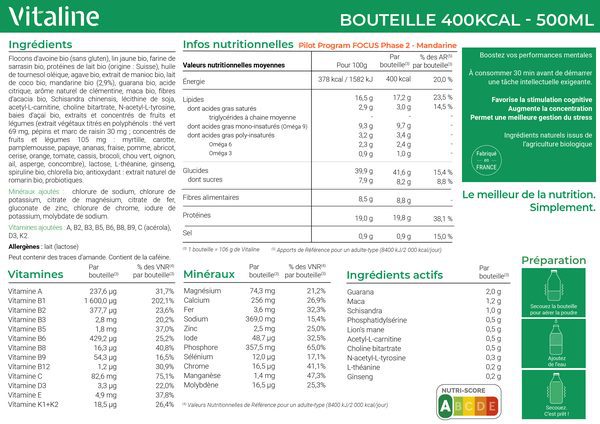 Brief Vitaline Daily Vegan Review
Vitaline's vegan shake is currently in phase 2 of their pilot program and it is design for daily use. They are trying to offer an alternative to the current Daily shakes, which all contain milk (used as protein source).
Nevertheless, the composition of macronutrients is also changed. The vegan shakes are slightly heavier in fats and lower in carbs: 18P/47C/35F (vegan) vs 18P/43C/39F (normal). The main sources are similar, but the protein sources are sunflower seeds and pea protein.
On top of that, 94% of the ingredients are currently organic. The vegan shake is also, gluten free, soy free, and non-gmo.
At the moment, the only flavour option is Tomato.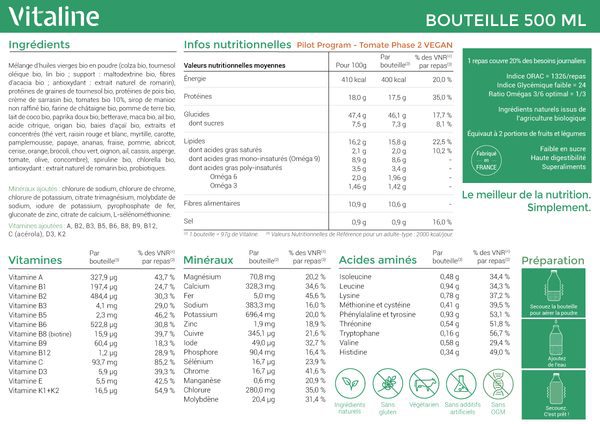 Brief Sample Pack Review
The Vitaline Taster Pack includes all the flavour of the Daily Range (except the vegan shake) and provides with 3 bottles per flavour for €45.48 (€3.79/meal). Price-wise this is the same as ordering the Daily Range RTDs normally; hence, this is a good way to buy them if you want some variety (the bulk discount and the subscription can also be applied).
It is also the best way to start with Vitaline, however, I am a bit sad that they do not incorporate all the range. I would rather have, 3×3 of the the Daily range plus one Catalyst Recover, one Catalyst Ignite and once Catalyst Focus (plus the vegan shake). My suspicion is that this is due to the fact that the Catalyst Range and the vegan shake are still in "open-beta" stage. Nevertheless, if they allow you to buy them, I think they should be included in the pack. They certainly are the ones that I have the most interest in.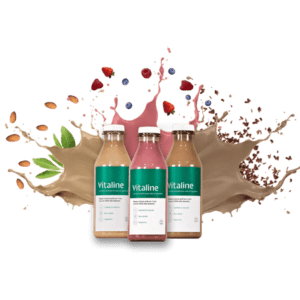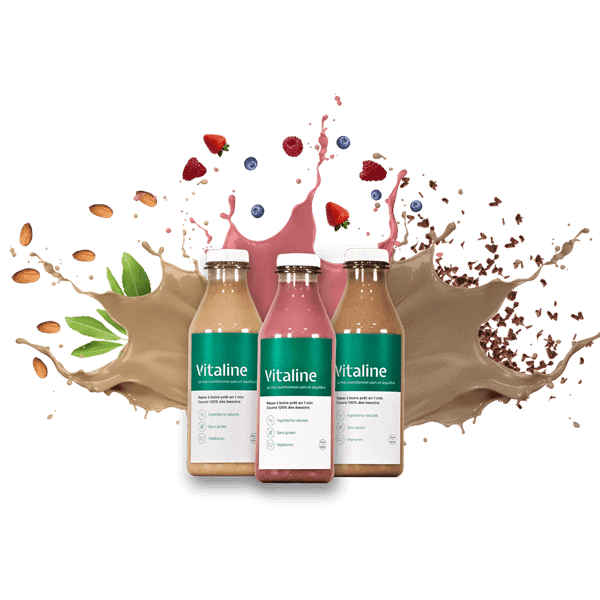 All French brands are a pain to nutritionally analyse, since they offer so many products (which, in hindsight it is probably a good thing). Every Vitaline shake is gluten free, soy free, non gmo, and free of artificial flavourings and additives. Vitaline Daily Range is 100% organic, too.
The main ingredients in Vitaline shakes are oats, organic French milk, coconut milk and sunflower oil. However, there are many other ingredients, too.
Something worth mentioning is that all Vitaline products score an "A" in the Nutriscore test. This test was developed by the French Health Department to rank the quality of the ingredients and the final products and assess them in a scale from A (best) to E (worst). This is remarkable, since this scale takes into account parameters like nutritional balance and macronutrient content. Here is a very interesting article comparing the Nutriscores of meal replacement brands.
Energy
Every Vitaline RTD comes in bottles of 400kcal. The recommended servings in the powder versions are a little bit bigger, 688kcal.
The Daily Range is quite high in fats and low in carbohydrates. In fact, the amount of energy coming from fats slightly exceeds the acceptable macronutrient range (AMDR) set by the EFSA (20-35%). Whereas, the energy from carbohydrates is actually lower (45-65%).
On the opposite side of the spectrum, Catalyst Ignite offers 72% of the energy from carbs. This is because it has been design to be a pre-workout meal, and carbohydrates are the main fuel for physical activity. Consequently, both protein and fat levels are really low.
Catalyst Recover, on the other hand, is really high in protein and fairly low in fats. Out of all the range, this might be my favourite split, since I tend to favour high protein shakes.
Fats
Per 400kcal serving:
Daily RTD

Total Fats: 16.8g. 24% of the DRI.
Saturated Fats: 2.6g. 13% of DRI.
Monosaturated (MUFA): 8.6g. This is 19.4% of the calories per serving.
Polyunsaturated (PUFA): 3.5g. This is 7.9% of the calories per serving.
Omega-3: 0.9g.
Omega-6: 2.5g.
Catalyst Ignite (RTD)

Total Fats: 7.4g. 10.6% of the DRI.
Saturated Fats: 1.6g. 8% of DRI.
Monosaturated (MUFA): 8.7g. This is 7.2% of the calories per serving.
Polyunsaturated (PUFA): 1.9g. This is 4.3% of the calories per serving.
Omega-3: 0.39g.
Omega-6: 1.55g.
Catalyst Recover (RTD)

Total Fats: 9.9g. 14.1% of the DRI.
Saturated Fats: 1.8g. 9% of DRI.
Monosaturated (MUFA): 4.5g. This is 10.1% of the calories per serving.
Polyunsaturated (PUFA): 1.9g. This is 4.3% of the calories per serving.
Omega-3: 0.89g.
Omega-6: 0.91g.
Catalyst Focus (RTD)
Total Fats: 17.2g. 15.8% of the DRI.
Saturated Fats: 3.0g. 15% of DRI.
Monosaturated (MUFA): 9.7g. This is 21.8% of the calories per serving.
Polyunsaturated (PUFA): 3.4g. This is 7.7% of the calories per serving.
Omega-3: 1.0g.
Omega-6: 2.4g.
Positively, all Vitaline products fit within the ideal 1/3 omega-3 to -6 ratio, while containing sufficient quantities for a healthy and balance diet. Increased omega-3/6 ratios have been linked with bigger risk of obesity. Thus, the importance of this parameter.
Besides, another parameter to take into account is the energy from MUFA and PUFA. The WHO in the Geneva congress (2008) set the recommended intake to 15-20% of the energy from MUFAs and 6-11% of energy from PUFAs. The Daily Range sits nicely in this range, while the Catalyst range shakes, due to its specialised nature, do not. Nevertheless, all shakes are MUFA>PUFA>SFA, which has been shown to have positive effects in metabolism.
While exact fat sources vary, the main ingredient in all shakes is high oleic sunflower (rich in omega-9 fatty acids). The Daily range is supplemented with yellow flax seeds, which are high in omega-3 fatty acids, and help balancing the ratio.
Carbs
Per 400kcal serving:
Daily RTD

Total Carbs: 43.7g. 16.8% of the DRI.
Sugars: 5.5g. 6.1% of DRI.
Fiber: 8.1g. 40.5% of DRI.
Catalyst Ignite (RTD)
Total Carbs: 73.1g. 28.1% of the DRI.
Sugars: 21.8g. 24.2% of DRI.
Fiber: 9.4g. 47% of DRI.
Catalyst Recover (RTD)
Total Carbs: 52.5g. 20.2% of the DRI.
Sugars: 10.6g. 10.7% of DRI.
Fiber: 6.7g. 33% of DRI.
Catalyst Focus (RTD)
Total Carbs: 41.6g. 17.7% of the DRI.
Sugars: 8.2g. 9.1% of DRI.
Fiber: 8.8g. 44% of DRI.
Most of Vitaline shakes use organic gluten free oats as major carbohydrate source. Oats are 66% starch, 17% protein and 11% fiber; making them a great source for slow digesting carbohydrates. Vitaline products do not have any added sugars, thus most are natural from fruits (fructose) and milk (lactose).
Fiber contents in all shakes are quite high, thanks to the oats and oat bran among other things.
Interestingly, the vegan shake uses organic potatoes as source of carbs. Potatoes are rich in complex carbohydrates and do contain some dietary fiber.
Protein
Per 400kcal serving:
Daily RTD – 18.2g (36% of RI).

Catalyst Ignite (RTD) – 12g (24% of RI)

Catalyst Recover (RTD) – 27.2g (54.2% of RI)

Catalyst Focus (RTD) – 19.8g (40% of RI)

Daily Vegan (RTD) – 17.5g (35% of RI)

As you can observe, most of Vitaline products come with plenty of protein. The main source for all of them (except Daily Vegan) is milk protein (whey and casein). Whey protein is one of the best protein sources possible, with a very well rounded amino acid profile, rich in essential amino acids (EAA) and branched-chain amino acids (BCAA). Whey protein is been proven to be better than soy protein promoting muscle growth and  lean mass gain in the elderly.
Besides the quality of the protein, the quantity of the protein is important, too. High protein diets are important satiating hunger, helping with weight management, reducing obesity and increasing lean muscle mass. For this last purpose, 20-30g of protein per meal and 1.6g of protein per kg of body weight is recommended. Particularly, important to consume soon after exercise is performed. Thus, why Catalyst Recover is such a good post-workout meal.
The Catalyst Range also has extra BCAAs, which promote muscle synthesis and improve overall health due to benefits in liver related illnesses and reduce obesity levels.
On the other hand, Daily Vegan does not include any animal based products (milk); hence, the protein source is a plant based blend containing organic sunflower seed protein and organic pea protein. My main concern here would be the amino acid profile being lower than the non-vegan Daily products, although each 400kcal portion does provide with ~35% of the recommended leucine, lysine and isoleucine amino acids. Pea protein, while low in methionine, has also been proven to promote muscle growth at a similar rate to whey protein.
Still, if I had to choose, I would stick with the non-vegan products.
Micronutrients
Every Vitaline Shake in the Daily Range comes fortified with vitamins and minerals and provide at least 20% of every micronutrient, if not more. The only exceptions seems to be Vitamin K1 (4% per shake), fluoride (0%), sodium (10%), and chloride (4.1%).
Fluoride, chloride and sodium are likely to be in your water and you can get them from there. Vitamin K1 and K2 are often paired together, due to similarities. Vitaline gives plenty for both.
The Catalyst Ignite is short in B1 and B9, but has enough of every mineral (including sodium and chloride). Catalyst Recover is a bit shy in zinc (15% per serving) and copper (15% per serving). Lastly, Catalyst Focus is a bit low in sodium but should not be a problem and vitamin B9.
It is interesting the variety in the micronutrient content in the shakes, due to the different ingredients that they use. Personally, I would have rather have a more consistent micronutrient content, or at least ensuring there is 20% for each 400kcal serving.
Antioxidants
Vitaline shakes are also rich in phytonutrients, compounds not classified as nutrients but have beneficial effects in health, such as antioxidative roles. In fact, all Vitaline products have at least 2211 ORAC value, which measure the antioxidative effect of components in vitro (labs). This is a fairly high score, higher than brocolli and oranges, but lower than thyme, rosemary or oregano (mid-table on a 500 entry record).
Allergens
Most Vitaline complete foods have dairy (lactose). The exception is the Daily Vegan version. Some products do contain almonds. I would recommend reading the label first.
More about nutrition
Most of the useful information is in the nutritional labels provide above, which unfortunately are in French. There is more information in the Vitaline website on each product (which is in English or should be able to translate using Google Translate). For a more general overview of nutritional guideline check our Resources page.
Nutrition Summary
All powder in bottle (RTD) products provide with 400kcal. The energy split varies with the series, aka, Daily Range 18P/43C/39F; Catalyst Ignite 12P/72C/16F; Catalyst Recover 27P/52C/21F; and Catalyst Focus 20P/42C/38F.
All products except, Catalyst Ignite are fairly balance in the macronutrient distribution. Ignite is rich in sugars and carbohydrates because it is designed to be a pre-workout meal.
All products except, Daily Vegan have milk protein. However, they all have balanced amino acid profiles (good digestion), adequeate for sedentary and active people.
Sunflower oil, oats and milk are the main ingredients. Vitaline uses 35 ingredients.
All shakes are non-GMO, locally sourced, gluten-free and soy-free.
Vitaline Daily is 100% organic.
Micronutrients are mostly OK, with some minor exceptions (see micronutrient section).
I recommend Daily Range products and Recover (if you want high protein) for daily average use.


Vitaline was founded in 2015 by two friends who met each other at the engineering school. Sebastian was the influencer who talked Alexis into trying meal replacements, but both were unhappy with the offering at the time. Particularly Alexis, who had his doubts about the quality of the ingredients and lack of phytonutrients.
Once they reach the realization that they had to choose between time and health, they started developing a product that they would happily consume at least once a day (thus, could be seen as healthy). After starting sales in late 2015; 2016 was a slow expansion year; and during 2017 were able to grow and increase their product range to the point at which they are now. 11 employees, 8 products, thousands of meals a month served and extremely good quality shakes.
More about the founders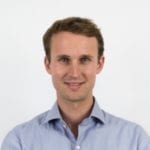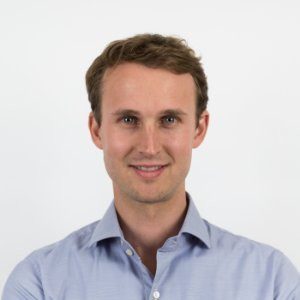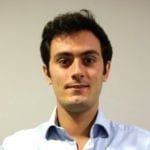 Alexis Fournier is has a degree in Industry, Entrepreneurship and Innovation from the prestigious ENSTA ParisTech and a Masters in International Economics. He worked as a consultant in the health industry in the UK before starting Vitaline together with Sebastien.
Sebastien has a Master of Science in Robotics, Management and Entrepreneurship. He worked in project management before starting Vitaline. He defines himself as "sport enthusiast and rational thinker".
Vitaline packaging
Vitaline offers two kind of packagings for their products: the bottles with the powder and the pouches. The pouches include 6 meals of 668kcal and they are fully recyclable. However, currently only Daily Range products are available in bags, though.
On the other hand, Vitaline's RTDs come in 6 bottle packs. I am personally not a big fan of RTD products overall, since they do not solve a big issue the industry is trying to tackle: environmental impact of the food industry. Despite this, the bottles are recyclable and offer less waste than most food products do.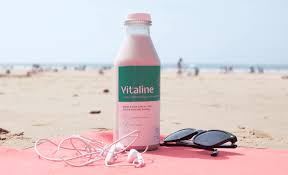 RTD products, even though they take more storage space, they are handier to enjoy them on the go. Thus, if you are likely to consume your Vitaline shakes at home, or somewhere where you can make the drinks yourself, I would recommend going for the pouches. Less expensive, more environmentally friendly and require less space.
The shelf life for the RTDs is 4 months and the pouches can last as long as 6 months if remained unopened. Both are shorter than the industry average (about 12 months), which is due to the lack of preservatives in their products. After this, the shakes are likely to be drinkable, but they will lose nutritional benefits as the time passes.
Shipping and Return Policy
Vitaline offers free shipping for mainland France and delivery within 2-5 days. For overseas department 1, free shipping comes after spending €100. If you live in department 2, you will have to spend €250 to qualify for free shipping or pay €40.
Besides France, Vitaline currently offers shipping to most Europe, with free shipping in orders above €25 and delivery within 3-6 days. This is actually a great price, because you are likely to spend that money in any order and it is lower than many competitors including Feed., Queal, Jimmyjoy or Huel.


What happens if I live outside the EU?

Unfortunately, Vitaline does not currently deliver outside the EU (not even the whole EU).
Refund Policy
At the moment, Vitaline does not offer any refunds in their products. I can understand why they would not, but it is industry standard and good customer service to offer some kind of refund option. Even if the consumer needs to pay the return shipment.
Subscription
Vitaline has a 10% subscription discount in all the products that have been officially released. This is, any product that is not in the "Pilot Program". Thus, currently that is the Daily Range. 10% is actually a fairly good subscription discount, not to the level of Runtime or Ambronite (15%), but the same as many the best shakes without artificial sweeteners.
However, most Vitaline products offer a bulk discount. Up to 25% of discount in the Daily Range that you can stack with the 10% subscription. That is really really good. You can get up to 35% off if you are a usual Vitaline consumer. I like when the brands reward the regulars.
How do I get started with Vitaline?
The easiest products to start with are the Daily Range products, both the RTD and the pouches. If you are a newcomer check the how to start with meal replacements guide.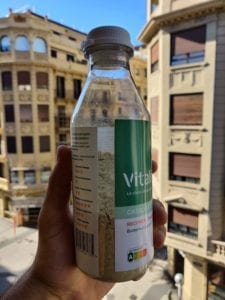 A quick rundown on how to start with Vitaline:
Make sure you are aware of your daily caloric needs. Use an app like MyFitnessPal to estimate how much you need a day.
Visit the Vitaline website, search for the Daily Range in the navigation menu and opt for the Taster pack. Definitely the best way to start with. If you are looking for pre-workout or post-workout meal, buy from the Catalyst Range.
Decide WHEN is the most convenient time to substitute your meal with a Vitaline shake. Most complete food users tend to favour breakfast or lunch. I would strongly recommend starting with a single shake a day and increasing if later on.

Make sure to track your calories throughout the day, so you know you are within your limits.
For the bottles, I recommend adding 400ml. In the case of the powders, 160g with 500ml works for me. Credit to repasenpoudre for giving me the "ideal" mixes.
Et parfait! Bon appetite.
Tip to prepare Vitaline: First put the powder to the side of the bottle. Then, add half of the water and shake it (to avoid the powder sticking to the bottle). Finally, add the rest of the water, up to the point where the neck starts getting thinner (or just a little higher than that).
Also worth taking into account:
The powder versions of the Daily Range are the best value for money.
Catalyst Range offers specialized products with different nutritional profiles or/and with active ingredient.
Stop drinking Vitaline in the unlikely event of having adverse effects.
1- Can I lose weight with Vitaline?
Yes, you can use Vitaline products to lose weight without any issues. Even though, they have been designed around a 2,000kcal diet, you can use Vitaline products to help you control your appetite in a calorie deficit diet. For more detailed info on how to do this check how to lose weight with meal replacements or check out the best diet shakes.
2- Is it possible to order Vitaline from the US?
Currently, US customers cannot purchase any Vitaline, which is a real shame. Perhaps, if you show enough interest they will consider expanding at some point soon.
3- Is it suitable for diabetics?
Yes, there should be no problem to consume Vitaline. You will have to keep an eye in your blood levels, like with any other foods. If in doubt consult your doctor.
4- Can I live only off Vitaline?
Yes, Vitaline shakes are high quality shakes that provide you with all your nutritional needs. However, I would recommend you sticking to the Daily Range as your most used meal. Catalyst Ignite is too high in sugars and carbohydrates to support a balanced diet and Focus contains active ingredients that work better when consumed ocassionally.
5- Does Vitaline taste good?
A mild Vanilla taste with oaty background. Fairly innocent taste, not very sweet. Perfect if you want to add extra ingredients and customize it to your own taste. Perhaps, a bit dull for daily consumption.
6- When is the best time to drink Vitaline?
Truly, there is no best time. Daily Range shakes are ideal to drink at any time. Catalyst Ignite is better when consumed before or during intense exercise, whereas Recover is better once you have finished our physical activity.
7- Are Vitaline meals organic?
Yes, all Vitaline shakes are organic certified..
Vitaline vs other meal replacements
It is hard to pin point who are Vitaline's main competitors. One of them is Feed., another French brand with both organic and non-organic shakes. Others could be Huel (the main player on the pitch), Queal, and Complete 360 meal.
This comparison is a bit unfair, since Soylent is a much bigger brand focused on other aspects. Daily RTD used for comparison.
| | | |
| --- | --- | --- |
|   | Soylent | Vitaline |
| From | USA | FRA |
| Ships to | USA | EU |
| $/400kcal | $$ | $$$ |
| C/P/F | 38/19/43 | 43/18/39 |
| Allergen | Soy | Dairy* |
| kCal/meal | 400 | 400 |
| Serv/day | 5 | 5 |
| Suitable | Vegan | Vegetarian |
| Flavours | 2* | 5 |
| Products | 3 | 4 |
Label:
Price per 400kcal without subscription:
$– Below $1.5 $1.5 = €1.3 = £1.15
$$- $1.5 to $3 $3 = €2.6 = £2.3
$$$– $3 to $5 $5 = €4.3 = £3.85
$$$$– over $5
Price, product range and flavours
Vitaline offers surprising amount of products including 4 nutritionally products, 2 of which are in powder and powder in the bottle versions. Soylent, on the other hand, offers 1 powder product, and two RTDs (Soylent Drink and Soylent Cafe). Soylent RTDs are more expensive in EU (UK) than Vitaline RTDs, but cheaper in the US. The powder version (only available in the US) is cheaper than Vitaline's.
Vitaline also offers more flavours than Soylent, as well as more unconventional. I think Vitaline's product range is more well rounded, mainly because they have products for daily use, to use around exercise and to help you focusing in your work.
Nutrition
Soylent offers vegan shakes with 400kcal per serving and a high fat low carb profile. The main ingredients include soy protein isolate, sunflower oil and isomaltulose. Soylent is a pro-GMO advocate even if all their ingredients are not from GMO sources.
On the opposite side of the spectrum, Vitaline offers mostly vegetarian shakes (except one) with different macronutrient profiles, from high carb low fat, to high fat medium carb and high protein low fat. Their main ingrediens are milk protein, sunflower oil and oats. Most of the ingredients they use are local and organic, as well as GMO, soy and gluten free.
Personally, I am more in favour of this approach to using locally sourced ingredients. I also think the whey protein used in the Vitaline shakes is better than soy protein isolate. On top of that, the antioxidants from whole foods included in Vitaline shakes, give the French brand the edge in this category.
Vitaline vs Huel
After the US giant, now vs the EU giant.
| | | |
| --- | --- | --- |
|   | Huel | Vitaline |
| From | UK | FRA |
| Ships to | World | EU |
| $/400kcal | $$ | $$$ |
| C/P/F | 38/31/31 | 43/18/39 |
| Allergen | Soy, | Dairy* |
| kCal/meal | 500 | 400 |
| Serv/day | 4 | 4 |
| Suitable | Vegan | Vegetarian |
| Flavours | 5* | 5 |
| Products | 3 | 4 |
Label:
Price per 400kcal without subscription:
$– Below $1.5 $1.5 = €1.3 = £1.15
$$- $1.5 to $3 $3 = €2.6 = £2.3
$$$– $3 to $5 $5 = €4.3 = £3.85
$$$$– over $5
Price, product range and flavours
Huel offers 3 powder products (including Huel Black); plus, Huel Ready to Drink; Huel Bars; and Huel Hot and Savoury. Huel's products (powder) are also significantly cheaper than Vitaline's. Besides, Huel offers flavouring that extend the flavour options up to 16 different flavours.
I feel Vitaline's products are more nutritionally varied than Huel's and offers more options, but Huel's price for the quality is better.
Nutrition
Hard to compare when Vitaline offers different options. However, I have always praised Huel for their nutrition; every ingredient and aspect is backed by reasoning and scientific papers. The ingredients they use, while not organic are top quality, too. Something that differs Huel from Vitaline is that all their products are vegan, unlike Vitaline.
I feel like Vitaline may have the better quality products. I am do like the milk sourced protein, but Huel's amino acid profile is great too. I enjoy the variation of the macronutrients in Vitaline's products, and I think some of them are better suited for certain occasions (Ignite and Recover, for instance) than Huel. Nevertheless, I feel like Huel is better for daily use.
Who is Vitaline for?
With such a vast array of products, Vitaline truly caters for most people.
The Daily Range is ideal for anybody looking for a high quality, fairly additive free and responsible meal replacement. It can boosts most diets due to its nutrient and antioxidant rich nature.
Catalyst Ignite is perfect as a pre-workout or during the exercise meal. Athletes and highly active individuals often fail to support their carbohydrate needs. Ignite is the perfect meal to prevent that.
Catalyst Recover is great as post workout meal, because the high protein content and the extra BCAA. However, it is also a good shake for those looking for high protein meal replacements.
Catalyst Focus is superb for students, for those who are tired and need of extra something (besides energy). A great way to re-ignite your performance and increase your concentration.
Does it taste good?
They claim to have natural taste. They are definitely less sweet and salty than your standard shakes. They resemble more smoothies than standard protein shakes.
Will I get all the nutrients I need?
You will get all the nutrients you need with the Daily range, while your diet will be quite high in fats (higher than the AMDR by EFSA and WHO). In the Catalyst Range only Recover will be a good all day around shake, the others being situational. All shakes come with 20% in most micronutrients.
I want to buy it. How much will it cost me?
Well, that depends. I know this answer does not help. A RTD product will cost you €3.99/400kcal without any discount. However, with subscription and bulk discount they can cost as little as €2.60, which is a really good price for a mainly organic RTD.
The powder bags will cost you €2.87 without any discount, but you can buy them for as little as €2.04. There are cheaper shakes out there, Plenny Shake, Queal Standard, Next Level Meal; but not with the quality of ingredients that Vitaline offers.
Wait a moment, is it perfect?
It is certainly very good, but not perfect. While it is quite pricey for the average shake, it is not if you take into account the sourcing of the ingredients. Vitaline's product range is excellent, but lacks of a solid meal replacement options. Besides, their products are really solid nutritionally with the addition of antioxidants, but the some micronutrients are lacking in the Catalyst range.
Verdict
Another great French brand, with alternative flavours; but above all a product range that truly differs among each other and satisfies specific situations and needs in your daily life. Catalyst Ignite and Catalyst recover might be the best pre- and post- workout meals you could have (even better than most protein shakes and mass gainers). Vitaline products are from top quality organic ingredients, with high nutritional value and perfect for a super healthy diet. I recommend trying Vitaline, particularly the Catalyst Range.
Vitaline deals and discount codes
Currently trying to get the best deals for Vitaline. Check out Deals section for more discount codes.