Soylent The Most Popular Shake in the US Reviewed (2022)
Science for simpler, quicker and more affordable nutrition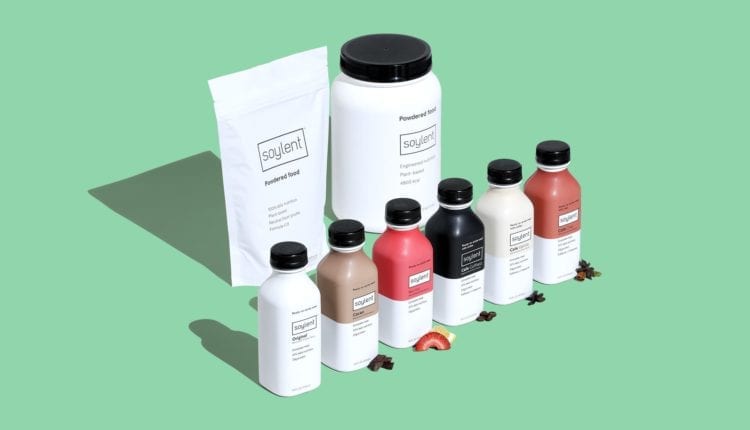 Soylent started as a huge success in Kickstarter. A powder based meal that provided you with all the nutrients you needed. Easy, simple and convenient. Soon, it evolved through different iterations of Soylent Powder and released multiple products to various degrees of success. From the shameful Soylent Bar (taken out of market) to America's favourite; Soylent Drink. The good, the bad and the ugly. All explained, in this in-depth Soylent review.
I encourage you to try any of the Soylent meal replacement products; as they will be scientifically engineered to offer you all your nutrient needs. Thus, offering a convenient meal at an affordable price. If money is your primary concern, I would recommend going for Soylent Powder. Otherwise, Soylent Drink is just a little better (taste, plus more convenient).
What I like
Soylent Powder tastes good and is very smooth. While I think Soylent Drink is the better tasting product, Soylent Powder does well when compared to other meal replacement powders. I think the smoothness is one of its strongest points.
Easy to drink. Due to the pleasant taste and texture, it makes the shake really easy to drink. It is not very thick, therefore you should have no issues to consume it.
Affordable. At $1.8/400kcal, Soylent Powder is reasonably priced. It is not the cheapest shake in the US, and I would certainly like it to be even cheaper, but it is OK.
400kcal will fit most people.
Easy to buy, easy to consume.
Free shipping and fast delivery.
What I dislike
Flavour range and product range is quite small. This is particularly true for Soylent Powder; which only has 3 flavours. I was able to review 2; but when compared to other competitors that offer up to 7 flavours, it feels lackluster. I feel that I could get bored quite fast, if I did not switch to Soylent Drink.
Fiber and omega-3 shortcomings. This is true in all the products, but less in the powder version. 6g of fiber (Soylent Powder) is barely 20% of your daily recommended; and Americans are deficient on this nutrient. Thus, I would like to see a little more to balance out. Similar with omega-3.
Only one powder variant. Where is Soylent Powder Sport? Or high protein Soylent? Soylent Bridge has given a new option for RTDs, but for powders you only have the low carb high fat option.
First in the market but yet to expand beyond the US. This is an issue for those who live outside the US; who cannot enjoy Soylent, yet. After so many years it is only available in the US and the UK.
Canada. Soylent used to sell their products in Canada, but after the government shut them down (2015); they have not come back. I understand that this is due to tight regulations, but there is a lack of transparency and communication in the whole issue. Soylent, please address it.
Reliability issues with their products.
Improvements
Wider range of flavours. There has been some improvement in the RTD (Vanilla and Mint Chocolate released recently); but Soylent Powder only has 3 flavour. I would like to see more.
Bigger subscription savings and better customer loyalty rewards. Being a loyal Soylent Customer does not feel very rewarding. Only 5% discount, as opposed to 10% industry average; and very little incentives to keep buying regularly. Please, take better care of your customers, Soylent.
Bulk discounts. Go big or go home.
More fiber in the products.
What PRODUCTS does Soylent offer
Soylent has a varied range of products: liquid, powder and solid bars. Soylent products have been extremely successful since 2014, and the formulas are continuously improved on regular basis.
The ready to drink version comes in five flavours, Cacao, Strawberry, Vanilla (New), Mint Chocolate (New) and Original and offers 400 kcal per serving (414ml). They are very handy, well balanced and tasty on the go alternatives for those who prefer not to use the powder alternatives.
For those who struggle to wake up and need some caffeine before being fully awake, such as myself, I recommend having a look to Soylent Cafe. In short, it is nutritionally similar to Soylent Drink, but with a nice caffeine and L-theanine boost (green tea constituent synergistic with caffeine to boost your mood and cognition).
Soylent powder comes in three flavours: Original, Cacao and Cafe Mocha (contains caffeine).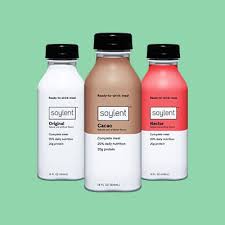 Meal Replacement
Liquid
400kcal/meal
From $3.09/meal
Soy
Vegan
---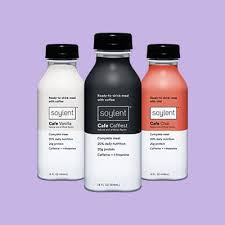 Meal Replacement
Liquid
400kcal/meal
From $3.09/meal
Soy, contains Caffeine
Vegan
---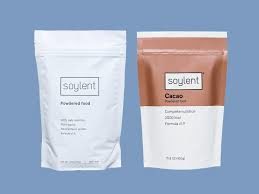 Meal Replacement
Powder
400kcal/meal
From $1.54/meal
Soy
Vegan
---
Meal Replacement
Liquid
180kcal/meal
From $2.06/meal
Soy
Vegan
---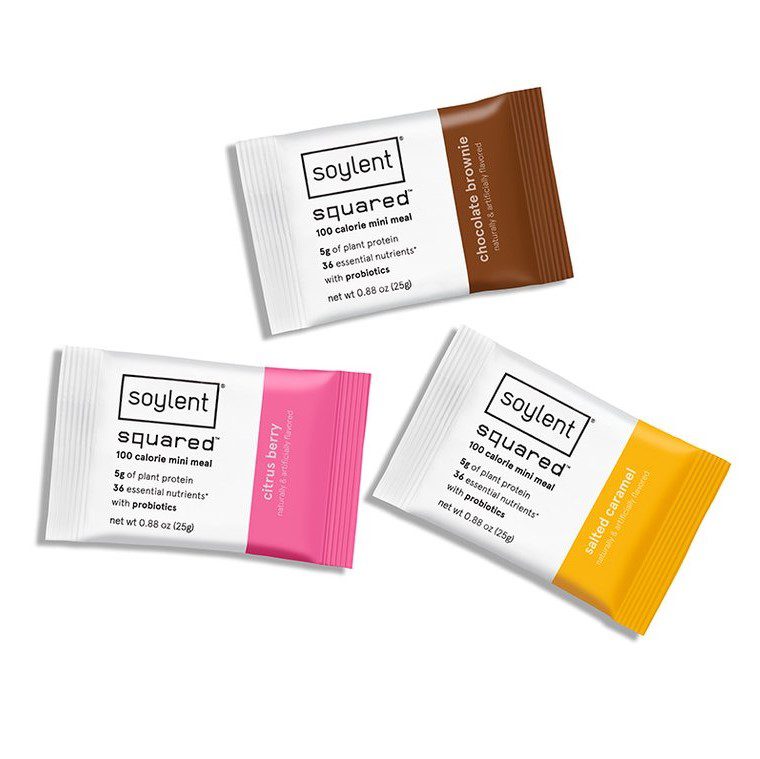 Meal Replacement
Bar
100kcal/meal
From $1.00/meal
Soy
Vegan
Soylent Powder Taste Review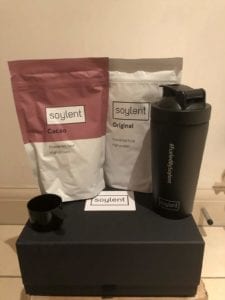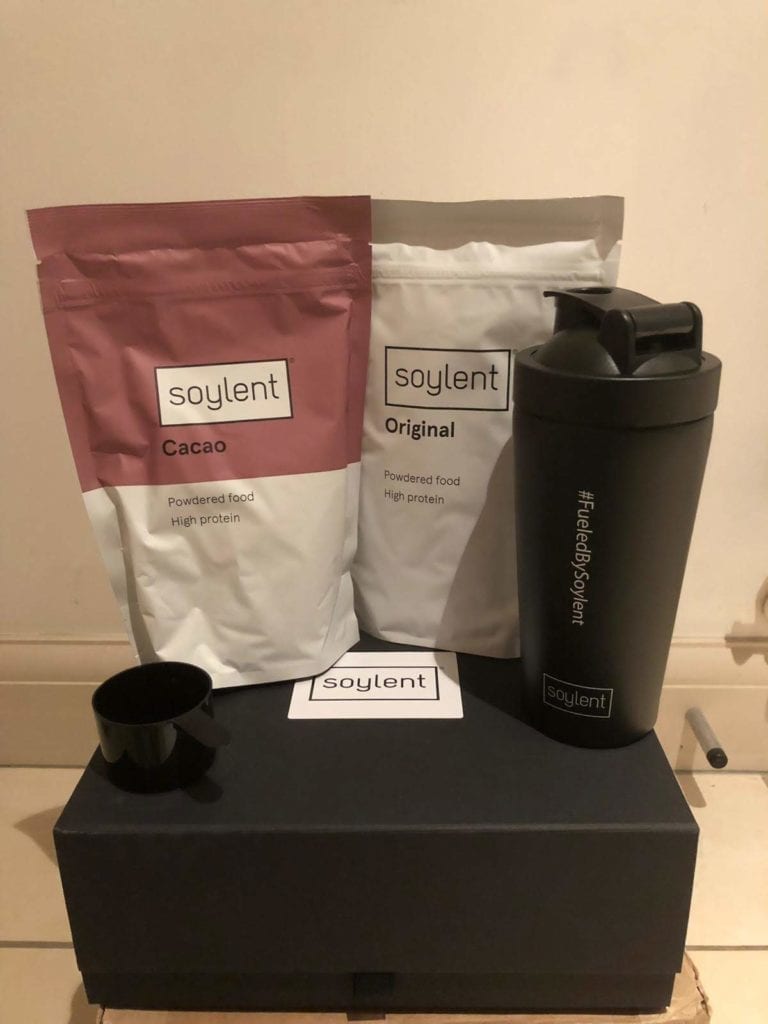 Overall – Cacao Is The Best
Taste: 8.5/10.
Texture: 9/10.
Aftertaste: 8/10.
Hunger Quenching: 7/10.
I only tried the Cacao and Original powder (both UK version). Therefore, I have not been able to get my hands on Cafe Mocha (which RTD I loved). I suspect that I will like Cafe Mocha powder better than the original.
Both flavours have a very creamy texture and are incredibly smooth for a powder based shake (even when hand-blended). Cacao has a mild chocolate base flavour that is much appreciated; even though it is very sweet. In fact, this Powder is a good alternative to Huel Chocolate.
Original is more like Vanilla soy milk, but a little too bland.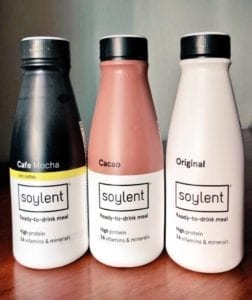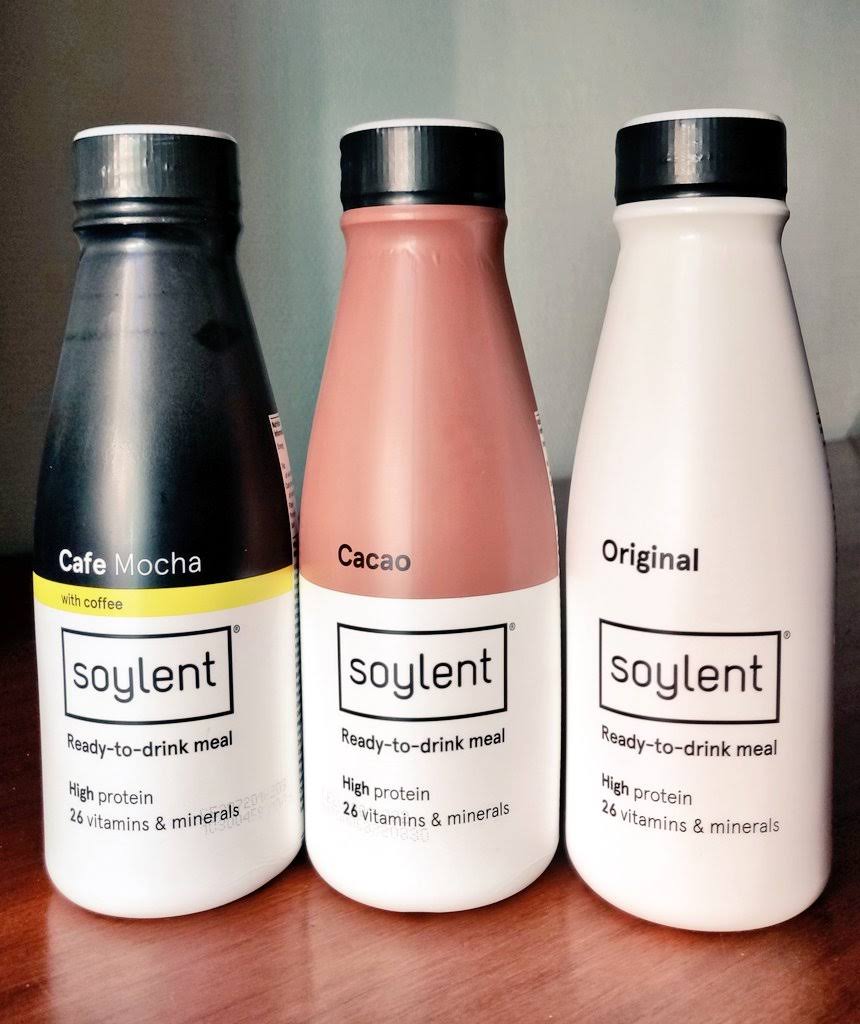 How Does Soylent Powder Compare to Soylent Drink?
In my opinion, Soylent Drink tastes much better; it is even creamier, better mixed and smoother. Thus, it is more pleasant to drink than the powder version. The flavours seem a little stronger too (Cacao).
Is it worth the extra bucks? If you have no issues with money, I would say Soylent Drink is worth it; even more when you realize that you have 7 flavours to choose from (as opposed to 3).
All Soylent products aim to offer a fifth of your nutritional needs (based in 2,000kcal) per serving. Soylent's nutritional profile is one high in fats (very low in saturates, though!) and relatively low in protein and carbs. Soylent products also contain 20% of all necessary vitamins and minerals.
% of Energy from Each Macronutrient
Carbs 38%
Prot 19%
Fats 43%
Fats
As mentioned, 47% of the energy provided by Soylent products come from fats. Unfortunately, this is ten points higher than the upper limit of the acceptable macronutrient range for fats set by the EFSA and USDA (35%). Does this mean is bad? Not really.
Their main fat sources is canola creamer, high in oleic content (this is, mostly monounsaturated fats) and extremely low in saturated fats (even having 5 servings would only provide you less than half the upper limit). Thus, you would be getting the necessary essential fatty acids and right balance of omega-3 and -6 fats, necessary for fundamental living functions.
While I would not recommend it for the general population, some high fat diets (ketogenic for instance) provide up to 75% of your daily energy from fats and have helped some people to lose weight and reduced risk of diabetes.
Protein
Soylent products are vegan friendly, and as such, their protein has plant origin. In this instance, they use soy protein to provide 20g per serving and 20% of the daily energy comes from protein.
Is this enough protein? For the average population, with sedentary or moderate lifestyles, yes. If you fit a more active profile, like we do, I would recommend you to supplement your diet with high protein foods, such as meat, dairy, legumes or fish; or if not, use protein supplements (food > supplements, wherever possible).
While soy protein had been suggested to have negative effects on muscle growth and recovery, the latest studies suggest the opposite; soy protein contains a full amino acid profile and is now being considered as a top notch source.
Carbs
The main sources of carbs are isomaltulose (sugar composed by glucose and fructose), maltodextrin and oat fiber (just for fiber). On average, 35% of the energy provided by Soylent meals comes from carbohydrates, ten points lower that the lowest amount recommended (45%).
High on Added Sugars, Why?
However, even if the carb profile is low, Soylent drinks are still high on added sugar. This is due isomaltulose, a sugar with low glycemic index, because it takes longer for it to get broken down. On the contrary, maltodextrin is a complex carbohydrate that has a high GI (85) and it is rapidly converted into glucose. This two carbohydrates in combination are becoming very popular in the industry (particularly RTD), because they provide less flavour than oats and a smoother texture.
Despite this, I would like to see more complex carbs in Soylent, to balance the nutritional profile and also increase the fiber content, which falls below that recommended by the health organizations.
Low GI
Nevertheless, because of the high fat content, the overall GI of Soylent products is a little above 40 (considered medium-low).
The main issue with Soylent is that is really low in fiber, with only 3g per 400kcal serving. Most brands will offer more than double this amount (7-8g per 400kcal) on average (Huel, Saturo, Queal…). Fiber is often lacking in Western diets, even though it is benefitial for satiety, hunger management and bowel control.
Allergens
Soylent is vegan friendly. The only allergens reported is Soy.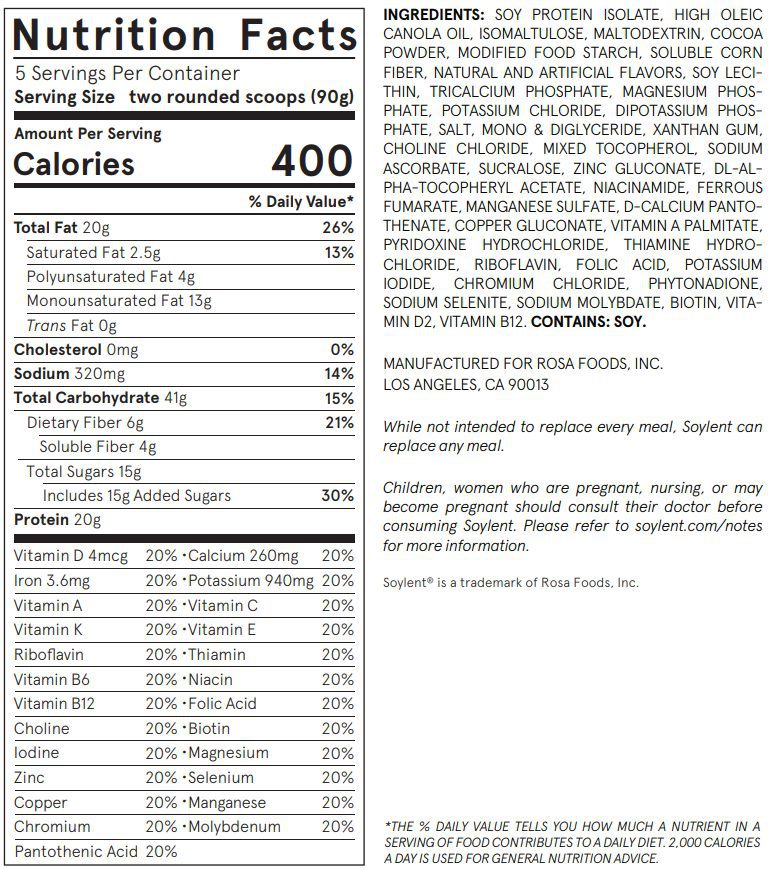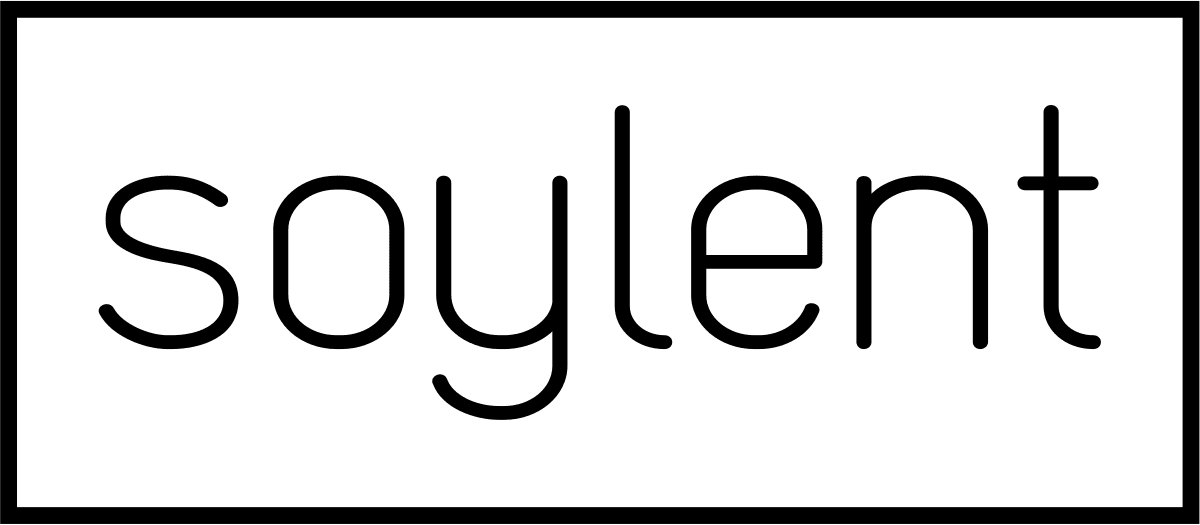 Science, innovation and quality nutrition are the pillars of Soylent. They aim to develop a system, which will offer cheap and quality food to anyone. In order to do so, aside from further developing Soylent, they support local food banks and the World Food Program USA. A worthy task, indeed.
Soylent Motto
Soylent is a huge advocate for engineered food. In fact, they believe that scientific advancements and increased knowledge of nutrition can lead us to create the ideal complete food, which will enable us to substitute 'real food'. As such, they are big believers of GMO. A point that perhaps is of controversy for some.
History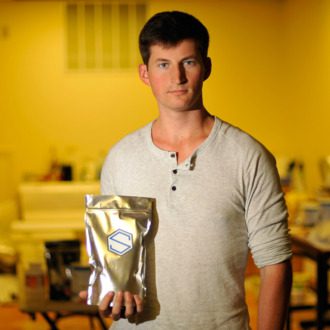 The company was founded after Rob Rhinehart (Founder) shared his 30-day experiment with his own food replacement. From there, they managed to develop the dream into reality thanks to crowdfunding and venture capitalist financial investments. Within a year, they achieved to ship $2.6 million worth of Soylent.
Ever since, there have been 9 versions of the powder product, the launch of ready-to-drink alternatives and a failed attempt to create a solid alternative (re-developed to Soylent Squared). The drive to improve the product has been driven by scientific research, one of the pillars of the company.
While their will to improve their product and the rate at which they update it is commendable, we cannot say the same about their market expansion. Unlike much of the competition, sales are only limited to the USA and Canada, currently. Sadly, the European Soylent enthusiasts need to rely on resellers.
Soylent Community
One of the strong points of Soylent is their community and social media interaction. Soylent's reddit community is the biggest one in meal replacements and one of the most active ones. Definitely, a place worth visiting in case of doubts or if you want to share your experience. Their facebook and instagram are vibrant and very interesting, too.
Subscription
Soylent offers a 30 day subscription with 5% discount for all their products. I would like to see improvements in the subscription discounts for the ready-to-go products and more rewards for Soylent enthusiasts. 5% discount is the lowest offering in the market, below of what other competitors like Huel or Jimmyjoy.
Regarding the website, it is rather easy to navigate and quite user friendly. Any queries like cancelling your subscription, ordering products or looking extra information can be done through it, too.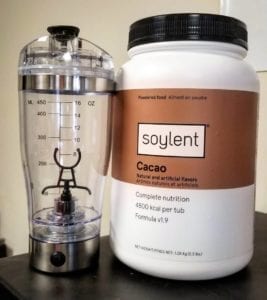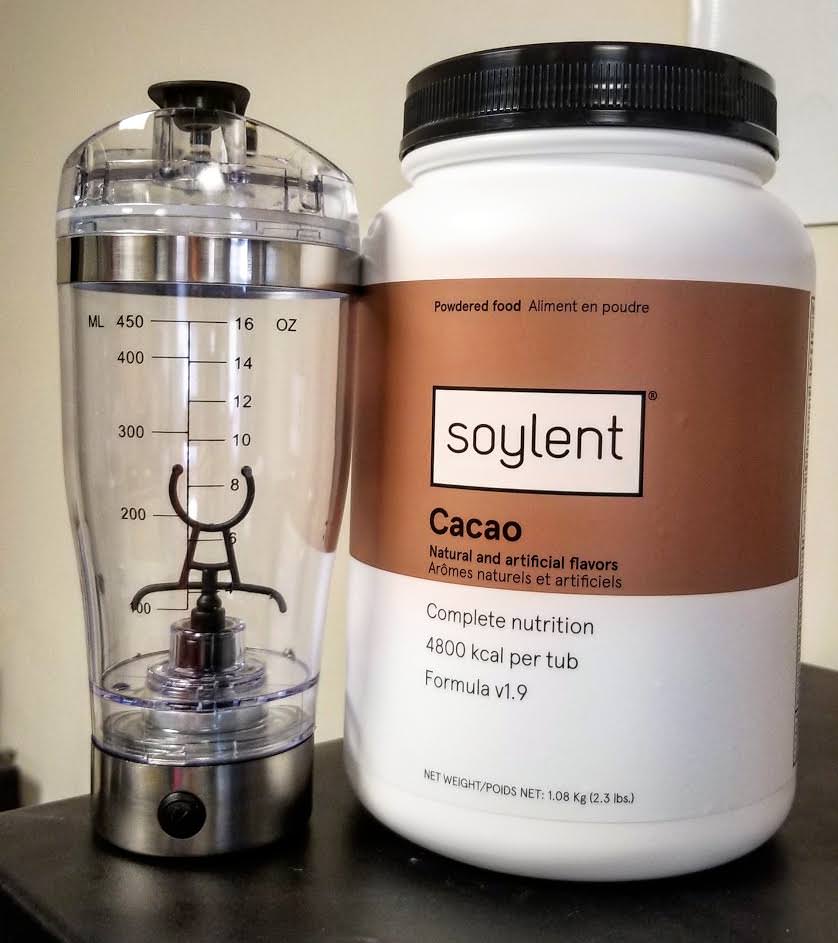 Pricing
For those who are curious how much Soylent costs here is a handy table:
| | | |
| --- | --- | --- |
| | Cheapest (400kcal) | Most Expensive (400kcal) |
| Soylent Powder (Tub) | 2.69 | 2.83 |
| Soylent Powder (Pouch) | 1.74 | 1.82 |
| Soylent Drink | 3.09 | 3.25 |
| Soylent Bridge | 4.58 | 4.8 |
For Soylent Drink, the Original flavour is cheaper by about $0.5 per 400kcal bottle.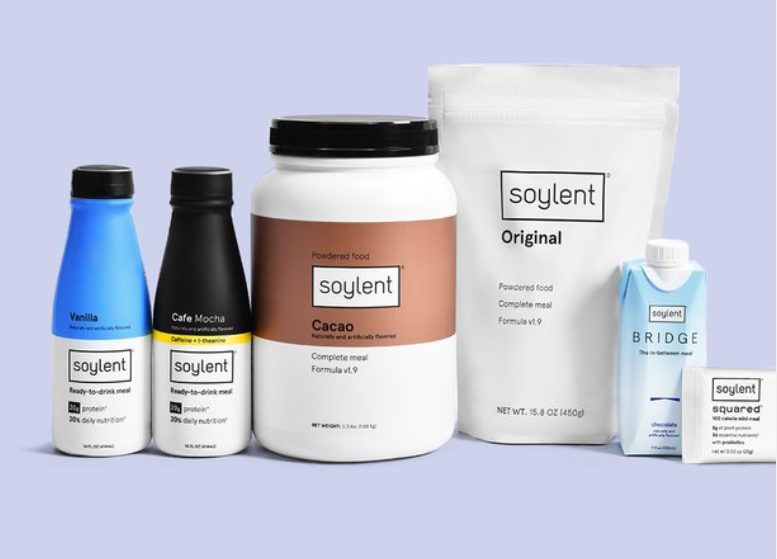 Is Soylent Vegan?
Yes, all Soylent products (Powder, Drink, Bridge and Squared) are suitable for vegans.


Is Soylent GMO free?
No, Soylent is not GMO free. The company believes that there is no reason to be afraid of GMO ingredients, and thus supports them. Soylent thinks that the scientific evidence backs GMO foods.


Is Soylent healthy?
Yes, Soylent is a healthy meal alternative, particularly when consumed within a balanced diet. Each Soylent serving will provide you with 20% of your daily needs, as stated by the US government health guidelines.


Can I live off Soylent only?
Yes, there are many people who have reported using Soylent as their main food source (read reddit posts). However, almost everyone has said that the adaptation needs to be gradual to allow the body to adapt. If not, people have nausea, stomachal problems and poop problems.

Nevertheless, I would advise against it.


Is Soylent available in Canada? When is Soylent going to be available in Canada?
No, Soylent withdraw all their products from Canada and it is not looking that they will be back any time soon. This is due to Canadian government legislation when regarding to meal replacement products. You can find all the info in my article about why Soylent is not in Canada.


Where can I buy Soylent?
You can buy Soylent on their online store (Soylent.com) or in Amazon or in your local Walmart, Kroger or 7-Eleven.


How do I start with Soylent?
It is as easy as clicking the Buy Now button below. Or pop up to the nearest 7-Eleven. Or use your Amazon Prime account to order some.

Jokes aside, honestly it is as easy as that. We would recommend doing a rough estimation of your daily calorie intake and needs (you can find tools for that here). Then swap the meal that you struggle the most with with a Soylent product. Breakfast? Then use Soylent Cafe. Lunch? Probably, Soylent Drink will be best. Dinner? Soylent Drink or Soylent Powder (if in a budget).


How much Soylent a day do I need?
I would recommend not having more than 3 meals of Soylent a day. However, if you are replacing all your meals with Soylent, the average female will need 4 servings; and the average male 5 servings. Note that your caloric needs will vary with the amount of exercise you do, your height, your weight, and/or your age.



Huel Powder or Soylent?
Huel vs Soylent is a very common question. I would say that Huel has nutritionally a better rounded product, but Soylent tastes better. It is also the smoother shake and the easier to like.


---
Soylent Review: Verdict
Soylent is a great meal replacement if you live in the US and are looking to improve your diet. Simple, quick, affordable and convenient. Out of all products, I found Soylent Powder to be the best suited for me, simply because it is the most affordable option.
However, if you value portability, you eat on-the-go often or like silky smooth meals; Soylent Drink will be better suited for you. In fact, smoothness is one feature where Soylent beats all competitors. Taste is also great for Soylent shakes, particularly the Cacao-based ones.
Nevertheless, I think that Soylent has one flaw: all ingredients are highly processed. For me, that is often a deal breaker, since I prefer shakes based in real food and with less processed ingredients.
Despite this, if you believe that getting all the nutrients is all that matters, Soylent will do just fine for you.
Soylent Powder
$1.8/400kcal