Soylent Drink Review 2021 | Is the Old King Still The Best?
The original meal replacement is still one of the most known and readily available.
Soylent Drink has evolved during the past 5 years to perfect its formula; from the homemade mix to the current scientifically backed formula. The improvements have certainly been noticeable in the texture, taste and ingredients used. While the product is still not perfect, if you are in a hurry or you need a healthy snack; grab one at your local store and give it a try. I assure you, you will not be disappointed.
In fact, against what other reviewers say, I believe that Soylent Drink is a good option to substitute one of your meals with. Here is why.
Soylent Drink at a glance
Flavours: Original, Cacao, Strawberry, Vanilla and Mint Chocolate.
Flavours (Soylent Cafe): Chai Latte, Vanilla or Mocha (also available in variety pack).
Ingredients include: Filtered Water, Maltodextrin, Soy Protein Isolate, High Oleic Sunflower Oil, Isomaltulose, Canola Oil, Modified Food Starch, Oat Fiber, Isomaltooligosaccharide, Soy Lecithin, Natural and Artificial Flavours, Salt, Gellan Gum, Sucralose and Vitamin & Mineral Premix: Potassium Chloride, Magnesium Phosphate, Tricalcium Phosphate, Ascorbic Acid, Dipotassium Phosphate, Choline Chloride, Dl-alpha-tocopheryl Acetate, Niacinamide, Ferrous Bisglycinate Chelate, Zinc Oxide D-calcium Pantothenate, Copper Gluconate, Vitamin a Palmitate, Thiamine Hydrochloride, Manganese Sulfate, Pyridoxine Hydrochloride, Riboflavin, Chromium Chloride, Biotin, Potassium Iodide, Folic Acid, Sodium Molybdate, Sodium Selenite, Vitamin K1, Cyanocobalamin, Ergocalciferol.
Macronutrients per serving (g)
Protein(g)
Carbs(g)
Fiber(g)
Fats(g)
% of Energy from each macronutrient
Carbs 35%
Prot 19%
Fats 46%
% of Recommended Intake per serving
RI based on 2,000kcal
RI based on 2,500kcal
Nutrition Overview
Soylent Drink is a vegan ready to drink shake that provides with a fifth of the daily required nutrients. It is fairly high in fats and low in carbohydrates. It is noteworthy that Soylent supports genetically modified food, and thus, they may use them as prime ingredients.
Soylent Cafe or Coffiest is nutritionally identical to Soylent Drink; but it contains caffeine:
Soylent Cafe Vanilla: 150mg (~cup of coffee).
Soylent Cafe Mocha: 150mg.
Soylent Cafe Chai: 30mg.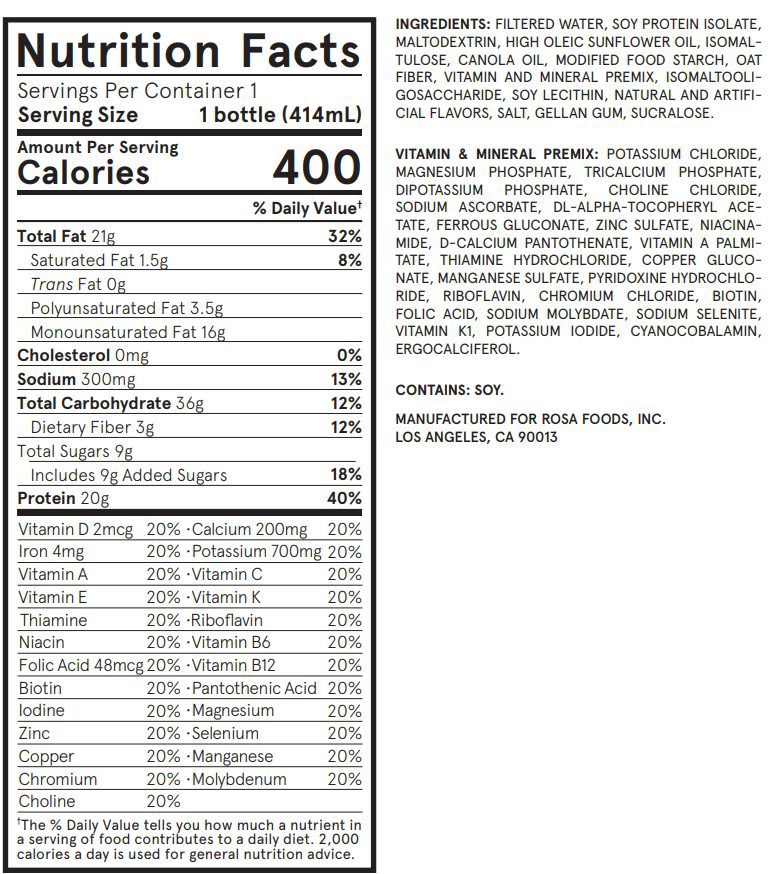 Carbs
Per serving (400kcal):
Total Carbs: 36g, 12% of DV.
Total Sugars: 9g.
Of which Added: 9g, 18% of DV.
Fibers: 3g, 12% of DV.
The main carbohydrate sources are maltodextrin and isomaltulose. Soylent glycemic index is under 50. Probably, helped by the fact that the drink is almost 50% fats (which slows down the digestive process). Usually, this is synonym of slower energy relase and smaller blood glucose fluctuations.
What we find disappointing, as well as many other users, is the amount of fiber in Soylent drink. According to the FDA, most Americans fail to meet the daily recommended, thus, we think Soylent should put extra effort on this front. The solution could be to supplement your diet with high fiber snacks or psyllium husk capsules.
Fats
The main source of fats is sunflower oil. Sunflower oil is usually around 59% linoleic acid, 30% oleic acid, 6% stearic an 5% palmitic. However, many GMO strains have been engineered where the proportions of each are changed and some of the native vitamins are stripped away (except Vit E usually).
Soylent uses a high-oleic version; rich in monounsaturated fats. An issue with sunflower oil is the ratio of omega-3 and omega-6. Usually a ratio closer to 1 is recommended. Omega-6 is up to 70 times more common in sunflower oil and fairly deficient in omega-3. Thus, we would recommend supplementing your omega-3 intake by eating foods rich in omega-3 (salmon, tuna, sardines, nuts).
On the plus side, Soylent Drink's mix contains no trans-fats, or hydrogenated fatty acids. Also contains some canola oil, which is rich in omega-3s.
Protein
Soylent Drink contains 20g of protein per 400kcal bottle.
It comes from soy protein isolate, a highly purified version of soy protein, with up to 90% protein content. It also contains all the essential amino acids that the body cannot synthesis on its own.
Soy protein is often the go-to vegan protein due to its high absorption rate.
Allergens
This product has Soy. Unfortunately, all Soylent products have the same allergens. Look at other brands (e.g. Huel) if you are looking for alternatives.
You might have noticed a few mentions of Soylent Cafe and perhaps you are unsure of what Soylent Caffe or Coffiest (old name) is. In short, Soylent Cafe is the same as Soylent Drink, but just with different flavours and some extra caffeine added.
Thus, while it might not be worth doing a separate Soylent Cafe review, I wanted to share my thoughts on the product.
Soylent + Caffeine = Great Start To The Day
In all honesty, Soylent Cafe is the best breakfast option by Soylent. In my experience, the extra kick that caffeine offers on Soylent Cafe Mocha and Cafe Vanilla is very much appreciated.
While the others are perfectly fine, these two are not only some of my favourite flavours (Mocha>Vanilla). Nevertheless, I would recommend grabbing the variety pack, which includes 4 of each flavour; if you have not tried it, yet.
The overall feeling of Soylent RTDs is a very smooth and pleasant shakes. They are fairly sweet, and can feel a little artificial (flavour boosted); however, it does not make them undrinkable. Rather the opposite, Soylent shakes are quite easy to drink. In fact, this is their major upside when comparing Huel RTD vs Soylent.
In my experience, each bottle can make you fill full for 3h without any issues. If you feel hungry after drinking Soylent, I would recommend you to drink more slowly and wait for 5 minutes before you look to eat anything else.
Soylent Drink vs Soylent Cafe; Which One Tastes Best?
Ultimately, it will come down to personal preference, but here is my Soylent RTD flavour ranking:
Soylent Cacao. Simply the best.
Soylent Cafe Mocha. Good balance between caffeine, cacao and sweetness.
Soylent Cafe Vanilla.
Soylent Vanilla.
Soylent Cafe Chai.
Soylent Original. A bit too dull for my linking. Much better when you add flavour drops.
Soylent Mint Chocolate (New) and Soylent Strawberry I have yet to try so I cannot comment on them.
Is Soylent Drink Keto friendly?
No, while Soylent Drink is low in carbohydrates when comparing to the recommended guidelines; it contains too many to allow your body going into ketosis. I would recommend looking at our top keto picks if you are interested on keto shakes.


Is Soylent Drink vegan?
Yes, it is.


Is Soylent Drink healthy?
Yes, even more so when part of a balanced and varied diet. The only issue Soylent Drink has is the low fiber content. Otherwise, it provides you with 20% of your dietary needs (based on 2,000kcal diet).


Is Soylent Drink made of humans?
No, unlike in the movie Soylent Green, Soylent Drink is purely plant-based.


Can I buy Soylent Drink in Canada?
No, unfortunately Soylent Drink is only available in the US and the UK.


How much caffeine does Soylent Cafe contain?
Both Cafe Mocha and Cafe Vanilla contain 150mg, equivalent to a cup of coffee. Cafe Chai contains 30mg per bottle.


Who Is Soylent Drink for?
Anyone who is willing to pay extra for the commodity of just having to open a bottle and no more to enjoy a meal. I think it is a great product that can substitute many (if all) meals in your diet, but see the powder version a better bang for the buck.
If this does not worry you, by all means Soylent Drink is a tasty and as convenient as it can get. Hell, you can even buy them in many 7-Eleven stores! It is without a doubt the most easy access meal replacement in the US.
If you live outside the US you will have to look for other alternatives, like Mana, Huel, Saturo, Feed…
Does Soylent Drink Taste Good?
Most people like it. It is sweet and smooth, so easy to like. I am a suc*er for chocolate, thus my favourite is Soylent Cacao.
Soylent Vanilla is pretty sweet and one of the best Vanilla flavoured RTDs. Regarding the new flavour Soylent Mint Chocolate, I have not had the chance to try it yet. However, according to social media reactions is one of their best flavours.
I Want to Buy It. How Much Will It Cost Me?
This is one of the downsides. You need to pay extra for the commodity and it cost $3.25/bottle without the subscription and $3.09/bottle with it (5% off). In stores, it can go as high as $5. So if you are planning on living of them, we recommend buying it off Soylent. They can be stored at room temperature.
Wait a Moment, Is It Perfect?
No, it is not. We would also like a higher omega-3 quantities and perhaps an alternative to Soy protein, such as, pea protein. It is also more expensive than many of its competitors.
And it is not available outside of the US and UK. Sad times for the Europeans, Aussies, New Zeelanders and the rest.
---
Verdict
Soylent Drink is one of the most popular (vegan) meal replacements, not only because it was the first, but also because what it offers. A wide array of very tasty flavours (Cacao, Cafe Mocha and Vanilla being our favourites), incredible convenience at a reasonable price are good enough reasons to buy.
While we would perhaps like some more nutritional diversity (other more natural ingredients), we cannot think of an easier shake to get our hands on if you live in the US. A must try.
Soylent Drink
$3.05 | £2.92