Soylent Vs Huel: Which One Is the Best?
Huel vs Soylent? These two brands sell over 50% of the meal replacements in the US. Without a doubt, they are the two most popular vegan meal replacement shakes.
But, are Soylent and Huel the best shakes you can get?
Does Soylent or Huel taste better?
Is Huel healthier than Soylent?
These are questions that I try to answer in this Soylent vs Huel comparison!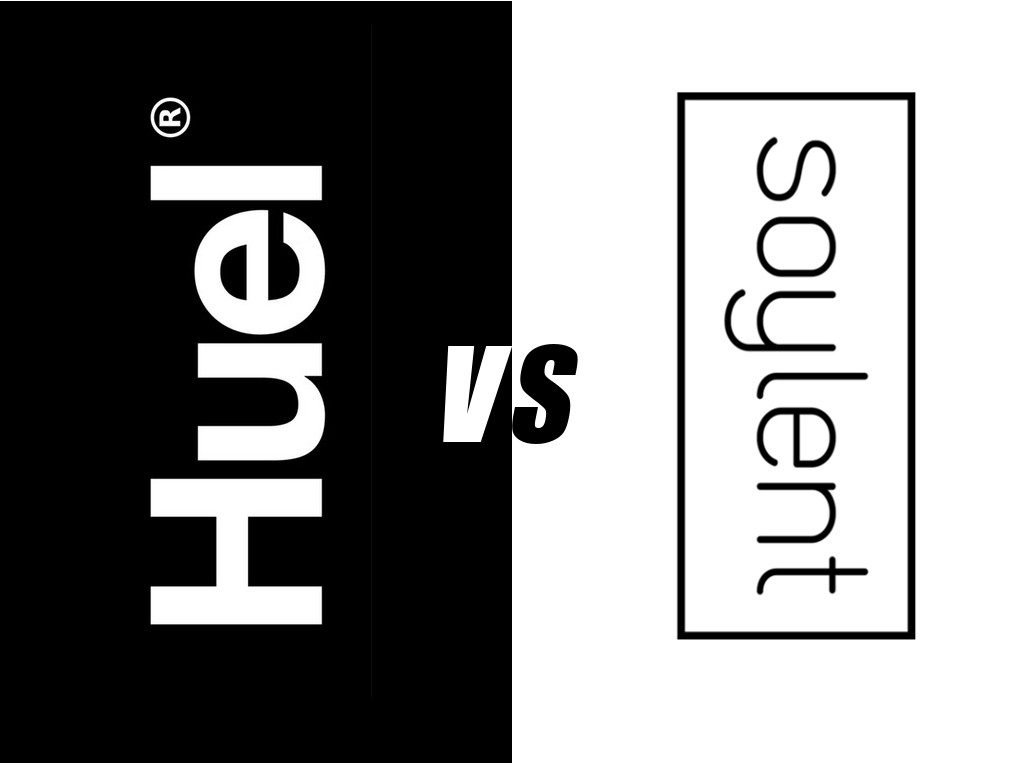 Huel and Soylent are the biggest meal replacement brands currently available. They are the two brands that most people are aware off, and also the ones battling fiercely in the USA to gain dominance over the market.
Despite both being meal replacement brands that produce plant based complete foods; they are very different from each other.
In this piece, I will try to highlight these differences, and try to help you decide which one is better: Soylent or Huel. Let's get started with the Soylent vs Huel face-off.
Short Introduction
Meet the Expert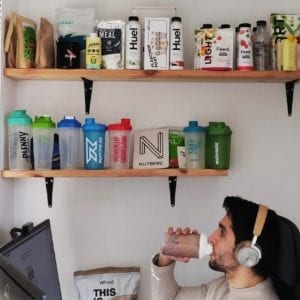 In the past few years, I have tried over 75 different shakes and more than 250 variations of meal replacements. My passion for nutrition made me discover this niche, and since I have been expanding my knowledge about the market. After making my passion my job, I have been fortunate enough to enjoy a variety of complete foods, including both Huel and Soylent products (bars, ready to drinks, and powders). As such, I think that I can provide you with a unique insight into this Huel vs Soylent comparison.
Soylent Intro

Soylent was the first and won the hearts of American customers with its smooth and tasty shakes. After the success of their powder based meals, they soon moved to ready-to drink alternatives, which launched Soylent's popularity and are now Soylent's best-selling products.
With a pro-science and pro-GMO stance, Soylent's meal replacements will contain more processed ingredients than the alternatives. While they will provide you with all the essentials your body needs according to the latest scientific literature, they will not add any probiotics, phytonutrients or other compounds.
Huel Intro

Huel, on the other hand, started in the UK with a nutrition-first approach. The growth of the British giant has been meteoric, mainly based on its star product Huel Powder. With the recent funding rounds, the UK-based brand has expanded their product repertoire, as well as made a more clear effort to establish as the primary brand in the USA.
On the opposite side of Soylent, Huel chooses to use more whole ingredients (not solely, though), like oats. They also have started adding probiotics and kombucha to improve gut health. Huel's ingredients are not from GMO sources, but they are not organic either.
Before going on, I must say that when people compare Huel vs Soylent, they think that these are the only alternatives; but the truth is that they might not even be the best meal replacement shakes in the market. Always, try to find the one that suits you best.
---
You might be interested in
---
Overview of Products
Soylent
Huel
From
USA
UK
Ships to
USA & UK
Worldwide
Shipping fee
Free
Free
Vegan
Yes
Yes
GMO
Yes
No

Soylent Powder
Huel Powder v3.0
Energy (C/P/F)
35/20/45
40/30/30
Kcal/serving
400
400
Price/serving
$1.80
$2.12
Gluten Free
Yes
No*
Flavours
2
7*
Minimum Order
$64.00
$72.22
Go to Comparison
Review
Read
Read

Soylent Drink
Huel Ready to Drink
Energy (C/P/F)
38/19/43
38/20/42
Kcal/serving
400
400
Price/serving
$3.25
$4.50
Gluten Free
Yes
Yes
Flavours
8
3
Minimum Order
$39.00
$99.00
Go to Comparison
Review
Read
Read

Soylent Squared
Huel Bar v3.1
Energy (C/P/F)
44/19/37
40/24/36
Kcal/serving
100
200
Price/serving
$1.00
$2.07
Gluten Free
Yes
Yes
Flavours
3
2*
Minimum Order
$30.00
$62.22
Go to Comparison
Review
Read
Read
*Gluten-free in Huel Powder is optional. There are often more flavors available for each product for Huel in the UK, whereas the opposite is true in the USA for Soylent.
Huel also has Huel Black (powder); and Hot & Savoury (chewable complete food). On the other hand, Soylent has Stacked (RTD with nootropics) also for sale in the USA. Prices shown are for the USA without bulk or subscription discounts (most expensive).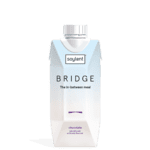 Soylent Bridge – STOPPED
Chocolate.
180kcal/bottle.
$2.16/bottle.
Gluten-free, Vegan.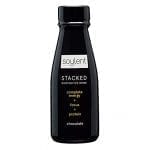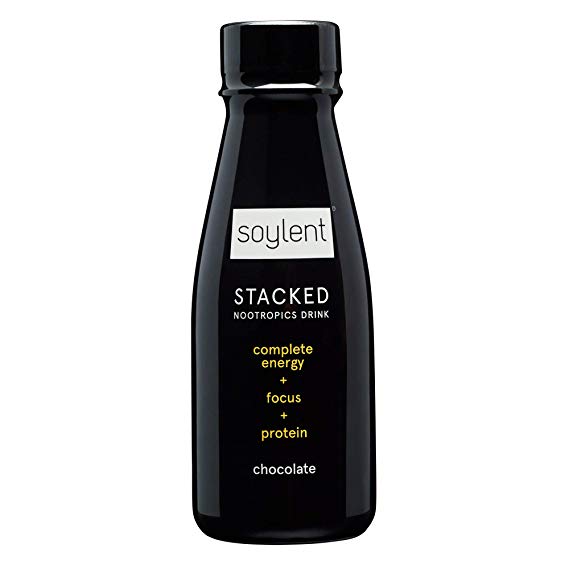 Soylent Stacked
Chocolate.
180kcal/bottle.
$2.50/bottle.
Gluten-free, Vegan.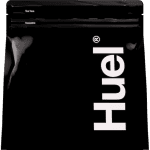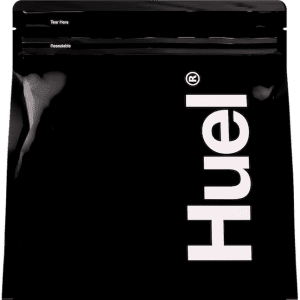 Huel Black
Vanilla, Chocolate, Coffee Caramel, Peanut Butter, Unflavoured.
400kcal/serving.
$2.45/serving.
Gluten-free, Vegan, no artificial sweeteners.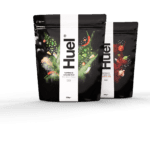 Huel Hot & Savoury
Thai Green Curry, Mexican Chili, Tomato & Herb, Korma, Sweet & Sour, and Madras.
400kcal/serving.
$3.65/serving.
Gluten-free, Vegan.
---
Availability
Both brands mainly sell via their websites, and this is the place we recommend buying them.
Huel offers free next-day delivery in the UK and 2-5 days in the mainland USA.
On the other hand, Soylent only sells to the US, and also offers free delivery.
Soylent is Easier to Find in the USA (Retail)
The American brand used to be available in the UK (only few products and flavours); but now it's only in the USA and Canada.
In the USA, they have strong retail presence in 7-Eleven, Costco, Target and Walmart (RTDs only). Besides, you can buy all Soylent products in the online store and on Amazon.
Looking at where to buy, soylent.com will be the best place (price-wise) to buy and the more likely you will get a more personalized treatment. You will also be able to get subscriber benefits and loyalty rewards.
Huel on Retail Only In the UK
Contrary to Soylent, Huel is available worldwide with a particularly strong presence in the USA, EU and the UK. Unfortunately, none of the products can be purchased in Canada.
As for Huel RTD, this is sold on Sainsbury's and Selfridges, as well as on their main website. I strongly recommend buying it online if you can, since you will get a much better deal regarding the price.
---
Huel Vs Soylent Product Comparisons
Below, I have made in-depth comparisons of the different Huel and Soylent products. Because, both offer multiple types of meal replacements, I have divided them in different sections:
In short, Soylent has the best RTD offering, both in variety and flavors (US). However, Huel's Powders are more affordable and nutritionally much more complete. Thus, for daily use, Huel will be better suited for most, unless you want the convenience that ready-to-drink products bring.
Soylent Powder is the original meal replacement option in the US. A fan favourite, which is also relatively low in carbs and high in fats. Soylent Powder is often praised for its flavour and smoothness. Soylent Powder is only available in the US, as for now.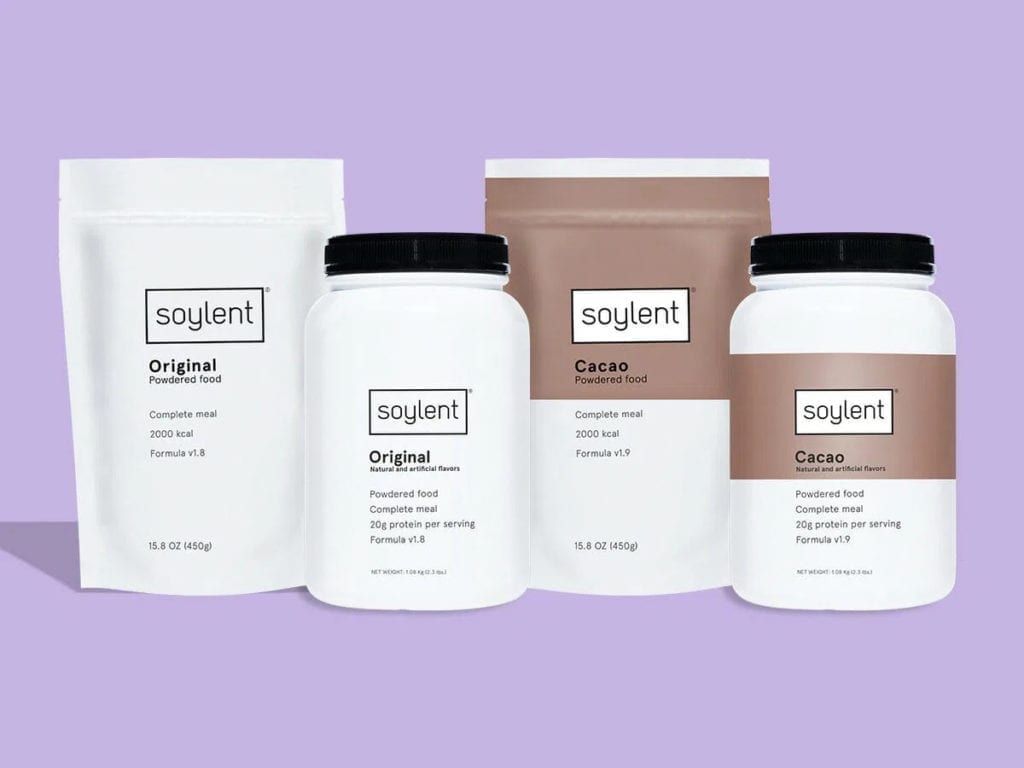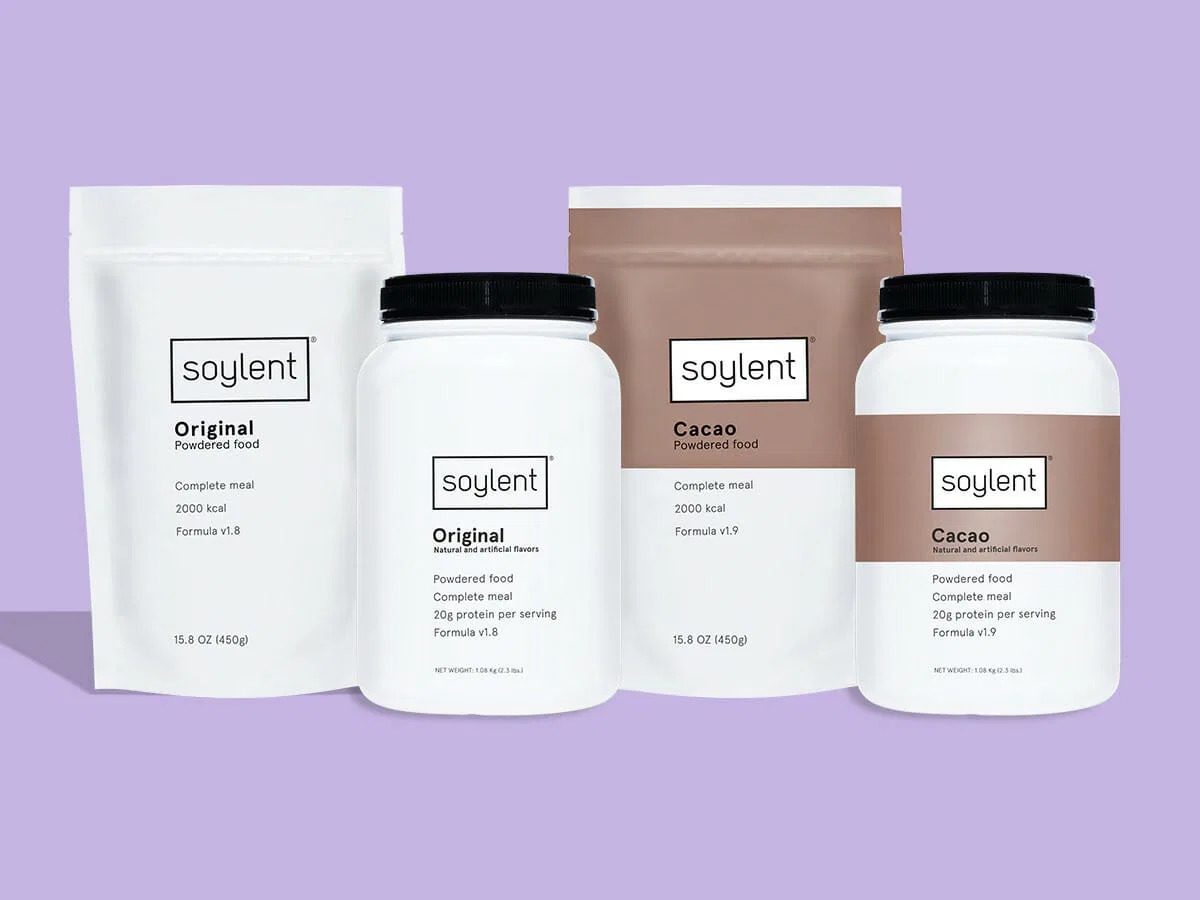 Soylent Powder: Original and Cacao.
Huel has 2 different variations of powder available in the USA and UK: Huel v3.0 and Huel Black. The first is the original formula with more carbs and a more balanced macronutrient profile. Huel Black is a low carb, ultra high protein mixture. Nevertheless, both are complete foods that will offer you all the nutrients you need per meal.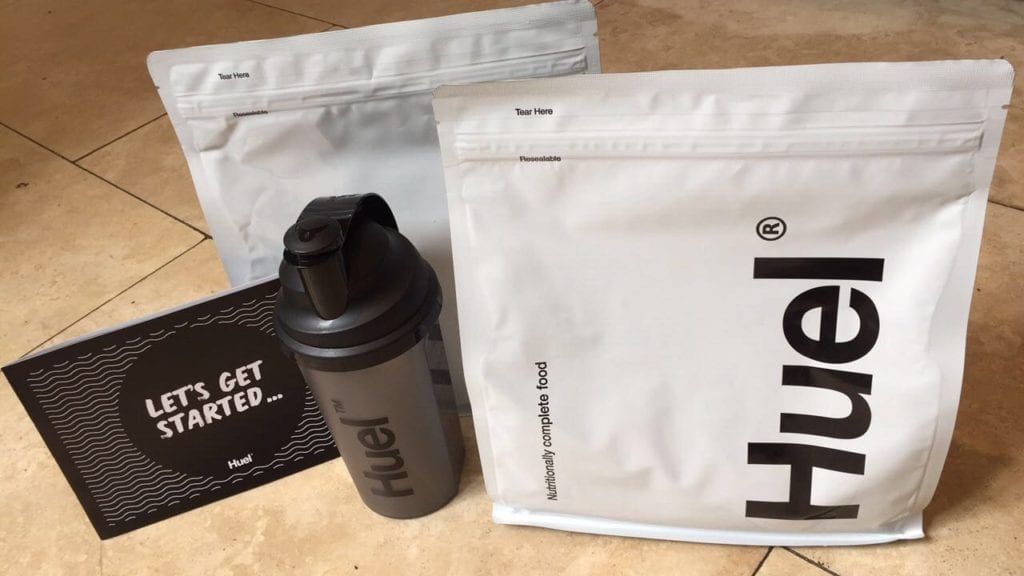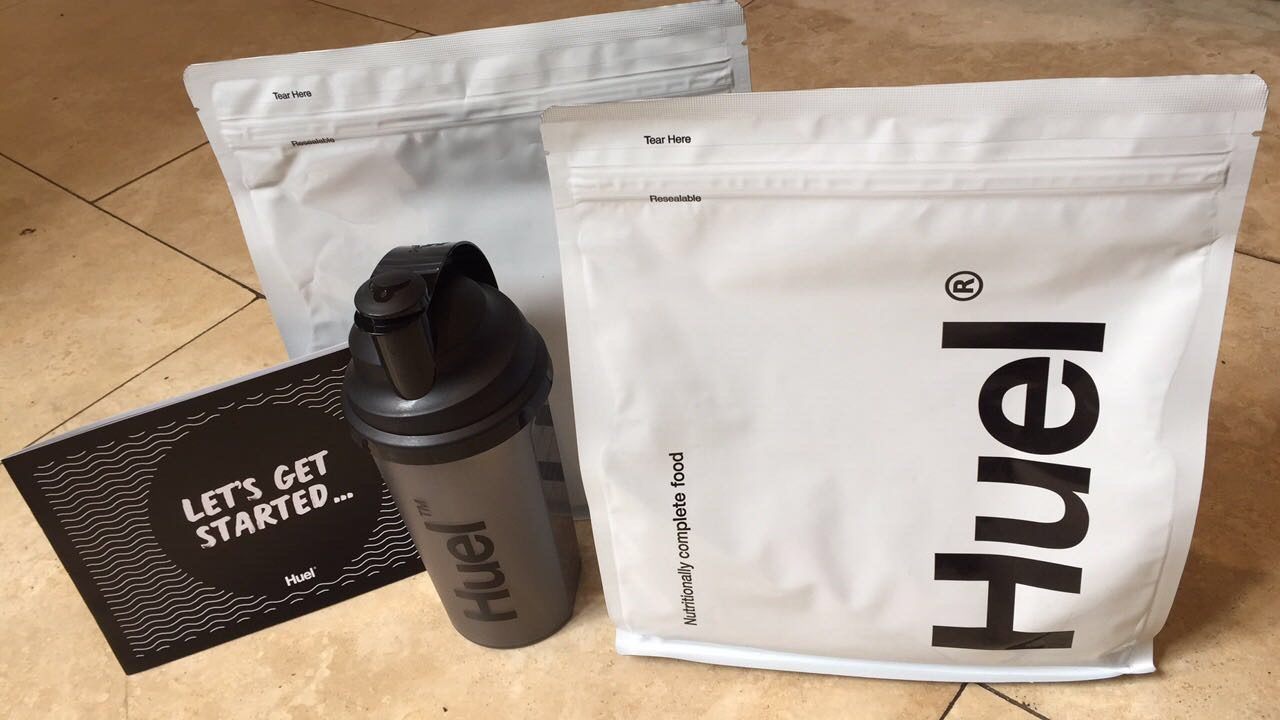 Huel Powder: Vanilla, Chocolate, Banana*, Mint-Chocolate*, Berry, Coffee*, and Unflavoured & Unsweetened. * Flavours currently only available in the UK.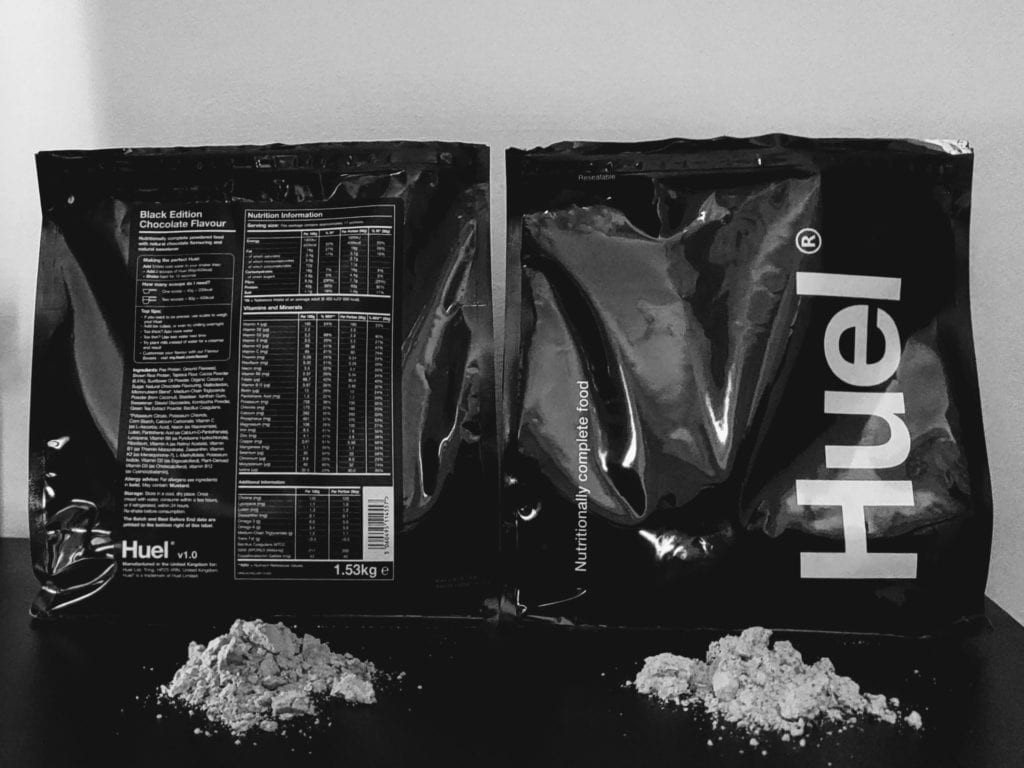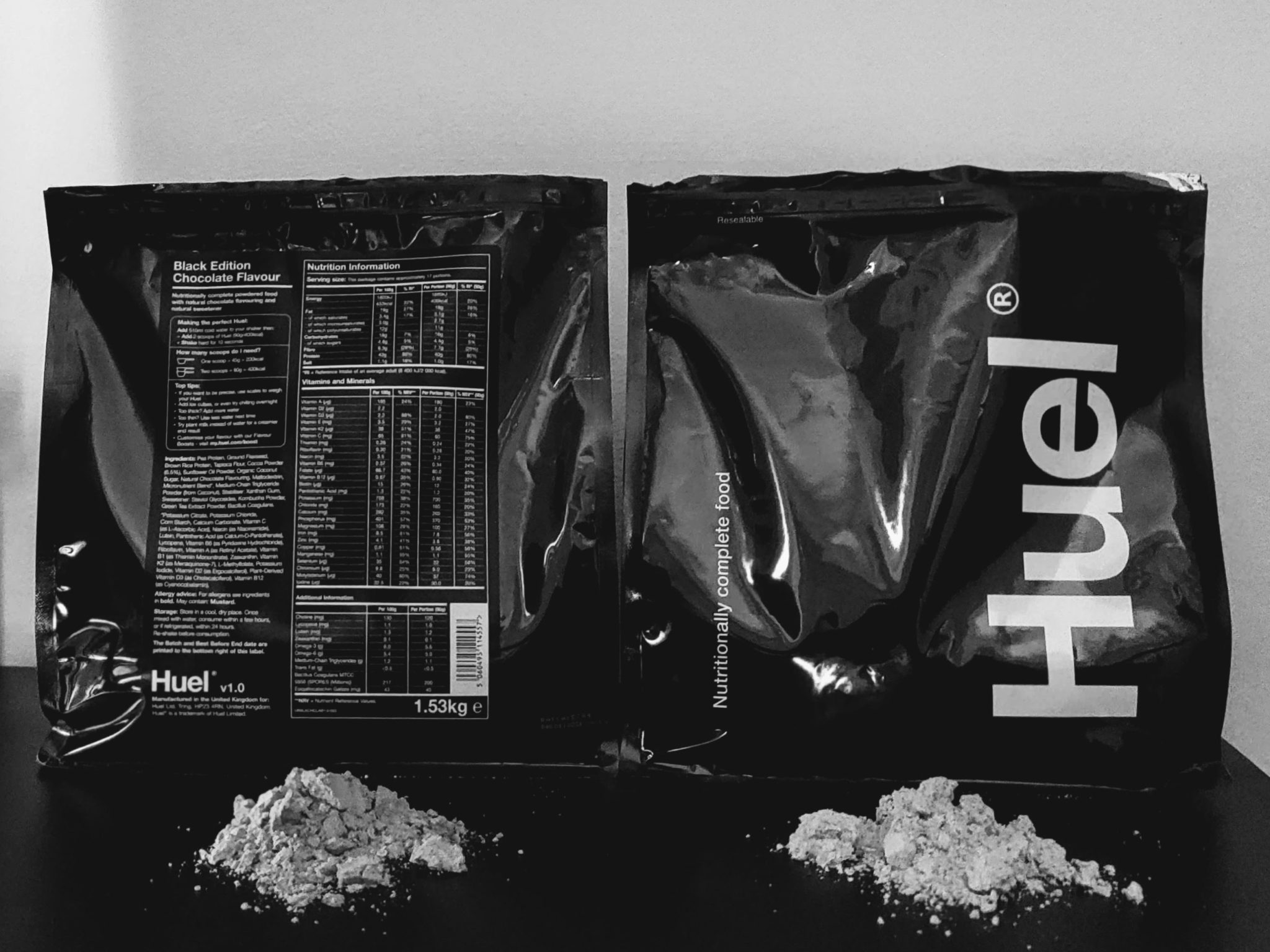 Huel Black: Vanilla, Coffee Caramel, Peanut Butter and Chocolate.
Taste & Texture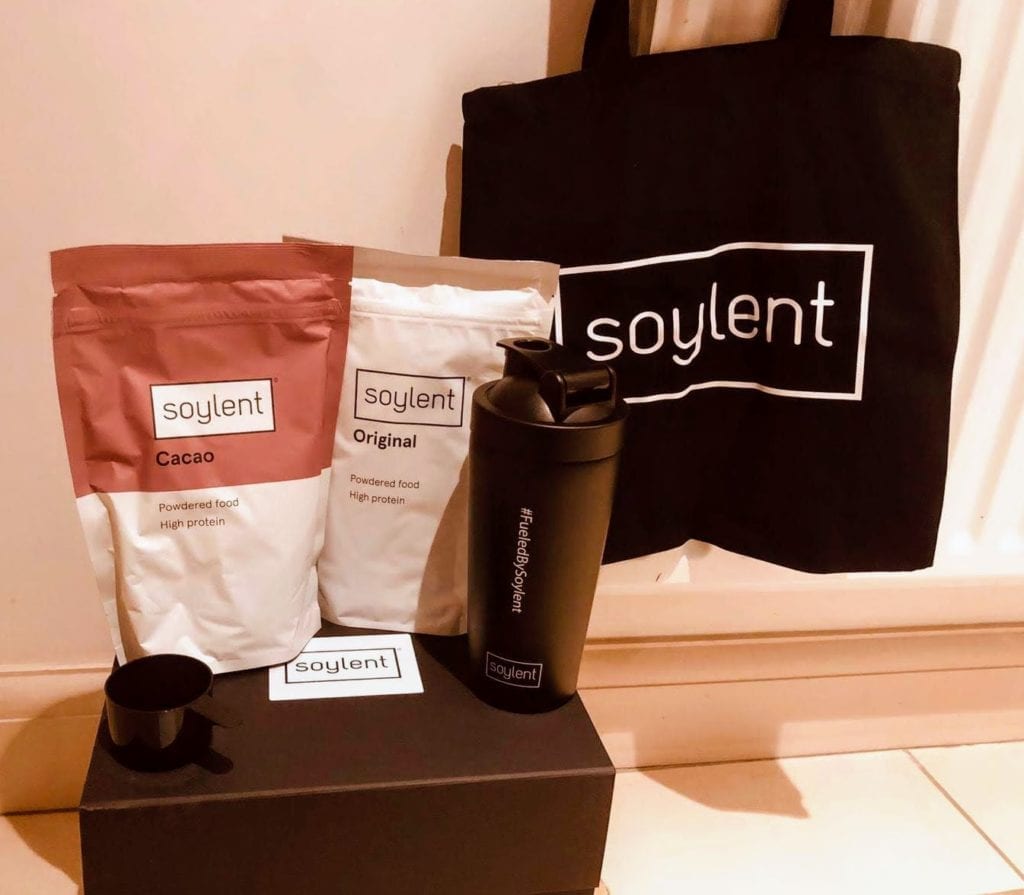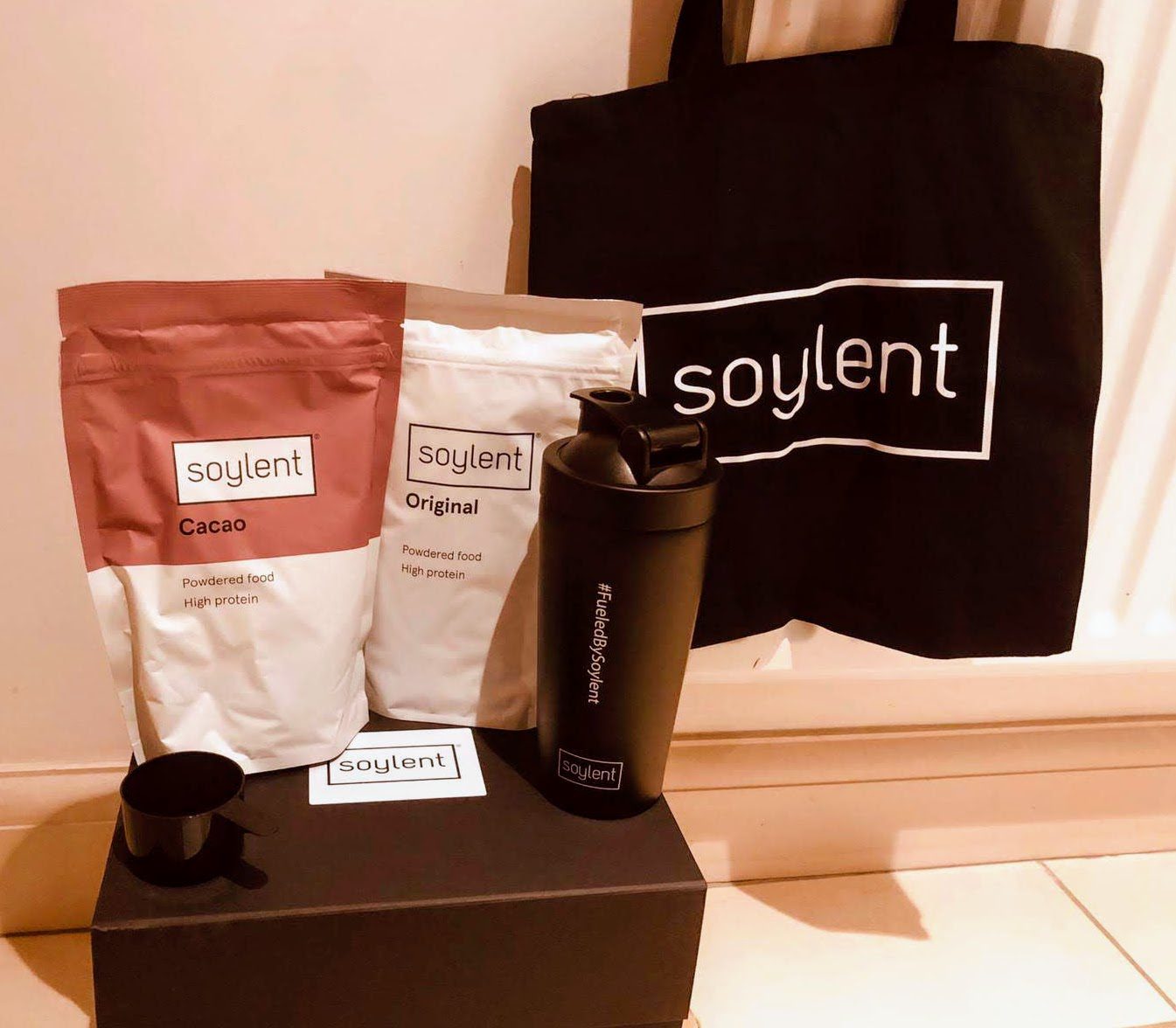 Soylent Powder will give you a thinner, smoother shake that will be easier to get used to as a beginner. Furthermore, it is sweeter than Huel, and has a clear background soy taste (like drinking soy milk). The Original mixture is creamy, with a vanilla touch; whereas Cacao is a mild sweet chocolate mixture. Cacao is the best out of both. 7.5/10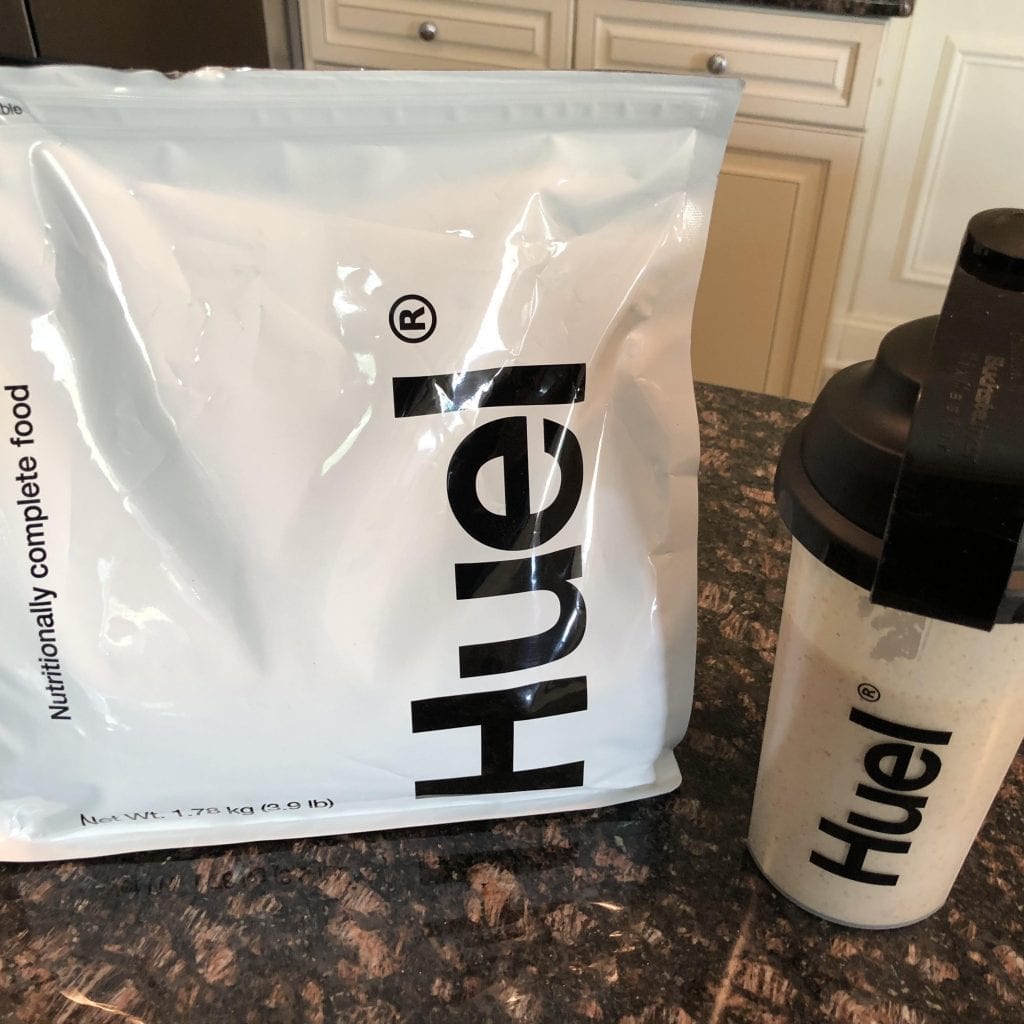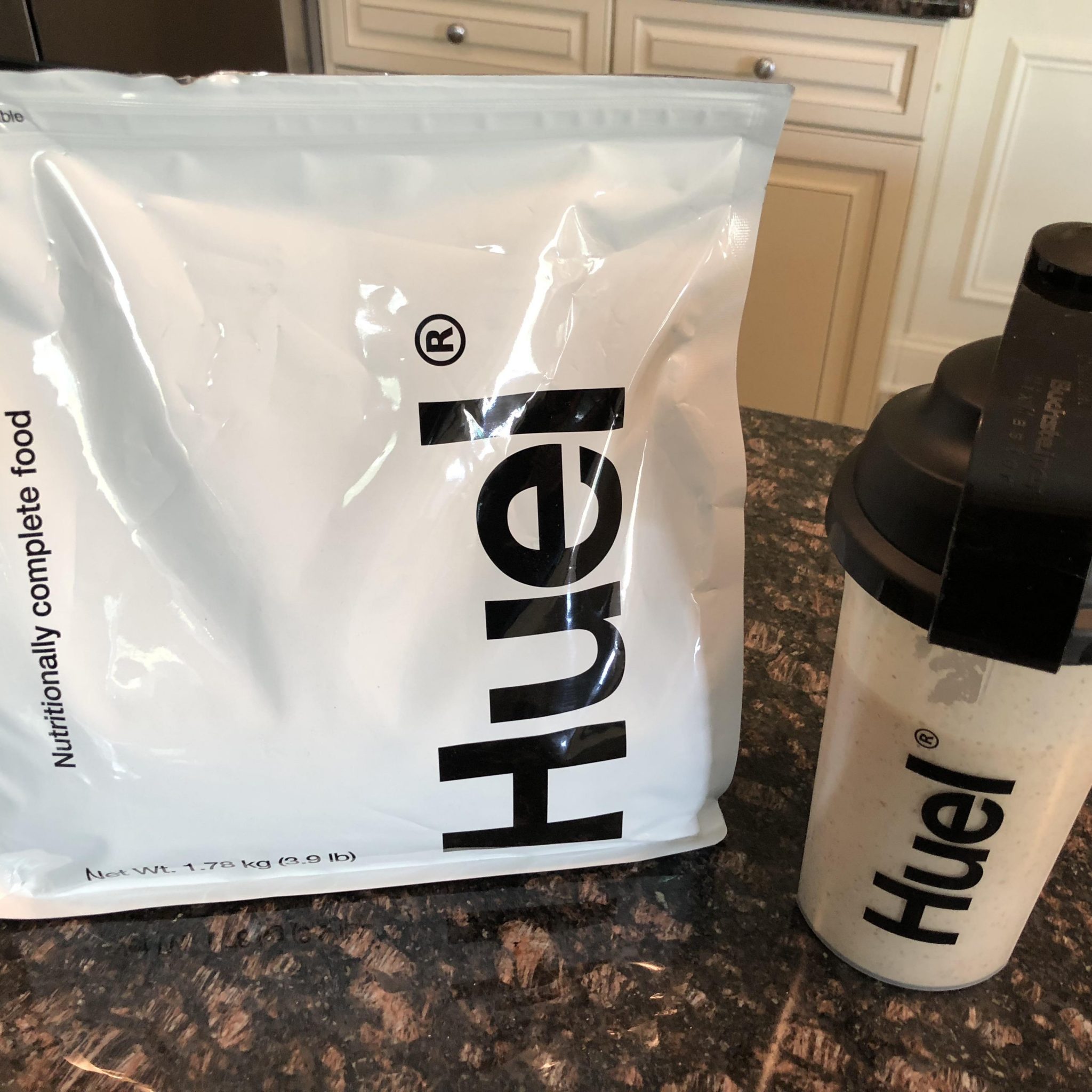 In contrast, Huel is known for being a little gritty and also requires more water to be mixed with (about 400-500ml vs 350ml). Hence, many Huel users like to leave their shakes overnight in the fridge to make them smoother. When it comes to taste, you will find that opinions vary. Huel has a more oaty, earthy taste. 7/10
In my opinion, Soylent Cacao tastes better than Huel Chocolate, and it is the best tasting out of all of the options. However, Huel has more choices, and the Vanilla is really good and mixes very well with fruits.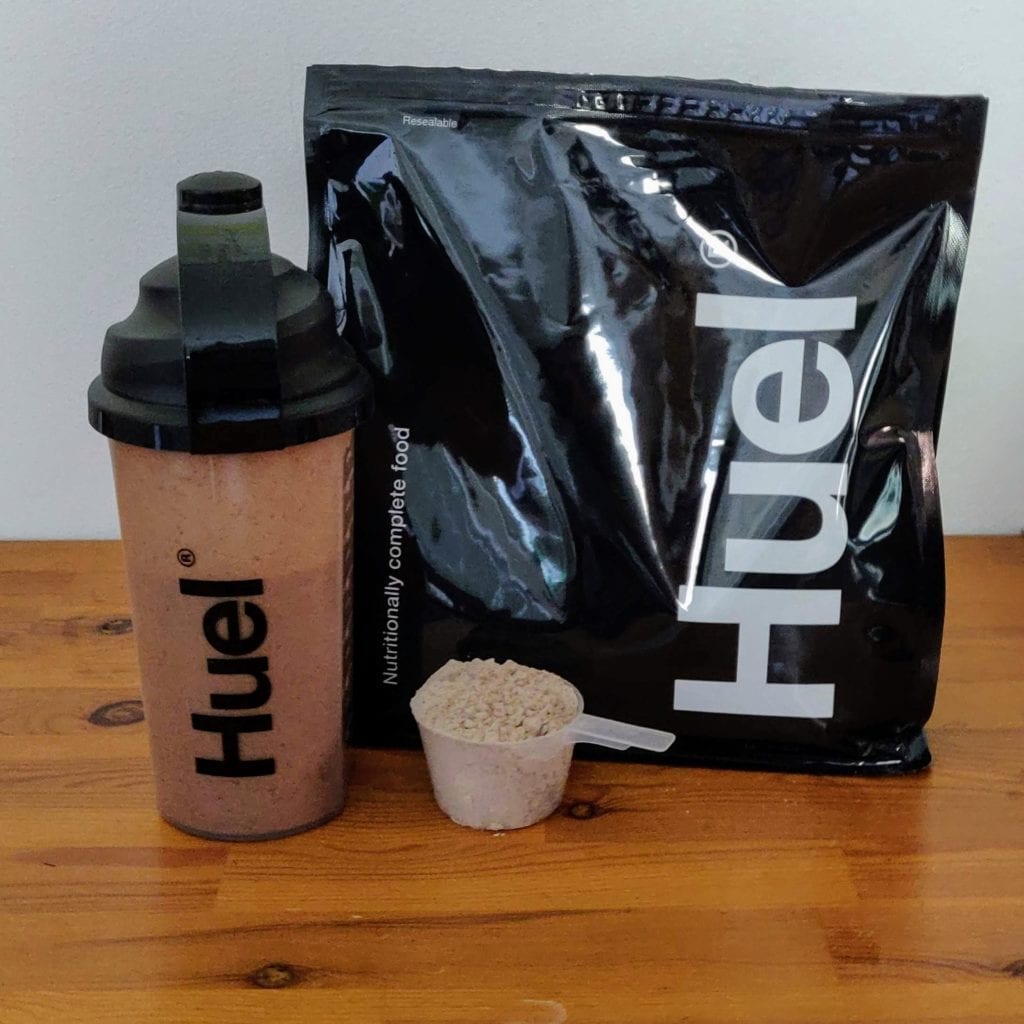 What about Huel Black? Huel Black Chocolate is smoother than the normal Huel, but tastes very strongly like pea protein and it's inferior to the other flavours. Huel Black Vanilla is slightly better, but taste-wise inferior. It will only be tastier to those that find artificial sweeteners (sucralose) disgusting. 5.5/10
Price
Price

Huel Black

Huel v3.0

Soylent Powder

US ($)
per 400 (expensive)
2.45
2.12
1.82
per 400 (cheapest)
1.73
1.51
1.74
Huel's price will significantly vary with order size. The bigger the order, the lower the price per meal will be, since they offer bulk purchasing discounts.
Nutrition
| | | | |
| --- | --- | --- | --- |
| per serving | Huel Black | Huel v3.0 | Soylent Powder |
| Energy (C/P/F) | 20/39/41 | 40/30/30 | 35/20/45 |
| Energy (kCal) | 400 | 400 | 400 |
| Fats (g) | 18 | 13 | 20 |
| Saturated (g) | 2.5 | 2.5 | 2.5 |
| Cholesterol (mg) | 0 | 0 | 0 |
| Carbs (g) | 24 | 46 | 41 |
| Sugars (g) | 4 | 1 | 15 |
| Fiber (g) | 7 | 7 | 4 |
| Protein (g) | 39 | 30 | 20 |
| Sodium (mg) | 395 | 330 | 320 |
All three are vegan. Soylent Powder and Huel Black are gluten-free, while Huel v3.0 (default one) is not.
Ingredients
| | Huel Black | Huel v3.0 | Soylent Powder |
| --- | --- | --- | --- |
| Vegan | Y | Y | Y |
| GMO | N | N | Y |
| Gluten | N | Y* | N |
| Soy | N | N | Y |
| Maltodextrin | Y | N | Y |
| Sweetener | Sugar | Sucralose | Sucralose |
| Probiotics | Y | Y | N |
| GI | 27* | 27 | 55 |
Soylent Powder is plant based formula from a pro-GMO, pro science approach. As such, many of the ingredients in Soylent Powder are more processed and simple forms (maltodextrin, isomaltulose). Nutritionally, Soylent will provide you with all your dietary requirements, but will not include any probiotics, phytonutrients or extra ingredients.
Huel v3.0′s main ingredients are oats, pea and rice protein, with sunflower oil, flaxseed and MCTs. Huel's ingredients are not from GMO sources. You can find the whole list here.
Huel Black is a gluten free formula, with pea proteins as main ingredient followed by flaxseed, brown rice protein and tapioca starch. It also contains organic coconut sugar, instead of sweeteners. See the full ingredient list.
What Should I Buy?
If you are looking for a low carb shake, Huel Black is the healthiest, nutritionally better-rounded option of all of them. I also think that it is the better shake if you are looking to lose weight, with the extra protein and fiber.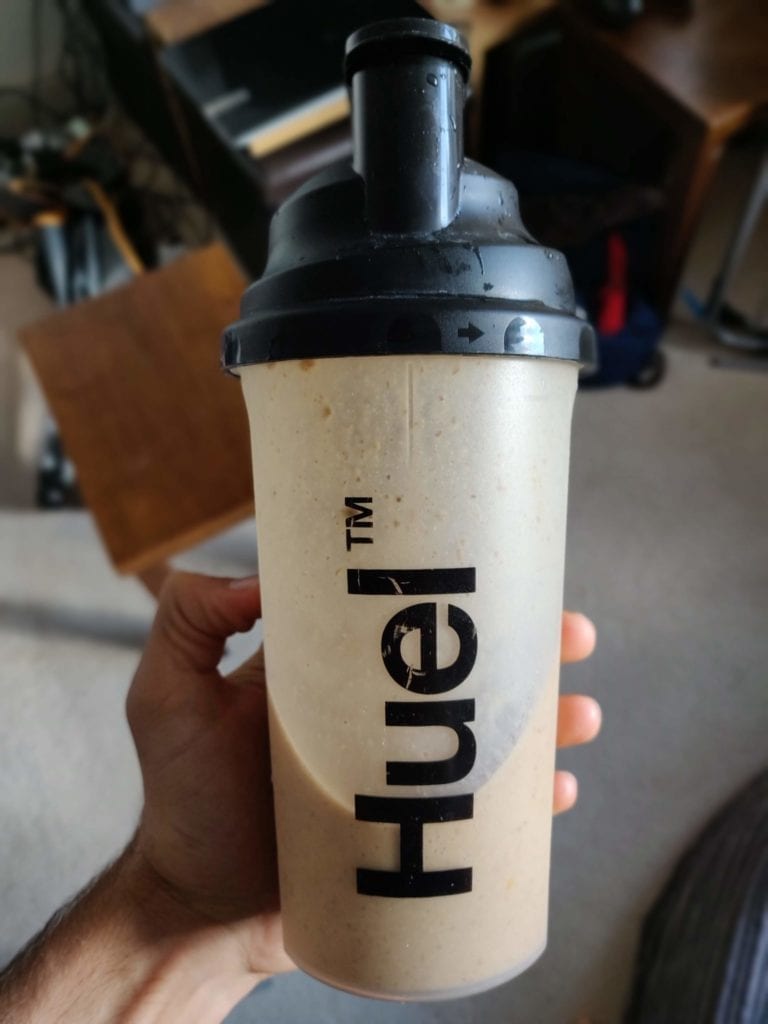 However, if you are not too bothered about macros, I would recommend you to buy Huel Powder v3.0. There are more flavour options, it is cheaper, tastes better than Black, and it has the best nutritional output of all three.
On the other hand, if you despise oats, or really want a tasty smooth shake, then Soylent Powder will be the ideal choice for you.
Best Alternative Alternative in the UK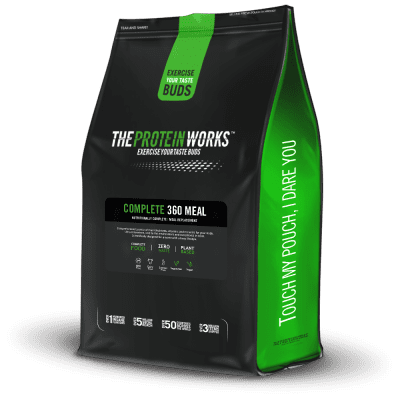 Complete 360 Meal
400kcal, 30g of protein.
45C/30P/25F
Vegan.
Nutritionally very well balanced, with custom protein blend, healthy carbs and fat. Includes probiotics.
Much better tasting than Huel, and better nutrition than Soylent. The strengths of both combined.
Starting from £1/$1.4
Huel Ready to Drink vs Soylent
Soylent was the first company to release a ready-to-drink product, which now has become the best selling and most widely available option in the US: Soylent Drink. They also have Soylent Cafe, the caffeinated version.
Currently, Soylent is transitioning its RTD into a new formula: Optimized. This contains much less sugar (only 1g), and has also changed the flavours slightly.
| | | |
| --- | --- | --- |
|   | Soylent | Huel RTD |
| From | USA | UK |
| Ships to | USA & UK | EU & US |
| $/400kcal | 3.25 | 4.5 |
| C/P/F | 38/19/43 | 38/20/42 |
| Allergen | Soy |   |
| kCal/meal | 400 | 400 |
| Serv/day | 5 | 5 |
| Suitable | Vegan | Vegan |
| Flavours | 8 | 3 |
| Subscription | 5% | 10% |
Flavors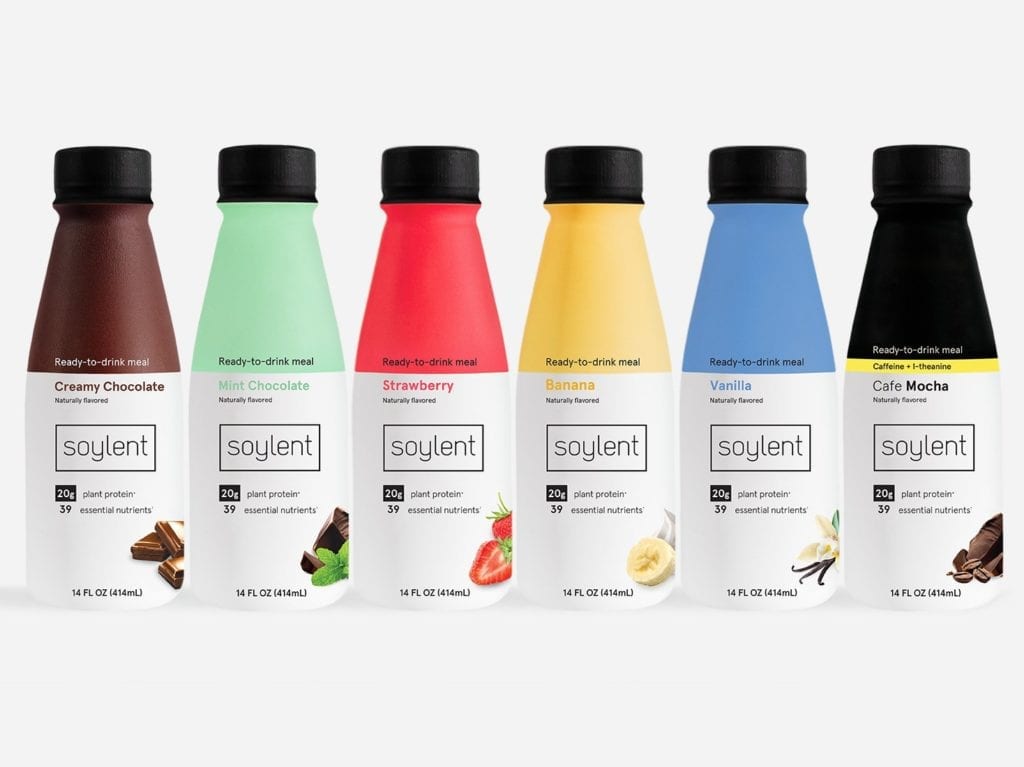 Soylent Drink: Original, Vanilla, Creamy Chocolate, Mint Chocolate, Strawberry, Banana, Cafe Mocha*, Cafe Chai*, Cafe Vanilla*. *Caffeinated drinks.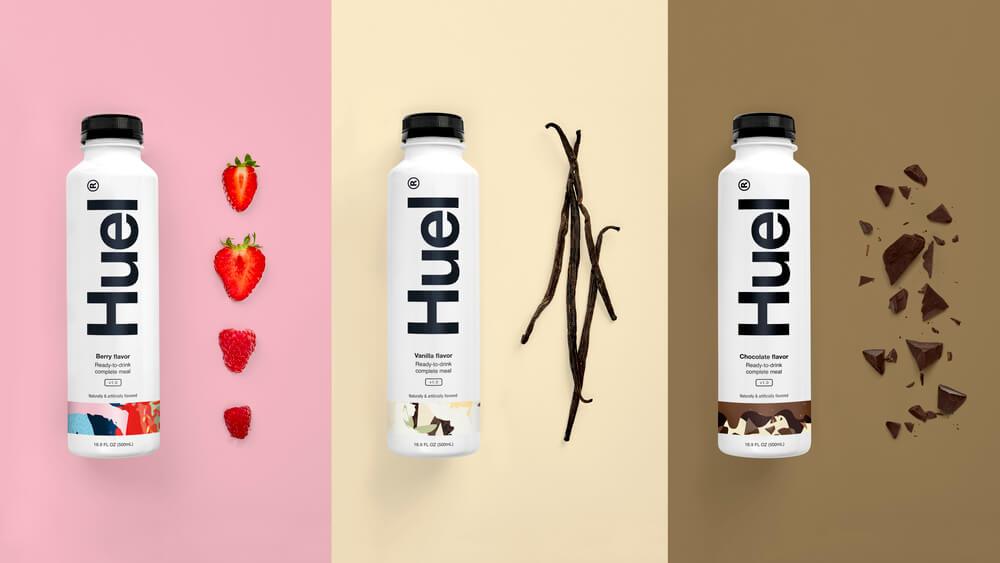 Huel Ready To Drink: Vanilla, Berry, and Chocolate.
Which Tastes Better: Soylent Drink or Huel Ready to Drink?
Soylent Drink offers more variety, and in my opinion the better taste overall. Both ready to drinks are very smooth and creamy, but Soylent's are a little sweeter and more pleasant. Particularly, Cacao, Vanilla and Cafe Mocha are great. 9.0/10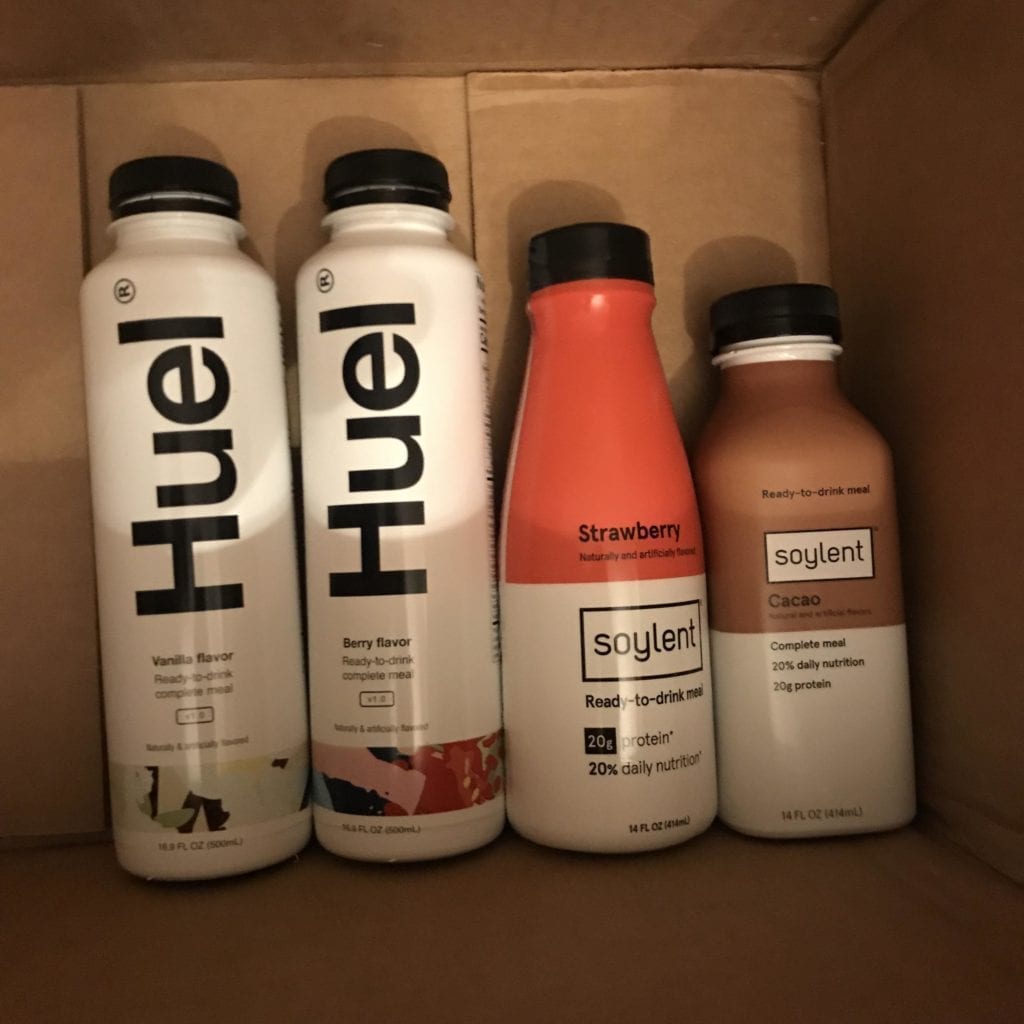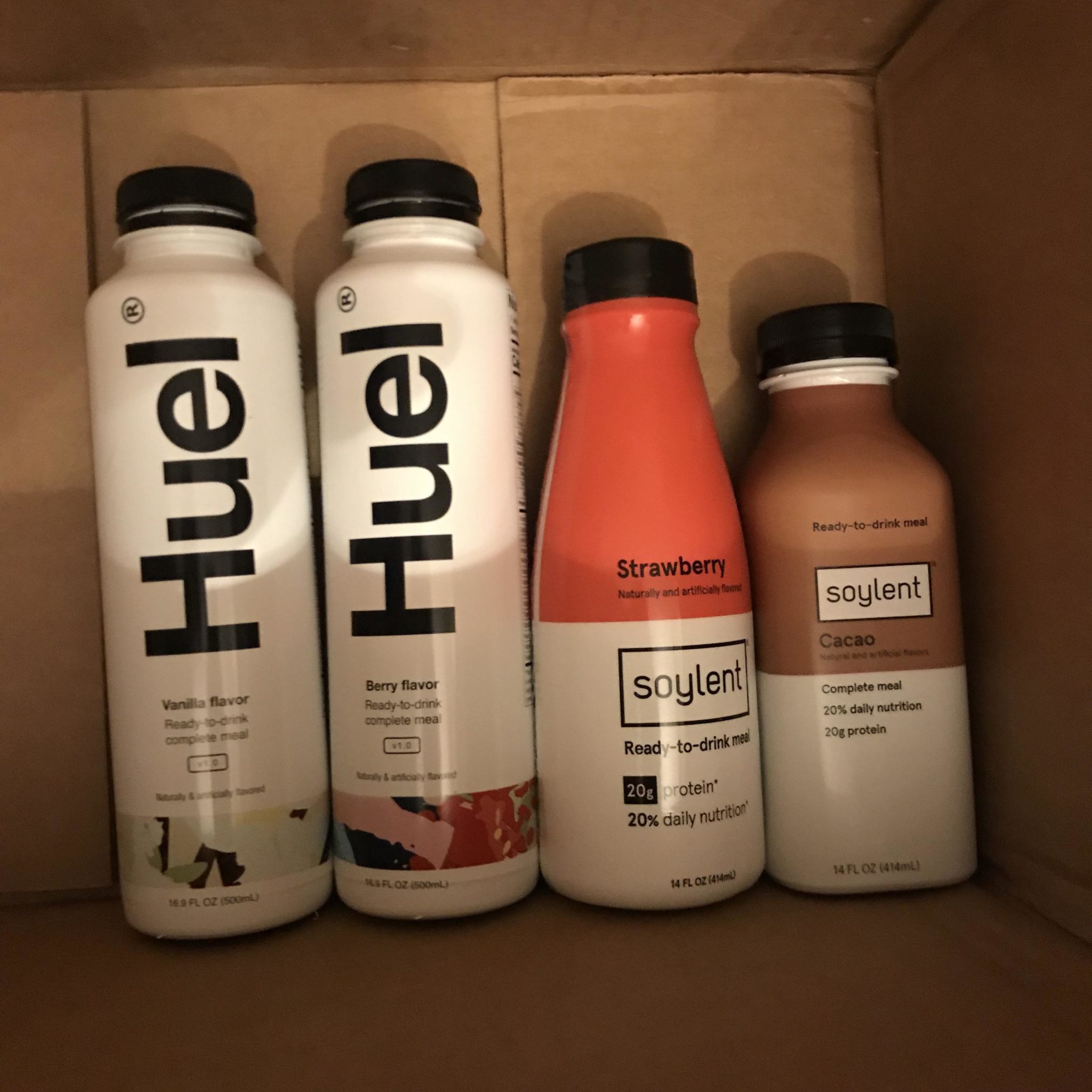 The one benefit of Huel RTDs is that they don't have any background soy taste, unlike Soylent does. Thus, if you do not particularly like this, you might favour the more neutral, less sweet Huel flavour. The best out of the three is Vanilla followed by Chocolate, and Berry is last. 8.0/10
Pricing
Huel Ready to Drink's price will vary depending on the location (US, UK, EU) and the amount of bottles you buy. For instance, in the US you will start at $4.5/bottle and in the UK at £3.08/bottle (both being equal). While the starting point might be higher, the good news is that the price can be significantly reduced when you buy in bulk at Huel, unlike for Soylent.
Price

Huel RTD

Soylent Drink

US ($)
per 400 (expensive)
4.50
3.50
per 400 (cheapest)
3.19
3.05
Soylent does not ship to Europe and it's only available in the US and Canada, for now.
Nutrition
| | | |
| --- | --- | --- |
| per serving | Soylent Drink | Huel RTD |
| Energy (C/P/F) | 38/31/31 | 38/20/42 |
| Energy (kCal) | 400 | 400 |
| Fats (g) | 24.0 | 18.6 |
| Saturated (g) | 2.5 | 4.0 |
| Monounsaturated (g) | 18.0 | 7.0 |
| Polyunsaturated (g) | 3.5 | 7.0 |
| Trans fat (g) | 0.0 | 0.0 |
| Cholesterol (mg) | 0.0 | 0.0 |
| Carbs (g) | 37.0 | 37.0 |
| Sugars (g) | 1.0 | 3.0 |
| Fiber (g) | 3.0 | 6.0 |
| Protein (g) | 20 | 20 |
| Salt (g) | 0.3 | 0.7 |
Looking at the data, they look pretty similar; fairly high in fats, medium protein and low carbohydrate content. However, there are some main differences:
Soylent has significantly more monounsaturated fatty acids, and less omega-3 and -6 (polyunsaturated) per bottle (not shown).
Huel RTD has more saturated fats, due to the inclusion of MCTs.
They have the same amount of carbohydrates, but Soylent has significantly less fiber.
Soylent Drink's GI is 44 (medium-low), while Huel Ready to Drink's GI is 25.
| | | |
| --- | --- | --- |
|   | Soylent | Huel RTD |
| Fats | Sunflower oil, canola oil | Canola oil, flaxseed, MCT |
| Protein | Soy protein isolate | Pea protein, brown rice flour |
| Carbs | Maltodextrin, Allulose | Tapioca starch, gluten free oat powder |
Verdict: Soylent Drink Vs Huel Ready to Drink
In the USA, I would recommend buying Soylent Drink. They are tastier, slightly more affordable and have a better variety, so you never get tired of them. I would only recommend Huel, if you are willing to pay extra for small nutritional upgrades (lower GI, no soy, less processed ingredients).
On the other hand, I think that Huel RTD is a no-brainer choice if you live in the UK. The price discrepancy is too big to ignore. The availability of Soylent also varies too much, and the variety is nowhere near what they offer in the USA. I would recommend trying out Soylent, if you have Amazon Prime, but otherwise stick to Huel.
What about Soylent Bridge and Soylent Stacked?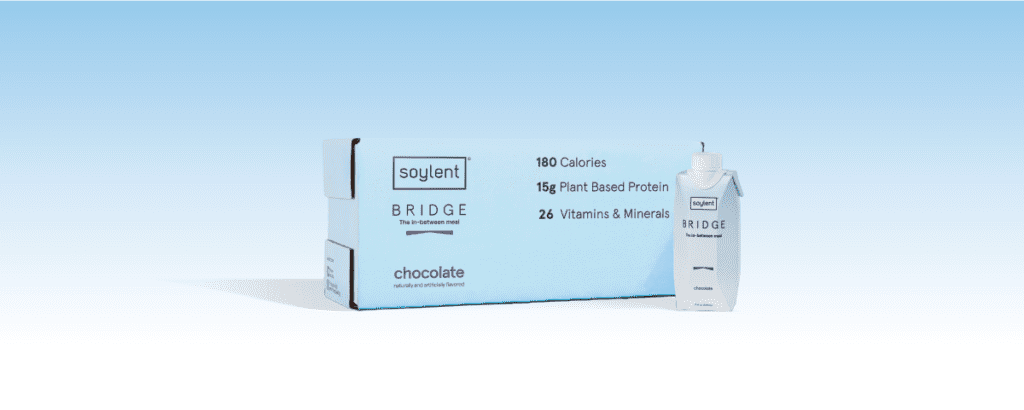 These are smaller (180kcal) RTDs that Soylent offers. Both are only available in Chocolate flavour and are more expensive than Soylent Drink. Stacked has some caffeine and other nootropics (l-theanine, l-tyrosine) to help you focus. You can read my full thoughts on Soylent Bridge here, but in short I think that it is an overpriced meal, with some extra protein.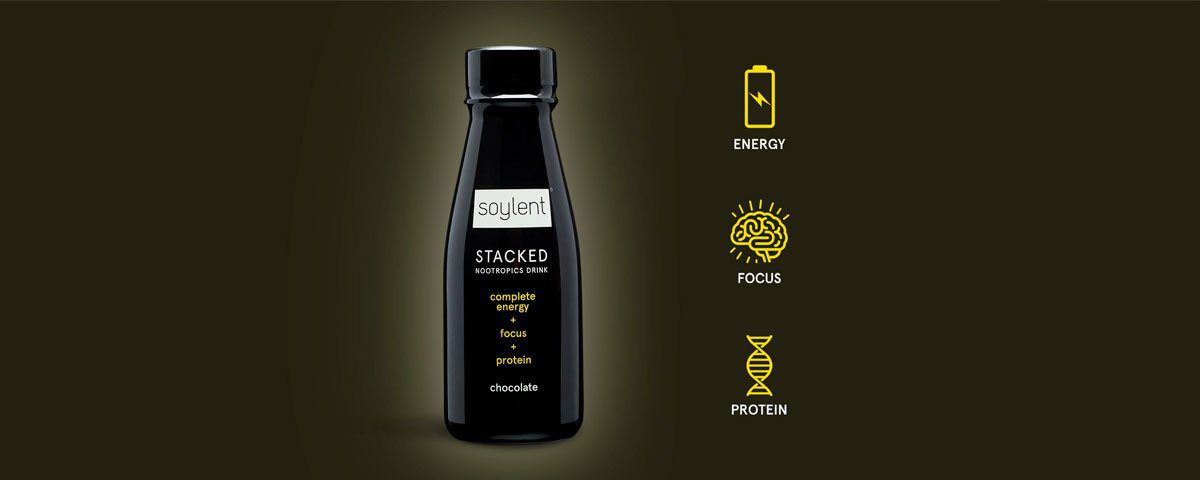 Neither of them are truly that great and fill very niche needs.
Huel Bar vs Soylent Squared
Unfortunately, I don't think that either of the options is among the best meal replacement bars in the market. However, considering the limited options available in the US, you might want to try them.
| | |
| --- | --- |
| Soylent Squared | Huel Bar v3.1 |
| 100kcal/bar | 200kcal/bar |
| $1.00/bar | $2.07/bar |
| Vegan | Vegan |
| 44C/19P/37F | 40C/24P/36F |
| Box of 30 | Box of 15 |
| 3 Flavours | 2 Flavours |
| 5% Subscription | 10% Subscription |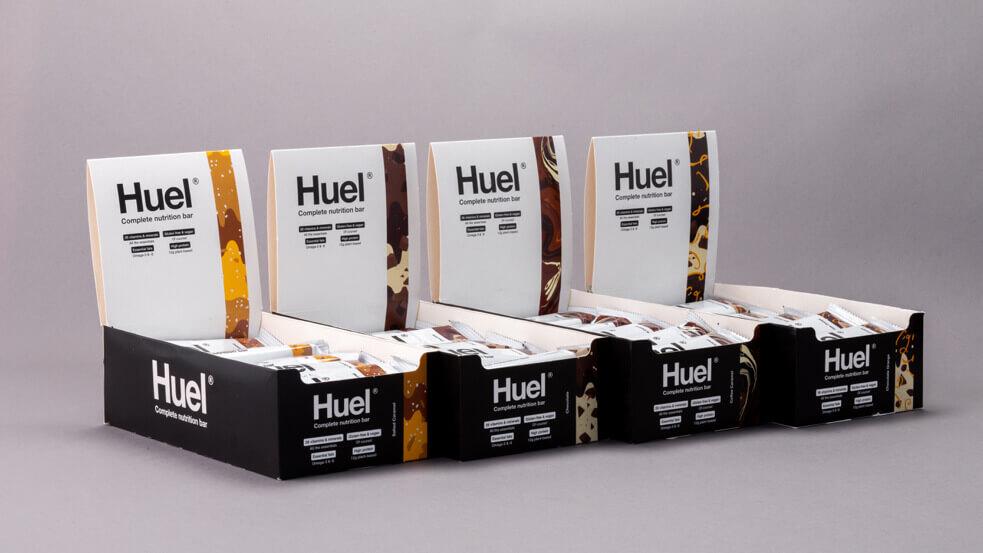 Huel Bars are gluten free with 200kcal per bar and 12g of protein. The new formula is chewy and soft, fairly similar to Soylent's. In the US, they are available in Salted Caramel and Chocolate; whereas there are another two more flavours in the UK.
On the other side, Soylent Squareds are 100kcal snack bars. While they also have all the nutrients necessary, they are designed to be a complimentary snack and not a full meal. They come in three flavours: Citrus Cherry, Salted Caramel and Chocolate Brownie.
In all honesty, I prefer the flavour of Huel's bars, and the bigger format also adapts better to my lifestyle.
Alternatives
So that's all you need to know about Soylent versus Huel.
Still, do neither of the options shown here convince you? Don't worry since they are not the only meal replacements out there. For instance, there are many keto meal replacement shakes which will suit people following the ketogenic diet better than Soylent or Huel. I will strongly recommend you looking at the following articles:
Recommended Alternatives
However, here are a few meal replacement shakes that I think you might be interested on: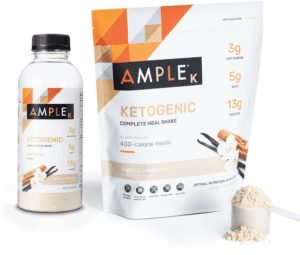 Ample K – Best Keto
Ample K is a fantastic ketogenic shake.
Excellent tasting shake (chocolate).
Premium ingredients, no gluten, no soy, no artificial additives. Includes electrolytes and probiotics.
Not vegan. Vegan version available in a low carb (not keto) formula.
3g of net carbs, 13g of protein, 5g of MCTs per 400kcal.
---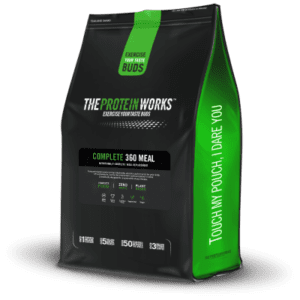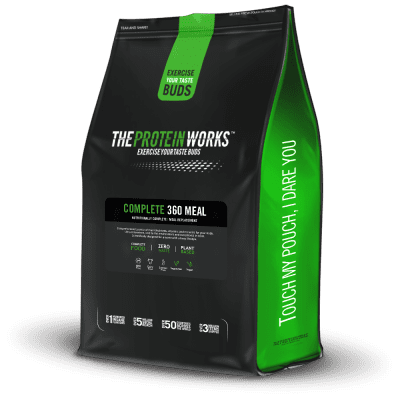 One of the best meal replacement powders — My daily choice.
Vegan and whey based options available.
Great nutrition, well balanced, includes all the vitamins and minerals; as well as probiotics.
Available in EU, UK and US.
Can cost as little as £1/$1.3.
Also available in Diet option (207kcal).
---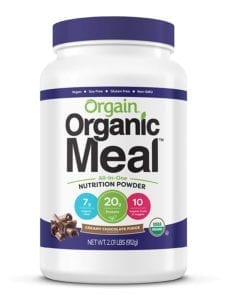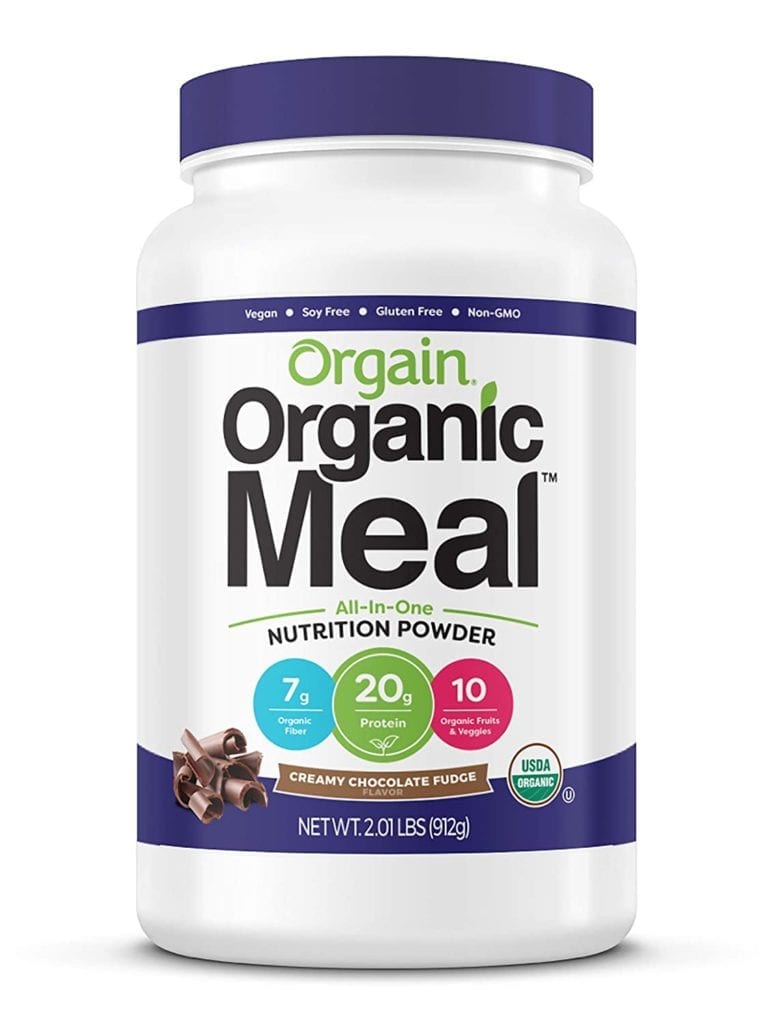 Orgain – Best Organic
Organic alternative available in the US
Vegan, soy-free, gluten-free, no added sugars.
All organic ingredients, includes multiple superfoods, plants and vegetables. Rich in antioxidants.
Low calorie but high in protein: 230kcal and 20g of protein. Good for weight loss or snack.
---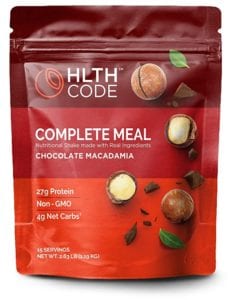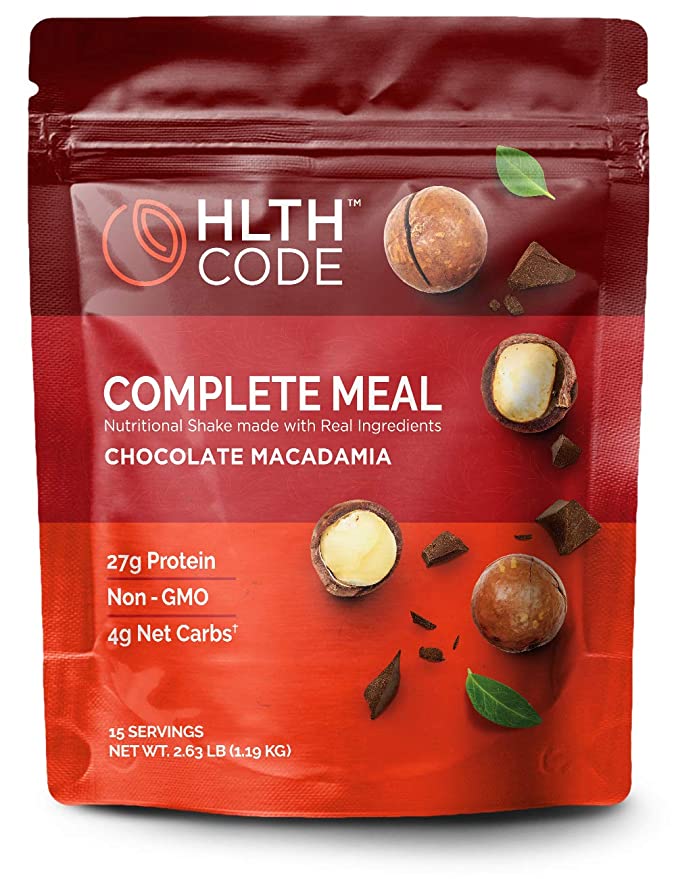 Low carb, high protein (27g) shake, and 50% of your DV for vitamins and minerals.
Soy-free, gluten-free, no added sugars.
Includes probiotics and digestive enzymes to help your gut.
Superb tasting shakes – particularly Chocolate Macadamia.
Conclusion – Soylent vs Huel
Both Huel and Soylent offer multiple meal replacements that will provide you with all the nutrients you need per meal. They are ideal to replace one or two meals a day, to ensure proper nutrition no matter where you are or the time.
When it comes to choosing which one is the best, Huel vs Soylent, these are the major factors to think about:
Nutritionally, Huel Powder is the better well rounded and healthiest option out of all. Unlike Soylent, it has more whole ingredients, probiotics and phytonutrients giving you even more per meal.
If convenience is key for you, then you will probably want to look for RTDs. In this case, in the UK Huel RTD will be the answer. On the other hand, due to the pricing, the variety and the taste, Soylent Drink is the way to go in the USA.
In fact, if you are looking for a beginner friendly, easy shake to drink, and tasty shake, Soylent Drink (or to a lesser degree Powder) is the way to go.
Sources