Organifi Review: Great Superfood Powder or A Waste of Money?
Green powders are the ultimate trendy hack to boost your health. An easy and quick solution to consume our daily vegetables. In today's Organifi review, we will look at the plant-based superfood drinks produced by this US company.
As a quick refresher, a green drink is the result of taking multiple green vegetables, and perhaps other healthy additions such as fruit, roots or mushrooms, and condensing them into a beverage or a powder. This makes them much easier to consume quickly, all at once, and on the go.
Organifi offers a range of superfood drinks that claim to manage stress, energize and detoxify your body. We'll take a look at their Green Juice, as well as their Red Juice.
The Green Juice offers ingredients such as ashwagandha, matcha, spirulina and wheatgrass. Each serving of Red Juice contains red beets, pomegranate, Siberian ginseng as well as several types of berries.
Are these any good? How do Organifi drinks compare to AG-1 greens? Are these the products you want to stick to?
Ultimately, we will answer these questions as well as is one of the better green powders you can buy.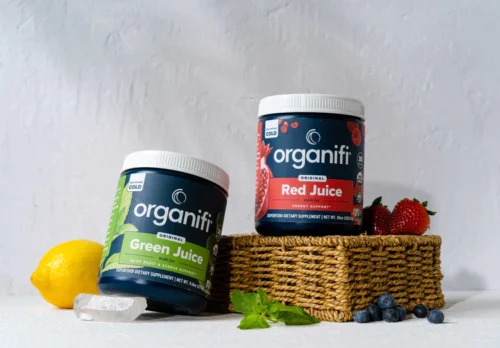 Organifi Quick Hits:
Organifi produces a variety of functional fruit/veg/adaptogen powders
A bit pricier than others, but of good quality
Their products are certified organic, non-GMO, and pesticide free
Can be purchased as a jar, or as travel packs
---
Organifi At A Glance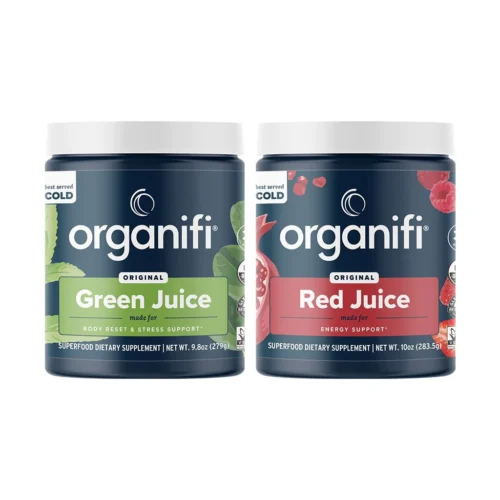 Flavors: Green (Mint), Green (Apple), Red, Gold, Chocolate
---
Opinion
Green drinks are all the rage as of late.
You will always see them in the hands of your favorite celebrity, artist or influencer. They all seem to swear by one or another.
As for me, I'm looking to see which ones separate themselves from the rest. I see lots of similarities between all of them, so it will come down to which ones taste the best, and overall which ones provide an experience that will make it the go-to green.
Ultimately, the secrets to a great green superfood blend are two-folded:
Transparency. A clear label indicating how much of each ingredient is in each serving.
Effective dosing.
Pros
1. Canisters & Travel Packs. Appreciate the packaging versatility.
2. Free from pesticides. First time seeing a certification for this. Very cool
3. Good taste. Both are pretty good. Give me high hopes for other offerings.
4. Didn't go crazy on ingredients. We have a saying called "doing the most" meaning that adding too much can be counterproductive. I think they were reasonable here.
5. Different flavors. Most green drinks are pretty one dimensional. Nice to see different flavors and types.
Cons
1. It's expensive. Over $2 per serving.
2. Complaints of underfilling containers. Popped up in multiple reviews.
3. Strong taste. Will not do well blending into anything where it's not the main flavor
Ingredients & Benefits
| | Green Juice | Red Juice |
| --- | --- | --- |
| Kcal/serving | 30 | 32 |
| Sugars (g) | 1 | 2 |
| Protein (g) | 1 | <1 |
| Fiber (g) | 3 | 4 |
| Vegan | Y | Y |
| Organic | Y | Y |
| # of Veg/Fruits | 11 | 12 |
| Adaptogens | Y | Y |
| Probiotics | N | N |
| Digestive Enzymes | N | N |
| Unwanted Ingredients | None | None |
Ingredients Summary
Greens Juice Ingredients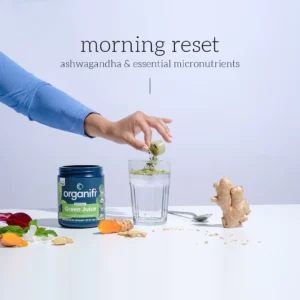 Greens Blend – 5.1g
The greens blend makes up the majority of Organifi Green Juice. Here is breakdown of those ingredients.
Wheatgrass – Contains several keys nutrients, as well as being shown to eliminate toxins, aid in digestion, and boost your immune system and metabolism.
Moringa – Also rich in nutrients, moringa can reduce inflammation, lower blood sugar and increases blood antioxidant levels.
Spirulina – A type of algae that can lower cholesterol, as well as may have anti-cancer properties. More studies are needed.
Chlorella – Another type of algae that helps keep blood sugar in check and may help lower blood pressure.
Matcha – Great for relaxation and focus. Also, may aid in weight loss.
Superfood Blend – 1.95g
This is where the fruit and root extracts reside.
Coconut Water – On top of containing many minerals, coconut water is also great for post-workout hydration as its packed with electrolytes.
Ashwagandha – An adaptogen that may help reduce stress and anxiety.
Lemon – Contains tons of heart-healthy vitamin C. Shown to reduce cholesterol.
Red Beets – Beets are rich in nitrates which improve blood flow and can reduce heart disease.
Turmeric – Turmeric contains curcumin, a substance with powerful anti-inflammatory and antioxidant properties.
Other Ingredients
Organifi Green Juice also contains some flavoring agents such as orange and mint, as well as the usage of monk fruit as its sweetener.

Red Juice Ingredients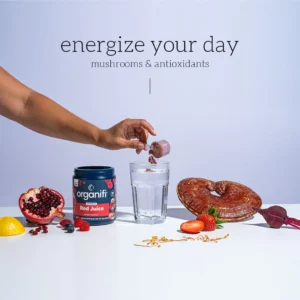 Energy Blend – 2.36g
The energy blend is designed to give you a pick me up, without caffeine.
Acai – They introduce many nutrients, antioxidants, healthy fats and fiber.
Rhodiola – An adaptogenic herb that helps your body handle stress more effectively, and reduces mental fatigue
Siberian Ginseng – Ginseng may help fight fatigue and enhance physical performance by lowering oxidative damage.
Endurance Blend 2.2g
The endurance blend is curated for lasting energy.
Cordyceps Mushroom – Cordyceps have been shown to improve measures of physical performance in older and younger adults, but not in well-trained athletes.
Reishi Mushroom – Some studies have shown that reishi mushroom could decrease anxiety and depression as well as improve the quality of life in those with certain medical conditions.
Antioxidant Blend 1.23g
Most of the berries are blended here. Expect this blend to be nutrient and antioxidant dense. Instead of listing the very similar properties of each one, here is a list of which are included.
Pomegranate
Cranberry
Strawberry
Raspberry
Blueberry
---
Potential Organifi Benefits
Here are the benefits you can look forward to:
You'll increase your fruit and vegetable intake.
With that increased intake comes improved iron and fiber.
May improve digestion and regularity.
Reduces risk of various diseases
Potential Organifi Side Effects
From my experience, Organifi and other green drinks should not produce many negative side effects. The main one I've encountered is more frequent trips to the restroom as your body adjusts to the influx of condensed greens.
Taste Test
It's go time! We have both green and red juices in hand for tasting today. The initial smells are encouraging, the green juice smells minty, and the red juice smells much like all the berries contained therein.
I'll try both two ways, first just mixed with distilled water, second by adding it to my favorite meal replacement shake, Rootana. The shake will be the original flavor, and I add a bit of banana for sweetness and texture.
Green Juice
Green Juice first. Come to find out, they also have an apple flavored green juice too. Green has as a pretty strong spearmint smell, which isn't my fave kind of mint, but we press on. As a juice, I didn't care for it, mint juice just doesn't work for me.
On the shake, it was much better, almost like the legendary Shamrock shake from McDonalds. Is it something I'd want every day….no. But I could work it in a few times a week.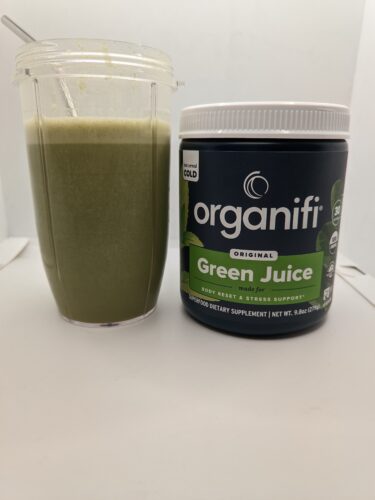 Red Juice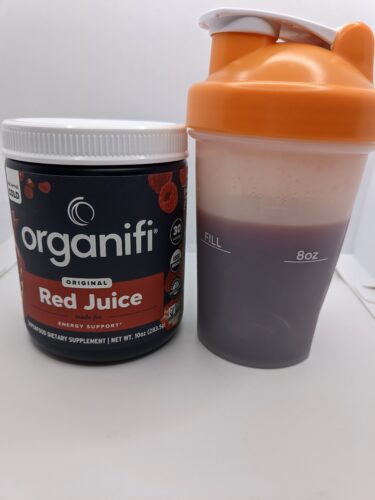 Now on to the Red Juice. Honestly, I can already tell that I'll likely enjoy this by the bold berry smell, I just hope the cranberry doesn't overpower the others. Mixing with water produced a very pleasant drink that I could have multiple times a day. Bye Starbucks refreshers!!
As a shake, it was awesome too! It works well with many blended fruits and is definitely something I could have every day in this form.
Summary
Both products were solid performers. I personally liked the red more, but the green has its place, though I think spearmint is kind of a polarizing flavor that you'll either like or dislike, and you won't always be in the mood for it.
Also, if you're looking for something you can add to anything and not taste it, this ain't it. Both flavors will take center stage in a shake. So adding the green to your favorite chocolate protein shake, will surely make it chocolate mint, so make sure you're ready for that.
---
Customer Organifi Reviews
Sentiment for Organifi products are largely positive, with lots of reviews. Many praise the taste, and various benefits they've noticed.
Organifi Amazon reviews are 4.3 stars out of 5 in almost 10k customer reviews! However, Amazon reviews cannot be fully trusted as up to 50% can be fake.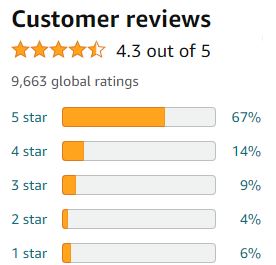 Some negative reviews cite disliking the taste, the price and the cannister amount being less than the advertised 30 days worth.
Trustpilot reviews of Organifi powders show a much different picture with 3.2 stars in 9 reviews.
Organifi Reddit reviews are also not as positive as the Amazon ones.
About the Company

Our story began with wanting to make a healthy lifestyle easier for everyone. We noticed a lot of "quick solves" and empty health promises that left people frustrated and feeling hopeless. After discovering the healing powers of superfoods, we knew we finally found a way to make healthy living easy, fun, and delicious.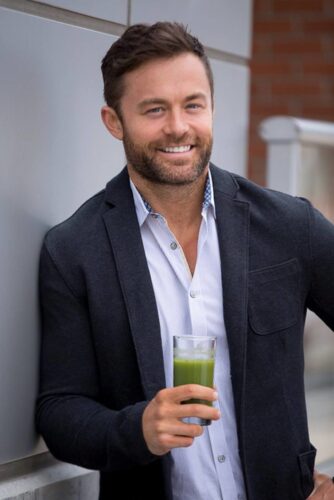 Organifi was founded by Drew Canole in 2014. He is a nutrition specialist, transformation specialist and national spokesperson for the benefits of juicing vegetables for health and vitality.
Price & Shipping
Organifi products are available via the official website, also available on Amazon.
They also can be found locally in the US, sold at Vitamin Shoppe locations. Organifi offers a 10% subscription discount, as well as an extra 10% for shipment prepayment.
| Product (Servings) | Per/Total | Sub Per/Total | Amazon |
| --- | --- | --- | --- |
| Green/Red Juice (30 Servs) | $2.33 ($70) | $2.10 ($62) | $2 ($60) |
In brackets is the total price.
Organifi's domestic shipping rates can be found below. They do offer free shipping on all subscription orders, as well as orders over $125.
Single Item Order –> $7.95
Multi Item Order –> $9.95
Expedited Two-Day –> $19.95
Expedited Next Day –> $24.95
The company also ships internationally via UPS Worldwide Expedited. Please note the following if you are an international customer:
International shipping charges are non-refundable.
International orders are final (with the exception of Canada)
International orders are subject customs fees, duties and or restrictions.
2-5 day delivers, max weight 68kg (150lbs), and PO Boxes will ship via USPS.
Organifi Comparisons
AG-1 by Athletic Greens is the most popular greens supplement in the market. It's also one of the best and most comprehensive with over 75 superfoods in their greens powder.
Huel Daily Greens is the new offering from the meal replacement giant Huel. Containing about as much as AG-1, this green offering from Huel is worthy of comparison
Vibrance by Cobionic is much smaller brand than all others, and is the low cost variant of the bunch. It still contains many quality ingredients.
Sadly, neither of these products are as good as our top green powder, Supergreen Tonik.
Organifi
Green Juice
Cobionic
Vibrance
Huel
Greens
AG-1
Price ($)/serving
$2.33
$1.33
$1.64
$2.48
Minimum order
$70 (30 servings)
$50 (30 servings)
$50 (30 servings)
$99 (30 servings)
Packaging Type
Canister, Travel Packs
Canister
Bag
Bag, Travel Packs, Dropper
Subscription
10%
40%
10%
20%
Flavors
2
1
1
1
Kcal/serving
30
31
50
50
Vegan
Y
Y
Y
Y
Organic
Y
Y
Y
Mostly
# of Greens
11
14
60
56
Has all Micronutrients?
N
N
Y
N
Adaptogens
Y
Y
Y
Y
Probiotics
N
Y
Y
Y
Digestive Enzymes
N
Y
N
Y
Unwanted Ingredients
None
None
None
None
Taste Rating (1-5)
4 (Best blended)
3 (Best blended)
3 (Best with water)
3 (Best with water)
Organifi vs AG-1
Both are about even price wise and are pricier overall. However, Organifi is definitely, cheaper and I found to taste better as well. AG-1 contains 5x the amount of greens than Organifi, and while both are very popular with many positive reviews, AG-1 edges out Organifi.
Organifi vs Huel Daily Greens
You get much more for your money with Huel than Organifi. Tons more greens, all your micros, and at 30% less. But Organifi has a couple wins here. I found Organifi to taste better, they offer more flavors and variety than Huel, and have travel packs which I find to be a big plus.
Organifi vs Vibrance
Organifi compares on paper closer to Cobionic, than to Huel or AG-1. Vibrance is a good starter product being that its the least expensive and offers the best discounts. If you have a bit more to spend, opt for Organifi.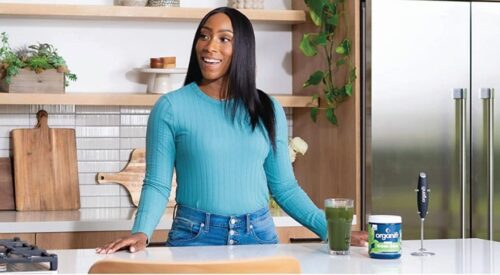 FAQ
What does glyphosate residue free mean?
Glyphosate is a hazardous herbicide used to kill weeds. The World Health Organization has labeled it a probable carcinogen. This harmful compound has also been shown to disrupt hormones, increase inflammation, and negatively impact gut microbiome. In other words, it doesn't belong near food (or on the planet).
The USDA organic certification will ensure a product is mostly free of glyphosate. But recent studies have shown glyphosate often makes its way into organic products at some point in the production process. The Certified Glyphosate Residue Free badge guarantees products are 100% free of glyphosate from beginning to end. It's one more way we are setting the standard ingredient purity.


How are the blends processed? Are the blends raw?
We believe in minimal processing to maintain as many phytonutrients as possible. We put extra attention into ingredient selection, low temperature drying, and delicate extraction. The blends are not raw, but safely freeze-dried as close to harvesting as possible. Using a patented no-heat, chemical-free gentle drying process, we're able to preserve freshness, enzymes, and antioxidants from beginning to end.

Where do you source your mushrooms from?
Our mushrooms are sourced sustainably from China using certified green initiatives and organic farming practices. Our mushroom suppliers are paving the way for more Chinese farmers to adopt organic cultivation methods. The mushrooms we use are given enough time and care to produce a full fruiting body rich in beta glucans and triterpenes instead of the mycelium roots alone. This process creates nutrient-dense mushrooms to optimize energy levels, balance cortisol, and nourish your cells.

Where can I find more information about your quality testing?
Beginning with the quality of ingredients we source; our standards are upheld through every step in the production process. We ensure each product batch is tested and stands up to the certifications we stand for: USDA organic, non-GMO, Glyphosate Residue Free, Gluten Free, Vegan, and Kosher.
 
Learn more about all of our testing and our results by visiting our testing page.


What is the returns policy?
If you are unhappy with your purchase for any reason, please contact us at [email protected]. 
 
We offer a 60-day money back guarantee return & refund policy. The product that you desire to return should be identified to our Customer Support team within 60-days after you received the product. A shipping label will be provided for the order, by our team, and the shipping and handling costs for the return shipment back to our warehouse will be automatically deducted from the final refund. 
 
The refund will be credited to your original payment within 10 business days after we receive the product.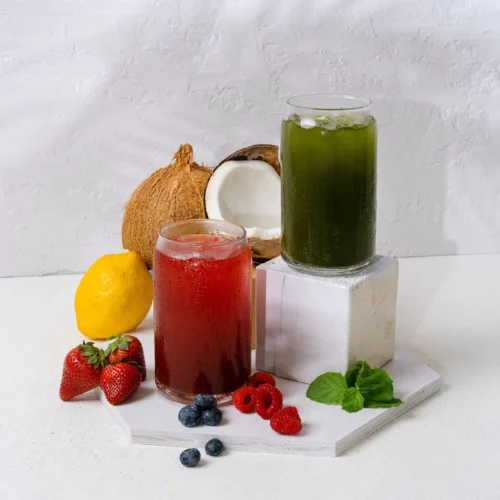 Verdict – Organifi Reviews
Wrapping this review of Organifi up, I must say I have mixed opinions.
I found the red juices to be very tasty, functional and side-effect free. My daughter has fallen completely in love with the red juice, having three smoothies in one day! No complaints here!
On the contrary, the green powders taste had room for improvement.
While I didn't receive the travel packs, that goes a long way with me ending this positively, as I think with product like this, being able to have it on the go without a bag or canister is great. They're also not charging a premium for the travel packs.
I also am a fan of not too many greens/shrooms in a formula. As I've learned more about green products, I've also learned about the amounts and dosages that are needed to be effective, and I'm of the opinion that the more quantities added, the lower the benefit of each.
That's why on daily basis I consume SuperGreen Tonik, as they have a 100% transparent formula with ingredients in effective doses. Unlike many more popular competitors like AG-1
Bottom Line – Adding Organifi is a quick easy way to add more greens to your diet. If you want the best bang for your buck, however, I recommend HumanTonik Super Green.